InboxDollars Review 2023: What I Like (and Hate) About It
Advertiser Disclosure
Our readers always come first
The content on DollarSprout includes links to our advertising partners. When you read our content and click on one of our partners' links, and then decide to complete an offer — whether it's downloading an app, opening an account, or some other action — we may earn a commission from that advertiser, at no extra cost to you.
Our ultimate goal is to educate and inform, not lure you into signing up for certain offers. Compensation from our partners may impact what products we cover and where they appear on the site, but does not have any impact on the objectivity of our reviews or advice.
InboxDollars is a legitimate site for earning rewards and taking paid surveys. Here's what I like (and dislike) after having tested each and every feature.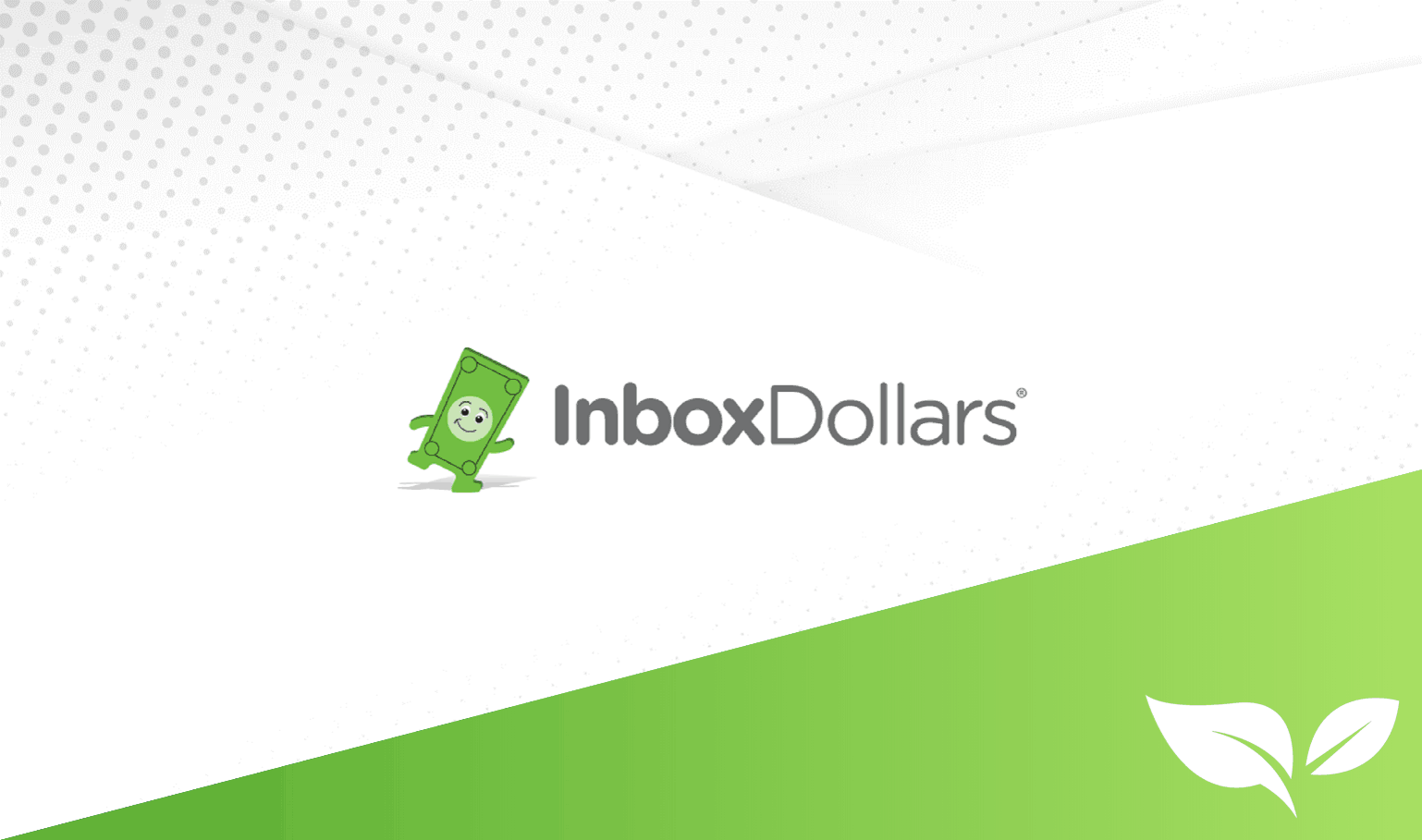 I'm always skeptical of survey sites.
Any app or website that touts "free rewards for things you do every day" seems a little sketchy to me.
So I didn't expect to like InboxDollars.
But after testing all of the app's features and earning $8 in rewards my first week, I'm sold on the app's legitimacy.
In this review, I'll explain the eight main ways you can make money with InboxDollars, walk you through my experience using each feature, and uncover the highest-earning activities (and the ones you should probably avoid).
Let's start from the beginning.
What Is InboxDollars?
InboxDollars is a site where you can take surveys, redeem cash-back offers, print coupons, read their promotional emails, watch ads, and complete other small tasks to make extra money on the side.
You can use InboxDollars on your laptop or as an app, so it's a good way to make money while you're standing in line or walking your dog. InboxDollars also offers a free $5 sign-up bonus for new users.
Prodege LLC, the parent company of InboxDollars, owns several similar sites, including Swagbucks, MyPoints, and Tada. If you've ever used any of these sites, you'll probably notice some overlap with InboxDollars. However, InboxDollars offers a few unique features, like Scratch and Win cards and WinIt codes, which we'll talk about more later on.
One aspect of InboxDollars that I appreciate is that the site tracks your earnings in dollars and cents, not points. This makes it easier to know exactly how close you are to redeeming your cash.
$5
Sign Up Bonus
Terms and conditions apply.
InboxDollars is a rewards site with a mobile app that pays users for taking surveys, watching videos, playing games, redeeming coupons, and completing various online tasks. Redeem your points for gift cards, prepaid debit cards, or PayPal cash.
Show

Hide

more
Pros
Free to create an account
Rewards accumulated in cash, not points
Most earnings credited to your account immediately
User-friendly mobile app
Many ways to earn points and additional rewards
More free games than other apps
Rewards from any receipt from over 1,100 stores
Easy $0.50 per day for printing coupons (or saving as PDF)
Scratch and Win gives you a fun way to earn random rewards
Cons
Best offers require purchases
Minimum payout is $15 (higher than similar sites)
Have to disable adblockers when watching videos
Difficult to predict earnings from Search and Games
Some offers can take days or weeks to hit your account
Is InboxDollars Legit and Safe?
InboxDollars is a legitimate survey and rewards site. Reviews of InboxDollars on Trustpilot show a 4.3 out of 5-star rating with over 18,000 reviews.
The app also has a 3.9 rating in the Google Play store and a 4.5 rating in the Apple store, with a combined 240,000+ reviews.
The company that owns the InboxDollars brand, Prodege, also has a B rating from the Better Business Bureau with zero unresolved complaints.
I've used some of Prodege's other rewards sites, mainly Swagbucks, and received prompt payouts every time I've cashed in for a gift card, eliminating any further concerns the platform might be a scam. My experience with the company has always been positive, but at the very least I can attest that yes, InboxDollars and the other Prodege brands are legitimate and as safe as any other rewards or cash-back app I've used.
How Does InboxDollars Work? 8 Primary Ways to Make Money
InboxDollars offers several different ways for users to make money. You can pick and choose or do all of them, depending on your time and interest.
When you first create your InboxDollars account, you'll earn a $5 bonus just for signing up and confirming your email address.
Then, you'll fill out a 30-question survey that asks for demographic information like your age or identified gender. This can take between 5 to 10 minutes to fill out and includes a $0.50 bonus.
You can't cash out your $5.50 immediately, though. The minimum limit to redeem your rewards is $15. You can keep earning by:
Taking surveys
Watching videos
Playing games
Shopping for cashback
Printing and redeeming coupons
Signing up for offers
Uploading your receipts
Searching the web
Aside from these main ways to earn, you can get extra rewards by playing bingo, redeeming WinIt codes, playing Scratch and Win, and referring your friends and family.
Needless to say, there are a lot of options to earn with InboxDollars. However, not all of them are worth your time. I tested out of InboxDollars' features, and here's what I learned about each of them.
1. Take paid surveys.
Before you can start taking surveys, you have to fill out your profile. You'll earn $0.50 for taking a short questionnaire.
Surveys pay anywhere from $0.01 to $5 and take 5 to 20 minutes to complete. You'll see about 10 surveys listed in your account at once.
InboxDollars recommends the one they think is the best fit for you, but you can take them in any order you like.
🔍 Reviewer's take: This is one of the more worthwhile ways to make money with InboxDollars. But as with any paid surveys, it's not going to make you rich.
Even though InboxDollars claims that surveys go up to $5, the ones in my account range from $0.01 to $0.75. And time doesn't necessarily correlate to earnings. I have several surveys in my account that pay $0.25, but they range from a 6 to 15-minute completion time.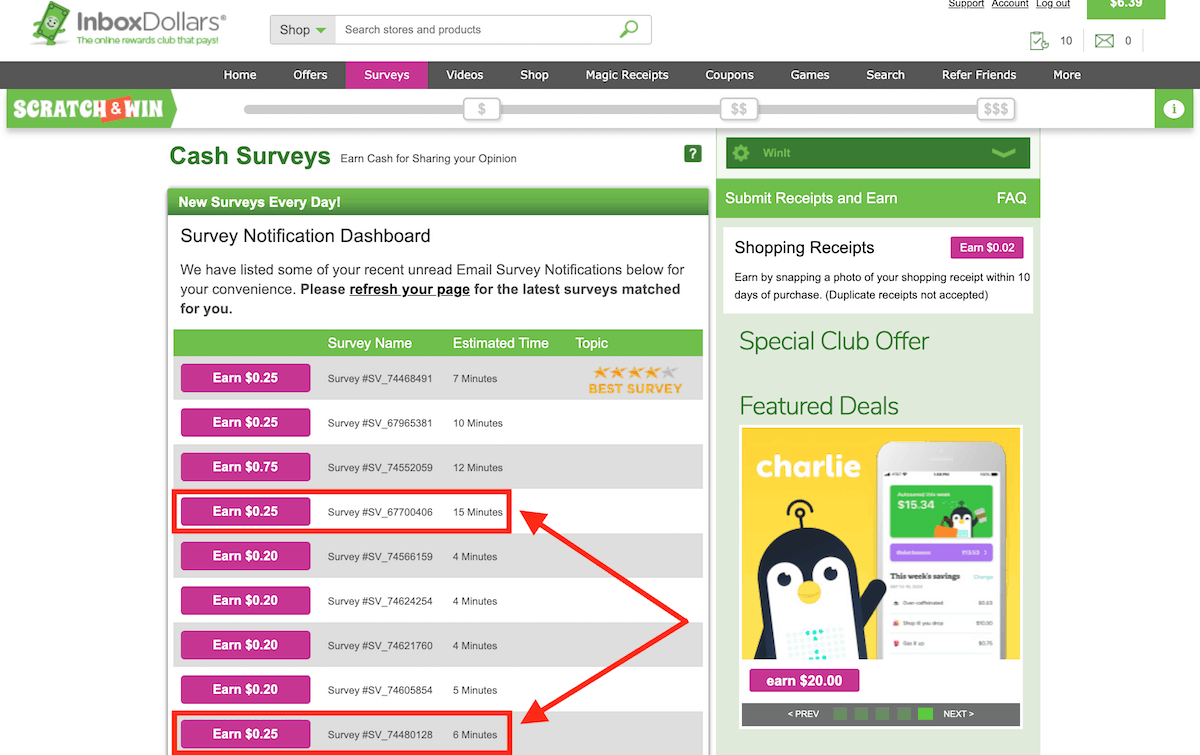 So far, I've taken three surveys. The profile questionnaire netted me $0.50. Then I took a quick three-question survey for $0.01 and a more in-depth one for $0.25.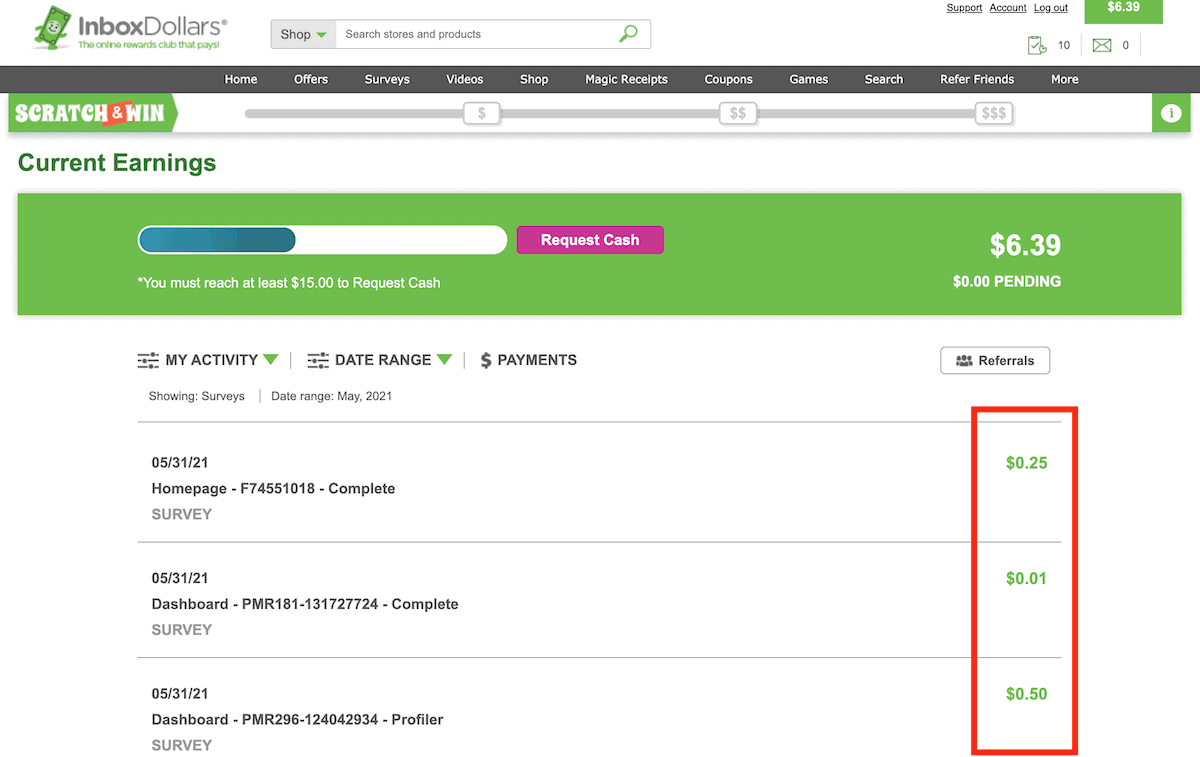 The surveys I've taken so far have been surprisingly enjoyable. InboxDollars' user interface isn't as nice as some of the other survey sites I've used, but the surveys themselves are well put together, and the topics are pretty interesting.
Just be on the lookout for any "test" questions. Most survey sites throw these in to make sure you're paying attention. If you get them wrong or answer demographic questions differently than you did in your profile questionnaire, your account might get flagged and you'll stop receiving survey offers.
2. Watch videos.
InboxDollars' video categories include news, financial, sports, entertainment, and lifestyle. Each category includes a playlist of videos (typically 6 to 9) that range in length.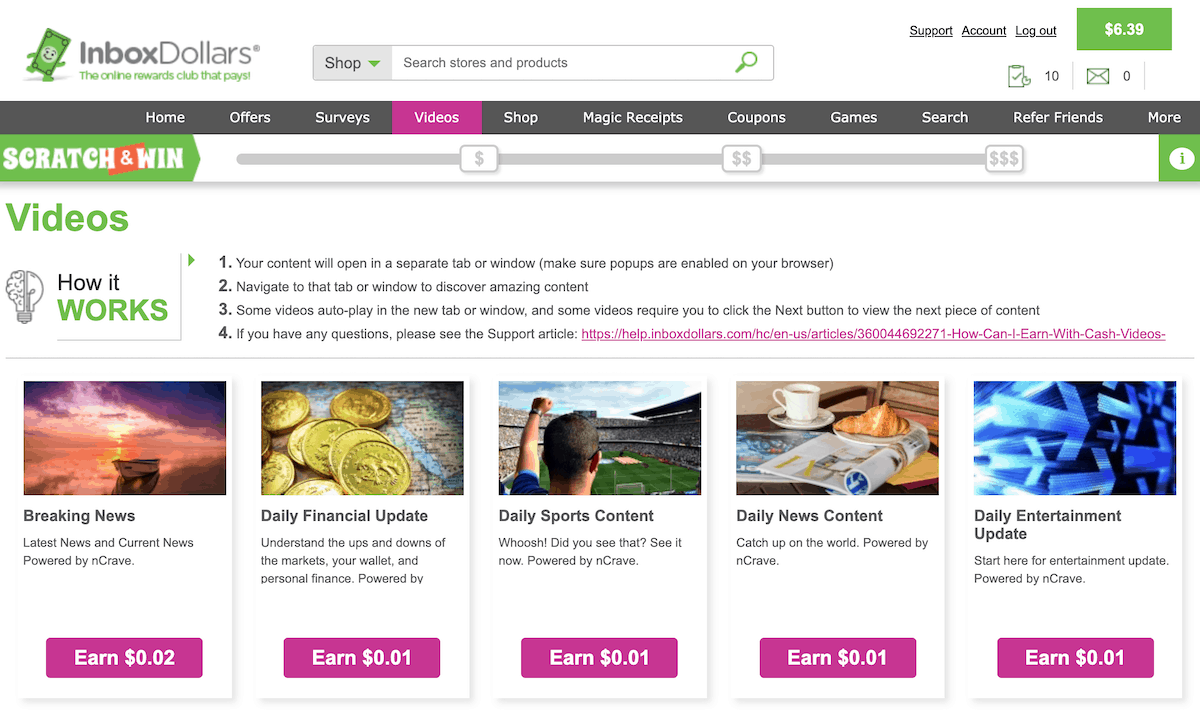 The videos will play in a new tab with a countdown timer running for 45 to 75 seconds in a separate tab. As soon as the timer hits zero, you can move on to the next video. If you click on the tab with the running timer, it'll pause.
🔍 Reviewer's take: First and foremost, make sure you have your ad blocker turned off for this feature. I forgot mine was on and all I saw in my account was a message that said, "Sorry, we don't have any videos available at this time."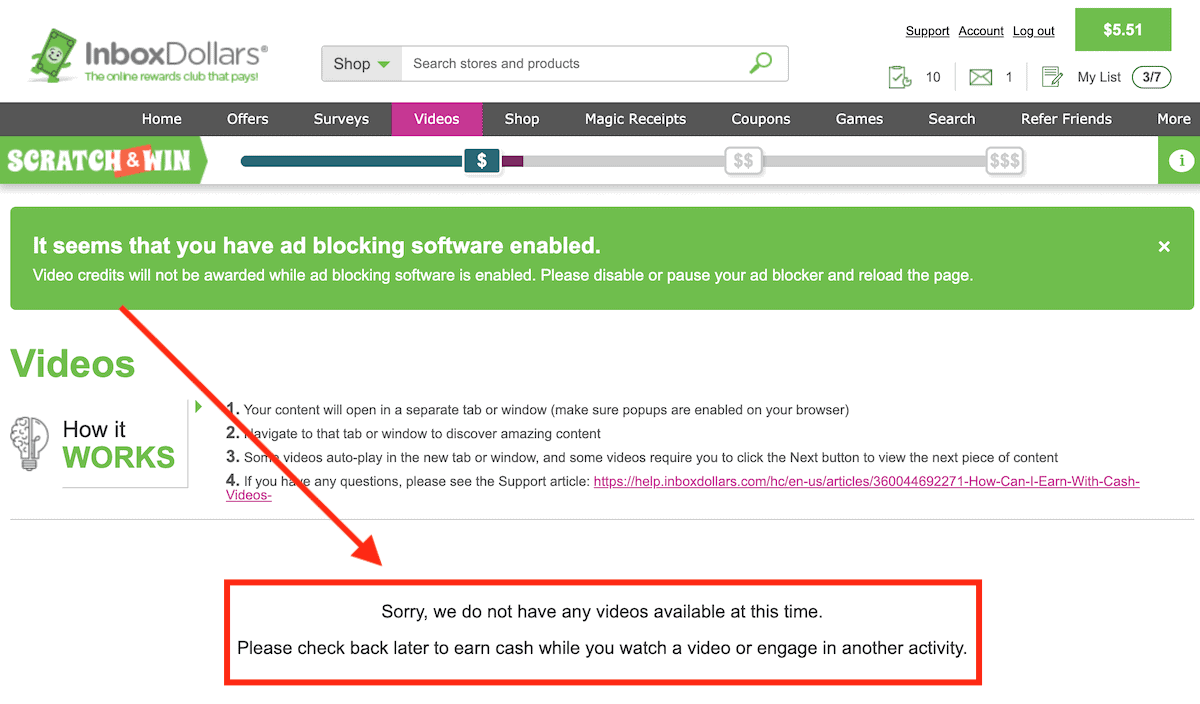 Once I finally figured it out, I was able to see the playlists mentioned above.
This seems to be a relatively slow-earning task, but it doesn't require much thought or effort. If you're a habitual multitasker, then watching videos with InboxDollars can be a good way to earn a little extra while doing other things on your laptop or computer.
I have a video playlist running in another tab as I'm writing this.
The biggest downside is that it's not completely passive. When the timer runs out, you have to switch back over and click a button to go on to the next video.
On top of that, each playlist is roughly 6 to 9 videos long. That means it takes at least 3 to 4.5 minutes to earn $0.01 or $0.02 cents. At this rate, you're better off taking surveys. But if you're doing other things and don't have the time to focus on survey questions, then the videos are a decent substitution.
Related: 13 Legit Ways to Make Money Watching Videos
3. Play InboxDollars games.
InboxDollars offers free games like Solitaire, Candy Jam, and Pet Hop. They also offer cash games, including Wheel of Fortune, Poker, and Casino, to name a few. For these, you make a deposit and compete in cash tournaments for the chance to win more money.
According to customer reviews, it's hard to earn real money playing games through InboxDollars. That's because you don't get cash rewards for playing. Instead, every game you play goes toward your Scratch and Win progress, which allows you to scratch a virtual lottery ticket for random cash rewards.
Even though you don't get cash for playing games through InboxDollars, it seems to be one of the fastest ways to get Scratch and Win cards.
🔍 Reviewer's take: I was disappointed to find that your time and performance in games don't determine your earnings.
I'm a little embarrassed to say that I played this Monkey Bubble Shooter game for 30 minutes and got to level 10 before I realized my account balance wasn't changing.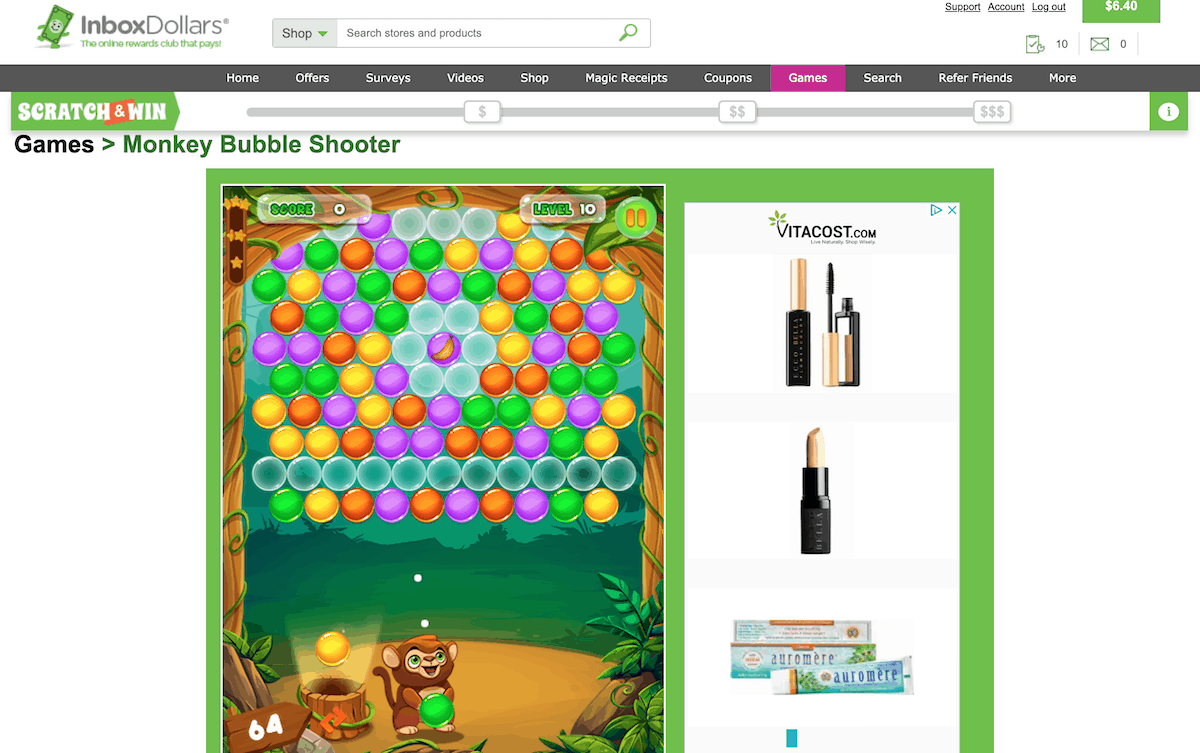 I thought maybe the reason I wasn't earning anything was that I wasn't winning. So I switched to Pyramid Solitaire. After another 30 minutes of play, I finally won a game! And still no payout.
The bright side is that the games are pretty fun, and InboxDollars offers more and better free game options than similar sites I've used, including Swagbucks. But if you're not paying attention, it's easy to get caught up in the games, lose track of time, and forget the point of what you're trying to do: make extra money.
However, it depends on your goals. If you enjoy playing free games like this and getting the occasional Scratch and Win, then InboxDollars' games could be a good way to kill time and earn a little while you're at it. But if your goal is to maximize your earnings with InboxDollars, you probably want to stick with some of the other features.
Related: 22 Real Money Earning Games and Sites That Pay You to Play
4. Shop online and get cashback.
InboxDollars offers cashback from hundreds of stores, including Best Buy, The Home Depot, Groupon, and Kohl's. The deals vary from store to store, with some offering as low as 1% and others as much as 25% cashback.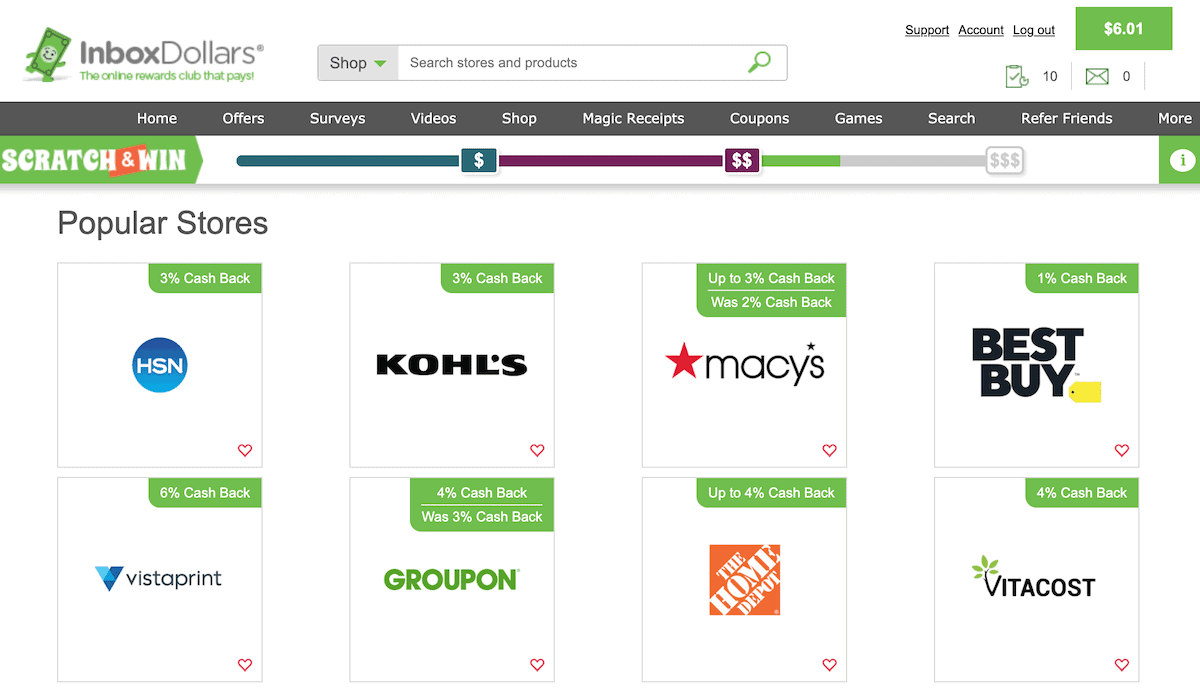 You can shop directly through your InboxDollars account by browsing their list of retailers or search by name or category. Like many other cashback sites, they also have a cashback extension you can add to your browser called the Billy Button.
Whenever you're shopping on a site where InboxDollars offers coupons or cashback, the Billy Button will let you know so you don't miss out on a deal. It'll also notify you when new surveys and other opportunities are available in your account.
🔍 Reviewer's take: If you've ever used a cashback app like Rakuten, Capital One Shopping, or Swagbucks, InboxDollars isn't much different, except for the deals. I find the Billy Button to be more convenient than shopping through their online portal.
Similar to what I've found with Swagbucks (which, as a reminder, is owned by the same company that owns InboxDollars) is that not all the deals are what they appear to be on the surface.
For example, Best Buy is listed at 1% cashback. But when I click the offer and expand the terms and conditions, I'm given a list of items that don't qualify for any cashback, including any Apple products, video game consoles, drones, cameras, and more.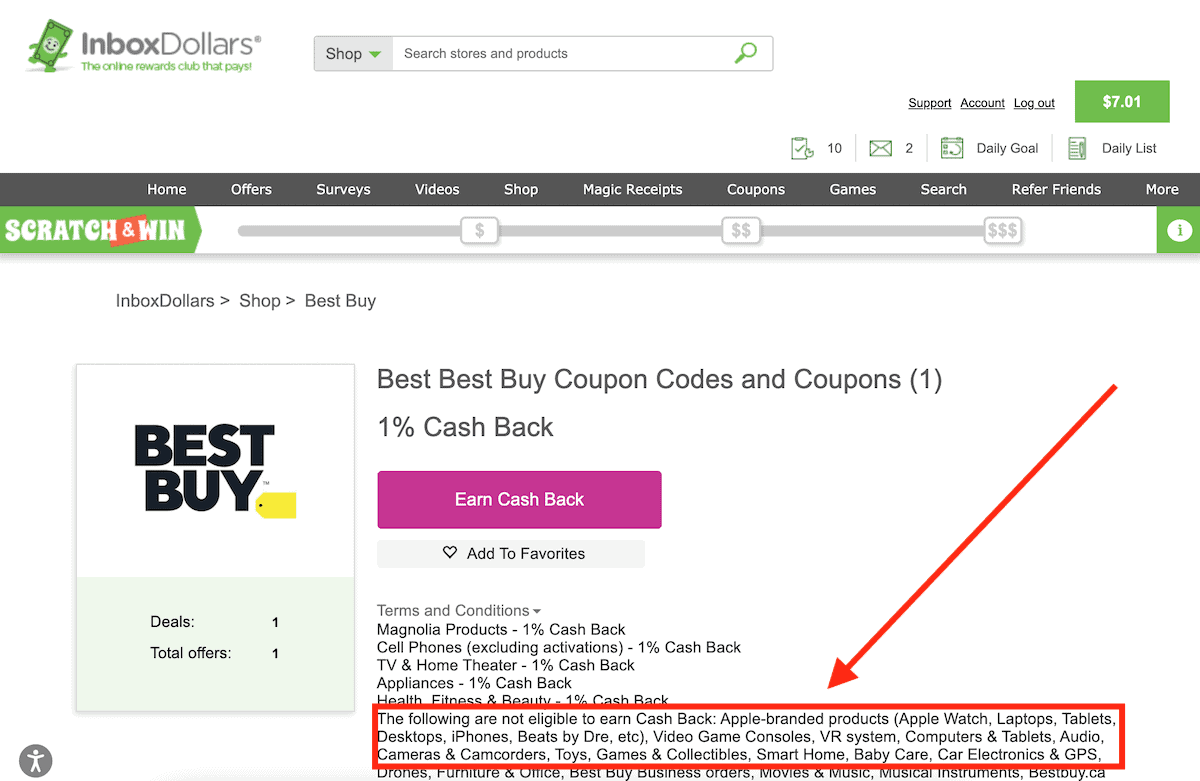 So before you shop through InboxDollars, make sure you read the terms of each deal.
Spending money just to get cashback is never a wise idea in my book. But if you shop online, then using the Billy Button can help you find coupons and get cashback with InboxDollars.
I always love a good deal, so I have several cashback extensions (Rakuten, Capital One Shopping, Swag Button, Billy Button, etc.) on my Chrome browser. Each one usually has different deals and coupons. They'll each notify you when you check out if they have coupons or cashback available, so I choose the one with the highest offer.
Related: 7 Experts Share Their Best Hacks for Saving Money on Everyday Items
5. Print and redeem coupons.
InboxDollars' coupons are powered by Coupons.com. You can earn $0.01 for every coupon you print (up to 50 credits per day) and another $0.10 for each coupon you redeem.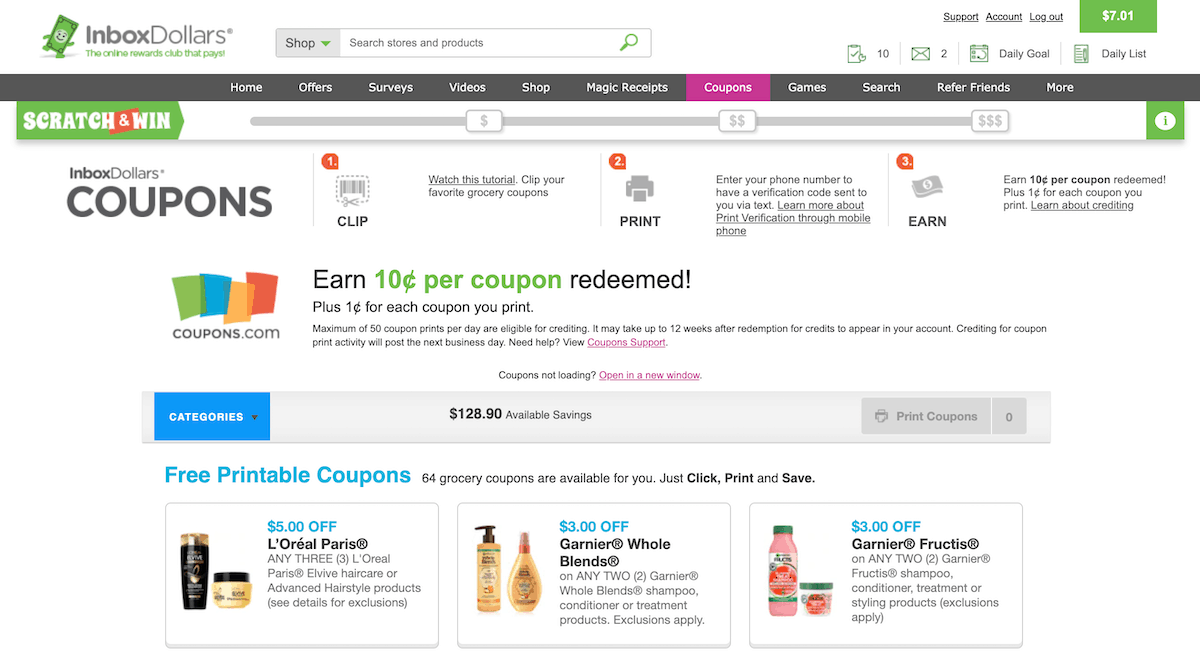 When you print a coupon, points should show up in your account within a couple of business days. But it can take up to 12 weeks to receive points for redeemed coupons.
Most of the coupons available seem to be for groceries, household, and personal care items like deodorant, shampoo and conditioner, and over-the-counter medicines.
🔍 Reviewer's take: This is one of my favorite ways, and by far one of the easiest, to earn with InboxDollars.
I didn't think I'd be able to print coupons since my printer is out of commission right now, but it turns out you don't actually have to print them. You can save them as a PDF and still get the credit.
It takes about 30 seconds to go to your account, click on 50 coupons (or just select them all), and download them as a PDF. I woke up the morning after testing this to an email from InboxDollars that said "Your account has been credited $0.50."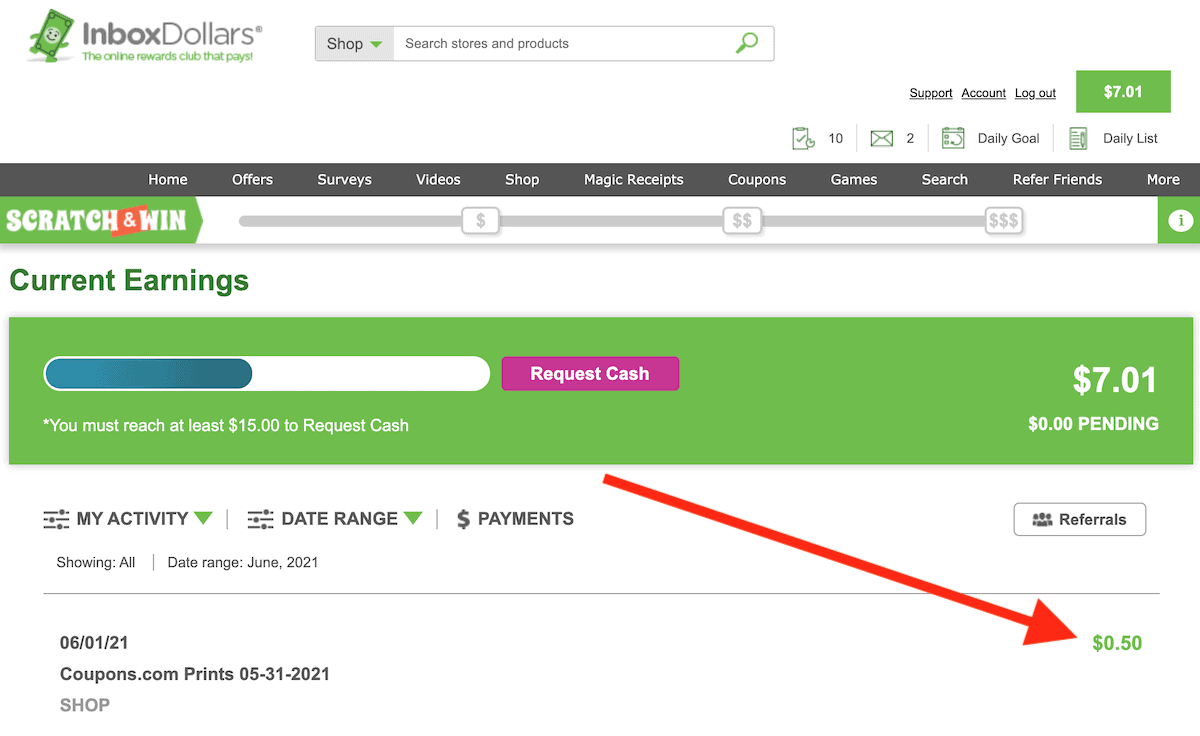 I earned $1.50 this way, but then I ran out of coupons to print on day four. According to InboxDollars' site, new coupons are uploaded weekly, so I'm currently waiting for a fresh batch.
6. Sign up for InboxDollars offers.
Offers are some of the highest-paying tasks on InboxDollars. They typically require you to sign up with a third-party app or website.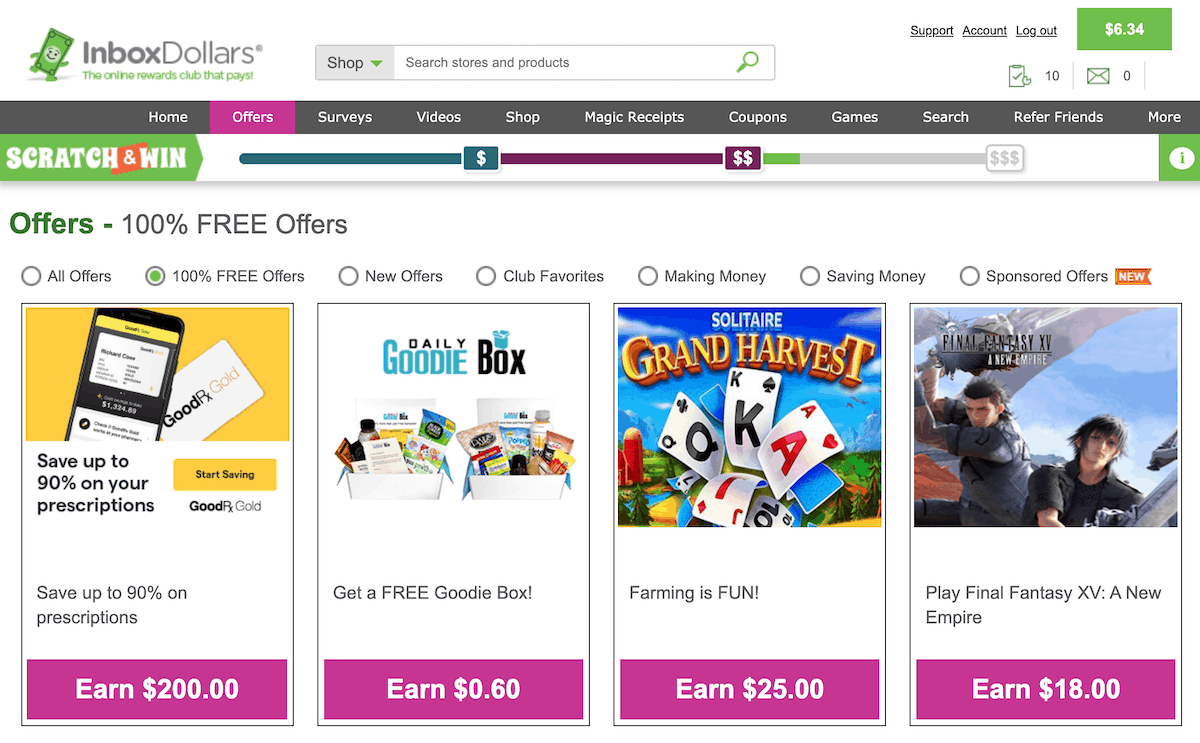 Some offers require that you place an order or open a new account and make a deposit, but you can filter for the 100% free options. You can click on each offer to see the requirements.
Cashback from offers can take anywhere from 7 days to a month or longer to show up in your InboxDollars account.
🔍 Reviewer's take: I've said this about Swagbucks and I think it's true for InboxDollars as well: most of these offers are spammy.
Some, maybe even all of them, are legitimate. But they're usually not as simple as they seem.
One deal in my account, for example, says all I have to do is complete a short survey to get a $10 reward. But after completing a short survey, I'm redirected to a page where it says I have to claim additional deals from other third-party sites (or fourth-party, at this point) in order to get the reward.
And most of these deals require me to pay for something.
Suffice to say, I didn't get any rewards for deals.
I've read other reviews from Reddit users who say they love claiming these offers. But in my opinion, unless you see a site or product you're genuinely interested in, you're better off taking surveys, printing coupons, and completing other activities with InboxDollars.
7. Upload your receipts for cashback.
InboxDollars offers two different types of receipt uploads for cashback: Magic Receipts and Any Receipt.
I've you've ever used cashback grocery apps like Ibotta, Magic Receipts are a similar process. You choose from a list of deals on InboxDollars, add them to your cart, and buy the items from a participating store. Then take a picture of your receipt and upload it to your account for immediate cashback.
Some deals are brand-specific, while others allow you to earn a set amount of cashback for any brand of milk, bread, eggs, produce, etc.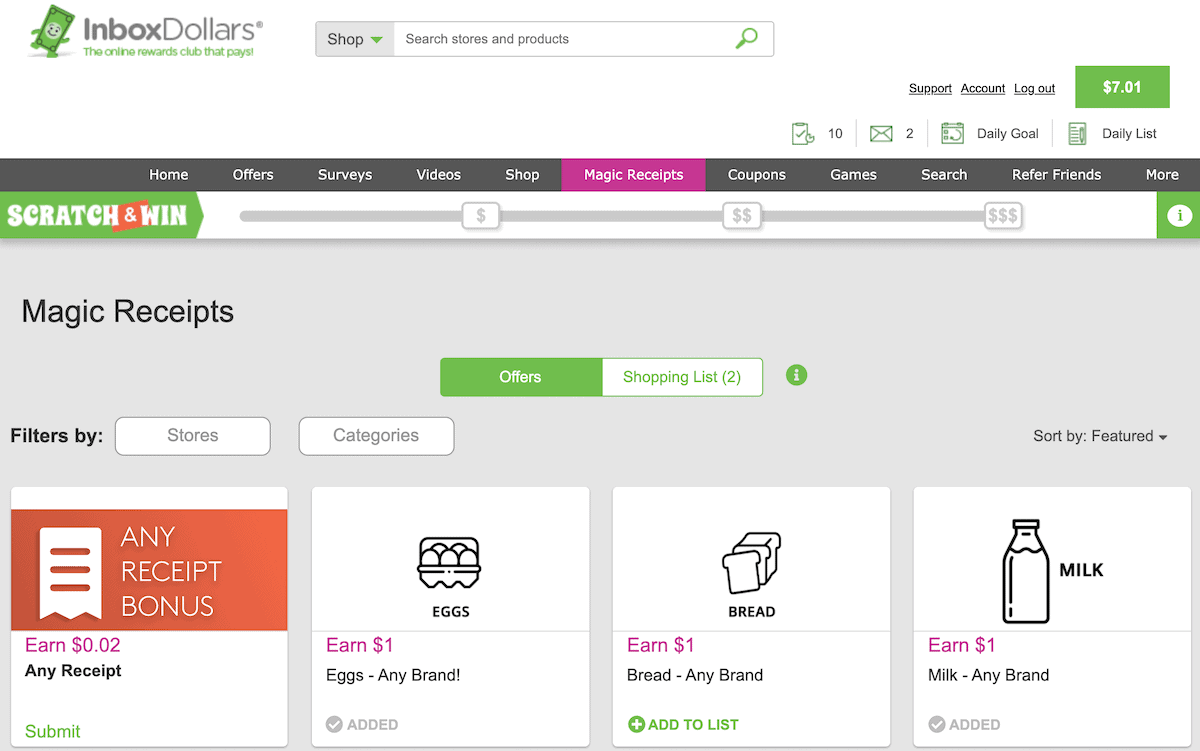 Any Receipt deals are just what they sound like. You can upload any receipt from over 1,100 different retailers that's less than 14 days old. You'll get $0.02 for each receipt you submit.
Most of the Magic Receipt deals require an in-store purchase, but you can submit Any Receipt offers for both in-store and online orders.
🔍 Reviewer's take: I've used this feature on Swagbucks, and the experience was exactly the same on InboxDollars.
The first time I submitted a receipt, I was pleasantly surprised by how smooth the process was. I thought it would take a few days for my cashback to hit, but InboxDollars scanned my receipt as soon as I uploaded it and credited my account on the spot.
One tip I figured out the hard way: pay attention to which stores are offering the deals you add to your list. If you have a primary store you shop at, filter the deals for that store.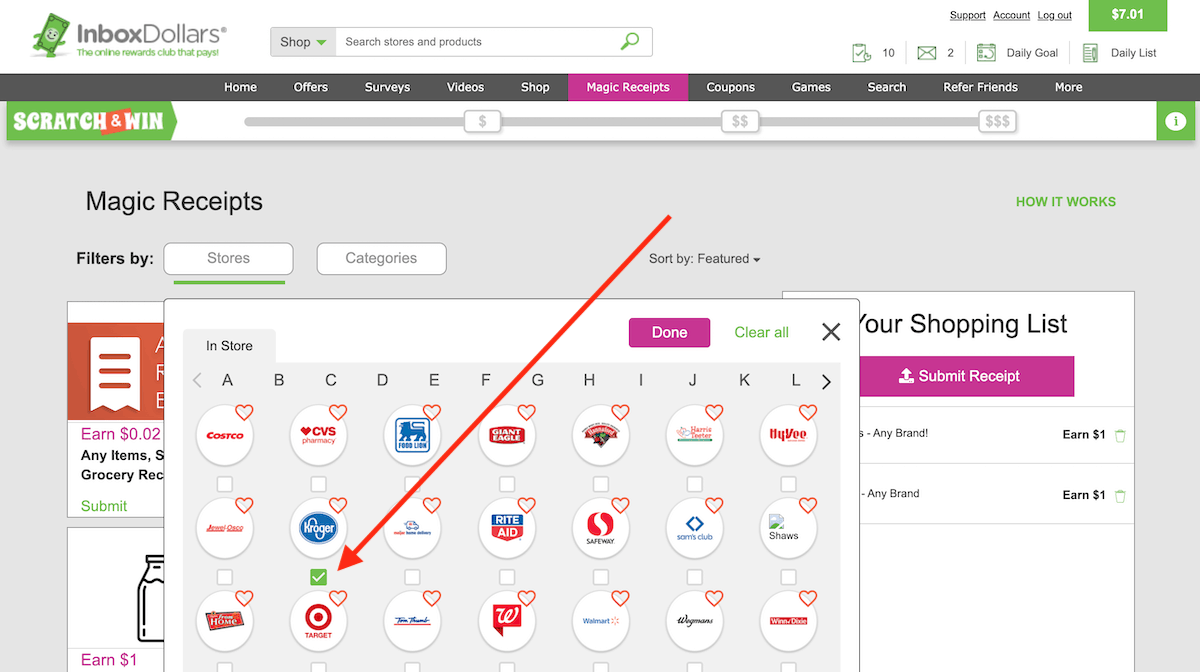 That way you don't accidentally buy a bunch of things because you think you're getting a good price only to realize when you upload your receipt that Target offers that deal, but you bought it at Kroger.
8. Use the InboxDollars search engine.
Using InboxDollars' search engine doesn't count toward your dollar earnings. Like with the free games, it gives you progress toward your next Scratch and Win ticket (which we'll talk about more below).
Some days you can earn credit for 4 searches, while other days you could earn rewards for 20 or more.
🔍 Reviewer's take: I don't think the InboxDollars search engine algorithm is as sophisticated as Google's. However, it's an easy way to earn credit for Scratch and Win cards, which are admittedly addictive.
You can get multiple credits for the same search term by toggling between web, images, videos, and news.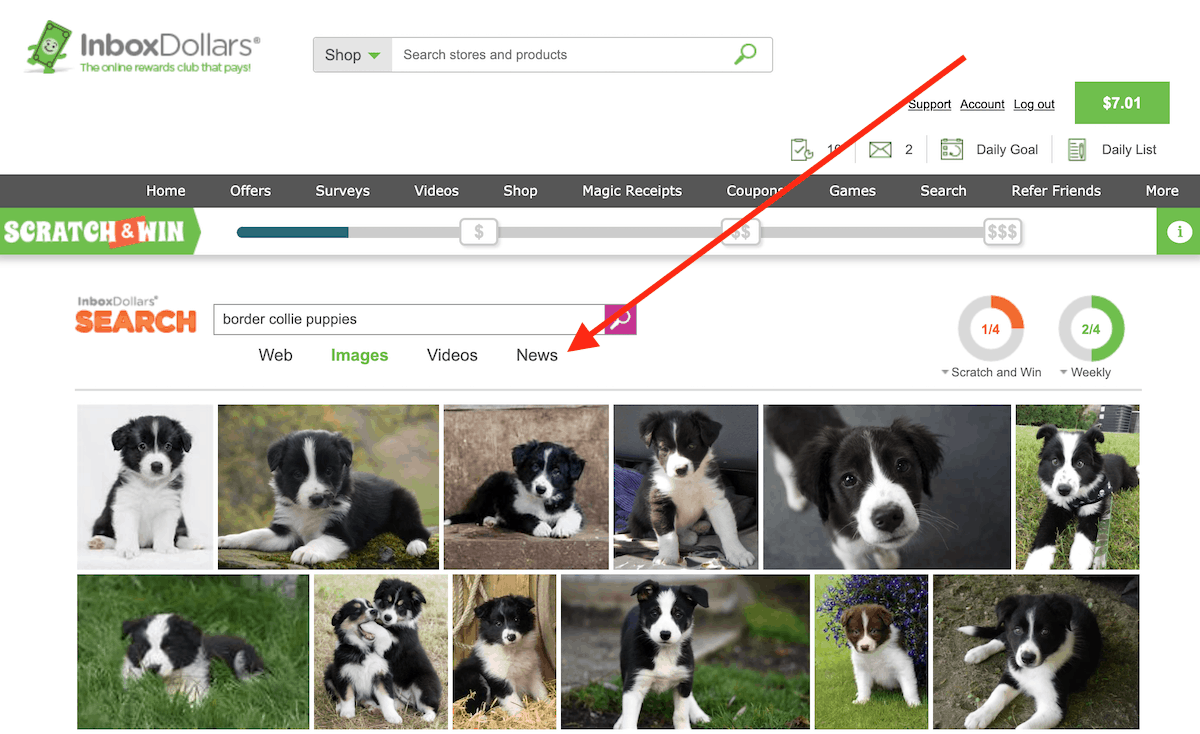 I wanted to try a few Scratch and Win cards to see how they work and what type of reward you can expect. I got to the second tier of cards quickly just by doing a few searches.
Other Ways to Earn with InboxDollars
Aside from surveys, coupons, and the other primary methods of earning cashback on InboxDollars, you can earn bonus rewards with Scratch and Wins, WinIt codes, bonus streaks, and by referring friends to the app.
Scratch and Wins
We talked about these a little earlier in the games and search sections. As you complete surveys, play games, and participate in other activities on InboxDollars, you'll earn progress toward a Scratch and Win card, which is basically a digital lottery ticket with a random reward.
There are three milestones of Scratch and Win. Each one has the potential for a maximum $10, $25, or $100 reward.
The more activities you complete (i.e. surveys, games, searches, etc.), the higher-tier scratcher you get. According to an InboxDollars blog post, most scratchers vary between a couple of cents and $0.25.
🔍 Reviewer's take: Scratch and Wins are fun and, just like lottery tickets, can be addictive.
The fastest way I've found to earn Scratch and Win tickets is by performing searches. Just four searches got me to the first tier in less than a minute.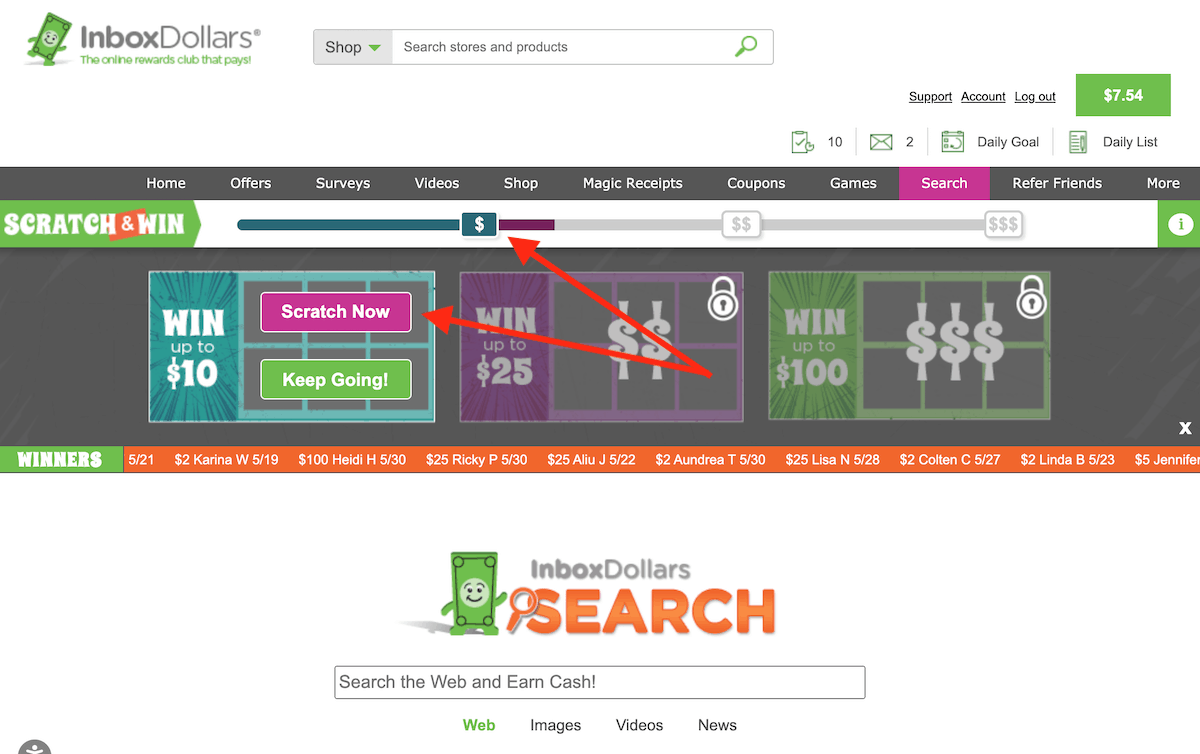 While Scratch and Wins can be fun and exciting, I wouldn't rely on them for the bulk of your earnings. The points are random. I've gotten 10 Scratch and Win cards so far — some from each of the three tiers — for a total of $0.28.
My lowest four cards all paid $0.01 (one of which was a tier 3 Scratch and Win), and my highest paid $0.08 at tier 2.
Cash in your cards when you have them, but if your goal is to maximize your time with InboxDollars, focus on higher-earning activities like surveys, coupons, and cashback.
WinIt Codes
Sometimes InboxDollars will post "WinIt" codes on their Facebook, Instagram, and Twitter accounts.
Each code offers a different reward. Some are worth a few cents, and others give you sweepstakes entries or progress toward your next Scratch and Win.
These codes expire at 11:59pm CST the day they're posted, so you have to check in with their social media accounts on a regular basis to catch them.
🔍 Reviewer's take: I scoured the company's social media and found a WinIt code on Facebook for the day I was writing this, worth Scratch and Win credit.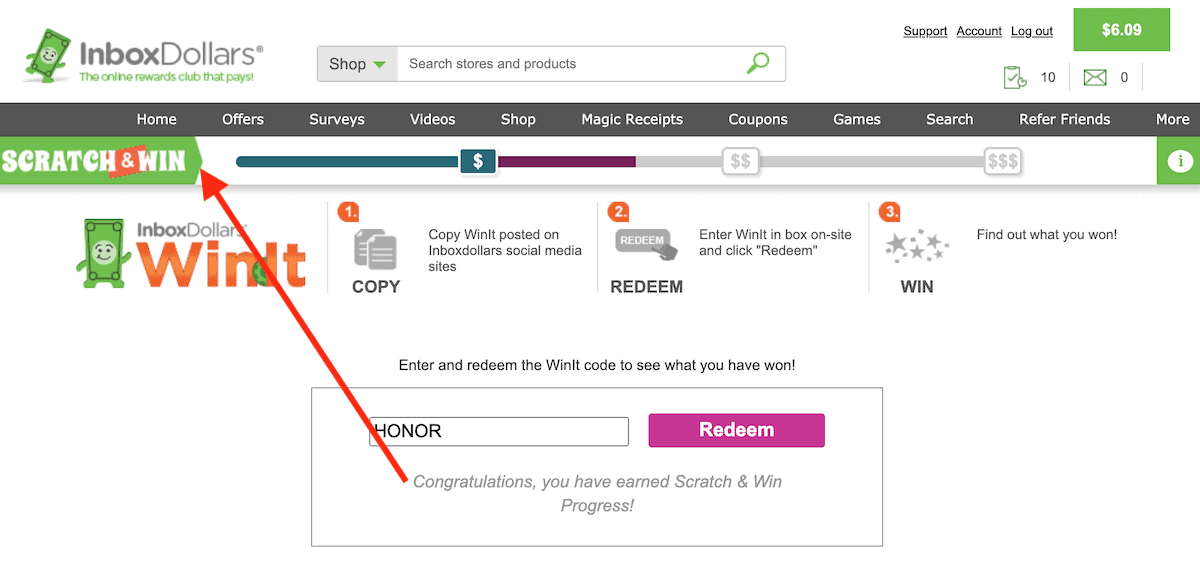 If you're already on Twitter, Instagram, and/or Facebook, then it's probably worth following InboxDollars to stay up-to-date with new codes. But similar to Scratch and Win, they're more of a bonus than a reliable earning opportunity.
Bonus Streaks and Referrals
Whenever you meet your daily earnings goal or complete your daily to-do list, InboxDollars rewards you with a $0.03 to $0.10 bonus. InboxDollars sets your daily goal based on your previous earnings history.
When you meet your daily goal or complete your daily to-do list several days in a row (known as a streak), you get an even bigger bonus.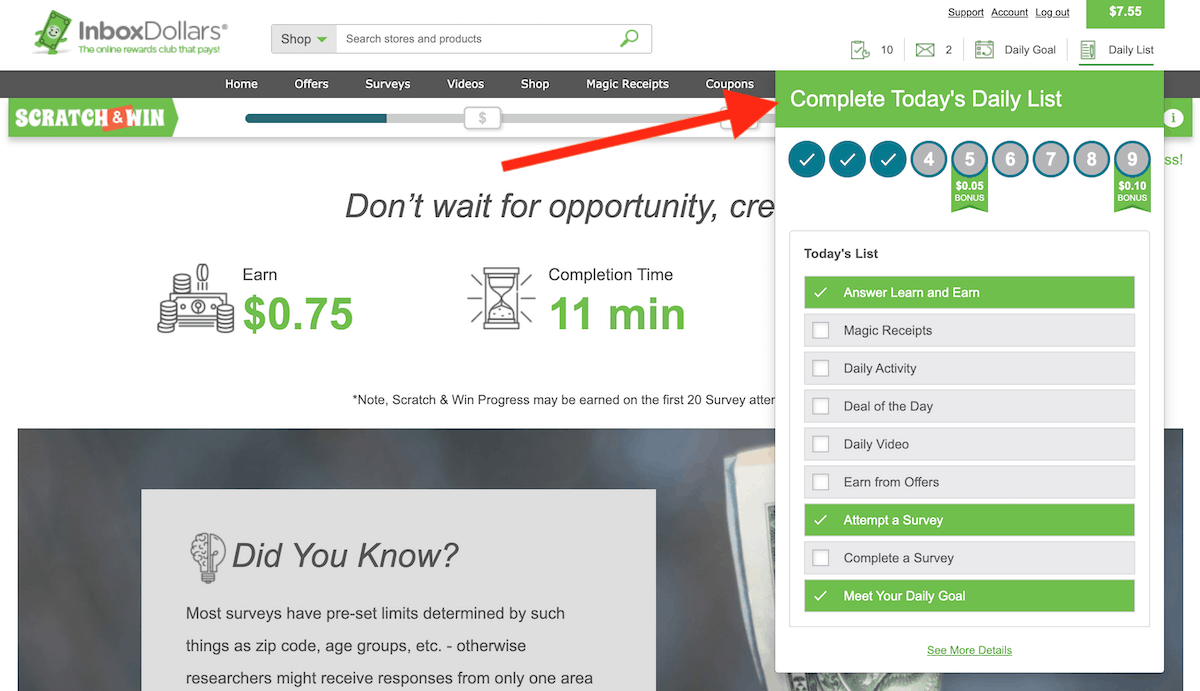 For the referral program, you'll receive a $1 cash bonus for the first 5 people you refer to InboxDollars, plus 30% of their lifetime earnings.
In order to qualify for the bonus, your referrals have to earn at least $7. Once they reach the $7 minimum, you'll receive your bonus credit within 24 hours.
After your 5th referral, you'll still get 30% of your new referrals' earnings, but no $1 bonus.
🔍 Reviewer's take: I wish InboxDollars shared more about how they set your daily earnings goal, but it is a nice perk. So far, I've earned $0.06 in bonuses, which is mostly from printing coupons and taking a couple of surveys.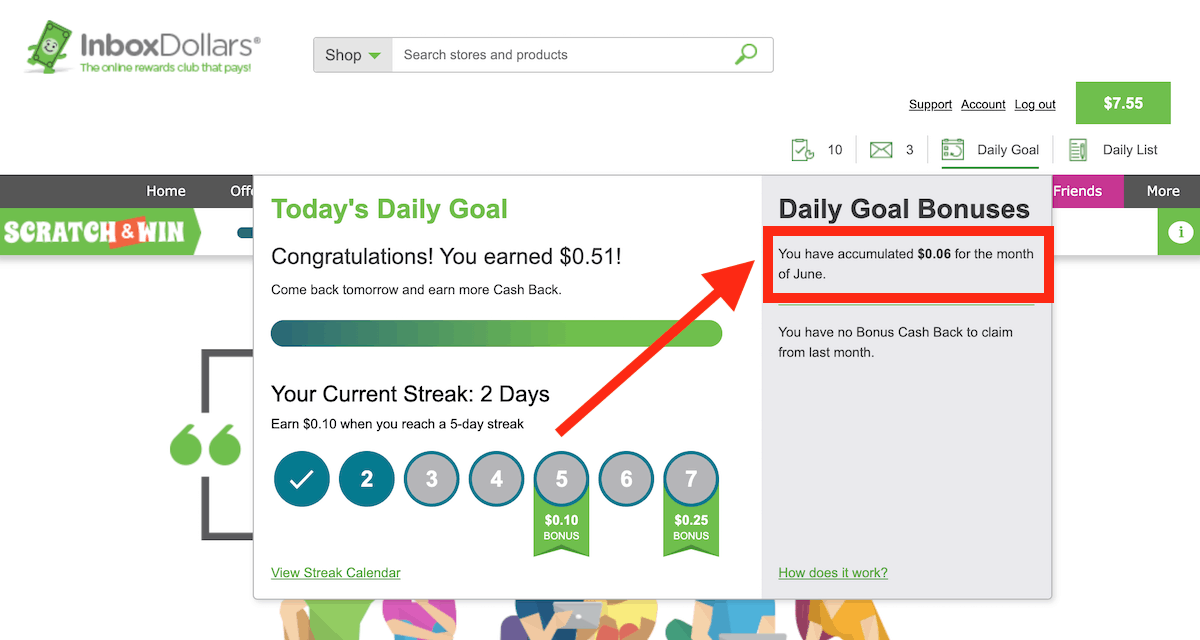 The referral program isn't as good as other apps that I've used, especially given that the $1 bonus is only for your first 5 referrals.
I can't speak for everyone, but I passed the $7 mark within 2 or 3 days of opening an account (including the $5 sign-up bonus). If your referrals are diligent, you could probably expect to receive your bonus within a month after they sign up.
How Much Can You Make with InboxDollars?
You can cash in your earnings for PayPal cash or gift cards to places like Amazon, Target, and Starbucks once you reach $15 in your account.
The amount you can expect to make depends on which activities you choose.
For example, I spent 30 minutes playing a Monkey Bubble Shooter game, which got me up to a tier 2 ticket. I scratched it and got a $0.02 reward.
Then I took a 20-minute survey that paid $0.50.
The game worked out to about $0.04 per hour. Not a great rate.
Taking surveys came out to roughly $1.50 per hour. Still not a lot of money, but about the average for survey sites, in my experience. And definitely more than playing the InboxDollars games.
Surveys, coupons, cashback, and receipt uploads are the best-paying activities on InboxDollars. If you stick to those, you can reasonably expect to earn $15 to $30 per month.
No survey or cashback site is meant to be a high-earning side hustle. But if you want to make easy money for simple tasks, that's where InboxDollars fits in.
InboxDollars Alternatives
If you're having trouble getting approved for surveys through InboxDollars or just want to explore other options, consider signing up for one or more of its alternatives.
Branded Surveys: Unlike InboxDollars, which offers multiple ways to earn, the only way to make money with Branded Surveys is through taking surveys. You'll earn your first 100 points for creating an account. At 1,000, equal to $10, you're eligible to cash out for gift cards to your favorite restaurants, travel sites, or online retailers. If you'd rather have the cash, you can transfer your earnings to PayPal or have them directly deposited into your bank account.
Survey Junkie: One of the original survey sites, Survey Junkie, still remains popular among users. As the name suggests, this site focuses solely on surveys.
The minimum payout is $10, and you can redeem points for e-gift cards or cash through PayPal.
Swagbucks: Swagbucks is one of the most popular survey and side hustle sites. Like InboxDollars, you can make money by taking surveys, watching videos, redeeming coupons, and completing other small activities. Swagbucks also offers a $10 sign-up bonus for new members.
You can cash out your earnings for as little as $1, or 140 Swagbucks (SBs). Your redemption options include PayPal cash or gift cards for popular retailers such as Amazon or iTunes. Redemption amounts vary, so while Amazon gift cards start at $1, you may need a minimum of $5 to cash out for a Target gift card.
You can also earn points easily by using the SwagButton, which is a browser extension that you click on to find extra coupons or deals.
InboxDollars Review in Summary: Good for Extra Spending Money
InboxDollars is similar to a lot of survey sites, especially Swagbucks. That's not surprising since they're both owned by the same company.
InboxDollars, and really any survey site or app, is best if you want to make some extra money with very little effort. If your primary goal is to make the most money you can with the app, then stick to the surveys, printing coupons, and uploading your receipts.
If you're just looking for a fun app to fill your time, then you might get a lot out of it just by playing the games on your phone and getting random rewards with the Scratch and Win tickets.
You won't make hundreds of dollars per month. But for the occasional $15 gift card, it's not a bad way to spend your time.
Related: 18 Best Places to Take Paid Online Surveys