Swagbucks Review 2023: Is the Rewards App Worth It?
Advertiser Disclosure
Our readers always come first
The content on DollarSprout includes links to our advertising partners. When you read our content and click on one of our partners' links, and then decide to complete an offer — whether it's downloading an app, opening an account, or some other action — we may earn a commission from that advertiser, at no extra cost to you.
Our ultimate goal is to educate and inform, not lure you into signing up for certain offers. Compensation from our partners may impact what products we cover and where they appear on the site, but does not have any impact on the objectivity of our reviews or advice.
I tested every feature Swagbucks offers. Some are worth your time, others not so much. Here are the hacks I used to maximize my earnings.
Our number one goal at DollarSprout is to help readers improve their financial lives, and we regularly partner with companies that share that same vision. If a purchase or signup is made through one of our Partners' links, we may receive compensation for the referral. Learn more here.
When I first heard of Swagbucks, I was skeptical.
Any site with the name "bucks" in it immediately sets off my internal scam alert.
That said, I've been a user for over seven years now, and I can definitively say that Swagbucks isn't a scam. In fact, it's one of the most popular online rewards sites in the United States.
If you're looking for an easy way to earn a little extra cash each month, grab a seat as I go over the best (and worst) ways to make money with Swagbucks.
What Is Swagbucks?
Swagbucks is a rewards platform where users can complete surveys, earn cash back, and perform other short tasks to earn "Swagbucks" (also known as SBs).
Users can exchange SBs for PayPal cash or gift cards to places like Amazon, Walmart, or Target. Or, you can donate your earnings to charities like the American Red Cross and UNICEF.
Swagbucks is a subsidiary of the media company Prodege, LLC along with three similar sites: MyPoints, Tada, and InboxDollars.
Since its launch in 2010, Swagbucks has grown to over 20 million users and paid out over $935 million in cash and free gift cards. Swagbucks' reputation is well known in the online sphere. They've been featured in publications such as Reader's Digest, Cosmopolitan, and U.S. News & World Report.
$10
Sign-Up Bonus
Conditions apply
DollarSprout Rating
4.5 out of 5 stars
Swagbucks is an online rewards platform that offers redeemable points when users complete surveys, shop online, purchase gift cards, or sign up for free offers. Points can be exchanged for gift cards and PayPal cash for as little as $1.
Show

Hide

more
Pros
Free to use.
$10 sign-up bonus available.
Wide variety of ways to earn points.
Most points are credited to your account immediately.
Clean website and mobile app with an easy-to-use interface.
Earn rewards for completing everyday tasks.
Cons
Won't replace your primary income.
Unclear point attribution at times (Swagbucks Search).
Some of the opportunities require you to spend money, negating the implied benefits.
How Swagbucks Works
Swagbucks' focus has shifted in recent years to include features beyond just paid online surveys. Coupons and cash-back shopping have additionally become core product staples as they seek to increase the number of ways members can earn rewards.
Specifically, members can earn SBs in at least ten different ways. Swagbucks refers to them as:
Answer
Shop
Magic Receipts
Discover
Swagstakes
Search
Play
SwagUps
Daily Bonus
Invite Friends
Top Swagbucks Features
I've tested virtually every feature and/or way to make money with Swagbucks. Here's an overview of each, my experience, which I think are worthwhile, and which aren't worth your time.
1. Answer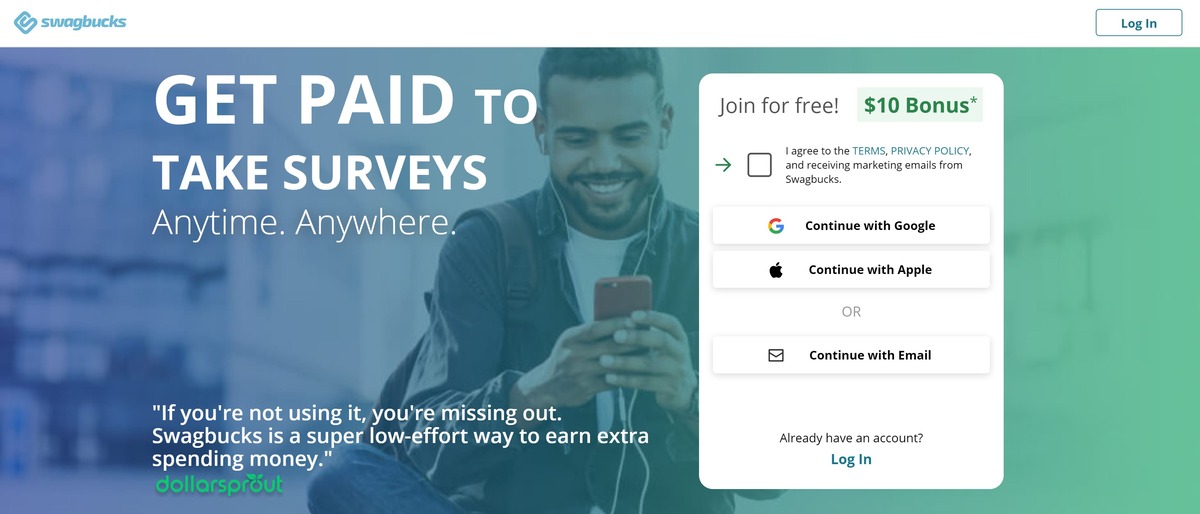 The most popular way to make money on the site is by taking Swagbucks surveys.
Major brands rely on companies like Swagbucks to gather helpful feedback from consumers. When you take a survey, those companies pay Swagbucks for your answers, and Swagbucks passes on some of their earnings to you.
When you first sign up for Swagbucks, you'll fill out a demographic profile with your age, location, income, and interests. Swagbucks uses this information to match you with surveys that are a good fit.
You'll still need to answer pre-qualification questions to take some surveys, and there's a chance you'll be disqualified. If that happens, you may end up with a small reward or no points at all.
Typically, you'll find a few new survey options in your account each day. The more accurate and complete your profile, the better your survey matches will be, which should mean less time answering pre-survey questions just to be disqualified.
Swagbucks offers three main survey options:
Survey Profile
Answer Surveys
Daily Poll
Survey Profile
Your Survey Profile can be found on the right side of the Answer tab.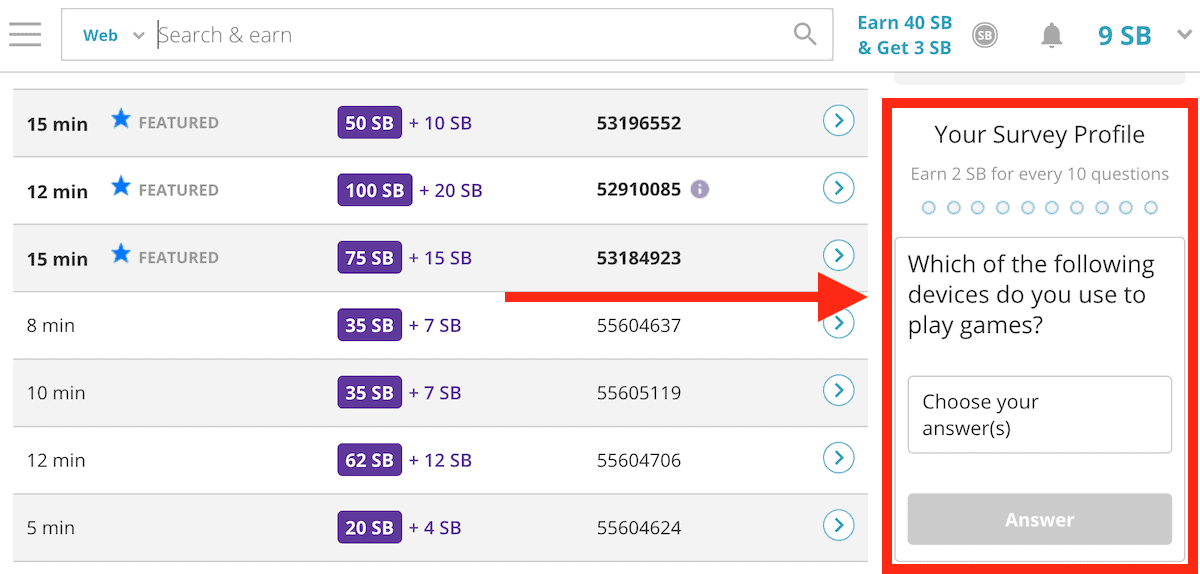 You get 2 SBs for every 10 questions you answer. That may not sound like much, but the questions are short and multiple-choice, so SBs can accumulate pretty quickly.
That said, there only appears to be 40 to 50 questions in total. As such, your earning potential here is low, and will only amount to a few cents per month.
Swagbucks primarily uses these interest-based surveys to match you with larger, more relevant surveys from brands seeking targeted feedback. Each month, I tend to notice a few new questions pop up on my sidebar as Swagbucks seeks to find relevant participants for newly introduced surveys.
Answer Surveys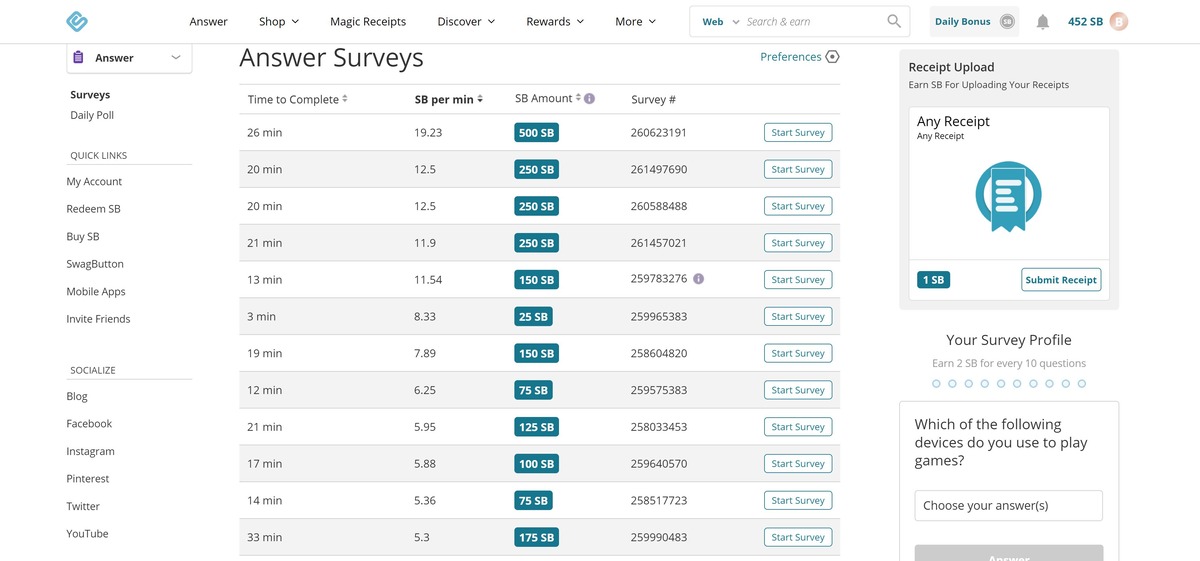 Answer Surveys are the standard surveys that appear on the Swagbucks Answer tab. The estimated completion time, SB per minute, total SB amount, and Survey ID are listed on the page.
Selecting Start Survey will take you to a screening page where you're generally asked 5 to 7 questions to make sure that 1) you're not a bot, and 2) that you provide answers that are consistent with the demographic information you provided in your Survey Profile.
Assuming those all line up, you'll then be re-directed to a third-party site that offers the survey.
Completed surveys generally award between 50 and 500 SBs, the cash equivalent of $0.50 to $5.00. Our experience suggests you will qualify for about 20 to 25% of the surveys listed on your profile.
As such, it's common to begin a survey, and then be screened out (disqualified) after completing a variable number of questions. I generally receive a proportional number of the advertised SB Amount depending on how far I made it through the survey before getting screened out. This typically falls between 1 and 15 points, but Swagbucks isn't clear about how those totals are determined.

A common complaint that people have about survey sites is that sometimes you will get booted from a survey and you'll have no way of knowing if it was just a glitch or if you were disqualified from the survey. That ambiguity has hurt the online survey space's reputation over the years, but one thing I really like about Swagbucks is that it transparently provides an Activity history under your profile (top right corner of your dashboard) that shows how many SBs you earned for every activity on the site, including survey disqualifications.
Daily Poll
The daily poll renews each day. It's 1 question worth 1 SB. Not much, but an easy point for little effort.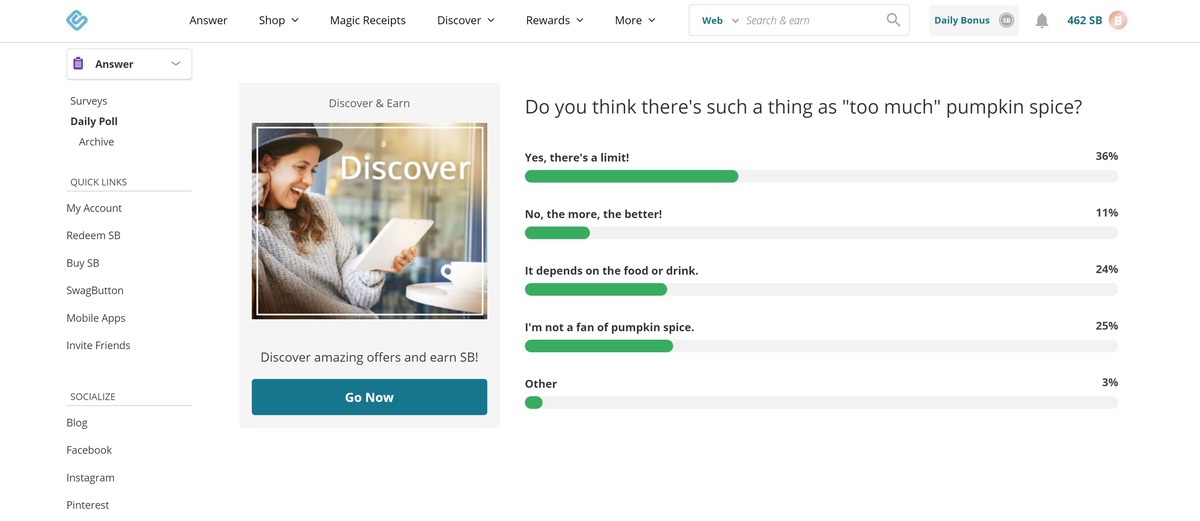 🔍 Reviewer's Note:
One thing I appreciate about taking surveys with Swagbucks is that the points are usually credited to your account immediately. When you complete a task, the points near-immediately appear in the upper right corner of your account.
Some of the Answer Surveys can take a while to complete. One I did took about 30 minutes, and I earned 135 SBs. Had it taken 60 minutes, this survey would have had a payout worth $2.70 per hour.
Surveys aren't the highest-paying side hustle, but that hourly figure is about average when compared to other survey sites I've tested.
One characteristic I like about the more notable paid survey sites is that they've started to display the number of points that can be earned per minute of survey participation. Swagbucks takes this a step further and allows you to sort the list of available surveys so that the highest SB per minute surveys show at the top.
This will maximize the rate you earn Swagbucks versus always electing for the surveys awarding the highest total SB Amount. From the screenshot I included from my Answer dashboard above, you can see a survey that pays ~20 SB per minute; the cash equivalent of $12 per hour. Such surveys are less common, but it gives you an idea of the ceiling one can expect to hit in terms of hourly earnings taking surveys.
2. Shop
Swagbucks Shop works similarly to Rakuten and other popular cash back apps. When you shop through one of their links, Swagbucks receives a small commission. They pass on part of that commission to you as a cash back reward.
For example, a 5% cash back deal at Walmart means you'll get 5 SB for every $1 you spend when you purchase something through a Swagbucks link.
Swagbucks offers a wide range of retailers to choose from, including Amazon, Athleta, Lowe's, Banana Republic, and travel sites like Priceline and Hotels.com.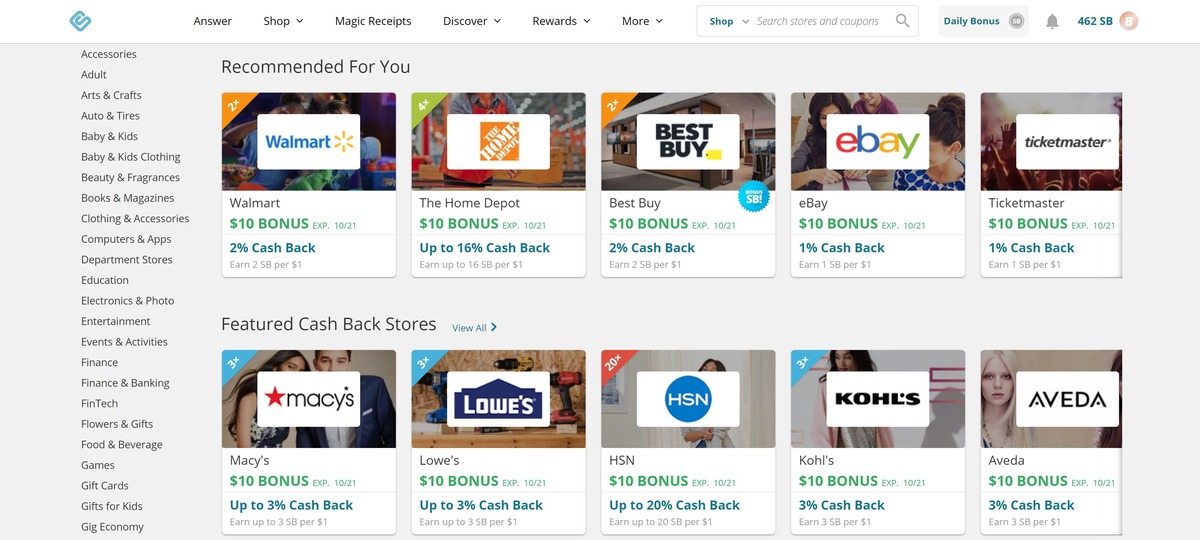 The Swagbucks Shop page also offers coupons for local deals through Groupon. When you find a deal you like, just click the link that directs you to the company's site where you can complete your shopping trip.
Sometimes Swagbucks offers multiplier deals for specific retailers. So if a store normally offers 1% cash back, but has a 10x deal, you'll receive 10% cash back, or 10 SB, for every $1 you spend. There are no codes necessary for the multiplier deal.
It can take 30 days or more for your Swagbucks points to show up in your account depending on the retailer.
🔍 Reviewer's Note: Swagbucks Shop is pretty straightforward. But not all the deals are what you see on the surface.
For example, I clicked on Amazon because I thought I'd buy a book and earn some cash back. But the "up to 4% cashback" they refer to on the card is only for purchasing Amazon devices like a Kindle or Echo. I was bummed to realize I couldn't get points for anything I wanted to buy on Amazon.
But other deals, like Banana Republic, offer a set amount of cashback no matter what you purchase. The best way to earn points with Swagbucks Shop is to add the SwagButton extension to your browser and shop as you normally would. Any time Swagbucks offers a reward for a site you're shopping on, you'll see a notification to "activate" the deal.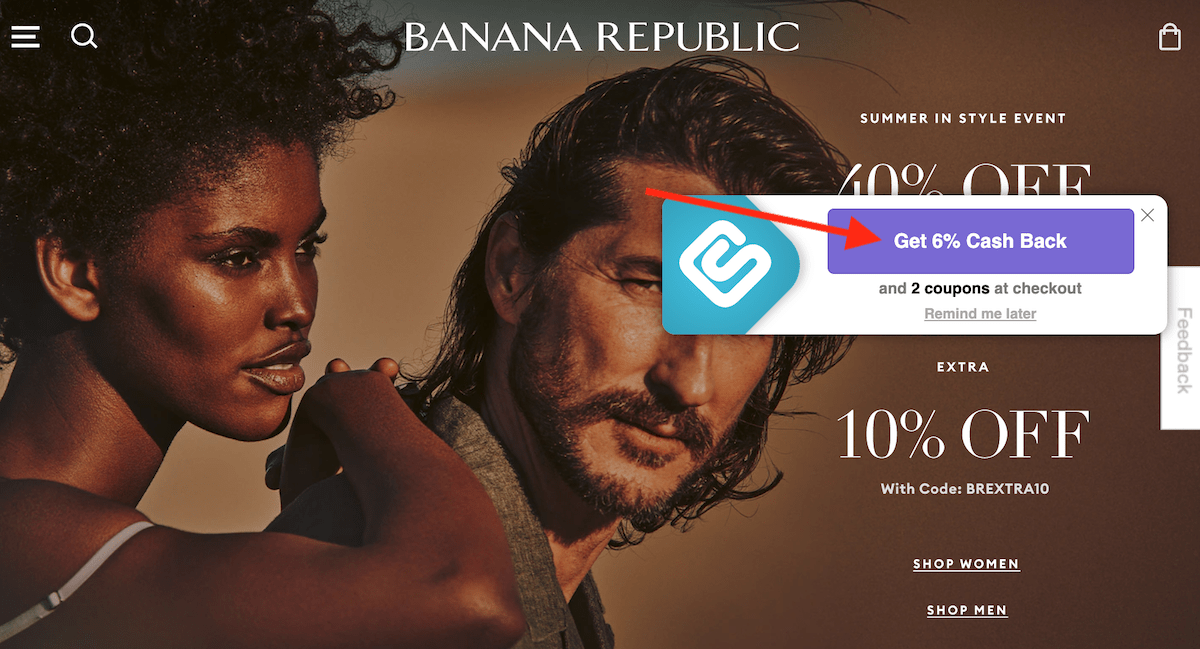 It's very similar to Honey, Rakuten, Capital One Shopping, and other cashback apps. I have them all installed on my Chrome browser. Any time I'm shopping, I use the extension that offers the best deal with the site I'm on.
In my opinion, it's definitely worth installing the SwagButton (and other cashback shopping extensions) to make sure you're always getting the best deal when shopping online.
3. Magic Receipts
The Magic Receipts feature is similar to Ibotta and other receipt-scanning apps.
When you find something you like, you add it to My List on Swagbucks and purchase it from a participating store like Walmart, Target, or Kroger.
Then, just upload the receipt to claim the advertised SBs.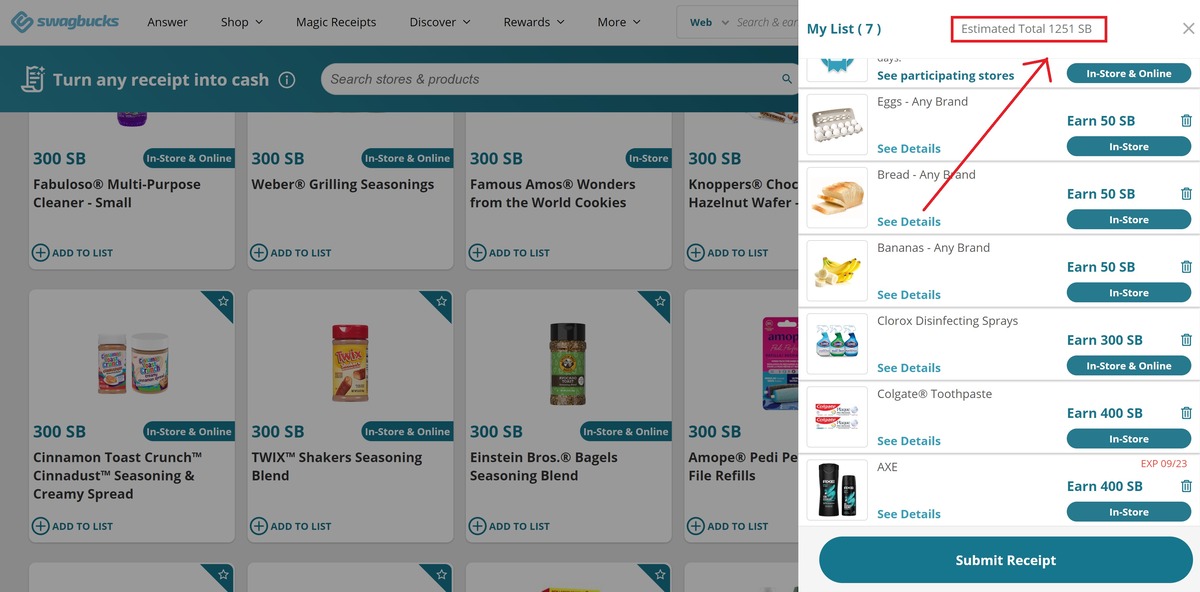 Each item is worth a different number of SBs. Some are worth an easy 50 SBs (bread, bananas, etc.) and others can be worth as many as 3,000 SBs (tequila, cleaning supplies, etc.). Certain items are also brand-specific or require in-store shopping.
Be sure to click on each offer and read the "fine print" section for all the requirements. Many deals require that you purchase a minimum amount to receive your points.
After you shop, return to My List in Swagbucks to submit your receipt. Swagbucks will ask you where you shopped and which items you bought. Upload a picture of your receipt, and Swagbucks will scan it and credit your account.
🔍 Reviewer's Note: I think Swagbucks' Magic Receipts feature is really cool. It's a newer addition to the platform, so I'd never used it until recently.
One thing I've learned after using it a few times is that you have to pay close attention to which stores allow which offers. I just added some of the items I needed or wanted to my list, went to Kroger (where I do most of my grocery shopping), and bought them all.
It wasn't until I got back and uploaded my receipt that I realized not all of the items I chose were available from Kroger. So I didn't receive the points I expected for everything on my list.
Admittedly, this was my fault, not Swagbucks'. But it did teach me to read all the details on an offer before making the purchase.
Uploading my receipt was easy. I did it on my laptop, but it's actually easier to do it from the Swagbucks app. I thought it would take a few days to get the points, but they were credited to my account immediately, which was a nice surprise.
I try to be judicial and quickly scan for things to add to my list that I plan on buying anyway. For example, I added just 7 items for my most recent trip and earned $12.51 cash back on top of my Kroger loyalty points, store coupons, and my cash back credit card earnings. Quadruple savings for the win.
Magic Receipts is probably worth a shot for most people. If you have one place you normally shop and don't want to run all over town for deals, then click on the store you normally shop at to see what deals are available there.
Other Swagbucks Features
We intentionally decided to place these features in their own separate category for a few different reasons. For starters, they won't be applicable to everyone.
Furthermore, several are low-earning features that may even require you to spend money to earn SBs. This isn't ideal as the likely cost won't offset the number of SBs you're slated to earn. (If you planned to spend money on these items anyway, then you may as well earn SBs to offset the cost).
4. Discover
With Swagbucks Discover, you can earn SB by signing up for product trials, donating to charities, downloading mobile apps, and more.
In a nutshell, they're all offers from companies that partner with Swagbucks. Some of them require you to make a payment or deposit, and others just require a sign-up.
Several of these offers have a long(er) locking period. Whereas the points earned from surveys and cashback offers generally appear in your account within days if not immediately, the Discover offers can take a month or more to show up.
Additionally, not all offers are "high-value", but you can sort and filter to find the ones that make the most sense for your situation.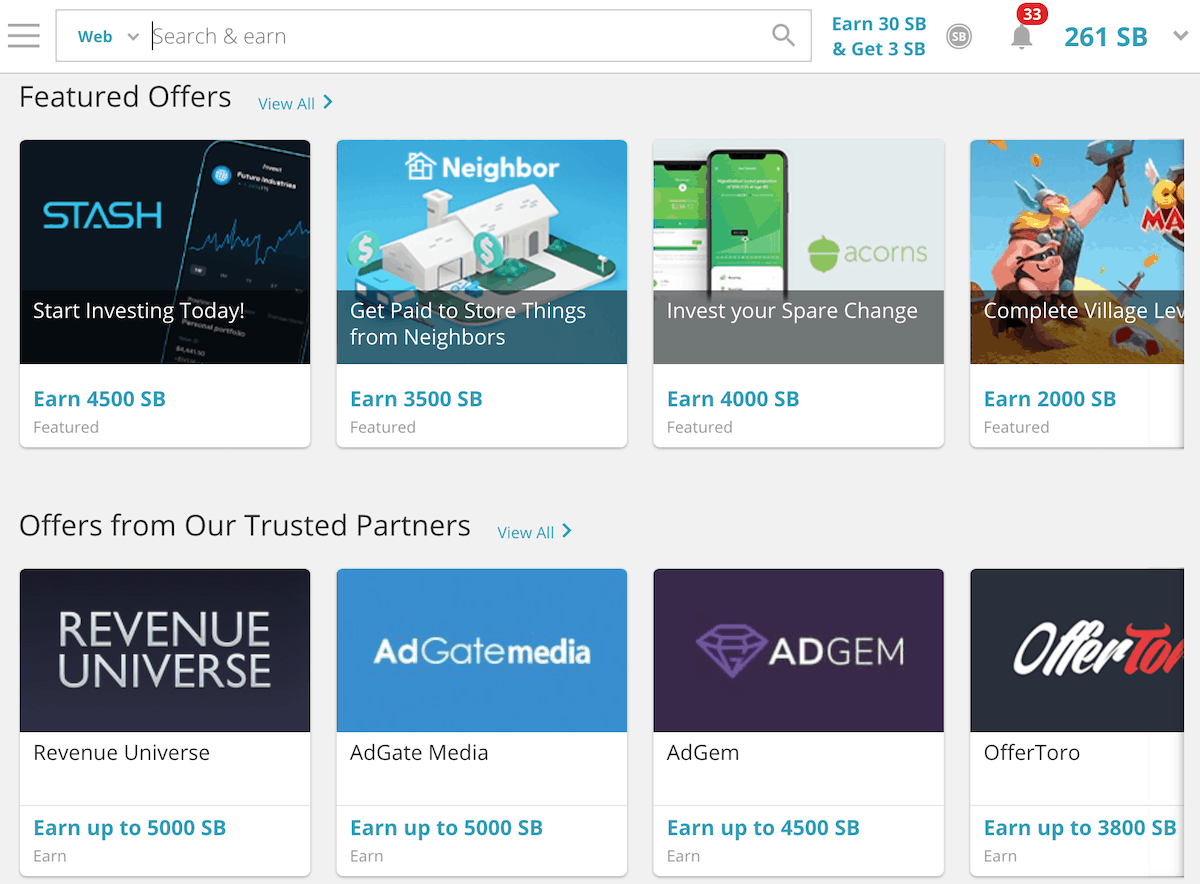 If you're interested in exploring new brands and earning the highest rewards, you'll want to check out the Featured and Sign Up and Earn listings.
🔍 Reviewer's Note: I didn't try any of these because there wasn't anything I was interested in or wanted to pay for. The same may not be true for you.
For example, some of the options in my account were to sign up for Stash (an investing app), Charlie (a money management app), or Home Chef meal delivery kits. All products that appeal to a large number of consumers, but nothing that filled an immediate need for me.
Be sure to actually click the offers you're interested in and read the fine print in the expanded box. It tells you how long it'll take to receive your points, whether or not you have to pay for something, and other handy details to help you decide whether it's worth it or not.
I think some of the offers here could be worth it depending on the person; like one offer to get Disney+, Hulu, and ESPN for $13.99 per month (in addition to earning $12.50 in free SBs). I have all the streaming subscriptions I need, but for new Disney+ users who want to try out these services, it could be a good deal.
5. Swagstakes
While the Swagstakes feature has been around for a long time, the speed at which Swagbucks has grown has recently made this a more lively feature.
Member users can use their earned SBs to buy entries into raffles for a number of different prizes. Common prizes include large SB payouts (i.e. risk 25 SB to win 100,000 SB), gift cards, crypto vouchers, or other high-value items (like a Peleton bike giveaway currently running).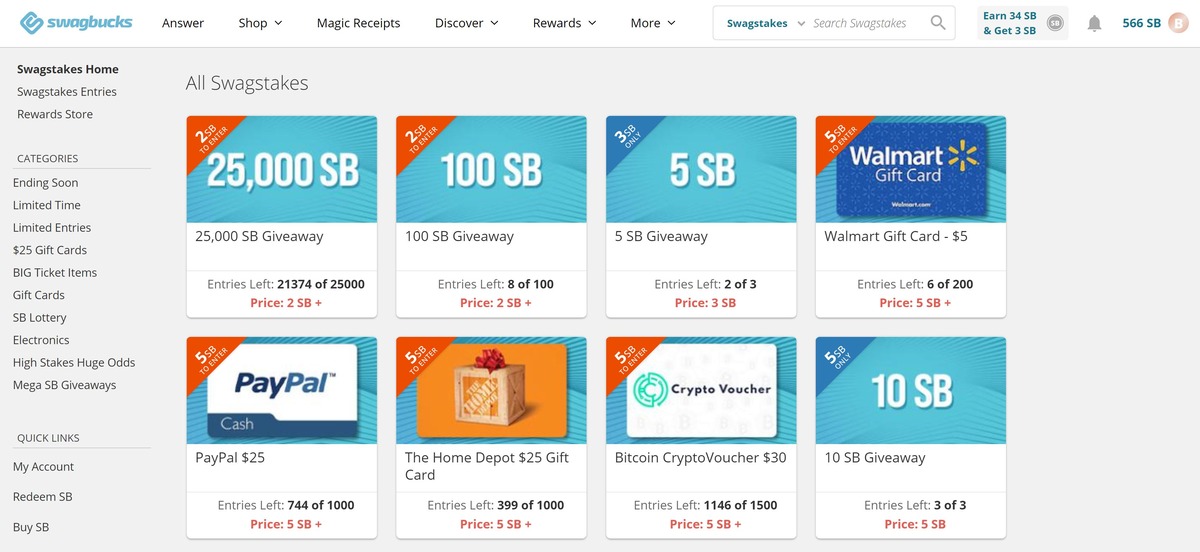 The odds of winning a prize are directly correlated to how many entries there are, assuming a single prize is being awarded.
🔍 Reviewer's Note: I burned 25 SB trying to win a 100,000 SB prize and to no one's surprise, did not win. I don't have a huge appetite for gambling and prefer to just save my SBs to put towards an Amazon gift card or PayPal cash withdrawal.
Furthermore, Swagbucks appears to remove a portion of the total entry fees as a "house" fee of sorts. For example, there are micro giveaways in which 3 participants stake 15 SB towards a 25 SB prize. 45 SB enter in, only 25 come out. This is a pretty hefty fee if you ask me, and it seems like an easy way for Swagbucks to claw back some of the SBs they've awarded users.
To be fair, this is absolutely no different than just about any sort of lottery game, and for users who are having a hard time reaching the minimum threshold to cash out via a traditional reward, this is an opportunity to blow past those minimums and potentially earn much more.
6. Search
One way to passively make money with Swagbucks is to use their Search feature. You can use the Yahoo-powered search engine straight from your Swagbucks account, by visiting the website directly, or by making it your homepage.

The platform randomly awards users SBs for using the search engine as a part of their daily lives. I spent some time using the Swagbucks search engine, and I did not earn any points for my 10 to 20 searches. That said, here's what I learned from Reddit users who have earned with Swagbucks Search:
Swagbucks will notify you when you get a "Search Win" and tell you how many points you've earned.
You'll have to complete a Captcha to prove you're not a robot.
Rewards range from ~5 to 25+ SBs for a winning search.
Not all searches will unlock a Search Win and Swagbucks doesn't share the types of searches that will unlock them (otherwise people would try to game the system).
🔍 Reviewer's Note: It's not worth your time tracking to "hack" Swagbucks Search for points. Consider these a nice bonus on top of the points you earn from Surveys or shopping.
To maximize your points with Search, set Swagbucks to your default search engine. (Swagbucks shows you how here.) I use Google's search engine and SEO tools for work, so I can't personally make the switch. But if you currently use Yahoo as your default search engine, then not much will change.
7. Play
Swagbucks offers three main ways to earn with games:
Make in-app purchases
Reach a minimum level within a specified timeframe
Play online and win randomly
Popular Swagbucks games include WSOP Poker, Sudoku, Bubble Shooter, Crossword Puzzle, Solitaire, Grand Mafia, and many more. For some of these games, you can earn points for each dollar you spend on in-app purchases.
This section is pretty straightforward. When you find a game that interests you, just be sure to read the requirements so you know what you need to do to receive the points.
🔍 Reviewer's Note: I appreciate how transparent Swagbucks is about what it takes to earn points with the offers. You can click on the card for each offer to read the requirements, like if you have to pay or get to a certain level to earn your SBs.
I wish there were more free online options to choose from. There were only three in my account, and each one had a maximum limit of 10 SBs.
Related: 23 Best Apps and Games That Pay Real Money
8. Swag Ups
Swagbucks occasionally offers ways to earn larger bonuses or temporarily unlock increased SB acquisition rates. For example, the $10 Welcome Bonus is technically an available Swag Up.

These are generally one time offers (OTO) and disappear once claimed. I've since made a purchase to unlock my Receipt Upload and Welcome Bonus, so those no longer appear on my account.
🔍 Reviewer's Note: In the past, I've had Swag Up-oriented tasks that temporarily gave me a 100% boost on Answer Survey earnings. Basically, I got two times the normal number of SBs for each survey I completed.
I don't frequently see new bonuses appear here, but I'd recommend periodically checking the tab as the bonuses tend to be on the more lucrative side and aren't always very difficult to unlock.
9. Daily Bonus
Swagbucks gives you a custom daily earnings goal based on your previous earning history.
Whenever you hit your daily goal (mine is 34, as you can see below), you'll get bonus SBs. You can also get bonus points for checking items off your daily to-do list and building earning streaks.
A 7-day streak of meeting your daily goal will net you 25 extra SBs.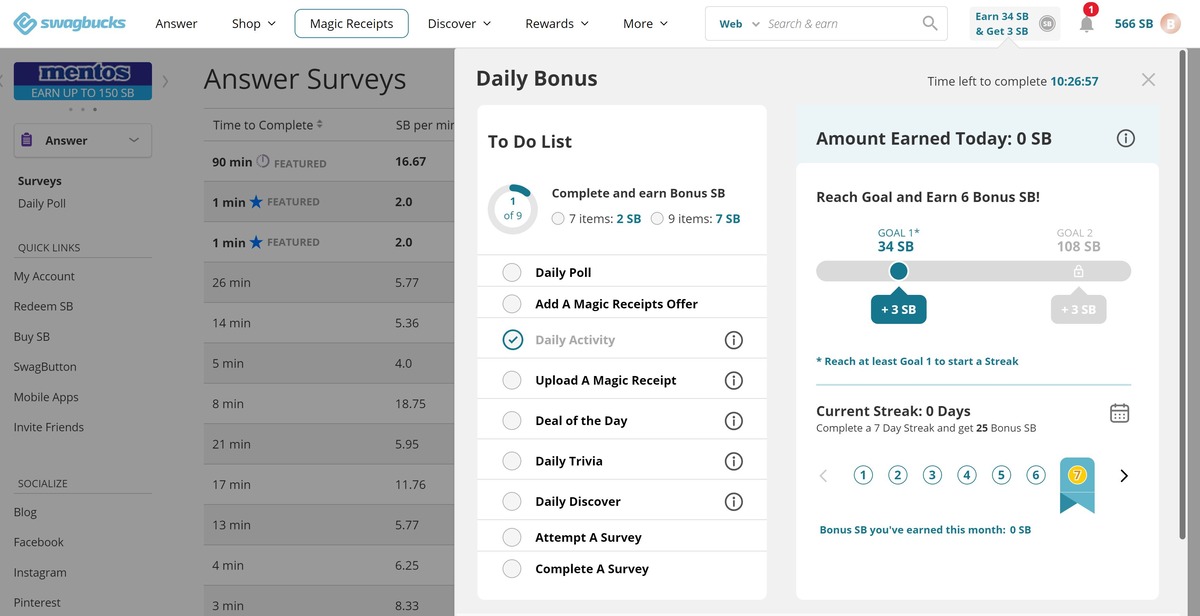 You won't see bonus points in your account immediately. Swagbucks awards bonuses on the 5th of each month, so you'll receive a notification when they're available.
10. Invite Friends
When you sign up for Swagbucks, you get a unique referral code. If you enjoy using the site, send your code to any friends or family members you think would also benefit from it.
When they sign up and start using the site, you'll get 300 SBs when your referral earns 300 points or more within their first 30 days. Plus, you'll earn 10% of their lifetime earnings for as long as their account remains active.

For example, if your coworker registers using your referral link and earns 300 SBs in their first month, you'll get 300 credited to your account. It's one of the simpler, more passive ways to collect SBs.
Right now, Swagbucks is also offering a 100-point bonus when someone you refer adds the SwagButton on their laptop or desktop.
How Much Can You Earn with Swagbucks?
You won't get rich or even come close to earning a full-time income with Swagbucks. The company is clear about that. It is purely a way to earn a little extra money each month.
For example, I earned 256 SBs over the past three days by taking a single survey, uploading one receipt, and testing out the Play feature.
If you use the site regularly and do a modest amount of online shopping, then expect to earn the cash equivalent of $10 to $30 per month in redeemable SBs, or more if you take advantage of their full suite of features.
Swagbucks' website states that users can reasonably earn $1 to $5 per day, or $365 to $1,825 per year.[1]
We rate this claim as "True", but lacking in context.
It is understandably difficult to maintain daily activity, and, as time passes, the average user becomes eligible for a lower number of surveys as they work through the existing database.
Users who frequently shop online, take daily surveys, and refer similarly active friends can feasibly earn towards the higher end of Swagbucks' stated earning range.
How to Sign Up for Swagbucks
Registering for Swagbucks is simple. Simply head to their homepage and create your account to get started. Though not required, you can use any of the Swagbucks referral links in this post to become eligible for the $10 Welcome Bonus.
(You will be eligible for the $10 bonus regardless of whether or not you register for Swagbucks using our link.) Our content is reader-supported, so your patronage is very much appreciated.
After registering, you'll be asked a series of onboarding questions, and then you're free to begin exploring the platform.
Similarly, you can download and use the mobile apps in conjunction with, or in lieu of, a desktop account.
Swagbucks – Google Play

Rating: 4.3 stars, 127K reviews
Swagbucks – App Store

Rating: 4.4 stars, 96K reviews
Swagbucks Alternatives
Swagbucks isn't the only rewards site of its kind. If you enjoy using Swagbucks and would like to know about similar sites to maximize your earnings, consider looking into:
Branded Surveys
Unlike Swagbucks, Branded Surveys focuses solely on surveys. However, their Branded Elite program gives you the opportunity to increase your earnings by completing multiple consecutive surveys. As you earn more, you'll be entered for the chance to win additional points. At 500 points, you can cash out via direct deposit or PayPal or exchange your earnings for gift cards to your favorite retailers.
Survey Junkie
Survey Junkie is another site that pays users to take surveys. Like Swagbucks, users can register and opt-in to email notifications about survey opportunities. However, unlike Swagbucks, users can additionally earn money through focus groups and product testing opportunities. There are no shopping portals or search engines, and users must redeem their rewards in $5 increments.
InboxDollars
InboxDollars works like Swagbucks in that users can complete surveys, sign up for offers, and redeem cash back offers. Like Swagbucks, you need to qualify for surveys before you can take them. InboxDollars does offer wholly unique features like WinIt codes and Scratch & Win tickets that allow users more chances to earn free cash rewards.
| | | | |
| --- | --- | --- | --- |
| | | | |
| US + International | US, Canada, and UK | US, CA, UK, and AU | US only |
| Multiple ways to earn | Surveys only | Multiple ways to earn | Multiple ways to earn |
| No bonus program | Bonus program | No bonus program | No bonus program |
| No email customization | Email notification control | No email customization | No email customization |
| $15 min. to cash out | $3 min. to cash out | $5 min. to cash out | $15 min. to cash out |
| $10 sign-up bonus | $1 sign-up bonus | $1.70 sign-up bonus | $5 sign-up bonus |
FAQs
Swagbucks Review: The Bottom Line
It's hard to do a Swagbucks review justice. There are so many options for earning points that it's almost overwhelming.
My personal favorite ways to earn with Swagbucks are with Answer Surveys, Magic Receipts, and online shopping. Search seems good for passively earning bonus points, but it's not something I rely on.
The best way to use Swagbucks is to look for ways to fit it into your daily life. If you frequently shop online, installing the SwagButton on your computer could help you cash in on easy rewards.
If you spend evenings watching Netflix while scrolling through Facebook, consider downloading the Swagbucks app and answering survey questions during that time.
Swagbucks isn't a get-rich-quick scheme. If you're interested in earning cash back for things you already do, Swagbucks can be a great tool for the part. However, if it's a high-earning side hustle you're searching for, you should consider something more robust like these work-from-home jobs.
Related: