Survey Junkie Review 2023: Pros, Cons & Is It Worth It?
Advertiser Disclosure
Our readers always come first
The content on DollarSprout includes links to our advertising partners. When you read our content and click on one of our partners' links, and then decide to complete an offer — whether it's downloading an app, opening an account, or some other action — we may earn a commission from that advertiser, at no extra cost to you.
Our ultimate goal is to educate and inform, not lure you into signing up for certain offers. Compensation from our partners may impact what products we cover and where they appear on the site, but does not have any impact on the objectivity of our reviews or advice.
Survey Junkie is a legitimate platform for taking paid surveys online. Here are its pros, its cons, and how it compares to similar survey apps.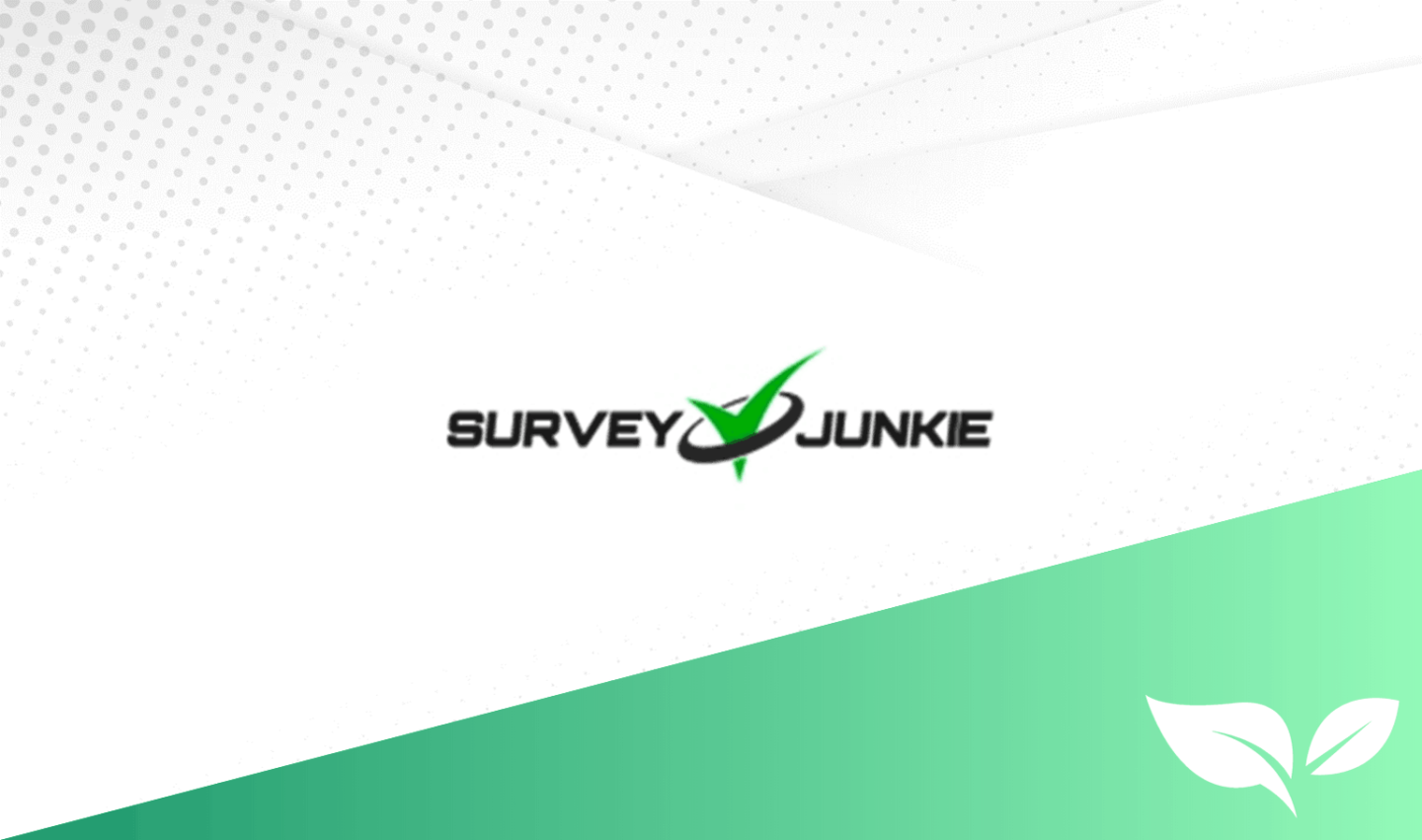 If you've read other Survey Junkie reviews, you've likely heard that it's an easy way to make money online. And while that may be partly true, that doesn't mean it's a good fit for everyone.
For example, if your goal is to make a lot of money, save for a major goal like buying a home, or you're looking for a realistic way to make ends meet, then taking online surveys won't be your best option.
However, if you have time to burn and you want to earn some extra spending money while riding the subway to work, watching Netflix, or waiting in line at the grocery store, then Survey Junkie can help you accomplish that.
What Is Survey Junkie?

Survey Junkie is a free online community that pays its users for completing online surveys. According to the site, its mission is to "connect your voice to big brands — helping shape our world."
In other words, well-known companies pay Survey Junkie to research their target audience and test new product ideas. That way they don't waste money creating products and services that may fail. You get to help shape product ideas, and in return for your help, Survey Junkie passes along some of its earnings to you.
Survey Junkie offers a simple way to take paid online surveys. Most surveys are 5 to 20 minutes in length and are worth 20 to 400 points. Once you reach a minimum of 500 points, you can redeem your earnings for PayPal cash or electronic gift cards.
Show

Hide

more
Benefits
Free to create an account.
No special skills needed.
New surveys available daily.
Fast payments to PayPal or via electronic gift cards.
Earn points for answering screening questions.
Extensive FAQ and good customer support.
Drawbacks
Survey questions can be redundant.
You will only qualify for 20 to 25% of surveys, which is less than competitors.
Is Survey Junkie Legit?
First, let's discuss what makes a survey site legitimate: a positive history, real ways to earn money, and no shady tactics.
Survey Junkie was founded in 2011 in Glendale, CA. The company is accredited by the Better Business Bureau (BBB) and currently has a B rating.[1] According to the BBB website, the reason for its rating is that it has over 1,070 complaints from customers, all of which appear to be answered or resolved.
It also has a 4.2-star rating on Trustpilot.[2] With a combined total of more than 44,400 reviews, Survey Junkie has an overall positive track record.
Their website transparently states "You will not get rich by taking surveys," and thousands of users report earning real money with its surveys.
How much does Survey Junkie pay?
Survey Junkie surveys typically pay between $0.20 and $4.00 each.
Their website additionally states that members who "complete three surveys daily can earn as much as $40 monthly."
If you qualify for the occasional product testing or focus group, then you could earn an additional $5 to $150 for each one you participate in.
There's no way to accurately determine the number of surveys you'll qualify for or how much money you ultimately make. It depends on your demographic information, the companies Survey Junkie is working with, and the products and services they're testing.
🔍 Reviewer's Note:
Our experience is that Survey Junkie's stated $40 per month figure is fair and accurate, but difficult to obtain. Users will more reasonably earn between $5 and $20 per month for relatively consistent use. As stated, daily users can expect to earn towards the higher end of Survey Junkie's forecasted range.
How Survey Junkie Works
Among the more user-friendly platforms, creating an account and starting to take surveys can be done in 5 minutes or less.
Create an account
Members can leverage their existing Facebook or Google account to create their Survey Junkie account, or manually enter their email address and create a password.
After creating an account, one will receive an email to confirm their information. Then, log in to Survey Junkie to start earning points.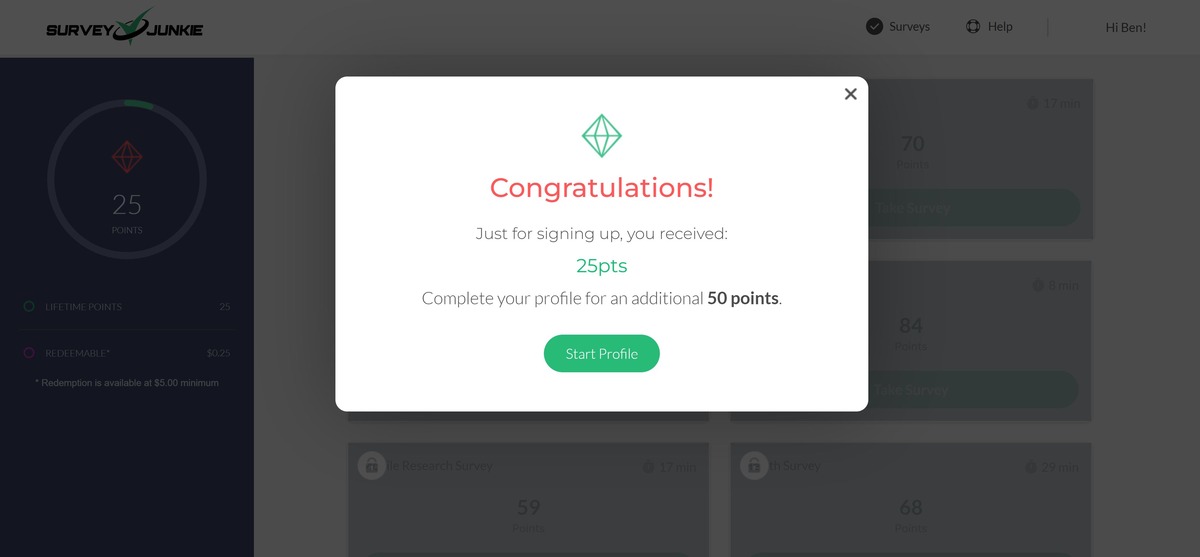 Users who complete the registration fields and confirm their email address are awarded 50 free points (equivalent to $0.50).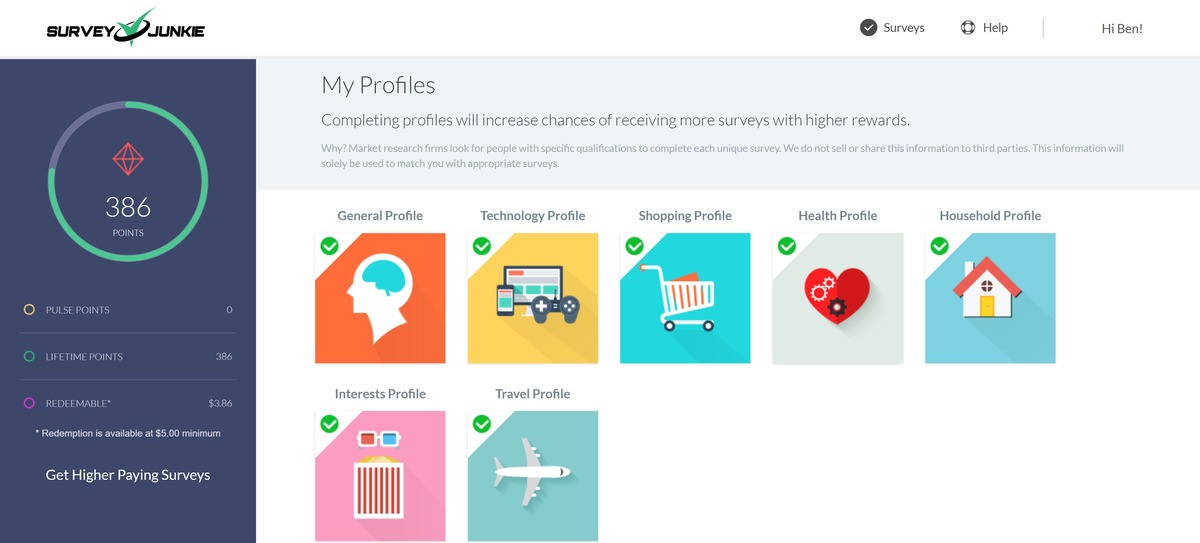 Users who register, confirm their email address, and complete the available profile questionnaires will be awarded 170 points in total (a free welcome bonus equivalent to $1.70).
🔍 Reviewer's Note:
Providing accurate answers during your Profile and Interest surveys is crucial. These answers will be used by Survey Junkie to match you with relevant surveys in the future, and giving conflicting answers will lead to repeated survey disqualification and possible account suspension.
Ways to Earn Points
Survey Junkie offers seven different ways to earn rewards. You can complete your profile checklist, take paid surveys, participate in phone surveys, test products, win promotions, or join online and in-person focus groups.
The estimated potential earnings cited below are based on a combination of factors including our personal experience, what Survey Junkie claims you will earn, and the experiences of other Survey Junkie users. Actual earnings may vary.
1. Take paid surveys
Earning potential: 20 – 400 points per survey
The main way to earn rewards with Survey Junkie is by taking paid online surveys.
When you log in to your Survey Junkie account, your available surveys will be listed on your dashboard. Each listing includes the number of points the questionnaire is worth and how long it should take to complete.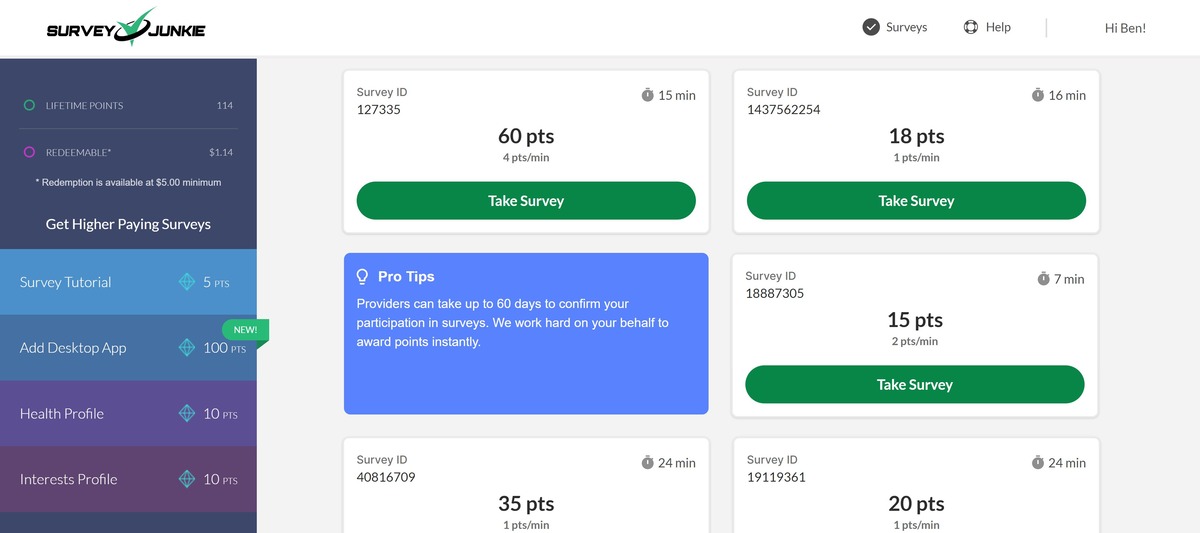 Selecting a survey from this dashboard redirects you to a third-party site. Each client that hires Survey Junkie has a slightly different site: how it looks, how it asks questions, etc.
The first screen typically asks qualifying questions to confirm that you match the survey demographics. If you do, you'll see a message with an invitation to participate.
If you don't qualify, Survey Junkie typically awards you a few points for answering the screening questions. Similarly, if you do qualify but the survey already has enough participants, you'll still get a few points for trying.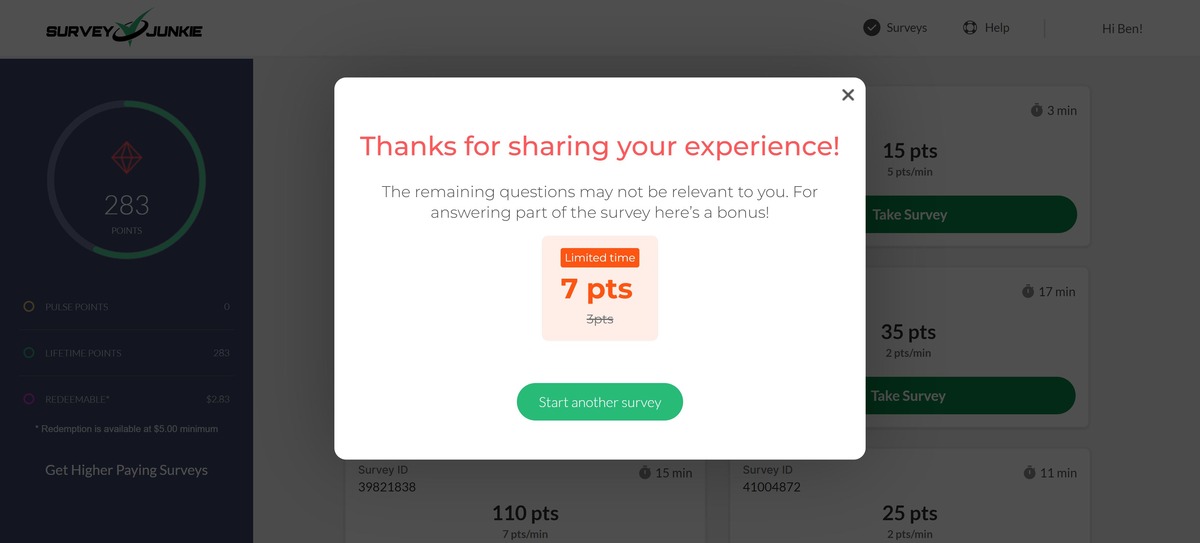 When new surveys become available, Survey Junkie will send an email to let you know. It includes the time it should take and the number of points you can earn so you don't have to visit the site to decide if it's worth it.
🔍 Reviewer's Note:
I tend to focus on taking surveys that have the highest points/minute earned versus taking the survey worth the largest number of points. This will actually help users earn more in the long run as disqualifications on lengthy surveys can waste a lot of time.
Survey Junkie transparently states that users will only be eligible for approximately 1 in 5 surveys, so limiting wasted time is of utmost importance in increasing your earnings.
2. Complete phone surveys
Earning potential: $5 – $100
Phone surveys work similarly to online questionnaires, except they're done over the phone with a researcher.
First, you'll be invited to complete a short survey online. Then a researcher will call and ask you about your experience with the product or service.
These aren't available often — typically once a month or less.
3. Test products
Earning potential: $5 – $50
Product-testing opportunities are available once a month or less depending on whether or not you qualify for current studies. If you're chosen to test a product, you'll first complete a brief online survey.
Once you finish, you'll receive a free product in the mail to use and keep. After a set amount of time, Survey Junkie will ask you to complete a more in-depth survey about the product and your experience using it.
4. Join focus groups
Earning potential: $25 – $150
Focus groups are conducted both in person and online. Similar to other opportunities available on Survey Junkie, you'll first need to complete a short survey. If you qualify, you'll receive an invitation to the panel.
For online focus groups, you may need a webcam in order to participate. You'll agree to a set time, and then have a call to discuss the product or service with other users. Both in-person and online focus groups take place once a month or less, and they're the highest-earning opportunity available with Survey Junkie.
5. Install the Survey Junkie Pulse browser extension
Earning potential: 100 points
You can passively earn additional points by installing the Survey Junkie Pulse browser extension and leaving it installed for at least 30 days.
SJ Pulse works by automatically tracking your digital activities. These include but are not limited to:
What you search for
Websites you visit
Apps you use
Products you shop for
The ads you view
As SJ Pulse becomes familiar with your activity, they'll also start to match you with relevant surveys.
The Survey Junkie site and SJ Pulse operate semi-independently. Therefore, by adding SJ Pulse to your browser and/or opting in through the mobile app, you'll be eligible for exclusive surveys not otherwise available to normal Survey Junkie users.
🔍 Reviewer's Note:
The browser extension and/or desktop application do not collect any additional personal information and there are no extra hoops to jump through to earn additional points, which are small perks.
That said, how much you'll earn as a member of the SJ Pulse community is unclear. There doesn't seem to be a definitive answer in their Terms or Privacy Policy about how much users will earn in exchange for tracking their internet usage. The general consensus from Reddit users seems to suggest that the 100 points and low number of additional surveys aren't worth the device performance degradation associated with having SJ Pulse installed.
I personally find 2 to 3 unique SJ Pulse-labeled surveys each time I log in. This is a semi-welcome addition as many users cite a lack of survey availability as time progresses.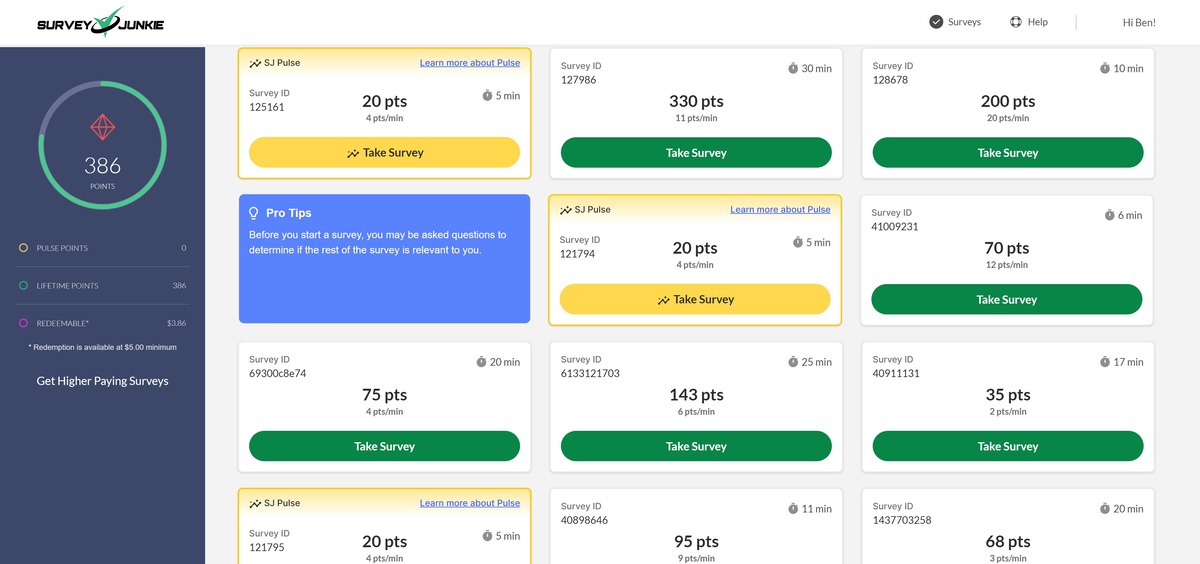 If you decide to install SJ Pulse to capture the free 100 points, check to see how many surveys are generally available to you each day you log in. If the answer is not many, consider uninstalling after the 30-day locking period.
6. Use the Survey Junkie app
Earning potential: 100 points
Using the Survey Junkie app increases the likelihood that users will engage with the platform, but offers no additional features that aren't otherwise accessible to browser-based users.
Survey Junkie offers both mobile and desktop apps, and users can earn an additional 100 free points for having one continuously installed for 30 days.
Survey Junkie Mobile App Ratings:
Google Play (Android): 4.4 out of 5 stars (88,000+ reviews)
Apple App Store (iOS): 4.5 out of 5 stars (69,000+ reviews)
Mobile app users will note that the navigation menu is the same. You can take surveys, view earned points, watch tutorials, read FAQs, and update your profile questionnaires all from the Survey Junkie app.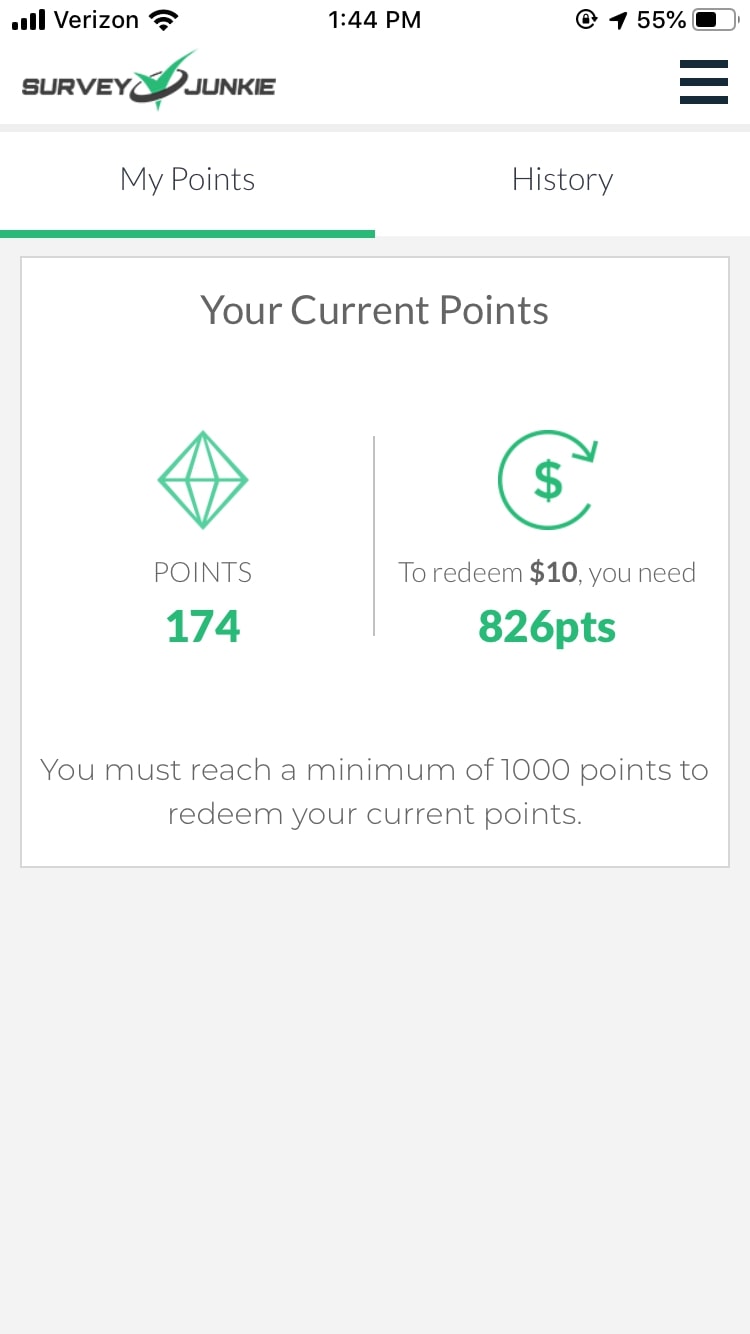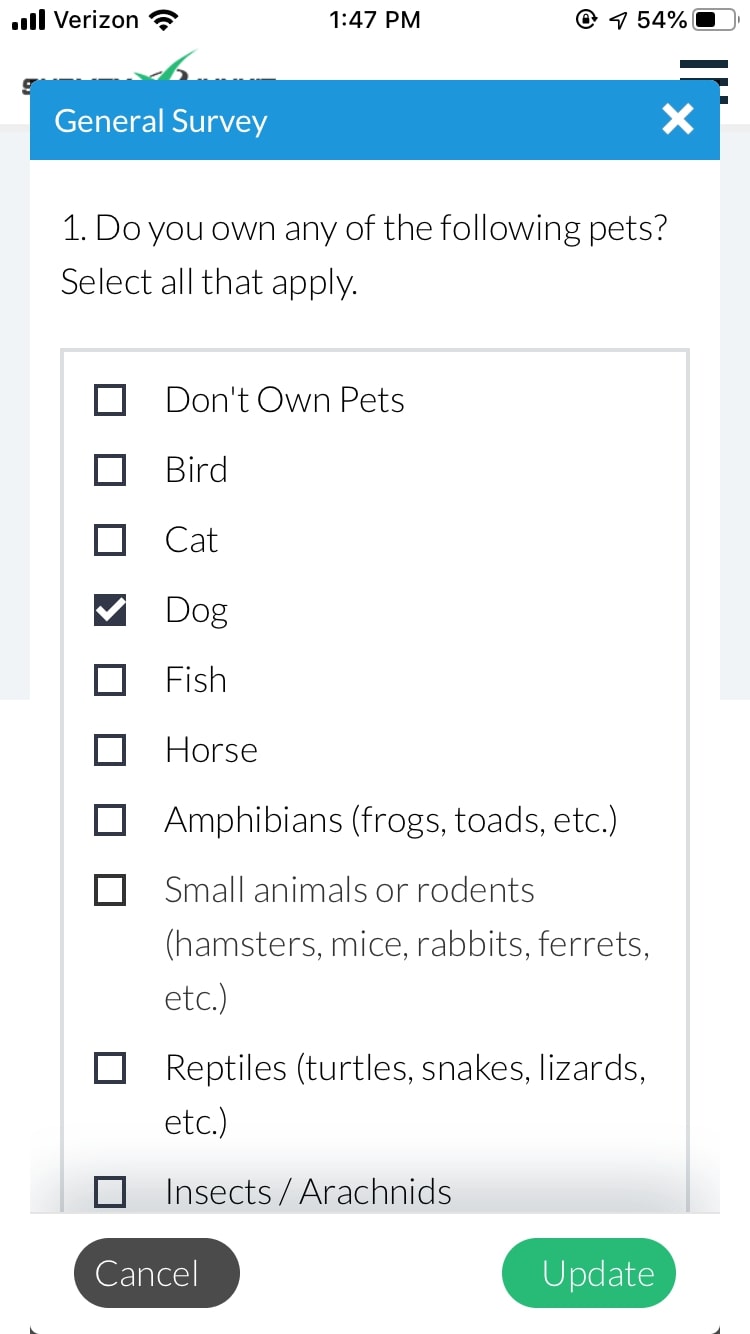 🔍 Reviewer's Note:
In our experience, having both the mobile and desktop versions of Survey Junkie installed is the easiest way to ensure maximum engagement. Top earners will need to take surveys nearly every day to reach the figures cited by Survey Junkie, and having easy access on a plethora of devices is the most simple way to accomplish that.
7. Bonus point promos
Earning potential: 10,000 points (or more)
Members can earn bonus points during monthly promotions by completing a predetermined number of surveys each day within a predetermined window of time.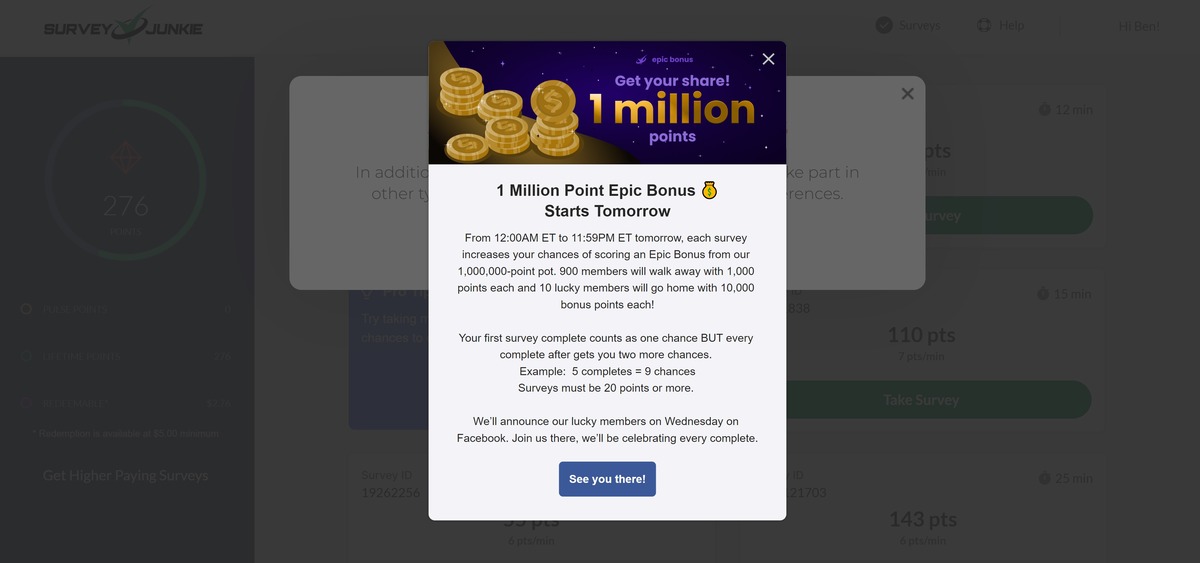 These promotions are a terrific way to increase your earnings while taking part in a fun challenge.
How to Redeem Points
Earned points appear on the left-hand side of your account. You can click "Lifetime Points" to view your earning history and see how many points you have left to earn before you can redeem them for Survey Junkie rewards.
Note: You will need to verify your identity before redeeming a reward. The process is simple and took me less than 10 minutes to complete.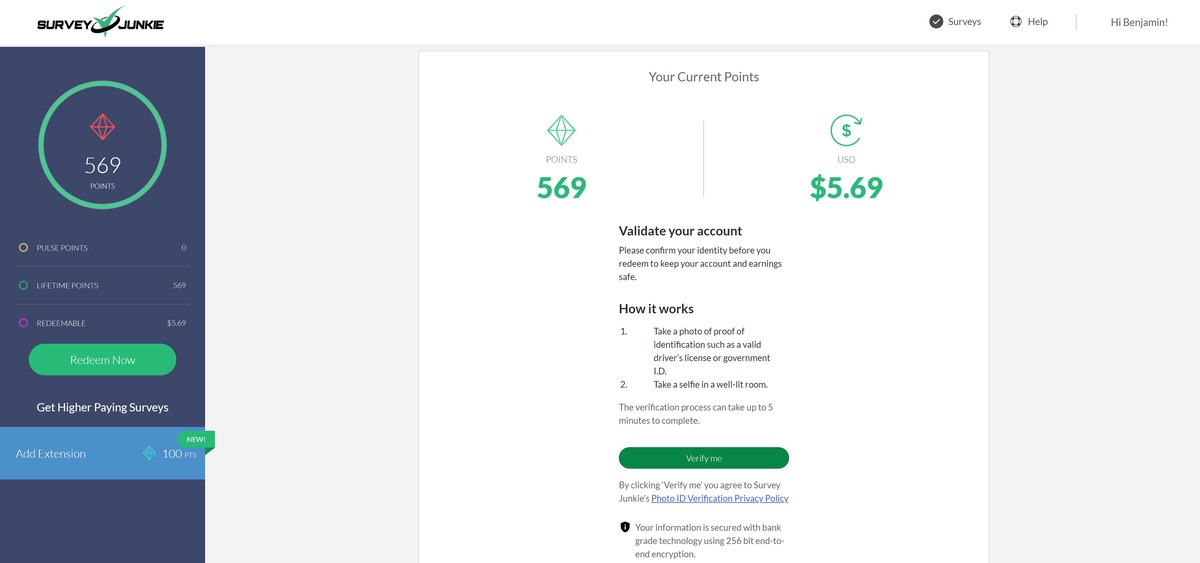 To verify your identity you'll need to:
Take a picture of the front and back of your driver's license or government I.D.
Take a selfie to confirm it is your ID.
Every 500 points you earn with Survey Junkie is worth $5. Once you reach at least 500 points, you can cash out through PayPal, exchange your points for e-gift cards, or transfer your earnings straight to your bank account. (This is a welcome reduction from the 1,000 points previously required by Survey Junkie to cash out.)
E-gift cards and bank transfers are available to U.S. participants only.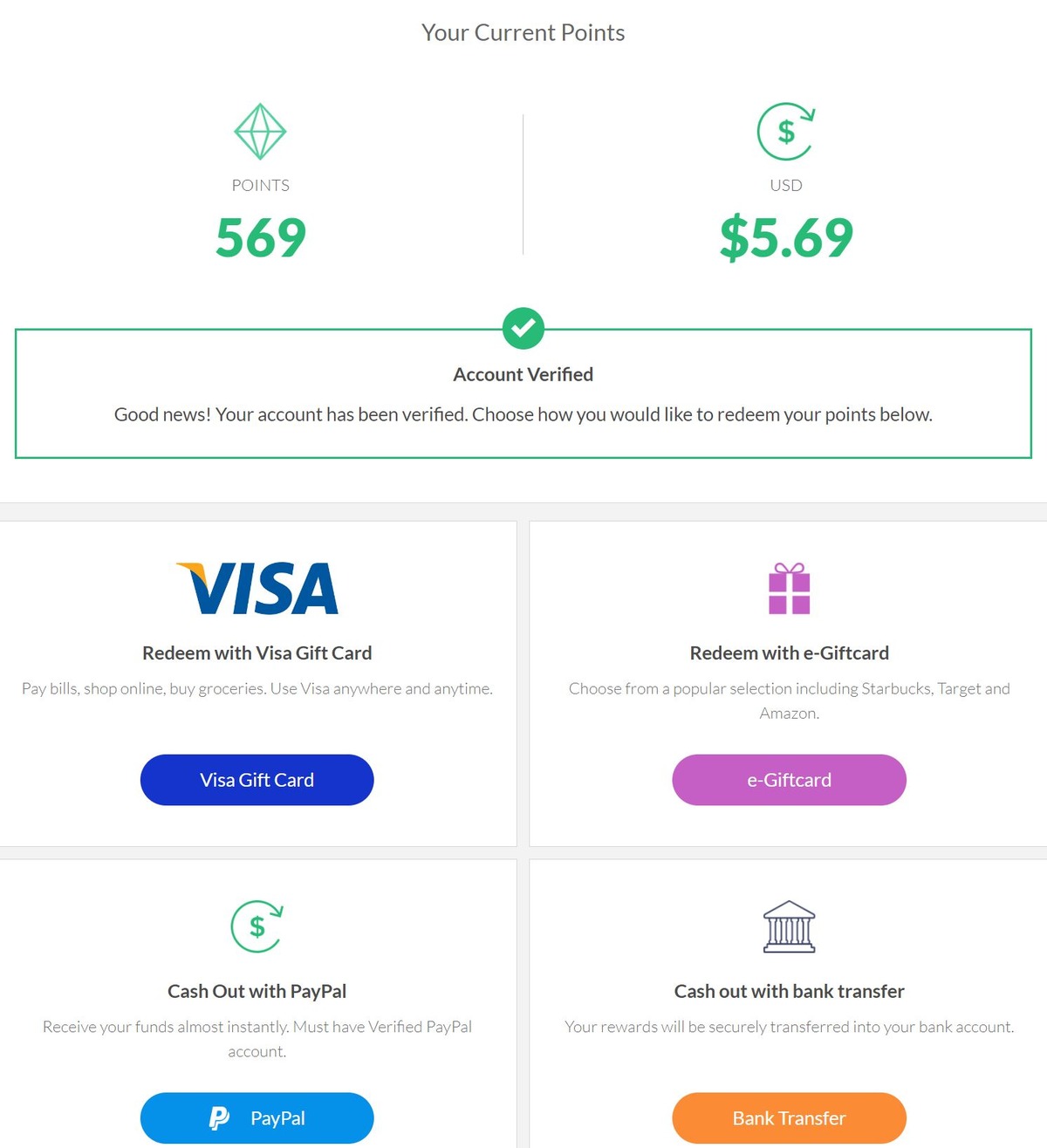 If you choose an e-gift card, you can only redeem your rewards in $5 increments. To redeem your rewards via PayPal or a bank transfer, you'll need to cash in your entire earnings. You can't receive partial payouts.
Your gift cards will never expire, so you can use them whenever you want. I personally cash out to PayPal as soon as my balance exceeds $5 in case anything were to ever happen to my account.
Pros of Survey Junkie
Survey Junkie's intuitive interface, helpful FAQs, and email notifications make it an easy way to earn some extra money.
Simple and easy to use
Some survey sites offer a variety of different ways to earn points, like watching videos or playing games. Survey Junkie is straightforward: complete surveys, earn rewards. The conversion is simple as well; every 500 points is worth $5.
Unlike many survey sites, Survey Junkie also has a clean, intuitive interface that's easy to use. Even if you've never signed up for an online survey site before, it won't take long to learn your way around the platform. Additionally, you don't need any special skills or software to complete online surveys, making it an accessible way for most people to earn extra money.
Email notifications
When you qualify for new survey opportunities, Survey Junkie will notify you via email. This makes it so you don't have to worry about constantly checking your account or missing a chance to earn rewards.
If you complete the screening questions and don't qualify, or if the survey is already full, then you'll still earn a few points — you'll never walk away empty-handed.
Flexible rewards options
You have three options for cashing in your Survey Junkie rewards:
PayPal
Bank transfer
Electronic gift cards
Other sites may require payment by a check in the mail or e-gift card. But with Survey Junkie, you get to choose the option that's most convenient for you.
Relatively low payout threshold
You need $5 in points in order to cash out your earnings with Survey Junkie. That's on the lower end compared to other common survey sites. While some only require $3 or $5 to redeem rewards, others have a minimum payout of $20 or even $50.
For many new members, it shouldn't take longer than two or three weeks to reach the payout threshold. Others may reach it in just a few days.
Good customer service
If you have a question, Survey Junkie makes it easy to ask for help. Just click "Help" on the top navigation bar and you'll be taken to its frequently asked questions page.
Questions are broken up into categories such as membership, surveys, points, and redemption. If you can't find what you're looking for, click the "Customer Support" link below the FAQs to fill out a short form. Someone from the Survey Junkie team will reach out to you within 48 hours.
Cons of Survey Junkie
Survey Junkie isn't right for everyone. Here are the things that might hold you back.
Redundant questions
As with most survey sites, you'll probably answer the same types of questions over and over. Some of this can be avoided by accurately completing your profile information. However, you may end up answering the same questions multiple times only to find you don't qualify for certain surveys.
Frequent disqualification
As previously stated, members typically only qualify for 1 out of 5 surveys. That means you'll probably spend a fair amount of time answering qualifying questions and being turned away anyway.
You'll still earn a few points, usually between 2 and 7, even if you don't get to participate in the survey. That's the equivalent of $0.02 to $0.07.
If you don't fit the consumer profile it's looking for, then you may qualify for even fewer surveys. You could go a few days or even weeks without receiving a new survey opportunity.
User complaints
The most common complaints users have about Survey Junkie involve difficulties cashing out their earnings. For some, it's because Survey Junkie couldn't verify their identity. Some users say they tried to cash out their earnings but never received a gift card. Others complain that their account was marked as fraudulent and they were banned from the site.
The best way to prevent being flagged for fraud is to provide consistent answers in all your responses. If your profile says you make $50,000 to $60,000 per year, but you respond to a survey that you make $70,000 to $80,000 per year, Survey Junkie may catch the discrepancy and think you're trying to game the system.
Remember, Survey Junkie is a legitimate company. If you have trouble redeeming your earnings, reach out to customer support and ask for help. You should hear back within 48 hours.
Limited earning potential
As is the case with any survey site, you won't get rich using Survey Junkie. It's very upfront about this fact on its site. There are lots of ways to make money online that pay more than surveys.
However, if you're looking for a way to earn some cash for extra spending money, surveys can still be a good option.
Related: 30 Practical Ways to Make $500 Fast
Alternatives to Survey Junkie
Survey Junkie is pretty good at achieving its core mission — connecting users with relevant surveys. But if you've run out of surveys to take, dislike the platform for one reason or another, or are having trouble logging in to your account, there are several similar survey sites available to you.
Branded Surveys
More narrow in focus, Branded Surveys only offers surveys as a means for earning rewards. That said, one of the perks of the platform is its loyalty program, Branded Elite. Users can earn Bronze, Silver, and Gold badges for consistent use, unlocking bonus points for each survey taken. There's also a referral program where member-users can refer members for additional points. Overall, it's one of the highest-paying platforms on the web.
Swagbucks
The largest paid survey site on the web, Swagbucks has paid users nearly $1 billion since its inception in 2008. The biggest perk here is that Swagbucks offers a large number of ways to earn points and rewards beyond just taking surveys. Users can earn additional rewards through their cash back program, large coupon database, and Discover Deals. They also offer an unlockable free $10 bonus after making an eligible purchase.
Ipsos iSay
A personal favorite of mine, Ipsos iSay is similar to Survey Junkie in that they excel at their core offering: surveys. It's very easy to use, and it's a good supplement to Survey Junkie if you simply want to qualify for more surveys and don't need other fancy features. Plus, the surveys are hosted on the iSay platform, so there are fewer redirects and I come across fewer broken surveys.
| | | |
| --- | --- | --- |
| | | |
| US, Canada, and UK | US + International | US, CA, UK, and AU |
| Surveys only | Multiple ways to earn | Multiple ways to earn |
| Bonus program | No bonus program | No bonus program |
| Email notification control | No email customization | No email customization |
| $5 min. to cash out | $3 min. to cash out | $5 min. to cash out |
| $1 sign-up bonus | $10 sign-up bonus | $1.70 sign-up bonus |
FAQs
Survey Junkie in Review: Is It Worth Your Time?
One of the most common complaints about survey sites is that the payouts aren't worth the time spent completing surveys. But it really depends on the number of surveys you qualify for, your goals, and what you think your time is worth.
If you need to make money fast or want to earn a few hundred dollars per month, you won't accomplish either by taking online surveys. However, if you just want an easy way to make a few extra dollars while watching TV or on your lunch break at work, then you might find Survey Junkie to be well worth the minimal effort required.
While it won't allow you to quit your day job, Survey Junkie is a safe and legitimate way to make a little extra money each month. It's free to sign up, so you don't lose any money if it doesn't work out. If you find that Survey Junkie isn't a good fit, then you can easily unsubscribe from the emails or contact customer support to permanently delete your account.
Related: