Branded Surveys Review: Here's How Much I Earned in 3 Hours
Advertiser Disclosure
Our readers always come first
The content on DollarSprout includes links to our advertising partners. When you read our content and click on one of our partners' links, and then decide to complete an offer — whether it's downloading an app, opening an account, or some other action — we may earn a commission from that advertiser, at no extra cost to you.
Our ultimate goal is to educate and inform, not lure you into signing up for certain offers. Compensation from our partners may impact what products we cover and where they appear on the site, but does not have any impact on the objectivity of our reviews or advice.
Branded Surveys offers member-users a way to get paid to share their opinion on products or services. Here's what to know about the survey site and browser extension.
Our number one goal at DollarSprout is to help readers improve their financial lives, and we regularly partner with companies that share that same vision. If a purchase or signup is made through one of our Partners' links, we may receive compensation for the referral. Learn more here.
I've tested a lot of survey sites.
Some of them I've loved, while others have proven too tedious, low-paying, and not worth the time.
I've learned that the best survey sites have a few things in common. They're simple and easy to use, transparent about earnings, and have lots of survey opportunities.
Branded Surveys checks all of my boxes. Plus, they offer a bonus structure, so the more surveys you complete, the more bonus points you can earn.
But before we dive deep into the pros and cons, let's take a step back.
What Is Branded Surveys?
Formerly known as MintVine, Branded Surveys is a website that pairs with market research firms and Fortune 500 companies to pay real consumers for their opinions. These companies use your feedback for things like marketing and creating new products.
As a Branded Surveys member, you can earn points for taking surveys and redeem those points for cash, gift cards, or a donation to one of your favorite charities.
Branded Surveys pays users for their opinions. Users earn money by taking paid surveys that are redeemable for cash, gift cards, or as a charitable donation. The minimum cash-out threshold is 500 points, or $5. The site offers a 50-point sign-up bonus for creating an account and another 50 points for completing your first profile survey.
Show

Hide

more
Pros
100-point sign-up bonus ($1) when you create an account and complete your first profile survey
Lots of survey opportunities
Easy-to-use dashboard
Pays more than other survey sites
Can earn bonus points
Can redeem points for cash, gift cards, or charitable contributions
Cons
No app; you must use the website
Surveys can be time-consuming
Low pay and slow to receive payment
Is Branded Surveys Legit?
Branded Surveys has a 4.3-star rating on Trustpilot with an overwhelming number of "excellent" reviews from users. Positive reviews reference the number of survey options, the variety of surveys, and the easy cash-out process.
Common complaints include surveys filling up too quickly, getting kicked out of surveys halfway through, not receiving the proper amount of points, and problems with prompt payments.
But complaints aside, several of our team members have used and tested it and even received payouts for taking surveys. So you can rest assured that Branded Surveys is a legitimate company.
How Does Branded Surveys Work?
Like other survey sites, Branded Surveys is simple to use. All you need to do is register for a free account, answer a few demographic questions, and start taking surveys.
There's no application to complete and no waiting period to find out if you're accepted into their program.
You get 50 points for creating your account and another 50 after taking your first survey, equal to a total $1 sign-up bonus.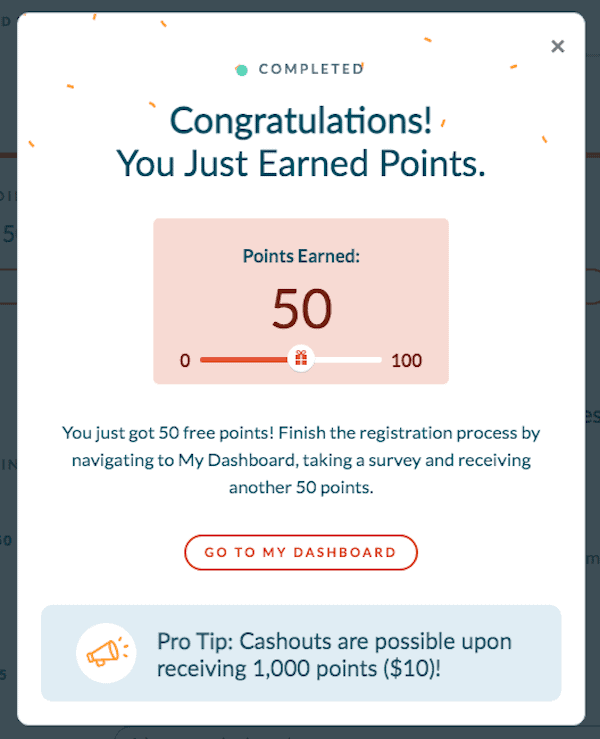 Branded Surveys uses their Survey Matching Engine to match you with qualifying surveys.
This helps streamline the process by eliminating the need to search through dozens of options to find one you're qualified for. Instead, you're automatically sent surveys that match your profile.
Since I didn't want to spend any time sifting through opportunities I might not even qualify for, the fact that they do the initial work was a selling point for me.
🔍 Reviewer's take: I was pleasantly surprised by how many survey options Branded Surveys had for me.
Your account only shows you three surveys at a time in your "Survey Spotlight". Each time you take a new survey or update your profile, it refreshes your survey offers.
I've run into an issue on several other sites where I take a few surveys and start gaining traction. Then I stop getting new survey offers and never reach enough points to cash out. But with Branded Surveys, I always have surveys available.
Taking surveys
After setting up your account, you can log in to your account dashboard to see the surveys you qualify for. These are listed under "Survey Spotlight."
You'll also see the estimated time it'll take to complete them and how many points you'll earn, both of which can help you determine if it's worth it to take the survey.
Keep in mind that the time listed is an estimate. I found that some surveys took significantly less time to complete than what was listed. For example, I earned 39 points for a survey listed at 10 minutes, but it only took me about 2 minutes to complete.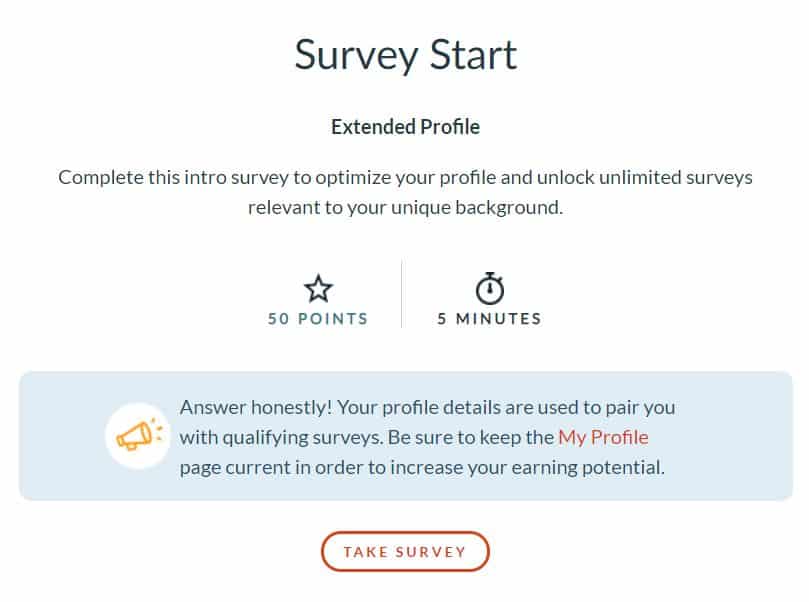 You'll find anywhere from one to three survey options as well as "Extra Earning Opportunities" like completing partner surveys, profile questionnaires, and taking the daily poll.
In addition to surveys available through your dashboard, you can also have notifications sent to your email address. You'll need to respond to all requests rather quickly; surveys can fill up or expire within minutes. However, if you're able to take these surveys during your downtime, you can earn extra points and move through the tiers within a few weeks.
The only issue with these surveys is they often take quite a while to complete. The offers I received averaged around 20 to 30 minutes. That's kind of a long time, especially if I wanted to take a few in a day. Since it was more time than I wanted to spend, I tended to not take as many as I could.
🔍 Reviewer's take: My survey-taking experience was generally positive. Branded Surveys seems to do a good job of matching you with qualified surveys.
I only had a handful of instances where I started a survey that I didn't qualify for. Sometimes I still got 1-3 points, but other times I was just redirected back to my dashboard with nothing to show for it. In my experience, that's to be expected from any survey site.
The lowest-paying survey I took was 5 points (for the daily poll and a short questionnaire), and the highest-paying one I completed was for 250 points. Most of the ones I qualified for seemed to fall in the 20 to 50-point range.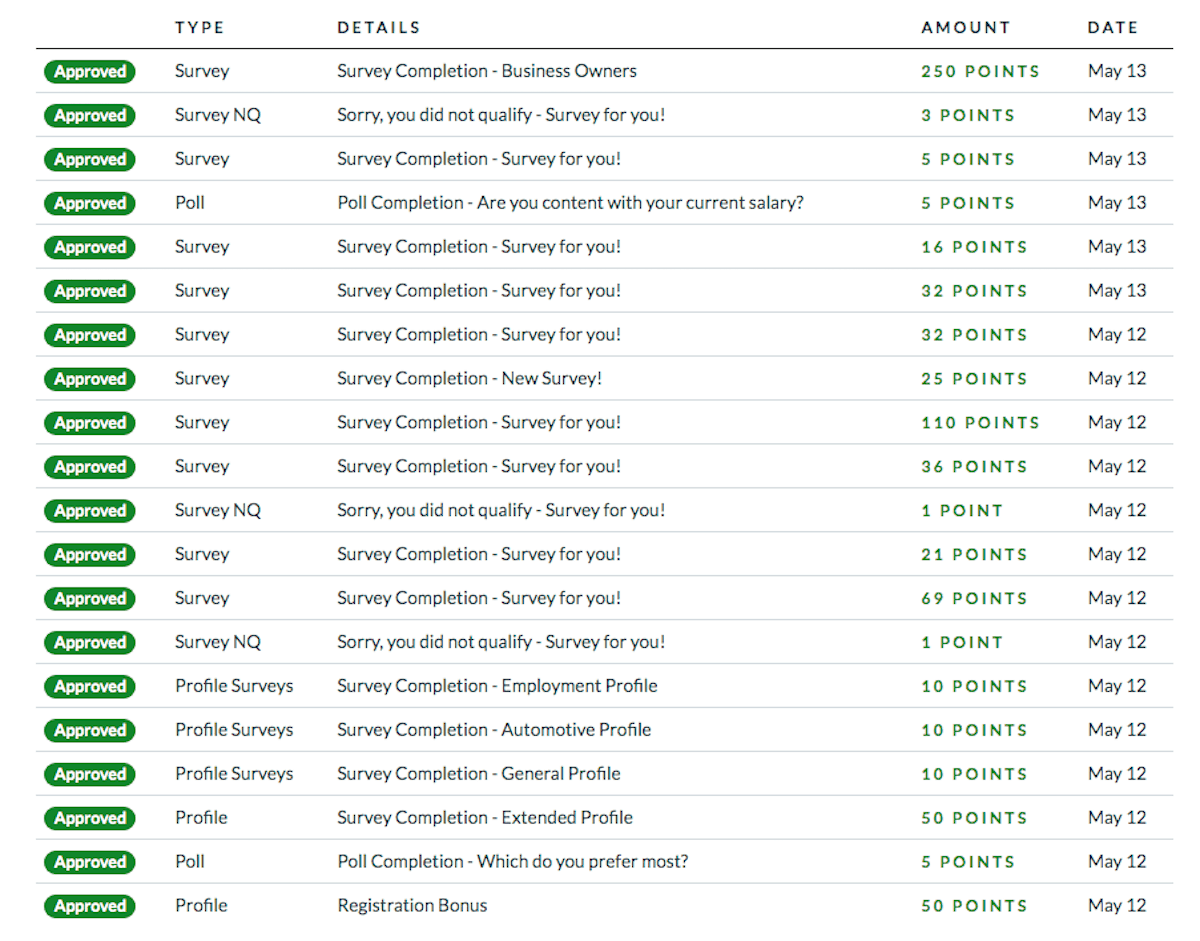 Some of the surveys I actually enjoyed taking. I got one about the type of food I feed my dog (a topic I'm pretty passionate about). For this one, I actually got up from my couch to grab my dog's canned food from the refrigerator so I could tell them all about the healthy, organic treats I buy for my picky puppy.
Another survey I took was about digital content creation. Very fitting, and something I also have lots of opinions on.
One thing I noticed was that there are "trick" questions in almost every survey to make sure you're paying attention. If you don't answer these correctly, or if you're not consistent with your demographic questions (household income, age, etc.), then you'll get disqualified and your account may even be flagged for fraud.
It sounds counterintuitive, but you can make more money by going slower. The higher-quality your responses, the more high-paying surveys you'll qualify for.
Related: 18 Best Places to Find Micro Jobs Online
Branded Elite program
Branded Elite is Branded Surveys' bonus program. There are three tiers: Bronze, Silver, and Gold.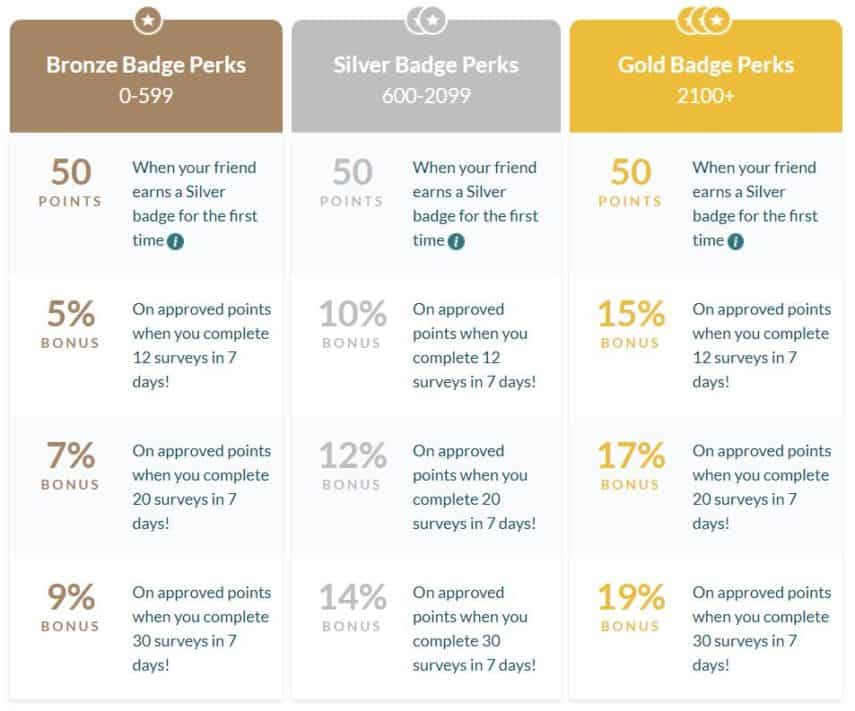 You can go to Branded Elite on the navigation menu in your account to see your status and how many points you need to move to the next tier.
The higher your Branded Elite status, the more bonus points you can earn for reaching milestones of 12, 20, or 30 surveys in 7 days.
For example, Bronze members earn a 5% bonus for taking 12 surveys in 7 days. If you're in the Gold tier, that bonus jumps to 15 for the same number of completed surveys.
The bonuses are added to your account at the end of each week in addition to what you earn from taking surveys.
🔍 Reviewer's take: The tiered bonus structure was a smart move on Branded Surveys' part. It gamifies the experience and motivates you to complete more surveys (or at least it did me).
I thought it would take forever to move up to the Silver tier, but after 2.5 hours of taking surveys, I'm 4 points away from Silver status!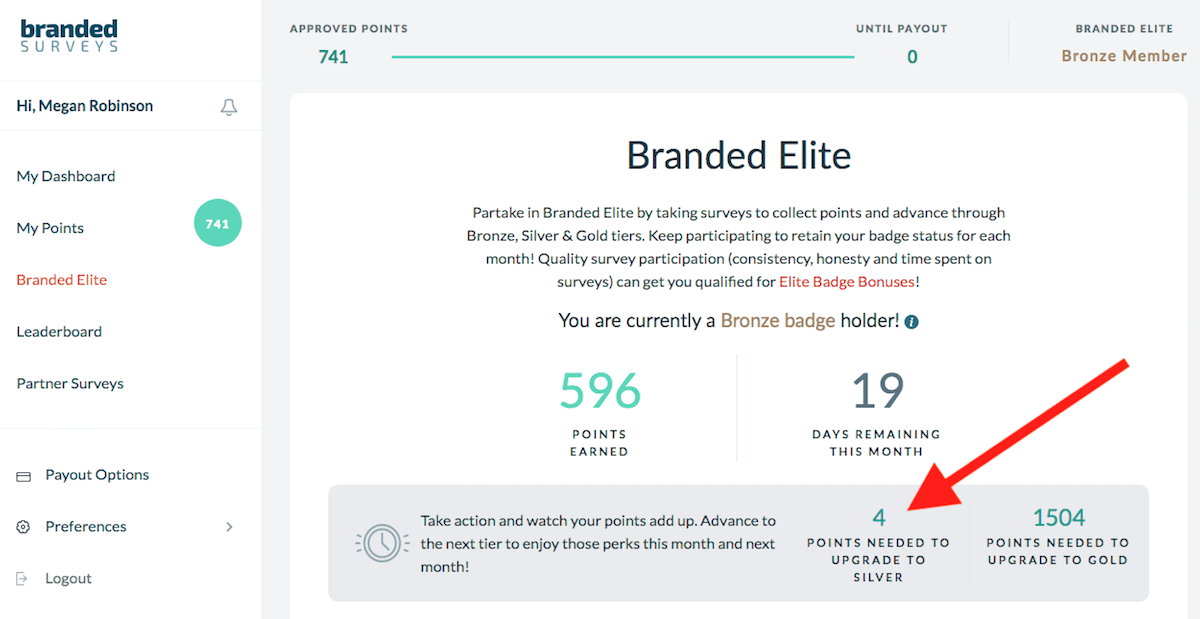 Only your "earned" points are counted toward your Branded Elite status. So any points you get for signing up or completing profile surveys don't qualify.
Related: 15 Legit Paid Focus Groups You Can Sign Up for Today
Email notification settings
One strength of using Branded Surveys is the ability to control how many survey options you receive via email per day. Rather than finding your inbox bombarded (or empty) with offers, you can set how many emails you receive and at what time of day you receive them.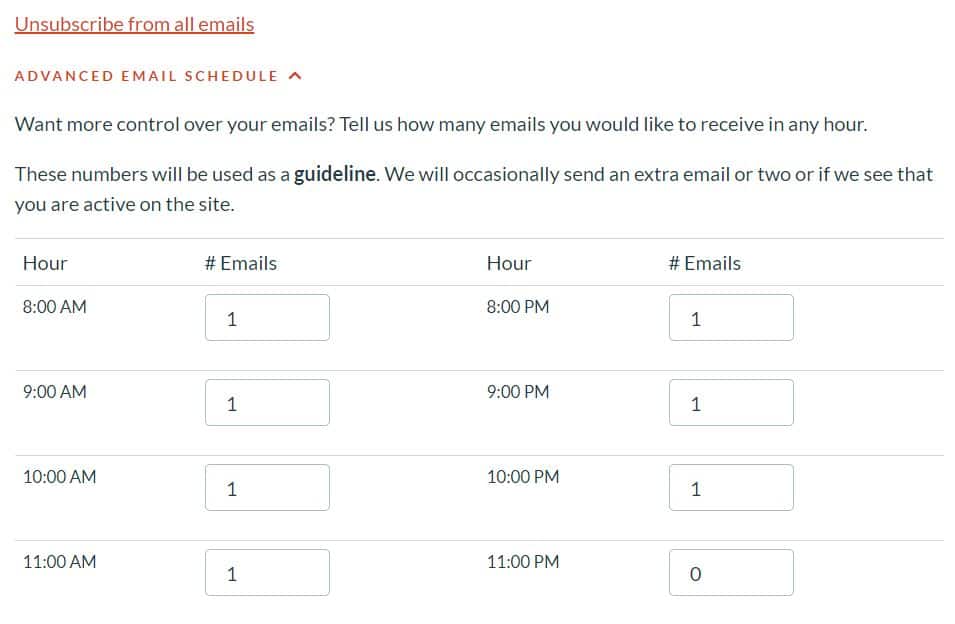 If you know that you're on your laptop from 11 a.m. to 2 p.m., you can set your preferences to only send surveys at that time, and you can opt for up to 10 survey notifications per hour.
On the other hand, you can choose to receive zero options while you're asleep, meaning you won't have an inbox full of Branded Surveys emails to review when you first log in the next morning.
If it gets to be too much or you want to quit, you can choose to unsubscribe from emails at any point. If you choose this option, you'll only receive surveys when you open your Branded Surveys dashboard.
🔍 Reviewer's take: When I first signed up for Branded Surveys, the account default was to receive 22 emails per day. That's way too many emails for my already overloaded inbox.
When I found the "advanced email schedule feature" (screenshot above), I was relieved to know that it wasn't an all-or-nothing choice. I still wanted to get emails about new surveys, just not an obnoxious amount.
I chose to receive one email per hour from 12 p.m. to 3 p.m., and Branded Surveys has been good about honoring that.
My only qualm with the tiered program is that you have to continue earning a minimum number of points to keep your badge. Once you upgrade, you'll keep that badge for the month you qualify and the following month. After that, you have to keep earning the minimum, or else you fall back down the tiers.
Cashing out
Once you've accumulated 500 points, worth $5, you're eligible to cash out your winnings. You can elect for a cash payment via PayPal or Branded
Pay (their proprietary payout option that allows U.S. users to receive payments directly to their bank account). You can also exchange your points for gift cards to places like Amazon, Apple, and Buffalo Wild Wings or make a donation to charity.
You'll typically receive your cash or gift card within one to three business days.
🔍 Reviewer's take: It took me about 2.5 hours of taking surveys to earn enough points to cash out.
Right now I'm at 741 points ($7.41) in less than a day of creating my account, but I haven't cashed out yet. (I'm waiting to hit Silver status, which I'm 4 points away from, so I can earn more bonus points for survey streaks!)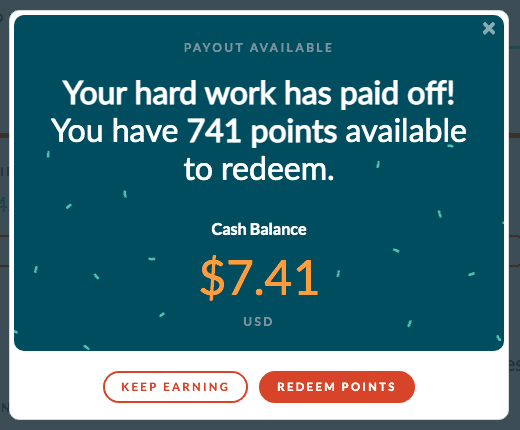 Keep in mind, this also includes 50 points for signing up and other easy points for completing the profile surveys.
Still, this is on par with (even a little better) than other survey sites I've tested. You're not going to make a lot of money quickly, but you can reasonably earn $10 to $25 or more a month if you complete a few surveys each day and keep a good quality score (i.e. stay consistent with your responses and don't mess up the "trick" questions).
Additional Ways to Earn
In addition to earning points by taking surveys, there are other ways you make money with Branded Surveys.
Refer friends
When you create a Branded Surveys account, you'll receive a unique referral link you can send to family, friends, or social media followers. If they sign up and achieve Silver status, you'll earn an extra 50 points for each person who registers with your link.
There's no limit to how many bonus points you can earn through referrals, and it's not that hard to achieve Silver Status within a few days of joining. It all depends on how many surveys you qualify for, how many points they're worth, and how often you take them.
Complete the daily poll
Each day, Branded Surveys will add a daily poll to your dashboard (found under "Extra Earning Opportunities"). Taking this poll is fast (it's usually one question), and nets you an easy five extra points.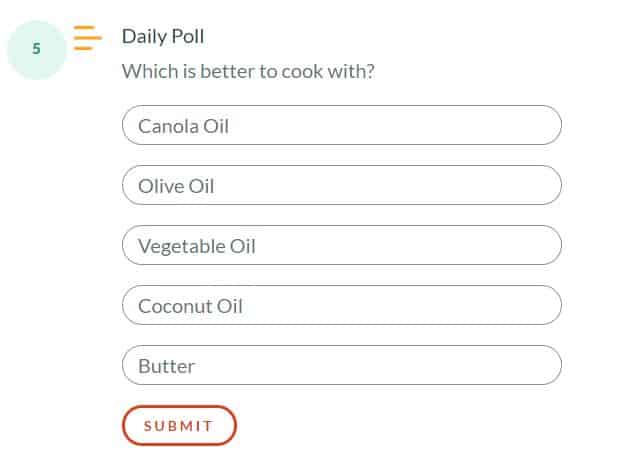 Leaderboard bonuses
Branded Surveys offers a friendly competition among users, encouraging them to take as many surveys as possible in order to make it to the top of the leaderboard.
By staying atop the leaderboard, you can earn up to 1,000 bonus points, plus a chance for entry into drawings for additional points.
Survey streak
Branded Surveys rewards users with bonus points as they complete streaks. For example, if you complete 12 surveys in seven days, you'll earn a 5% bonus on points you earn. If you complete 30 surveys in seven days, that percentage increases to 15%.
The bonus points percentage increases based on your Elite Branded status. The higher up you are, the more bonus points you'll earn.
Promo codes
Sometimes Branded Surveys will send users promotional codes, typically through special contests or promotions. You can use these codes to add additional points to your account. This doesn't happen too often so make sure you cash in on it when you can.
Branded Surveys Alternatives
If you're new to getting paid to take surveys, or you want more survey options, here are a few more of the best places to take paid online surveys.
InboxDollars
InboxDollars is a survey-taking site. In addition to surveys, it also allows users to redeem cash-back offers and watch ads or play games to earn extra cash.
You get a $5 bonus just for signing up. Once you earn $30, you can cash out your earnings for a check, e-gift card, or prepaid Visa gift card.
Survey Junkie
Survey Junkie pays users for taking surveys, testing products, and joining online and in-person focus groups. Like Branded Surveys, Survey Junkie pays in points.
Once you accumulate 1,000 points, you can cash out through PayPal, redeem them for e-gift cards, or transfer the cash equivalent ($10) directly to your bank account.
| | | |
| --- | --- | --- |
| | | |
| US, Canada, and UK | US only | United States, Canada, and Australia |
| Surveys only | Multiple ways to earn | Surveys only |
| Bonus program | No bonus program | No bonus program |
| Email notification control | No email customization | No email customization |
| $5 min. to cash out | $30 min. to cash out | $10 min. to cash out |
| $1 signup bonus | $5 signup bonus | No signup bonus |
Final Thoughts
Branded Surveys is a legitimate way to earn extra money if you like spending time online taking surveys. It's easy to use, there are lots of ways to earn points, and the payout process is relatively simple.
It's a nice complement to other online gigs like getting paid to watch ads or videos or participating in focus groups.
Keep in mind that pay can be low for the amount of time you spend taking surveys, and sometimes the surveys can take a long time to complete. Given that, it's a smart choice to combine taking surveys with another side hustle to maximize your online earnings.
However, when it comes to paid survey sites, Branded Surveys has my vote.