15 Best Cash Back Apps to Earn Rewards in 2023
Advertiser Disclosure
Our readers always come first
The content on DollarSprout includes links to our advertising partners. When you read our content and click on one of our partners' links, and then decide to complete an offer — whether it's downloading an app, opening an account, or some other action — we may earn a commission from that advertiser, at no extra cost to you.
Our ultimate goal is to educate and inform, not lure you into signing up for certain offers. Compensation from our partners may impact what products we cover and where they appear on the site, but does not have any impact on the objectivity of our reviews or advice.
We've tested dozens of cash back apps over the past decade. Here are the best-in-class rewards apps for saving on groceries, gas, and more.
Our number one goal at DollarSprout is to help readers improve their financial lives, and we regularly partner with companies that share that same vision. If a purchase or signup is made through one of our Partners' links, we may receive compensation for the referral. Learn more here.
Over the last few years, dozens of new cash back apps for shopping have popped up.
These apps – all of which are free to use – can save you money on groceries, travel, clothes, and so much more.
I've endlessly experimented with cash-back apps since 2015, back when DollarSprout was first launched. I don't even know how many apps I've tried, but there are definitely a small handful that stand above the rest. These are the apps that I continue to use to this day.
In fact, we've done so much research on these neat little tools that, earlier this year, we decided to build our own cash back browser extension. We took everything that we liked about what the competition was doing, threw out everything we didn't care for, and came up with DollarSprout Rewards.
So, as you read through this roundup, yes, you're going to see our own app at the top of the list. We are proud of what we have built. But the rest of the apps mentioned are also top quality – you can't go wrong with using any of them. In some way or another, they have all inspired our own app.
Best-In-Class Cash Back Apps
DollarSprout Rewards: Best overall cash back app
Capital One Rewards: Best cash back app for online shopping
Rakuten: Best cash back app user experience
Ibotta: Best cash back app for grocery shopping
Upside: Best cash back app for gas discounts
Fetch: Best cash back app for scanning receipts
Honey: Best cash back app for Amazon
1. DollarSprout Rewards
DollarSprout Rewards is a desktop-only cash back browser extension that is available on Chrome and Safari.
After installing the extension, you'll notice a small alert appears in the upper right hand side of your browser whenever you visit an eligible merchant's website: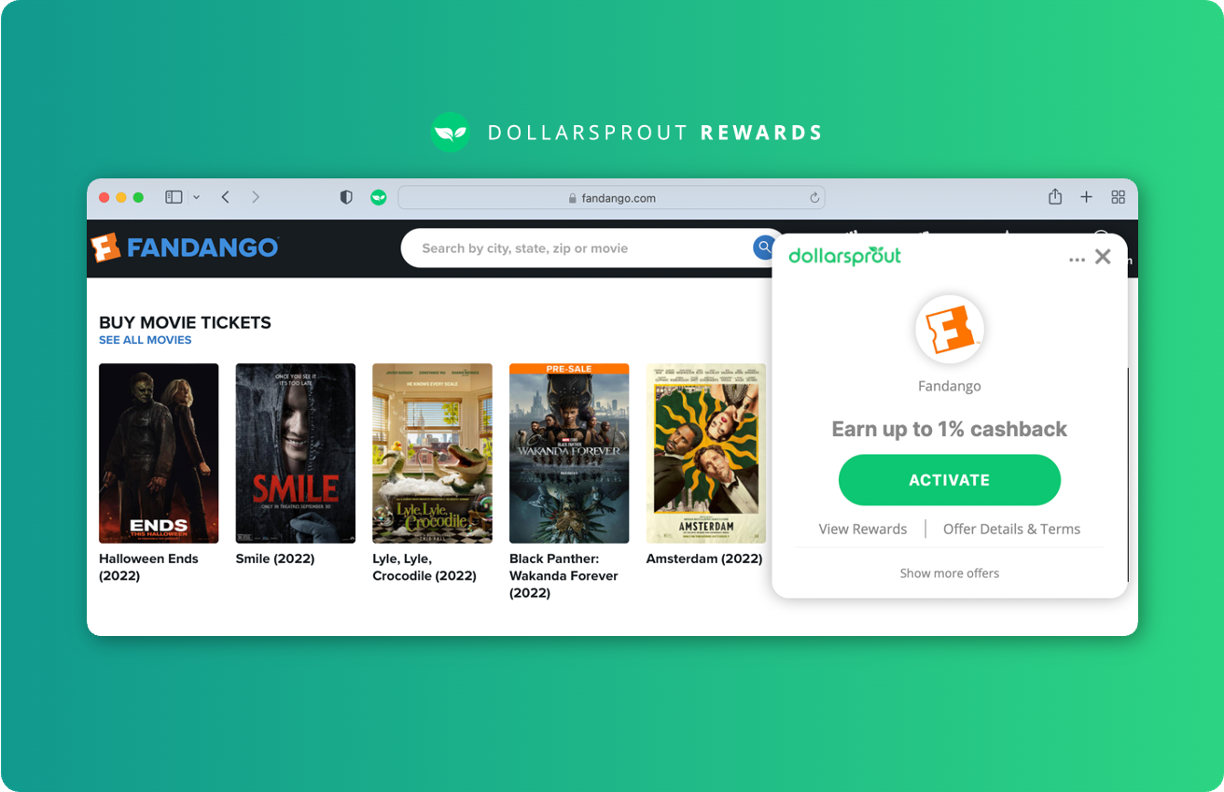 Simply click the "Activate" button, and continue shopping as you normally would. Accrued earnings will post to your Earnings Dashboard shortly after purchase.
What I like about it:
I personally do most of my shopping on my computer (not my phone), so a rewards app that works on my laptop makes it much more likely I'll use it.
Rewards accrue as cash, not points, making it much easier to track earnings.
Payouts are direct cash to PayPal once monthly ($5 minimum).
I like the subtleness of the savings alerts, especially in Google search results. It doesn't feel obtrusive but still lets me know when a deal is available.
Large network of retailers (over 15,000 and counting).
Infrequent marketing emails and no intrusive notifications. User experience and utility come first.
Automatically searches the web for working digital coupon codes and applies them at checkout.
Shareable links that allow you to earn rewards with friends and family.

Example: You recommend a food processor to a friend using the link to the product listing that the DollarSprout Rewards extension provides. If they purchase using your link, you will earn additional cash back.
What I would improve:
No cash back at Amazon. That said, I have yet to come across any app that offers cash back at Amazon. Amazon knows they have a strong grip on their customers, so there's no need to incentivize or discount sales.
No price-tracking features. I don't personally use this feature much with other apps, but I know some people do like that option.
No referral program.
No mobile app, yet (coming soon).
DownloadApp RatingsAvailable In (Country)
2. Capital One Shopping
Capital One Shopping is a coupon app and browser extension. The company was founded in 2014 as Wikibuy and was renamed after being acquired by Capital One in 2018.
When you install the browser extension and shop online, Capital One Shopping will alert you if there are any available coupons, or if it finds a better price somewhere else. You just have to click the button on the Capital One Shopping pop-up to claim the deal.
What I like about it:
Easy to install and use.
Sometimes the cash back deals are so good that I am fairly certain Capital One is taking a loss on them. My impression is that this is a way for the credit card arm of the company to build brand recognition via their shopping extension. They know they will likely recoup the losses on the credit card side of their business.
Watchlist feature alerts you of price drops.
Low payout threshold ($5 for most gift cards).
What I would improve:
Not as many gift card options as some other sites.
It tracks your online shopping history, which doesn't bother me that much but I know some people are put off by that.
Payouts are only done via gift cards.
Only available to users in the United States.
DownloadApp RatingsAvailable In (Country)
3. Rakuten
Rakuten — formerly known as Ebates – gives rebates and cash back on purchases made in store or online. It is available as a mobile app or browser extension, and they offer an online shopping portal to see all deals in one place.
In general, the app works the same way as the preceding tools on this list. Consumers can additionally use the website or app to search for deals or see featured merchants. Rakuten's browser extension automatically searches for and applies promo codes and cash-back offers when you shop online.
What I like about it:
There are a few merchants that I can only seem to (consistently) find on Rakuten, like Nike and Target.
The website is clean and easy to navigate. I can see a large selection of deals in one place.
Rakuten will regularly run deals where they offer up to 10% cash back from select merchants, instead of their normal 1-2%.
You earn a $30 welcome bonus if you spend $30 within 90 days. It's basically free money if you were going to make a purchase anyways.
What I would improve:
Out of all the apps and extensions I have signed up for, Rakuten seems to send the most marketing emails. You can unsubscribe from the emails and still keep your account active, though.
Cash back is only paid out quarterly, which can be quite a long wait. For most people this won't be an issue since it takes some time to accumulate the $5 minimum balance required.
DownloadApp RatingsAvailable In (Country)
4. Ibotta
Originally marketed as the best cash back app for groceries and helping users save money on food, Ibotta has expanded its cash back offerings to several large retail chains including Lowe's, Petco, Walmart, Target and more.
The app now offers a card-linked option, that detects purchases at participating merchants and then credits your account with earned rewards. They too offer a browser-based cash back extension that helps users earn rewards across thousands of additional participating retailers. If a shopper chooses to pay in cash, all hope is not lost – Ibotta allows users to manually upload their receipts after a store visit so long as they selected advertised offers prior to visiting the merchant.
What I like about it:
Advertised rewards are displayed in cash values instead of percentage cash back. This helps me easily understand how much I can expect to save.
Still maintains a strong grocery focus (many cash back apps are weak in this area).
Popular retailers receive premium visibility within the app making it easier to find the stores I most frequently shop at.
Payouts are via free gift cards or to cash.
Ibotta offers frequent incentive-based bonuses in the form of free cash and/or free items at popular retailers. For example, they currently have an offer where a user can earn a free Butterball Turkey (~$20 value) by loading and completing 16 offers.
Ibotta offers a $10 welcome bonus if a user spends $30 and they also have a referral bonus incentive where you'll earn $10 for each friend or family member that you refer.*
*Referred friend or family member must make an eligible purchase and upload their receipt.
What I would improve:
The knock against Ibotta has always been that their offers need to be manually loaded. This makes the entire process labor intensive and is a huge turn off for me personally. (Users have to search a merchant, select offers for particular products, if they exist, and then proceed to shop).
Only 300 or so merchants offer card-linked offers, the rest require manual loading of offers, and manual scanning of receipts.
Users face psychological biases that push them to buy additional products they may otherwise not need because they see savings offers that are only semi-relevant to them, if at all (not great for those that think they're predisposed to shopping addiction).
Cash back is only offered for specific products, not as a savings percentage across your entire order. If there are no cash back deals for items you need, you won't save any money.
DownloadApp RatingsAvailable In (Country)
Related: 12 Apps Like Ibotta to Earn Cash Back at Grocery Stores
5. Upside
Upside is a cash back app for gas that offers discounts on more than just fuel. It has three main categories for cash back: gas, groceries, and restaurants. The app functions similar to other cash back apps and offers rates of up to 25 cents off per gallon at participating stations.
What I like about it:
I can see a map of nearby gas stations to see which ones are offering the best cash back deals.
Cash back is paid out via PayPal or check and requires no minimum balance.
Generous referral program that's composed of one-time bonuses and recurring fill-up bonuses. You can earn a passive 1(¢)/gallon discount on your future fill-ups each time a referred friend fills up their tank.
What I would improve:
The cash back is not automatic; you must "Check in" or add a photo of your receipt to the app. It's not a big hassle, though.
Keep in mind that the highest cash back offers might not actually be the best deals. For instance, if Gas Station A offers $3.50/gal with 25 cents cash back, but Gas Station B is $3.20/gal with no cash back, Gas Station B is still the best deal.
DownloadApp RatingsAvailable In (Country)
Related: 5 Legit Ways to Get Free Gas Cards
6. Fetch Rewards
Fetch Rewards, also known as Fetch, is a cash back receipt app that allows you to earn points when you purchase from thousands of products at over 300 brand partner stores. To redeem points, simply scan your receipt through the app or connect your email address to scan eReceipts.
Brands partner with Fetch because, in addition to incentivizing consumers to purchase their products, Fetch provides brands with analytics to help them better understand consumer shopping habits.
What I like about it:
Fetch awards points for receipts from any store or restaurant, even if it's not from one of their partner brands.
Works with both physical receipts and email receipts.
Earn a modest number of points for receipt upload, even if no eligible offers were redeemed.
You don't need to pick your offers in advance in order to earn points.
What I would improve:
The offers are usually tied to specific brands as opposed to a store-wide offer.
The eReceipts feature doesn't always work perfectly.
I personally prefer to earn pure cash back rather than points. It's easier for me to track my progress that way.
DownloadApp RatingsAvailable In (Country)
Related: 17 Passive Income Apps for Easy Extra Money
7. Honey
Honey is a free browser extension that automatically finds online discount codes. After installing the extension, Honey will provide you with discount codes every time you shop online. You don't have to search manually.
Before checking out, the Honey browser extension will alert you if there are any deals available. If there are, they'll be applied to your purchase. There's also a feature called Droplist that allows you to track prices on certain items and receive an alert when the price drops.
What I like about it:
Price comparison features allow you to find the cheapest price for an item on Amazon across different sellers.
Price drop alert notifications allow me to save on purchases that I'm in no hurry to make.
Price history tools allows me to see if there is seasonality for certain products (some items are cheaper in the Summer vs. Winter, etc.).
The tool is owned by PayPal, so there's notch protection against scams and frequent product updates.
What I would improve:
Extension seems to frequently come up empty when searching for working coupon codes (user reviews across the web cite this as a common problem).
Ad blockers seem to cause performance and tracking issues (I have to disable Adblock Plus in Chrome to use the extension).
More cash back offers would be a huge plus. They've recently added PayPal Rewards into the mix, which offers actual cash back rewards in addition to the coupon-finding portion of the application.
DownloadApp RatingsAvailable In (Country)
Related: 20 Money-Making Apps for Earning on the Go
Honorable Mentions
Here are some names that you will be seen mentioned a lot in various "Best of" lists across the web. While they weren't quite strong enough to make the top of our list, these are still apps worth considering.
8. Shopkick
Shopkick is among the best rewards apps because it lets you earn money by performing tasks, rather than just spending money. Many of these tasks are easy to do. You earn points or "kicks" with easy tasks like walking into stores, scanning barcodes for specific products, shopping with a linked card, and shopping online. Once you've earned enough points, you can cash out for gift cards.
9. Dosh
Dosh gives you up to 10% cash back when you shop at their participating merchants using a linked debit or credit card. Most other cash back apps require you to scan a receipt and choose a deal, but with Dosh, all you need to do is sign up and shop. Only available in the United States and a $25 minimum balance is needed to cash out.
Download: Android, iOS
Learn More: Dosh Review 2023
10. Drop
Drop is a free app that rewards you for your everyday spending. After linking a credit or debit card to the app, you'll earn points whenever you shop with one of Drop's partner brands. You can earn more rewards for referring friends, integrating other apps, completing Linked or Mobile offers, and more.
Download: Android, iOS
Learn More: Drop Review 2023
11. RebatesMe
The newer-to-the-scene app is undercutting many of its peers by offering robust daily cash-back offers along with select "double cash-back" offers on many of its 4,000 popular retailer partners. Their Cash Back Protection Program is a neat feature, where, if you make a purchase through RebatesMe and don't get credited (an industry-wide issue because of the complexity of tracking), they'll credit you for purchases up to $1,000.
Download: Chrome (desktop)
12. TopCashBack
TopCashBack operates on a somewhat unique business model compared to other apps on our list. According to their website, they pass on 100% of their commissions to users, which means very competitive cash back rates. Instead of keeping a cut of those commissions for themselves, TopCashBack charges retailers for advertising space on their website. Payouts are made via ACH, PayPal, or gift cards.
14. Receipt Hog
Similar to the other receipt-scanning cash back apps on this list, Receipt Hog offers points for scanning pictures of your receipts and uploading them within two weeks of purchase. You can also earn points by taking surveys or playing mini-games. Recent reviews on TrustPilot have been less than ideal, but overall the company has a long history of favorable ratings.
15. Checkout 51
Checkout 51 is a free rebate app that lets you earn money back on your grocery shopping by scanning your receipts. Unlike similar apps, you don't have to claim offers at a specific store; you can shop wherever you want and still be rewarded for it. The offers are updated every week. Be sure to upload your receipts quickly (before the offer expires); if you forget, you could lose out on rebates.
Top Rewards Apps Compared
| | | | | | | | |
| --- | --- | --- | --- | --- | --- | --- | --- |
| | DollarSprout Rewards | Capital One Shopping | Rakuten | Ibotta | Upside | Fetch Rewards | Honey |
| Best for | Best overall | Price comparison | Online shopping portal | Groceries | Gas purchases | Receipt scanning | Price tracking |
| Type | Browser extension | Browser extension + mobile app | Browser extension + mobile app | Browser extension + mobile app | Mobile app | Mobile app | Browser extension + mobile app |
| Rewards | Cash | Gift card | Cash | Cash or gift card | Cash or gift card | Gift card | Cash or gift card |
| Merchants | 15,000+ | 30,000+ | 3,500+ | 300+ | 50,000+ | 500+ | 30,000+ |
| Countries | Worldwide | US | US, CA, and some international | US | US | US | US, CA, AU, UK + more |
| Min. Payout | $5 | $5 | $5.01 | $20 | None | $3 | $10 |
| | Sign up | Sign up | Sign up | Sign up | Sign up | Sign up | Sign up |
How Cash Back Apps Work
You might be wondering, how does the cash back business model work? It's pretty simple (and brilliant, when you think about it):
If someone knows they are getting a deal, they are more likely to complete a purchase. In fact, a recent study by RetailMeNot showed that two-thirds of consumers have "made a purchase they weren't originally planning to make solely based on finding a coupon or discount."
Cash back apps and extensions are what we call "affiliate marketers", which is just a fancy way of saying that they earn a commission for every sale they generate for a retailer. For example, New Balance might pay a 5% commission on any sales that come from an affiliate (like a cash back app). So how can an app incentivize you to make a purchase? They can offer you 2.5% cash back.
(5% total commission paid by retailer) – (2.5% paid to customer) = 2.5% profit for the app.
With cash back apps, everyone wins. The retailer gets a sale that they may not have otherwise got, the customer gets cash back, and the app gets a cut for facilitating the deal between buyer and seller.
Types of Cash Back Apps
The phrase "cash back apps" is often used as a catch-all to describe several different types of cash back apps and rewards platforms. As such, it may be confusing for some when an internet search for "cash back apps" doesn't always return strictly mobile and/or smartphone applications.
Here's a summary of the different types of cash back apps we frequently see on the market:
Mobile Cash Back Apps: This category is home to many popular Android and iOS-based mobile cash back applications. They are most often direct cash or points-based programs where users pre-load offers and/or make a purchase directly from a merchant through the app itself.
Mobile conversion tracking is notoriously difficult for advertisers, so these apps tend to involve more manual user input.
Card-Linked Cash Back Apps: These are a subset of mobile cash back apps that require users to add a debit or credit card in order to validate purchases made through the app. They boost the accuracy with which mobile cash back apps correctly record and credit users with purchases made but require that a merchant participates in the program. (Most card-linked apps only have a few dozen to a few hundred participating retailers because of the barrier to entry).
Receipt Scanning Apps: As the name implies, these apps require users to snap a picture of their receipt and upload it after their shopping trip. These apps also tend to require significant manual input because they often compel users to pre-select offers before shopping, which the app then validates against the manually-uploaded receipt. They are semi-prone to misreporting, and there is often a small delay associated with reward validation.
Cash Back Browser Extensions: These are the most automated form of cash back available. Like rewards credit cards, cash back is typically spread across an entire order at a participating merchant, and not just on single products. They require minimal setup and generally run unnoticed on your desktop browser, most frequently available for Chrome.
Some cash back companies will offer several or all of the types of cash back apps listed above, with fully integrated user accounts across multiple devices. This allows users to download a mobile application for use on their phone, but also use a desktop browser extension, all under the blanket of a single user account.
Features of the Best Cash Back Apps
When it all comes down to it, the best cash back apps are generally the ones that put the most money back in your pocket – but that's not the only factor at play.
Here are the features we feel the best cash back apps readily offer:
Robust cash back rates. There's a significant difference between 1 and 3% cash back. A lot of platforms offer cash back, but the devil is in the details.
Great merchant diversity. A cash back app isn't of much utility if it only has a few participating merchants you've never heard of. It's similarly unimpressive if a cash back app boasts 300,000 retailers but none of them are the ten or so places you regularly visit.
Low payout thresholds. Some cash back platforms have rather high payout thresholds that de facto force users to spend hundreds of dollars just to meet the $25 or $30 payout threshold needed to unlock reasonable earnings. Dormant or inactive accounts that are slow to reach and/or never meet the threshold may have earnings invalidated.
Good privacy protection. Not all platforms are created equally, and some may sell your lead information to sister or third-party networks, leading to unwelcome contact overwhelm.
Typical Cash Back App Fees
All of the most popular cash back platforms offer their app or service free of charge.
There are no hidden fees or paid subscriptions necessary, and any accrued earnings are yours to keep, so long as you meet the minimum specified payout threshold.
How to Maximize Your Rewards
Here are a few tips to get the most out of these cash-back apps:
Use multiple apps. Since each app provides different offers, using a combination of them will ensure that you're getting back the most money possible. Here's an example of a good "stack" to use without getting overwhelmed:
Browser extension for online shopping: DollarSprout Rewards
Grocery store cash back: Ibotta
Gas cash back: Upside
Take advantage of referral programs and bonuses. Whenever you can, encourage your friends and family to join some of these rebate programs. They'll save money, and you'll get extra points or cash added to your account.
Combine rebates with coupons. If you're a savvy shopper, you're probably already using coupons. Combining those discounts with app rebates puts even more money back in your wallet. Frequently, users will employ double-dipping "hacks" by linking rewards and cash back credit cards to their cash back app profiles.
Shop using the apps' portals. When you make purchases through the portal links, you'll get access to bigger discounts and rebates. Just make sure you're only buying items you truly need.
Pay attention to the rules. Most apps and offers have limits, deadlines, and other program rules. Follow them so you can claim every offer possible. You don't want to miss out on cash back because you forgot to scan a receipt in a timely fashion.
FAQs
Methodology
DollarSprout's editorial team has annually reviewed the leading cash back platforms on the open market since 2015. Our analysis includes observing and monitoring popular and emerging platforms' ease of use, cash back rates, redemption processes, security, and more. Additionally, we take into consideration [international] availability, breadth of merchant offerings, user reviews, app store ratings, customer service concerns, and company history. Products awarded best-in-class designations consistently provide safe and secure user environments with legitimate cash back offerings, at no cost to the user.
Related: 50+ Legit Ways to Make Money Online