23 Best Apps and Games That Pay Real Money (2023)
Advertiser Disclosure
Our readers always come first
The content on DollarSprout includes links to our advertising partners. When you read our content and click on one of our partners' links, and then decide to complete an offer — whether it's downloading an app, opening an account, or some other action — we may earn a commission from that advertiser, at no extra cost to you.
Our ultimate goal is to educate and inform, not lure you into signing up for certain offers. Compensation from our partners may impact what products we cover and where they appear on the site, but does not have any impact on the objectivity of our reviews or advice.
Maybe it sounds too good to be true, but there are several websites and apps that offer real money earning games. Here's where to get started.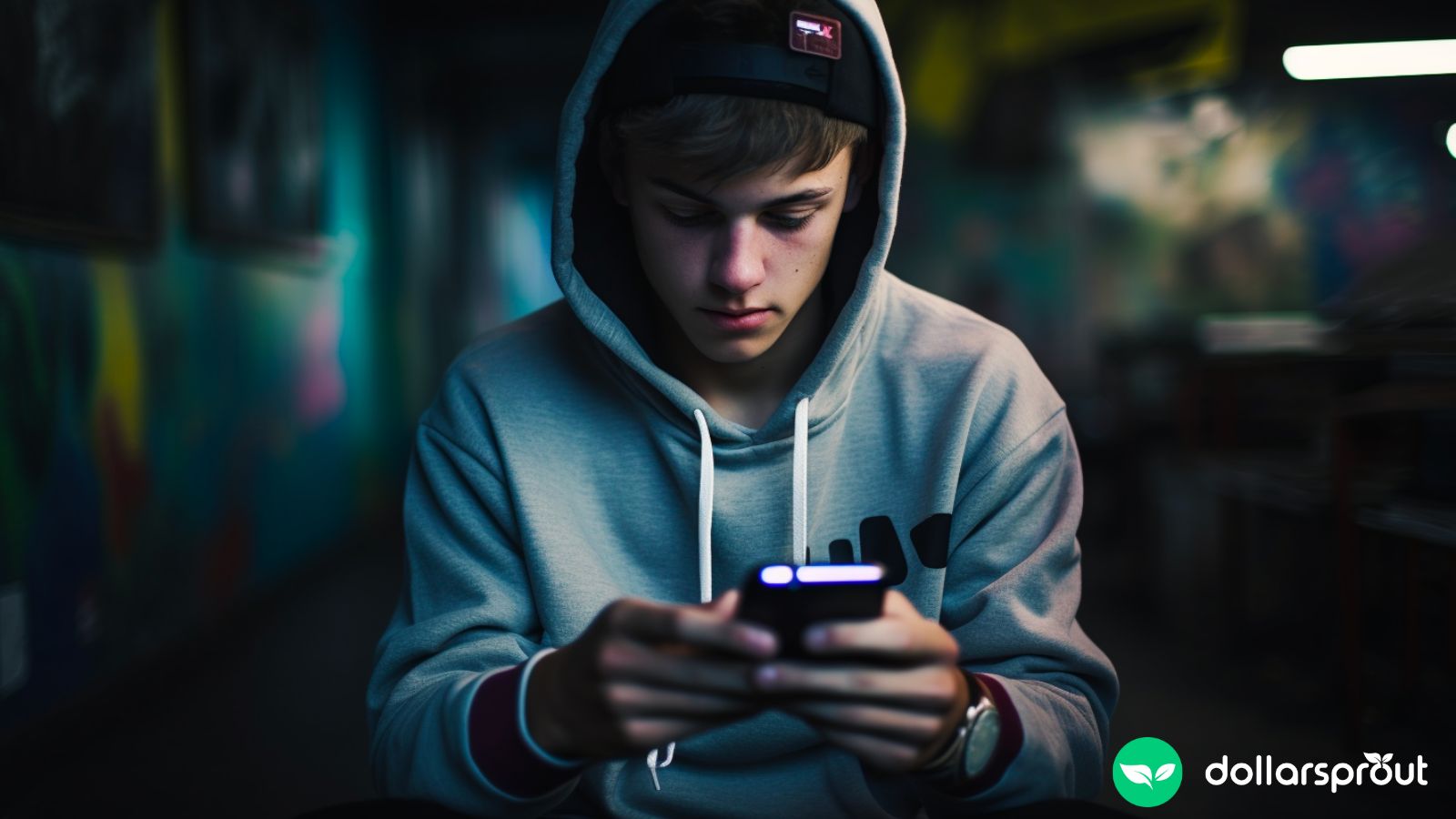 Video games have come a long way since Pong was released in 1958.
More and more people are spending money and time on their favorite games. Smartphone and online gaming have soared in the last ten years, and nearly 73% of people ages 4 to 20 own at least one video game console. In 2020, the video game industry boomed with revenue close to $180 billion.[1]
With this explosion of people playing games, new opportunities to earn money through games keep cropping up. From video game blogs to YouTube channels to tech support, you can take your passion for video games and turn them into a lucrative side hustle.
Ways to Get Paid to Play Games
As amazing as it would be, no one is going to pay you meaningful amounts of cold hard cash to loaf around and play video games all day. There has to be something in it for them, too. Generally speaking, gamers can make money in one of several ways:
Consume ads or sign-up offers. Advertisers will pay to get in front of relevant buyers wherever they are. Your Facebook News Feed, your TV, and yes, the sponsored ads in the games you play. Some apps will pay you a portion of the fee they charge these advertisers which can add up to a few extra bucks each month. Other times they'll pay a small cash bonus, anywhere from $0.50 up to $10, just to get you to install an app (in the hopes that you'll become an active user).
Earn milestone rewards. Certain games will reward users with cash or cash equivalents — like free gift cards — for reaching certain levels or unlocking certain features. The more complex the game, the higher the level you achieve, or the longer you play, the larger the reward.
Win contests. Trivia, sweepstakes, free drawings, you get the idea. Entry into tournaments or giveaways for your shot at a grand prize or a portion of a prize pool.
Play games of chance. In many areas, casino-like games that pay users real money are legal. From lotteries and raffles to digital slots and games like Blackjack, there are dozens of opportunities to stretch your luck — and win cash prizes.
Play games of skill. Counter-Strike: Global Offensive, DOTA 2, League of Legends, Fortnite…they are but a few of many franchises where millions in cumulative tournament prize pools are dolled out each year.
Gaming as a business. Streaming, blogging, vlogging, sponsorships. More difficult and much more time-intensive, but the ceiling for pay and earnings is substantially higher. The ultra-successful make more than $500,000 per month.[2]
Gaming as a career. Game tester, game developer, gaming journalist. All titles to describe a few of the careers in the gaming genre.
Even if full-time gaming isn't your goal, you can still earn money on the side. Many people earn enough each month to buy a new game (or two) — or upgrade their equipment — simply by playing real money-earning games in their free time.
Apps and Games That Pay Real Money
While you can only earn virtual money or credits with many online games, there is plenty of real money-earning games that you can play for cash — namely through passively watching the ads in between levels, or by completing micro tasks.
If you're not interested in becoming a professional gamer but want to earn some easy cash each month playing games, consider these sites.
1. InboxDollars
More than just a gaming app, InboxDollars is a market research company that rewards users for sharing insights about their shopping, online, and gaming behavior.
Big brands pay them to ask their users how they feel about the games they're playing. InboxDollars then passes along a portion of their earnings to their members when they give feedback about how to improve the game, or when they hit a certain milestone, like reaching certain levels.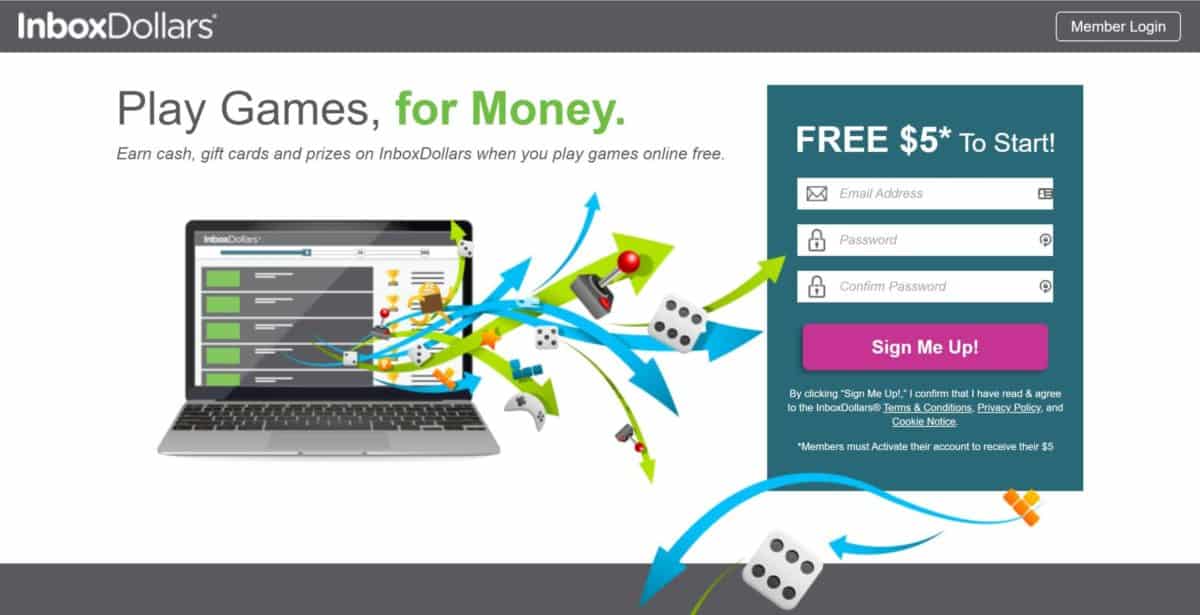 InboxDollars has dozens of arcade games, including card games, strategy games, word games, action games, and more. You can also enter cash tournaments, earn cash back, or win cash prizes through a wide selection of GSN games, including Poker, Casino, Wheel of Fortune, and more.
Plus, you'll instantly get a free $5 with InboxDollars just for creating an account.
Available On: All Devices
2. Mistplay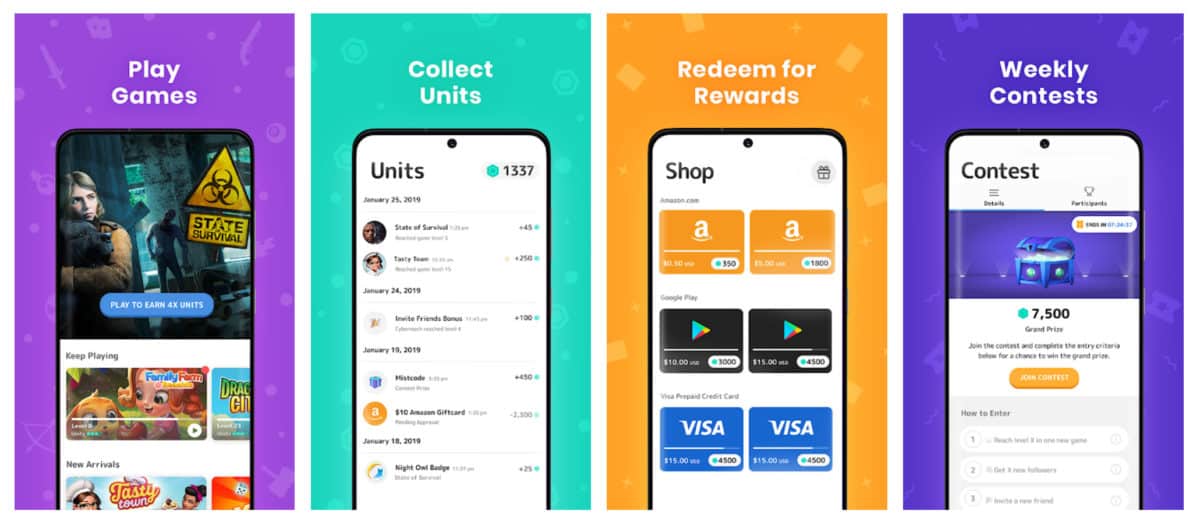 Mistplay is a loyalty platform for gamers available for Android devices through the Google Play Store (there is a waitlist for iOS users).
This particular app is neat because it's completely passive income. You play the games you normally would on your phone, but this time you earn points that you can redeem for gift cards to Amazon or iTunes, or to video-game outlets such as Nintendo and Xbox.
The Mistplay games list includes Super Mario Run, Pokemon Go, Fruit Ninja, chess, Solitaire, Candy Crush Saga, Wordscapes, and dozens of others. You can read more about the app in our Mistplay review.
Available On: Android
3. Swagbucks
Swagbucks provides an opportunity for casual gamers to make real money playing games. These games are simple to play and usually a lot of fun, and it's easy to sign up.
New Swagbucks users also get a free $10 sign-up bonus.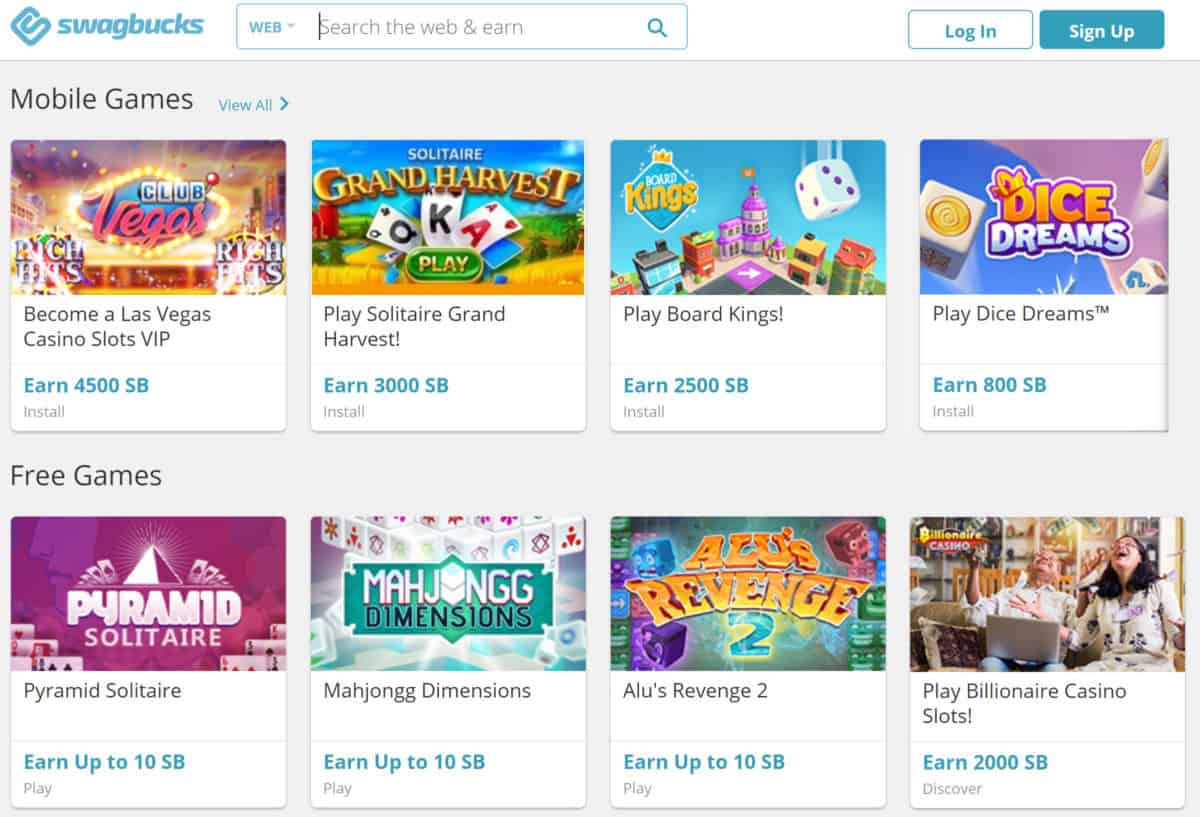 Once you download the app and verify you're email address, you can start to earn SB towards free gift cards in one of three ways:
Install a game. Earn anywhere from 500 to 5000+ SB ($0.50 to $50.00) and reach a certain level.
Play a game. Play for free and accumulate SB to put towards gift cards.
Get cashback. The cashback will come from in-game purchases if you choose to make them.
Installing a game and unlocking certain levels is by far the most lucrative option, but make sure to pay close attention to all of the offer details before embarking. There is usually an exact level and a certain timeframe you have to achieve that level by in order to earn the prize.
Available On: All Devices
4. KashKick
KashKick offers games like Scrabble GO, Stars Slots, and King of Avalon. Each offer and reward varies.
Right now, KashKick tells me I can earn $2.50 for completing level 16 in Scrabble GO within 7 days. Since I'm a Scrabble lover already, it's worth it for me to earn some cash for playing a game I enjoy. However, some games offer higher stakes. For example, you can earn $20 for making it to level 17 in King of Avalon within 20 days of signing up for the offer.
Once you reach $10 in your account, you can request to cash out via PayPal. Payments are processed and sent to users every two weeks.
Available On: All Devices
5. Second Life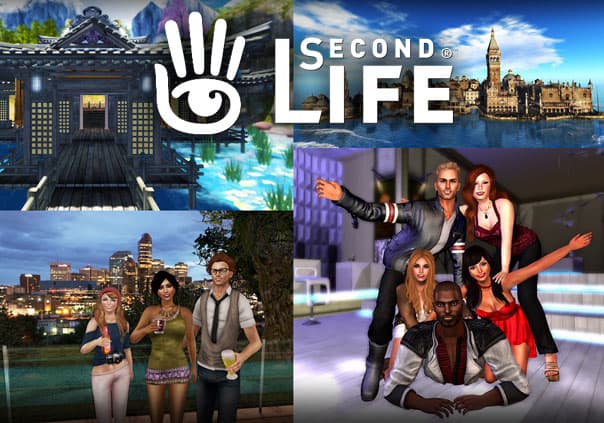 Second Life is a popular online virtual world simulator that allows users to create avatars who interact with other people, places, and things like they would in real life.
It offers its own currency called the Linden Dollar that can convert to actual money. Users can make money on Second Life by doing "hunts" or contests, selling objects or content to other users, or finding employment. You'll get paid through PayPal or Skrill.
Apps That Offer Casino-Like Games
If familiar casino games are your thrill, you'll be happy to know there are several apps that offer cash prizes if you're able to best your house or human opponent. State legal regulations will apply so certain apps or real-cash play may not be available in your area; you may still be able to participate in the free-play options on your device.
6. 21 Blitz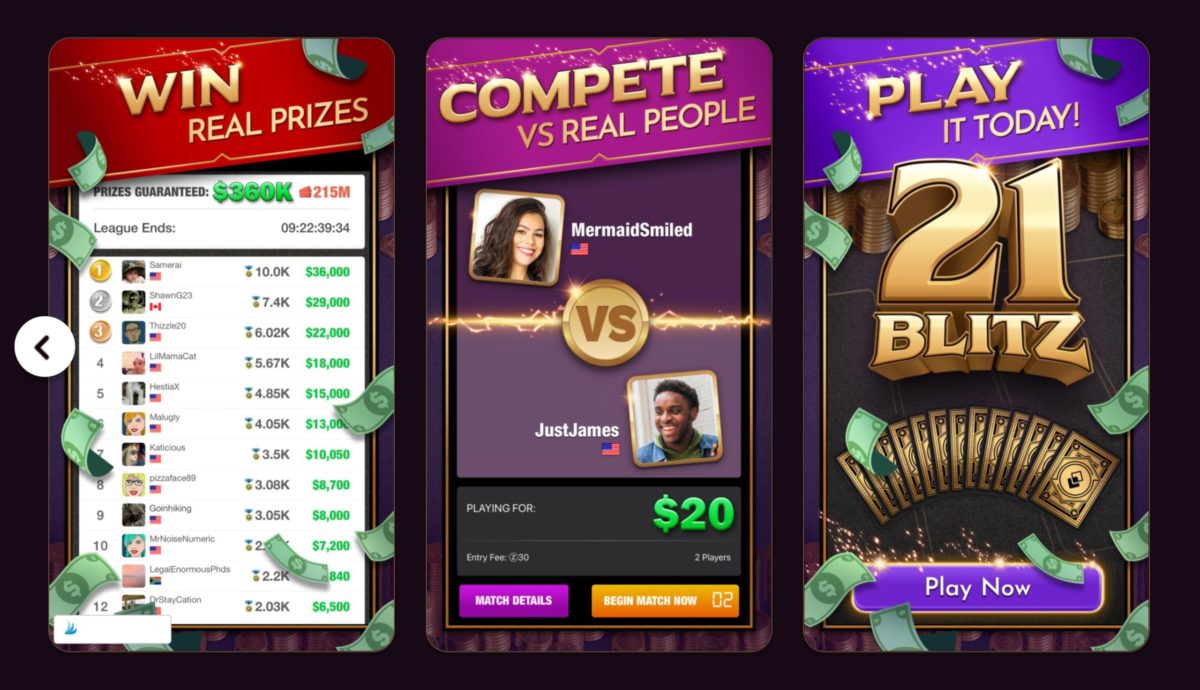 Break out your card counting skills to earn money with this new form of digital blackjack available on nearly every mobile device. The solitaire-blackjack hybrid provides a familiar casino-like experience with a new twist.
Practice and play for free to just kill time, or when you're ready to level up, compete in head-to-head or multi-player tournaments to earn cash and/or other prizes.*
If you play 25 practice games, you'll earn $2 to put towards real-money tournaments — a good gig if you're strapped for cash and want to freeroll a chance at a much bigger prize.
Download: Android, iOS, Samsung
*Cash tournaments are not allowed in the following states: AZ, AR, CT, DE, IN, LA, ME, MT, SC, SD, and TN
7. Pool Payday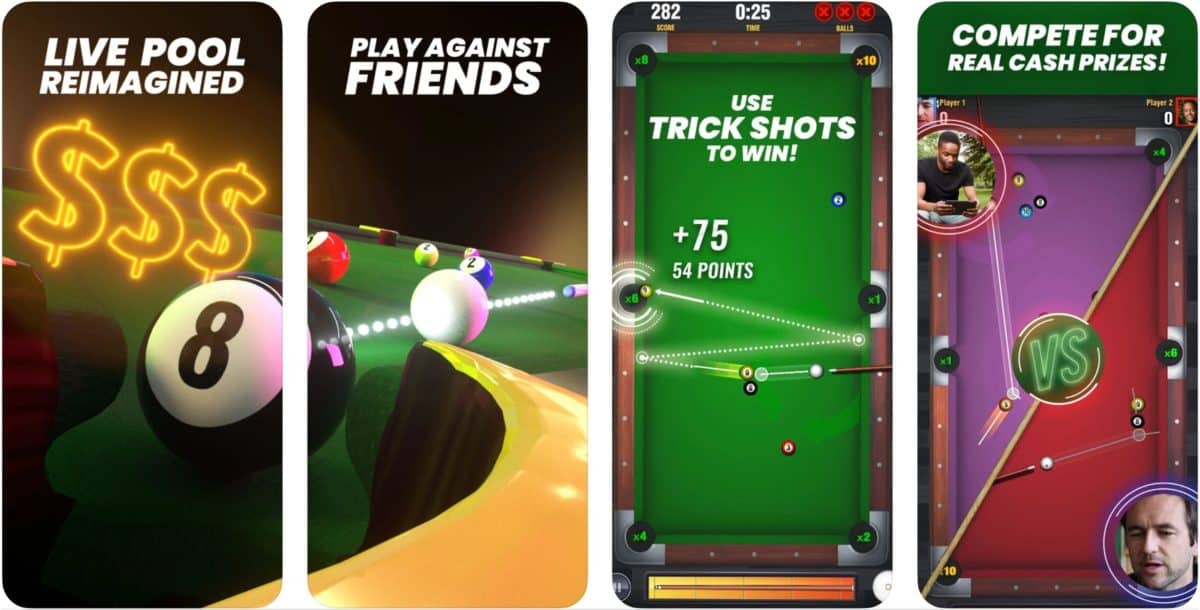 Compete 1-on-1 in real-time games against other people — for free — or for cash prizes. Cash prizes are redeemable via Paypal, Apple Pay, and more.
Master the basics of ball positioning, calling pockets, and trick shots before turning to real-money play. Once you're ready, you can compete in head-to-head competitions, leagues, and tournaments.
*Cash tournaments are not allowed in the following states: AZ, AR, CT, DE, IN, LA, ME, MT, SC, SD, and TN
8. Solitaire Cube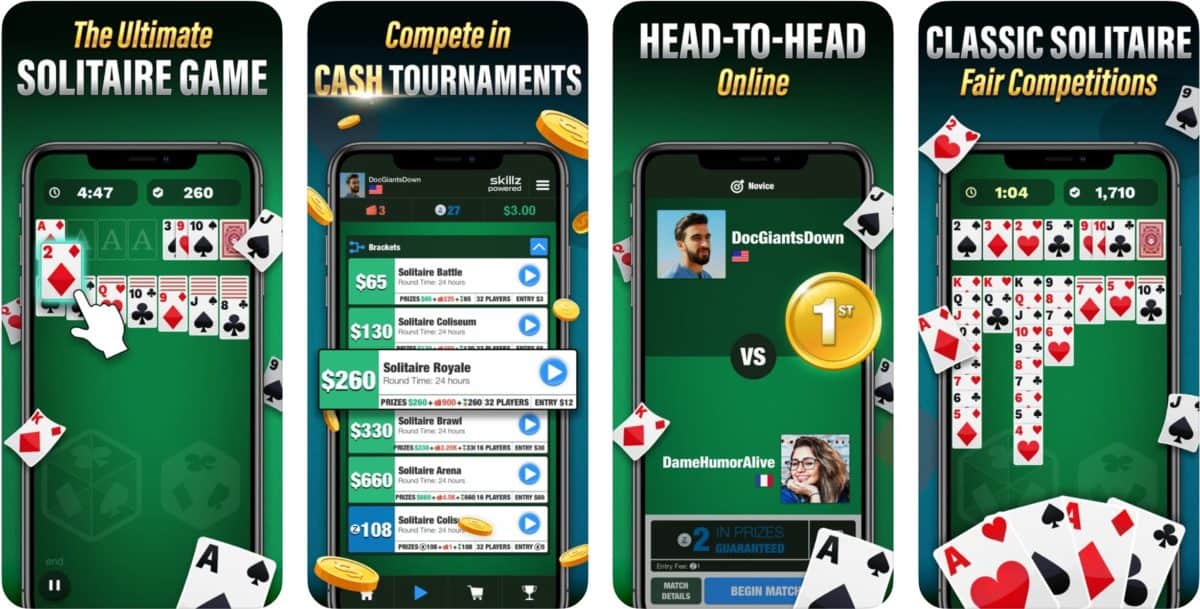 A fun twist on a classic game, compete head-to-head or in large tournaments for real cash prizes.
In head-to-head action, players get the same, and whoever finishes with the most points wins. Large tournaments work in a similar manner except you advance to another player once someone is eliminated. Even if you don't live in a real-prize-enabled region you can still play for their free virtual currency, which can be redeemed for fun virtual and physical prizes.
Download: Android, iOS, Samsung
*Cash tournaments are not allowed in the following states: AZ, AR, CT, DE, IN, LA, ME, MT, SC, SD, and TN
Places That Offer Cash Prizes for Games of Skill
From popular app-based games like Spades and Angry Birds to the big boy console games [COD, Fortnite, CS: GO, etc.], here's where you can play games of skill for cash prizes.
9. GamerSaloon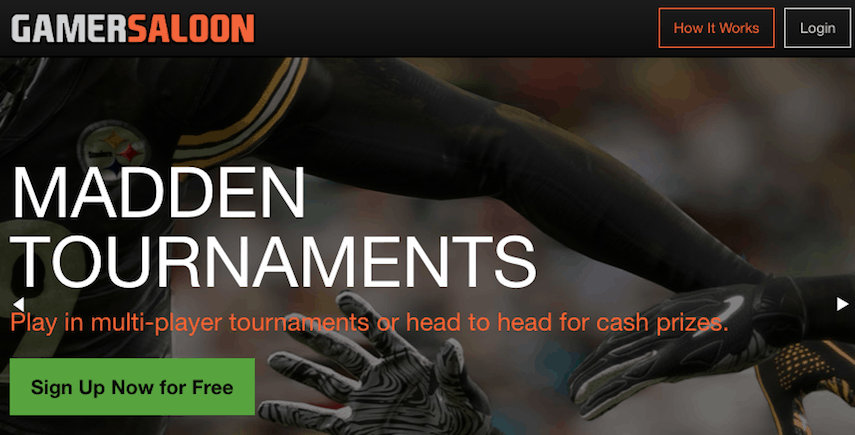 With GamerSaloon, available as an app or website, you can find various types of online gaming tournaments including everything from Halo and Call of Duty to NBA2K20 and Madden NFL 20. You play individually or in teams, and you can join existing tournaments or create your own.
To get started, you'll need to create a user account and make an initial deposit. This is the money you'll use as your entrance fee for tournaments. Then you can search for ones to join. On each tournament listing, you'll find the entrance fee, what gaming system you need, and the start date.
All tournaments have a cash prize, and you can collect your winnings through PayPal or a physical check.
10. World Winner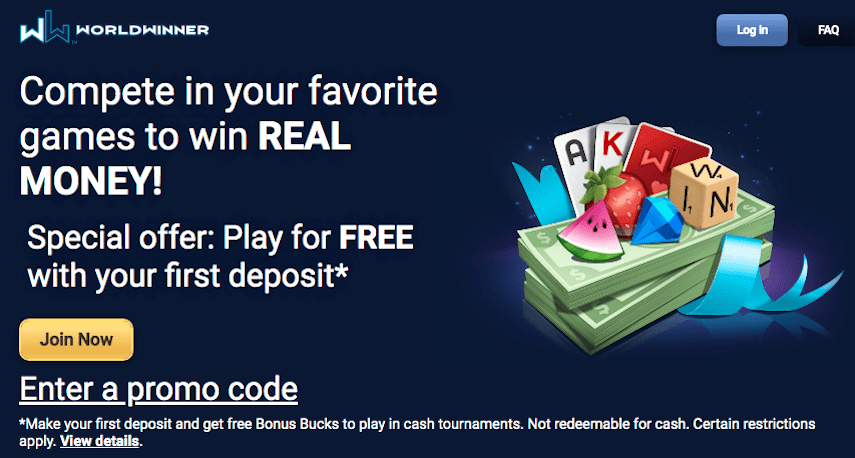 Through World Winner, a web and app-based gaming platform, you can enter various gaming tournaments and win cash. You'll make a deposit, pick a tournament, play, and wait for the results to withdraw your earnings. Gaming tournaments available include Spades, Super Plinko, and Angry Birds.
The minimum entry fee is $0.25, and the site lets you practice for free before you commit to a tournament. You can only use PayPal or a credit or debit card to pay your fees. When you cash out your winnings, they're credited onto the same card. World Winner also offers a $10 Bonus Bucks credit when you enter the promo code WELCOME and make your first deposit.
Apps That Offer Free Cash Contests
Completely free to join and use, these apps offer giveaways, trivia contests, and other fun ways to win real cash prizes. You won't often see a payout, but there are often large prize pools associated with them.
11. HQ Trivia
Although it's had some difficulty in the last few years, HQ Trivia relaunched in March 2020 for iOS users who enjoy trivia to play real money earning games.
To use it, you'll need to download the app onto your iPhone, iPad, or other Apple device and create an account. Every day, you can log in at a specific time, usually around 9:00 p.m. EST, to participate in live multiplayer trivia and word game tournaments. Each night's winner earns a cash prize.
There's no entry fee to participate, but how much you can win varies with every tournament. You'll need to connect a PayPal account to deposit your winnings.
More Ways to Make Money Playing Games
If you're interested in earning money through gaming, there are a variety of ways to accomplish that beyond the games listed above.
12. Compete in e-sports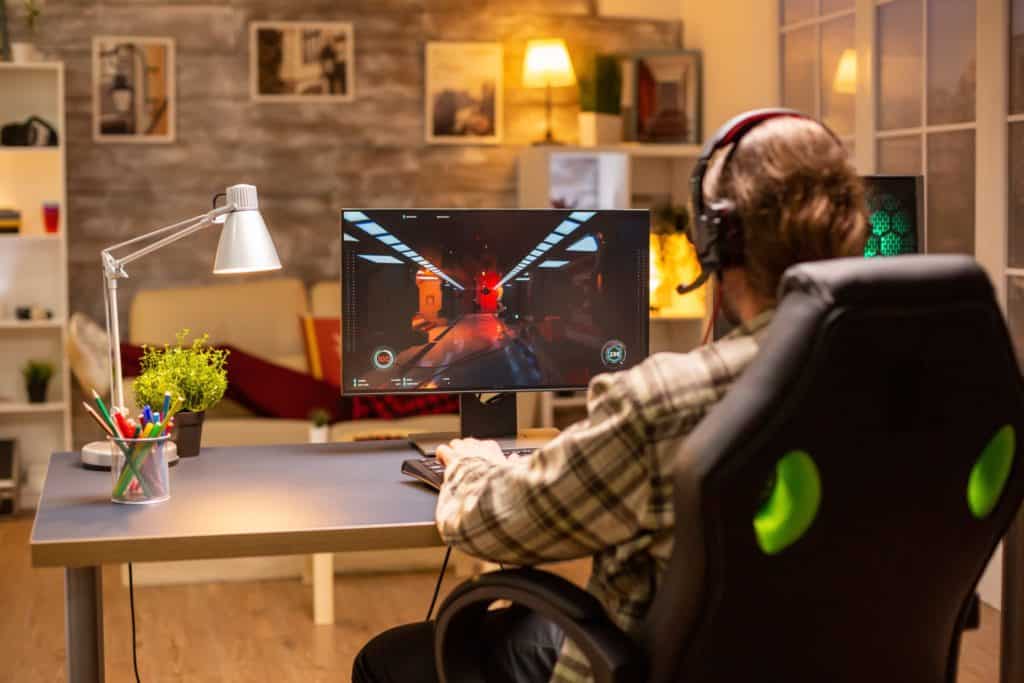 If you're constantly beating your friends in Call of Duty or are competitive in online tournaments, you might want to consider e-sports.
E-sports is a multimillion-dollar industry where players compete in organized competitions, either as professionals or amateurs. Those competitions are watched live and streamed for millions of fans. Fighting games, first-person shooters, and card games are popular among e-sports gamers.
The average e-sports gamer salary is $60,000, and the highest-earning gamer has career earnings of well over $6,000,000 as of 2020. In the US, some of the top prizes for e-sports tournaments garner up to $200,000 per tournament.
Multiplayer competitions can offer higher rewards to split between five or six players. Not everyone who competes is going to win big money, but the potential for large cash rewards is there.
13. Start a gaming YouTube channel or podcast
Starting a gaming YouTube channel is simple and relatively inexpensive. You need compelling content and good equipment. Shooting videos on your smartphone and editing them together can be an easy way to start building an audience.
Content is crucial when building your YouTube channel. Whether you're generating play-through gaming videos, discussing the merits of one gaming system over another, or giving tips and pointers for other gamers, each strategy is going to require engaging content. Otherwise, your fans will go to other channels.
As your channel grows, so does the expectation for even better content with a more professional presentation. The more people notice your channel, the more revenue you may generate.
Related: How to Make Money on YouTube: A Guide for Beginners
14. Start a Twitch gaming channel
Twitch Interactive is a live-streaming video game service that lets gamers around the world watch e-sports competitions, music videos, and other types of content. The platform integrates with consoles like Xbox 360, Xbox One, Sony PlayStation 3 and 4, and devices like Amazon Fire TV and Google Chromecast.
The process for making money broadcasting with Twitch is fairly simple: more views lead to the potential for more income. Once you get at least 500 regular views per video, you can apply to be a Twitch Partner, which is a free opportunity through the site. Subscribers then generate more income for your channel. Twitch will pay $2.50 for each subscriber.
Twitch also gives you the ability to ask for donations from your channel, allowing your fans the opportunity to support you directly.
15. Find sponsors
Professional gamers can earn money from sponsorships, similar to how professional athletes earn money by partnering with brands and companies. Depending on your popularity, you might be able to secure a fairly lucrative deal. All you'll need to do is wear sponsored gear during tournaments or promote brand products to your social media followers.
Even if you don't land high-dollar deals, you might be able to negotiate with smaller or up-and-coming brands for a lesser fee or free items.
16. Participate in online card tournaments
If you can't get to a casino or other in-person building, you can enter online poker and other gambling tournaments online to win real money. A quick Google search for "online poker tournaments," "online blackjack tournaments," or visiting a website like Casino.org will give you a list of active or future tournaments or online casinos you can visit to play virtual slot machines.
Before choosing this way of making money playing games online, make sure you vet each site or tournament to ensure it's legitimate and legal in your state.
17. Create your own merchandise
Just like people make money selling fan art and fan-fiction books, you can make money selling merchandise based on your favorite games or gamers. This might be T-shirts, mugs, cell phone cases, notebooks, or even printable tournament brackets for your favorite e-sports competition.
You can use a site like Teespring or CafePress to design and sell your wearable items or Canva for printables or notebooks you might want to sell on your website or Etsy. How much you charge varies based on what you're selling and on what platform.
Should you opt for this, make sure you're complying with all permissions, trademarks, and copyrights. You don't want to have to stop selling your merchandise or be subject to a lawsuit.
18. Sell retro games and gaming equipment
Depending on how long you've been into video games, you might have a lot of old games or consoles around your house or taking up space in a closet. If that's the case, selling your retro games and equipment is a good way to get rid of some of your things and make some extra cash.
Decluttr is a great place to get started selling your used games, and eBay is good for selling not only games, but consoles and other gaming equipment as well. You can also contact local stores, put your items for sale on places like Facebook Marketplace, or hold a yard sale.
How much you'll earn for the games depends on their age and condition, as well as how in demand or rare they are.
Gaming Careers
If you'd prefer to work behind the scenes in the gaming industry, there are a number of opportunities to choose from.
19. Start a gaming blog
There are dozens of successful gaming vloggers, but not many gamers are writing about gaming online. Starting a blog can help you build an audience and maybe even earn a side income.
Generate revenue with blog traffic and write compelling content that attracts visitors, sponsors, and gaming companies to your site. Create another revenue stream with affiliate marketing products in gaming gear and game recommendations, or write your blog in conjunction with your YouTube or Twitch channel. You can even create a course or a short eBook with your best gaming tips.
20. Game tester
A game testing position pays you to play games and give feedback about certain aspects of the game. While some companies require software and data knowledge, many simply want gamers to test beta versions of their new products.
Beta testers provide feedback about their experience including any bugs they find or features to add or delete so the game developers can make adjustments to the game before it hits the market.
21. Video game developer
Video game developers are the people who design the game — from the graphics you see to the functionality of the features. If you have good graphic design and coding skills and love video games, this is a potential career path for you.
A college degree isn't essential for this career. There are online programs that can teach you video game design and coding.
22. Technical support
If you're good at helping people work through their video game-related problems, like troubleshooting an issue with a gaming system, working in technical support may be a legit option.
These communication and problem-solving skills might even lead to a full-time career in the gaming industry. Technical support professionals make around $44,000 on average per year, and you might even be able to do it from home.[3]
23. Video game journalist
If you're an avid gamer or fan of video games or e-sports and you enjoy writing, you might consider finding a job as a video game journalist. In this job, you'll report on things like video game trends, new products or games, interview well-known gamers, and provide breaking news on the video game industry. You might also cover events or tournaments or attend product launches.
You can get started as a video game journalist by looking for jobs within industry-specific blogs, websites, or magazines. If you'd prefer, you can work as a freelancer or start your own video game blog and build a portfolio of your writing before looking for full-time work.
Although helpful, you do not need a degree in journalism to work as a video game journalist.
Have Realistic Expectations
If you're an avid gamer, making money with online games is worth a try. There are real money-earning games for those who like being in front of an audience or playing tournament style as well as options for more behind-the-scenes work.
Make sure you're realistic about your expectations. Unless you're pursuing a full-time traditional job in the online gaming world, chances are slim that you'll make a six-figure income. But if you put in the time, effort, and commitment to grow your platform, skills, and connect with an audience, your gaming habit can turn into a decent way to make money online.
What's Next?
Sources:
[1] Witkowski, Wallace. "Videogames Are a Bigger Industry than Movies and North American Sports Combined, Thanks to the Pandemic." MarketWatch, 22 Dec. 2020, www.marketwatch.com/story/videogames-are-a-bigger-industry-than-sports-and-movies-combined-thanks-to-the-pandemic-11608654990.
[2] Hore, Jamie. "Who Are the Biggest Twitch Streamers?" The Loadout, 15 Apr. 2021, www.theloadout.com/streamers/biggest-streamers.
[3] "Gaming Support Technician Salaries." Glassdoor. 15 Jul. 2021, www.glassdoor.com/Salaries/gaming-support-technician-salary-SRCH_KO0,25.htm.