12 Real Money Earning Games That Pay You Cash to Play
Advertiser Disclosure
Our readers always come first
The content on DollarSprout includes links to our advertising partners. When you read our content and click on one of our partners' links, and then decide to complete an offer — whether it's downloading an app, opening an account, or some other action — we may earn a commission from that advertiser, at no extra cost to you.
Our ultimate goal is to educate and inform, not lure you into signing up for certain offers. Compensation from our partners may impact what products we cover and where they appear on the site, but does not have any impact on the objectivity of our reviews or advice.

Video games have come a long way since Atari released Breakout in 1976.
From shooting zombies to word searches to trivia and sports games, more and more people are spending money and time on their favorite games.
The gaming industry is a booming business, with revenue close to $100 billion in 2017.
Nearly 73% of people ages 4 to 20 own at least one video game console, and smartphone and online gaming have soared in the last ten years. With this explosion of people playing games, new opportunities to earn money through games keep cropping up.
From video game blogs to YouTube channels to tech support, you can take your passion for video games and turn them into a lucrative side hustle.
Can You Really Get Paid to Play Games?
Maybe it sounds too good to be true, but there are several ways to make money in the gaming industry. And it may be easier than you think to get started.
Even if full-time gaming isn't your goal, you can still earn money on the side. Many people earn anywhere from $500 to $1,500 per month simply by playing real money earning games in their free time.
Places to Play Free Online Games to Earn Money
While you can only earn virtual money or credits with many online games, there are some that you can play for real cash. If you're not interested in becoming a professional gamer but want to earn some easy cash each month playing games, consider using these sites.
1. Lucktastic
Lucktastic is an app that allows you to play scratch-off lottery tickets virtually. It's completely free to join, and you can win gift cards, tokens to play more games, or cash. Cash prizes can range from $2 to $1500 but there's no guarantee you'll win, like with physical lottery tickets.
If you do win, those winnings are reflected in your account balance under the "Wallet" tab. Once you have at least $5 in your account, you can get a physical check. If you have less than $5 and want your winnings, you'll have to use Dwolla to get paid.
Related: Lucktastic Review: Good for a Thrill, But Don't Expect to Win Big
2. Swagbucks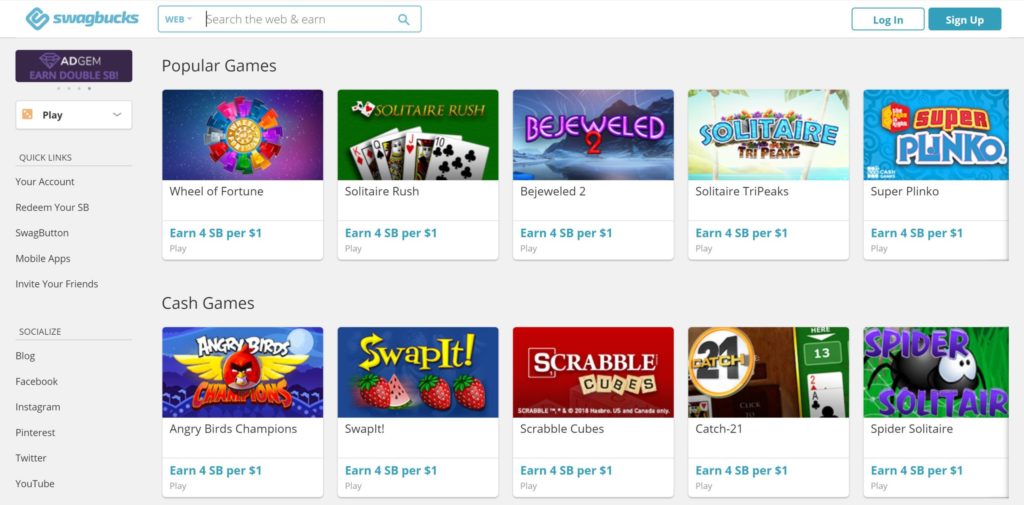 Swagbucks provides an opportunity for casual gamers to make real money playing games. These games are simple to play and usually a lot of fun, and it's easy to sign up.
New Swagbucks users also get a $10 sign-up bonus.
3. InboxDollars
You can also earn money playing games through InboxDollars. After signing up, you'll be able to select games like Solitaire and Sudoku, and there are cash tournament games you can play to earn cashback on every dollar you spend playing those games.
Plus, you get a free $5 with InboxDollars just for creating an account.
4. Second Life

Second Life is a popular online virtual world simulator that allows users to create avatars who interact with other people, places, and things like they would in real life.
It offers its own currency called the Linden Dollar that can convert to actual money. Users can make money on Second Life by doing "hunts" or contests, selling objects or content to other users, or finding employment. You can get paid through PayPal or Skrill.
5. World Winner
Through Word Winner, a web and app-based platform, you can enter various gaming tournaments and win cash. You'll make a deposit, pick a tournament, play, and wait for the results to withdraw your earnings. Gaming tournaments available include Spades, Super Plinko, and Angry Birds.
The minimum entry fee is $0.25, and the site lets you practice for free before you commit to a tournament. You can only use PayPal or a credit or debit card to pay your fees, and when you cash out your winnings, they're credited onto the same card. World Winner also offers a $10 Bonus Bucks credit when you enter the promo code WELCOME and make your first deposit.
Related: 23 Easy Side Hustle Apps to Make Money in Your Spare Time
More Ways to Earn Money Through Gaming
If you're interested in earning money through gaming, there are a variety of ways to accomplish that.
6. Compete in Esports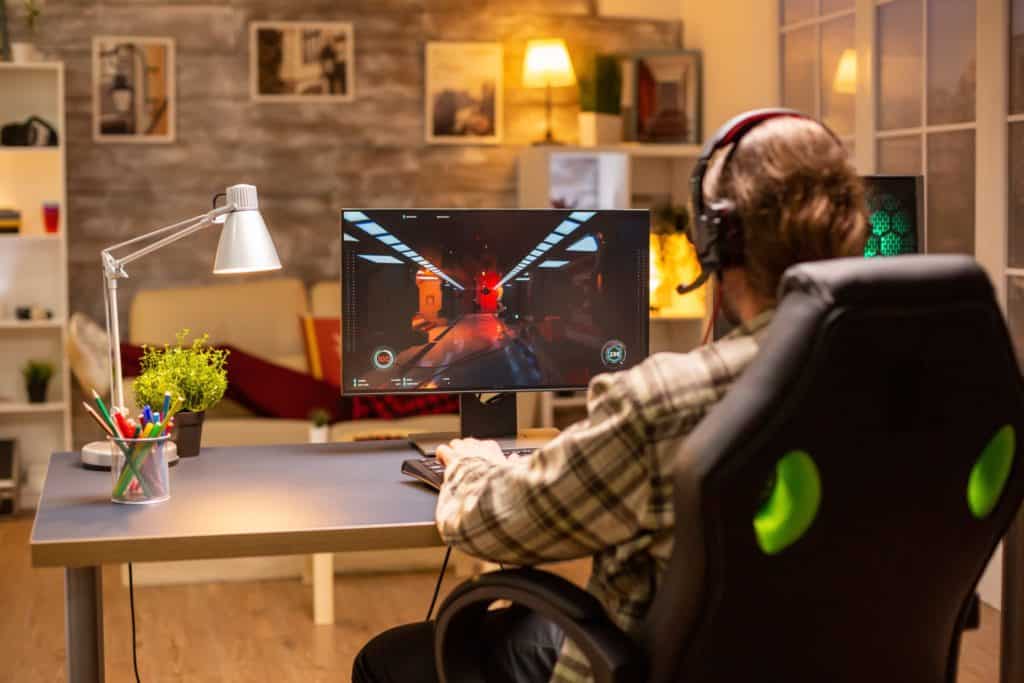 If you're constantly beating your friends in Call of Duty or are competitive in online tournaments, you might want to consider esports.
Esports is a multimillion-dollar industry where players compete in organized competitions, either as professionals or amateurs, and those competitions are watched live and streamed by millions of fans. Fighting games, first-person shooter games, and card games are popular among esports gamers.
The average esports gamer salary is $60,000, and the highest-earning gamer collected $2,436,772.40 playing real money earning games in 2017. In the US, some of the top prizes for esports tournaments garner up to $200,000 per tournament.
Multiplayer competitions can offer higher rewards to split between five or six players. Not everyone who competes is going to win big money, but the potential for large cash rewards is there.
Reach out to teams, organizations, gaming sponsors, and others to see if you have the skill set they're looking for. Look for niche games that you can master. The more unique the niche, the more likely you are to become one a select few who are highly skilled in that game. And that can translate to more money for you.
7. Start a Gaming YouTube Channel
By leveraging the popularity of YouTube and creating engaging content, gamers like PewDiePie and JuegaGerman earn millions of dollars each year through their YouTube channels.
Starting a YouTube gaming channel isn't difficult and is relatively inexpensive. You need compelling content and good equipment. Shooting videos on your smartphone and editing them together can be a simple way to start building an audience.
Content is crucial when building your YouTube channel. Whether you're generating play-through gaming videos, discussing the merits of one gaming system over another, or giving tips and pointers for other gamers, each strategy is going to require engaging content. Otherwise, your fans will go to other channels.
As your channel grows, so does the expectation for even better content with a more professional presentation. The more people notice your channel, the more revenue you may generate.
Related: How to Make Money on YouTube: A Guide for Beginners
8. Gaming Twitch Channel
Twitch Interactive is a live-streaming video game service that lets gamers around the world watch esports competitions, music videos, and other types of content. If you're a beginner, you can use the free option, but there are also paid subscription plans that range from $4.99 to $24.99 per month.
The platform integrates with consoles like Xbox 360, Xbox One, Sony PlayStation 3 and 4 and devices like Amazon Fire TV and Google Chromecast. Twitch makes it easy to broadcast content to fans and offers a great opportunity for serious gamers to earn money playing video games.
The process is simple: more views lead to the potential for more income. Once you get at least 500 regular views per video, you can apply to be a Twitch Partner, which is a free opportunity through the site. Subscribers then generate more income for your channel. Twitch will pay $2.50 for each subscriber.
Twitch also gives you the ability to ask for donations from your channel. This allows your fans the opportunity to support your abilities, and they can donate to you directly.
Related: 12 Legit Ways to Make Money Watching Videos
Gaming Careers
If you'd prefer to work behind the scenes in the gaming industry, there are a number of opportunities to choose from.
9. Start a Gaming Blog
There are dozens of successful gaming vloggers, but how many gamers take the time to actually write about gaming online? Starting a blog can help you build an audience and maybe even earn a side income.
Generate revenue with blog traffic and write great content that attracts visitors, sponsors, and gaming companies to your site. Create another revenue stream with affiliate marketing products in gaming gear and game recommendations, or write your blog in conjunction with your YouTube or Twitch channel. You can even create a course or a short eBook with your best gaming tips.
Every blogging niche is different, but it all starts the same. With great content, persistence, and a lot of patience, you could become a successful gaming blogger.
Want to see how we built a profitable blog?
In this FREE 7-day email course, you'll join 50,000+ other readers in:
Seeing the exact steps we took to earn our first $1,000 blogging (and beyond).
Starting your own blog (and learning how to write epic, money-making content).
10. Game Tester
A game testing position pays you to play games and give feedback about certain aspects of the game. While some companies require software and data knowledge, many simply want gamers to test beta versions of their games.
Beta testers provide feedback about their experience including any bugs they find or features to add or delete so the game developers can make adjustments to the game before it hits the market.
11. Video Game Developer
Video game developers are the people who design the game from the graphics you see to the functionality of the features. If you have good graphic design and coding skills and love video games, this is a potential career path for you.
A college degree isn't essential for this career. There are online programs that can teach you video game design and coding.
Related: 14 Best Places to Sell Video Games
12. Technical Support
If you're good at helping people work through their video game-related problems, like how to pass a level or troubleshooting an issue with a gaming system, working in technical support may be a legit option.
These communication and problem-solving skills might even lead to a full-time career in the gaming industry. Technical support professionals make around $44,000 on average per year, and you might even be able to do it from home.
Should You Try to Make Money with Online Games?
If you're an avid gamer, making money with online games is worth a try. There are options for those who like being in front of an audience or behind the scenes and for novice and advanced gamers.
Make sure you're realistic about your expectations. Unless you're pursuing a full-time traditional job in the online gaming world, chances are slim that you'll make a six-figure income. But if you put in the time, effort, and commitment to grow your platform, skills, and connect with an audience, you can make some decent side income.