5 Awesome Ways to Set Savings Goals and Achieve Them
Advertiser Disclosure
Our readers always come first
The content on DollarSprout includes links to our advertising partners. When you read our content and click on one of our partners' links, and then decide to complete an offer — whether it's downloading an app, opening an account, or some other action — we may earn a commission from that advertiser, at no extra cost to you.
Our ultimate goal is to educate and inform, not lure you into signing up for certain offers. Compensation from our partners may impact what products we cover and where they appear on the site, but does not have any impact on the objectivity of our reviews or advice.

This post is brought to you by CJ Affiliate's VIP Content Service. While this was a sponsored opportunity from CIT Bank, all content and opinions expressed here are my own. Please visit CIT Bank's website for details and disclosures.
Imagine driving down the road when the car suddenly begins to make a strange sound that wasn't there that morning. Or walking into work one day to find that your position has been eliminated.
Vet bills, home repairs, medical issues, job loss and vehicle maintenance; these are just a few of the reasons to set savings goals, to provide security, and to protect from the unknown.
Additionally, it's a great idea to save money to help reach important goals: a new home, college, retirement, and vacation.
Everyone has a reason to save money, wherever they are in life. But here is the truth: Most people are doing it wrong (and yes, there is a wrong way).
A staggering 57% of Americans have less than $1,000 saved. But even if you are one of those people, there's a way to crack the code to saving, paying off debt, and making money less stressful.
Here are some ways to skip the stress, avoid making easy financial mistakes, and go straight into achieving those savings goals.
How to Set Savings Goals (and Actually Achieve Them)
First of all, it's important to note that there is no one right way to save money. But there is a path of least resistance: the method that helps achieve a monetary goal with the least amount of effort. If you can relate, then follow the steps below to set and achieve personal savings goals.
1. Create a plan
How can you know what amount to save without getting into the nitty-gritty of your finances? You can't.
To reach a savings goal (and in record time), make a budget. Having a plan for your money and tracking its progress will show you exactly how much money you have and where it's going.
It will also help to pinpoint areas where it would be possible to save money, thereby helping to reach savings goals even faster.
Here is an example budget that is easy to follow: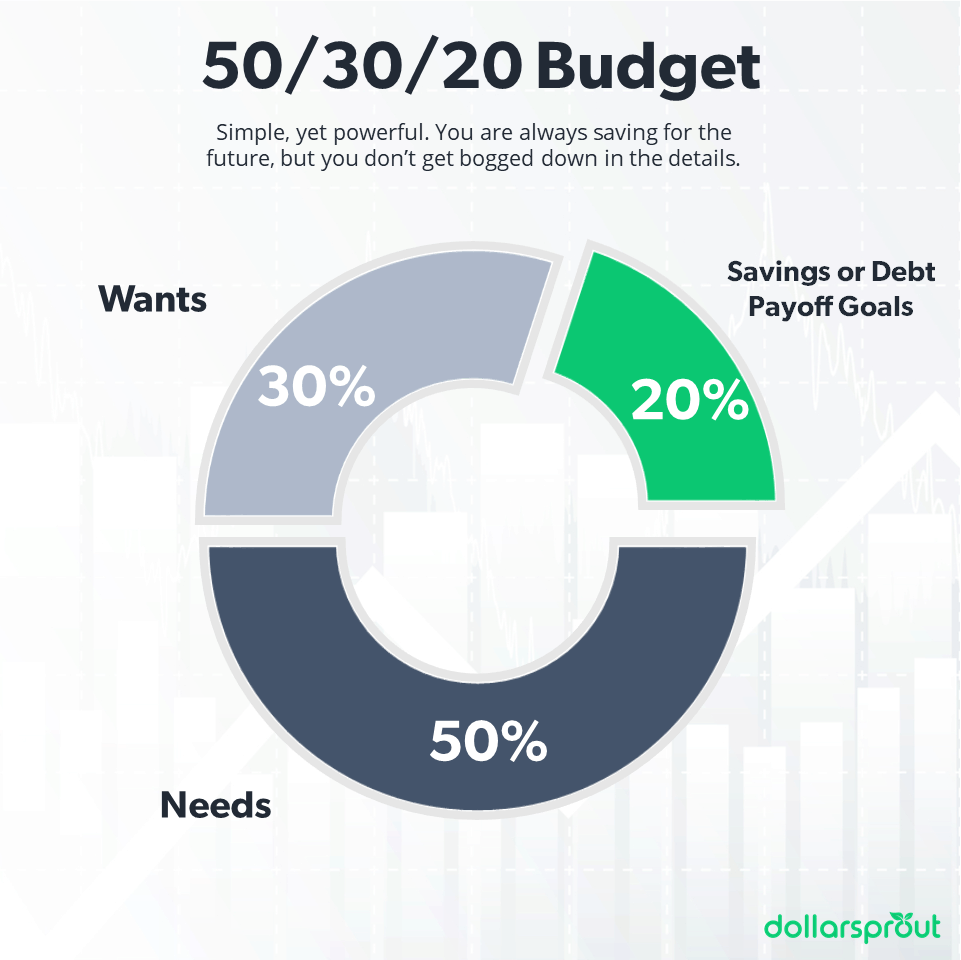 Use a free budgeting app like Personal Capital to set up a budget using the 50/30/20 method shown above.
Budgets don't require a complicated system, but it's important to be proactive. In other words, while it's a good idea to look at past expenses, always plan for the month ahead. Write down monthly income, expenses, and which expenses will be paid from which paycheck.
Use a simple Excel spreadsheet to plan monthly spending and track the progress along the way. Download our free budget template below to help set those finances straight. These worksheets include everything needed to get a budget on the right track.
Related: 7 Experts Share Their Best Hacks for Saving Money
2. Get specific
"I want to save money" is not a goal.
What are you saving for? How much money is needed, and by when? These are all important questions to answer when setting good financial goals, and ignoring them is a big mistake.
For instance, putting all savings into one account isn't a good idea. Since those funds aren't earmarked for a particular purpose, it's easy to just dip into them for any reason: vacation, moving, unplanned purchases on a credit card etc. As a result, the savings will be depleted as quickly as they are built up.
Use one of these methods to create boundaries around savings:
Create separate savings accounts for each goal (name each one based on the goal, such as "Vacation to Hawaii next Winter")
Use one savings account for all goals and track the progress of each in an Excel spreadsheet
Method No. 1 will work, but it can become tiring to track several accounts (remember: the path of least resistance). With No. 2, every time money is transferred into a savings account, add it to the Excel spreadsheet budget under its intended goal, so you can see exactly how much money is saved for each item.
Those who struggle to willingly set money aside into a savings account should consider trying an automated investing app like Acorns. Connect a credit or debit card, and then the app will automatically round up each purchase to the nearest dollar and invest the change.
Related: Acorns Review 2020: Pros, Cons, and How It Stacks Up to Other Apps
3. Make the most of your money
Savings accounts that are with traditional banks likely miss out on some passive income in the form of interest.
Since online banks don't have to deal with the overhead costs of managing brick and mortar branches, they are able to offer much higher interest rates than traditional banks.
In order to qualify for this top-tier savings rate, customers need to either maintain a balance of $25,000-plus or deposit at least $100 into the account every month. This should be fairly easy for those who have already gone through steps one and two above.
This may seem like a trivial difference at first, especially for people who are just starting out and who don't have much saved. But those interest payments add up quickly. It is possible to make $100-plus more per year with an online bank than with a brick and mortar bank.
Related: How to Use Your Biases to Save More Money
4. Leave the emergency fund alone
This step is crucial to reaching a savings goal.
Most people traditionally lump all savings together and take money out whenever they find a use for it. But when setting savings goals, separate your emergency fund from the money that is being saved for individual goals like Christmas, vacation, and annual insurance payments.
This will be a complete game changer.
An important technique that will help break bad habits like this is to create small amounts of friction.
To make money slightly more inaccessible, move the family's emergency fund to a separate online savings account. Having those savings at a different bank means that you can't simply log into an app and transfer money straight from the savings account to the checking account and have it immediately available.
CIT Bank's Savings Builder account offers the perfect way to help break this habit.
Depositing money into the account is easy. ACH is like writing an online check, but there are also ways to make deposits for free via wire transfers or by mailing in a paper check.
Removing money from the account – via ACH or wire transfer – is a similar process, but comes with a $10 fee. That charge creates an additional layer of friction, helping to form good habits and break the bad ones.
This will not only help save money and earn interest, but will also remove the temptation to dip into a savings account unless it's an actual emergency.
Related: CIT Bank Savings Builder Review 2020
5. Make saving a habit
Speaking of habits, it's a common saying to "pay yourself first." Many people think that means to treat yourself first: set aside money for shopping, eating out, etc.
But that's pretty much the opposite of what that advice means. The idea is to pay your future self first or, in other words, set aside savings before figuring out the rest of a budget.
But that's often easier said than done.
David Bach, the author of The Automatic Millionaire, became a millionaire by age 30. His secret? Automate savings and increase contributions over time. With this process, money will leave your account before you have a chance to touch it.
CIT Bank offers an additional incentive to reward good savings habits. Through the Savings Builder account, earn the bank's highest offered interest rate by depositing at least $100 into a savings account every month.
To do so, set up an ACH payment from the checking account to the Savings Builder account. It's free to receive an ACH with CIT Bank, and many banks don't charge for sending these payments. But check with the bank regarding any fees associated with these transactions.
Related: CIT Bank Review: A Premier High Yield Savings Account Worth Using
Ready, Set, Save!
Most people aren't taught how to "do" money when they are young. They grow older, make mistakes, hopefully learn from them, and use those lessons to build better money habits.
But it is possible to skip a few steps by learning from other people's mistakes.
Here are some hard-earned lessons that can help do just that: Create a plan for your money, set clear goals, maximize interest with a high-yield savings account, separate emergency savings from short-term savings goals (and leave them alone), and pay your [future] self first.
Change typically doesn't happen overnight. But by following the steps outlined here, you will hit your savings goals in no time.