6 Best Places to Get a Free Credit Score Check
Advertiser Disclosure
Our readers always come first
The content on DollarSprout includes links to our advertising partners. When you read our content and click on one of our partners' links, and then decide to complete an offer — whether it's downloading an app, opening an account, or some other action — we may earn a commission from that advertiser, at no extra cost to you.
Our ultimate goal is to educate and inform, not lure you into signing up for certain offers. Compensation from our partners may impact what products we cover and where they appear on the site, but does not have any impact on the objectivity of our reviews or advice.
Knowing where your credit score stands is part of your total financial health package. And nowadays, you don't even have to pay to check your credit score. Find out which sites let you check your credit score for free.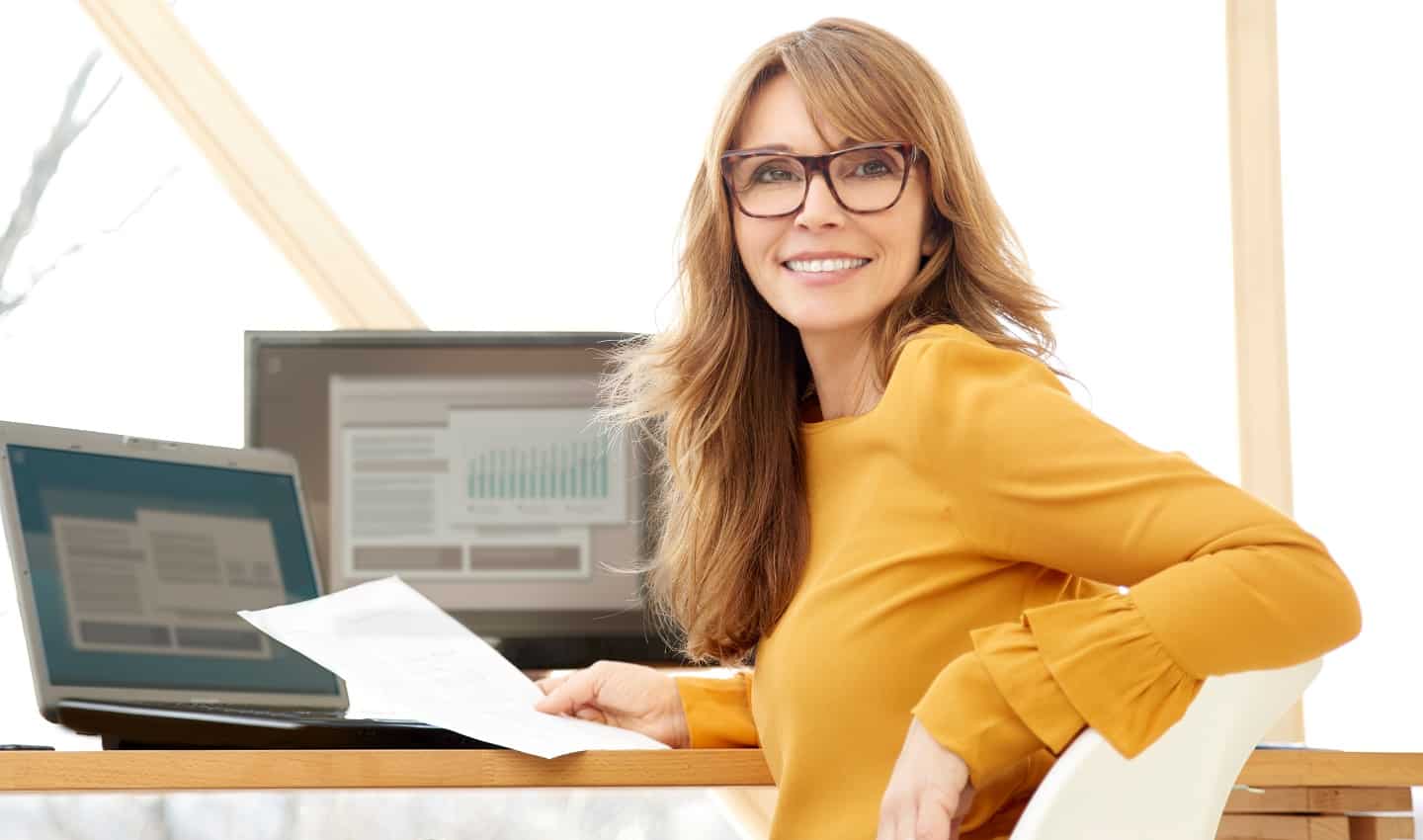 If you are one to periodically check your credit score for free, you know it can pay dividends in more ways than one.
If you've never checked your credit score before, or it's been a while since you last have, it might be time to look into it.
The Federal Trade Commission estimates that one in five consumers has a "potentially material error" on their credit report.
An error that might:
Incorrectly lower your credit score and make you look riskier to lenders.
Increase the likelihood of higher interest rates, mean less favorable credit or loan terms, or cause denial [when borrowing money] altogether.
Even if you don't plan on taking out a loan, renting an apartment, or applying for certain jobs, it's still a good idea to monitor your credit score to prevent identity theft.
Companies know this too. That's why it's easy to find plenty of places willing to provide you with a credit score – for a fee.
Here's the thing, though: there are several places to get a free credit report online without paying anything.
In this article we'll cover the most trusted places to get your free credit score, and share what you need to know about each service.
6 Best Places to Check Your Credit Score for Free
If you're wondering where to check your credit score, look no further. Here are the six best free credit score sites:
| | | | | |
| --- | --- | --- | --- | --- |
| Service | Credit Bureaus Used | Credit Scoring Model | Scores are Updated | 24/7 Credit Monitoring |
| Credit Karma | TransUnion and Equifax | VantageScore 3.0 | Every 7 days | Yes |
| Credit Sesame | TransUnion | VantageScore 3.0 | Once a month | No – once a month, not 24/7 |
| CreditWise by Capital One | TransUnion | VantageScore 3.0 | Every 7 days | Yes |
| Credit Journey by Chase | TransUnion | VantageScore 3.0 | Every 7 days | Yes |
| Mint | TransUnion | VantageScore 3.0 | Every three months | No – once a quarter, not 24/7 |
| Discover | Experian | FICO Score 8 | Every 30 days | No |
Note: FICO and VantageScore, the two most popular scoring models, both operate on a 300-850 credit score range. The higher your score, the lower your perceived risk to lenders. A higher score also means better credit eligibility, and lower interest rates on loans and mortgages.
Here's what you should know about each free credit score checker:
1. Credit Karma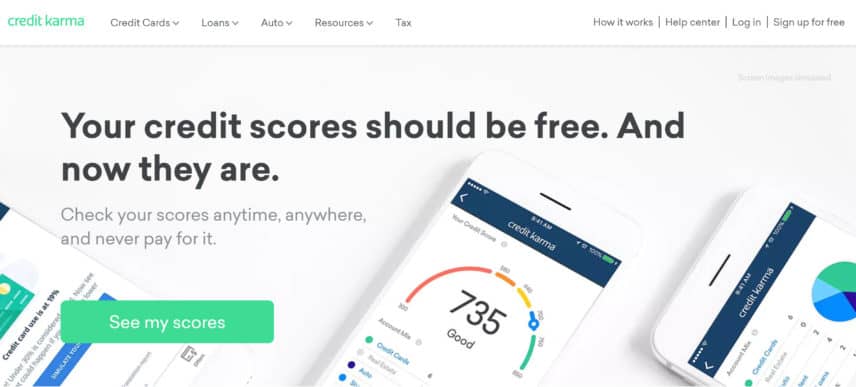 Credit Karma has quickly become one of the most popular places to check your credit score for free.
Its no-strings-attached approach to credit monitoring has allowed the company to amass a loyal following of over 80 million members, and it's easy to see why.
No sneaky fees. No need to enter a credit card number at sign up. No paid trial that follows a free credit score check.
Like many free credit score services, Credit Karma makes money with its affiliate relationships. If you sign up for a credit card based on Credit Karma's recommendation, the company will earn a commission – but you don't need to sign up for any credit products in order to take advantage of the service.
If you're in the market to take out a credit card, auto loan, or other loan, Credit Karma is a great option because it provides you with a credit score from two of the three credit bureaus. It also provides you with your approval odds for specific lenders and credit cards, so you won't waste your time applying for a product you might not be approved for.
Credit Karma also provides several other valuable services, like a credit score simulator, free tax filing, a credit report dispute service, and monitoring for your personal information in data breaches.
2. Credit Sesame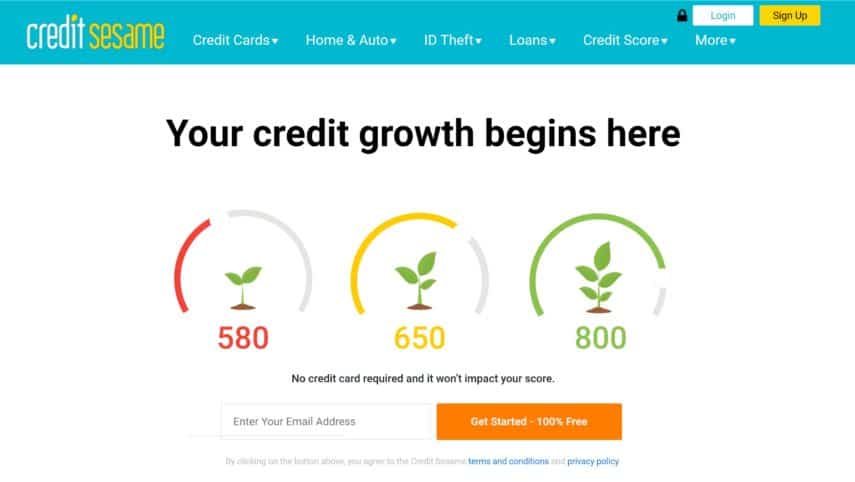 Credit Sesame is very similar to Credit Karma, but it only provides you with a credit score from one bureau, TransUnion, and updates less frequently.
It also operates with a similar business model. Both companies earn money based off affiliate commissions from personalized recommendations.
Both companies also track your score over time so you can see how it changes, and provide personalized recommendations to help you increase your score over time.
Credit Sesame, however, does offer a paid feature where you can get more frequent updates from each of the three credit bureaus. Some of these plans also monitor your personal information on public records and black market websites, although this may also be available from other free credit score services for free.
3. CreditWise by Capital One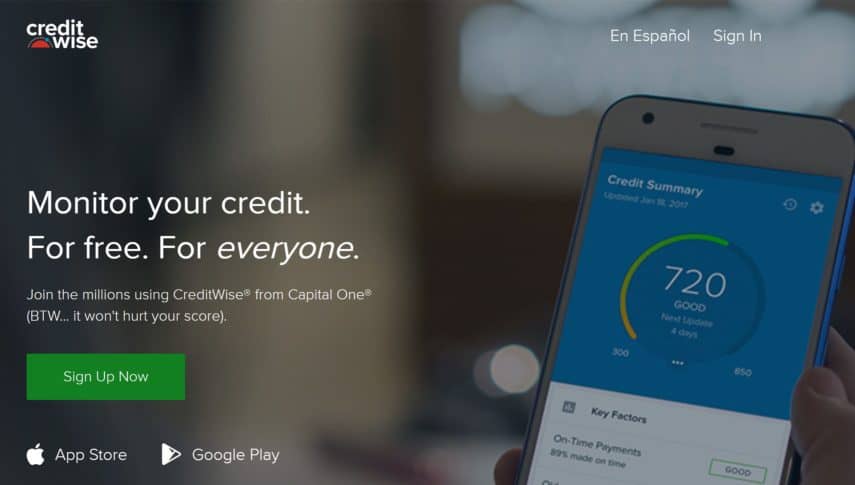 CreditWise is one of a few free credit score services provided directly by credit card companies, in this case Capital One. The website is cleanly built and provides a great experience for mobile users.
Furthermore, CreditWise by Capital One is more streamlined than many of the Credit Karma and Credit Sesame product offerings.
Its minimalist design allows you to quickly see your credit score (and what factors are affecting it), play with its credit score simulator, sign up for credit alerts, and easily view a slimmed-down version of your credit report.
4. Credit Journey by Chase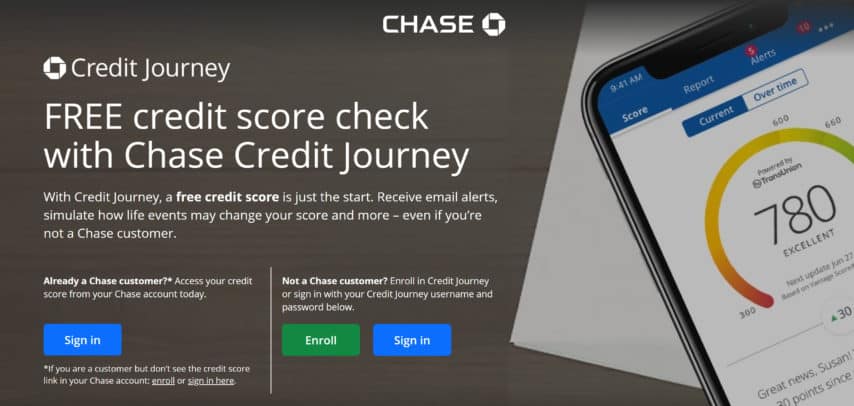 Credit Journey by Chase is another credit-card-provided service. You can access it directly from its website even if you don't have a Chase card. If you do have a Chase credit card, you can also access it from your online account.
Credit Journey is very similar to CreditWise by Capital One. It's simple and streamlined, with no frills. You can see your credit score and a summary of your credit report, get alerts, and use a credit score simulator to see how different credit changes can affect your credit score.
Related: 7 Easy Ways to Improve Your Credit Score
5. Mint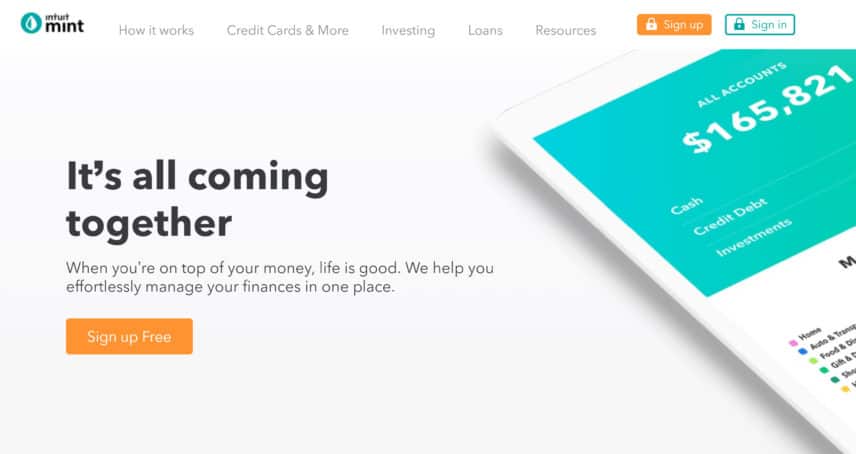 Mint is a popular automated budgeting and finance-tracking program; but did you know it also provides a free credit score?
This is one of the more limited free credit score services. With Mint, you can see your TransUnion credit score, but only once per quarter – the slowest-updating service on our list.
If you want access to many of the features other free credit score services offer, you'll need to pay a $16.99/month fee.
6. Discover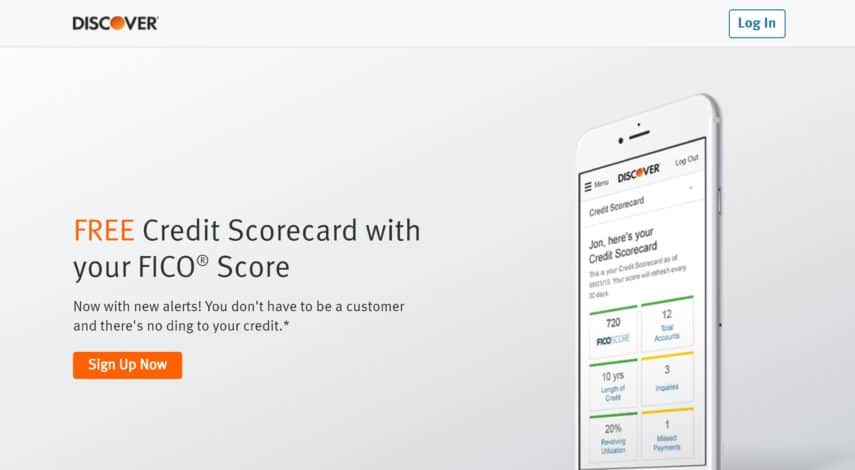 This free credit score service is offered by Discover, another popular credit card company. It's the only one that provides your actual FICO score, the brand that lenders use the most, for free.
This is a really important point. If you're in the market to take out a loan or line of credit, it helps to know which credit score your lenders are actually looking at.
Most companies that provide your actual FICO score charge a fee, but that's not the case with Discover.
Discover also tells you which factors are helping and which cause your credit score to drop, so you know what you can do to improve it.
How often should I check my credit score?
At a minimum, you should check your credit score and your credit report before you plan to apply for any credit. That way you can correct anything fishy before it really harms you.
Aside from that, you can check it as often as you want. Keep in mind that other financial metrics like net worth and your budget are also important to monitor frequently, more so than even your credit score.
Why is my credit score different on other sites?
The truth is, you have many different credit scores. Your credit score at any given place and time will depend on:
The brand used (such as FICO or VantageScore)
The model used (such as VantageScore 3.0 or VantageScore 4.0)
The credit report used (Equifax, Experian, or TransUnion)
When your credit report is pulled (such as after you make your monthly payments, or charge purchases on your credit card)
How do I get the score my lender sees?
Most lenders use the FICO 8 credit score. The only way to get this score for free without signing up for any products is to use Discover's free credit score service.
However, if you're really concerned about which score your lender uses, you can just ask. Lenders in certain industries sometimes use different credit scores. You may be able to purchase these specialty scores from FICO directly.
Where do I find my FICO score?
Only one free credit score service offers your FICO score – Discover.
However, you may be able to get your FICO score in other ways:
From the FICO website itself
From your bank or credit union
From your credit card issuer
For the last two options, it's a good idea to read the fine print or ask customer service ahead of time if it offers these features, especially if they're make-or-break options for you.
Is a free credit score the same as a free credit report?
Credit scores and credit reports are connected, but not the same thing. You can think of a credit report raw data. It feeds into a formula that creates the credit score.
Your credit report is like all of the schoolwork and homework you did in school. The credit score is like your actual letter grade.
Where do I find my free credit report?
Many of the free credit score services offer a summary of your credit report.
In order to get your actual credit report, you'll need to visit AnnualCreditReport.com, the only official place where you can get a free credit report.
You can get one free credit report per year from each of the three credit bureaus, not including a score.
Keep Tabs on Your Credit Score, But Don't Obsess Over It
It used to be that your credit score was a mystery. You simply had to hope it was good and check your credit report to make sure that it at least was accurate. But many companies have been popping up recently offering a free credit score to anyone who wants to check it.
That's a good thing. The easier it is to check your credit score, the more empowered you can be to make decisions that will help you move forward toward your financial goals.