52-Week Money Challenge: How to Save $5,000 This Year
Advertiser Disclosure
Our readers always come first
The content on DollarSprout includes links to our advertising partners. When you read our content and click on one of our partners' links, and then decide to complete an offer — whether it's downloading an app, opening an account, or some other action — we may earn a commission from that advertiser, at no extra cost to you.
Our ultimate goal is to educate and inform, not lure you into signing up for certain offers. Compensation from our partners may impact what products we cover and where they appear on the site, but does not have any impact on the objectivity of our reviews or advice.
Wouldn't it be nice to have an extra $5,000 sitting in your bank account to protect you against life's unexpected events? Whatever your financial goals, this money saving challenge can get you there faster.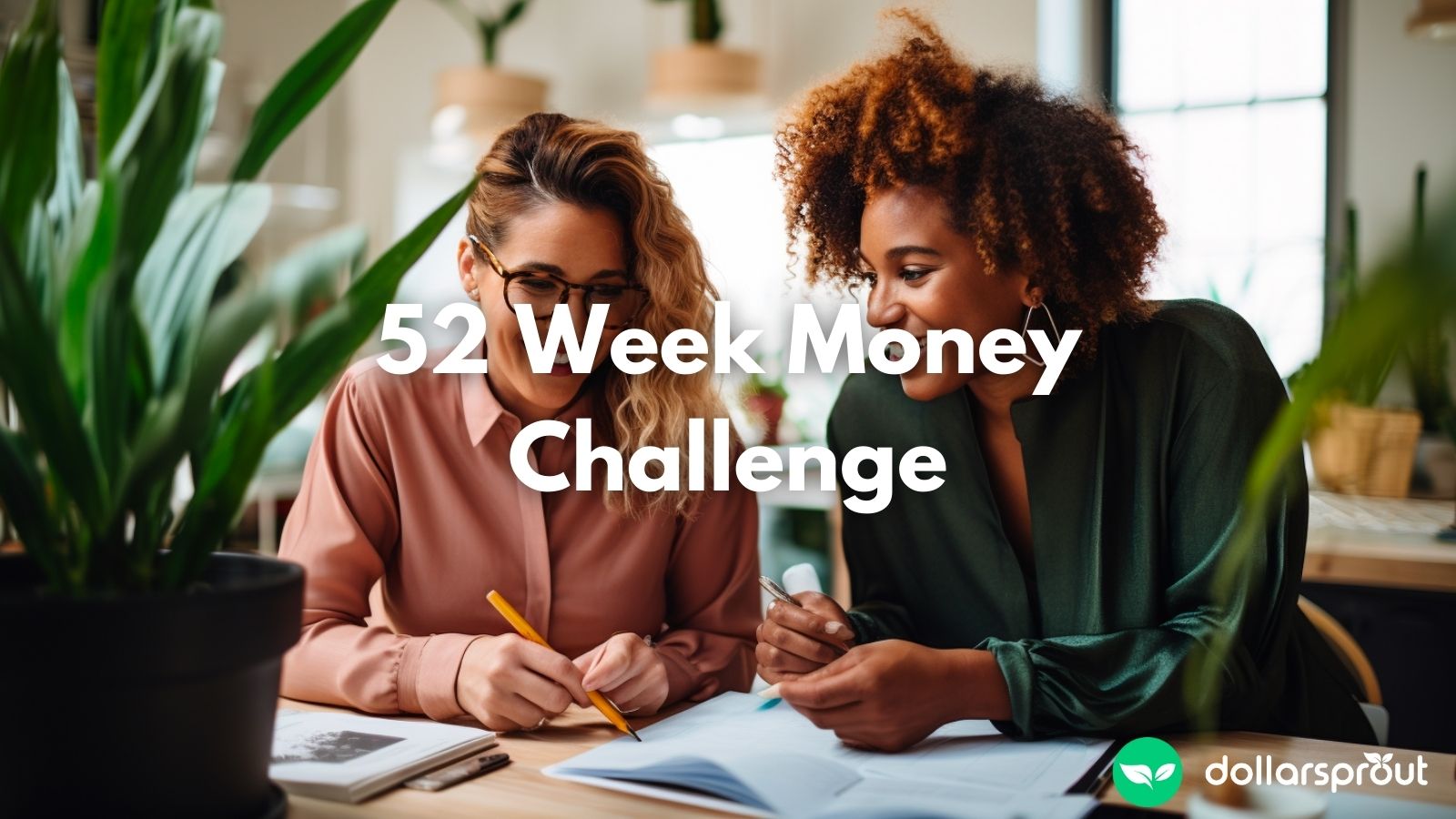 Imagine having $5,000 sitting in your bank account by this time next year.

Wouldn't it be nice to have that to protect you against life's unexpected events? Think about how much better you'd sleep knowing that you don't have to go into debt if your car breaks down or you have to go to the hospital.
According to a 2016 survey by the American Psychological Association, money is the leading cause of stress among Americans.[1]
Saving money can be a challenge, especially when you're already working so hard just to pay the bills. These days, saving even a couple thousand dollars sounds like a pipe dream.
Enter: The 52-Week Money Challenge to save $5,000 — complete with a printable template.
What Is the 52-Week Money Challenge?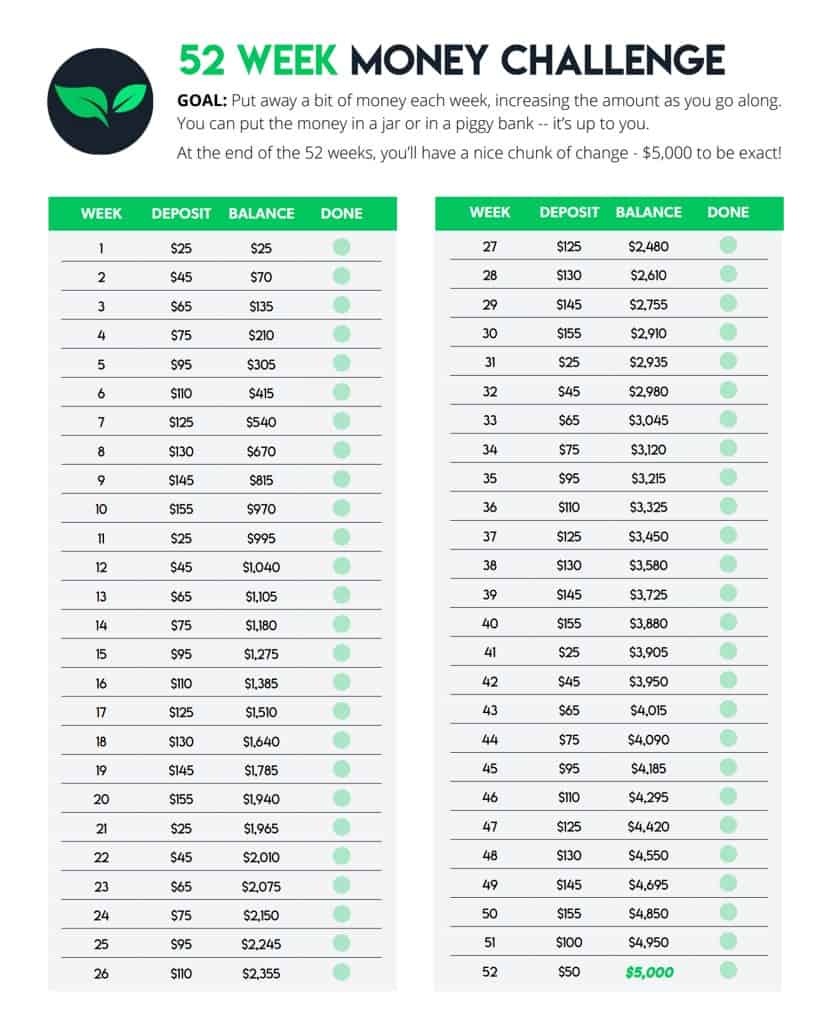 The 52-Week Money Challenge is a savings plan designed to help you save up to $5,000 by the end of the year. This challenge — and others like it — have helped thousands of people save more money than they ever thought possible.
The rules are pretty simple. There are 52 weeks in a year, right? Your goal is to put away a bit of money each week, increasing the amount as you go along, then decreasing, then increasing again. You can put the money in a jar or in a piggy bank — it's up to you.
With this challenge, you save up $25 for the first week. The following week you save $45, and then $65 the third week. Your savings goal varies from week to week, with the lowest at $25 and the highest reaching $155.
$155 in one week?!
Don't be discouraged — this is totally doable, even if it sounds like a long shot! By the time you reach your first $155 week, you'll be 10 weeks into the challenge.
By then, you'll have gained enough momentum to where it shouldn't be an issue to increase your savings, even if you don't meet the full $155.
The goal of the money saving challenge is to help you develop better money behaviors and get in the habit of saving money — something that will benefit you for the rest of your life.
52-Week Money Challenge Printable Chart
To get started, download the 52-Week Money Challenge printable chart and use it as a template to map out your journey to save $5,000 in one year.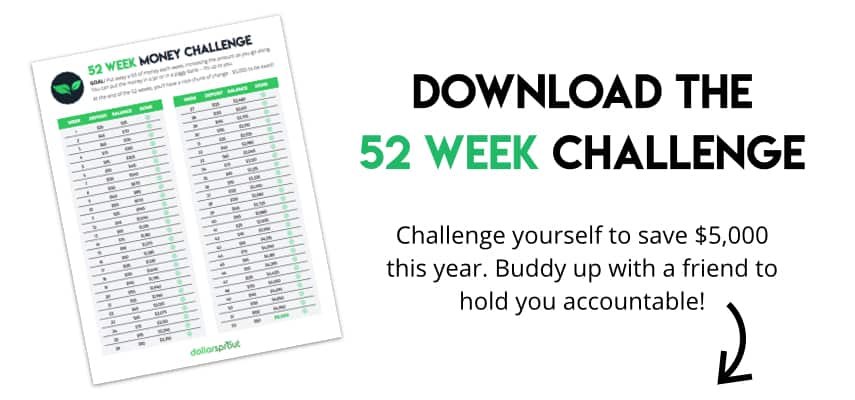 Best Uses for a 52-Week Money Challenge
Everyone can benefit from saving some extra money, whether it's for an emergency fund or a fancy vacation. However, there are a few groups of people for whom the Money Saving Challenge can be especially beneficial.
Saving for a special occasion or a major goal
Do you want to take your family for a week-long trip to the Bahamas? How about investing your money to start an online business? Goals like these often require a large chunk of money that might seem out of reach, but, with a $5,000 savings challenge, are doable.
Here are other major savings goals that get easier to achieve with a challenge like this one:
Wedding
Buying an engagement ring
Saving up for a car
Saving for a down payment on a house
Going back to school
If you have big financial goals in mind, this challenge can help you save the money you need faster.
Accelerating your debt payoff
If you are in the process of paying off debt, using a savings plan like this one — but then immediately applying your savings to your debt balances — is a great way to chip away at your debt faster than just paying the minimums each month.
Other Variations of the 52-Week Challenge
It's one thing to try a savings method. It's quite another thing to stick to it. While the 52-Week Challenge works wonders for many people, there are circumstances that may make it more difficult for you to stay committed to the plan.
If you feel that the standard 52-Week Challenge isn't a good fit for you, bear in mind that there are other variations of the challenge that might offer you a better chance of success.
52-Week Money Challenge (Bi-weekly)
If you struggle to save money every week when the paycheck only comes every two weeks, try the 52-Week Money Challenge Biweekly Schedule. By saving money every two weeks you'll need to save a bigger chunk at a time, but it may end up being easier for you in the long run.
The Mini Version (for Smaller Goals)
If the standard challenge doesn't work for you, maybe the mini version will do. The rules are the same, but rather than saving the original amount, save half of that amount every week instead. This way, saving up won't pose much of a financial burden for you and won't compromise your financial needs on a daily basis.
The obvious drawback of doing the mini-challenge, of course, is that you'll only be able to save half of your original $5,000 target. Even still, saving $2,500 by the end of the year is no small feat!
Remember, at the end of the day, the important thing is not how you are saving money, but that you are saving money.
Money-Saving Ideas to Help You "Win" the Challenge
As things become a little tougher throughout the challenge, it's imperative that you follow some of the guiding principles in saving money. Just like with professional athletes who follow specific workout routines or stick to a diet regimen in order to reach their goals, you have to follow some best practices in order to "win."
Here are some money-saving ideas that can help you achieve your $5,000 goal by year-end.
Make it part of your budget
Contrary to popular belief, sticking to a budget does not need to be restrictive. The trick is to make your budget work for you, not the other way around.
Creating a budget doesn't have to be difficult. You can use pen and paper, an Excel sheet, or a full-fledged budgeting program — whatever system works for you. The important thing is that you make a plan for your money, then check in frequently to make sure you're sticking to it.
Pick up a side hustle
There are countless ways to make money if you know where to look.
They won't make you a millionaire overnight; but if you can find the gigs that work for you and stick to them, you can bring in extra money to put toward your savings goals. To figure out which side hustle you should pursue, take inventory of your skills. What can you offer that someone will pay you for?
From there, it's all about creating your offer and finding the right people who need what you're selling.
Cut out wasteful spending
We all have areas of spending where we could probably do better, whether it's eating out or buying a few too many pairs of shoes. Cutting back doesn't mean you can't spend money in these areas, it just means being intentional about putting your money toward the things that matter to you.
Fortunately, this is an area where you can use technology to your advantage. The Trim app, for instance, analyzes your spending and points out areas where you can save money. It can cancel unused subscriptions, offer practical advice on how you can save more money, and even negotiate your Comcast bills for you, among other cool features.
Where to store your savings
While you are plugging away at your savings challenge, you'll need a safe place to store your money throughout the year. If you want easy access to your money, opening a high-yield online savings account is a smart choice. Before opening an account anywhere, make sure you are getting a competitive interest rate. Most online banks offer interest rates of 1.50% or more — that's over 15 times higher than what is usually offered by traditional banks.
If you don't plan to touch your savings for several years (or longer), consider investing it in the market. Investments can go up and down in value, so only choose this option if you are comfortable with taking on some extra risk. The benefit of investing your money in the market is that, over the long term, stocks have returned an average of about 10% each year. These apps are best for beginner investors.
Consistency Is Key with the 52-Week Money Saving Challenge
As is the case with most ventures, consistency is key when it comes to saving.
You might be the most enthusiastic person about the idea of saving money at the start of the year; but that enthusiasm will amount to nothing if you don't maintain that consistency throughout the entirety of the 52-Week Money Saving Challenge.
In the end, it's all about developing the right habits and fostering a growth mindset.
To be consistent with your 52-week savings plan, you have to focus on the little things, knowing in your mind and gut that all of these will lead to something bigger. From doing a number of side jobs, to putting away a bit of money for a rainy day, to stopping yourself from buying that shiny knickknack you don't really need — it all adds up.
By keeping your eye on the prize and preventing as many slip-ups as possible, there will come a time when you don't even have to go through 52-week challenges anymore because saving will come so naturally to you, you won't even have to think about it.