15 Home Improvement Projects That Add Value to a Property
Advertiser Disclosure
Our readers always come first
The content on DollarSprout includes links to our advertising partners. When you read our content and click on one of our partners' links, and then decide to complete an offer — whether it's downloading an app, opening an account, or some other action — we may earn a commission from that advertiser, at no extra cost to you.
Our ultimate goal is to educate and inform, not lure you into signing up for certain offers. Compensation from our partners may impact what products we cover and where they appear on the site, but does not have any impact on the objectivity of our reviews or advice.
If you're looking to sell your home now or sometime in the far-off future, or if you just want a more modern feel for your 1960s-era abode, here are 15 DIY projects to add value to your home.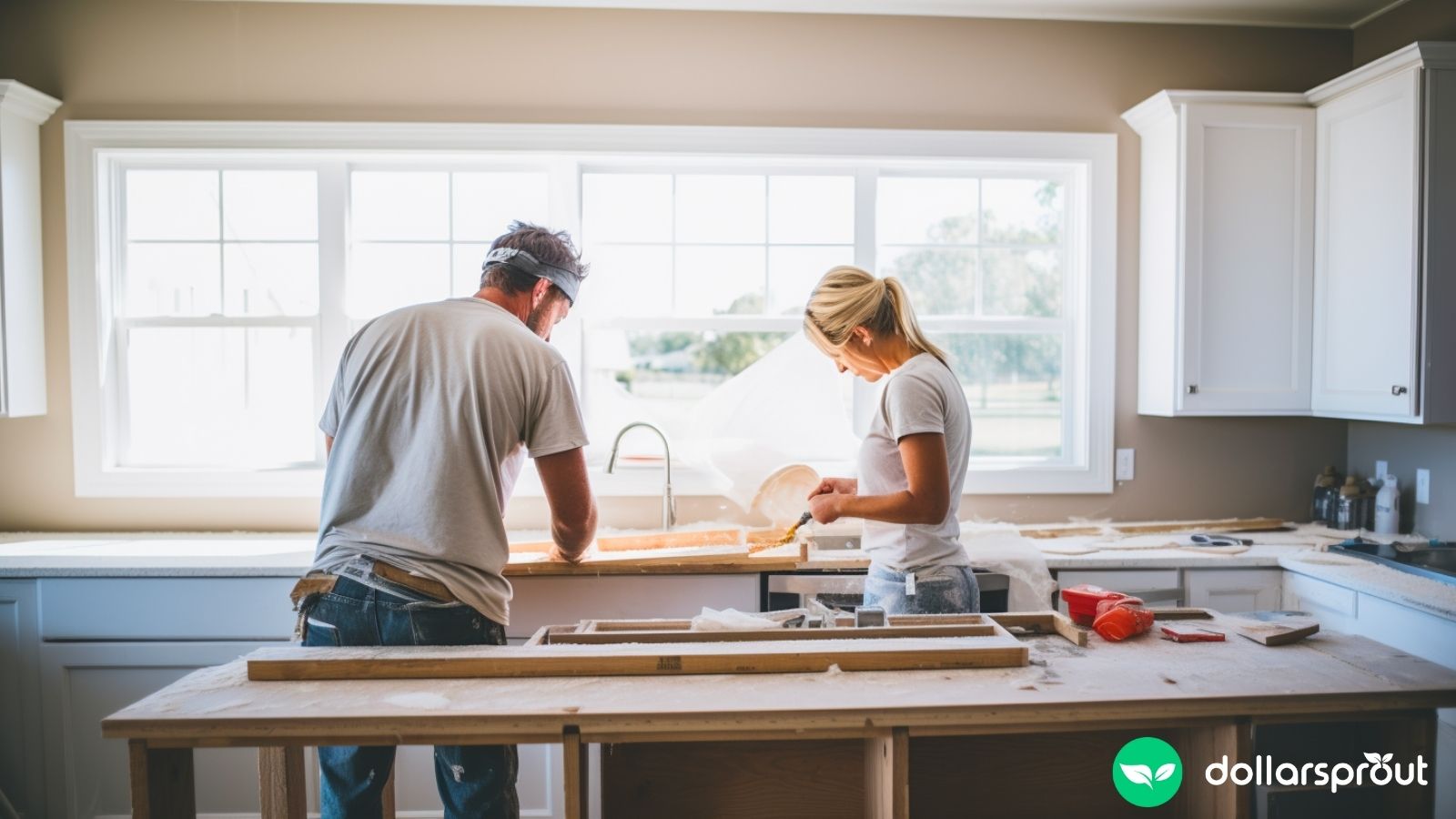 According to Remodeling Magazine's 2017 Cost vs. Value Report, the most popular "mid-range cost" home improvement and DIY room decor projects only recuperate between 54-107% of the project's cost.[1]
In other words, expensive home improvements don't always pay off.
If you're looking to sell your home now or sometime in the far-off future, or if you just want a more modern feel for your 1960s-era abode, those statistics can be pretty discouraging.
But don't worry — you don't have to pay a fortune to maybe make a profit on your investment.
Today we're pulling out all the stops with this list of 15 DIY home improvement and landscaping projects that actually add value to your home.
DIY Kitchen Projects
In a 2007 survey conducted by HomeGain, 75% of real estate agents reported that fixing up your kitchen is the most important DIY room decor improvement you can make when selling a home.[2]
So if there's one area that deserves a little extra TLC, the kitchen is it.
1. Swap the faucet.
Estimated Cost: $50 – $300+ (depends on your taste and your budget)
Put your plumber pants on! Replacing your kitchen faucet is an easy and affordable task you can finish in less than a day (including shopping). All you need to give your kitchen sink a facelift is a few basic tools and some shiny new hardware.
2. Replace your countertops.
Estimated Cost: Free to $300
For a more dramatic kitchen transformation, with perhaps a little more of a time commitment, consider a countertop remodel. When it comes to DIYing countertops, your options are virtually unlimited. You can use reclaimed wood for a rustic vibe, or go shabby-chic with DIY concrete.
3. Add crown molding to cabinets.
Estimated Cost: < $100
Crown molding adds a level of elegance to any room, and it's a great way to spice up your plain, lifeless kitchen cabinets. This one requires a few specialty tools, namely a miter saw. But if you have the tools to get the job done, this project can be completed in less than a weekend and add value to your home.
Related: 10 Proven Ways to Save Electricity at Home
4. Use trim to add volume to your cabinets.
Estimated Cost of this DIY room decor idea: $100 – $200
Another genius DIY room decor hack is to try adding some inexpensive or vintage trim to make your kitchen cabinets look high-end.
Since there are so many unique styles of trim to choose from, this simple project can transform your entire kitchen. Buyers likely won't be able to tell a difference and that could mean thousands more in your pockets.
5. Make a splash.
Estimated Cost: $100 – $1,000
A backsplash, that is. Adding a new backsplash can be a great way to show your personal style, and it's a feature that many of today's home buyers look for. Options range from classic tile to granite, marble, wallpaper, and everything in between.
6. Upgrade your hardware.
Estimated Cost: < $100
It's all about the details. Knobs, hinges, and pulls come in an unlimited variety of shapes, sizes, colors, and styles. Investing in unique, tasteful new hardware can bring your old, boring cabinets back to life. Not to mention this DIY room decor idea is cheap and easy! All you need are some screws, a screwdriver, and the hardware of your choice.
DIY Landscaping Projects
According to a study conducted by Virginia Tech, increasing your home's curb appeal could add up to 12% to the property's value. The perceived added value varies from state to state, from 5.5% in Louisiana to 12.7% in Michigan.
Respondents ranked design sophistication and plant size as the most important features, with plant diversity being the least important.
Here are a few DIY landscaping projects that can give you a major return on your investment.
7. Freshen things up.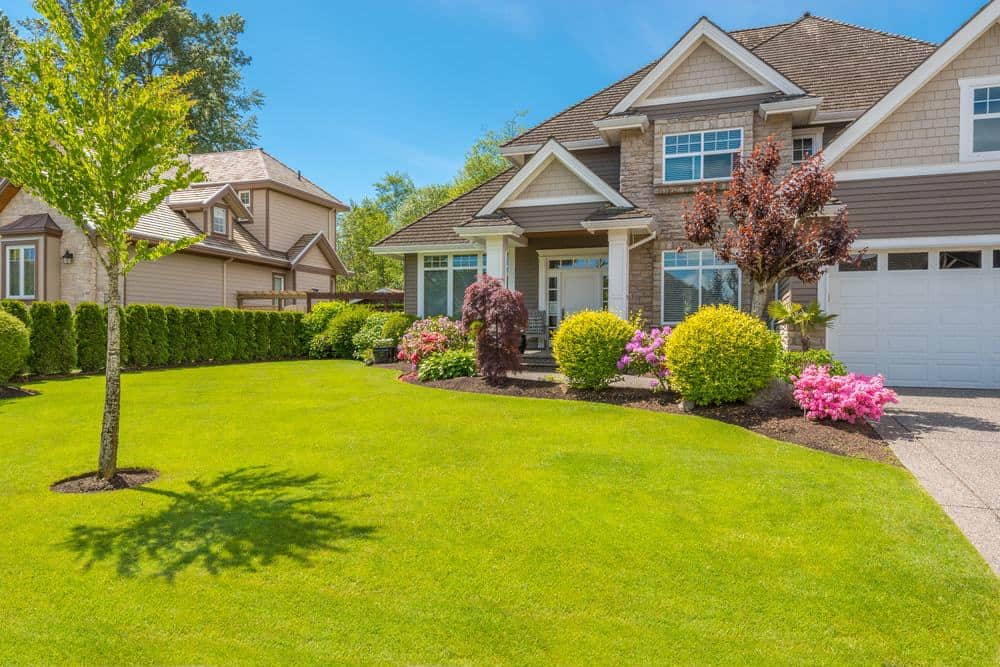 Estimated Cost: Free
Nothing turns home buyers off more than messy landscaping. Overgrown and poorly cared for landscaping can make your home feel drab, dreary, and altogether unappealing.
Simply cleaning and maintaining your current landscaping can have a return on investment of up to 15%! This is a simple project that won't put a dent in your wallet and will pay off in dividends.
8. Install raised garden beds.
Estimated Cost: < $100
Building a raised garden bed is a win-win situation: it can add value to your home and help you save money on groceries. It may sound like a daunting task at first, but this project can be completed in a long afternoon or a weekend, even for beginners!
9. Make homemade stepping stones.
Estimated Cost: < $100
Stepping stones are a great addition to any garden or walkway, but store-bought stepping stones can be expensive. With a little DIY magic, you can create your own for less than $50 with some quick-setting cement, a bag of marbles or shells, a shovel, and a bucket.
DIY Everywhere Projects
Sometimes you just need a little bit of everything. These simple DIY room decor ideas can work in any room to add new life and appeal to your home.
10. Lighten and brighten.
This was the number one recommended item on the HomeGain survey, with an ROI of 355%![3]
Dark and dull spaces are uninviting, and fluorescent lighting is harsh. Make your home feel open and welcoming by adding warm lighting and updating old fixtures. Battery-powered under-cabinet lights are also a practical and budget-friendly option that any home buyer would love.
Don't forget about the outdoors! Get creative with your landscape lighting: over a patio, in the garden, aligning the walkway. Outdoor lighting can really highlight your landscape and provide a romantic, whimsical atmosphere.
11. Details, details, details!
Did I mention details? Adding new hardware throughout your house, updating old light sockets, replacing factory mirrors, and removing outdated ceiling fans can add a modern feel to any home.
These are some of the most overlooked details in a home, but changing them can make a huge difference!
If your budget is tight and you can't replace all these items, try giving them a new color. A can of spray paint costs as little as $3 and can take these antiquated fixtures from drab to sleek and modern.
12. Add a fresh coat of paint.
While not difficult, painting does require a bit of a time commitment. However, you can save hundreds of dollars DIYing it rather than hiring professionals.
Paint isn't just limited to the walls — it's one of those tactics that can be put to use almost anywhere. You can spray paint old hardware, add a pop of color to doors, bookshelves, banisters, and just about any place you can imagine.
To get the biggest discount, check with home improvement stores for returned paint. These are often discounted to the tune of up to 50%!
And here's some super secret intel for you: certain paint colors attract homebuyers better than others, so be sure to "paint smart" if you are selling soon.
13. Remove popcorn ceilings.
Since this trend, we've come to realize that popcorn is better suited for movie theaters than ceilings. Lesson learned.
This update is easy (and messy), but it does require a bit of elbow grease. All you need is a putty knife, spray bottle, plastic sheeting, tape, a ladder, and paint to top it off. It's a time-consuming process, but buyers will love the modern look.
14. Create space.
Homebuyers today like to see an open floor plan. For a few hundred dollars, you can knock out a structural wall in your home to create a nicer flow with the illusion of more space.
You also may want to rethink your kitchen island. An island can be great for storage and surface area, but if your kitchen is relatively small and already has an ample amount of storage, it may be more of a hindrance than a help.
15. Get Organized.
The quickest, easiest, and cheapest way to improve the value of your home that doesn't involve a total DIY room decor transformation is to simply keep it clean, decluttered and organized.
HomeGain's survey ranked this as the investment with the highest return. Spending $200 to $300 to simplify and make your space sparkle can net you a return up to 578%!
Tips for Successful DIY Room Decor Projects
Taking on a new DIY room decor project can seem overwhelming, even for experienced DIYers. Before starting, consider these tips for avoiding frustration and having a happy, successful DIY experience.
A. Do your research.
Research and compare everything, including costs, time estimates, materials, and anything else your project requires. Consider the tools you'll need and whether you can borrow materials from friends or family. If not, compare the costs of purchasing the tools and completing the project yourself to hiring someone else.
B. Don't underestimate your costs.
Again, do your research. The estimated costs here are just that — estimates. Total costs can vary depending on the materials you choose and the tools required.
C. Factor in your time.
If you save $100 doing a project yourself instead of hiring someone else, but the project takes you 8 hours to complete, is it worth it to you?
Maybe you work a demanding job and could have spent those 8 hours with your family instead. The cost of your time is an important factor to consider when deciding whether to outsource or DIY.