Ibotta Review 2020: Is the $20 Sign Up Bonus Worth It?
Advertiser Disclosure
Our readers always come first
The content on DollarSprout includes links to our advertising partners. When you read our content and click on one of our partners' links, and then decide to complete an offer — whether it's downloading an app, opening an account, or some other action — we may earn a commission from that advertiser, at no extra cost to you.
Our ultimate goal is to educate and inform, not lure you into signing up for certain offers. Compensation from our partners may impact what products we cover and where they appear on the site, but does not have any impact on the objectivity of our reviews or advice.

There are so many cash-back apps that promise to save you money.
But to save money, you often have to spend money first.
That's what makes Ibotta different. It's a grocery savings app that helps people save on their total grocery bill. If you're on a shopping ban or trying to cut back on spending, you'll still see benefits from using a grocery store savings app like Ibotta.
Other cash-back rewards apps require that you spend money to get a certain percentage back. Even then, you often have to wait until you reach a high threshold to cash out. In some cases, you can only get earnings once a quarter.
But with Ibotta, you can spend money on what you need and still get extra discounts.
What is Ibotta?
Ibotta is a savings app that primarily targets grocery stores, but it also works with other stores and retailers. It currently partners with grocery, warehouse clubs, and drugstore chains including Walmart, Food Lion, Kroger, Walgreens, CVS, and Sam's Club. Ibotta also works with high-end grocery stores like Whole Foods and discount ones like Aldi.
Users can find their local grocery store and set it as a favorite so it always pops up first. You can search for a store and then hit the "star" button in the right-hand corner to save it.
New customers can earn a $20 bonus with Ibotta if they redeem a certain amount of offers. Customers can also earn a $5 bonus when a friend signs up for the app using their referral link. You can invite friends directly from the app or share it on social media.
Free
Price
Earn rewards for things you already buy.
DollarSprout Rating
Easy to use and 300+ gift card options.
Ibotta at a Glance:
Ibotta is a cash back shopping app. Earn rewards when you shop at Target, Amazon, Kroger, and more. Visit stores in person or online, scan your receipt or link a store loyalty card, and Ibotta will credit your account within 24 hours. Exchange your earnings for free gift cards or have cash sent straight to your Venmo or PayPal account.
Show

Hide

more
Pros
Earn rewards for shopping you already do
Easy to use
Don't have to link your bank or credit cards
Cons
Have to claim deals ahead of time
Cash back only available on certain products
$20 minimum to redeem your rewards
Is Ibotta Legit?
Ibotta is a legit app, but some users reported via Trustpilot that they have trouble getting ahold of customer service. They have a B rating from the Better Business Bureau, and they don't have any unresolved complaints.
The biggest problem with Ibotta seems to be people not getting credit for their purchases even if they follow all the rules.
Still, Ibotta has a 4.8 rating from the Apple app store and a 4.4 rating from the Google Play store with 1.2 million combined reviews and more than 10,000,000 installs on the Play store. One user said she's gotten hundreds of dollars in savings, and another said she's had no trouble using her rewards at restaurants or other retailers.
Related: 22 Best Money Making Apps to Use in 2020
How Does Ibotta Work?
There are multiple ways to use Ibotta, and it's worthwhile to understand all the different ways you can earn rewards and cash back.

Online shopping
The Ibotta app is connected to a wide range of online retailers including Amazon, Banana Republic, and Kohl's. If you're on the app, you can click through the retailers to earn cash back when you make a purchase.
Though most people know Ibotta as an app for grocery coupons, they also offer cash-back rewards similar to Rakuten or Honey. Like these sites, you'll earn cash back when you shop online and select the Ibotta link in the right-hand corner.
Online retailers include eBay, Amazon, and Lowe's, and restaurant and meal-delivery companies like Grubhub and Seamless.
Related: How Does Rakuten Work and Can the App Really Save You up to 40%?
Ibotta Browser Extension
Currently, the Ibotta browser extension is in beta mode, which means you have to sign up for the waitlist in order to be added. It's not clear how long you'll stay on the waitlist before being added.
You have to provide your email address to download the browser extension. At some point in the future, the browser extension may be available for public download.
Ibotta App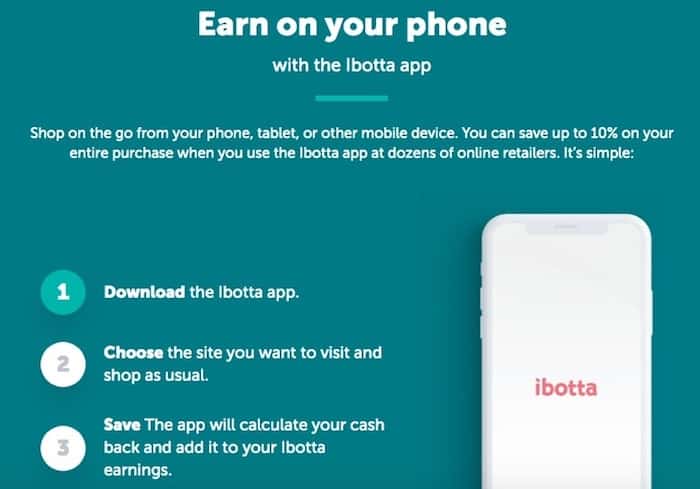 When you open the Ibotta app, you can look at your favorite stores and see what offers they have. If you see an offer you're interested in, you can select it and add it to your account. Once you're done shopping, take a photo of the receipt to get the special rebate.
Each offer may have an expiration date or a limit on how many items you can use it for. Some offers ask you to perform a task before you can claim it, but they are easy like watching a short video to get $1 back when you scan your receipt.
You can shop for offers by looking at your favorite grocery store or by searching for the product directly. If you want to buy milk, you can search for milk and see what offers come up. It may be tedious to do this with your entire shopping list, but you could save a lot of money.
In-Store Shopping
There are a couple of different things you can do to make using Ibotta easier and simpler.
Link Your Loyalty Card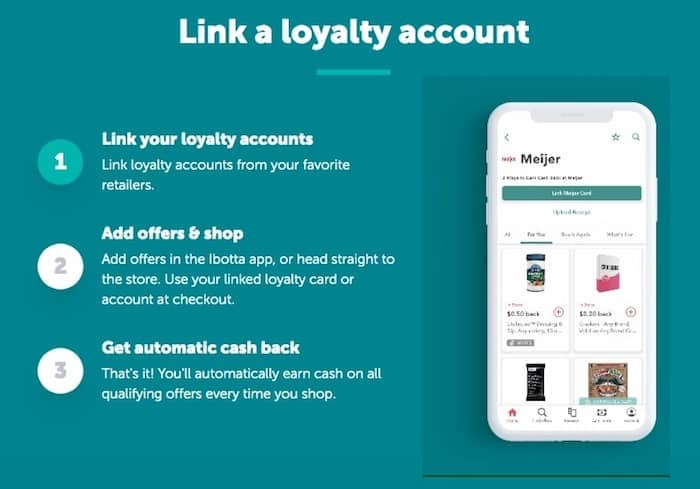 If a store has a loyalty program, you can link your card so you don't have to scan the receipt manually. This can be a huge time-saver, especially if you regularly shop at a few different places. Some customers claim that their purchases don't show up when they do this, so it's a good idea to verify your transactions are going through.
Pay with Ibotta
You can shop directly from the Ibotta app if you link a payment method. You can click on the online shopping button, scroll through the retailers, and add items to your cart through Ibotta.
Submit a Receipt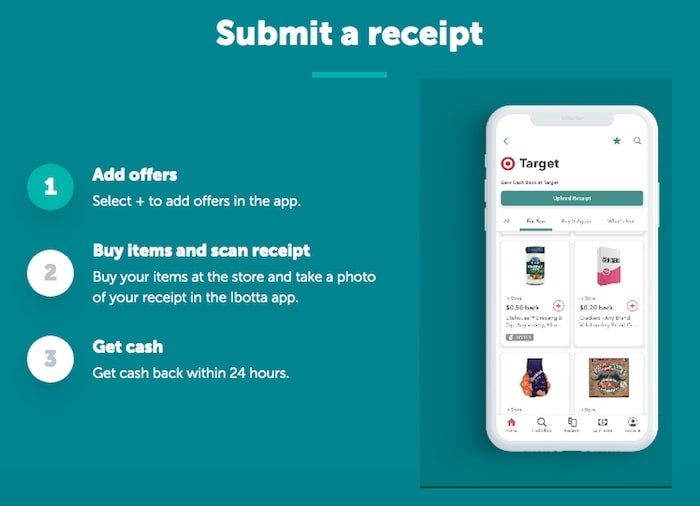 It's best to submit a receipt as soon as you're done shopping because Ibotta limits receipt uploads to the previous seven days. It can be easy to forget to submit a receipt until more than a week has gone by.
Try to submit the receipt as soon as you get it.
Earn More with Ibotta Teamwork
Users can earn more with Ibotta's Teamwork. To do so, you invite people to be on your team. As a team, you have to redeem a certain amount of offers and reach a team goal. Your team goal is how much money you've saved.
When your team successfully completes a goal, you'll move up to the next level.
Refer Friends and Family
You can earn $5 when a friend signs up for Ibotta using your referral link. They need to redeem their first offer before you'll receive the $5. There's no limit to how many friends you can invite, but they have to be unique individuals. There's no way to hack the system to earn more referral rewards.
Redeem Your Rewards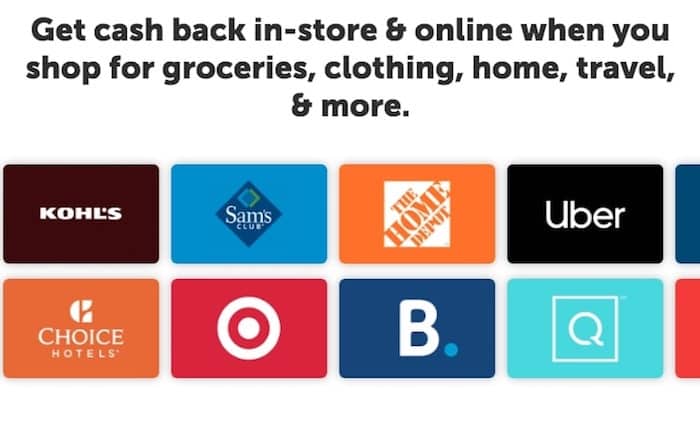 Like other apps, Ibotta makes you wait until you have $20 in your account before you can cash out. You can withdraw the earnings via PayPal or retailer gift cards. Some gift cards have a $25 minimum so you'll have to reach that total before you can cash out.
Related: Top 10 Best Shopping Apps for Epic Savings in 2020
Ibotta FAQs
Using Ibotta can be confusing for new customers especially if they're not used to other cash-back saving apps.
How does Ibotta make money?
Ibotta makes money when you buy something from one of their retail partners. They receive an affiliate commission from that store or company, which they share with you. This is a similar business model to other cash-back sites.
Do Ibotta offers expire?
Like coupons, Ibotta offers often don't last forever. When you click on an offer, it will say if it's about to expire. Some offers last longer than others so double check before you click on an offer.
How long does it take to receive credit for a purchase?
Ibotta's website says it takes 48 hours for any cash back to show up on your account. Some customers say it can take longer. If you don't see the money within 48 hours, you should contact Ibotta's customer support team.
Can you use coupons with Ibotta?
If you have a coupon, you can often redeem it in-store even if you're going to upload the receipt with Ibotta. Some Ibotta offers can't be combined with other coupons, and it should say this in the fine print.
What is my Ibotta referral code and where can I find it?
You can find your referral code in the app by going to "Account" and then clicking on "Invite Friends" section. You can invite them through the "Email, Text & More" link or the Facebook app. You can also copy the referral code and send it to them.
Grocery Shoppers Should Take Advantage of Ibotta
Ibotta is one of the highest-rated grocery savings apps available, and it helps you save money when you buy food and other necessities.
Before signing up for Ibotta, users should know that most of the offers are for packaged food and toiletries. If you mostly shop for fresh produce, you may struggle to find relevant offers.
Consumers should also compare prices before buying a product with an offer attached. Sometimes you may save more money by buying the generic version, or the store may have a sale on a different brand, making it cheaper than the Ibotta offer. Don't assume that the Ibotta offer will always be the lowest price.
Understanding those caveats, anyone who grocery shops should use Ibotta. You get money back just from buying essentials. You can also get cash back by shopping online, but that's not a requirement for Ibotta to reward you for being a responsible shopper.