9 Legit Ways to Get Free Clothes Online
Advertiser Disclosure
Our readers always come first
The content on DollarSprout includes links to our advertising partners. When you read our content and click on one of our partners' links, and then decide to complete an offer — whether it's downloading an app, opening an account, or some other action — we may earn a commission from that advertiser, at no extra cost to you.
Our ultimate goal is to educate and inform, not lure you into signing up for certain offers. Compensation from our partners may impact what products we cover and where they appear on the site, but does not have any impact on the objectivity of our reviews or advice.
I love free stuff, especially if I don't have to work that hard to get it. Going online to get free clothes is no exception. It might sound too good to be true, but there are legitimate ways to get free clothes online.

Few things annoy me more than having to go to the store to buy new clothes. I'd rather spend my time (and money) on just about anything else.
Apparently, I'm in the minority when it comes to holding that opinion.
According to a U.S. Consumer Expenditures report, Americans spend an average of $1,833 a year on new clothes and the latest fashion.[1] An astonishing figure to someone who can't even separate $40 from their wallet for a new pair of jeans.
Alas, I digress. Given my penchant for penny-pinching, settling for merely heavily discounted clothing seemed wrong. I wanted to see if one could get entirely free clothing. As it turns out, you can — and you don't even have to work that hard to get them.
NEW: Get free cash back online with DollarSprout Rewards:
9 Ways to Get Free Clothes Online
If you're feeling poor, and don't want to break the bank on new designer clothing from expensive brands like Nike, check out this list of ten legit places to get free clothes online.
1. Participate in Refer-a-Friend programs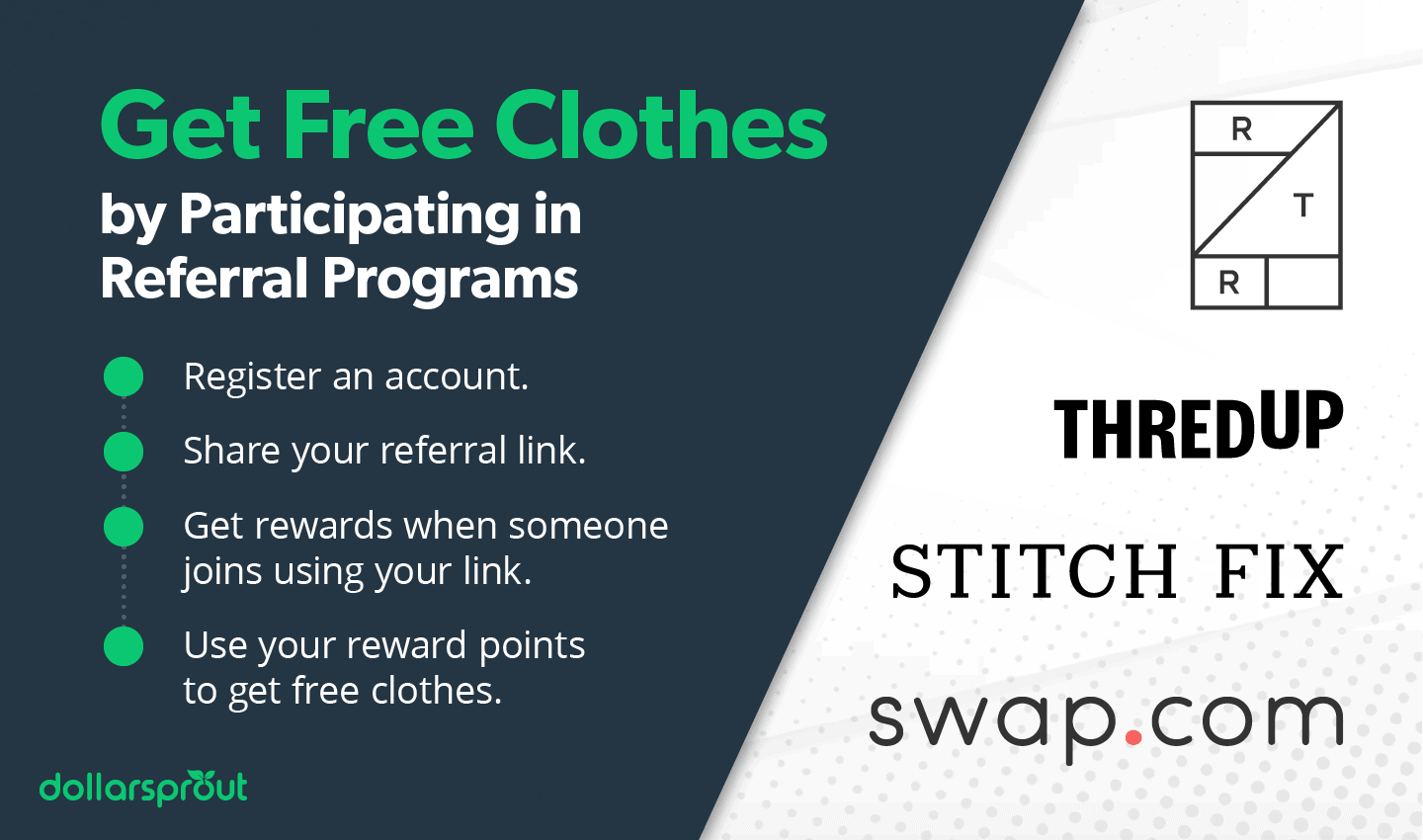 Many retailers have referral programs that let you earn free clothes. The best part is both you and your friends can benefit when you refer them by word of mouth or by sharing your link online.
Some of those programs include:
A. ThredUP
ThredUP is your ticket to scoring free used clothes online. This online marketplace sells quality secondhand clothing at a deep discount. The site features two ways to earn free clothes.
First, thredUP pays $10 every time you refer a friend to its site. Refer five people and you'll have $50 to buy new clothes. The second option is to sell your unwanted clothing on the website. It sends you a "Clean Out Bag" to ship your stuff.
To get paid for your clothes, choose thredUP shopping credit, a prepaid Discover gift card, or PayPal.
B. Swap.com
Swap.com is an online thrift store that sells items on consignment. You earn $10 for every person you refer to the company's site with its Share & Earn program. It only pays you in Swap.com credit instead of cash.
You earn more credit by selling used clothing. You'll have to submit an application to become a Premier Seller and wait for Swap.com to approve you.
C. Stitch Fix
Stitch Fix provides a personal styling program with clothes delivered to your door. You can earn Stitch Fix credit if you participate in its refer-a-friend program.
Sign up for an account to get your unique referral link. Then, share that link on social media, by text, or email to invite friends to sign up for Stitch Fix.
You earn a credit each time someone signs up through your link, and that credit goes toward the $20 styling fee the company charges for each order.
If you buy an item from your Stitch fix cox, the $20 will go toward the final cost. You receive five items in each box and you can request certain trends or products when you request a new box.
Rent the Runway's referral program pays you $30 when you refer someone, and they get $30 off their first order.
You can rent dresses for special occasions or a nice suit for a job interview. Rent the Runway also has accessories you can rent to match your new outfit.
2. Set up a clothing swap
A clothing swap is a fun event to set up with your neighbors, friends, or local mom's group. You decide ahead of time how many items of clothing and accessories to bring, and each person shows up to trade clothes with everyone else.
Clothing swaps work best when invitees wear similar sizes and styles. Set up tables or clothing racks to display the items and sort by clothing type or occasion.
3. Check for free online clothing giveaways
Sweepstakes Fanatic is an online site that has free clothes giveaways. The company has a five-star rating on Trustpilot with 98% "Excellent" ratings from reviewers. The limit on sweepstakes entries varies from product to product. Some let you enter once, while others have daily or weekly entry options.
Get free clothing online for children, women, and men in need from Community Clothes Closet. The company helps students, seniors, disabled persons, the homeless, and those with low or limited income. A human service organization, school, or church must refer you to qualify for this option, and you can get free clothing for up to a year.
4. Look on Facebook groups
Check your local yard sale groups on Facebook for free or low-cost used clothes.
You won't believe the clothing some people sell or give away because they're too busy to have a yard sale. When you find something you like, arrange a time to meet and pick up the item with the item's owner.
5. Don't forget to check Craigslist
Craigslist is a massive online classified marketplace. Sellers list homes, cars, electronics, RVs, and more on the site.
For free clothing, navigate to the "free" link in the "for sale" section. You could get a great top or a pair of jeans. Or you might find entire boxes and huge bags full of free clothing. This is especially handy if you have kids who are constantly outgrowing their clothes.
6. Check out Freecycle.org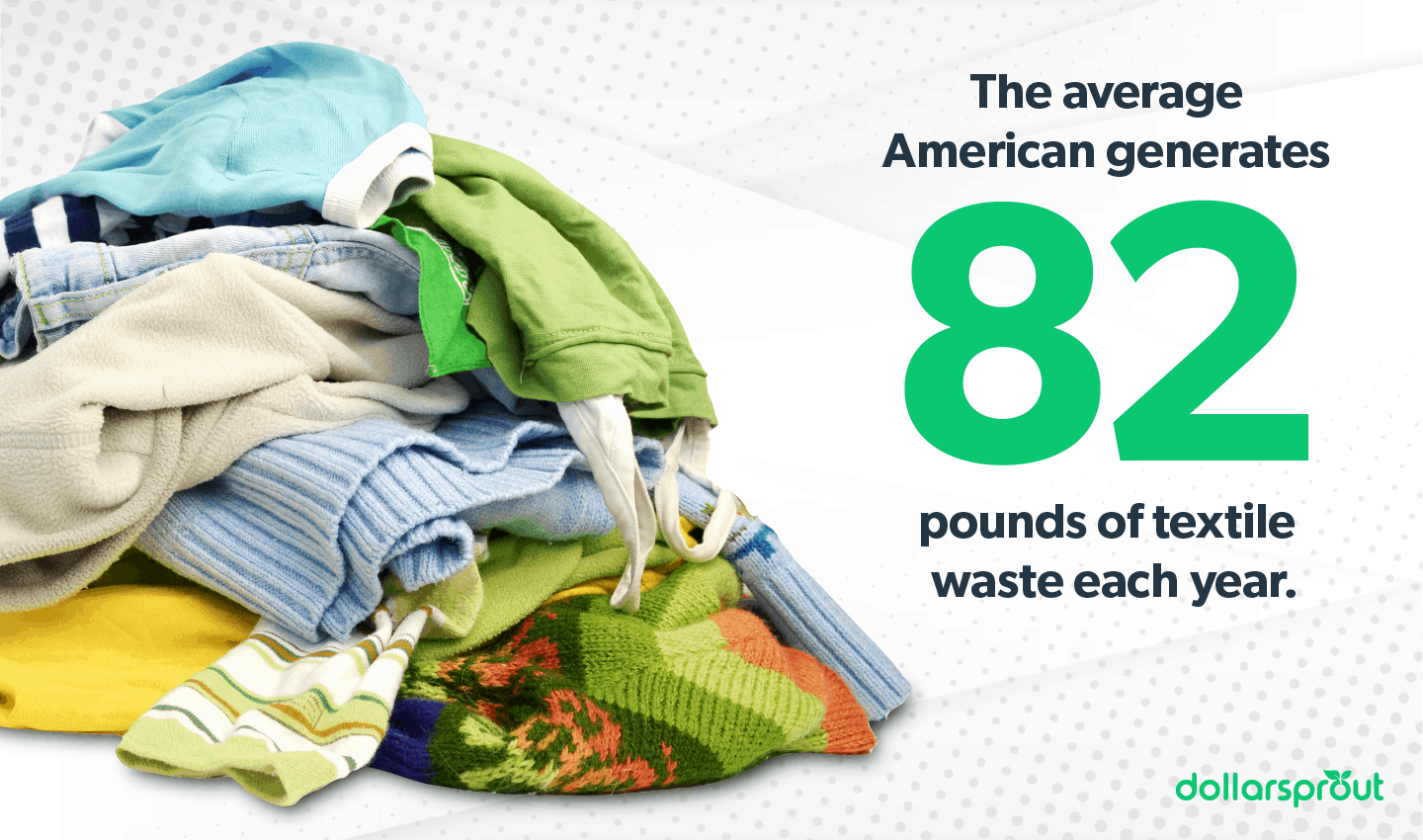 Freecycle.org is an online network with local chapters set up in communities around the world. Everything listed on the site must be given away for free, so you don't pay for anything.
If you're looking for free clothes, check Freecycle.org to see what's available for adults, teens, children, and babies. If you look regularly, you're bound to find great free clothes.
7. Earn rewards points (and spend them on clothing)
Perhaps the most simple of ways to get free hoodies, t-shirts, jeans, and shoes alike is to register for a rewards site (or sites) that allow you to earn points — points that you can redeem for cash, or in this case, clothes.
Several options exist online to earn points. Some programs let you redeem points for gift cards, but some give you cash. Either way, trading rewards points for clothes is a great way to fill your closet.
8. Cash in your credit card reward points
Some credit cards provide rewards points when you shop at certain retailers, and how much you earn depends on the card you use. Some cards issue 1% cash-back on all categories while others provide 5% cash-back at department stores.
New cardmembers can also earn lucrative sign-up bonuses when they spend above a certain threshold. You can redeem these points for gift cards to retailers or as a statement credit on your account to cancel out a recent clothing purchase.
9. Start a fashion blog
Starting a fashion blog can be a good way to get free clothing from companies. Once you set up your blog and attract readers, companies may send you free clothing by mail to review on your site.
You can also use affiliate links to promote your favorite products and earn a referral fee. If you have a favorite pair of jeans, you can promote the brand on your blog and earn enough money to buy a new pair.
This is more of a long-term approach, so don't expect to be able to test clothes for free until your blog has a steady stream of fans.
Free Clothes Fit Just the Same
If you're dead broke and have no money coming in till your next paycheck, there are a number of ways to get free clothes online, but be prepared for a little bit of a time investment on your part.
If you don't have the luxury of time, remember that Facebook, yard sale groups, and Craigslist are the still quickest ways to get your hands on free clothing. The items won't necessarily be new, but there are still ways to mimic the latest fashion on the cheap.
Related: 8 Best Sites to Sell Clothes Online