6 Easy Ways to Get Free Amazon Gift Cards (Up to $150)
Advertiser Disclosure
Our readers always come first
The content on DollarSprout includes links to our advertising partners. When you read our content and click on one of our partners' links, and then decide to complete an offer — whether it's downloading an app, opening an account, or some other action — we may earn a commission from that advertiser, at no extra cost to you.
Our ultimate goal is to educate and inform, not lure you into signing up for certain offers. Compensation from our partners may impact what products we cover and where they appear on the site, but does not have any impact on the objectivity of our reviews or advice.
Your daily routine can earn you free gift cards to popular retailers like Amazon. Here are simple ways you can set your reward accumulation on autopilot.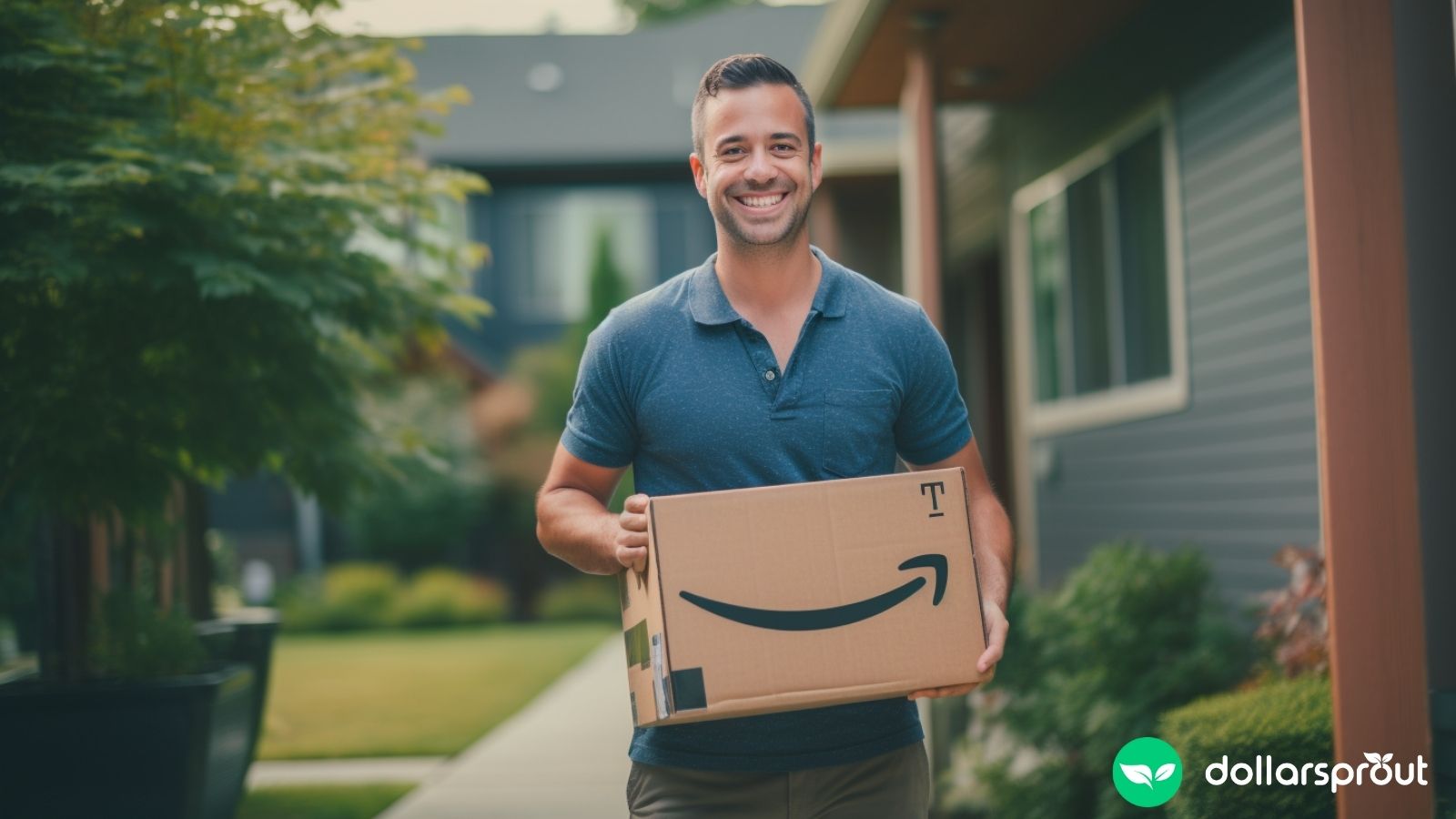 Did you know there are dozens of ways to get free Amazon gift cards?
It may sound like a scam, but it's not. There are plenty of ways to get free gift cards to many other retailers as well.
Companies often offer these rewards as an incentive for users to complete small tasks. For example, you can earn free gift cards by completing online surveys, playing games, or for the shopping you already do. In return, these companies get data on consumer behavior or, in some cases, a percentage of the money you spend with certain retailers.
So while you still have to do something to unlock these free Amazon gift card codes, all of these tasks require minimal time and effort.
6 Ways to Get Free Amazon Gift Cards
The easiest way to start snagging free Amazon gift cards is to use services or apps that like to incentivize users with the digital currency.
1. Take paid surveys
You won't get rich doing paid online surveys — there are much better ways to make money online — but you can use them to earn free Amazon gift card codes in your spare time if you can't find a better option. For each site below, you'll need to create a free account in order to unlock the gift cards. Some sites offer sign-up bonuses for new members which you can exchange for Amazon gift card codes.
For each site you decide to use, be sure to fill out your profile completely and answer the qualifying questions as accurately as possible. That way you'll get matched with relevant surveys and spend less time answering pre-survey questions only to be disqualified.
➡ Toggle between tabs to learn more about each survey site.
2. Search with Bing
You won't get a penny for using Google as your default search engine, but with Microsoft Rewards you'll get points for every search you do on Bing. If you're like us and have to look up multiple things every single day, this will eventually add up.
It looks like it can take a while to earn enough points to redeem a $5 Amazon gift card, but if you were going to search anyway, you may as well get the tech giant to cover the cost of your next coffee.
3. Play games on your mobile device
Online surveys aren't the only way to earn Amazon gift cards; some apps let you earn rewards playing games instead. These apps reward you with points you can exchange for cash or gift cards to your favorite places.
4. Use specific shopping apps
If you don't have time to complete surveys or play games, you can get free Amazon gift cards for something you're already doing – using online shopping apps.
5. Redeem grocery cashback
Even if you don't do much shopping online, you can get free Amazon gift cards for your grocery purchases using these apps.
6. Get them directly from Amazon
While most people have heard of doing surveys online for rewards and know about cash-back shopping apps to earn free Amazon gift cards, the easiest way to get them is directly from the source.
Reload an Amazon gift card
Right now Amazon has a sweet deal: reload an existing gift card with $100 or more and get a free $10 bonus. If you shop on Amazon regularly and have $100 to reload or buy a gift card, then it could be worth it to snag the free money.
Consider the Amazon Visa Card
If cashback is your thing, and you're a frequent Amazon shopper, you may be interested in the Amazon Prime Rewards Visa Signature Card.
You'll get a free $150 Amazon gift card instantly upon approval. Afterward, double-dip on all your shopping with 2% back at restaurants and gas stations, 10% back on select Prime purchases, and 1% back everywhere else.
Trade in your electronics and books
If you have an old smartphone or tablet you no longer use, you might be able to get paid for it through Amazon's Trade-In program. It buys smartphones, tablets, game consoles, e-readers, and books.
You have to send in your products to be assessed, but shipping is free. If they're accepted, you get free Amazon gift cards for the appraised value of the item. If not, it'll send your items back and you can try to sell your electronics elsewhere.
Work for Amazon
If you're looking for a flexible side hustle, Amazon has a program called Mechanical Turk (or MTurk) that's essentially a marketplace for online work.
Companies seek workers to complete online tasks in exchange for payment, and workers find online jobs that are a good fit for their skills and interests. The tasks vary but might include things like data entry, video processing, creating written content, transcribing data, or even taking surveys.
You can receive payment in the form of an Amazon gift card or transfer your earnings straight to your bank account.
Related: 30 Savvy Ways to Get Free Money
How to Spot a Free Amazon Gift Card Scam
Just like you can be scammed out of cash, Amazon gift cards are also susceptible to fraud. If someone contacts you and says you have unpaid debt or owe back taxes and need to pay with a gift card, it's a scam. Scammers even try to tell people they've won money but have to pay fees with an Amazon gift card before they can have their cash.
Other scams you might hear of include fake listings for items that must sell fast, electronic devices that have been hacked, a family member who is having an emergency, or promotions for services like cable TV or internet.
If you're contacted by someone and told to pay for any of these with an Amazon gift card, hang up or delete the email. And if it sounds scammy or too good to be true, it probably is.
Additionally, be wary of "free Amazon gift card generator" type sites. No such generator exists and any promotion or offer you see on these websites is a scam. Most often you'll see the promise of Amazon gift card code "lists" in exchange for your contact information, which is then sold elsewhere on the web.
Set Your Earning to Autopilot
There are so many ways to earn Amazon gift cards for free, it's hard to know where to begin.
A good place to start is with the low-hanging fruit: earning gift cards for things you already do. For many people, that's shopping. If that's the case for you then Swagbucks, Rakuten, and Ibotta are all great options. Once you set up your free accounts, you can earn rewards with each site automatically.
Next, move on to the options that interest you most. For example, if you enjoy learning about new games, then you might want to check out an app that rewards you for this kind of activity. If, on the other hand, you like to share your opinion and influence brands, then paid online surveys might be your best option.
You may find that some apps aren't worth your time, especially if a more legitimate side hustle could earn you more money. If that's the case, drop it and move on to the next. However, if you prefer to specifically earn Amazon gift cards, there's no shortage of options.
Related: 16 Legit Ways to Get Free Gift Cards From Apple, Visa, & More