Honey Review: Pros, Cons, and How the Coupon-Finding Browser Extension Works
Advertiser Disclosure
Our readers always come first
The content on DollarSprout includes links to our advertising partners. When you read our content and click on one of our partners' links, and then decide to complete an offer — whether it's downloading an app, opening an account, or some other action — we may earn a commission from that advertiser, at no extra cost to you.
Our ultimate goal is to educate and inform, not lure you into signing up for certain offers. Compensation from our partners may impact what products we cover and where they appear on the site, but does not have any impact on the objectivity of our reviews or advice.

If you do a lot of online shopping but haven't installed Honey, you could be leaving money on the table.
Honey is a legit Chrome browser extension that automatically finds discount codes from across the internet for all your favorite retailers.
The premise is simple: when you go to check out, the Honey app scans the retailer's website, as well as other coupon databases, for current or recently expired offer codes, and apply them directly to your cart.
If it finds a working offer, it moves on to other existing offers in the queue to see if there is an even better offer still out there. You can also earn money back from Honey if you shop at qualifying online stores.
Sound too good to be true? It's not. But we take a deeper look to see if the app and Chrome extension is worth the hype (and what to watch out for) in our detailed Honey review.
What is Honey and How Does it Work?
If you want to reap all the benefits Honey offers, take advantage of Honey Gold and Honey Droplist in addition to the coupons and discounts.
How to use the Honey app and browser extension
It's easy to get started with Honey. First, download and install the Honey app that's compatible with your preferred internet browser. Honey supports Chrome, Firefox, and Opera each on Mac and Windows. You can also install Honey on Safari (Mac) and Edge (Windows).
After you've installed the extension, shop as usual. When you're ready to make a purchase, you should see the Honey icon on your page. Click on the Honey button and the app automatically searches the web for discount codes. Then, Honey chooses the relevant code that provides the biggest discount and applies it.
Honey supports many different online retailers and service providers like Amazon, eBay, and Sephora.
Honey Chrome extension
If you use the Chrome internet browser, it's easy to install Honey from the Chrome web store. The Honey Chrome Extension has a 4.8 out of 5-star rating and over 135,000 reviews so you know it's legit and safe to use!
From the Chrome web store, click on "Add to Chrome" and then "Add extension" to install the Honey app. Once you've installed the Honey Chrome extension, you'll see the Honey button appear on your favorite shopping sites. Just click the button to find the best deals!
The Chrome web extension also allows you to look at price history charts on Amazon so you can choose the best time to buy.
Honey Gold
Honey isn't just for discount codes. You can earn Honey Gold whenever you shop online using the Honey app at participating retailers. When you've earned enough Honey Gold, you can redeem it for gift cards to major online stores like eBay, Amazon, Sephora, Walmart, and more.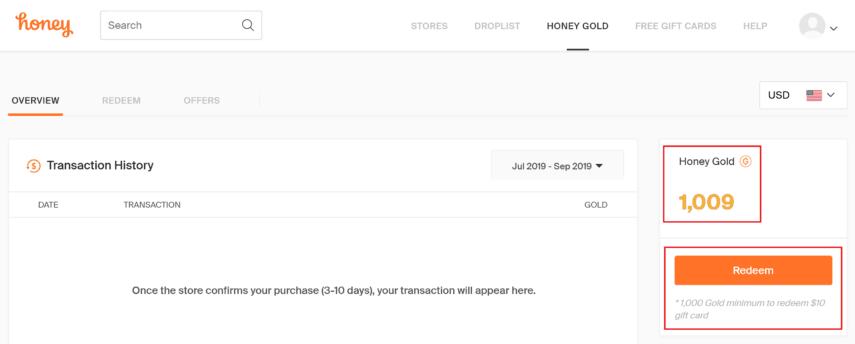 To get started, register for the Honey community. Then, shop as usual and collect Gold when you buy from participating stores.
Honey gives you up to 20% back on purchases in the form of Honey Gold. The program covers more than 4,000 online retailers. Look for a gold dollar sign icon when you shop; this is the sign that the site participates in Honey Gold. Honey Gold does not expire as long as your Honey account stays active.
When you've accumulated enough Honey Gold, you can redeem your Gold for gift cards. Trade in your Gold for gift cards from Amazon, JCrew, Nordstrom, and more. Honey doesn't make you wait for quarterly payouts, either. You can cash out your Gold as soon as you reach 1,000 Honey Gold or more.
Related: The Best Cash Back Apps We Use to Save Money On Everything
Honey Droplist
Honey Droplist can help you save money by watching prices. You can easily track price drops on select online stores through the Honey Droplist feature. Honey Droplist is currently available at retailers like Overstock, Macy's, Amazon, and Walmart.
When you find an item you'd like to watch, click on the small blue h+ icon. The icon is only visible on participating sites, and you'll need to have the Honey extension installed. Once you click the h+ button, let Honey know how long to watch the item (30 days, 60 days, 90 days).
When the price drops, Honey automatically emails you to let you know. Then all you have to do is snatch up the item you want at a fraction of the original price!
Honey referral program
Once you've signed up for Honey, you can send a referral link to all of your friends and family. You earn Honey Gold when a friend makes their first qualifying purchase, and the more friends you recruit, the more you'll make.

You can also earn $10 in gift cards when you refer two friends to Honey using your unique referral code. Once you've earned enough Honey Gold, you can cash it in for gift cards.
Honey on mobile
The Honey app is built for desktop web browsers, but if you do most of your online shopping from your phone, Honey currently has the Honey Smart Shopping Assistant App available for download on Android and iPhone devices.
The mobile app works differently than the desktop extension. Instead of shopping directly from the stores' sites, you browse different online retailers from within the mobile app. You can compare prices for your favorite items at different stores. Best of all, you can check out one time across all stores included on the app!
You don't need to create a separate Honey account to use the mobile app; you just need to log in using your existing Honey account information. Without an account, you'll be able to download and browse the app, but you can't make a purchase until you register with Honey. If you're confused about how it all works, check out their mobile FAQs for more information.
Honey Review FAQs
There are many apps and extensions that are similar to Honey. You might be wondering how Honey compares and if it's even safe to use.
Honey vs. Wikibuy: How do they compare?
Honey and Wikibuy are both browser extensions that help you find discount codes and the best prices for an item. Like Honey, Wikibuy is available as an extension on Chrome, Edge, Safari, and Firefox. It is not available on Opera.
Wikibuy also has both an iPhone and Android app and the app experience is similar. Wikibuy allows users to search for the best price on products from within the mobile app. There's also a "local" tab if you're doing a price comparison of local stores.
Wikibuy offers a rewards program where you can earn credits by shopping at participating online retailers and by making qualifying local purchases. You can also track price drops via Wikibuy's Watch List feature.
Although both of these extensions help you find discounts and earn rewards, Honey is less intrusive, more user-friendly, and has significantly more users.
Related: Wikibuy: A Full Review of the Money-Saving Browser Extension from Capital One
Is Honey free?
Yes, Honey is a totally free browser extension. There's no cost to sign up or to use Honey.
Is Honey safe to use?
Honey is generally considered safe to use. To improve your online shopping experience, Honey collects basic information like your IP address, device, operating system, and information about purchases made through Honey. They also retain information about your browsing history while using Honey.
Rest assured that Honey does not collect or store any of your financial information, like bank accounts or credit card numbers unless you provide them. Honey does not collect information from your search history or your email.
If you're concerned about privacy and security, be sure to check out Honey's full privacy policy.
How to uninstall the Honey Chrome extension
You can uninstall Honey in just a few steps if you want to. You can also uninstall the Honey mobile app by removing apps from your phone. Once you delete the app, Honey deletes all of your personal information too.
According to the app, "After you click Delete Forever, your account is completely removed from our system and we will no longer have any personal information about you in our system."
Save Money on Autopilot When You Shop with Honey
One of the more pleasant things I discovered during my Honey review is that you're almost certainly spending more on your online purchases [than you should be] if you're not using the Honey app.
Honey is free, only takes about five minutes to set up, and is a minimal effort way to save money online, earn rewards, and get gift cards.
It gets a 5-star rating from me.
Free
Price
Free browser extension. No app.
DollarSprout Rating
No app. Coupons sometimes expired or unavailable.
Honey pays cash back for your online shopping. It's free to use, and the browser extension alerts you when they have a deal or coupon available for a site you're on. The Droplist feature also allows you to track prices on items you're interested in. You'll receive an alert from Honey with the price drops.
Show

Hide

more
Pros
Shop as you usually would at your favorite online retailer
Searches the web for legitimate coupon codes so you don't have to
Automatically applies the coupon code with the biggest discount, saving you the most amount of money possible
Easy to use – just click the Honey icon when you're ready to check out
Offers a rewards program in addition to finding discounts
Cons
Must install the extension on your browser
Button appears on all shopping pages, which could negatively affect your internet shopping experience
Honey won't always find a discount code