Rakuten Review 2020: How Does the Cash Back App Work? Is it Legit?
Advertiser Disclosure
Our readers always come first
The content on DollarSprout includes links to our advertising partners. When you read our content and click on one of our partners' links, and then decide to complete an offer — whether it's downloading an app, opening an account, or some other action — we may earn a commission from that advertiser, at no extra cost to you.
Our ultimate goal is to educate and inform, not lure you into signing up for certain offers. Compensation from our partners may impact what products we cover and where they appear on the site, but does not have any impact on the objectivity of our reviews or advice.

Now that I work from home, I hate shopping.
Driving to the store, looking for parking, waiting for assistance, and then standing in line all seem like a tedious waste of time.
I'm not the only one who feels this way. Like 60% of millennials, I prefer online shopping since it means I can skip the hassle of going to a physical store and shop when I feel like it. And since most stores have a generous return policy, if something doesn't fit or looks different, I can send it back without a problem.
Plus, there are so many more ways to save with online shopping. That means that staying home saves me time and money – a real win-win.
What is Rakuten?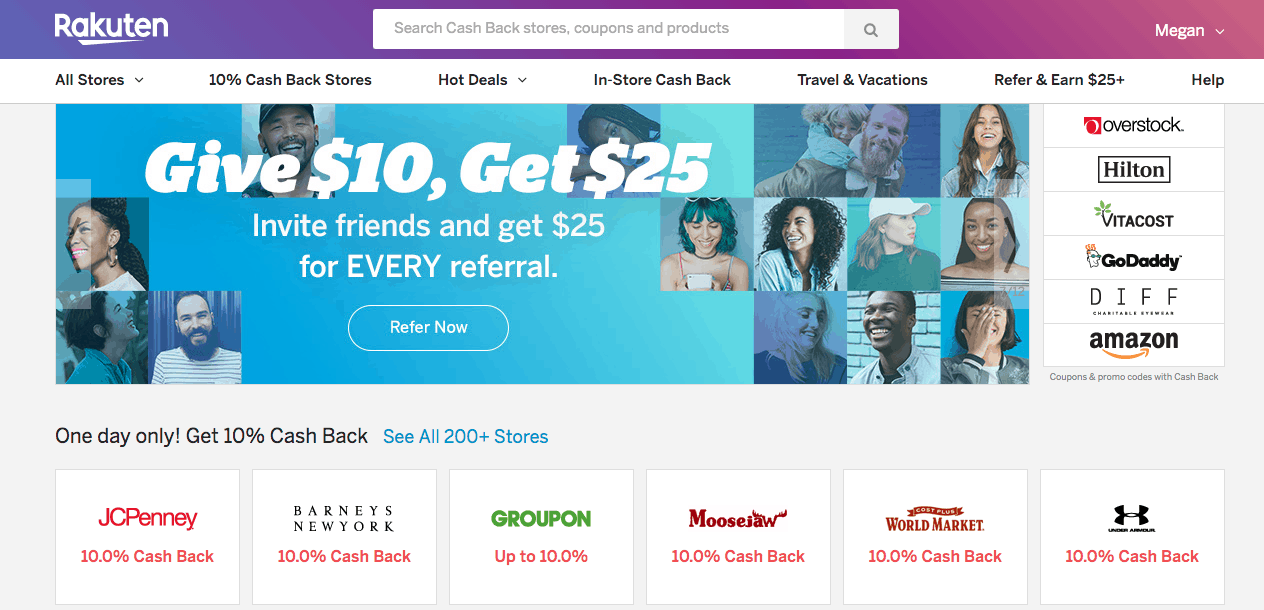 Rakuten is an online and app-based service that gives people cash back when they make a purchase using a Rakuten link. Formerly known as Ebates, Rakuten's main objective is to help consumers save money on things they're already buying.
Rakuten is an app, browser extension, and website that offers cash back to consumers who click on its links before checking out at a physical store or online retailer.
Rakuten also provides a list of which stores have special deals for customers, such as free shipping, buy one get one free, or free gifts with purchase. New users can earn $10 just by signing up and can earn $25 if they refer someone who signs up for and uses Rakuten.
Related: How This Savings Pro Collected $830 from Ibotta and Rakuten Last Year
The Burning Question: Is Rakuten Legit?
If you're not familiar with it, Rakuten might seem like a scam. Get extra cashback just for doing your regular shopping? Something can seem off about that. But Rakuten is a real site that uses legitimate ways to give you cash back.
While Rakuten does track your online shopping habits and may share them with partners, it's not unlike grocery store rewards programs and apps that also track how you spend money.
How Does Rakuten Work?
Rakuten has become popular not only because of its great deals, but because it's easy for anyone to use.
The best way to use Rakuten is to pair it with a credit card that also provides cash back or rewards when you shop at your favorite stores. For example, if you have a card that earns 1% cash back on Amazon purchases, you can pair it with Rakuten cash-back offers.
If you don't have a credit card, you can still earn cash back from Rakuten. You can even use Rakuten with in-store offers. You can find these on the website or through the app under "In-Store Cash Back."
The Rakuten button
The Rakuten button is the easiest way to use this service. It's a browser extension that you install for Google Chrome. When you visit a store that has a cash-back offer, the extension will send you a pop-up in the right-hand corner of your screen that shows what kind of cash-back offer is available.
For example, if you visit Macy's.com, the Rakuten browser extension will immediately pop up saying, "Activate 8% Cash Back." This makes it easy to see which stores have cash-back offers.
If you go to a store that doesn't currently have a cash-back offer, Rakuten will try to direct you to a similar one that does. For example, when visiting Home Depot's website, Rakuten pops up a box that says there are no cash-back deals there, but Ace, True Value, and Walmart do have offers.
Related: Top 10 Best Shopping Apps for Epic Savings in 2020
The Rakuten app
The Rakuten app is available for both iPhone and Android phones. If you do a lot of in-store shopping, download the app so you can check offers on the go. This is much easier than using coupons because you always have your phone with you.
When you use the app, you can click on a retailer to see their available offers. These may include both online and in-store cash-back deals, sales, and other discounts. Like the website, you can search for a store or see the best offers that are currently available.
Related: 17 Legit Ways You Can Get Paid to Shop
More Ways to Earn with Rakuten
Rakuten isn't just for consumers who prefer online shopping. If your tech-averse mom prefers shopping at brick-and-mortar stores, she can still use Rakuten to save money.
In-store cash back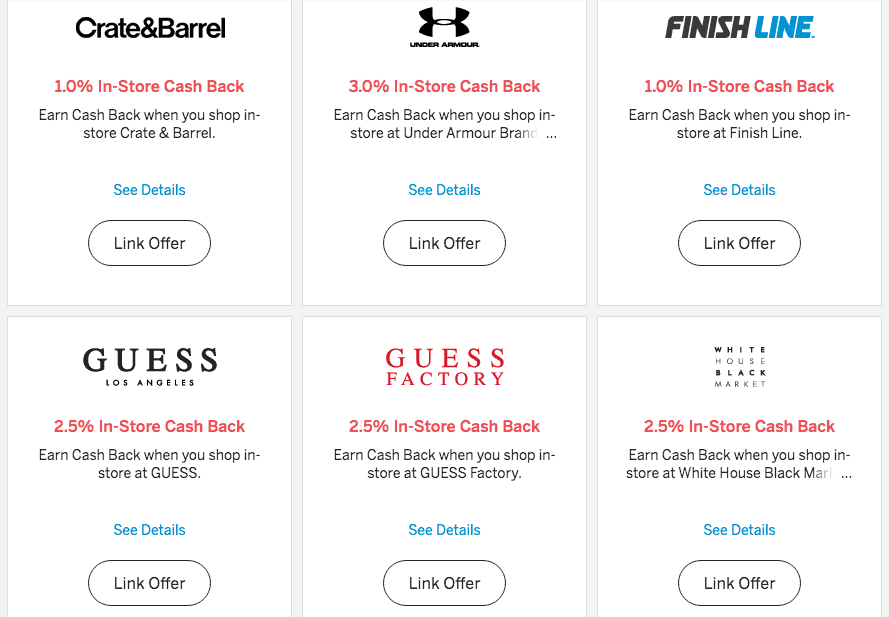 Rakuten also offers the ability to earn cash back when you shop in-store. To do this, download the Rakuten app on your iPhone or Android phone or log onto your Rakuten account on a browser.
Click on the In-Store Cash Back Offers section where you'll find a variety of offers you can choose from. Click on as many offers as you're interested in, then link your credit card to that offer. This should be the credit card you use while you're in-store.
For example, currently, Rakuten offers a 1% cash-back offer when you shop at Macy's. If you link this offer to your credit card and go to Macy's, you'll earn 1% cash back on your purchases there, minus any exceptions Rakuten might have.
It can take a few hours or days to confirm the order, so don't be surprised if your Rakuten cash-back balance doesn't change immediately.
Rakuten Cash-Back Visa card
Though most people use a credit card when shopping online, they may not be aware that Rakuten has its own credit card product. The Rakuten Cash-Back Visa® Card is the official credit card for Rakuten.
You can stack the basic Rakuten rewards with the credit card, helping you earn more cash back than if you only used the former. You earn 3% cash back for Rakuten purchases and 1% back on all other purchases, and you can track this from your original cash-back portal.
Your rewards will be sent the same way, through a PayPal account or a mailed check. There's no limit on how much cash back you can earn. The credit card is available on Apple Pay, Google Pay, and Samsung Pay. There's no annual fee, and the APR is a variable rate of 26.99%.
Events and Double Cash Back
Double Cash Back is when the amount of cash back you could earn at stores is doubled. If you click on this tab, you'll find a list of stores offering more than double their amount of cash back. This is a great place to check if you don't have a particular store in mind and want to get the best deal.
Hot deals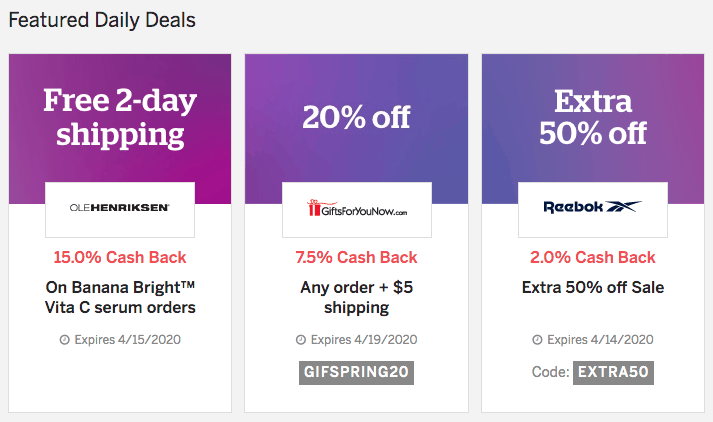 Hot Deals include special discounts for Rakuten customers. These include the following:
Buy online, pick up in-store: This lets customers buy something online and get it sooner than if they waited for the item to ship.
Free Gifts: This section shows which stores are offering free gifts with purchase.
Free Shipping: Rakuten shows how to qualify for free shipping with certain stores.
Gift Cards: You can buy gift cards through discounted sites like Raise.com or directly through the retailer and still earn cash back through Rakuten.
Buy One, Get One Free: This shows where you can find BOGO deals with popular retailers.
Related: 15 Sneaky Ways to Get Free Gift Cards (Apple, Visa, & More)
Travel and vacations
Rakuten offers cash back not only basic purchases, but also on travel-related purchases such as hotel reservations at Holiday Inn, IHG, and Choice Hotels. There are also discounts on tourist attractions like Busch Gardens and travel sites like Booking.com and Expedia.
If you're using a travel rewards credit card, pairing it with Rakuten can help maximize your potential cash back.
Refer and earn more
If your friends love to shop or save money, you can refer them to Rakuten and earn $25 after they've made their first purchase. They'll also get $10 just for signing up. You can share this link online, by email, or on your social media pages.
This is an easy way to get more Rakuten rewards without doing any shopping.
Related: 28 Legit Ways to Get Free Money with Little to No Effort
Benefits of Rakuten
Rakuten makes it easy for consumers to save money while still using their trusted stores.
Easy to use
Rakuten is extremely easy to use, whether you're relying on the website, app, or browser extension. The browser extension is the easiest of the three because it doesn't require you to manually search for deals.
Cash back for things you already buy
The best part of using Rakuten is that you can save money at the stores you already frequent. You don't have to change your shopping habits to benefit from using Rakuten. Rakuten has cash-back offers at many different stores so users don't have to struggle to find a deal.
Variety of stores to choose from
Rakuten has cash-back offers at more than 2,500 stores so you're likely to find an offer at a store where you already shop. You don't have to go out of your way and shop somewhere you're not familiar with just to get cash back.
Rakuten's available stores include Target, Amazon, Kohl's, and more. They have offers for both everyday shopping and luxury brands such as Rebecca Minkoff, Harvey Nichols, and Bumble and Bumble.
Related: 74 Creative Ways to Save Money on a Tight Budget
Disadvantages of Rakuten
Though Rakuten is a useful plug-in, it has its drawbacks that can make some users shy away.
Checks paid quarterly
While a credit card may pay out cash-back rewards on a monthly basis, Rakuten takes longer. You are only paid rewards on a quarterly basis. If you bought something in January, it may be a few months before you get a check in the mail or see the money appear in your PayPal account.
This isn't because Rakuten is slow at processing rewards. It's because companies that pay Rakuten an affiliate fee can take a while to send their payments to Rakuten. For example, if you buy something at a store, that store may then take two months to send the affiliate fee to Rakuten. They have to verify the purchase and make sure you bought it legitimately.
The current quarterly schedule is as follows:
Jan 1- March 31: Payment sent May 15
April 1 – June 30: Payment sent August 15
July 1 – September 30: Payment sent November 15
October 1 – December 31: Payment February 15
This can be frustrating for customers who are used to getting rewards immediately.
Have to spend to earn rewards
Rakuten only gives out cash back when you spend money. Unlike survey sites like Swagbucks, you have to spend money to get rewards from Rakuten. People who have a tendency to overspend may be tempted to spend even more simply because they're earning rewards.
Related: What is Swagbucks and How Does it Work?
May encourage impulse spending
Some studies have found that people who use a credit card end up spending more money. Other experts think that earning rewards may actually encourage people to spend money because they think they're getting a really good deal.
If you have a problem with overspending or impulse shopping, notice if Rakuten encourages more of those behaviors. You may have to disable the browser extension if seeing that button pop up makes you put something in your shopping cart.
Like other shopping sites, Rakuten may remove some barriers that keep you from spending mindlessly. If you have a problem with credit card debt or over-drafting your checking account, you may want to stay away from Rakuten.
Rakuten Review FAQs
Rakuten is a popular site, but you should understand it before you start using it regularly.
Is Rakuten safe?
So far, Rakuten is safe to use. They have a 4.5 out of 5-star rating on Trustpilot and an A+ rating with the Better Business Bureau. Rakuten places cookies on your site that track your decisions and habits. These cookies are what make it possible to earn cash-back rewards from Rakuten, since the companies you shop at use cookies to track that you were using Rakuten.
When you link a credit card to Rakuten, the information is encrypted and secured.
How does Rakuten make money?
Rakuten makes money every time you purchase something through their link. The company that you buy from pays Rakuten a referral fee for steering you to their site. Rakuten splits that fee with you as a reward for clicking their affiliate link.
For example, if you click on a link for Ann Taylor and buy a couple of shirts, Ann Taylor will pay Rakuten a predetermined amount for referring you. Rakuten then gives you a part of that amount. If the amount is 5%, your share might be 2%.
Rakuten also collects user information including shopping trends, usage, and other activities.
Is Rakuten worth it?
Rakuten is absolutely worth it. It doesn't cost any money and it only takes a few seconds to click on the link, especially if you have the browser extension. While it may take months to see a check for your earnings, it's still the best cash-back product on the market.
Rakuten Alternatives
Rakuten isn't the only option to save money when shopping online.
Related: 17 Cash-Back Apps to Save Money on Everyday Purchase
Wikibuy from Capital One
Wikibuy from Capital One is a free coupon and rewards app you can access through its app or browser extension.
When you're shopping online and have the browser extension downloaded, Wikibuy from Capital One automatically searches the internet for deals on the items you're interested in. If it finds one, you'll get a pop-up notification on your screen at checkout. You can then apply that offer to save money on your purchase.
Other features to help you find the best price on items include a personalized watchlist, an Amazon-specific feature, and featured and local deals.
You can learn more about Wikibuy from Capital One in our review.
Honey
Honey offers discount codes, shows special sales, and also has cash-back offers for certain retailers. Their list of retailers may change regularly and generally isn't as robust as Rakuten. For example, their current Offers page only has nine stores, compared to the thousands you can find with Rakuten.
Honey has a browser extension you can download to be notified when a store has a promo code you can use. If you click on this browser extension, it may invalidate your Rakuten click, so be aware of that.
Related: Honey Review: Pros, Cons, and How This Coupon Browser Extension Stacks Up
RetailMeNot
RetailMeNot provides discount coupon codes and cash-back offers. If you know you want to buy something from Target, you can visit RetailMeNot to see if they have any promo codes you can use.
RetailMeNot has an iPhone and Android app and website, but it doesn't have a browser extension like Rakuten. This means you have to have to manually search for offers before you shop.
Like Rakuten, you can earn money shopping in-store and online.
Ibotta
Ibotta primarily works as a grocery-saving app. You look at the Ibotta app, decide which coupons and offers you're interested in, and download the offers to your Ibotta app. You then scan your receipt after you're done shopping to redeem any eligible offers.
Related: Ibotta Review 2020: Is the $20 Sign Up Bonus Worth It?
2020 Rakuten Review Verdict: It's Worth It
Using Rakuten is easy, especially if you have the app or browser extension. Unless you disable the extension, there's little chance you'll forget to check if there's a cash-back offer.
Rakuten connects with your PayPal account so you don't have to deposit a physical check. The only downside to Rakuten is that it can take months to get a check and be paid for shopping you've already forgotten about.
If you're a frequent online shopper, using Rakuten is a seamless process. If you prefer to shop in-person, you can activate Rakuten's in-store offers before heading out, and you can even do this standing in line if you have the Rakuten app.
Be mindful of your shopping when you're using Rakuten. Remember, just because you're earning 5% cash back doesn't mean you're saving money if you weren't going to buy that item in the first place.
Free
Price
Company makes commissions on your purchases.
DollarSprout Rating
Easy cash back with browser extension.
Rakuten at a Glance:
Rakuten (formerly Ebates) is a free rewards website that gives users cash back on everyday purchases. Earn up to 40% back on sites like Amazon, Ray-Ban, Overstock, and Sephora. Install the browser extension to receive cash-back alerts when you shop on Rakuten's partner sites. Every quarter, Rakuten will send your Big Fat Check through the mail or straight to your PayPal account.
Show

Hide

more
Pros
No personal or credit card information required
Rewards for purchases you already make
Browser extension for convenient alerts
Bonus for each friend you refer
Cons
Rewards sometimes slow to show up
Payouts are every quarter
Rewards voided if you return your items