Wish App Review: Pros, Cons, and What to Look Out For
Advertiser Disclosure
Our readers always come first
The content on DollarSprout includes links to our advertising partners. When you read our content and click on one of our partners' links, and then decide to complete an offer — whether it's downloading an app, opening an account, or some other action — we may earn a commission from that advertiser, at no extra cost to you.
Our ultimate goal is to educate and inform, not lure you into signing up for certain offers. Compensation from our partners may impact what products we cover and where they appear on the site, but does not have any impact on the objectivity of our reviews or advice.

Do you ever wish the things you need and want weren't so expensive?
You're not the only one. I'm always on the lookout for ways to save money and get good deals on electronics, appliances, clothing, and other things I buy every day.
If you'd like to score some great deals on all types of goods, the Wish app may be your new best friend.
Wish at a Glance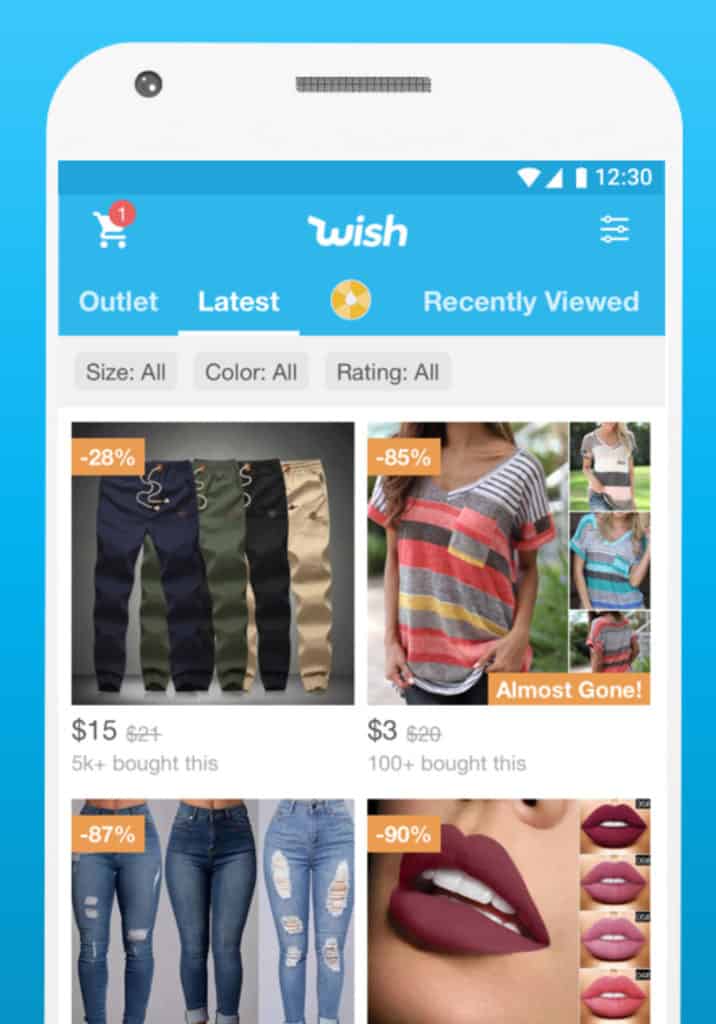 Wish is a shopping app that connects you to more than one million merchants selling clothes and name-brand items at an affordable price.
According to the app's website, "you can enjoy the same quality you'd get from the mall because there is no middleman."
Wish ships products directly from manufacturers in China and other Asian countries so you can lock in 60% to 90% off on a variety of high-quality items.
Pros
A variety of goods: Wish offers discounts on an assortment of goods including fashion, shoes, gadgets, kitchen tools, home goods, children's items, beauty, jewelry, watches, accessories, and more.
Brand names:

Apple, Burberry, Coach, Fossil, Tommy Hilfiger, and Guess are some of the brand names you can find on Wish.

30-day return policy:

If you're not satisfied with your purchase for any reason, you can return it within 30 days and get your money back.

Express shipping:

Wish Express items that are marked with the Wish Express truck icon will arrive at your doorstep in 5 to 7 days.

Rewards program:

You can collect points every time you make a purchase and redeem them for discounts.
Cons
Inconsistent clothing sizes: Wish sells a lot of Chinese-made clothing items so it can be difficult to order the right size. You may order a medium shirt and find out that it fits more like an extra small when you actually get it.
Long shipping times:

While Wish Express items can arrive within 5 to 7 days, other items can take several weeks or even a month.

Knockoff items:

Although Wish is a legitimate app, you may come across knockoffs. If you see a $20 designer handbag that normally retails for hundreds of dollars, it's likely not authentic.
Best For: Wish is a good option if you're searching for a fun and easy way to get low prices on a plethora of items. You should be okay with waiting a while to get your order and not seeing your items in person until they arrive.
Related: 10 Best Shopping Apps for Epic Savings in 2020
How Does Wish Work?
Thanks to its user-friendly design, using Wish is simple.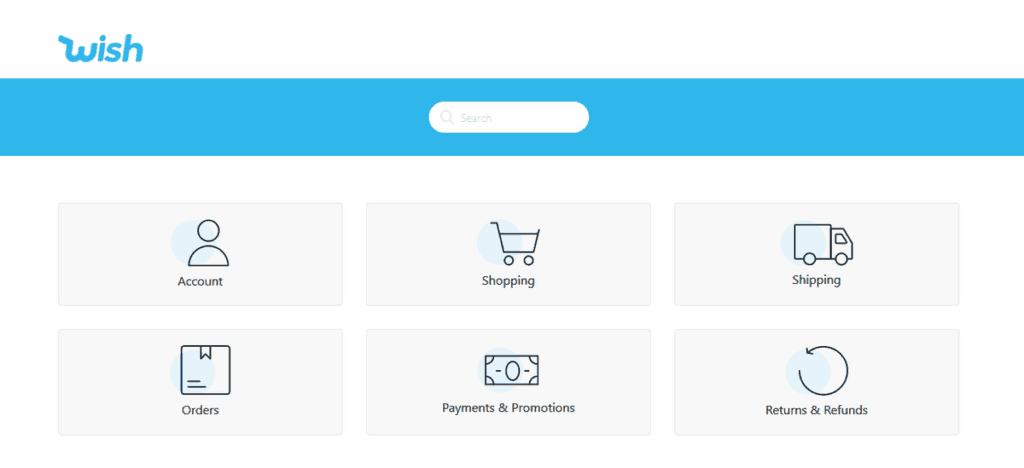 Getting started
To begin the Wish experience, download the app on your mobile device and tap "Create Account." You'll be asked to enter your first and last name, email address, and a password. Once you've created an account, you'll be ready to start shopping.
What you'll find on Wish
Wish offers a diverse selection of clothes, shoes, kitchen appliances, home goods, children's products, cosmetics, jewelry, and more. Whether you need a new camera, coffee table, perfume for your friend, or toys for your child, Wish has you covered. You'll find many of the same products on Amazon and eBay.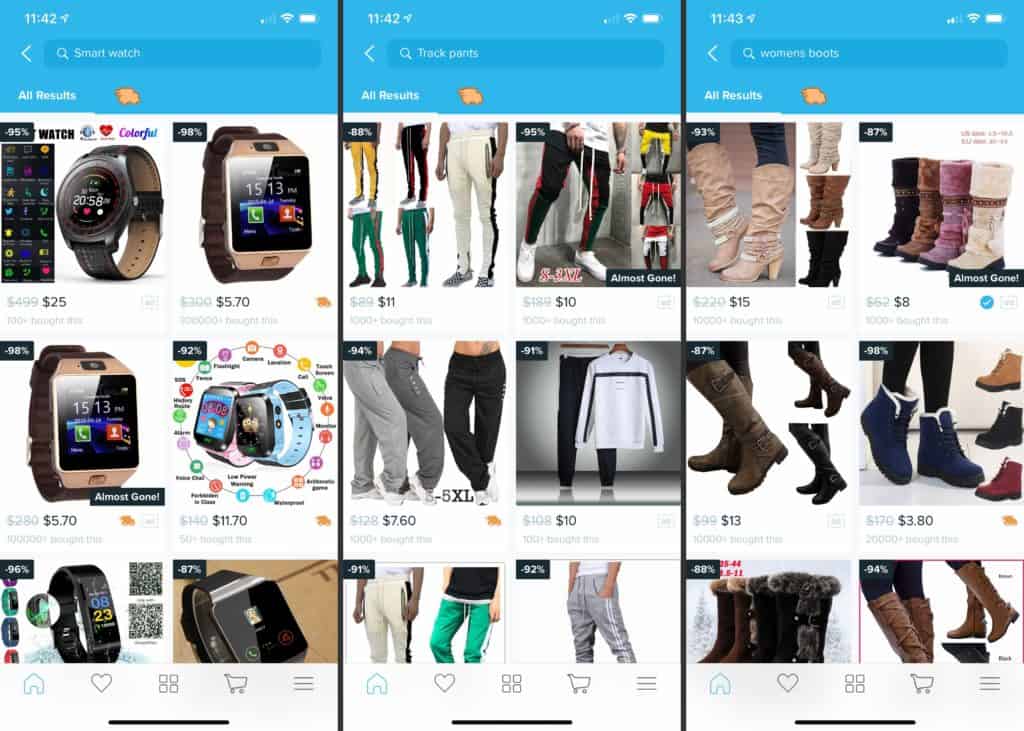 Wish pricing
With Wish, you can get the items you need and want for 60% to 90% off. Once you start shopping on the app, you'll be able to see the original price of items as well as the Wish price so you can see what kind of discount you're getting.
Deals
Wish offers a variety of deals to make your online shopping experience even more affordable.
Related: Groupon Review: How Much Can You Save with This Site?
Blitz Buy
Blitz Buy is an in-app game. Spin the wheel on a daily basis for an opportunity to get special deals and discounts. Since Blitz Buy offers are only available for a limited time, you'll need to pay special attention to the timer.
Daily Giveaway
One of Wish's newest features is called Daily Giveaway. It gives away 10 to 50 free products every day between 9-9:15 p.m. Even though there are only several freebies available, it's a nice perk.
Reward points
Every day you sign into the Wish app, you'll be given reward points. You can trade these points in for a certain percentage off your orders. However, Wish reward points can't be used to pay for shipping as that is fulfilled by stores across the world.
Wish Cash
You can buy or receive Wish Cash in certain circumstances such as if you're unhappy with a purchase. If you have Wish Cash in your account, it's automatically applied to your next order. Wish Cash can't be redeemed for real money or transferred from one user to another.
Express
Wish Express offers expedited shipping on some items. You can count on items that feature the Wish Express truck icon to arrive within 5 to 7 days.
Item quality
Since the Wish app ships goods from China and other Asian countries, the quality may not always be the best. Read reviews and look at pictures before making a purchase so you know what to expect.
Return policy
If you're not satisfied with an item, you can request a return or refund within 30 days of the delivery date. You can make a return or refund request within the Wish app by going to your order history and clicking on customer support. Wish has the right to refuse any refund if it suspects abuse of the return policy.
Related: The Best Cash Back Apps to Save Money on Everything
Wish App FAQ
It's fair to ask questions before committing to your first purchase with an online company.
Is it safe to buy from Wish?
Buying from Wish can be risky because you won't know if your products are high-quality until you order and receive them. You may find that clothes fit poorly or electronics are made of cheap materials. While Wish doesn't currently offer exchanges, there is a 30-day return policy so you can get your money back if you're unhappy for any reason.
How long is Wish shipping?
While most items ship within 1 or 2 days, it can take several weeks or even a month for you to receive your order if it comes from China or another country in Asia. Shipping times vary based on the individual store and destination.
How much does shipping cost?
Shipping costs will depend on the items you purchase and will be displayed at checkout. The size, weight, and destination of your order will dictate the cost.
Can I pick up some items in person?
You can pick up some Wish items at a physical location near you. If you choose to pick up an item, the Wish app will notify you when it's available. To complete your pickup, you'll need to show a QR code on your Wish app and prove that the items are yours. Since orders can't be held for a long time, you'll need to pick them up promptly.
What payments does Wish accept?
Wish accepts all major credit cards including Visa, Mastercard, American Express, Discover, Cirrus, and Maestro. You can also pay via Google Wallet, Apple Pay, PayPal, Klarna, EBANX, and iDEAL.
Are there reviews on Wish?
Yes. User feedback such as ratings, comments, and images/video can help you determine if an item will satisfy and fit your needs. You may earn reward points and other incentives by leaving feedback about the products you ordered.
How can I find items that I'll like on Wish?
Wish offers search and filter options so you can find the exact items you're looking for. There are also personalized feeds that are created using your previous search history to provide a list of items that you may like. These features can save you time searching for your ideal products among the millions available.
Are there any alternatives to Wish?
There are a number of online shopping apps that are similar to Wish. Some examples are AliExpress, DealeXtreme, YoShop, and Zulily.
Related: 17 Sites Like Amazon for Buying and Selling Your Things
If You Can Wait for Shipping, Try Wish
Try Wish if you like the idea of saving big on online purchases and don't mind longer shipping times. Place a small order at first to make sure you're satisfied with the quality of the products and like the overall experience. Be sure to look at customer reviews and photos before placing your order so you don't end up surprised or disappointed.