Capital One Shopping Review: What We Love (and Hate) About It
Advertiser Disclosure
Our readers always come first
The content on DollarSprout includes links to our advertising partners. When you read our content and click on one of our partners' links, and then decide to complete an offer — whether it's downloading an app, opening an account, or some other action — we may earn a commission from that advertiser, at no extra cost to you.
Our ultimate goal is to educate and inform, not lure you into signing up for certain offers. Compensation from our partners may impact what products we cover and where they appear on the site, but does not have any impact on the objectivity of our reviews or advice.
Capital One Shopping is an app and browser extension that helps you find relevant, working coupon codes for things you purchase online. It's free to use and will generally save you some percentage off each purchase you make.
Our number one goal at DollarSprout is to help readers improve their financial lives, and we regularly partner with companies that share that same vision. If a purchase or signup is made through one of our Partners' links, we may receive compensation for the referral. Learn more here.
I suffer from a common shopper's conundrum: I love finding creative ways to save money, but hate wasting time looking around for a deal.
In the past, every time I would get ready to check out online, I'd open a new tab and type "[site name] coupon codes" into Google. Sometimes I'd search through pages of codes only to find that none of them worked.
Eventually, I stopped trying. But every purchase thereafter came with a twinge of guilt because, I thought, "I could be spending more money than I need to. What if there's a deal I don't know about?"
That's why, when I heard of Capital One Shopping (formerly Wikibuy) back in 2017, I immediately looked up and added the browser extension. I was beyond excited for a tool that could help me save money with little to no effort on my part.
Like any app, Capital One Shopping has its pros and cons. But more than six years later, it's still the online shopping companion I rely on the most.
What Is Capital One Shopping?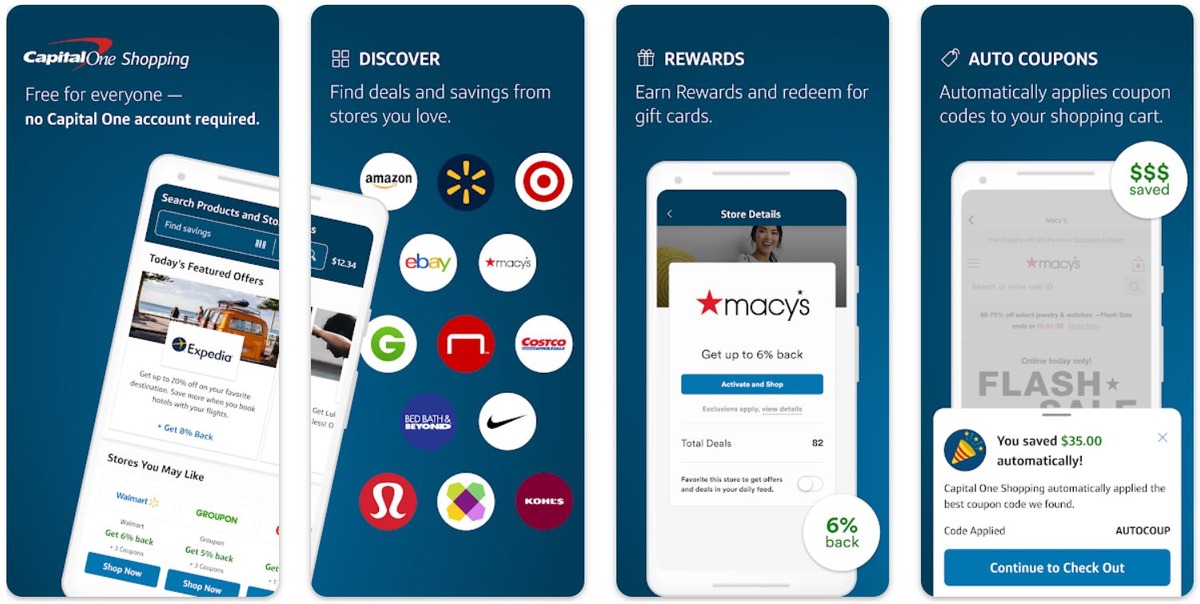 In short, Capital One Shopping is a free coupon finder, loyalty program, and rewards app. It's completely free to use, and you don't need a broader Capital One account to participate.
Capital One Shopping exists in two forms: a browser extension (available for Google Chrome, Safari, Mozilla Firefox, and Microsoft Edge), and a mobile app.
They've partnered with over 100,000 different retailers like Amazon, Target, and Nike to get you automatic deals on tech, clothing, travel, gaming, qualifying energy bills, and more.
The Austin, TX-based company was founded in 2014 and acquired by Capital One in 2018. Capital One Shopping currently has over 8 million members who collectively saved over $160 million using the tool last year alone.
Free
Price
No hidden fees
DollarSprout Rating
4.5 out of 5 stars
Capital One Shopping offers multiple easy ways to save money, including automatic coupons, reward credits that can be exchanged for free gift cards, a price comparison tool, and price drop tracking. When you add the browser extension, you'll get automatic notifications for deals on sites you visit.
Show

Hide

more
Pros
Completely free.
Easy to add (and remove).
Convenient way to save money with minimal effort.
Safe and secure.
Desktop and mobile versions.
Cons
Gift card options are limited.
Tracks your online activity and transaction history.
"Best price" feature isn't always accurate.
How Capital One Shopping Works
Capital One Shopping offers several top features, including Amazon price comparison, automatic coupon application, and rewards credits for online shopping.
We'll cover how to capitalize on the more popular features and bring to light the drawbacks that exist.
1. Automatic reward credits and coupon application
By far the most rewarding feature, Capital One Shopping is immensely popular because it automatically finds working coupon codes and awards free gift card credits when shopping online.
Any time you're browsing a retailer where Capital One Shopping detects a working code or eligible gift card credits, you'll get a helpful pop-up notification at checkout.
For example, when I was shopping for groceries and makeup on Vitacost, Capital One Shopping offered me a 4% rewards credit, and found 10 coupon codes to try.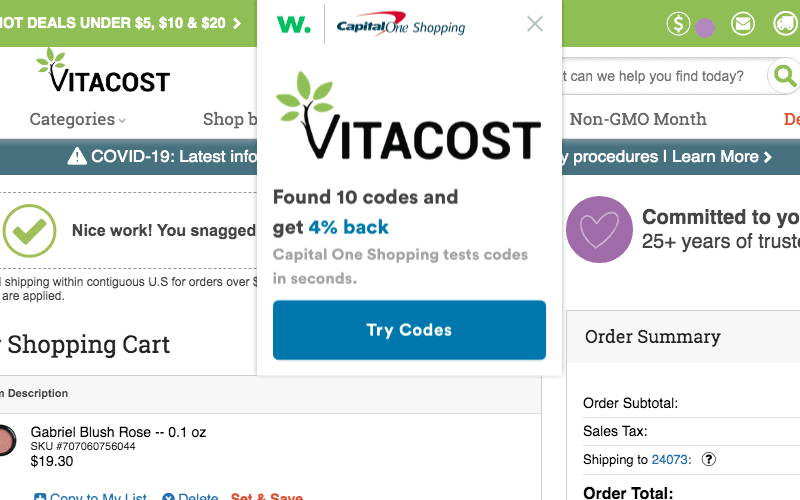 When you click the button to "Try Codes", Capital One Shopping scans through each one automatically to see which gives you the best deal.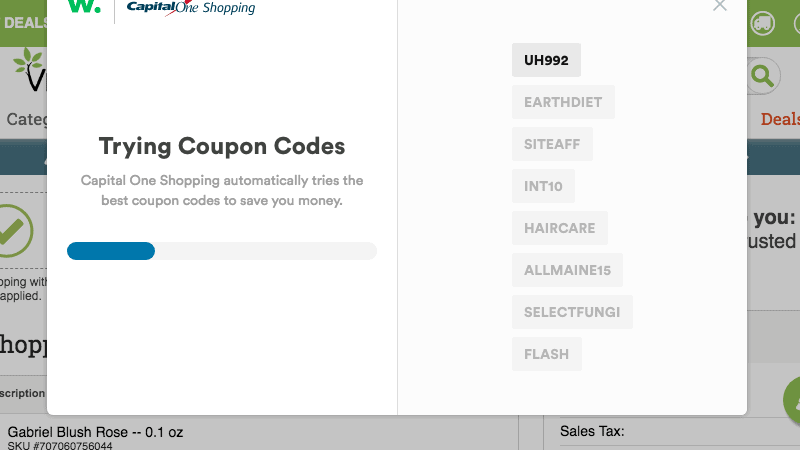 Once the coupon(s) are tested and eligible credit applied, you'll get another friendly pop-up that tells you whether or not any of the coupons worked, how much you saved, and when your credit will be available in your Capital One Shopping account.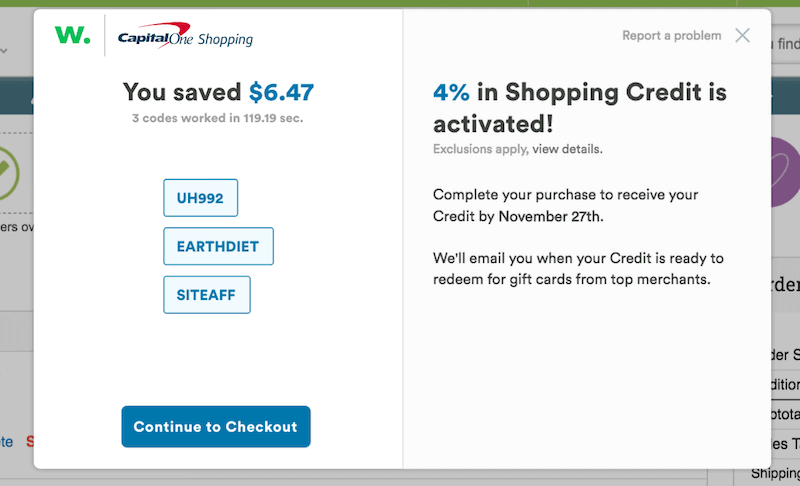 Reviewer's take:
This is by far the Capital One Shopping feature that I use most often. I love that there's zero effort on my part. I tend to forget that I have Capital One Shopping until I get one of these notifications at checkout letting me know there's money to be saved. If you're all about taking the path of least resistance to save money, then this will be your favorite feature, too.
2. Price drop protection
Depending on your privacy tolerances, Capital One Shopping's Price Drop Protection is a cool way to potentially save big bucks if an item you recently purchased decreases in price shortly thereafter.
This feature works by scanning your email inbox for recent purchases and then automatically files a claim with a merchant — for a partial refund — if it detects a price drop below what you paid.
For example, let's say you recently purchased wireless Bose QuietComfort 45 headphones for $329.99. Two weeks later they dropped in price to $269.99. Capital One Shopping may detect this price drop and file a claim to recoup the $60.00 in lost savings.
Note:
Retailers each have different refund policies; you may have to manually complete additional steps to get a refund.
You must manually opt-in to Price Protection in your Capital One Shopping account settings. It's available for shoppers who use Gmail, Yahoo, and Outlook.
If you have privacy concerns and/or would prefer Capital One Shopping to not scan your email inbox, you do not have to opt-in or use this feature.
Reviewer's take:
I'm not a big stickler for privacy. By this point, I figure most merchants have databases full of my interests and personal information. I thoroughly enjoy this feature because it's basically free money that I'd have otherwise lost out on. In my experience, most of the refunds are automatic with no additional work on my end, but if I need to fill out a short form to reclaim modest savings, I'm all for it as well.
3. Amazon price comparison
This Amazon-specific feature searches the web to make sure you're getting the best deal possible. If another seller on Amazon offers a better deal, or there's a better deal off Amazon, Capital One Shopping will show you.
Anytime you're on an Amazon product listing, you'll see a Capital One Shopping button under the price that indicates whether or not there is a better price available for that product. If another merchant or retailer is selling the same item for less, then you'll see a green Capital One Shopping button with the amount you can save elsewhere.
When you click it, the button will redirect you to the Capital One Shopping-associated site where you can see the offer and claim your savings.
Reviewer's take:
This feature is great when it works. However, sometimes Capital One Shopping misses a beat. It may direct you to the homepage of a different seller even if the deal has expired, which can be confusing. Or sometimes you'll find that the item is out of stock with the other merchant.
If something like this happens, you can let Capital One Shopping know when you return to the original listing. When you click the green button on Capital One Shopping to claim your deal, you'll get a helpful pop-up that asks "Was this a good result?" Even if you didn't get the deal you expected, you can inform Capital One Shopping and help improve the experience for the next user.
4. Amazon watchlist price drops
This is another Amazon-specific feature. If you've found an item you like with a price you don't, you can click the white "W+" button to add it to your watchlist.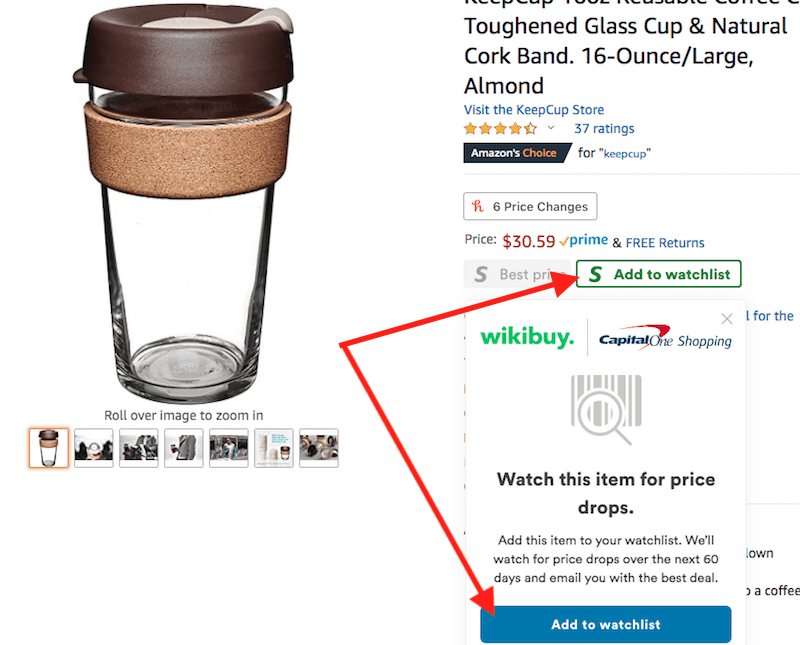 Capital One Shopping will track the price for that item — on Amazon and at other retailers — for 60 days and let you know if the price drops or if it finds a better deal.
Capital One Shopping also tracks your history for products you view across multiple sites. At any time, you can visit your watchlist in your account to see if the price has dropped on any of your recently viewed items. You can clear your history under Account Settings > Clear my product history.
Reviewer's take:
I've found the watchlist feature very useful, especially if you're shopping for something you don't need right away. For example, if I'm browsing and I find something that would make a great Christmas or birthday present for someone, then I'll add it to my watchlist and buy it when the price drops.
You can also click the Capital One Shopping extension icon in your browser to view the product's price history for up to the last 365 days.
5. Universal product search engine
If you already know what you want to buy, you can search for it directly on Capital One Shopping or by clicking the browser extension and typing in the search box.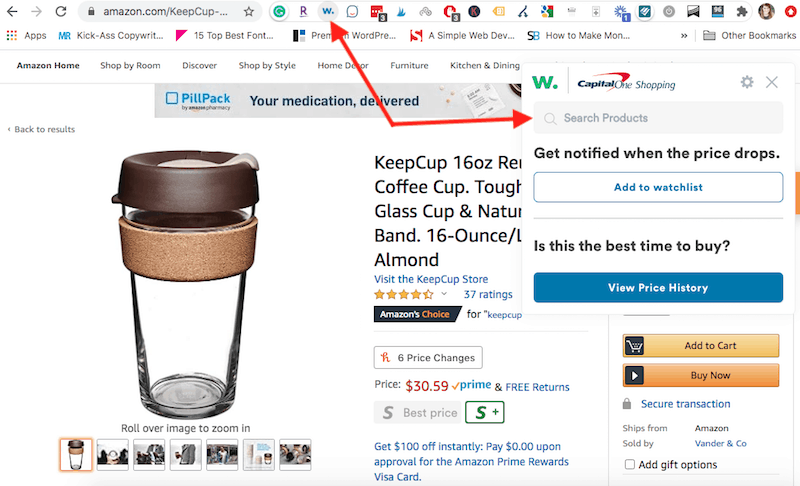 Your search will take you to Capital One Shopping's website where you can filter options by price and brand. The search feature also works on mobile, which is debatably more convenient than the online search tool. If you're already shopping in-store, use the Capital One Shopping app on your phone to scan the barcode. Capital One Shopping will search other retailers and let you know if there's a better price available.
Reviewer's take:
This feature is especially useful if you're shopping in-store or if you already know the specific item you want and you're looking for a low price. It's less practical if you're browsing and need to filter by style, color, size, or material, as these sorting options aren't available on Capital One Shopping.
I rarely use this feature myself, mostly because I rarely know exactly what I'm looking for until I find it. At that point, I either use Capital One Shopping to look for coupon codes or add it to my watchlist.
6. Personalized offers
When you log in to your Capital One Shopping account, you'll see personalized offers from some of Capital One Shopping's most popular retailers.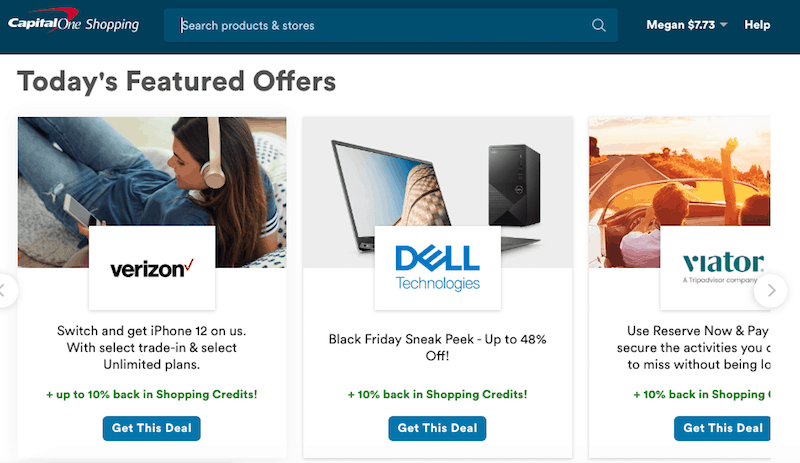 Reviewer's take:
I don't pay much attention to this section myself. You probably won't do much shopping directly from your Capital One Shopping dashboard, but it's a convenient way to explore deals and discover new brands.
7. Mobile price comparison
If you're shopping on Amazon from your phone and need a price check, you can text the product to Capital One Shopping. They'll send you a text back with a link to compare prices at other retailers.
Reviewer's take:
Admittedly, this feature is a little clunky. Capital One Shopping's price comparison tools work best on a desktop, but if you're on the go and need to compare prices quickly, it can come in handy.
Related: 15 Best Cash Back Apps to Earn Rewards
How to Redeem Capital One Shopping Credits
Whenever you redeem an eligible offer with Capital One Shopping, it'll show up as a "credit" in your account. So, if you make a $100 purchase with a 5% reward, you'll receive $5 in Capital One Shopping credit. For most offers, you'll see your rewards within 7 days.
You can redeem your credit in exchange for free gift cards to places like Walmart, Lowe's, Sephora, and Wayfair. Some gift cards start at $5, but others require a minimum of $10 or $25 to cash out.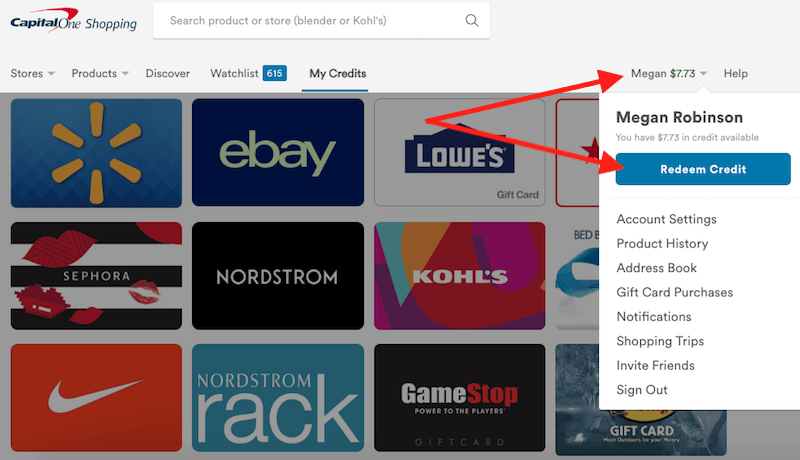 Reviewer's take:
While Capital One Shopping offers a good selection of gift cards, it's missing some key features that similar sites have. For one, you're not able to sort gift cards by cash-out amount. The only way to see how much credit you need to redeem a gift card is to click on each individual retailer.
Secondly, though the options are good, they're fairly limited. While other rewards sites offer gift cards to dozens or even hundreds of retailers, Capital One Shopping currently has around 57 options, and Amazon isn't one of them.
Alternatives to Capital One Shopping
The downsides of Capital One Shopping are fairly straightforward. They collect or have access to significant personal information, the app or browser extension can slow your device, and despite a working coupon code or rewards credits, you still may find a better deal elsewhere once shipping and fees are factored in.
If, for those reasons, you'd prefer to use a Captial One Shopping alternative, we suggest looking at these similar options.
Honey
Honey boasts a vast user community of 17 million users that continuously contributes to its pool of coupons, potentially offering more discount opportunities. Its integration with PayPal, a widely used payment system, ensures enhanced security and convenience. Notably, earned Honey credits are redeemable for cash instead of just gift cards, which is a welcome perk.
Rakuten
Rakuten offers cash back on purchases from a wide range of online retailers, often providing users with substantial savings over time. Its long-standing reputation and partnerships with thousands of stores may offer broader shopping options. Additionally, Rakuten periodically offers welcome bonuses and promotions, enhancing the potential for earning rewards.
| | | |
| --- | --- | --- |
| | | |
| App or browser extension | Browser extension | App or browser extension |
| Automatically applies coupon codes at checkout | Automatically applies coupon codes at checkout | Notifies you of sales, coupon codes, and cash back |
| 4.8/5 stars on Chrome | 4.8/5 stars on Chrome | 4.9/5 stars on Chrome |
| Gift cards only | Cash or gift cards | Mailed check only |
| $0.01 cashout minimum | $10 cashout minimum | $5 cashout minimum |
| | | |
FAQs
Bottom Line: Is Capital One Shopping Worth It?
As a Capital One Shopping user since 2017, I don't see myself moving away from the platform any time soon. It's an easy, low-effort way to save money on the things I'd be buying anyway, like makeup from Vitacost or a rug on Overstock.com. The money I save with Capital One Shopping is money I know I wouldn't have saved otherwise because I don't like manually searching a hundred sites for a coupon code that works.
If you're someone like me who loves the idea of saving money but doesn't want to search every site looking for a good deal, then Capital One Shopping is probably a good fit for you. With Capital One Shopping, there's no searching, just saving.
Related: