Instacart Shopper Review: Can You Make Money Shopping?
Advertiser Disclosure
Our readers always come first
The content on DollarSprout includes links to our advertising partners. When you read our content and click on one of our partners' links, and then decide to complete an offer — whether it's downloading an app, opening an account, or some other action — we may earn a commission from that advertiser, at no extra cost to you.
Our ultimate goal is to educate and inform, not lure you into signing up for certain offers. Compensation from our partners may impact what products we cover and where they appear on the site, but does not have any impact on the objectivity of our reviews or advice.

Learning how to make money as an Instacart shopper might seem obvious, but there are a few tips to help maximize your earnings.
Over time, eating out can be expensive while cooking from home can save you a lot of money. But for most people, grocery shopping feels like a huge chore, which is why so many of us eat out more than we should.
Instacart provides a cost-effective way to get groceries delivered. It's a service that connects people who need to buy groceries with people who will do the shopping and deliver them to the customer's door.
That means that people who don't mind grocery shopping can make money and help people by shopping for Instacart.
If you're looking for a flexible way to make extra money, becoming an Instacart Shopper may be a solid option for you.
What Is Instacart Shopping?
Instacart is a grocery delivery service. Founded in 2012, Instacart makes it easy for people to get food delivered to their door. Buying groceries instead of relying on restaurants and take-out is a great way to eat healthier and to save money. However,  a lot of people don't have the time or desire to shop for groceries.
For consumers, Instacart is a simple way to buy groceries and have them delivered to your door. Simply open the Instacart app, choose a local grocery store, and search for the products you'd like to purchase.
Instacart will list most of the products, including basics like produce or packaged meat, or prepared meals like frozen pizzas. After you submit the order, someone else will do the shopping and the groceries will be delivered right to your door.
For people looking to make money, Instacart is a flexible job that lets you choose your own schedule and get paid to shop. When you have spare time, you can go to a participating grocery store.
When someone submits an order, you'll have the option to claim that order, buy the items, and deliver them to the customer's home or prepare them for pickup. Depending on the type of shopping you do, you'll be paid on an hourly basis or on commission.
How Does It Work?
If you're interested in making money with Instacart, you'll need to follow this process.
Getting started
First, you have to sign up to work for the company by filling out an online application.
You can sign up to be a full-service shopper, which means you'll be an independent contractor. You can also sign up to become an in-store shopper only. This is a part-time job that comes with retirement and commuting benefits.
Full-service shopping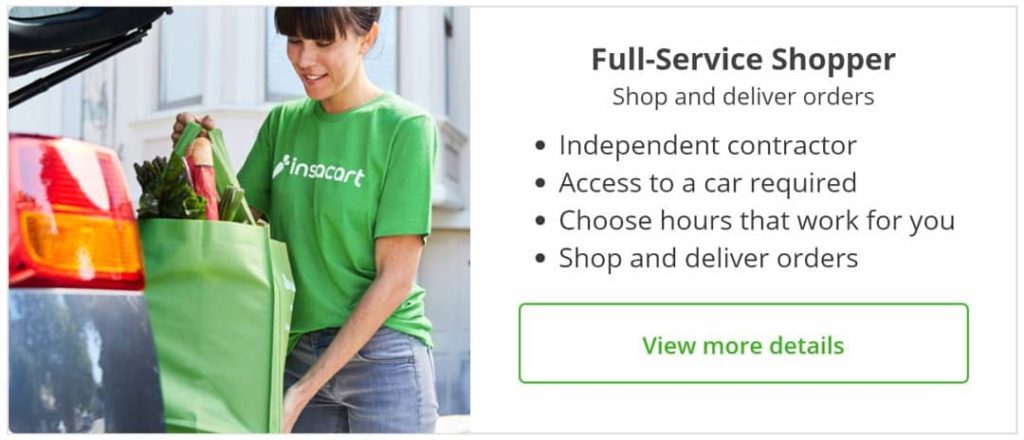 Full-service shoppers do it all. You'll take orders from customers via the app, go to the grocery store, find and purchase the products, and then deliver them to the customer's home.
To be eligible to be a full-service shopper, you must have your own car or reliable access to a vehicle. You're responsible for driving to the store and bringing the groceries to customers. You'll be paid a commission based on the size of each order and the number of orders you deliver. You can also get tips from customers.
Keep in mind, you'll only be paid for the time you spend shopping for customers and delivering their food. If no orders are available, you might have to wait at the store on your own time without being paid.
Working as a full-service shopper is more lucrative, but how much you earn is unpredictable.
In-store shopping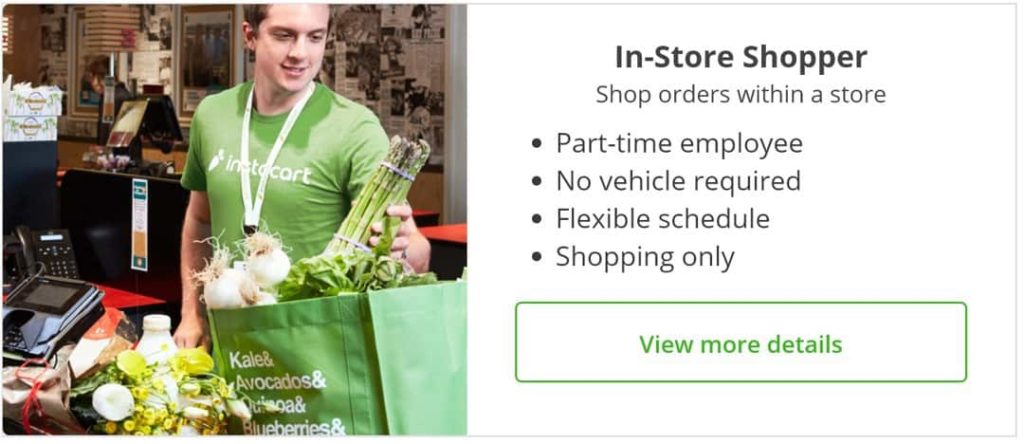 In-store shoppers receive customer orders, locate all the products in the store, and bag them for the customer to pick up. You don't have to deliver the groceries to the customer's home, so you don't have to have access to a vehicle or worry about driving to different parts of town.
One benefit of in-store shopping is that you can take advantage of Instacart's retirement and commuting benefits. You're also paid a set hourly rate, which makes it easier to predict your income.
Signing up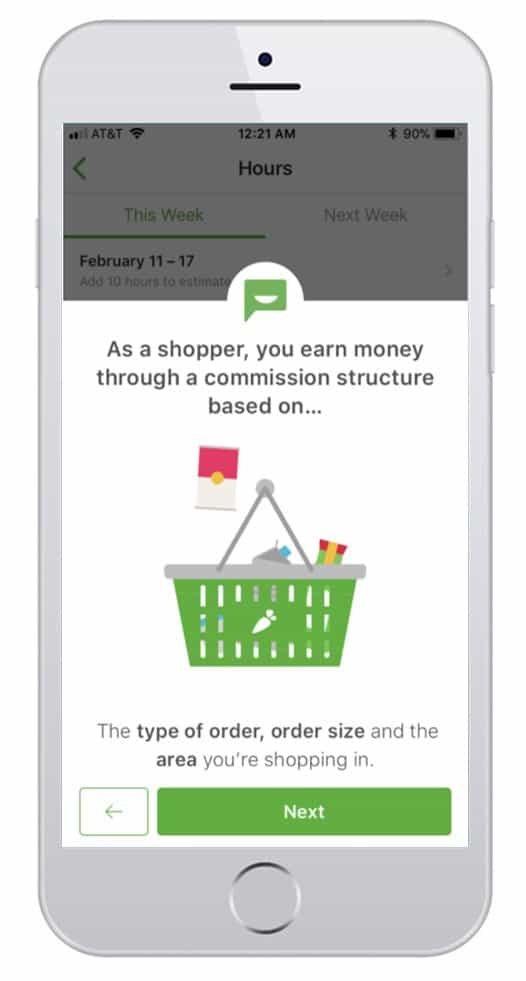 Once you've decided whether you want to do full-service or in-store shopping, you have to go through the sign-up process. This is relatively simple.
Fill out the form at shoppers.instacart.com to get started. You'll have to give some information about yourself and consent to a background check. Instacart will perform the background check at no cost to you and receive the results within a week.
If you pass the background check and signed up to be an in-store shopper, you'll be asked to attend an in-person orientation. This lasts for about two hours and lets you get a feel for the job. Full-service shoppers don't need to attend the orientation.
Next, you'll have to fill out required tax paperwork such as a W-9 or W-4 and sign an employee agreement.
Finally, you can download the shopper app and get started. You can use the app to set your hours, see jobs, and select the ones that you want. You can also use the app to track your earnings and contact Instacart if you need help.

Doing the work
You can start working each day at about 9 a.m. and continue working until the grocery stores in your area close. In some places, this can be late into the night, so it's easy to work whenever you have time.
During the hours that you set yourself as available, you will receive notifications on your phone about orders available to claim. Do your best to claim the jobs as quickly as you can. If you don't, they'll be automatically assigned to other shoppers.
Once you've claimed a job, go to the store and buy the requested items. You'll have to note your progress in the app and enter details about missing products or substitutions.
In-store shoppers will need to bag the groceries so they're ready for pick up. Full-service shoppers will deliver them to the customer's door. Once you complete a job, you can claim a new one and start the process over again.
Getting paid
You'll be paid weekly for all of the jobs you completed in the previous week. Full-service shoppers are paid by direct deposit, so you'll need a bank account to get the money. Full-service shoppers will also be responsible for paying estimated taxes due to their contractor status. You may want to think about paying quarterly taxes if you do a lot of shopping for Instacart.
In-store shoppers can be paid by direct deposit or by check. If you sign up as an employee, not a contractor, taxes will be taken out of your paycheck. You'll be limited to working part-time hours, though.
Instacart Shopper Help: FAQs
Shopping for Instacart seems pretty simple, but the process can get more complicated.
How much does Instacart pay?
The amount you can make by shopping for Instacart can vary widely.
Full-service Instacart shoppers have the most varied pay because it's based on order size and tips received from customers. Glassdoor says most shoppers make between $10 and $15 per hour, but you can make more if you shop quickly or get tipped well.
In-store shoppers are paid on an hourly basis and usually fall in the same $10 to $15 range, but they don't have the ability to receive tips.
How much shopping can I do?
Full-service shoppers are allowed to shop as they'd like. There's no limit to the number of orders that you can take in a given week.
In-store shoppers are limited to working fewer than 30 hours a week. You can't work more than 30 hours a week, even if you want to make extra money. If you need the extra cash, you might want to combine Instacart shopping with other gig-based work.
Who should shop for Instacart?
If you enjoy grocery shopping, have spare time, and want to make a bit of extra money, shopping for Instacart can be a good idea.
Don't go into it expecting it to become a full-time job. In-store shoppers are limited in the amount of hours they can work, and some weeks there might not be enough work available.
Related: 13 Ways to Make Money Delivering Food, Packages, and More
Instacart Shopper Review at a Glance
Working as an Instacart Shopper is an easy way to make extra money when you need it. You can also choose to be a part-time employee with benefits if you need something more consistent.
Pros:
A flexible way to make money quickly
Can work as an independent contractor or part-time employee
Weekly pay
Cons:
Need access to your own car to be an independent contractor
Must be able to lift and carry heavy groceries
Must pass a background check
Best for: People who have spare time, want to make extra money, and don't hate grocery shopping.
Instacart is a great service that helps people who don't have time or the desire to shop for groceries by delivering food to them. For those who enjoy grocery shopping, it can be a fun way to make a few extra dollars in your spare time.