14 Best Money-Saving Apps for 2023
Advertiser Disclosure
Our readers always come first
The content on DollarSprout includes links to our advertising partners. When you read our content and click on one of our partners' links, and then decide to complete an offer — whether it's downloading an app, opening an account, or some other action — we may earn a commission from that advertiser, at no extra cost to you.
Our ultimate goal is to educate and inform, not lure you into signing up for certain offers. Compensation from our partners may impact what products we cover and where they appear on the site, but does not have any impact on the objectivity of our reviews or advice.
There's a dizzying array of apps that claim to help you save you money or earn cash back. Some are fee traps and others provide great services. Here's what to look for based on your needs.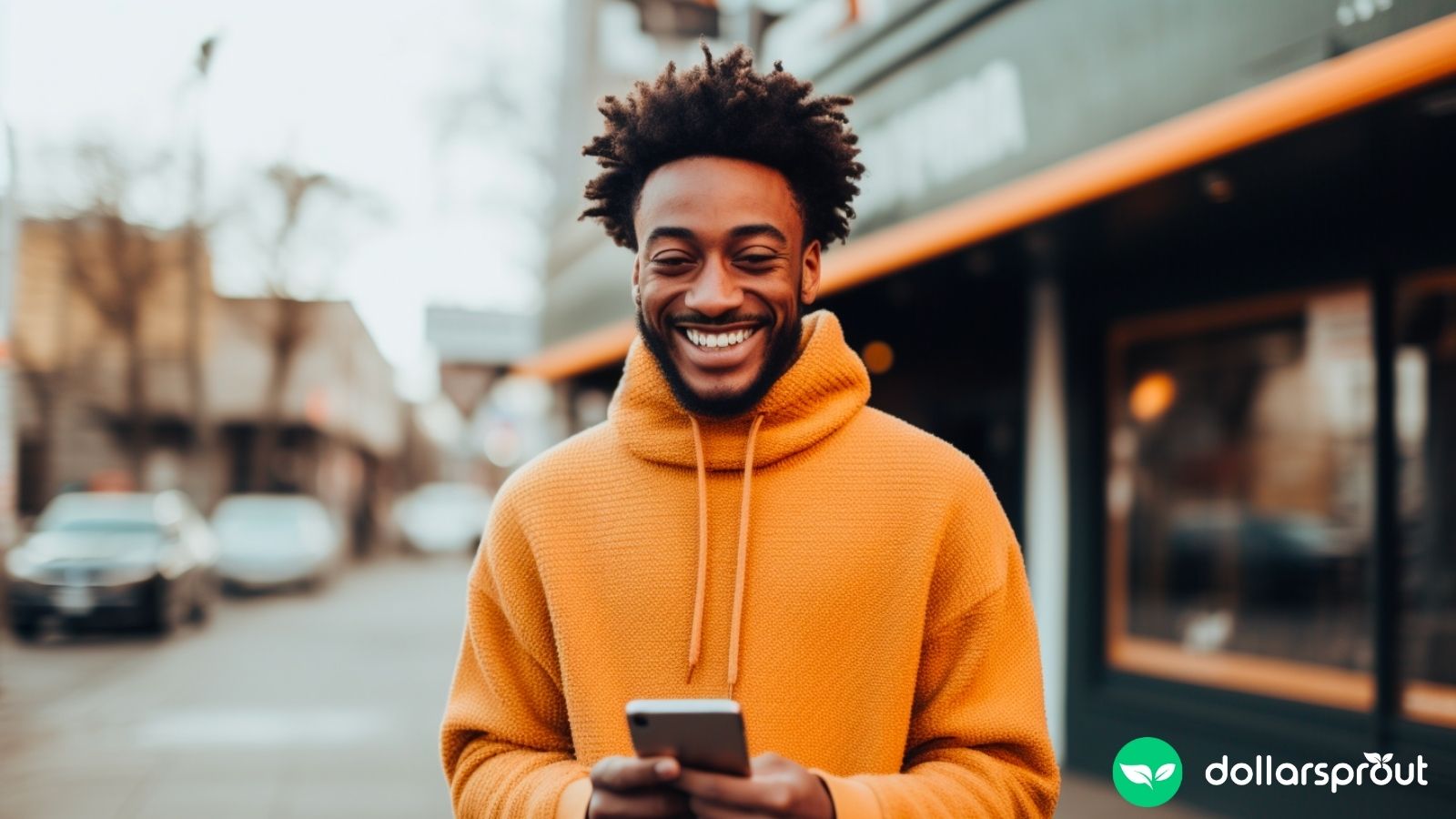 If you're looking for easier ways to manage your money and improve your savings habits, there's an app for that.
According to a Bankrate survey, nearly two-thirds of smartphone users have at least one financial app on their phone.[1] But because everyone has a different savings style, ranging from hands-on to set-it-and-forget-it, you'll need to find a tool that's the right fit for you.
There are three main types of money-saving apps: those that help you save money toward a goal, apps that help you save while shopping, and apps that help you cut back expenses. Depending on your goals and preferences, you might need some, one, or all.
To help you make the best decision, let's discuss the best money-savings apps in each category.
Best Automatic Saving Apps
We all know saving money is important, but finding the motivation or even remembering to tuck your money away can be the hard part. We found several apps that help you save money the way that works for you. Apps that round up change, for instance, move your spare change into a savings account.
For most of these, you'll need to download the app, set up a profile, and link your checking account or credit card.
1. Acorns: Best for new investors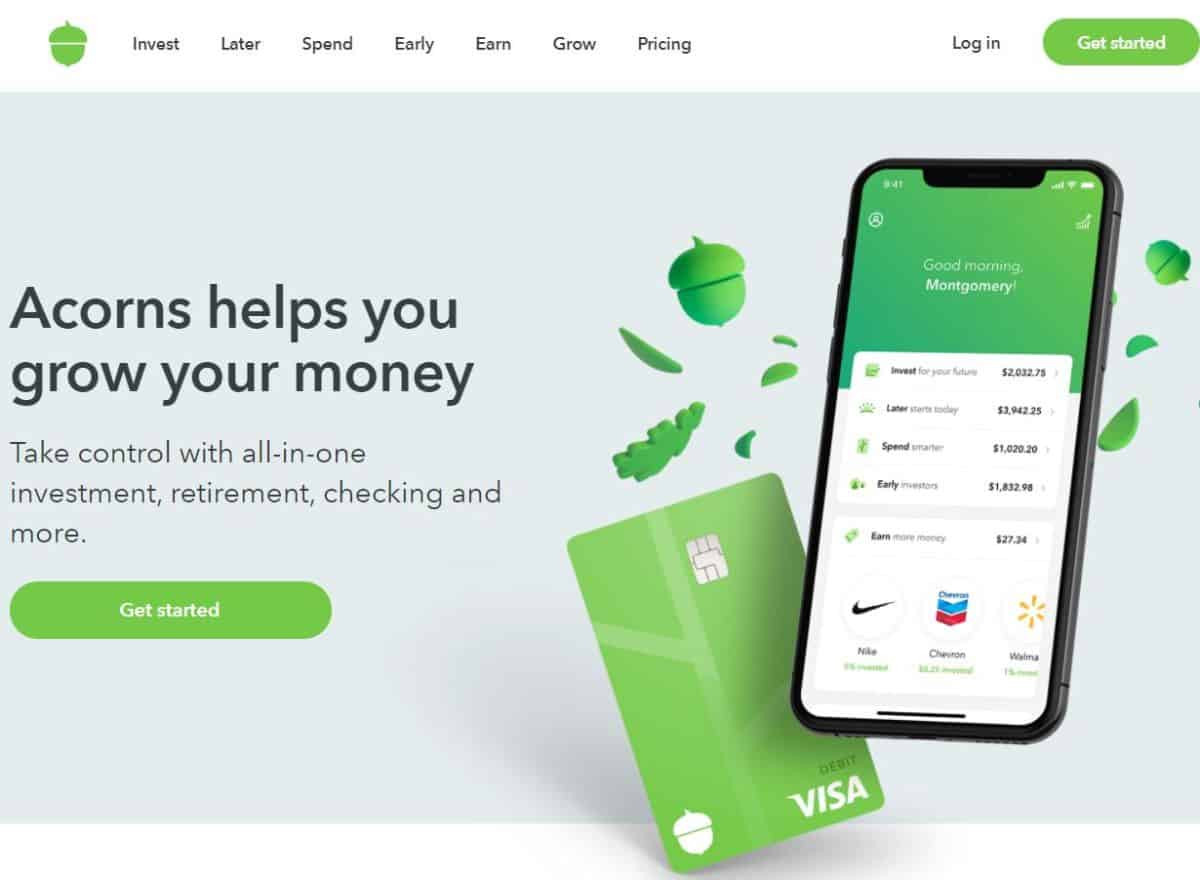 Acorns is an investing app that rounds up your purchases on linked credit and debit cards and moves that spare change into an investment portfolio. Once you get into the habit of investing small change, you can boost those round-ups by 2x, 5x, or even 10x. You can also set daily, weekly, or monthly recurring deposits.
To get you into the right investment portfolio, Acorns will ask you about your financial situation, income, goals, and risk tolerance. It will then recommend one of its five ETF-based investment portfolios, but you can override their selections.
There's even a rewards feature: When you spend with Acorns' partners including Airbnb and Nike, you get cash back.
It's a good app for beginners, but you might consider upgrading to another service for larger investments down the road.
Available on: iOS and Android
Price: $1–$5/month
Learn More: DollarSprout's Acorns Review
2. Qapital: Best for goal setting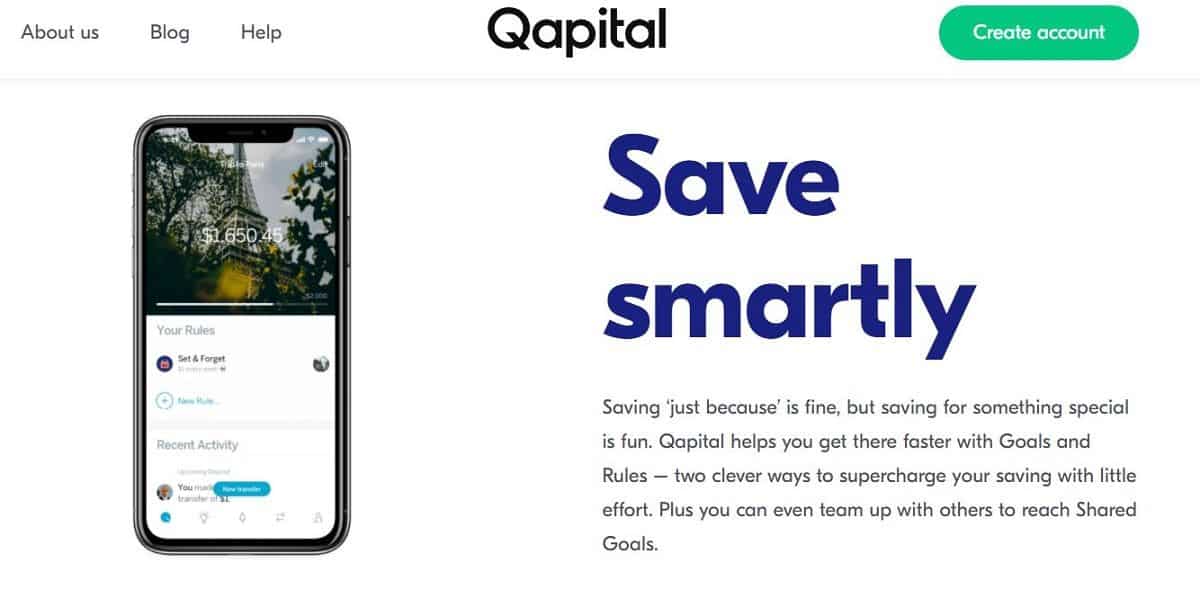 Sometimes you need a little fun to make a chore feel worthwhile. With Qapital, you can set up multiple rules that trigger savings, like saving a preset amount every time you post on Instagram or as a reward when you spend less than expected. Or you can choose a more straightforward approach, such as saving a percentage of each paycheck.
You also choose whether the money goes into an interest-bearing FDIC-insured account or an investment portfolio. With so many ways to save and track progress, it's a solid app for setting goals. According to the company, the average user saves $5,000 a year.
Available on: iOS and Android
Price: 30-day free trial, then $3–$12/month
3. Simple: Best banking alternative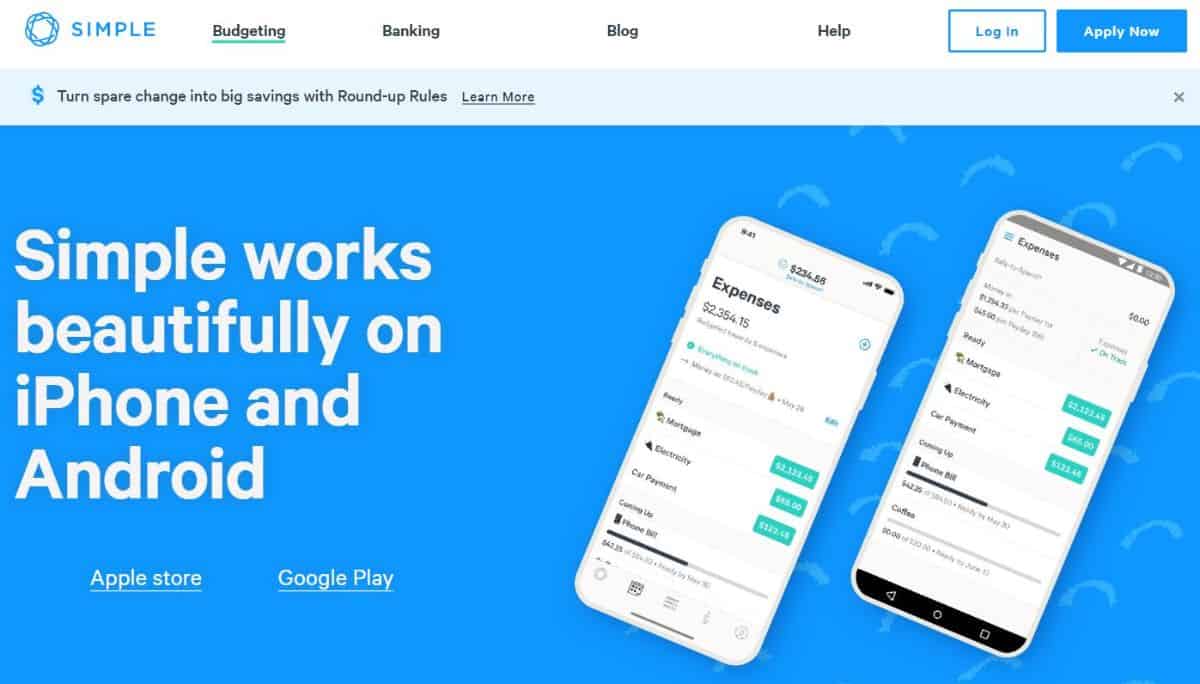 Simple is an all-in-one savings app that offers a free checking account, debit card, and budgeting tools. To help you avoid overspending, the app scans your available funds and shows you how much you can safely spend each week. It can also automate your savings by rounding up every debit transaction to the nearest dollar and automatically moving the money to an FDIC-insured savings account.
Simple banking accounts are mobile-first, so it's a good tool for those who prefer banking on a smartphone. But because it doesn't have brick-and-mortar branches, you might look elsewhere if you think you'll need in-person help.
Available on: iOS and Android
Price: Free
4. Digit: Best for simplicity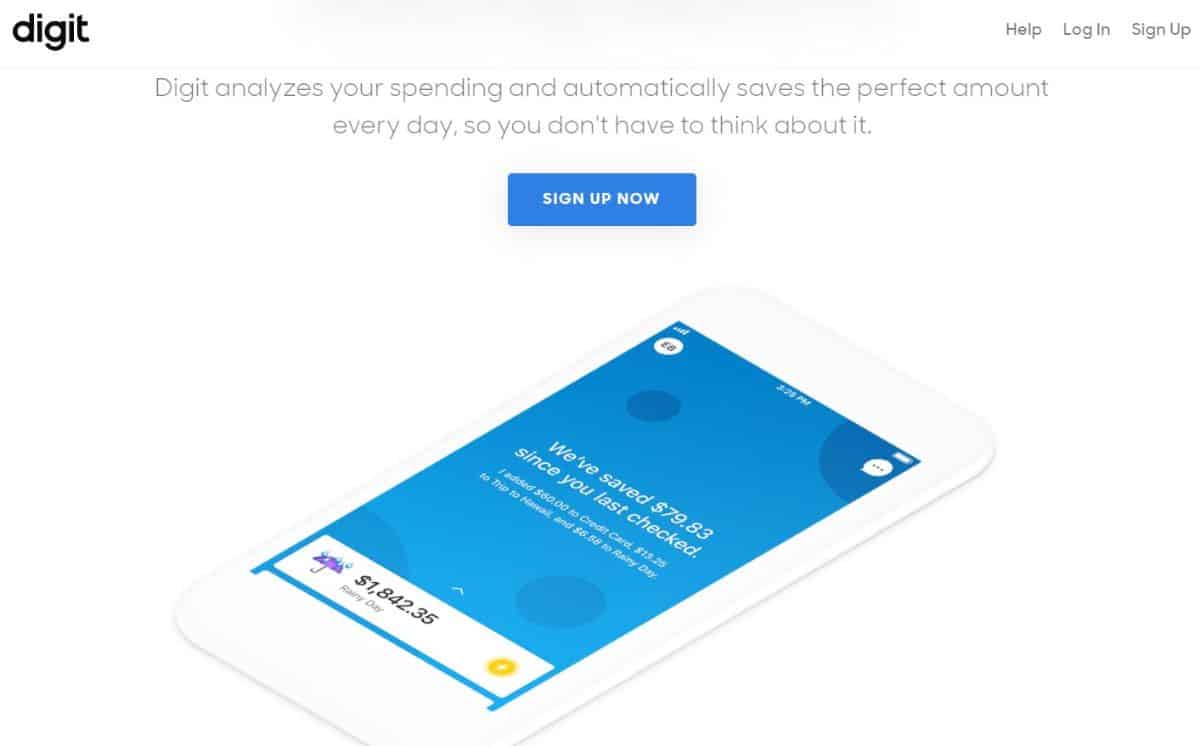 Digit is a savings app that calculates what you can save based on your checking account balance, spending patterns, and the goals you've set up with the app. It then automatically moves money into an FDIC-insured savings account and distributes the money among your goals. You also get a 0.5% savings bonus every three months based on your average daily Digit balance. So if your average daily balance is $1,000, then you would earn $5.
The nice thing about Digit is that it simplifies a lot of the legwork. Your income, expenses, and spending might change from week to week, so Digit's number-crunching can go a long way in saving you money and time.
Available on: iOS and Android
Price: 30-day free trial, then $5/month
Learn More: DollarSprout's Digit Review
5. SmartyPig: Best free money savings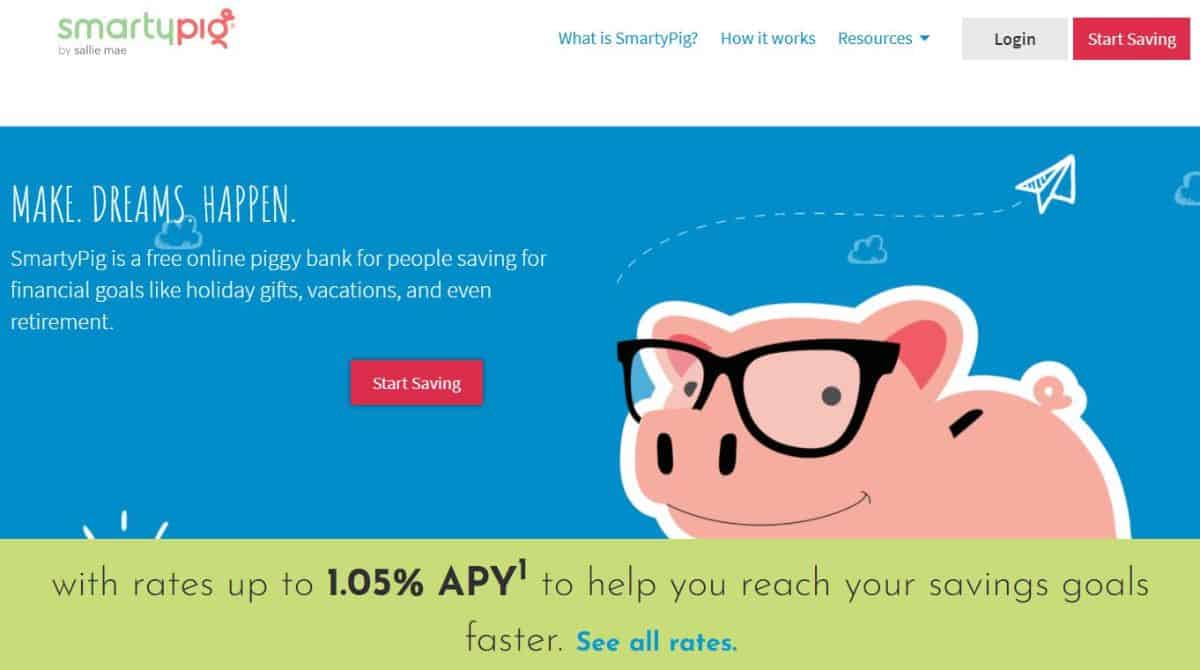 SmartyPig allows you to create multiple money market accounts that act as virtual "piggy banks." You attach goals with deadlines to each, such as "Europe trip 2021, $3,000″ and can either automate your savings from a linked checking account or manually move money into the FDIC-insured accounts. SmartyPig also tracks your progress on each goal, which you can adjust anytime.
It's a money-saving app that's easy to use, and because it takes a few days for any withdrawn funds to hit your checking account, the buffer can help if you're tempted to drain your savings. But its best feature is that it's free.
Available on: iOS and Android
Price: Free
6. Chime: Best for spotty banking history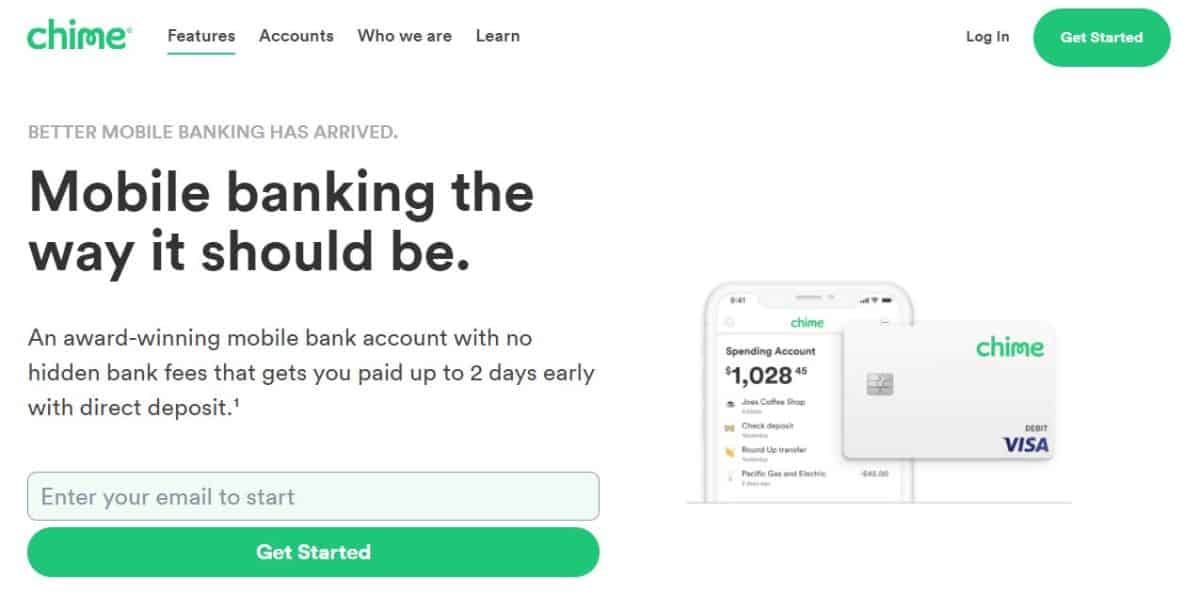 Chime is a financial technology company, not a bank. Banking services provided by, and debit card issued by, The Bancorp Bank or Stride Bank, N.A.; Members FDIC.
Chime is another free money-saving app that includes other banking services, including checking and savings accounts. Through the app or a browser, you can automatically save a percentage of every paycheck or ask Chime to round up your purchases and tuck away the rest into savings.
Chime is a helpful option for people with a spotty banking or credit history because the bank doesn't run a credit check or look at your ChexSystems report before you can open an account. That's part of the bank's "second chance banking" program, which also includes zero overdraft and monthly maintenance fees and no minimum balance requirements.
Available on: iOS and Android
Price: Free
Best Money-Saving Apps for Shopping Savings
No one wants to pay more for something than they have to. But the old-school method of clipping coupons (and remembering to bring them with you) can be pretty inconvenient. Enter cash-back apps, which can help you save money on just about any purchase using your smartphone or browser extension.
7. DollarSprout Rewards: Best browser extension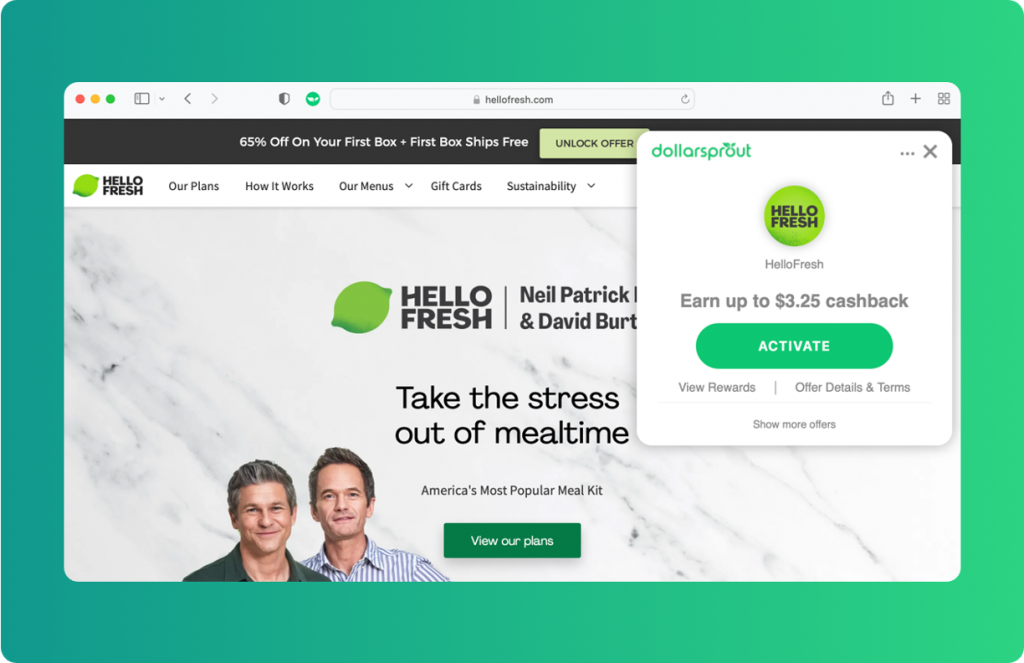 DollarSprout Rewards is a free coupon-finding browser extension that alerts you to better prices for your online purchases. Once you install the extension, the extension will send pop-up notifications when you're shopping on a site that has digital coupons or a cash back offer available.
It's an easy way to save money on everyday online purchases and there's absolutely zero cost to you. Entirely free cash back at the click of a button.
Available on: Chrome (Desktop) and Safari (Desktop)
Price: Free
8. Swagbucks: Best for earning rewards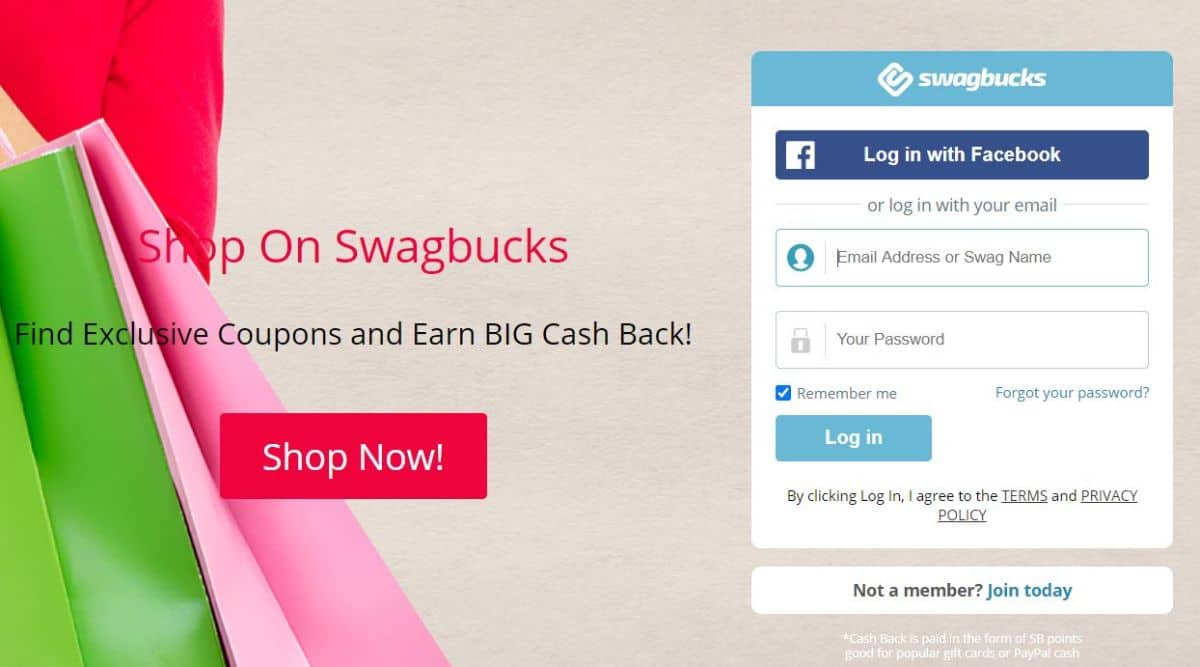 Swagbucks is a website where you can earn rewards for taking online surveys, playing games, shopping, and watching videos. Once you sign up for an account and fill out a profile survey, the site looks for points-earning matches for your demographics.
You earn points, known as SBs, for completing these tasks and can redeem them for gift cards. There are even more chances to earn SBs when you shop at Swagbucks partners, including Amazon, Walmart, Target, and Starbucks.
Available on: iOS and Android
Price: Free
Learn More: DollarSprout's Swagbucks Review
9. Fetch Rewards: Best for simplicity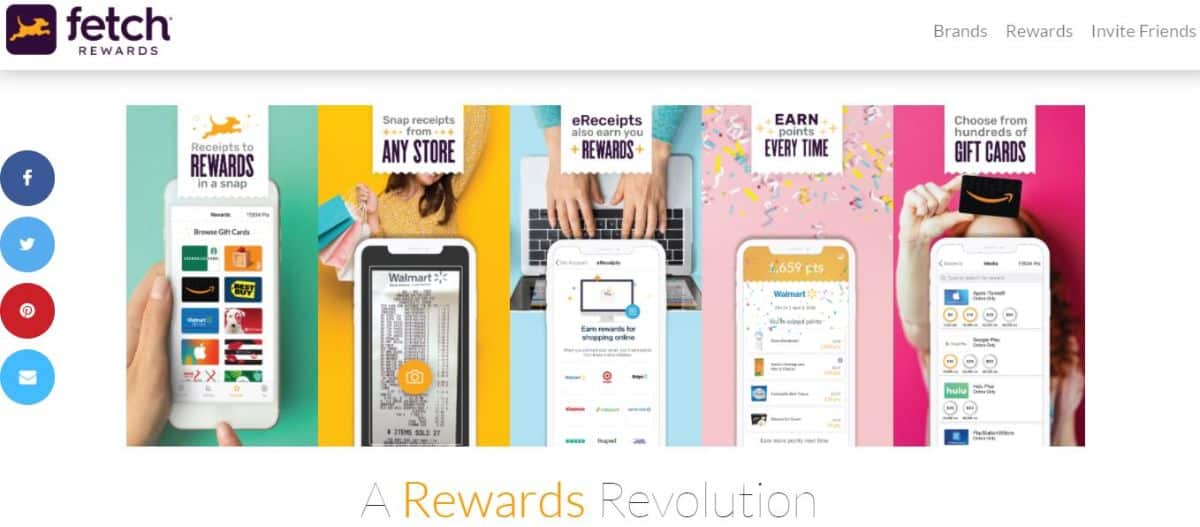 Fetch Rewards is a free mobile app that lets you earn rewards by taking pictures of your receipts. If the receipt contains participating brands, you'll earn points based on the cost of the product. You can redeem points for gift cards, donate them to charity, or use them to enter monthly sweepstakes.
It's a good tool if you don't want a browser tracking your searches and purchases, you don't have the time to earn rewards by completing tasks, or you don't want to fuss with coupons (even digital ones).
Available on: iOS and Android
Price: Free
Learn More: DollarSprout's Fetch Rewards Review
Best Apps for Budget Tracking
According to another Bankrate survey, 21% of consumers aren't saving any money at all, typically because everyday expenses use up most of their hard-earned dollars.[2] But the best budgeting apps can help you make way for savings.
10. Trim: Best browser service for hands-on savings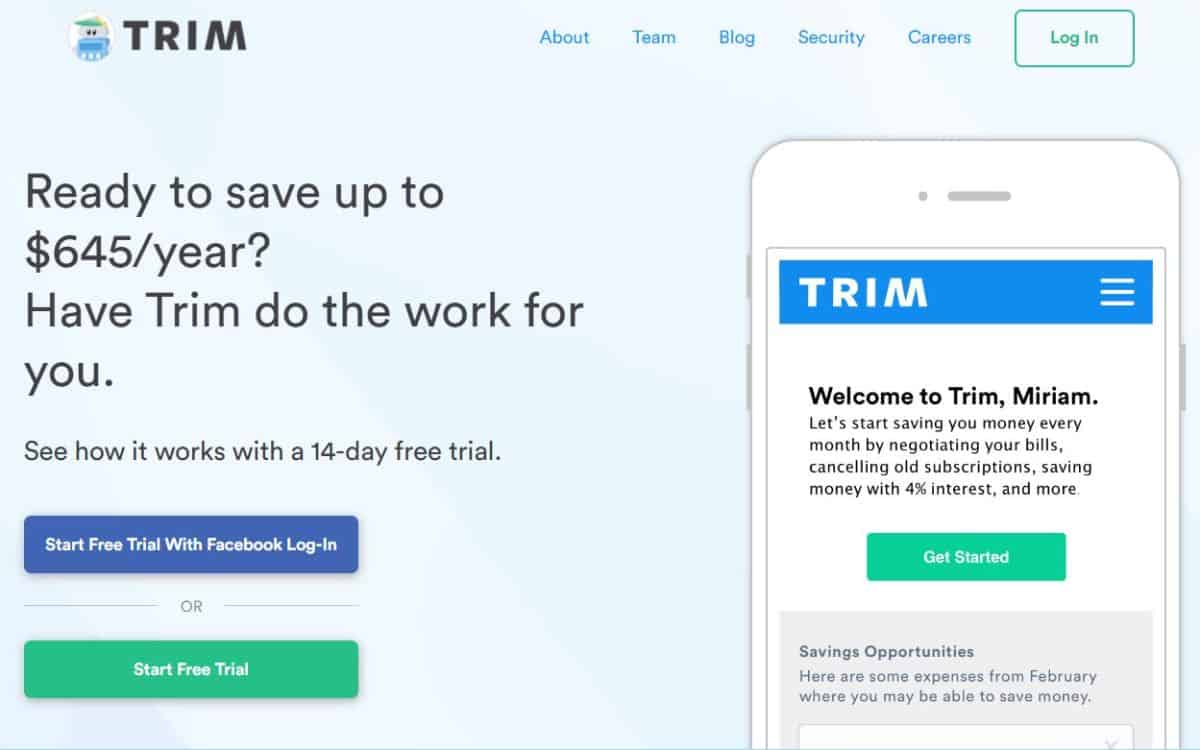 Trim is a service that helps you negotiate your bills and cut out unused subscriptions like those pesky trials you forgot to cancel. There's no app, so you'll sign up online and connect your bank accounts.
Then, Trim analyzes your transactions to find recurring expenses and sends you alerts. If you're not interested in keeping recurring services, Trim cancels them for you or offers to negotiate your bills on your behalf. If you end up saving money, Trim takes 33% of the amount you save in your first year.
Available on: Your smartphone's web browser
Price: Free to set up; if you use bill negotiation, Trim takes 33% of your savings
11. Rocket Money: Best app for hands-on savings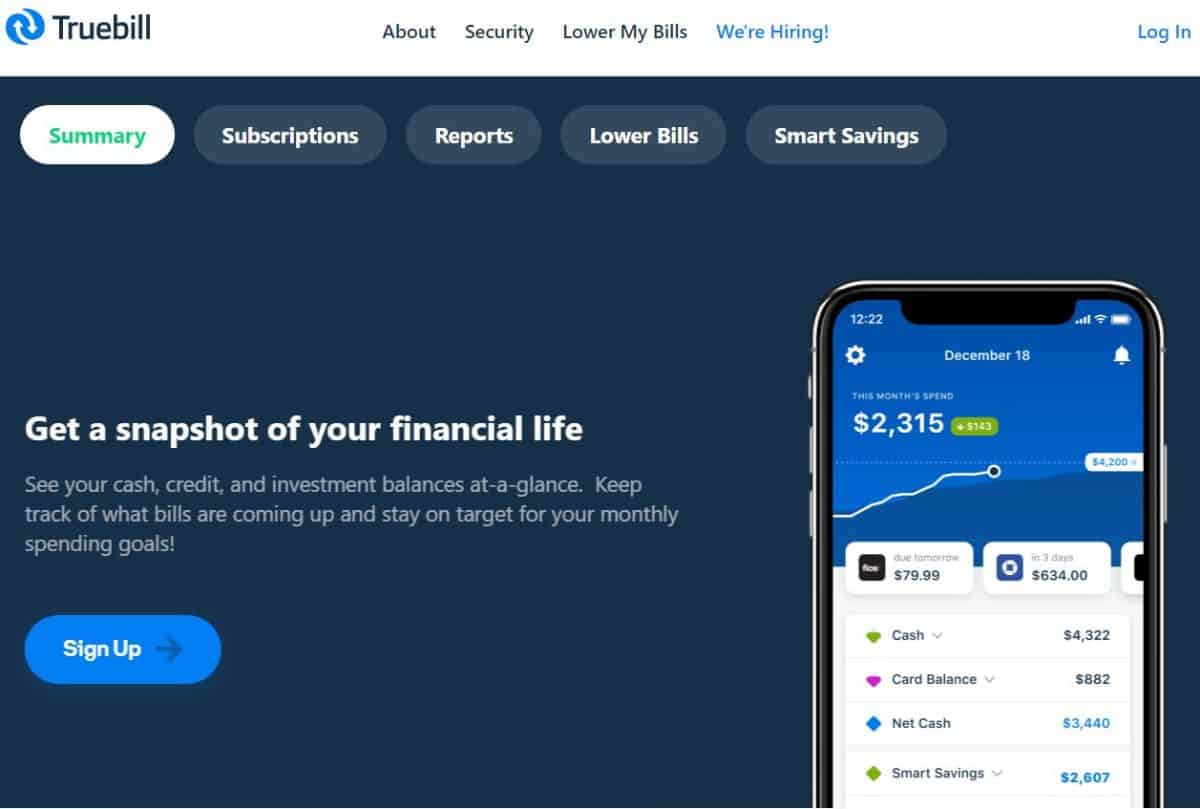 Rocket Money is an app that connects to your financial accounts and monitors your spending and expenses, then negotiates your bills for free. It's a lot like Trim, with a few key differences. If you wind up saving money, both services take a percentage of your savings. Rocket Money takes 40% (versus Trim's 33%) and has fuller budgeting capabilities, including a monthly spending report.
One of the main differences between Rocket Money and Trim is the logistics of using them: Trim doesn't offer an app, while Rocket Money does.
Available on: iOS and Android
Price: Free to set up and use; optional Premium service is $3–$12/month.
Learn More: DollarSprout's Rocket Money Review
12. Empower: Best all-in-one app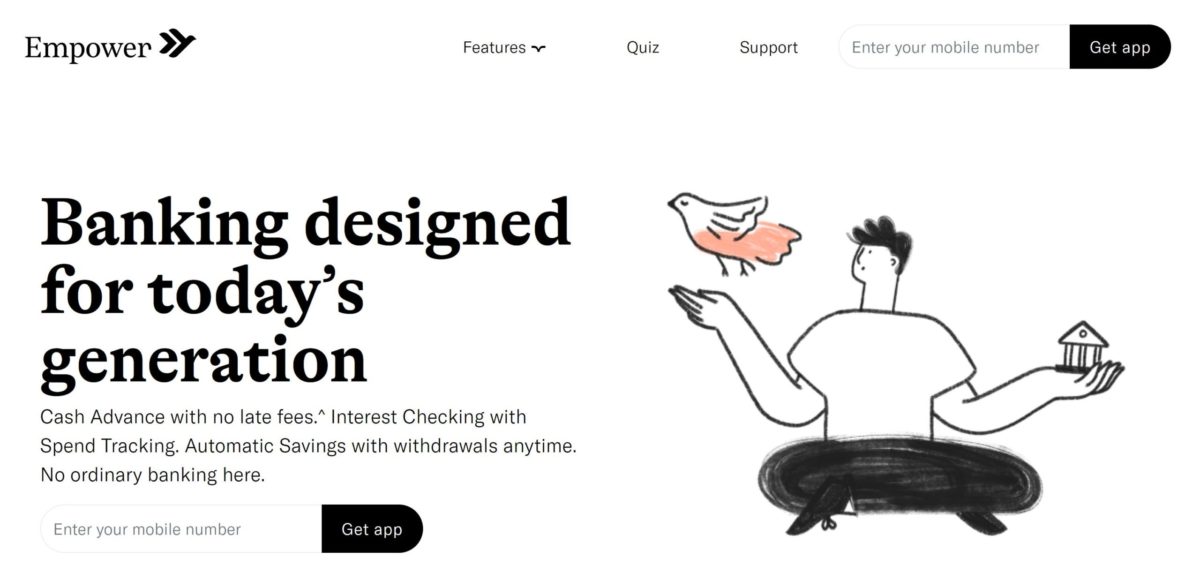 Empower is an app that combines some of the best features of other money-saving services, including Cash Advance of up to $250*, Automatic Savings, budget tracking, customized recommendations, and Interest-bearing Checking. Once you link the app to your checking account, it analyzes your balance every day and transfers money to your AutoSave Account when you can afford to do so. If you don't have enough funds in your checking account one week, Empower will try again the following week.
Empower also analyzes your spending patterns, income, and expenses to offer personalized money-saving recommendations. You'll also receive alerts for things like bank fees, bill increases, and missed payments.
Users can't set up multiple savings goals, but the other features of this app more than make up for this shortcoming.
Available on: iOS and Android
Price: Free for 14 days, then $8/month
*Eligibility requirements apply. Free instant delivery is available for eligible Empower Checking Account customers with an activated debit card. Banking services provided by nbkc bank, Member FDIC.
13. Tiller: Best for spreadsheet budgeting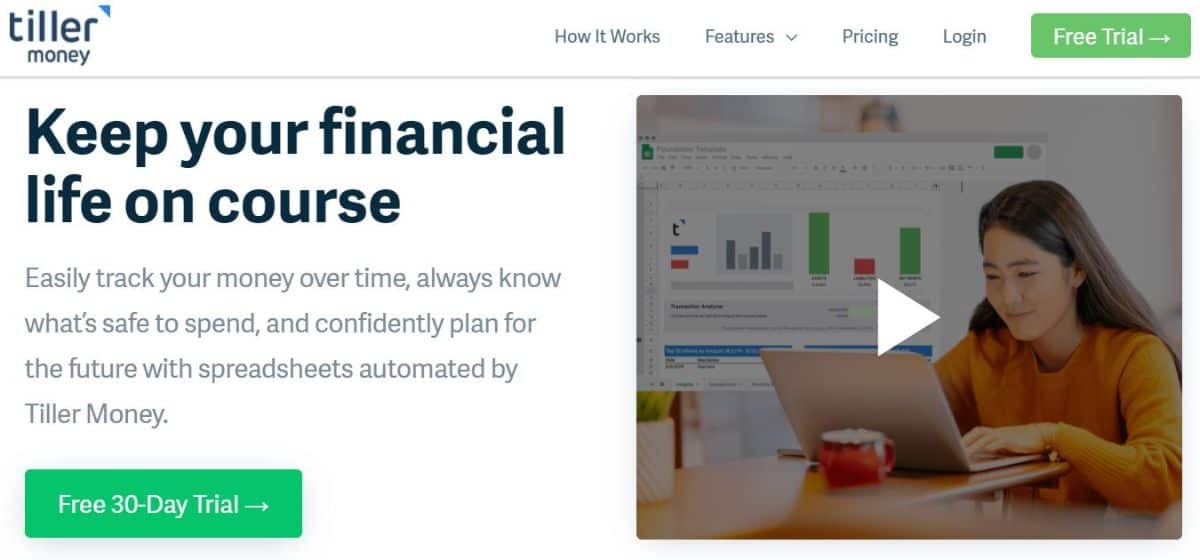 Tiller is a customizable budgeting add-on that works with Google Sheets and Excel. Once you connect your bank, credit card, and other financial accounts, Tiller pulls that information into your spreadsheets and continually syncs the accounts.
With the standard Foundation Template, you can check your net worth, divide your transactions into more than 200 categories, share your spreadsheets with other people, and more. While this tool doesn't automatically trim your expenses, you get an in-depth look at all of your accounts in one place.
The Monthly Budget tab shows you how much of your budget is allocated for each category and what percentage of your budget is left compared to how many days are left in the month. By checking this tab, you can either adjust your spending accordingly or change how much of your budget to allocate to a certain category.
Available on: No app available; uses Google Sheets or Excel
Price: Free for 30 days, then $79/year
14. Undebt.it: Best for debt payoff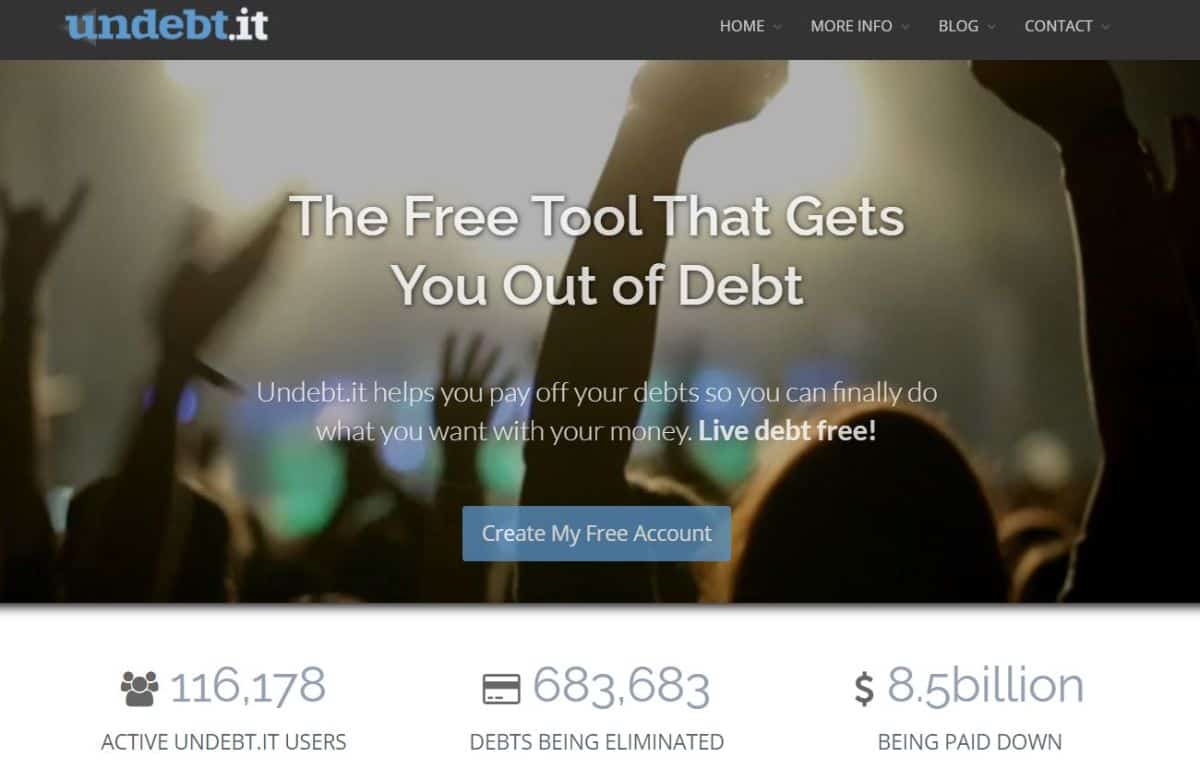 Undebt.it is a tool that helps you set up a customized debt-payoff plan. Once you set up an account, you enter your debts along with how much you owe, the interest rate, minimum payment, and due date. Undebt.it lists the information on your easy-to-read dashboard and uses the information to calculate your debt-repayment plan.
There are many debt-payoff strategies, and it might be hard to figure out which one is best for your situation. Undebt.it compares several debt-payoff methods (including the "debt snowball" and "debt avalanche") to help you figure out which is best for you, but it also lets you customize the plan according to your own goals.
Undebt.it says users are paying off $9 billion in debt using the service.
Available on: Web browsers
Price: Free; $12/year for the premium version
Is It Worth Paying for an App That Helps You Save Money?
Paying for a money-saving app sounds like contradictory advice, but the top money-saving apps are worthwhile if they help.
First, figure out which app works with your saving and spending style. If you need help understanding how much you're spending, finding ways to cut back your expenses, and saving money automatically, then choose an automatic savings app that offers guidance. But if you like being in control, then a hands-on app is best for you.
Then, estimate how much you could save with the app and compare that amount to the price. If you're on a tight budget, consider starting with a free service and then moving to a paid subscription once you have some money tucked away. Or, you could start with a savings or budgeting app, then only sign up for a shopping app if you have the time and money for it.
Generally, good money-saving apps support you where you need help so you can hit your financial goals faster.