Earny Review: The Price Drop App That Saves Users $300 per Year
Advertiser Disclosure
Our readers always come first
The content on DollarSprout includes links to our advertising partners. When you read our content and click on one of our partners' links, and then decide to complete an offer — whether it's downloading an app, opening an account, or some other action — we may earn a commission from that advertiser, at no extra cost to you.
Our ultimate goal is to educate and inform, not lure you into signing up for certain offers. Compensation from our partners may impact what products we cover and where they appear on the site, but does not have any impact on the objectivity of our reviews or advice.

When I moved into my first home, I had to buy new appliances.
After doing plenty of research, I found a great deal on a Samsung fridge and dishwasher. Less than 24 hours after I bought these appliances, I received an email saying they were now on sale. I was frustrated, to say the very least.
If I'd had the Earny app, it would've been easy for me to get a refund for this price drop. With Earny, you don't have to worry about disputing a charge or contacting customer service when an item you've already bought goes on sale. It can ensure you're getting the best possible deal on your online purchases.
What is Earny?
The Earny app scans the digital receipts in your email inbox to analyze your purchases. When prices drop on the items you've already bought, it gives you cash refunds automatically.
Earny takes the time and hassle out of getting refunds on price drops. It does all the work for you so you don't have to research the policies of various retailers and claim refunds on your own.
Earny is a great option for users who frequently shop online and are looking for an easy way to save money with little to no effort.
How Does Earny Work?
Earny's price protection app is quick and straightforward. As long as you have a computer or mobile device, you shouldn't have any issues using the app.
Download the app
You'll download the Earny app on your Android or Apple device. You can also sign up on a desktop or laptop by visiting Earny's website.
Link to your email account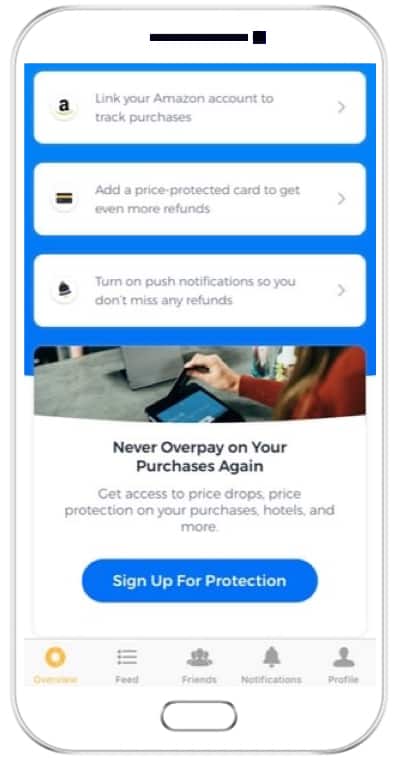 You'll have to create an account with Earny and choose your email provider (Gmail, Microsoft, Yahoo, or Other) and sign in to your account.
When you sign up, use the email address you send your shopping receipts to. If you sign up with one email address but send a receipt to a different one that's not associated with an Earny account, then the app won't be able to track to the purchase and look for better deals.
Earny will then ask you if it can have access to your email. Choose "Allow" to agree to its terms of service and privacy policies.
You can add as many emails as you'd like, but you'll need to create a new account for each.
Get cashback
Earny will notify you when it finds a refund opportunity. It will take about 7 to 10 days to receive a refund. Chase, Mastercard, and Visa will mail you their refunds, and Citi will refund the money back to your account.
Keep in mind that you won't receive refunds for any items you buy with cash.
Related: The Best Cash Back Apps For Shopping We Use to Save Money On Everything
Earny Hotels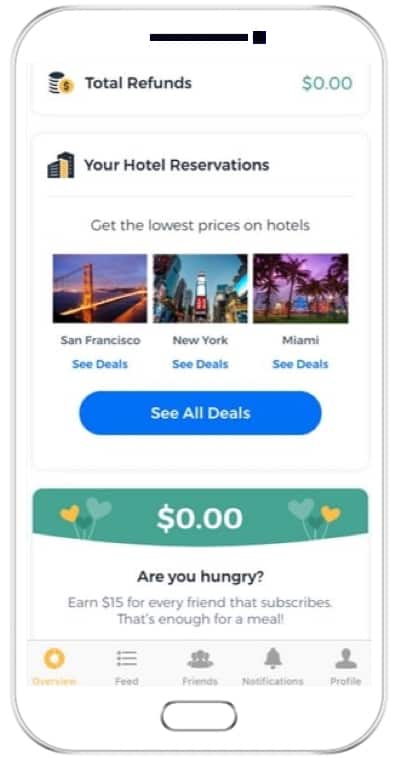 After you book a hotel stay, Earny will use your confirmation email to look for price drops. If they find a lower price, they'll notify you and let you know how you can rebook your stay at a lower rate. Also, as an Earny user, you can lock in exclusive rates of up to 60% off public prices.
Since your hotel room's price may change dozens of times prior to your check-in, this is a great perk, especially if you travel frequently.
Earny Instant Deals
With Earny Instant Deals, you can access the most significant price drops in real-time. The app tracks millions of purchases per day to uncover these price drops for its users. You can go to the Early Instant Deals section of the app which will redirect you to the retailer sites so you can buy the deal.
Earny FAQs
Once you download Earny, you'll likely find it to be intuitive and easy to use. However, you may still come across some questions.
Is Earny safe to use?
Earny pledges that your information will be stored safely and securely. Rather than saving your email credentials, the app will authenticate directly with your email provider.
Earny also uses multi-level security encryption and VPN systems such as threat detection, dynamic data masking, and activity monitoring. In addition, its access is restricted by a firewall that blocks any unknown IPs and is secured by two-factor authentication.
Who should use Earny?
Earny started when one of its co-founders, Dori, bought a blazer for $129 at Zara and found out its price dropped by $65 a week later. Thanks to price protection from her credit card company, she was able to get a $65 refund.
After co-founders Dori and Oded realized how much money they could save through refunds, they wanted to help other consumers do the same. Anyone who shops with Earny's partner retailers, including Walmart, Target, Costco, Sears, and more, may benefit from their services.
What would you have to do if you wanted to earn refunds on price drops but didn't have Earny?
You would have to keep a list of every item you buy and every store that sells it. Then you'd need to track every item for price drops in each store. If you do find a price drop, you'd have to submit a price adjustment claim by filling out a form. Earny does this on your behalf so you don't have to waste your time and energy.
How much does Earny cost?
It's free to create an Earny account. With the Lite plan, there's no monthly or annual fee, but Earny will only track your purchases. In order to capture price drops, you'll need to sign up for a paid subscription.
You can pay an annual fee of $47.99, which works out to $3.99 per month, or sign up for the $7.99 monthly subscription. With the subscription plans, you can:
Get money back on your purchases when prices drop
Get compensated by Amazon when your packages are shipped late
Lock in full protection on covered retailers and major travel booking sites
Claim a ShopRunner membership for free 2-day shipping and returns ($100 value)
According to Earny's founder Oded Vakrat, the average Earny user receives more than $300 back per year so the cost may be worth it if you shop frequently enough.
How does Earny work with Amazon?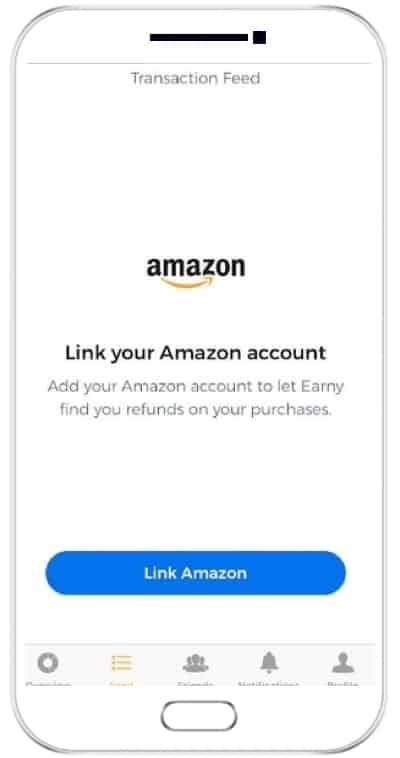 Earny allows you to get cashback when an item you buy drops in price on Amazon. This is great news as Amazon doesn't offer its own price protection policy. You'll need to link to your Amazon account through the app to ensure you're protected.
Earny vs. Paribus: How do they compare?
Paribus works like Earny as it also scans your email for digital receipts and alerts you to possible refund opportunities when the prices on your purchases drop. Both apps work with Amazon as well.
Earny differs from Paribus because it shares your contact information with the company it partners with. This means you may get more promotional emails if you sign up with Earny. Also, it offers price protection for credit cards, a feature that Paribus no longer provides.
How can I delete my Earny account?
You can delete Earny at any time. Simply click on "Profile" on the app or website and scroll to the bottom to select "Remove Account."
Related: 10 Best Shopping Apps for Epic Savings on Everything
Bottom Line
By signing up with Earny, you can enjoy worry-free spending because you'll no longer have to spend hours researching the best price and then tracking the item after you've bought it.
All you have to do is download the price protection app or use the website, pay a small subscription fee, and let Earny work its magic on your behalf.
$7.99/month
Price
$47.99 if billed annually
Automatic refunds but doesn't cover all credit cards
Earny is an app built to help users save money. The app scans and tracks your purchases for price drops. When an item you previously bought goes on sale, Earny will capture the savings on your behalf. According to the site, users receive an average of $75 in refunds.
Show

Hide

more
Pros
Refunds automatically applied to your account
Works with a variety of online retailers
Top security with AES-256 and RSA-2048 encryption
Tracks receipts up to 90 days in the past
Credit card price protection service
Cons
Costs to use
Credit card refunds rather than direct deposits
Doesn't work with Discover or American Express credit cards
App requires full access to your email
May encourage you to spend more money