5 Apps That Will Pay You to Lose Weight
Advertiser Disclosure
Our readers always come first
The content on DollarSprout includes links to our advertising partners. When you read our content and click on one of our partners' links, and then decide to complete an offer — whether it's downloading an app, opening an account, or some other action — we may earn a commission from that advertiser, at no extra cost to you.
Our ultimate goal is to educate and inform, not lure you into signing up for certain offers. Compensation from our partners may impact what products we cover and where they appear on the site, but does not have any impact on the objectivity of our reviews or advice.
The prospect of getting paid to lose weight is an exciting incentive for something you already want to do. These weightloss bet apps and programs pay you money when you successfully reach your weightloss goals.
Our number one goal at DollarSprout is to help readers improve their financial lives, and we regularly partner with companies that share that same vision. If a purchase or signup is made through one of our Partners' links, we may receive compensation for the referral. Learn more here.
Everyone has their own motivation for losing weight.
Sometimes it's because you want to wear clothes you fit into years ago. Or maybe your doctor said some of your health problems could be relieved if you lost some weight.
But finding the motivation and discipline for weight loss is hard. A survey from 2013 to 2016 found that half of the adults surveyed reported trying to lose weight at some point in the previous 12 months.[1]
With so many different types of diets, workout plans, and apps available, it seems overwhelming to find a specific plan to follow.
That's where getting paid to lose weight comes in. Money can be a powerful motivating factor, and the consequences are real when you lose money from your wallet. These weight loss bet apps and programs pay people money when they successfully reach their weight loss goals.
But not all apps that pay you to lose weight are made equally. Research the various options and find which one works best for your goals and lifestyle.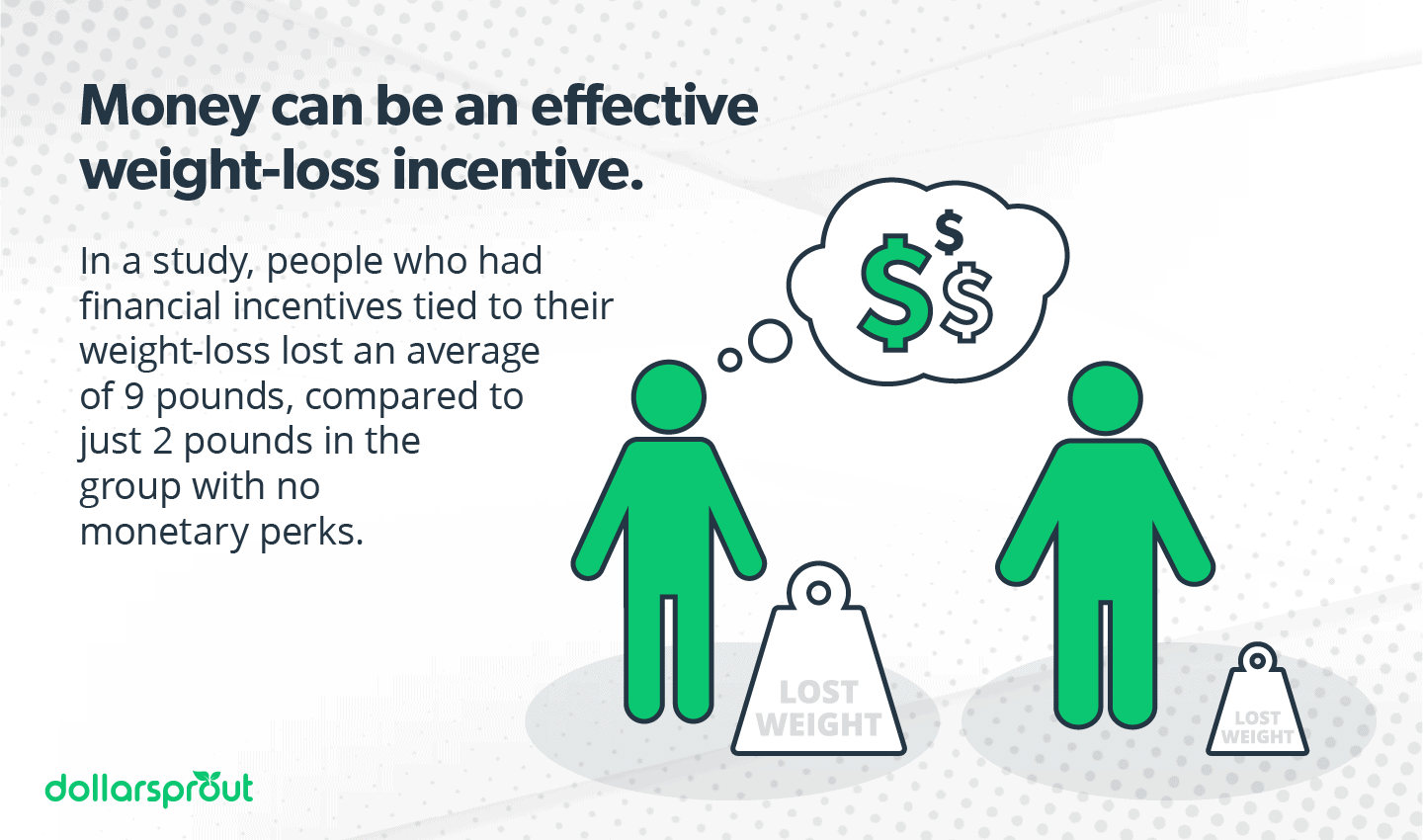 5 Apps that Pay You to Lose Weight
With so many different kinds of diet bet apps to choose from, sifting through them can be confusing. Here are five highly reviewed apps to check out.
1. HealthyWage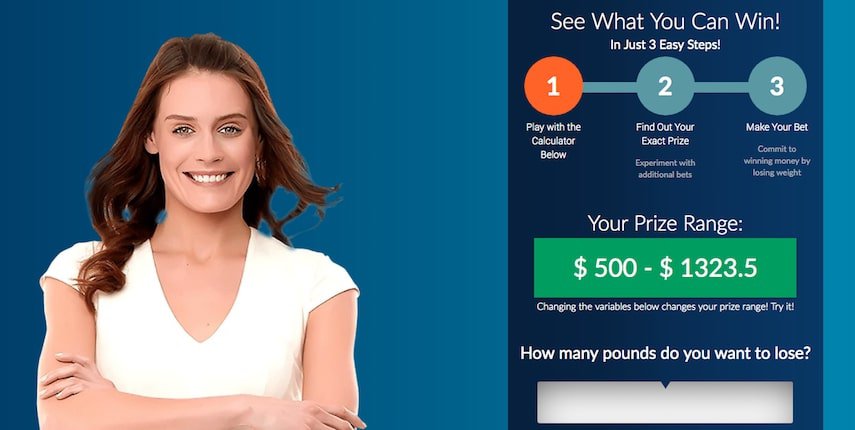 HealthyWage is one of the premier weight loss apps. It has a simple premise — people decide they want to lose weight and place a bet on themselves.
How it works
Users pick an amount they want to lose and then decide how much money they want to wager. HealthyWage has a prize calculator that determines how much you can win. Then you decide how much time to give yourself. If you register as a team, the total winnings can equal up to $10,000.
It should be enough to motivate you to stick to your workout plan, even if you've struggled in the past. If you need more time, you can extend the bet by buying more time.
Pros
The app's payouts are significant, and you'll win cash — no need to convert points into a gift card.
Cons
There's no way to cancel the bet once you've started. If you have a personal tragedy or a health problem, you'll still have to complete the bet. The only way to get your challenge suspended is if you get pregnant.
Related: DollarSprout's HealthyWage Review
2. DietBet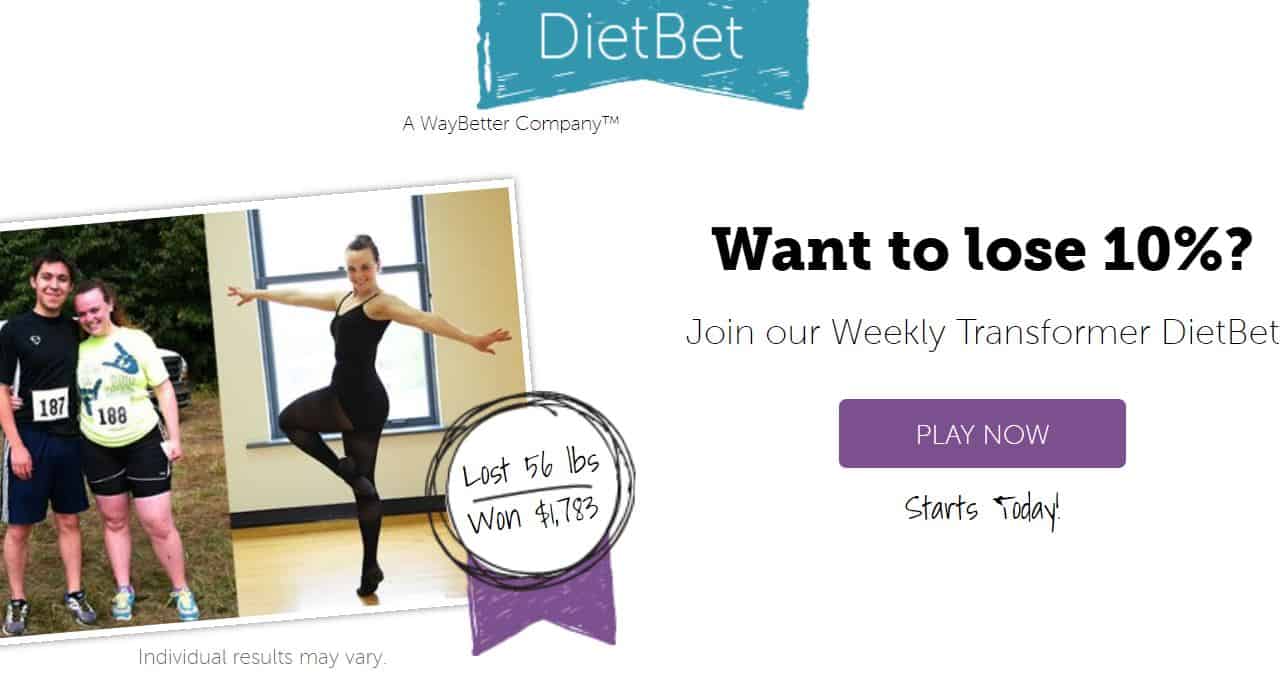 DietBet is another weight loss app that pays you when you reach certain weight loss goals. You can't win as much as with HealthyWage, but you might be more likely to win something.
How it works
DietBet offers three different challenges you can join:
Kickstarter: Lose 4% in 4 weeks
Transformer: Lose 10% in 6 months
Maintainer: Keep it off for 12 months
Pros
The long-term challenges make it easier to win some money. DietBet also discourages people from trying to lose weight in an unhealthy way, so you can't win if you've lost too much weight at the end.
Cons
The amount you win depends on who else is competing with you. The more people that win, the smaller the payout will be. You also have to pay your bet upfront.
DietBet charges the following fees:
25% fee for bets between $0-$99
20% fee for bets between $100-$249
15% fee for bets between $250-$500
10% fee for bets more than $500
3. Achievement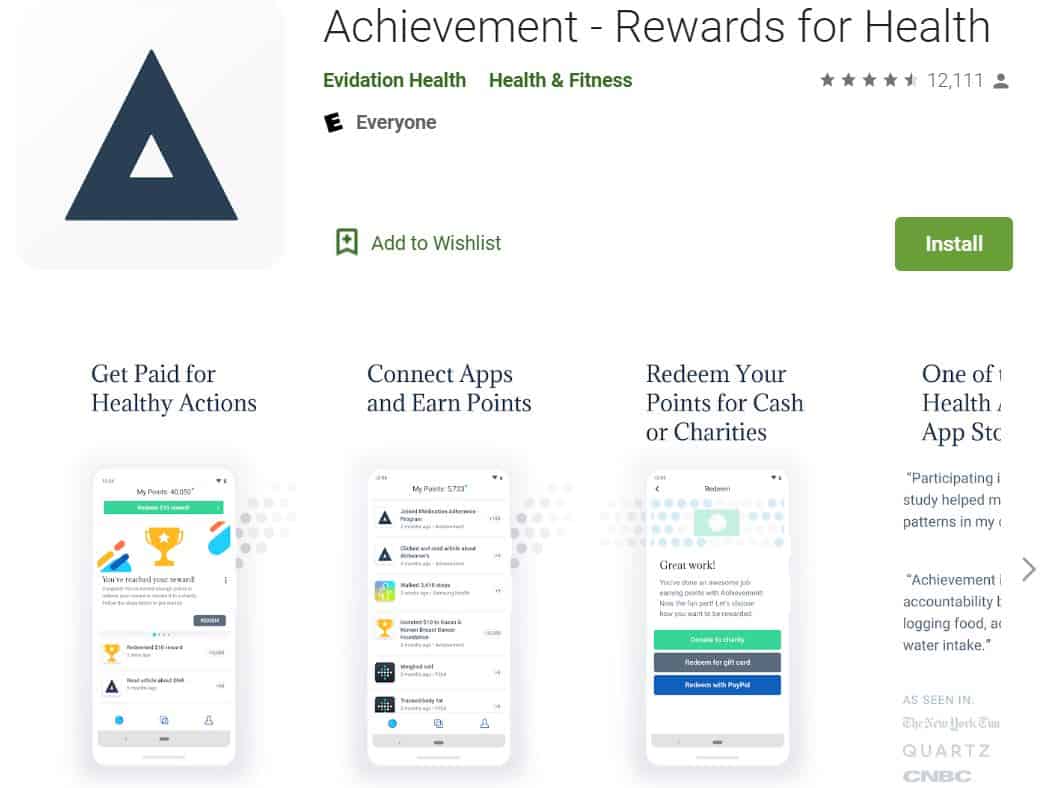 Achievement is an app where users can earn points which can be redeemed for rewards. Users can earn up to 80 points per day for tracked activities such as biking, running, or walking. Other non-physical activities such as logging your sleep or meditating will earn you up to 6 points for each activity.
How it works
You can redeem 10,000 points for a $10 reward. It can take 5 to 7 business days to see your reward.
Achievement is available on both iPhone and Android devices. You connect the Achievement app to your other fitness apps and devices including Fitbit, MapMyRun, and Apple Health.
Every time you log something on one of these devices, you'll earn points with Achievement. In this sense, you're not betting anything so there's no money to lose. You're simply being rewarded for healthy activities.
Pros
Achievement lets you track different kinds of physical activity, not just losing weight. This can promote a more holistic look at your health. You can also redeem your rewards for cash via PayPal, so you're not stuck with a gift card you don't want.
Cons
It can take a long time to earn enough to cash out for a reward. If you earn the maximum of 80 points every day, it'll still take you four months to earn a reward.
Related: 12 Companies That Pay You for Your Data
4. StickK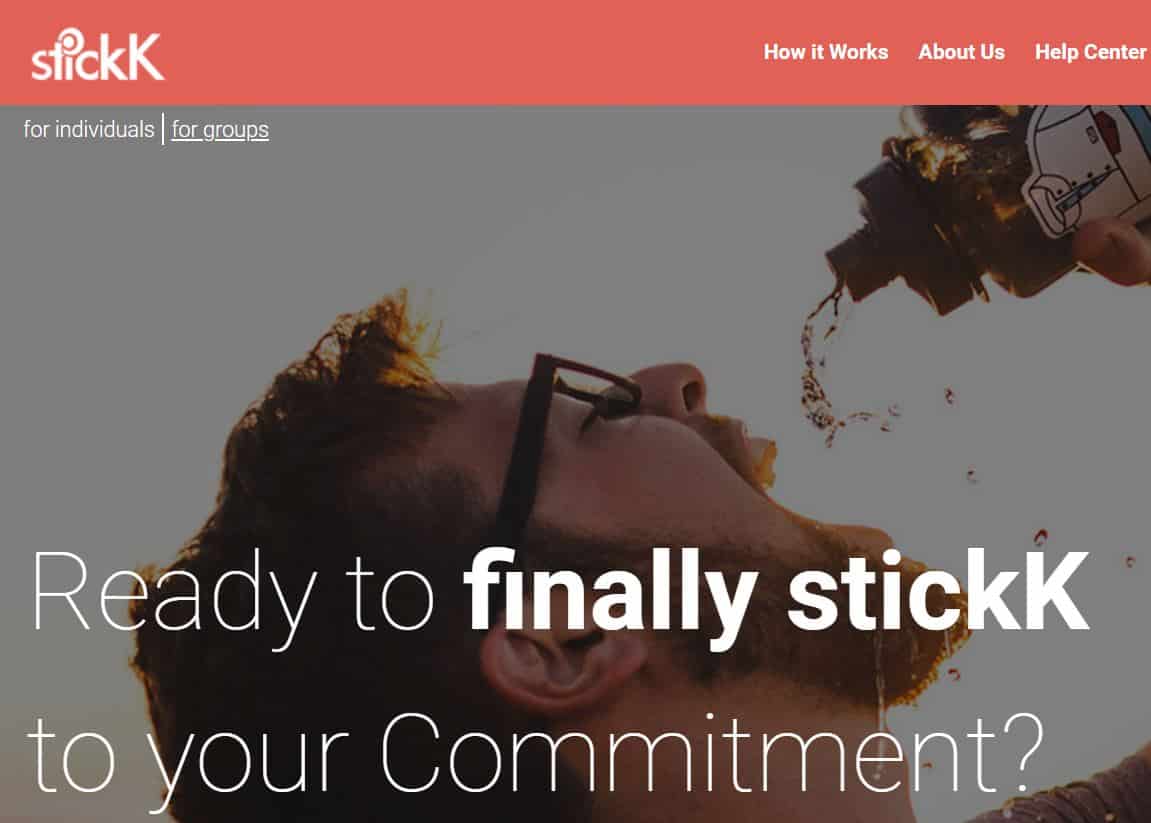 StickK isn't just a weight loss app, it's an app to help you commit to any kind of goal, whether it's losing weight or competing in an Ironman. Users have to sign Commitment Contracts that cost money if they don't reach their goal.
If you fail to meet your goal, the money will go to a pre-determined person, charity, or StickK itself. You can also pick a charity with a mission you don't support for some extra motivation to succeed.
How it works
An official StickK "referee" will verify your claims. You can also invite people to watch your progress and encourage you.
If you choose an ongoing commitment, you have to submit a report every week to update StickK on your progress. You can also pick a one-shot commitment, where you only report at the very end.
StickK referees are the ones who decide if you successfully completed your check-in. What's interesting is that the referee is someone you know, such as a friend or partner.
Pros
It's available on both iPhone and Android devices. Users decide how much money to put on the line when they make a commitment contract, and there's no limit to this.
Cons
The biggest downside to StickK is that you can't actually win money. There's no positive reinforcement with StickK. It's only the threat of losing money that binds someone to a goal. This can be discouraging for people.
5. Walgreens Balance Rewards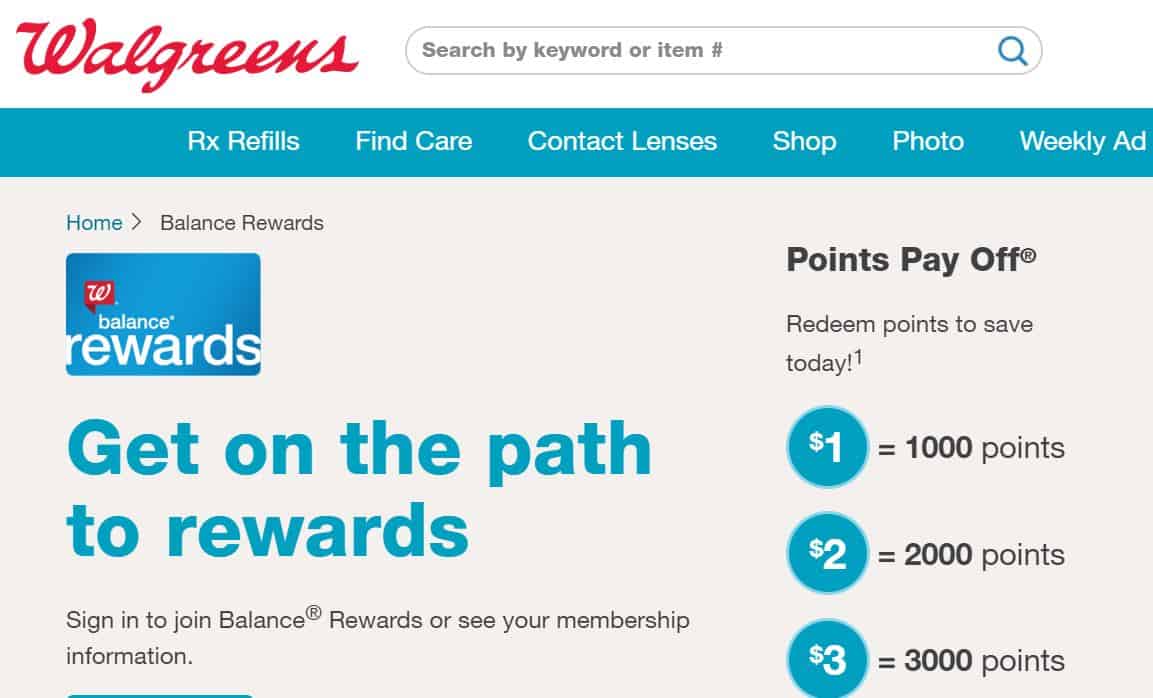 The Walgreens Balance Rewards for healthy choices program is a four-week health challenge that people can join for free. There are two types of challenges: physical and lifestyle. You can participate in both of these at the same time.
When you complete one week of each challenge, you'll earn 100 points. You can earn a maximum of 2,000 points after successfully completing a four-week challenge. This is worth $2 toward Walgreens purchases.
How it works
You can track your progress manually or automatically, which you can do by connecting your phone to a Walgreens-approved app. Then you have to link it to the Balance Rewards program.
Pros
Because this is a free program, there's no risk by signing up. If you complete the challenge, you'll earn a small reward you can redeem at Walgreens.
Cons
You won't earn as much money using this program compared to other diet bet and weight loss apps. You can also only use your rewards at Walgreens.
Related: 13 Apps That Pay You to Walk
Other Ways to Make Money Losing Weight
If you're not a fan of these apps or challenges, you can find other ways to get paid to lose weight.
Office challenges
Instead of using a formal app, you can create an in-person office challenge between coworkers. Set up an honor system and see who loses the most weight after a certain number of weeks. You can also do this between friends or family members.
Instead of doing it by pounds lost, you can do it by the percentage of total body weight lost. Each person can put in a certain amount of money, and you can divide the prizes for first, second, and third place.
Insurance reimbursements
Some insurance plans offer extra benefits to encourage members to lose weight. They may pay for your gym membership, cover the fee for Weight Watchers, or reimburse your 5K entrance fee.
You'll have to check your insurance plans for these ancillary benefits.
Bets with friends
Instead of doing a diet bet, you can do a different kind of bet with friends. You can all decide to stop drinking for a month or make a pact to give up dessert. This will be based on an honor system so it will be harder to track. Each person can put in $5 or $10, and the winner takes the entire pool.
How to Stay Motivated While Getting Paid to Lose Weight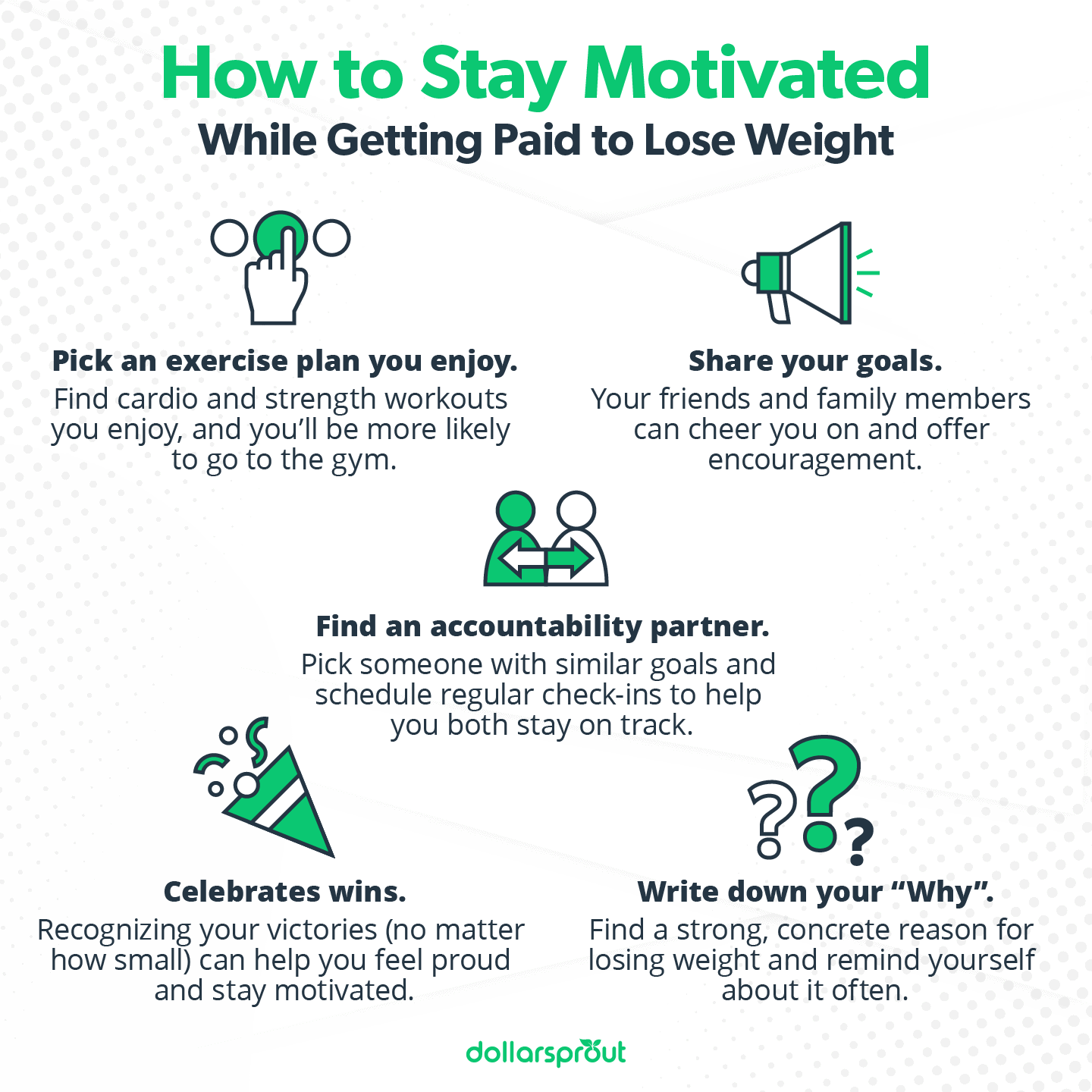 Losing weight isn't something you can put on autopilot, even if you're using a third-party app. You'll need to find other ways to motivate yourself.
Pick an exercise plan you enjoy.
When people complain about exercise, I always tell them the same thing: "Find a workout that doesn't feel like exercise." Instead of forcing yourself to run when you hate running, find a workout you like.
It can be anything from hiking with your dog on the weekends or doing Pilates on your lunch break. If possible, find both cardio and strength-training workouts so you're targeting both fitness aspects.
If you find a workout you enjoy, you'll be more likely to go to the gym. Instead of dreading it, you'll find the motivation to go even when the weather is bad or when you're stressed with work deadlines.
Share your goals.
Sharing your goals with friends and family members can help you if you're trying to avoid certain foods or if you're training for a race. When you share your goals, you may be able to find kindred spirits who will cheer you on and offer encouragement.
Be wary of sharing your goals, though. Sometimes sharing your goals releases a rush of endorphins, even though you haven't actually accomplished anything. But if you have a friend who's achieved a similar goal, it might be helpful to share your aspirations and pick their brain for advice and tips.
Find an accountability partner.
Trying to lose weight by yourself is tricky, especially if you live alone or your partner isn't committed to the same goal. That's why it helps to have an accountability partner. You can find one by posting about it on social media and asking someone from your gym.
Your ideal accountability partner should be someone who has similar goals. You should check in with each other on a weekly basis, in a text or email thread. You can even set up a Slack channel just for the two of you.
Accountability partners will help you find solutions to your problems, let you vent when you're frustrated, and celebrate your success. They'll cheer you on and remind you not to be hard on yourself.
Celebrates wins.
Trying to lose weight often isn't a linear road map. It can ebb and flow. Some weeks you might only lose half a pound. Other weeks you may not lose any. And during the holidays, you may even gain a few pounds.
That's why it's important to celebrate small wins along the way. You should celebrate any kind of success, like when you start running more than one mile at a time or when you find a way to enjoy kale. Non-scale victories deserve recognition, too.
Celebrating wins can keep you motivated even if you're months away from your target weight. You can celebrate wins with your accountability partner, publicly on social media, or privately in a journal. Seeing how far you've come can help you feel proud, especially if you're likely to start comparing your weight loss journey to someone else's.
Write down your why.
Losing weight for its own sake isn't enough. You need a concrete reason. For example, instead of saying "I want to lose 15 pounds" say, "I want to lose weight so I can feel more energized for my kids."
You can also have multiple reasons that can change as you progress. Your initial "why" might be to run a 5K, but you can change it to a marathon.
Having a strong why will keep you going when it's 15 degrees and you haven't worked out. It'll keep you on track when you're at a restaurant and want to order dessert.
A specific why is more likely to work, so think about this one. Then write it down somewhere and post it where you can regularly see it — on your bathroom mirror, on your computer at work, or even as the background on your phone.
Related: 16 Passive Income Apps to Earn Money on Autopilot
How to Choose Your Favorite Weight Loss Challenge App
Struggling to pick which app you're interested in? You may not have to pick just one. Some of the apps listed here can be used together so you can double-dip and earn points in two separate systems.
Figure out what you're really looking for in an app. Is it the social camaraderie or the possibility of getting paid to lose weight? Then pick an app that features that option.
There are other choices if you don't love the idea of possibly losing money or aren't into tracking your weight regularly. You can also use apps like MyFitnessPal, which lets you add friends who can see your food journals and how often you exercise. Although these apps aren't as structured as weight loss challenge apps, they can offer other benefits.