Tiller Review: A Perfect Budgeting Tool for Spreadsheet Addicts
Advertiser Disclosure
Our readers always come first
The content on DollarSprout includes links to our advertising partners. When you read our content and click on one of our partners' links, and then decide to complete an offer — whether it's downloading an app, opening an account, or some other action — we may earn a commission from that advertiser, at no extra cost to you.
Our ultimate goal is to educate and inform, not lure you into signing up for certain offers. Compensation from our partners may impact what products we cover and where they appear on the site, but does not have any impact on the objectivity of our reviews or advice.

Spreadsheets get a bad rap.
They mostly appeal to pencil pushers, number crunchers, and obsessive-compulsive types.
Unless you have a job that requires you to use Excel, you may not even know how they work.
That's why I abandoned my traditional spreadsheet budget several years ago. After trying in vain to find a simplified approach to tracking my spending, I decided that spreadsheets were for nerds. They made budgeting a time-intensive activity and something I avoided doing. Then I found Tiller.
Tiller has changed the way I think about budgeting with a spreadsheet. If using Excel to track and analyze your spending is like learning to drive a stick shift, Tiller is like driving an automatic. Some people may prefer the more complicated route, but they can both get you to the same destination.
Here's what you need to know about my experience with Tiller: the good, the bad, and everything in between.
What is Tiller Money?
Tiller Money is a spreadsheet-based budgeting system that works with Google Sheets and Microsoft Excel. It doesn't have its own spreadsheet system, so you need to have a Google account or Excel software to use it.
Tiller works with more than 18,000 banks, lenders, investment firms, and other financial institutions, including:
Bank of America
Chase
PayPal
Fidelity
Wells Fargo
Vanguard
If your bank isn't listed as a current Tiller partner, you can still use the spreadsheet, but you'll have to add those transactions manually. There's no limit to how many accounts you can link with Tiller. You can also check in every so often to see if they've added your bank.
Before Tiller, spreadsheet budgeters would have to add in every transaction manually. That meant logging into every account separately, copying the transactions, and then building your own budgeting spreadsheet. Tiller combines spreadsheets with automatic data.
Tiller was named the Best Wealth Management Product in 2018 at the FinTech Breakthrough Awards and has been featured in numerous financial publications like Business Insider and Inc Magazine.
How It Works
Similar to other budgeting programs like Mint and Personal Capital, Tiller needs access to users' bank, credit card, and other accounts. Tiller syncs transactions to its spreadsheets, which users can then divide into appropriate categories.
Signing up
Signing up with Tiller is easy. To create an account, you just need to provide basic information like your name and credit card number.
You then decide which banks and credit cards you want to sync with your Tiller sheet. To connect a new account, you have to put in your username and password. This process could take a few minutes, depending on how many accounts you have.
If you ever change a password or username to a connected account, you'll have to change it in Tiller as well. Tiller will notify you if the bank or credit card provider stops syncing with your account, so you won't miss any transactions.
Next, you decide which spreadsheet to use. The Tiller program currently offers the following options:
Tiller Monthly Budget
Tiller Simple Business Spreadsheet
Weekly Expense Tracker
Debt Snowball Spreadsheet
Net Worth Tracker
Build Your Own
Raw Data
Budget Tracker (from Lauren Greutman, TODAY Show authority on spending)
Credit Card Tracker (from Google Sheets Developer Ben Collins)
Values-Driven (inspired by Carl Richards, NY Times columnist and best-selling author)
I use the Tiller Monthly Budget, which has been perfect for my regular budgeting needs. It's incredibly intuitive and only took a few minutes for me to get the hang of.
This will vary for each user depending on how familiar they are with spreadsheets and the complexity of their budgeting setup. Tiller has video tutorials for all its spreadsheets and responsive customer service agents.
The service requires the use of Google Sheets, but there is an Excel sheet template currently in Beta. Tiller may add more Excel templates in the future.
Related: How to Make a Budget in 7 Easy Steps
Tiller's budget template
Tiller has 10 spreadsheets to choose from, and they allow five sheets synced to your account at once. I recommend using the Tiller Monthly Budget because it's clean and easy to understand (see images below).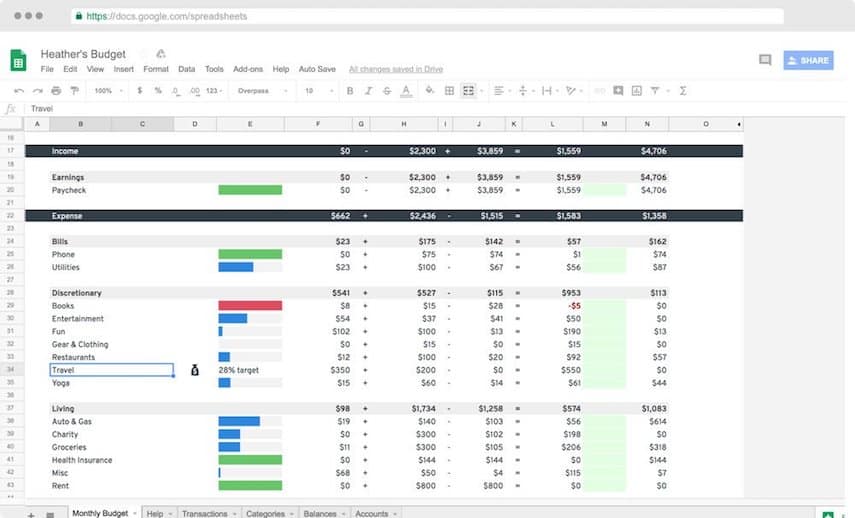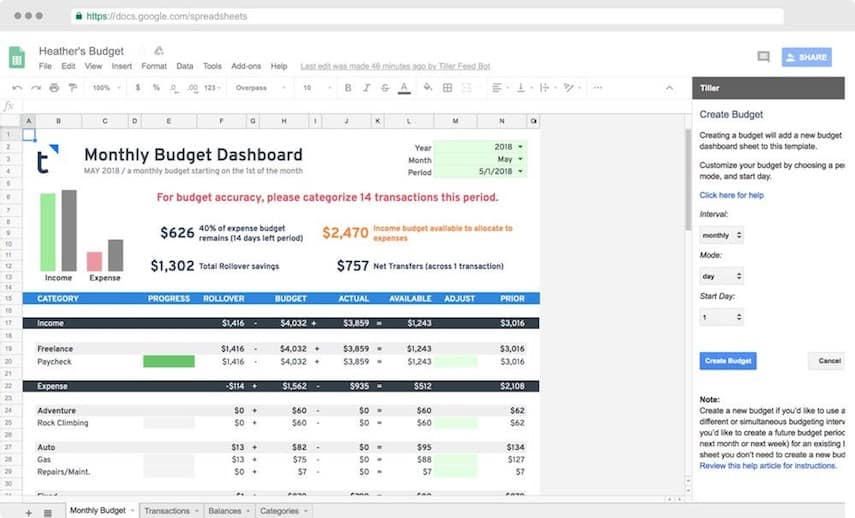 The Tiller Monthly Budget has the following tabs:
Budget: This is the main budget dashboard, where you can see the categories, how much is allocated for each category, and total monthly cash flow. It also shows what percentage of your budget is left compared to how many days are left in the month.
There is also a color bar next to each category. Blue means you still have money left and red means you've spent as much or more than was budgeted. The tab also shows how many transactions you need to categorize and your cash flow, or how much money you've spent compared to how much you've earned. Positive cash flow means you've spent less than you've earned and negative cash flow means the opposite.
Category detail: This where you can see all the transactions in every category. I like going here to see which expenses belong to each category.
Balances: This lists the current balances of all synced accounts.
Budget archive: Here you can see past budgets. I like comparing my current spending to my past, so I go here to see any possible trends.
Transactions: This is where you categorize your transactions.
Accounts: If you have a bank or credit card account that doesn't automatically sync with Tiller, this is where you can add in manual transactions.
Categories: This tab is where you can add, change or delete budget categories.
Financial spreadsheet templates
Tiller is known for its budgeting spreadsheets, but they also have a few other options. The Net Worth spreadsheet is particularly useful.
This spreadsheet takes all your available accounts and creates a line graph showing your net worth trajectory. You can also add manual accounts that affect your net worth, like your mortgage balance and home value.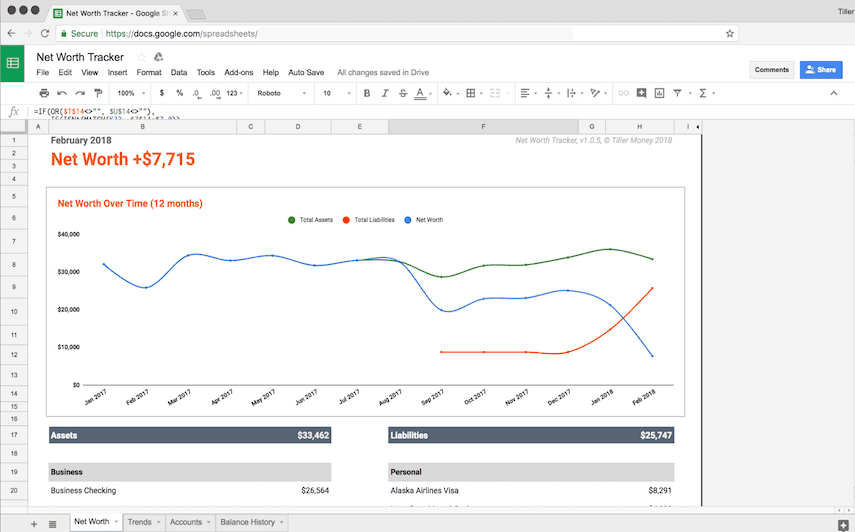 This spreadsheet has a separate tab that includes even more detail about your net worth, such as the percentage difference month-to-month and each account's monthly balance. It's important to track your net worth to see how your wealth is growing over time, and Tiller's spreadsheet simplifies that process.
It might seem annoying to have multiple spreadsheets to manage through Tiller, but each one gives you a different aspect of your finances. Tracking your net worth is the best way to gauge if your wealth is growing.
Related: Trim Review: The Tool that Automatically Lowers Your Bills & Saves You Money
Tiller Money Review at a Glance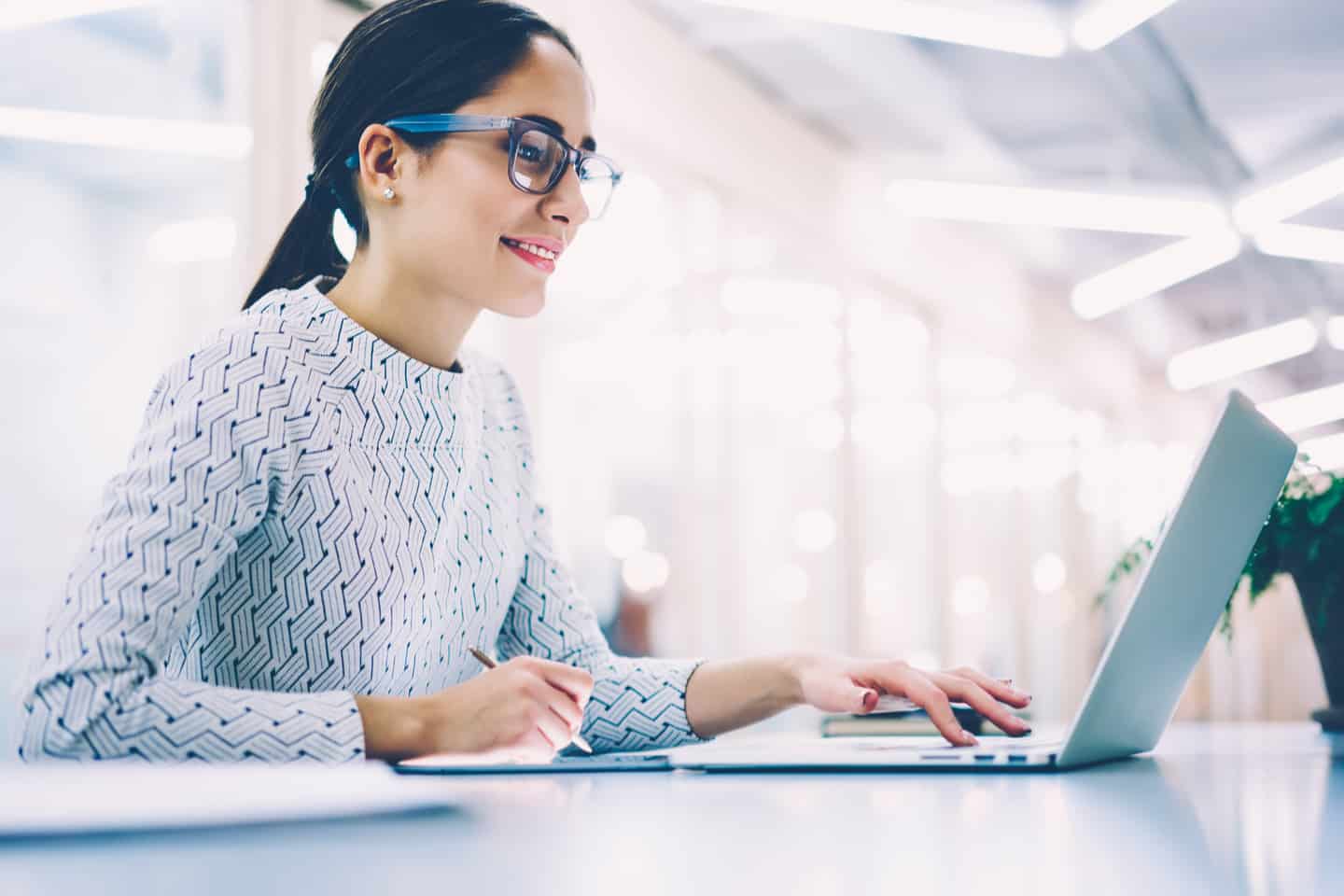 Benefits of Tiller
Most people think of budgeting spreadsheets as inherently complicated, but Tiller's system is really easy to pick up. I've used Tiller for five months now and I only needed a brief time to master it. On top of that, categorizing expenses in Tiller takes only a few minutes a week.
Tiller even has add-ons for automatically categorizing certain transactions and for splitting transactions between different categories. This is very similar to some of the budgeting features available in Mint. You have to download these add-ons separately in your Google Chrome browser, but they're simple to add and use.
Tiller has customer service support via email but doesn't offer phone or live chat services. This is similar to other budgeting apps. I've never used Tiller's customer service, but many Reddit users say they respond quickly.
Tiller also recognizes that many of its customers have been using other budgeting systems and don't want to lose that data. They offer step-by-step help to upload information from Mint, Personal Capital, Quicken, and You Need a Budget. You can also bulk upload data directly from your bank or credit card provider.
You can share your Tiller spreadsheet with anyone else with a Google account, so it's perfect for couples who want to budget together.
I recommend setting aside time each week or every few days to categorize your transactions. It's pretty easy to do if you're doing it regularly. If you prefer to budget once a month, it might overwhelm you at how many transactions you need to categorize. In this case, I'd also recommend using the auto-categorize feature.
Because Tiller works with Google Sheets, it's supported and hosted on the cloud. That means you'll always have access to your Tiller spreadsheet when logged into your Google account. I like having my budget on the cloud because I can look at it no matter where I'm logged in.
Where Tiller struggles
Tiller isn't free. It costs $6.58 a month or $79 a year, but it does come with a free 30-day trial to test out the app before you decide to commit. Budgeting apps like Mint and Personal Capital are free to use, so this can be a drag if you're not used to paying.
But canceling your service is easy. Because Tiller charges subscribers on a monthly basis, you'll only be out a few bucks if you keep it past the free trial.
Tiller is also completely spreadsheet-based. You probably won't like Tiller if you don't love the beautiful simplicity of a spreadsheet.
Because it's spreadsheet-based, Tiller works best on a computer or laptop. Mobile customers may access their Tiller spreadsheet on their phone, but it's not easy to use and needs WiFi or data access to upload new transactions.
Tiller also only has one spreadsheet available for Excel, so you really need a Google account to access Tiller's full functionality. If you're new to Google Sheets, you might have a hard time using it at first.
Tiller is only a budgeting system. Unlike some of its competitors, Tiller doesn't track your credit score or tell you if you're not saving enough for retirement. It truly is designed to help people budget and track their money.
If you're having trouble understanding Google Sheets or how Tiller works, I recommend watching their video tutorials and contacting their customer service team.
Related: How to Track Expenses in 3 Easy Steps and Never Fail at Budgeting Again
Tiller Money FAQs
Below are the answers to some of the most common questions people ask about Tiller.
Is Tiller Money safe?
Some consumers are wary of giving companies their financial information, but Tiller has a bank-grade encryption system to keep your data safe. Signing in to your Tiller account is only available through Google. You can also set up two-factor authorization with Google to further increase your safety.
Tiller can't transfer money for you and passwords aren't stored directly in Tiller. Company employees can't see or touch your data and only people with direct access to your spreadsheet can view it. This is a similar security setup to other budgeting apps like Mint and Personal Capital.
Related: Personal Capital vs. Mint: Which One is Right for You?
How does Tiller make money?
Tiller is an entirely subscription-based service, so all its revenue comes from customers who pay for an account. It doesn't show ads, recommend affiliate products, or sell your data to third-party companies.
Who should use Tiller?
Tiller is obviously best for consumers who enjoy using spreadsheets and don't really use a mobile app for budgeting. The system can work for both beginners and experienced budgeters since it's simple to understand and offers a lot of customization options.
Tiller Money Review Summary
I have friends and readers who refuse to pay for budgeting services like Tiller, especially when there are free alternatives on the market. Even though Tiller does cost money, it's only the price of two cups of coffee. If using Tiller helps you improve your budgeting approach, you'll save much more than $5 a month.
I love using Tiller because it combines the clarity of a spreadsheet with the ease of an online budgeting system. I don't have to manually track my transactions because it automatically adds everything. I've also had no issues with any of my accounts syncing with Tiller, which means I never miss an expense.
What I love about using Tiller is that I can change my budget at any time. If I need to add a new category or change how much I'm spending on restaurants, the process takes just a few minutes.
Even if you're not sure about using a spreadsheet to budget, I recommend trying Tiller Money for the free 30-day trial. You might be surprised at how simple it is to use.