Digit App Review: Hack Your Money Goals with Automatic Savings
Advertiser Disclosure
Our readers always come first
The content on DollarSprout includes links to our advertising partners. When you read our content and click on one of our partners' links, and then decide to complete an offer — whether it's downloading an app, opening an account, or some other action — we may earn a commission from that advertiser, at no extra cost to you.
Our ultimate goal is to educate and inform, not lure you into signing up for certain offers. Compensation from our partners may impact what products we cover and where they appear on the site, but does not have any impact on the objectivity of our reviews or advice.

In this Digit Review, we cover the benefits and drawbacks of this automated savings tool and help you decide whether it's the right way for you to start saving.
Saving money is important. Everyone knows it, but few people are able to actually buckle down and save money. It might be because you simply don't make enough to build up savings, or you might have trouble with impulse spending.
These struggles are why the majority of Americans don't have even $500 in their savings account.
Having an emergency fund is incredibly important because it means you can avoid going into debt if you experience a financial emergency. You can also save money for fun things, like going on a trip or making a big purchase such as a new TV or a car.
Digit is an automated savings tool that helps people who make enough to save, but who have trouble actually remembering to set money aside. It automatically moves money to a savings account so you can use it at a later date.
What is Digit?
Digit is a financial company that helps people save their money. Rather than focusing on large savings goals, like saving for retirement, Digit brands itself as a micro saving tool.
It's designed to help you set aside $3 here or $9 there until you eventually have enough in your Digit account to cover an emergency or larger purchase.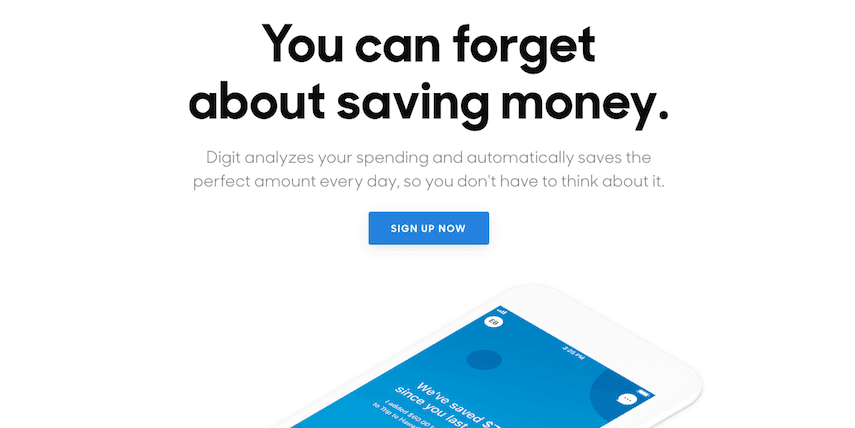 Digit's goal is to "make saving as easy, stress-free, and automatic as possible."
In many ways, Digit is like a savings account. Except instead of sitting by and letting you make deposits whenever you feel like it, Digit proactively saves money for you.
How Does the Digit App Work?
Digit is a fairly straightforward app that operates mostly through text messages. If you text regularly, using Digit is very intuitive.
Getting started
Getting started with Digit is simple. You can download the app for your iOS or Android smartphone and sign up for an account.
All you need to do to sign up is enter some identifying information and your checking account information. You may need to wait a few days to confirm your checking account.
Once you've set up your account, Digit will take a few days to analyze your account activity. This includes how much money comes into the account and how much money you remove from the account through spending or withdrawals.
Once Digit's algorithm has a feel for your spending habits, it will start saving for you. Every few days, Digit will take some money out of your checking account and move it to your Digit savings account.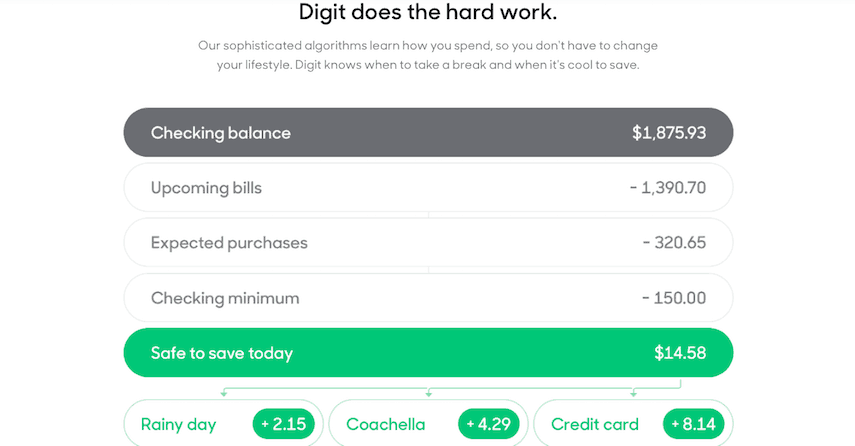 The amount that Digit moves is based on your habits and what Digit thinks you can afford to save at any given time.
So, if you have $1,000 in your account and an $800 rent bill coming up, Digit might only move a couple dollars to savings. If you have $1,000 in your account and no upcoming bills, Digit might take $10 or more.
Regardless of your habits, Digit will not save less than $.05 or more than $150 at a time. If you want finer control over the amount you save, you can tell Digit to save more, save less, or pause saving entirely.
Saving with a text message
One thing that is unique about Digit is that you don't do your saving through a traditional online banking portal. Instead, Digit operates using text messages.
Interacting with your account using text messages is very intuitive. You can text Digit "save" to make a deposit to your account. Text "withdraw" to pull money out of the account.
You can also use text messages to create specific goals and assign unique "goalmojis" to each one. This can be a fun way to track your progress towards specific savings targets.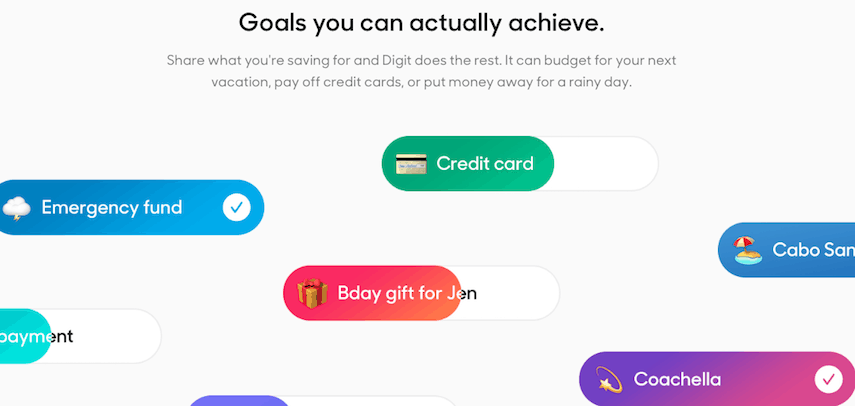 How to get the best results
One of the downsides of Digit is that you must use your debit card on a regular basis to get the most value out of the program.
Digit determines how much it can save by tracking your income and your spending. If you use your debit card to do your daily shopping, Digit is able to get a lot of data about you in a short amount of time and is able to account for all of your spending.
If you use cash or a credit card when you spend money, Digit won't be able to accurately track your expenses. Digit won't know whether you're spending more or less than usual, leaving it unable to determine how much it can save.
This means that you'll have to use your debit card to get the most out of Digit. As a result, you might miss out on the benefits offered by credit cards, such as rewards or extended warranties.
Protection from overdrafts
One thing about Digit that might concern some people is that you're handing access to your checking account to a piece of software.
What happens if Digit's algorithm decides that you can save more than you can really afford to? If Digit takes too much money from your checking account, it could lead to an overdraft or a bounced check.
Digit offers assurance that its system will do everything it can to avoid overdrafting your account. It also gives you the ability to pause saving, which you can use if your checking account's balance gets concerningly low.
If Digit's saving directly results in an overdraft — for example, you have $10 in your account and Digit withdraws $11 — the company will refund any overdraft fees you incur.
Digit FAQ
Digit is a great automated savings tool, but it can get a little complicated. Here are some of the most common questions that people have about Digit.
Is Digit safe?

Digit is as safe to use as any bank in the United States.
Digit uses top-of-the-line Internet security to ensure that all of your account details and banking information is kept private. To keep your money safe, Digit deposits your savings to an FDIC insured savings account.
Insurance from the FDIC protects up to $250,000 in the account. If Digit ever goes under, the FDIC will reimburse you for the amount lost, up to the $250,000 limit.
How does digit make money?
Digit makes money by charging a monthly subscription fee for its service. To use Digit, you must pay $5.00 each month. They also make money from interest earned on your savings.
How long does it take to withdraw money from Digit?
Withdrawing money from Digit involves making an electronic transfer between two banks. It can take up to three business days for the money you withdraw to arrive in your checking account.
If your checking account is with Chase or Wells Fargo, you can receive same-day transfers from Digit.
Can I deposit or withdraw money using Digit's website?
No, you cannot make deposits or withdrawals to your Digit account through the company's website. The primary way to make deposits and withdrawals is through text message.
Does Digit pay interest?
Digit does not pay interest but does offer a bonus on the amount you have in your Digit account, which is similar to paying interest.
Digit pays out bonuses quarterly. Each payment is 0.25% of your account's balance.
Related: Best Online Savings Account Rates for 2019
How many goals can I save towards at once?
Digit does not place a limit on the number of goals you can establish. When you save, just append the relevant emoji to the text message to make sure your money goes to the right place.
If you don't set up any goals, Digit will default your money to go towards a rainy day fund, complete with an umbrella goalmoji.
Who should use Digit?
Digit is designed for people who want to save money, but who have trouble actually setting money aside.
If you regularly spend more than you want to, or you feel like you don't make enough money to save on a regular basis, Digit can help you get started. Digit's automatic saving, combined with prompts to save manually, can help you set aside an emergency fund or work towards a larger goal.
If you already have a handle on your finances and have set up a savings plan, you won't get much use out of Digit. In fact, you're probably better off not using the service because of its fees.
Digit Review at a Glance
Pros
Automatic savings
Get a 1% bonus on the amount that you save
Easy access to the money you saved
Overdraft fee reimbursement if Digit saves too much
Cons
Costs $5.00 each month
Lower interest rate than online banks
Transactions cannot be made through the website
Best For: Digit is best for people who have trouble saving money because they need a reminder to do it, or those who need help to not overspend on other things. Digit prompts you to save and even transfers the funds for you, making it easier to set money aside.
Digit Review Summary
Saving money can be difficult if you tend to overspend or simply don't believe you make enough money to save. The Digit app helps you build up your savings by automating the process. If you need a jumpstart on your savings goals, Digit can help.
Click here to try Digit for free for 30 days.