Rocket Money Review: Pros, Cons, Features & Pricing (2023)
Advertiser Disclosure
Our readers always come first
The content on DollarSprout includes links to our advertising partners. When you read our content and click on one of our partners' links, and then decide to complete an offer — whether it's downloading an app, opening an account, or some other action — we may earn a commission from that advertiser, at no extra cost to you.
Our ultimate goal is to educate and inform, not lure you into signing up for certain offers. Compensation from our partners may impact what products we cover and where they appear on the site, but does not have any impact on the objectivity of our reviews or advice.
Many people forget about subscriptions once they sign up. As a result, they rack up charges that take a serious toll on their finances. Rocket Money is a finance app that helps you prevent this situation and saves you money.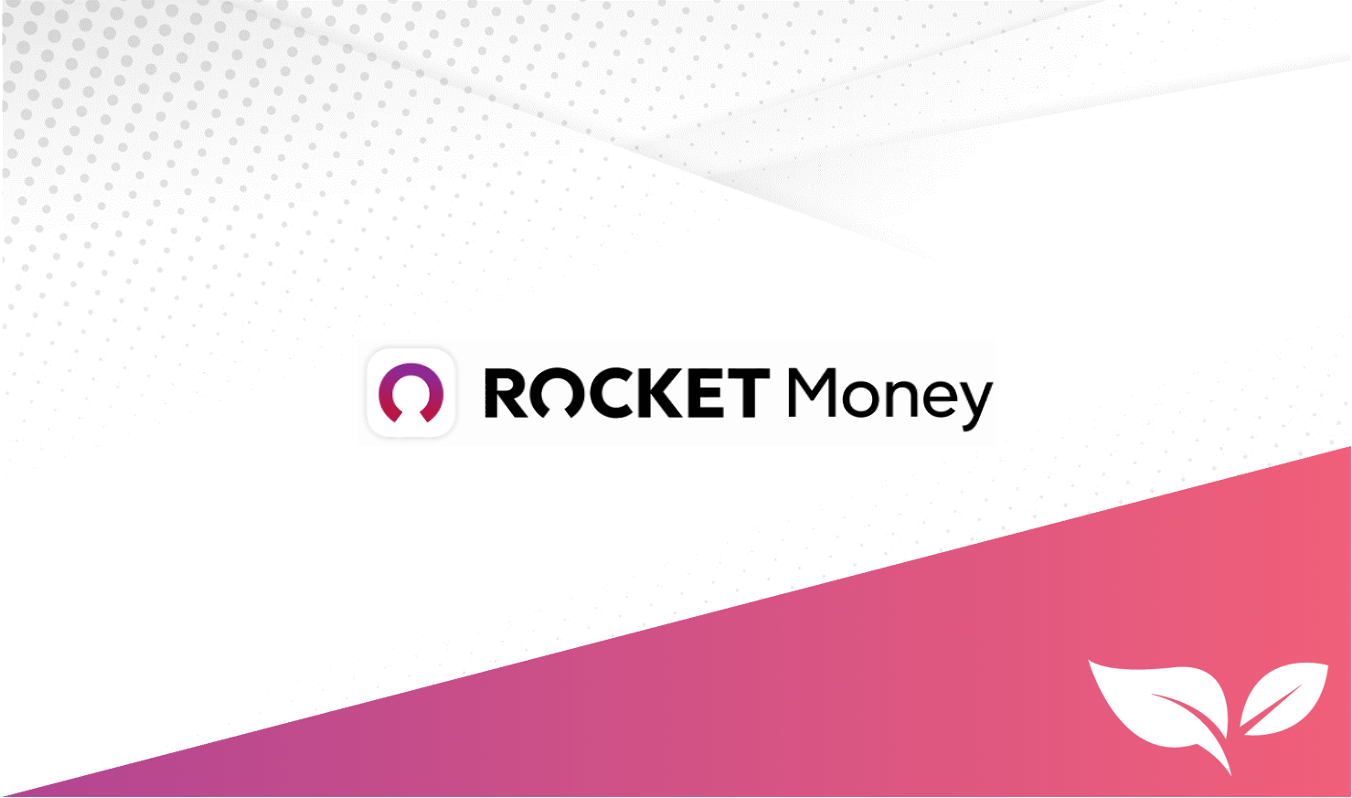 Have you ever forgotten to cancel a subscription and wasted money as a result?
That gym membership you never use. The Audible credits you forgot about. That meditation app you tried for a week and gave up on.
If any of those sound familiar, you're not alone. A recent survey examined subscription spending across 21 categories.[1] According to the survey, 84% underestimated their subscription costs and there was a 197% increase from their initial guess to their actual spending.
And while it's easy to underestimate the amount of money you spend on subscriptions, services like Rocket Money make it easy to cancel them — without having to do the negotiations yourself.
What is Rocket Money?
Rocket Money is an app that can identify and cancel unwanted subscriptions, lower your bills, get refunds for fees and outages, and find better deals on services you already use. It takes a look at your financial habits, tracks your bills, and provides personal finance reports to make saving money easy. According to the company, the app has helped people save more than $14 million since its inception in 2015.
Free
Price
Premium features offered at $3 to $12/month.
DollarSprout Rating
Saves money with minimal effort
Rocket Money is a personal finance app that monitors and cancels subscriptions, negotiates bills on your behalf, tracks and categorizes your spending, and automates saving to help reach your goals. Once you download the app, connect your bank accounts and credit cards and Rocket Money will go to work analyzing your finances. The app is free to download and use, but premium features come with a price.
Show

Hide

more
Pros
Free to download and use
Intuitive, easy-to-use interface
Tracks and automates savings goals
Saves money with little to no effort
Uses bank-level security and 256-bit encryption
Cons
Have to connect to your bank accounts
Takes a 40% cut of your savings
Free version comes with in-app advertisements
Rocket Money is free to download and use, but it does charge you 40% of the yearly savings they negotiate. They also charge for outage refunds and their Pay Advance service.
Additionally, there is a paid premium option that provides users with premium chat, balance syncing, a cancellation concierge, and more. This service costs between $3 and $12 per month. Although users can choose the amount they pay, it's not clear what extra features you get by paying more.
Is Rocket Money Safe?
Since the app requires you to connect your financial accounts, safety is a valid concern. Rocket Money uses bank-level, 256-bit encryption, and only has read-level access to your information, so you don't have to worry about any of your financial accounts being changed. The company also won't sell your data without your consent.
Rocket Money has a 4.5 of 5-star rating on Trustpilot (formerly Truebill) with users reporting that they've been able to save real money, the app is easy to use, and that Rocket Money provides excellent customer service. The main complaints from customers involve not saving enough money using the service and the fees involved.
It is available on Apple and Android devices.
How Does Rocket Money Work?
Using Rocket Money is fairly simple. To download the app, go to iTunes or GooglePlay or enter your phone number on Rocket Money's website and they'll text you the download link. Once you have the app, sign up for a Rocket Money account via Facebook or email.
After creating an account, you'll need to link your bank account and credit cards so the app can analyze your information. Once that's complete, they'll comb through your accounts to look for any subscriptions and other places you can potentially save money. You can then authorize them to negotiate or cancel those bills on your behalf or you can use the information to do the negotiating yourself.
How Rocket Money Helps You Save Money
Rocket Money works with you and your subscription and service providers to save you money. The company states that the average Rocket Money user saves $512 a year.
Subscription monitoring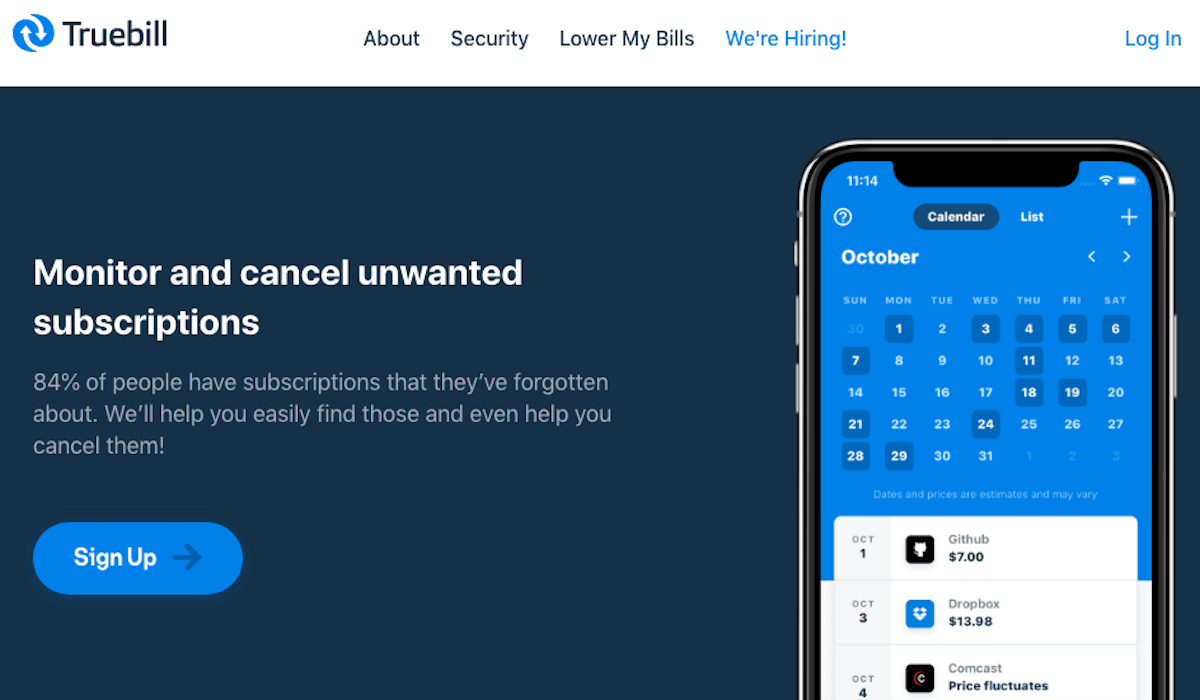 Through the subscription monitoring feature, Rocket Money will scan your linked accounts to look for any subscriptions you pay for. This could be entertainment like Netflix or Spotify, a gym membership, or even Dropbox or a credit monitoring service. It will analyze all the information related to those, including the due dates or if the price has changed.
If you have the free version, this is where Rocket Money's service ends. All other actions, whether that's canceling the subscription, lowering the plan, or even changing how you use it, must be initiated by you. However, if you have the premium service, you can opt to have them cancel the subscription for you.
You can initiate that directly from the app, under the "recurring" tab, where you'll find all of your identified recurring subscriptions. They can also request refunds for overdraft or late fees.
Lowering your bills
In addition to helping you cancel unused or unwanted subscriptions, Rocket Money can help you lower your bills. They focus primarily on cable and internet providers as well as cell phone carriers, but they might also be able to help with other bills like SiriusXM or Audible.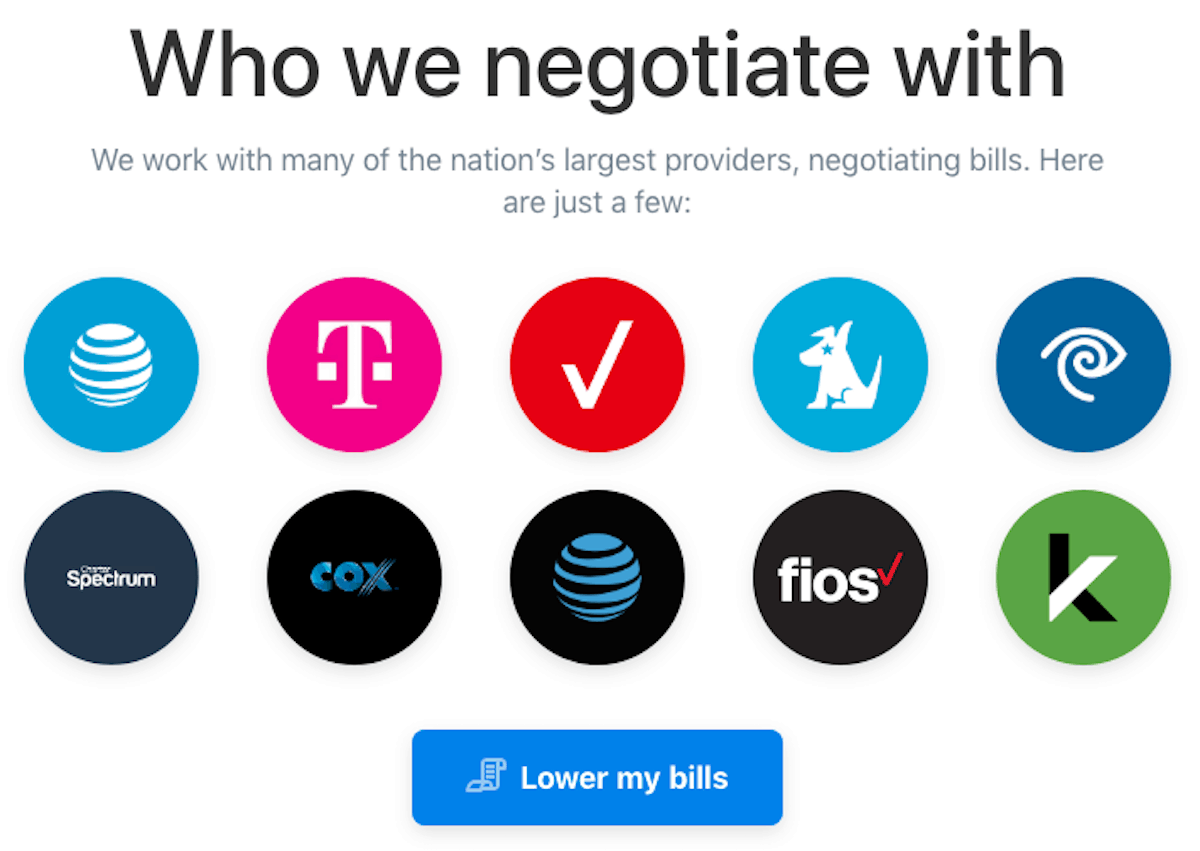 To take advantage of this feature, you'll need to upload recent bills from your service providers or connect to your accounts. Once you provide your bill and service information, Rocket Money starts working to negotiate a reduced rate. That could mean finding you a promotional rate, having fees reduced or eliminated, or simply lowering your monthly rate.
If Rocket Money is successful, the company will take a 40% cut of your yearly savings for each bill they're able to lower. So if they save you $50, the company will keep $20. However, if they aren't able to save you money, you won't pay anything.
Related: Need Help Paying Bills? Here's What You Can Do to Get Assistance Now.
Monitoring and receiving credit for service outages
One unique feature of Rocket Money is its monitoring for outage service. If there's a cable or internet service outage in your area, Rocket Money will request a credit to your account for the time the service was unavailable. If you live somewhere that's prone to service outages or have an unreliable service provider, this could add up to significant savings.
Similar to their bill negotiation services, they keep 40% of the savings if they are able to get you a statement credit.
Other Ways Rocket Money Helps You Manage Your Money
In addition to negotiating and canceling services, there are other ways Rocket Money can help improve your finances:
See your whole financial picture. Rocket Money shows your subscriptions, recurring bills, and miscellaneous recurring payments in one convenient place. You can use this information to understand how much money you're spending versus how much you're saving each month.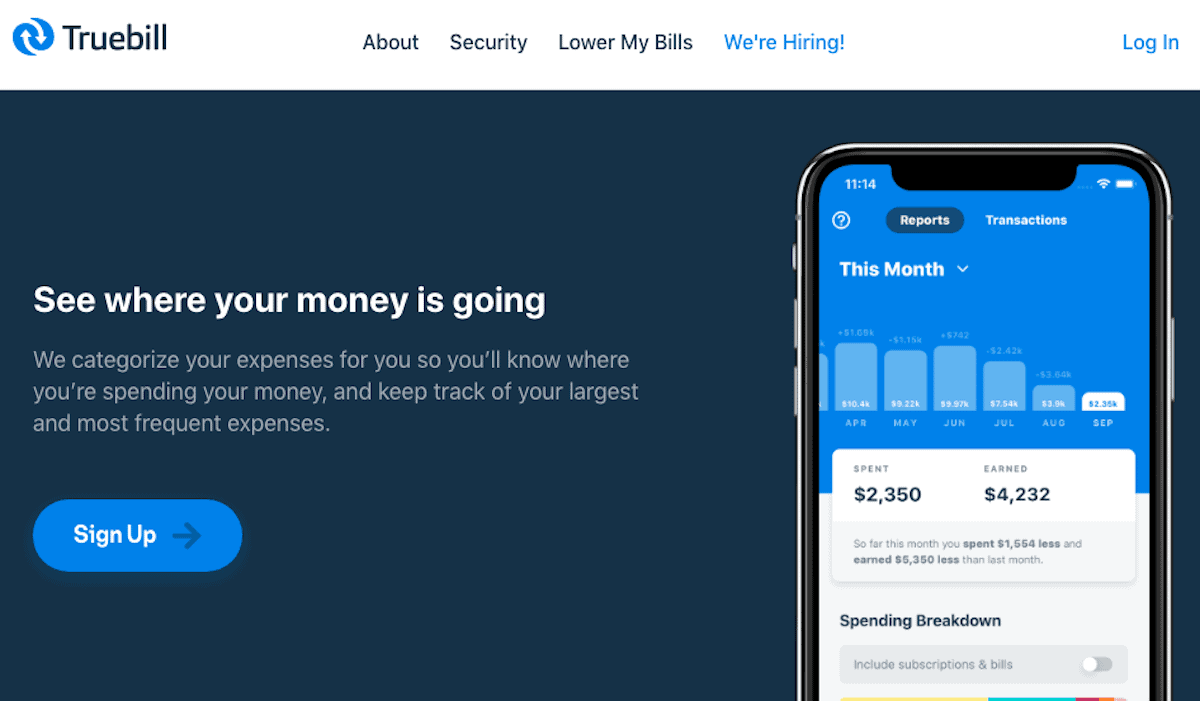 Create a budget. By tapping the "Start Budget" box on your dashboard, you can make a budget

for your income and lifestyle needs. The budgeting feature makes it easy to keep your spending in check by category.

Set savings goals. Regardless of whether you're saving for a down payment on a house

or your next vacation, Rocket Money can help you meet your savings goals. Through the Smart Savings feature, you can set up automatic transfers and keep your money in an FDIC-insured account.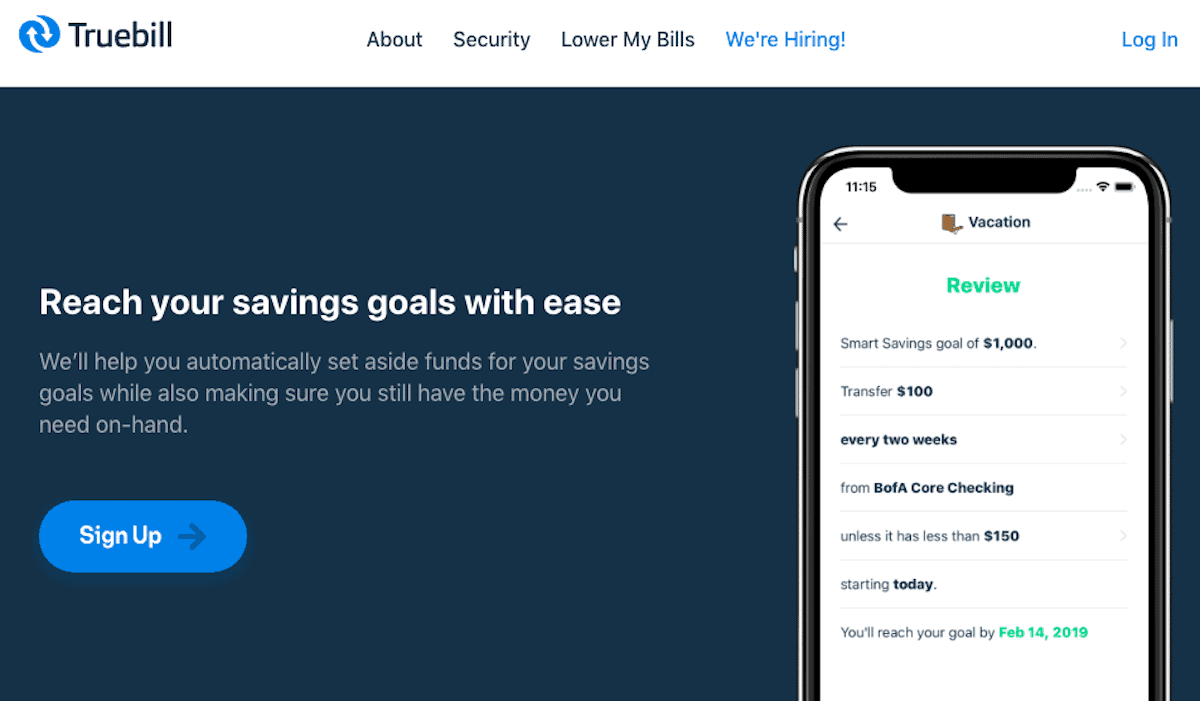 Avoid overdrafts. Rocket Money

offers a Balance Alerts feature that can inform you any time your balances drop below a specified threshold. This can help you avoid overdrawing your account and paying the accompanying overdraft fees.
Rocket Money Pay Advance
This feature allows you to request up to $125 from your employer in advance of your next paycheck. In order to access Pay Advance, you must have a linked bank account and maintain an active Rocket Money account. You must also have demonstrated six months of direct deposit activity and not use or subscribe to any other pay advance services.
Rocket Money does suggest that you tip them for using this service, with the recommended amount of 12% of the pay advance amount, but it is optional. If you choose not to tip them, they claim it will not affect your ability to receive the pay advance.
If you're going to use this service, make sure to read the terms and conditions carefully so you fully understand the repayment details.
Alternatives to Rocket Money
Although Rocket Money is a legitimate, reliable, and safe service that can cancel subscriptions and save you money, there are other alternatives.
Trim
Trim is another free app that helps users cancel subscriptions, lower bills, and save money. It charges 33% of savings to lower bills and does not charge for cancellation services. The main difference between Trim and Rocket Money is that Trim doesn't have the capability to cancel as many bills as Rocket Money.
Billshark
Like Rocket Money and Trim, Billshark can cancel unwanted or unused subscriptions on your behalf. You simply sign up for the service, connect your bank accounts, and authorize Billshark to work with subscription-based providers to reduce or cancel your services. They also offer a free insurance comparison tool to help you find the best rates.
Billshark can't negotiate utilities, credit cards, or insurance. The company charges a 40% fee of the amount they're able to save for you and $9 per canceled subscription.
Rocket Money Review Summary
Rocket Money is a free, easy-to-use app that comes with a variety of money-saving features. Along with canceling subscriptions, the app can negotiate your bills and help you set and track savings goals. It also provides features to give you a better holistic picture of your finances.
While you can negotiate your bills yourself, there's no guarantee you'll be able to get the same savings you would with Rocket Money. If used correctly, bill negotiation apps can lead to passive savings.