Capital One Shopping vs. Honey: Which Cash Back Browser Extension is Better?
Advertiser Disclosure
Our readers always come first
The content on DollarSprout includes links to our advertising partners. When you read our content and click on one of our partners' links, and then decide to complete an offer — whether it's downloading an app, opening an account, or some other action — we may earn a commission from that advertiser, at no extra cost to you.
Our ultimate goal is to educate and inform, not lure you into signing up for certain offers. Compensation from our partners may impact what products we cover and where they appear on the site, but does not have any impact on the objectivity of our reviews or advice.
While there are several browser extensions you can choose, the two of the biggest ones are Capital One Shopping and Honey. How do you know which one is better? In this review, we'll compare Capital One Shopping vs. Honey so you can determine which one is right for you.

I used to love the chase of finding the best deal.
I'd research all the stores online and visit the ones that I could in person, looking for flash sales and clearance deals. I'd meticulously read reviews and ratings and look at pictures to see if those reviews were authentic.
Then, when I was sure I found the best deal, I'd try to top those savings off with a coupon. If I was in a store, you could find me off to the side of the checkout line searching for in-store coupons. Sometimes I'd even spend ten minutes searching for coupon codes before hitting the final payment button.
But after a while, the chase started to feel more like a slow hunt. All the deals looked the same and there were so many expired coupon codes with so little savings that I gave up. I resigned myself to paying the same amount as people who couldn't care less about saving money.
Heartbreaking.
Until I discovered coupon code browser extensions. These extensions search the internet to find deals and sales on your behalf, saving you the time of looking for and manually inputting them.
While there are several browser extensions you can choose, the biggest ones are Capital One Shopping and Honey. But of those two, how do you know which one is better?
In this review, we'll compare Capital One Shopping vs. Honey so you can determine which one is right for you.
Capital One Shopping Overview
Free
Price
Free browser extension and mobile app.
DollarSprout Rating
Easy, automatic savings.
CapitalOne Shopping (formerly Wikibuy) offers multiple easy ways to save money, including online coupons, reward credits that can be exchanged for free gift cards, price comparison tool, and price drop tracking. When you add the browser extension, you'll get automatic notifications for deals on sites you visit. Save money with a single click.
Show

Hide

more
Pros
Completely free
Easy to add (and remove)
Convenient ways to save money with minimal effort
Safe and secure
Desktop and mobile versions
Cons
Gift card options are limited
Tracks your online activity and transaction history
"Best price" feature isn't always accurate
Capital One Shopping searches offers from other sellers while you browse Amazon products or when you search on Capital One Shopping directly and tells you if you can get a better deal elsewhere. It'll also alert you to coupon codes available when you shop online at their partner retailers, including Walmart, Ulta Beauty, Target, Overstock, and hundreds more. The extension is owned by Capital One and only works with U.S. stores.
For a full description of how it works, you can read our Capital One Shopping review.
Note: Capital One Shopping compensates us when you get the Capital One Shopping extension using the links provided.
Honey Overview
Free
Price
Free browser extension. No app.
DollarSprout Rating
No app. Coupons sometimes expired or unavailable.
Honey pays cash back for your online shopping. It's free to use, and the browser extension alerts you when they have a deal or coupon available for a site you're on. The Droplist feature also allows you to track prices on items you're interested in. You'll receive an alert from Honey with the price drops.
Show

Hide

more
Pros
Shop as you usually would at your favorite online retailer
Searches the web for legitimate coupon codes so you don't have to
Automatically applies the coupon code with the biggest discount, saving you the most amount of money possible
Easy to use – just click the Honey icon when you're ready to check out
Offers a rewards program in addition to finding discounts
Cons
Must install the extension on your browser
Button appears on all shopping pages, which could negatively affect your internet shopping experience
Honey won't always find a discount code
Honey is owned by PayPal. It was originally a coupon testing tool, and while Honey still gives you automatic coupon codes to its partner retailers, it's expanded to include several features to help you save money specifically on Amazon. It currently supports shopping sites in the United States, Canada, Australia, United Kingdom, and more.
You can get a full breakdown of Honey in our review.
Capital One Shopping vs. Honey Feature Comparison
To break their Amazon features down into a one-sentence comparison, Honey helps shoppers compare prices on Amazon across different Amazon sellers and Capita lOne Shopping helps shoppers compare Amazon prices to those at different stores.
But that's an oversimplification; each tool does so much more to help you save.
Capital One Shopping and Honey both have a full suite of features that make them great assets for any deal seeker. Each tool has its strengths and weaknesses. You can easily add and use both browser extensions, but you may find yourself using one more than other, depending on what you're looking for.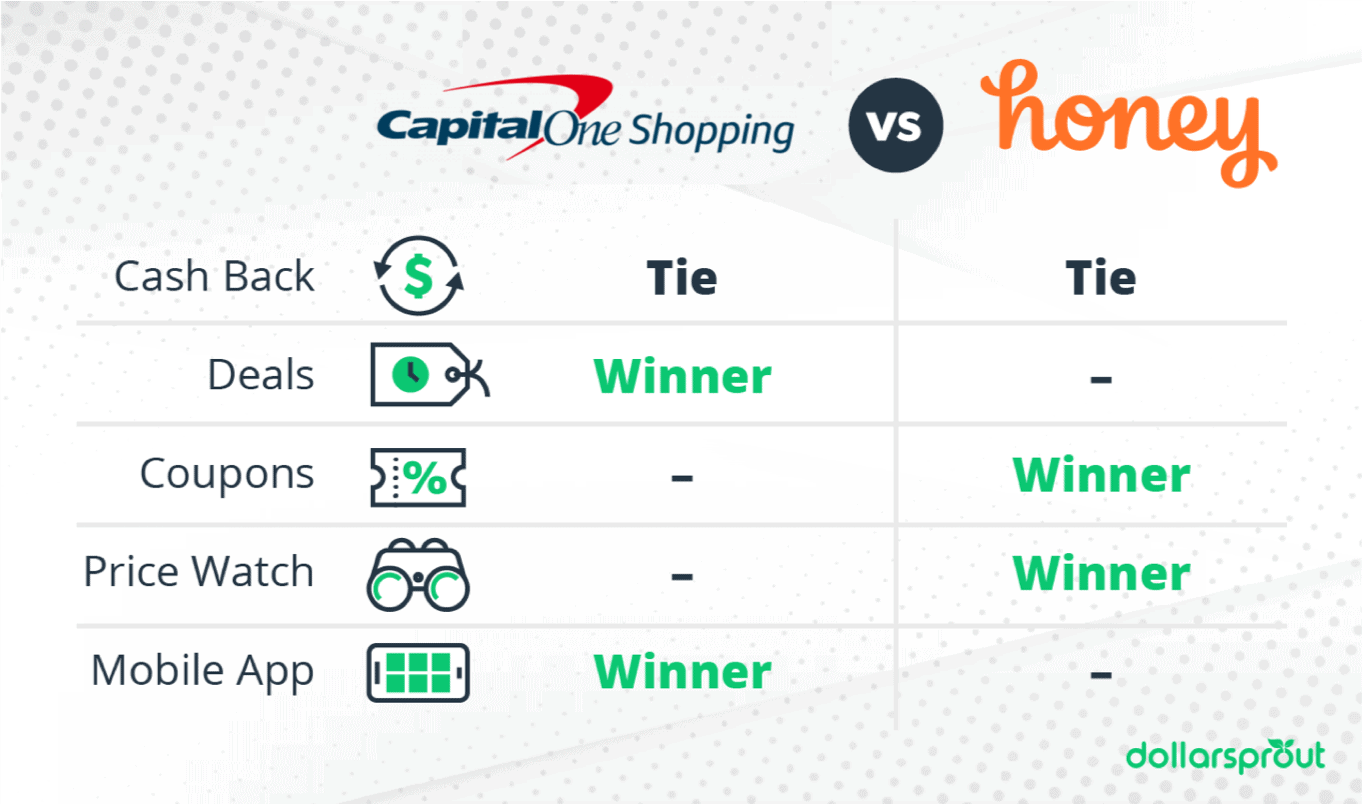 Let's take a closer look at five key features of each: cash back, number and types of deals, coupons, price watch features, and mobile app experience.
Cash back
Capital One Shopping and Honey are some of the best cash-back apps out there. But the way they structure their cash-back offers differs. In order to get the most out of each, it's important to understand those differences.
Capital One Shopping
Capital One Shopping refers to its rewards as Capital One Shopping Credits. Capital One Shopping Credits show up as cash value but aren't available to receive in the form of cash — they can only be redeemed as gift cards. The amount of credits you need to redeem a gift card depend on which gift card you choose. Walmart's cash-out option starts at just $0.01, while Lowe's requires at least $5 in credits to cash out for a gift card.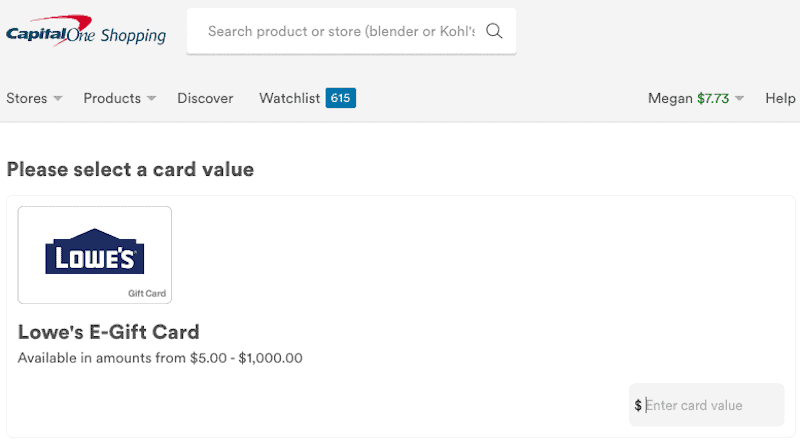 There are two ways to earn Capital One Shopping Credits.
The first is by shopping with partnered stores online. A store is eligible if, when you're shopping on the site, the Capital One Shopping extension pops up a button that says "Activate" in the top right of your window. Once you activate, any purchase made on that shopping trip will earn you Capital One Shopping Credits.
Unfortunately, Amazon is not a partnered store, but stores like Walmart, Kohl's, and Groupon are.
You can also earn Credits through local purchases made on a linked card. Simply link your card to Capital One Shopping, then browse the local deals section on the website or mobile app. When you find one you want to use, click the "Get X% Back" button, and use your linked card when shopping at the retailer to earn credits.
New users can earn an additional $10 in Capital One Shopping Credits when they complete a purchase of $25 or more at a partnered merchant within 30 days of joining Capital One Shopping.
Honey
Honey refers to its cash back as Honey Gold. You can redeem Gold for gift cards at the rate of 1,000 Gold for $10.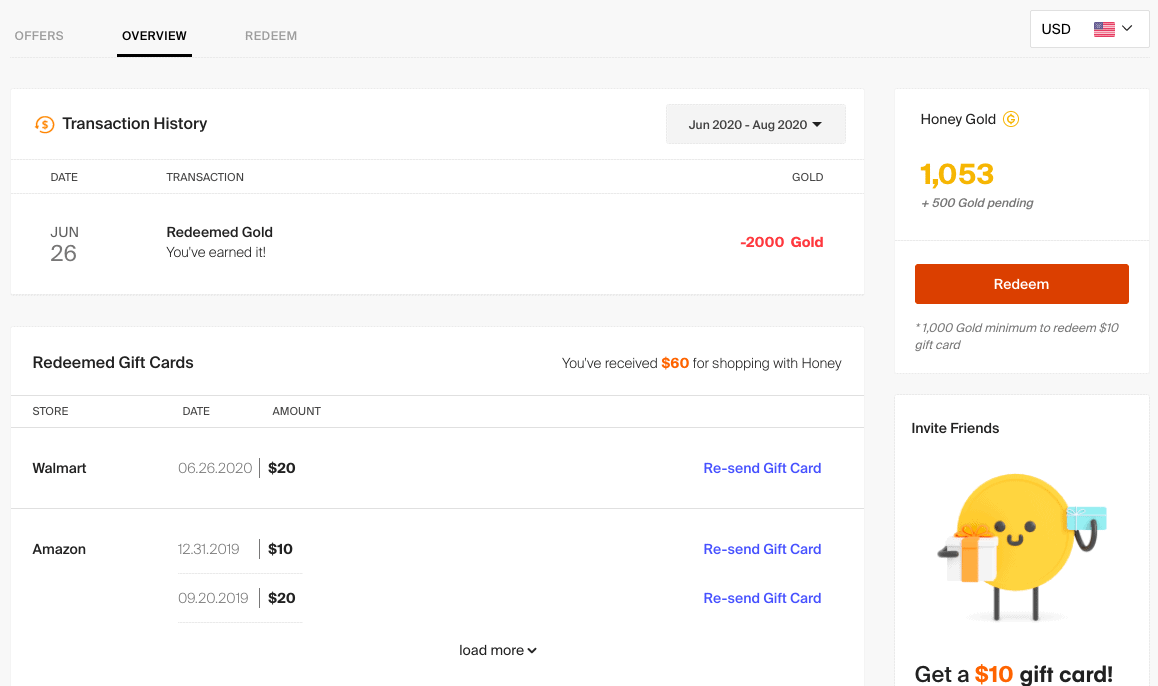 You earn Honey Gold in the same way you earn Capital One Shopping Credits. They have the same conversion rate, but with Honey Gold, they show up as "points." Even though they operate the same way, Honey is sometimes frustrating because it gives a range for its cash back, so you can't know for sure how much you're going to get. For instance, if I find a deal for a pair of shoes, Honey will tell me I can get between 5% to 8% cash back.
Capital One Shopping, on the other hand, gives one number, so you know exactly what you're getting. And it's often a higher percentage than what Honey is offering. Using the shoes example, Capital One Shopping tells me I'll get 9% cash back on this deal.
Winner: Tie
While Capital One Shopping offers more opportunity and higher returns for earning Credits, Honey has more gift card options for redeeming rewards, including Target and Amazon.
Deals
Many Capital One Shopping vs. Honey reviews praise Capital One Shopping for offering their deal comparison feature on sites other than Amazon while Honey is only on Amazon. And while it is more well-rounded, Amazon Prime users and other avid Amazon shoppers may be fine just using Honey for price comparison.
Capital One Shopping
You can skip Amazon and visit Capital OneShopping.com to see all the available deals. Browse the trending deals or search for products to see all the offers and prices after any Capital One Shopping credits. It's an extremely useful tool that shows you every price in one place, saving you from searching multiple stores and sites.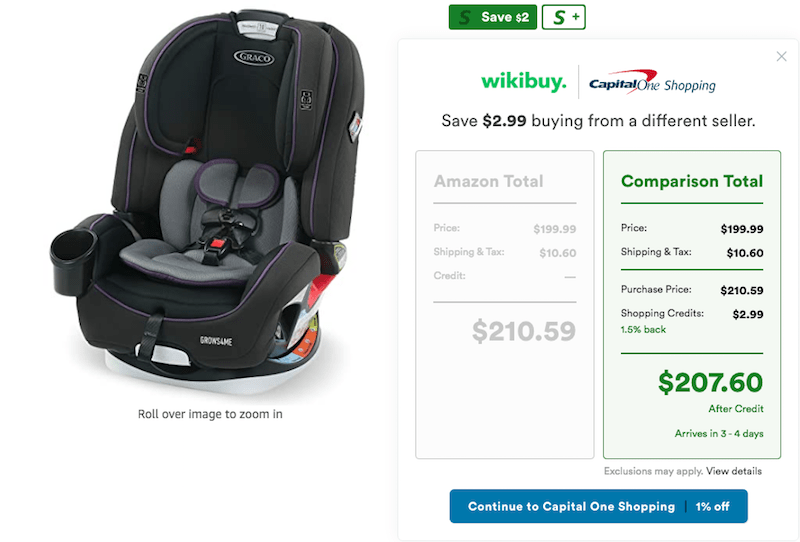 One thing that I don't like about Capital One Shopping is that it sometimes shows incorrect deals.
When searching for a car seat, Honey showed the best deal, but Capital One Shopping said I could save $1.99 if I purchased the item from a different seller. However, that seller would've charged me $14 for shipping and tax, whereas shipping would be free on Amazon.
After clicking through to see who the retailer was, I saw that it was Walmart, where taxes and shipping were also free for the car seat. Although Capital One Shopping offered a better deal for ($1.99 in rewards), based on the way the information was presented, I wouldn't have normally clicked it because it looked more expensive.
I saw the same tax and shipping calculation when comparing all offers on the product at Capital OneShopping.com.
Honey
Honey looks at its price history data to show its top 40 daily deals from various stores. When looking for deals at a particular store, Honey and Capital One Shopping had similar deals, but most of Honey's "deals" were just links to the site's sale pages. You can easily find these on your own.
But to be fair, when I clicked on Capital One Shopping's deals, many of the URLs didn't work.
When you're looking at a product on Amazon, Honey will only compare prices on Amazon. However, if you search for the product at JoinHoney.com, you can see deals from other retailers. Unfortunately, Honey didn't have an organized way to compare those deals, making it less user-friendly than Capital One Shopping.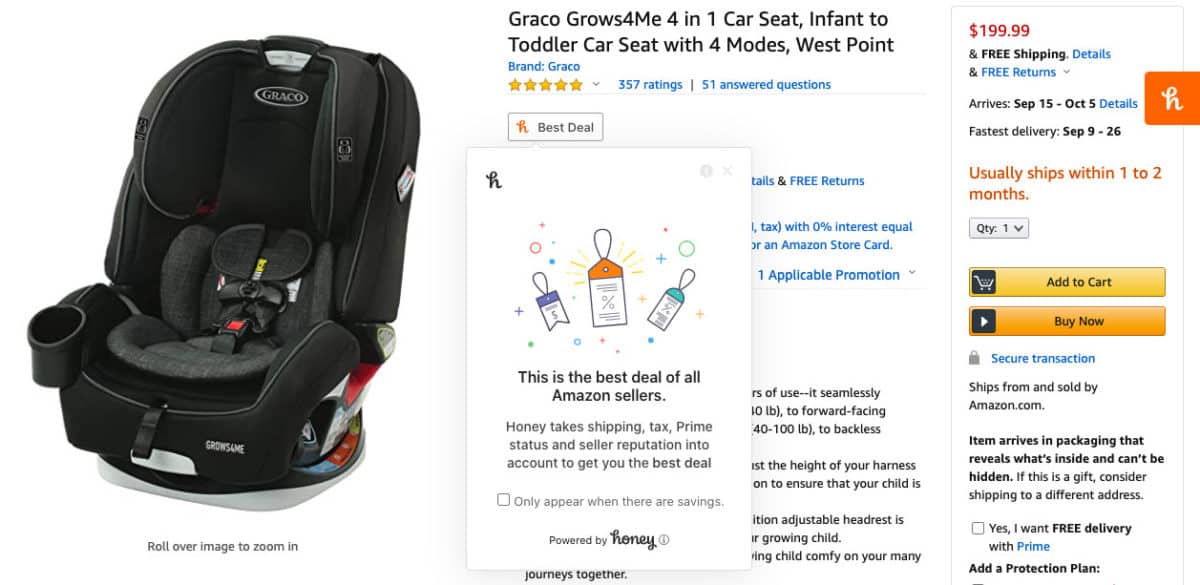 Winner: Capital One Shopping
Because it makes finding deals more convenient, Capital One Shopping is the clear winner here. But given the issues with miscalculating shipping and tax, use it with caution and double check for yourself if the deals truly are the best.
Coupons
The best coupon sites are the ones that don't waste your time making you sift through dozens of coupons to find one that works. Both Honey and Capital One Shopping do just that, using coupon codes gathered by other users and trying each working one on your cart. Out of all the codes that work, they'll apply the one that saves you the most at checkout.
Capital One Shopping
Capital One Shopping's coupon codes tester works at hundreds of online stores. When you have the Capital One Shopping extension installed, a pop up will appear in the upper right-hand corner of your browser when you get to a checkout page that it has working codes for.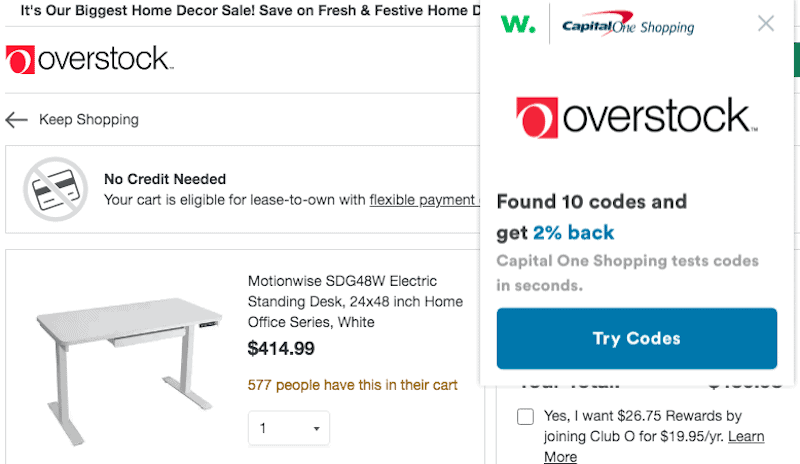 Simply click "Try Codes" and it'll search through available codes to look for a better deal.
Honey
Honey's Savings Finder can apply coupon codes much the same way as Capital One Shopping's, but it's available on over 40,000 online stores. It's also been around longer and has more users.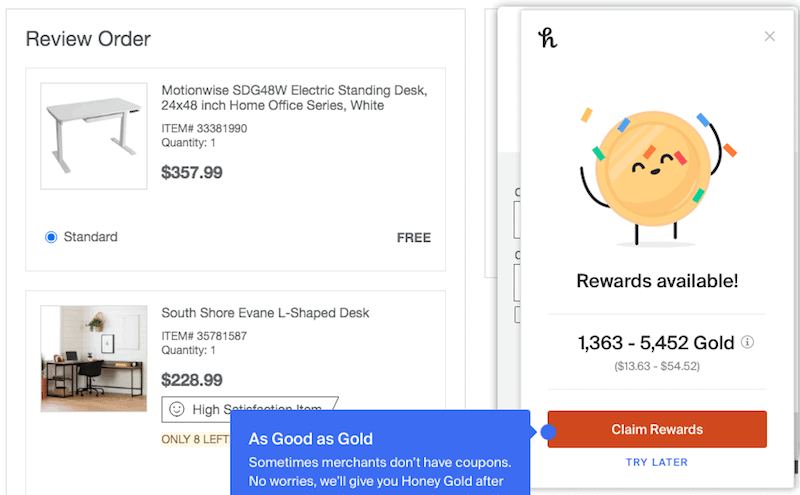 And because coupon codes for both tools are sourced from user data, I've found Honey often has more codes to try.
Winner: Honey
Savings Finder has far more codes than Capital One Shopping, works at significantly more retailers, and you can easily see how recently each code has worked.
Price watch
Price watch is an underrated feature of both extensions. It's easy to miss deals if you're not constantly looking for them, but both Honey and Capital One Shopping solve that problem by tracking price changes and notifying you instantly.
Capital One Shopping
The Capital One Shopping Watchlist allows you to track the price of an item. You can add an item from Amazon or Capital OneShopping.com, but there doesn't seem to be a way to add an item from any other website to your Watchlist.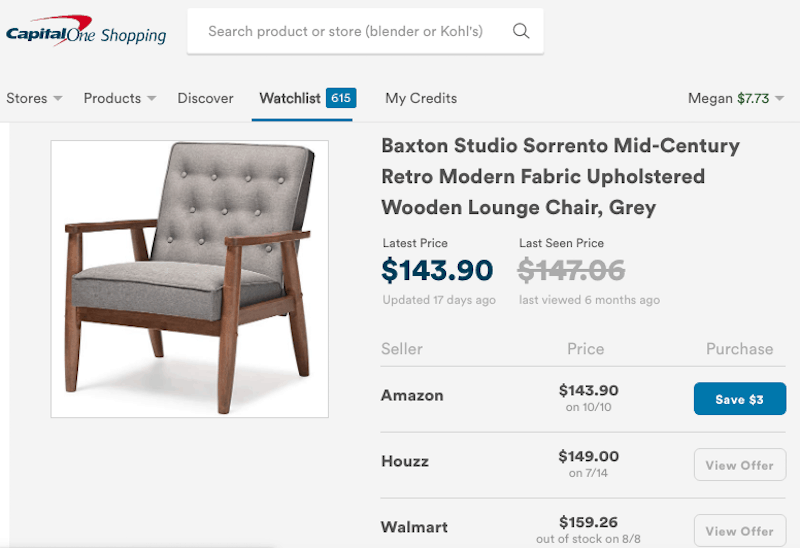 For example, if you want to track the price of a stroller on BuyBuyBaby, you won't be able to do that with the Capital One Shopping Watchlist, but you can track the price of that item on Amazon.
Honey
Honey's Price History shows how much an item's price has gone up and down up to six months in the past, helping you choose whether to buy now or wait. If you choose to wait, you can add items to your Droplist and Honey will notify you when there's a price drop.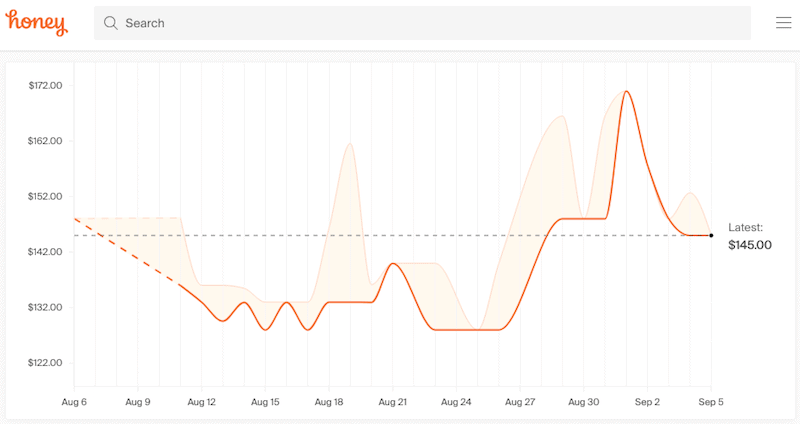 Honey also has a Smart Droplist setting that, when turned on, can automatically add your Amazon "Saved for Later" items to your Droplist as well as detect and add items you view often.
Winner: Honey
The ability to see the price history of an item is invaluable in determining the time to buy. And the Smart Droplist is super helpful.
Mobile app
Both Capital One Shopping and Honey have apps you can use to shop, and those apps offer the same features as the browser extension.
Capital One Shopping
The best feature of the Capital One Shopping mobile app is the ability to scan a barcode and see potentially better prices for that item online. You can also easily find and activate local deals while you're out and about, helping you save money on your in-person purchases as well.
Honey
Honey's Smart Shopping Assistant app is pretty standard with no features that you can't get on your browser. But if all you want to do is shop, find deals, and check out, you can do it all within the app.
Winner: Capital One Shopping
Even if you're not sold on the Capital One Shopping browser extension, the ability to scan a barcode and compare prices on that product is a great time-saving tool.
Capital One Shopping vs. Honey: Which One Should You Use?
In the Capital One Shopping vs. Honey debate, you'll save the most money using both extensions. Capital One Shopping can show you deals across several retailers in an easy-to-read chart while Honey can try dozens of coupons and show you up to six months of price history on Amazon. Capital One Shopping also has a mobile app that's useful even if you're not using the browser extension.
If you're looking to save money and time, these extensions are definitely two to keep pinned on your browser.