Groupon Review: How Much Can You Save with This Site?
Advertiser Disclosure
Our readers always come first
The content on DollarSprout includes links to our advertising partners. When you read our content and click on one of our partners' links, and then decide to complete an offer — whether it's downloading an app, opening an account, or some other action — we may earn a commission from that advertiser, at no extra cost to you.
Our ultimate goal is to educate and inform, not lure you into signing up for certain offers. Compensation from our partners may impact what products we cover and where they appear on the site, but does not have any impact on the objectivity of our reviews or advice.

No one likes clipping coupons.
People love to save money, but they don't want to put in the hours combing through newspapers and store catalogs to save a few cents on canned beans or frozen broccoli. Nowadays, there are sites and apps to help people find deals and discounts on anything from groceries to clothes.
Groupon is one of these sites. It offers a searchable system to find deals on virtually anything including local retailers, big-name brands, vacations, and tours. You can purchase Groupons for yourself or gift them to friends and family.
Whether you're looking for deals on everyday services or planning an elaborate vacation getaway, Groupon may have a discount for you.
What is Groupon and Is It Safe?
Groupon is an online marketplace where you can unlock discounts on entertainment, attractions, travel, restaurants, and physical goods.
Originally, Groupon was a daily deals website. Each deal lasted 24 hours and required a certain number of users to participate in order to unlock the savings. Now, the deals last a little bit longer and there's no user minimum to be able to save on vacation packages, live events, and products. You can even earn cashback at local businesses when you make a purchase using a card linked to your account.


Groupon is an online deals marketplace. You can save money by redeeming coupons, purchasing offers for local retailers, ordering discounted goods, or earn cash back by shopping with a linked credit card. Terms vary for each offer, so you'll need to read the fine print for instructions on what's included and how to redeem your deal.

Show Hide more
Pros
Savings up to 90% off regular price
Brand-name bargains
Digital coupons don't get lost
Option to print coupons if you prefer
Mobile app makes finding deals easy
Deal of the Day offers more savings
Groupon Bucks for bigger discounts
30-day return policy on many goods
Earn money for referring friends
Cons
Not all deals are a true bargain
Some require a minimum purchase amount
Limits on travel and hotel dates
Deepest discounts limited to new customers
How Does Groupon Work?
To claim a Groupon deal, you'll need to sign up for a free account. Groupon will ask a few questions about your interests and location so it knows which deals to show you.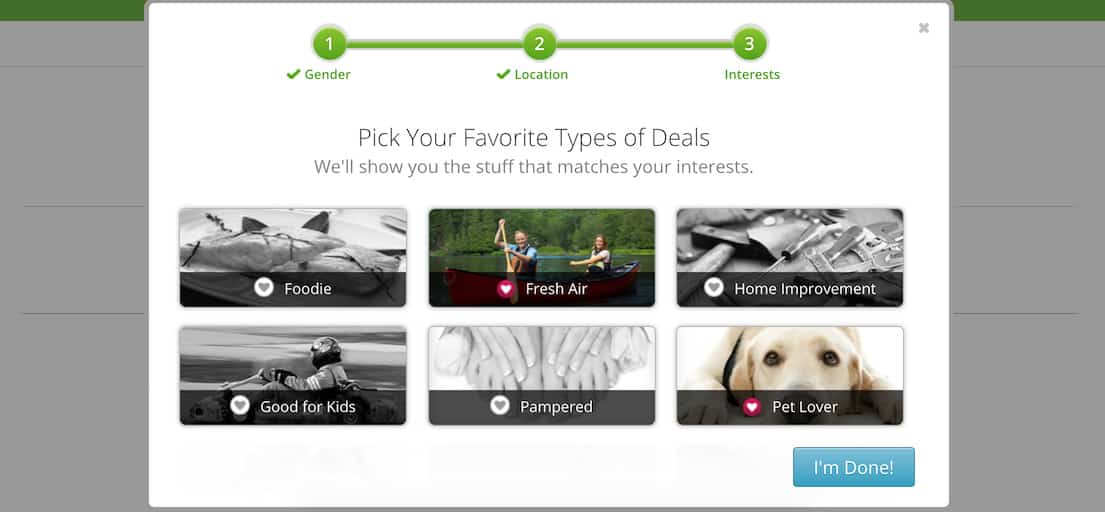 Review Groupon's deals
After logging in, you can view discounts on products, services, and things to do in your area. Groupons offer up to 90% off, but most fall in the 30% to 50% savings range. Popular categories include:
Featured Listings
Things to Do
Beauty and Spas
Local Discounts
Goods
Hotels & Travel
Coupons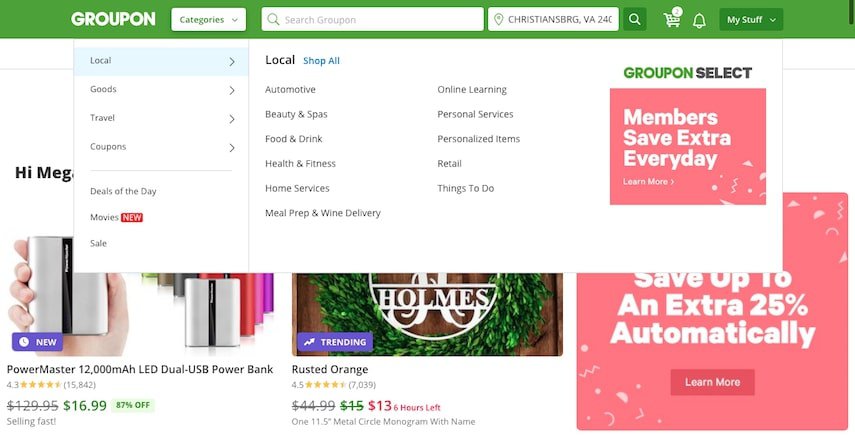 If you know what you're looking for, you can use the search box to find it. Otherwise, you can click through the categories to find discounts.
Choose your Groupon
Once you find a Groupon you like, click on it, choose the option you want (if there are multiple), and select "Buy" or "Give as a Gift".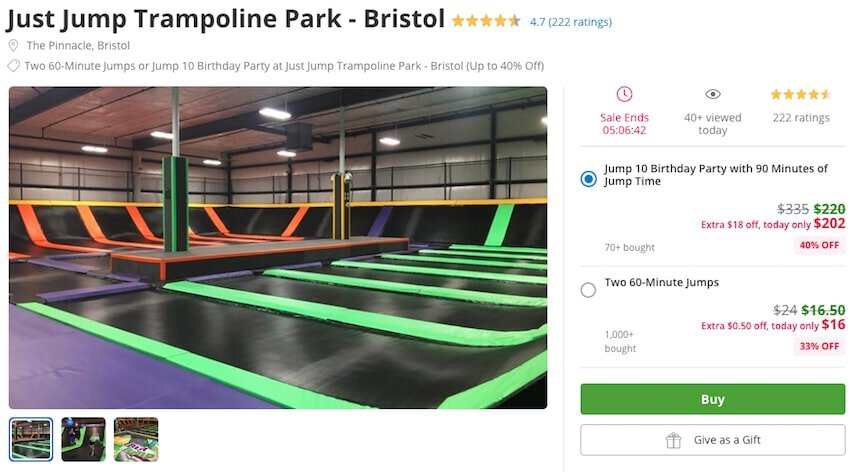 Each Groupon has its own rules. Some require a minimum purchase or are only redeemable on certain days of the week. Be sure to read and understand the details when choosing your deals.

For example, the "Fine Print" on this Groupon says that sales tax of 9.25% isn't included and must be paid at redemption. Socks are also required and must be paid for separately. If you didn't read the details, that could be $20+ in unexpected expenses.
Redeem your deal
Once you purchase your Groupon, you'll receive an email that includes instructions on how to redeem the offer. For products and online orders, you'll need to go to the merchant website, place an order, and enter your Groupon redemption code. After you apply the code, you'll check out as normal and pay any fees not included in your Groupon.
For live events and local merchants, you may have to print your Groupon or show it on your phone at the venue, pick up your tickets from will-call, or redeem your code on the merchant's website. Be sure to read your voucher for instructions on how to redeem your deal.
Groupon Review: The Details
There are many ways to save money with Groupon. You can book an all-inclusive vacation through Groupon Getaways, browse local automotive deals, or look for coupons from your favorite retailers.
Groupon Getaways
To search Groupon's Getaways, select "Hotels & Travel" on the top menu. You can browse by travel dates, region, or destination. If you're not sure exactly when or where you want to go, try searching by interest such as beach, family fun, last minute, romantic getaways, or deals under $99.
Groupons travel deals include both local and international trips. You can book your hotel through the site and plan the rest of your trip separately or sign up for a complete Groupon tour. Tours come in four styles:
Structured: Includes flights, transportation, hotels, and daily activities
Free-Form Vacations: Includes flights and hotels, but you choose the rest
Cruises: Discounts on luxury cruise vacations
All-Inclusive Resorts: Discounts on luxury resorts
Be sure to read the fine print for details on additional fees, cancellation policies, and what you need to do at check-in.
Related: 11 Cheap Vacation Ideas for Traveling on a Budget
Local deals
While Groupon offers great deals on luxuries like vacations and spa treatments, it can also help you save money on everyday necessities like oil changes, tire rotations, or gym memberships.
The "Personal Services" subcategory includes deals for online courses, electronic repairs, and fitness classes up to 89% off the regular price. It's common to find a $200 online course on sale for $5 or $10.
Goods
Groupon also works as a discount shopping app with categories for home and auto, kids, electronics, grocery and household, health, fashion, pets, and more. You can sort by price range, category, shipping options, and customer ratings.
If you're not happy with your purchase, most Groupon Goods are returnable within 30 days. Sometimes you can exchange your item for a new one.
Groupon coupons
Groupon is one of the best coupon websites online today. Instead of shopping on multiple discount sites, Groupon brings vendors together into one place. Search for deals at places like Target, AT&T, Kate Spade, and Best Buy.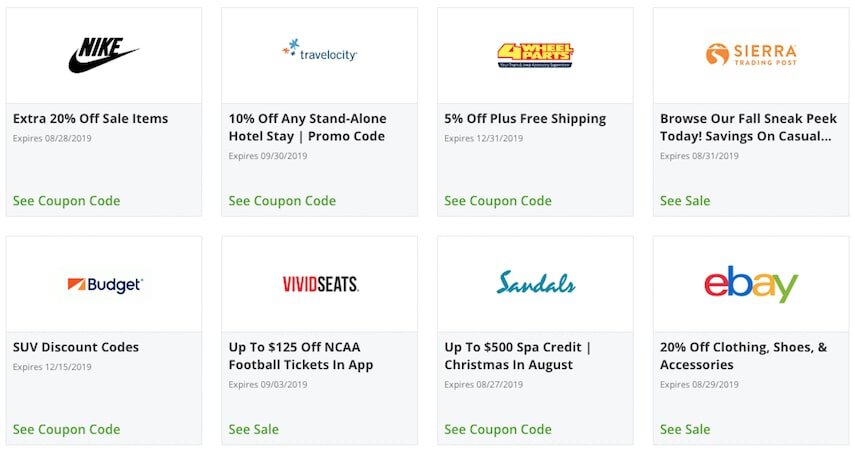 Coupons can vary according to the type. Read the fine print to see if it's a printable voucher, promo code, or digital coupon, and be mindful of the expiration date.
Related: Couponing 101: Everything You Need to Know on How to Start Couponing
Use cashback sites with Groupon
Groupon no longer has a cash back option, but you can use browser extensions like Rakuten when you purchase from Groupon. Simply install the browser extension and click on it before you purchase something. Customers can earn up to 4% cashback on their purchases.
Honey also has cashback deals with Groupon ranging from 1 to 4%. No matter which cashback apps you use, be sure to open it before you make your purchase.
Groupon Bucks
Groupon Bucks lets you earn credits toward future buys. These apply automatically on valid purchases and will work on the website and the mobile app.
Be aware that you can't use Groupon Bucks on the following:
Groupon gift cards
Market Rate getaway reservations
A few of the Marketplace offers
Anywhere else it's excluded in the Fine Print
Groupon Review FAQs
Groupon has so many different programs and changes frequently. Here's what you should know about the offers and deals before you sign up.
Are Groupon deals cheaper than buying directly from businesses?
Shopping with Groupon only makes sense if it saves you money. Some businesses offer discounts on Groupon in order to gain exposure to a larger audience and customer base. Most often, the deals are cheaper than buying directly from the business.
Businesses can change prices or offer another discount after advertising on Groupon, so what's a good deal now might not be as great of a deal if prices change in the future.
Who sells on Groupon?
Groupon features deals from major brands and local businesses in the following categories:
Food and drink
Health and wellness
Beauty and spa
Culture, activities, and events
Home, auto, and local services
Hotels and travel
Goods and retail
Does Groupon refund purchases?
This is one area where it pays to read the fine print.
The refund policy varies by each deal category. Sometimes you can cancel an order yourself if you do it within a day or before the order processes. Other goods may offer refunds for up to 30 days.
What happens if my Groupon expires?
Watching expiration dates is key to getting your money's worth. If your deal expires before you use it, you still have options. According to Groupon, your voucher is still worth the amount you paid for it. Cashing it in with the merchant will put the amount toward the original goods or services you were buying.
Does Groupon have a refer-a-friend program?
Yes, Groupon offers a reward for referring new members. Each time a friend signs up for Groupon using your custom link, you earn $10 in Groupon Bucks.
How does Groupon make money?
Groupon makes money from the merchants who sell discounts and deals on the site. They earn a fee every time someone purchases a deal or item on the site.
How do you contact Groupon customer service?
You can reach Groupon's customer service department through its live chat service or email. You can also request a call back which is available Monday through Friday, 8 a.m. to 5 p.m. CST.
Groupon Review Summary
With Groupon, there's no need to clip coupons or spend hours browsing for deals online and trying every coupon code to find one that works.
Groupon is a one-stop destination for saving money on almost anything. Each voucher explains how to redeem the deals in a few simple steps. As long as you follow the instructions and read the fine print, you'll save money.