5 Apps to Find Cheap Gas Near You
Advertiser Disclosure
Our readers always come first
The content on DollarSprout includes links to our advertising partners. When you read our content and click on one of our partners' links, and then decide to complete an offer — whether it's downloading an app, opening an account, or some other action — we may earn a commission from that advertiser, at no extra cost to you.
Our ultimate goal is to educate and inform, not lure you into signing up for certain offers. Compensation from our partners may impact what products we cover and where they appear on the site, but does not have any impact on the objectivity of our reviews or advice.
Saving at the pump -- as part of a broader effort to reduce monthly expenses -- is an easy way to pocket a few extra bucks each month. Here are the best apps for slashing the price of your next fill-up.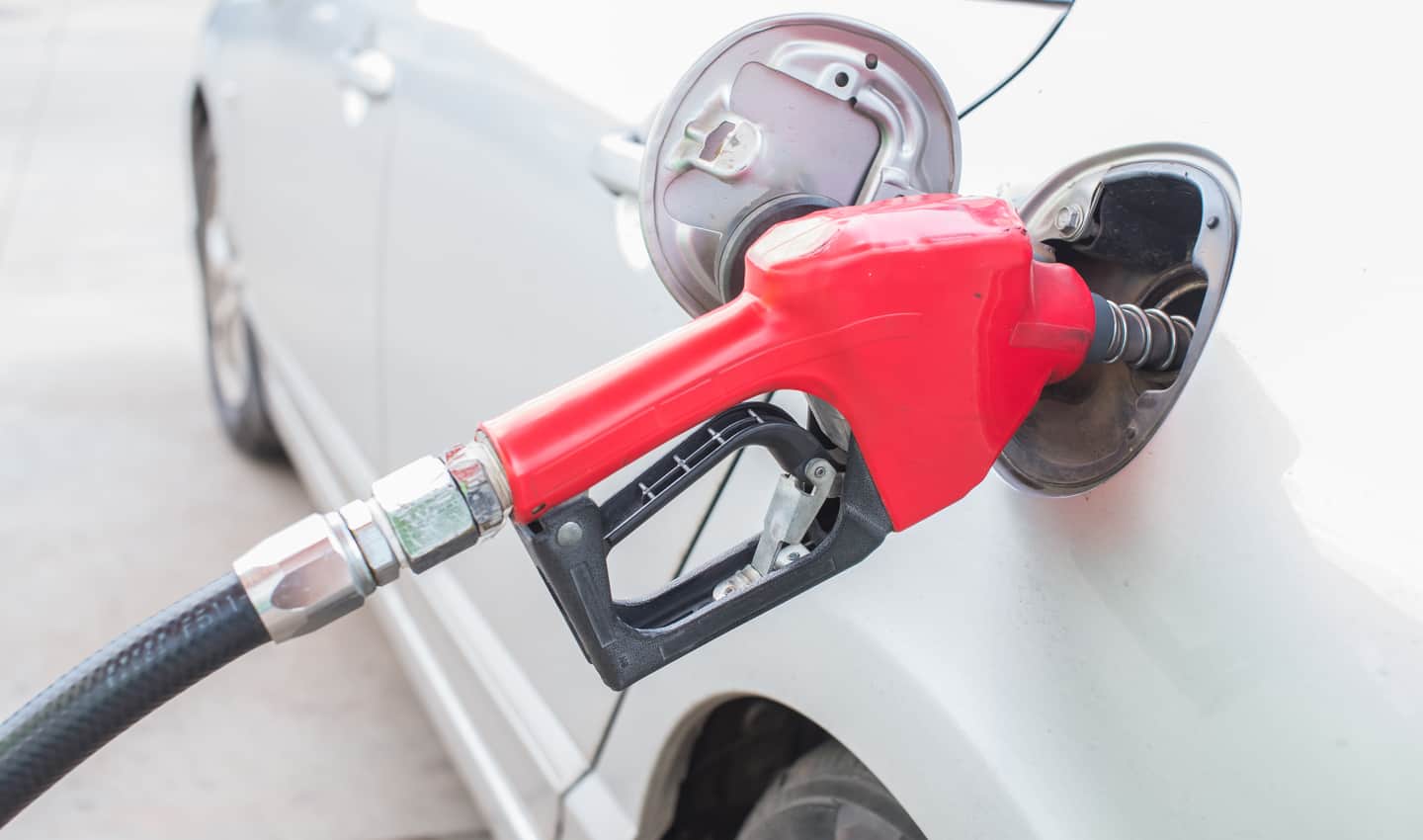 Four days ago I left work with an almost empty gas tank and pulled into the gas station around the corner to fill up.
Two blocks later, though, I saw another gas station that offered its gas at 10(¢)/gallon cheaper than what I just paid. I don't ever want that to happen again. And fortunately, it doesn't have to.
Thanks to modern gas finder apps — and other gas-saving tips — you can combat increasing fuel prices and save more at the pump.
5 Apps to Find the Cheapest Gas Station Near Me
Each of these money-saving apps offers unique features, and most of them are free.
With some, you can save money by using brands they partner with to save anywhere from $0.05 to $0.40 per gallon. Others are simply cheap gas locators that will help you find the least expensive gas station in your area.
1. GasBuddy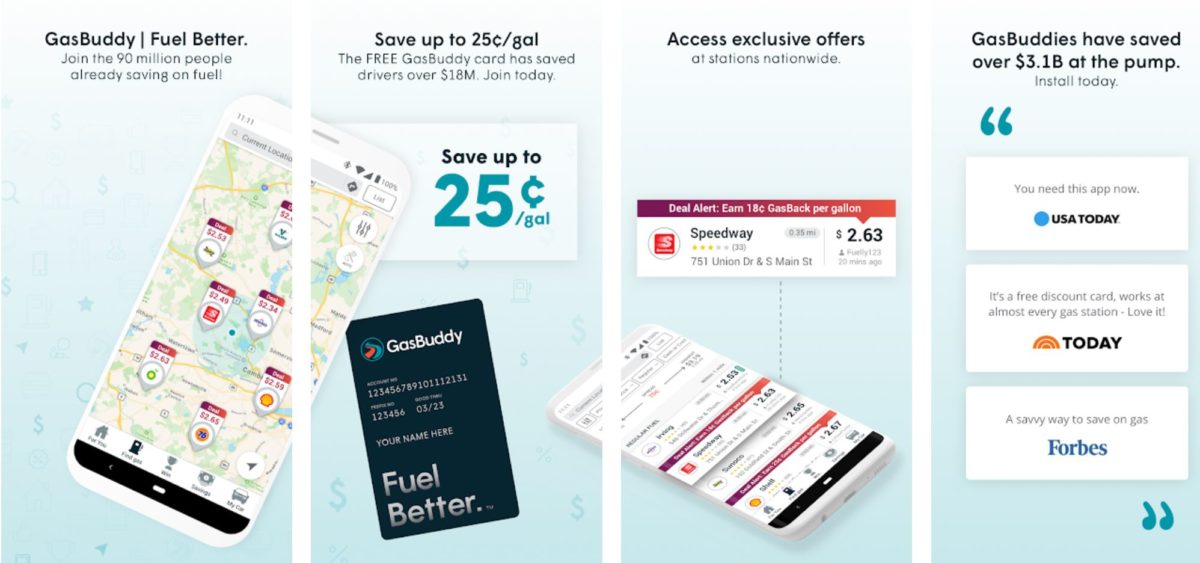 With nearly 100 million users and over $3.1 billion saved at the pump, GasBuddy is the most popular strictly gas finder app in the world. Its mission is simple: help customers "avoid paying full price for fuel."[1]
Similar to the GPS app Waze, information is crowdsourced, which means it relies on the 2 to 3 million user price submissions it receives daily to report accurate pricing [for gas stations across the country].[2] This means that its massive user base inputs the gas prices near them for everyone else to see. It also has real-time fuel prices for more than 150,000 gas stations in the United States, Australia, and Canada.
Not only does it help users find cheap gas near them, but the company offers a cashback system called Pay with GasBuddy. Users can earn up to 25(¢)/gal back on every gallon of gas they purchase. It's free to join and is accepted by gas stations nationwide.
Beyond pricing info, GasBuddy is handy for spotting fuel availability. When massive gas shortages slammed the East Coast during the Colonial Pipeline shutdown, my family and I got stuck on the North Carolina shoreline. After 3 standstill days, I spotted a station 70 miles inland that users began to report as having gas. I beelined it there and was able to get enough fuel to make it back to my home six hours away in Virginia.
Best perk: Steepest discounts. Save up to 25 cents per gallon — for free — at the already cheapest gas station near you. High-volume drivers can save up to 40 cents per gallon with GasBuddy Plus.
2. Upside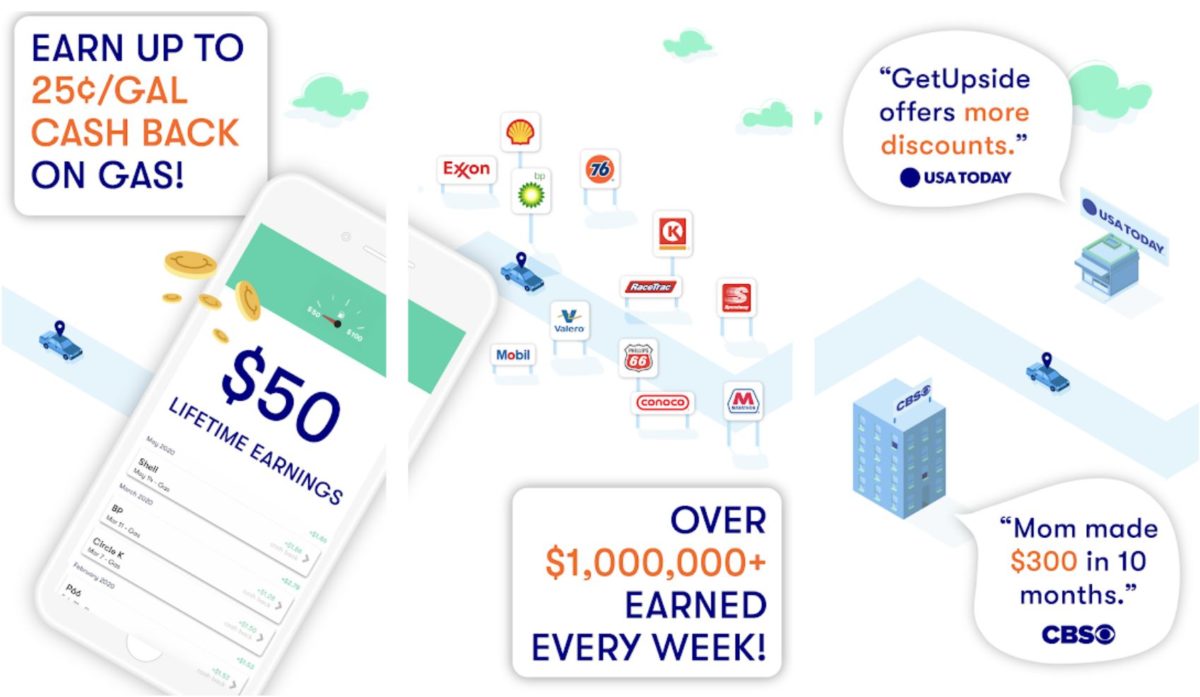 Upside is a cashback app that offers discounts on more than just gas — they aim to please on groceries and restaurants, too. The app functions similar to other cashback apps and offers rates of up to 25 cents off per gallon at participating stations.
Simply using their in-app search tool to see where you'll save the most. Every station in my area comes with at least $0.03 cashback and several offer $.10 off or more.
The best thing is that payment is simple. The cashback you earn is paid via check or PayPal and requires no minimum balance.
To get cashback with Upside you will need to:
Download the app and redeem an offer.
Pay full-price for your gas using your own debit or credit card (a cashback credit card allows for double-dipping).
"Check-In' or add a picture of your receipt to the app.
The app is a little more cumbersome to use than some of the other gas finder apps out there, but the posted rates are universally lower than apps that merely show you the lowest-priced gas around you.
Best perk: Robust referral program. Refer friends and family and earn one of several bonuses. Namely, a one-time referral bonus and a recurring fill-up bonus. The one-time bonus can come in a per gallon discount or it can be a cash reward depending on the promotion Upside is running at any given time. Furthermore, you'll get a passive 1(¢)/gallon discount on your future fill-ups each time a referred friend fills up their tank.
3. Waze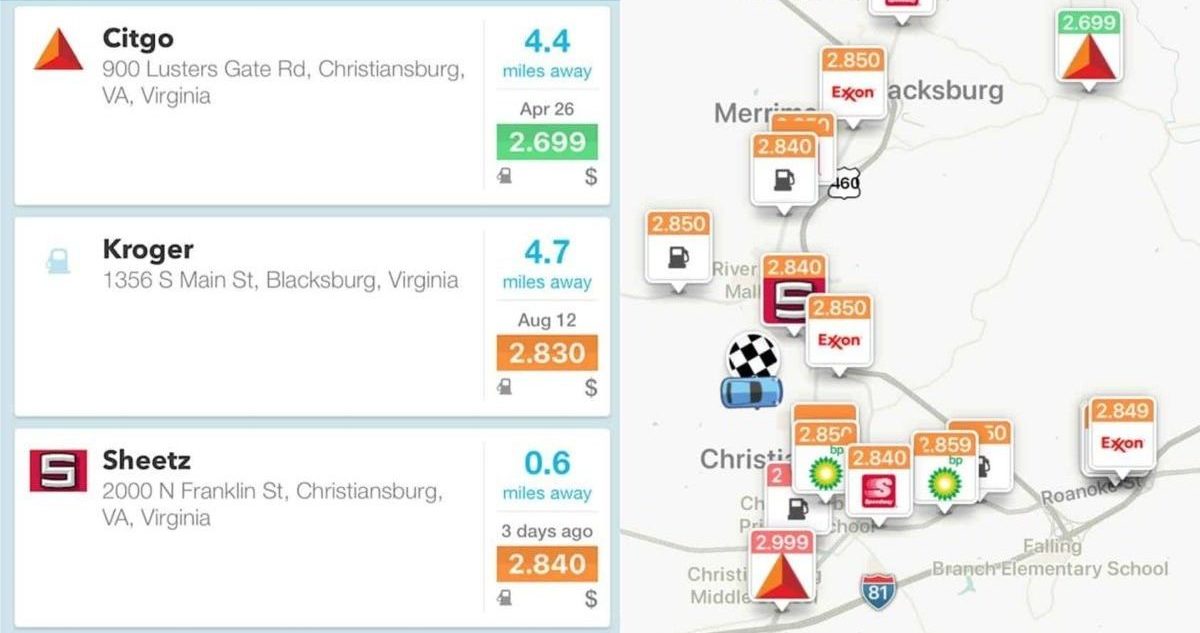 Over the last few years, Waze has become a household name as a crowdsourced navigation map. Waze is owned by Google and has over 140 million people using the app to find the best route, set up carpools, and travel efficiently.[3]
Waze also has the ability to find you the cheapest gas station. You can set the type of gas you need, sort by price, and even set certain gas stations as your favorites.
Best perk: Simplicity. If you're on a road trip and need to get gas, Waze can show you exactly how far off the route the gas station is and what it charges for gas.
4. BPme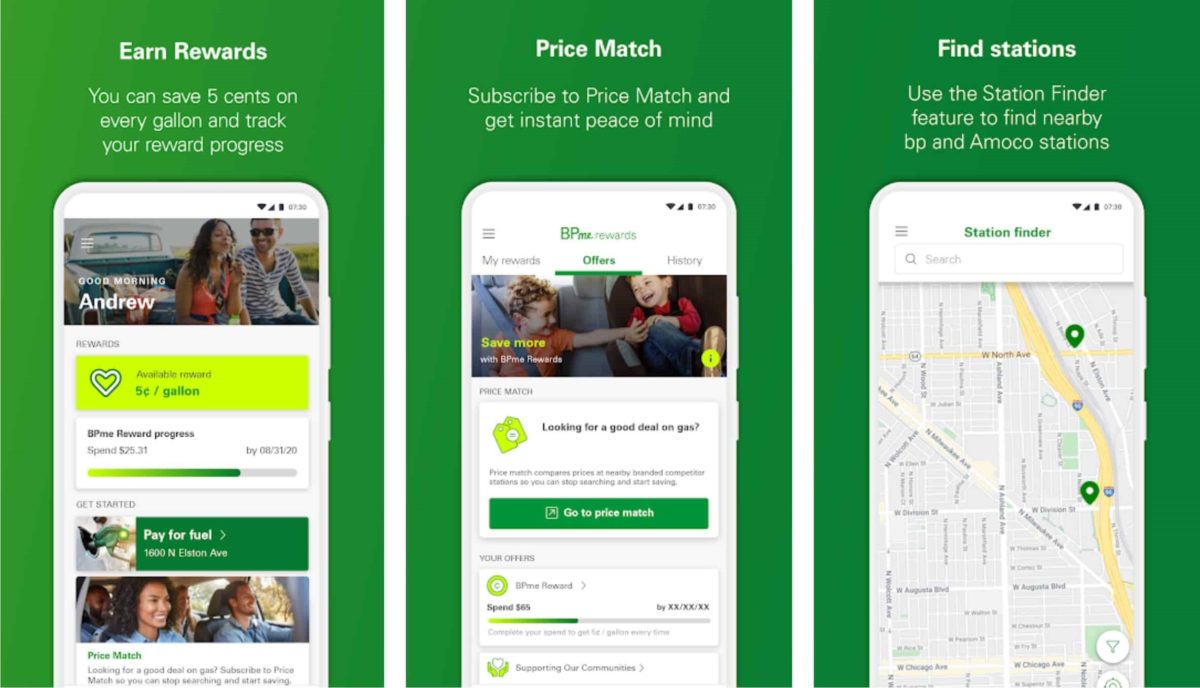 Though BPme is restricted to the 7,200 bp or Amoco locations across the United States, its one-of-a-kind features may make up for it, especially if there are several of those stations in your area.
That's because the BPme offers Price Match — a feature that comes with a $0.99/month app subscription — that automatically scans competitor pricing within a 2-mile radius and applies a cents per gallon discount off the cheapest rate it finds.
Simply put, fill up at a bp or Amoco station and rest assured knowing you're getting the cheapest price on gas near you, guaranteed. If there isn't a competitor within a 2-mile radius, the BPme app still shaves 5(¢)/gal off the publicly posted price. If you're in a remote location, the Price Match app won't be as useful, but the reduced price gas still means extra savings.
Best perk: Guaranteed cheapest gas without the need to search for locations all over town. Simply fill up and cash in on the rewards.
5. Gas Guru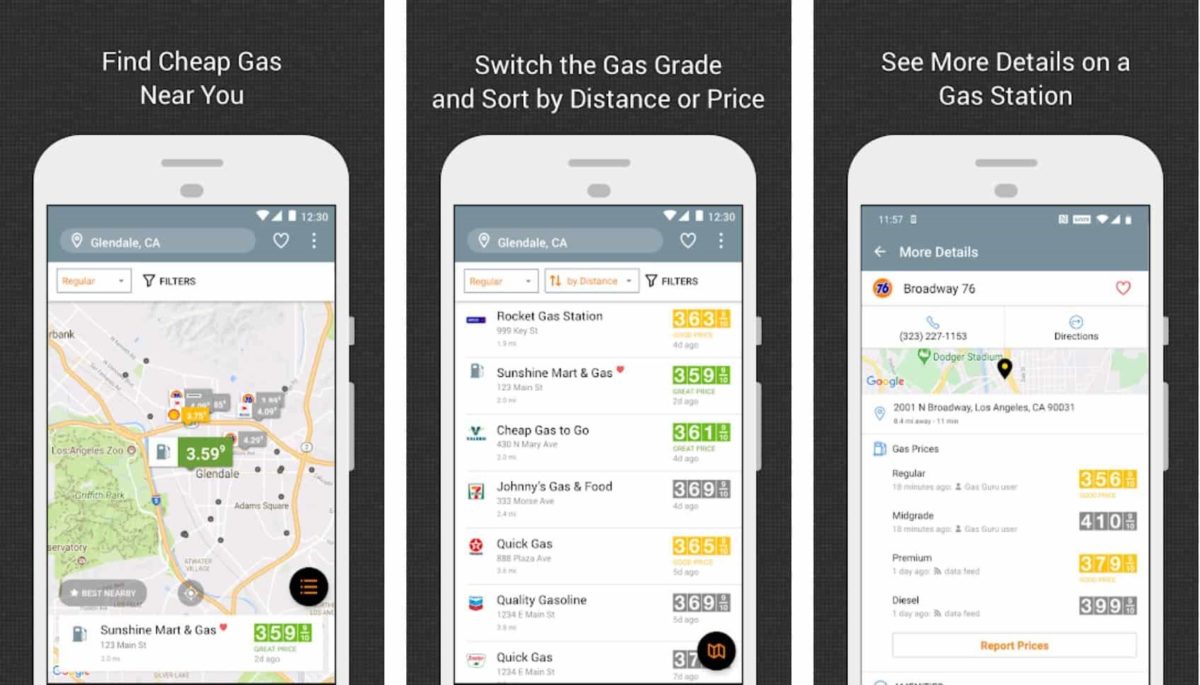 Gas Guru is an app for Android and iPhone that helps users find the cheapest gas near them. It pulls gas prices from the Oil Price Information Service so its prices are normally up to date.
The map in the app will show you the cheapest gas prices, color-coded, in your area. The gray boxes show the highest prices, yellow are the mid-range, and green are the best. If you're on a road trip, you can also search ahead in various towns or cities to find the best place to refuel along your way.
One fun feature of the app is the ability to save your favorite gas stations for future use. You can also easily find gas stations that offer other services such as car washes, auto repair, ATMs, 24-hour service, or restaurants.
Best perk: Color-based mapping system makes it easy to visually spot cheap gas along your route without having to type in locations or guesstimate when and where you'll need fuel.
Other Ways to Save Money on Gas
Already using one of the gas-saving apps above, but want to save more money? These gas-saving tips will help cut costs and get you more cashback on every gallon you buy.
Check discount gift card sites
Raise is a website that buys gift cards from people who don't want them and then resells them to buyers at a discount. It sells gift cards to most of the major gas stations such as BP, Citgo, Shell, Speedway, and Conoco. The savings won't be huge, but you can save about 2% on gift cards and Raise offers $10 off your first purchase if you spend more than $100.
Get cashback on fuel purchases
Credit cards are an easy way to consistently save money on gas. Most cards have different perks, but a cashback card is guaranteed savings every time you swipe. If you drive a lot for work, then look into cashback credit cards that offer a special rate for spending on gas. This is a fantastic way to save money if your employer reimburses you for gas. It covers your gas spending, but the savings go directly into your pocket.
Related: 9 Ways to Generate Passive Income with Your Car
Pay in cash
Many gas stations offer discounts for paying in cash. Debit and credit card transactions are normally a 2% charge to the gas stations, but most have a reduced rate for customers who pay in cash, helping them save money. Next time you're out driving, take note of the different prices offered. The cash price will often be the cheapest listed.
Carpool
Another easy way to save money on gas is by carpooling with friends, neighbors, or coworkers. Create a carpool for daily activities like commuting to work, driving kids to school or activities, or even running errands. This will help cut your fuel costs significantly.
Drive cautiously and check tire pressure
Bad driving habits not only can be dangerous, but they can cost you in wasted gas. Accelerating rapidly is one way many drivers consume more gas than necessary. You should check your tire pressure and alignment every few months and especially before you take a road trip. When tires get out of alignment, your car will waste energy and be less fuel-efficient.
Consider your route
One of the more savvy ways to save money is by driving smarter and taking routes that use less gas. Cars get better mileage on highways than in the city because you don't have to use gas to accelerate after every traffic light or stop sign. Idling in heavy traffic and using cruise control when you're on the highway are two small, fuel-efficient ways to save money on gas as well.
Join a rewards program
Some gas stations offer special rewards programs to attract customers. For example, when you buy groceries at Kroger, you can earn rewards that are redeemable at its gas stations. For every dollar you spend you'll earn fuel points to lower your price per gallon.
Shell's gas rewards program has a two-tiered system depending on how often you purchase gas. Gold status (six purchases of five gallons or more every three months) will save you five cents per gallon and Silver status will save you three cents.
Deduct work-related mileage
If you're driving for work, make sure you're being reimbursed for it. Some employers will try to save money by letting you use a gas card with your personal vehicle, but fuel is only one cost associated with driving. If you use your own car for work you should get reimbursed at the federal rate, which is currently $0.56 per mile.[4]
If you're not eligible for reimbursement, make sure you're tracking it and taking a tax deduction. MileIQ is a mileage tracking app owned by Microsoft that gives you the ability to easily keep track of work-related mileage so when tax time comes these miles can be deducted from your taxable income.
Related: How to Get a Free Car When You Can't Afford One
A Few Cents Off Each Gallon Can Really Add Up
Anyone who drives knows that gas is a necessity. You need to fill up your car to drive to work, visit family and friends, get the kids to school, and run errands. And the more you drive, the more you spend.
Unless you're in a state with cheap gas, then fuel expenses can take up a major spot in your budget.
It may not seem like much, but even if you're only saving a few cents per gallon, it adds up over time. Use a cheap gas locator, a cashback card, drive safely, and deduct your mileage if you're allowed. The more of these gas-saving strategies you can combine, the more you'll save.
Related: 13 Ways to Get Free Gas Cards