8 Ways to Watch Ads for Money and Earn Cash in Your Spare Time
Advertiser Disclosure
Our readers always come first
The content on DollarSprout includes links to our advertising partners. When you read our content and click on one of our partners' links, and then decide to complete an offer — whether it's downloading an app, opening an account, or some other action — we may earn a commission from that advertiser, at no extra cost to you.
Our ultimate goal is to educate and inform, not lure you into signing up for certain offers. Compensation from our partners may impact what products we cover and where they appear on the site, but does not have any impact on the objectivity of our reviews or advice.

The idea that you can get paid to watch ads sounds like a scam.
But rest assured — it's not. In fact, it's a quick and easy way to earn extra cash just for vegging out in front of a screen.
You won't have to just watch ads, either. What you watch depends entirely on you. You can choose to watch channels including news, home and garden, parenting, sports, entertainment, and much more.
But how exactly can you get paid to watch ads, and how much can you expect to make?
How to Earn Money by Watching Video Ads
Although it seems too good to be true, there are a variety of money-making apps and websites that will pay you money for watching online content. Some of them also offer other ways to earn cash including taking paid online surveys, completing tasks, and redeeming coupons.
Can You Really Get Paid to Watch Ads?
In short, yes. You can watch ads for money as well as other types of videos. Some apps even have different channels where you can watch movie trailers, news clips, and entertainment videos.
You can get paid to watch ads in short bursts of time, like during your lunch break or while the kids are napping. If you're consistent, your earnings will add up quickly.
How Much You Can Expect to Earn
Earnings vary with the platform you use, so make sure you check out a few of the ideas below. Some of the apps and websites from our list even offer bonus categories that increase your payment tenfold.
You can make enough money for a fun night out or save for a bigger purchase. How much you make depends on how much time you want to invest in racking up rewards.
One trick to earning more is to play the videos on your phone or tablet and let them run in the background while you do your regular tasks. That way you're not spending hours glued to the screen.
While the payout varies, most offer the option to redeem your rewards for gift cards or via PayPal.
8 Ways to Get Paid to Watch Ads on Your Phone
Now that you know that you can watch ads for money, you probably want to know to find them. Here are nine ways you can get paid to watch ads.
1. Swagbucks
Swagbucks is a free online rewards site. Earn points, or Swagbucks, for watching a variety of videos — some short and some longer. Video categories include entertainment, fashion, food, health, home & garden, news and politics, parenting, and sports.
In addition to watching videos, you can earn Swagbucks by answering surveys, using coupons, shopping online via the cash back portal, and more. Cash out your points for gift cards or PayPal cash.
You can redeem as little as 300 Swagbucks for a $3 gift card. If you prefer cash, the payout threshold for PayPal is $25 or 2,500 points.
Related: Is Swagbucks Worth It? Here's Our Official Swagbucks Review
2. InboxDollars
If you're looking for a quick and easy way to make money watching videos, check out InboxDollars. You can earn rewards by watching a variety of short videos daily. Check each day for new videos and other money-making opportunities.
There are a number of ways to make money with InboxDollars, and you get $5 just for signing up. InboxDollars also pays you money for completing online surveys, playing games, performing web searches, and signing up for promotional offers.
You need to earn at least $30 before you get paid. You'll receive your cash payout in the form of a check in the mail. It can take between 10 and 16 business days to arrive.
Related: Is InboxDollars Legit? We Find Out in Our InboxDollars Review
3. Slidejoy
Slidejoy is an app only for Android phones that rents your device's lock screen in exchange for cash rewards. When you install the app, you'll see a card with a news story or a promotion on your lock screen.
You'll have the option to get more info about the card, view another card, or go to your home screen. The content will be relevant to your interests and feature the latest news stories and deals.
While you do watch ads for money, your payout is not dependent on how much you interact with those ads. You can increase how much you make by participating in offers and surveys. Earnings are based on Slidejoy's proprietary algorithm. Keep an eye on your account and you will notice the balance grow throughout the day.
Your points come in the form of Carats — every 1,000 are worth $1. You need at least 2,000 carats (or $2) to cash out. Redemption options include gift cards for popular retailers such as Amazon, Walmart, and Starbucks. You can also redeem your payout in cash through PayPal.
While the app runs in the background of your phone, it's on the lock screen and shouldn't drain your battery.
4. iRazoo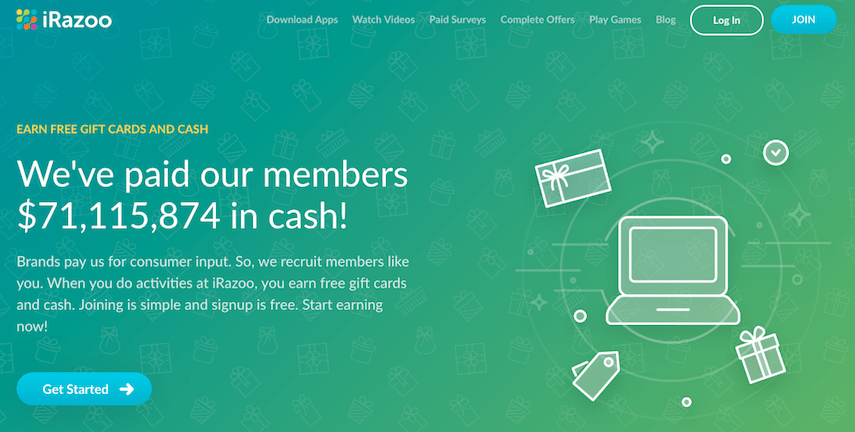 According to their site, iRazoo has paid out more than $55 million in cash rewards to its users. It's free to join and you'll get paid to watch ads and entertaining videos on your phone.
You can share your opinion on the newest ads or movie trailers, watch short films, app trailers, cooking tutorials, and more. There are more than 50 channels of content, and inventory refreshes daily.
All the activities you do on iRazoo earn you money. Other ways to earn include sharing your opinions, playing games, downloading apps, and completing offers.
Once you earn 3,000 iRazoo points, you can cash them in for a reward. Get paid via PayPal or turn your iRazoo points into gift cards for retailers like Amazon or AMC Theaters.
5. Viggle
Viggle is an app that rewards you for watching your favorite shows. All you have to do is check into the app while watching TV or streaming shows on providers like Netflix, Amazon, and Hulu.
You'll earn one Perk point per minute plus any bonuses. The bonus section offers chances to earn a higher payout per minute of watch time, with the highest bonus being 10 Perk points per minute.
Other ways to earn points include playing along with Viggle LIVE or participating in Quests and Streaks. With Viggle LIVE, you engage with shows via real-time quizzes, polls, and trivia. For every correct answer, you earn extra points
Quests awards you bonus points for watching shows under a particular category and Streaks reward you for checking into multiple episodes of a TV series.
You can redeem your Perk points for more than 800 gift card options for major retailers such as Walmart, eBay, Target, and Starbucks. Another option is to exchange your points for cash through a prepaid debit card.
6. Paid2YouTube
If you love watching YouTube, you can turn your hobby into cash with Paid2YouTube and get paid to watch ads and videos on just about any topic. Videos are posted on the website and updated regularly.
As you watch the videos, make sure you rate them, leave comments, subscribe to the YouTube channels, and refer friends to join as well. All these activities will help you maximize your earnings. The payout threshold is $10, and you'll get paid via PayPal.
7. Nielsen TV Ratings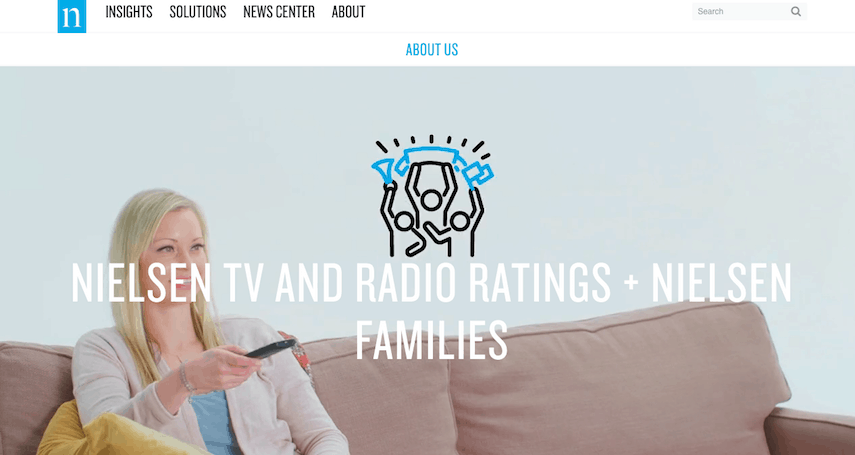 You're probably familiar with Nielsen. It's the system used for TV show ratings. The company measures the number of people watching television shows and collects data that's then sold to television and cable networks, advertisers, and the media.
Every U.S. household with a TV is eligible to be selected as a Nielsen Family. Keep in mind that participation is by invitation only, so you can't sign up to join. But make sure to keep an eye on your mailbox for your invite.
If you do get an invitation and you accept, you'll receive compensation for being part of the program.
8. SuccessBux
SuccessBux is another app you can use to watch ads for money. Registering for an account is free and easy. Once you join, you can watch ads, perform tasks, or take surveys to earn money. There's no cap on how much you can earn.
According to their site, members so far have earned more than $25,000 for using the platform. Other ways to earn money include participating in contests, redeeming offers, listening to audio clips, and referring new members.
The minimum payout threshold is $1. You can get your money via PayPal or another payment processor.
You Won't Get Rich Watching Ads for Money
Vegging out in front of the screen won't replace your day job, but earning a little extra money online is an easy way to feel less guilty about making a fun purchase.
The best way to ensure you earn enough money is to devise a game plan. Turn the videos on in the background while you work or do chores. Make sure you log in daily for new videos, and don't forget to check out all the additional ways each platform offers for making extra money.
Every little task adds up.