9 Legitimate Ways to Get Paid to Search the Web
Advertiser Disclosure
Our readers always come first
The content on DollarSprout includes links to our advertising partners. When you read our content and click on one of our partners' links, and then decide to complete an offer — whether it's downloading an app, opening an account, or some other action — we may earn a commission from that advertiser, at no extra cost to you.
Our ultimate goal is to educate and inform, not lure you into signing up for certain offers. Compensation from our partners may impact what products we cover and where they appear on the site, but does not have any impact on the objectivity of our reviews or advice.
From using a specific search engine to performing micro tasks for pocket change, here are several ways you can get paid to browse the internet.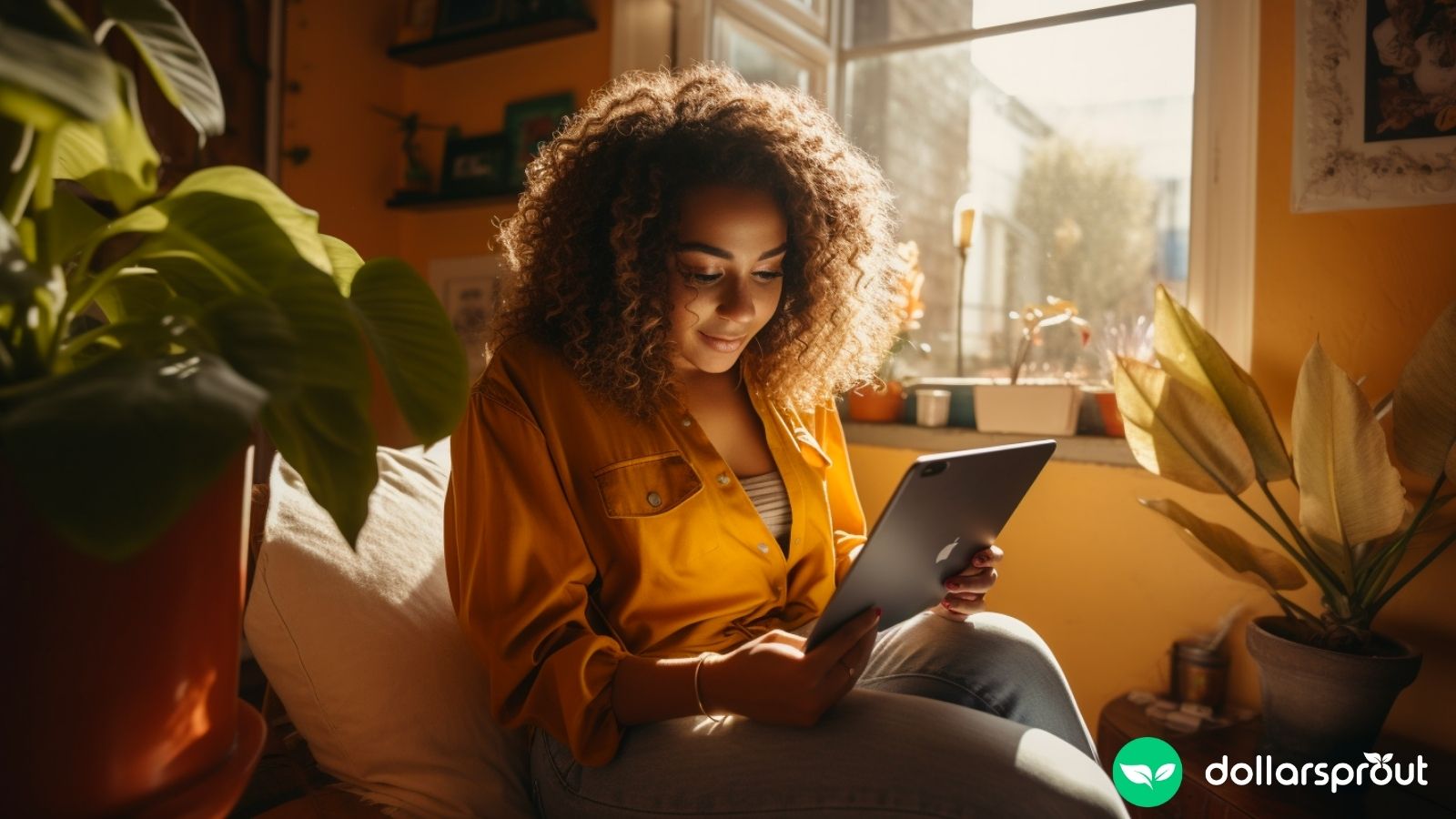 Like most college students, I was always looking for easy ways to make money. I had rent, books, sorority dues, and plenty of other things to pay for. A few months into my freshman year, a girl who lived in my dorm told me she made extra cash by surfing the web.
I thought she was kidding until she took out her MacBook and introduced me to Swagbucks. Even though I had a jam-packed schedule, I used Swagbucks to browse the web and complete other easy tasks in my spare time.
If you're a college student, stay-at-home mom, or anyone else trying to make a little extra money, you can get paid to search the web. All you need is a computer and a reliable internet connection.
Companies That Pay You to Browse the Web
There are a variety of websites that'll pay you to browse the web and use the internet as you normally would. They each have their own requirements, redemption schedules, and rules to follow.
1. Swagbucks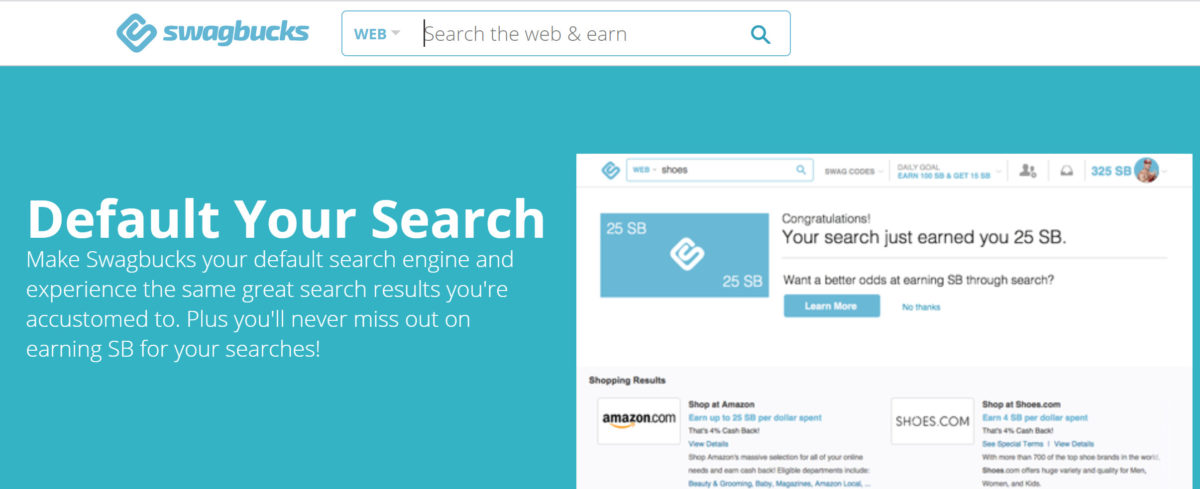 Swagbucks is a rewards and loyalty program that's been around since 2008. You can earn points or "SBs" when you use Swagbucks Search, a Yahoo-powered search engine. Add the browser extension in Google Chrome to make sure you never miss an opportunity to make money.
SBs are given randomly, so you don't get paid every time you search. Any time you earn an SB, a notification will pop up and you'll click "claim." If you want to make more money via Swagbucks, you can watch videos, answer surveys, and shop online as well.
How points work: 100 SBs equal roughly $1.00
Cash out minimum: 160 SBs or $1 for an Amazon gift card
Payment options: You can redeem your SBs, cash through PayPal, or gift cards to Amazon, Target, and thousands of other retailers.
Daily earning limit: Unclear
Sign-up bonus: 1,000 SBs or $10 (terms and conditions apply)
2. InboxDollars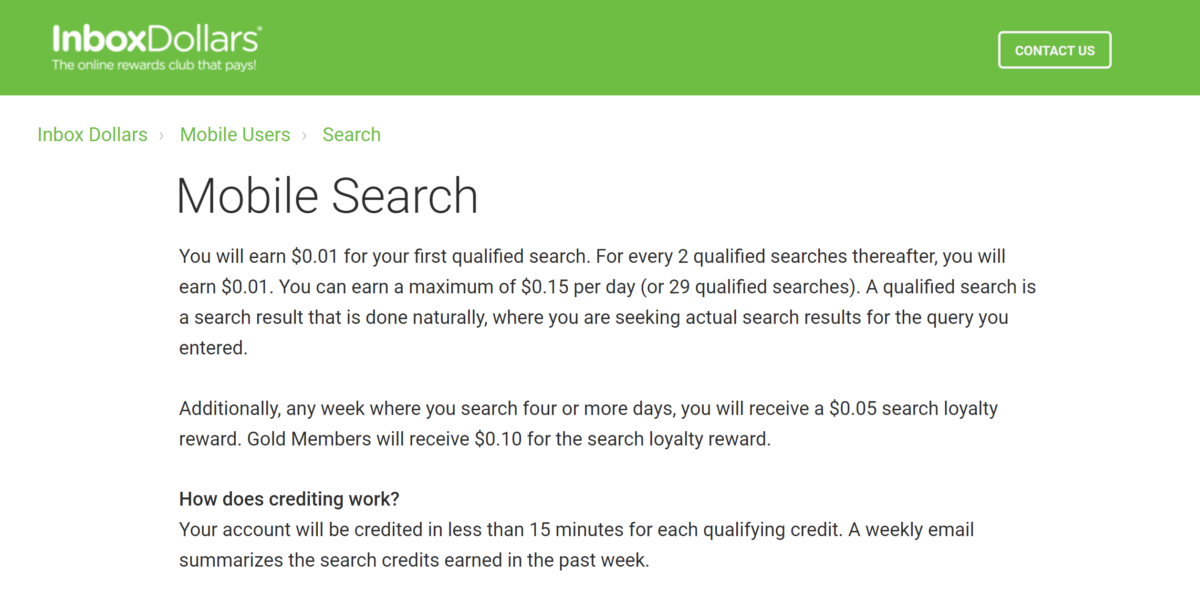 Founded in 2000, InboxDollars has paid over $59 million in rewards to its members. You can make money if you use its search engine, InboxDollars Search, instead. Every time you complete four web searches, your "Scratch & Win bar" will start to fill up.
Once it's full, you can unlock scratch cards, which are like lottery cards. InboxDollars will also pay you to watch videos, take surveys, read emails, print coupons, and play games.
How scratch cards work: While you can win scratch cards that are worth $10 to $100, most of them are valued between a few cents to $0.25.
Cash out minimum: $30
Payment options: Once you meet the $30 cash out minimum, you can get paid via check in the mail, Visa prepaid card, or an electronic gift card to a retailer of your choice. You may also donate your earnings to a charity like the American Red Cross or Animal Humane Society.
Daily earning limit: Unclear
Sign-up bonus: Earn $5 for activating your account
3. iRazoo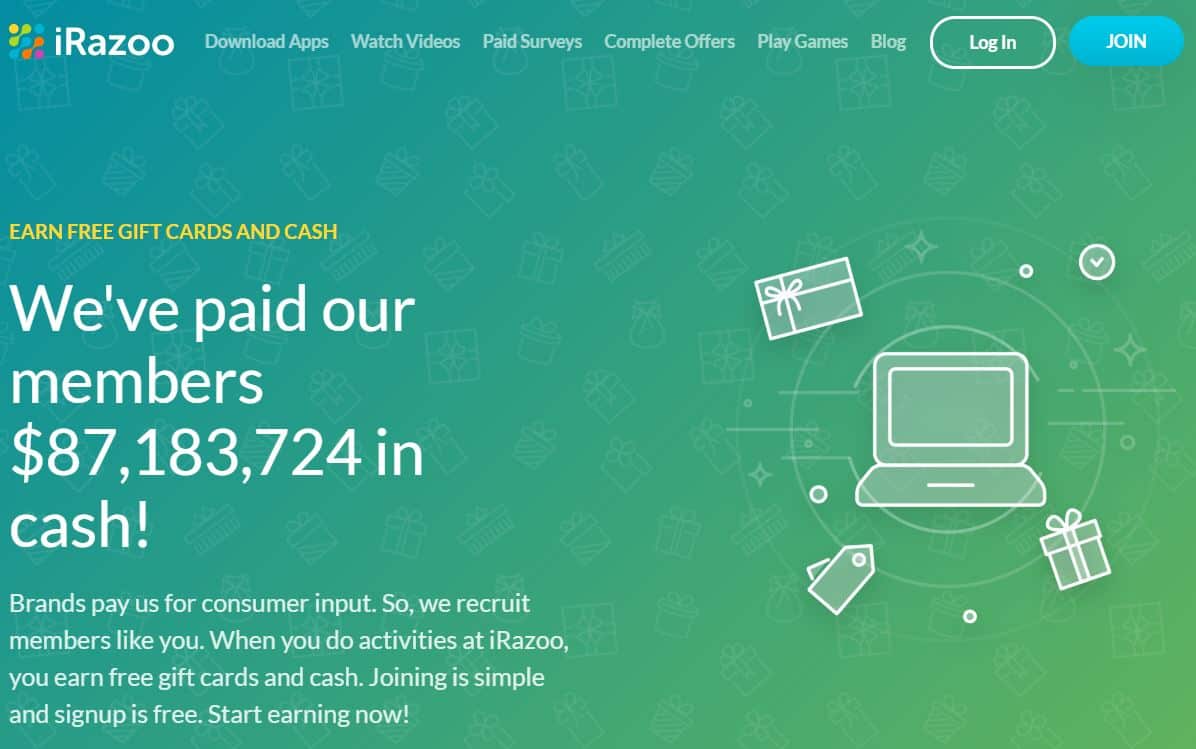 iRazoo is an online rewards and cash-back site. Since 2007, it's paid users to search the web, take surveys, watch videos, and enter promo codes. If you set your browser's default search engine to the iRazoo Engine, powered by Yahoo, you can win iRazoo Points each time you search the web.
Every time you make a unique search, you'll get the chance to earn between 1 and 25 iRazoo Points. The points will appear randomly on your screen and you'll need to click a button to claim them.
How points work: 3,000 iRazoo Points equals $5
Cash out minimum: 3,000 iRazoo Points
Payment options: Your points are good for PayPal cash or gift cards to places like Amazon and Home Depot.
Daily earning limit: 25 iRazoo Points per day
Sign-up bonus: 100 iRazoo Points
4. Qmee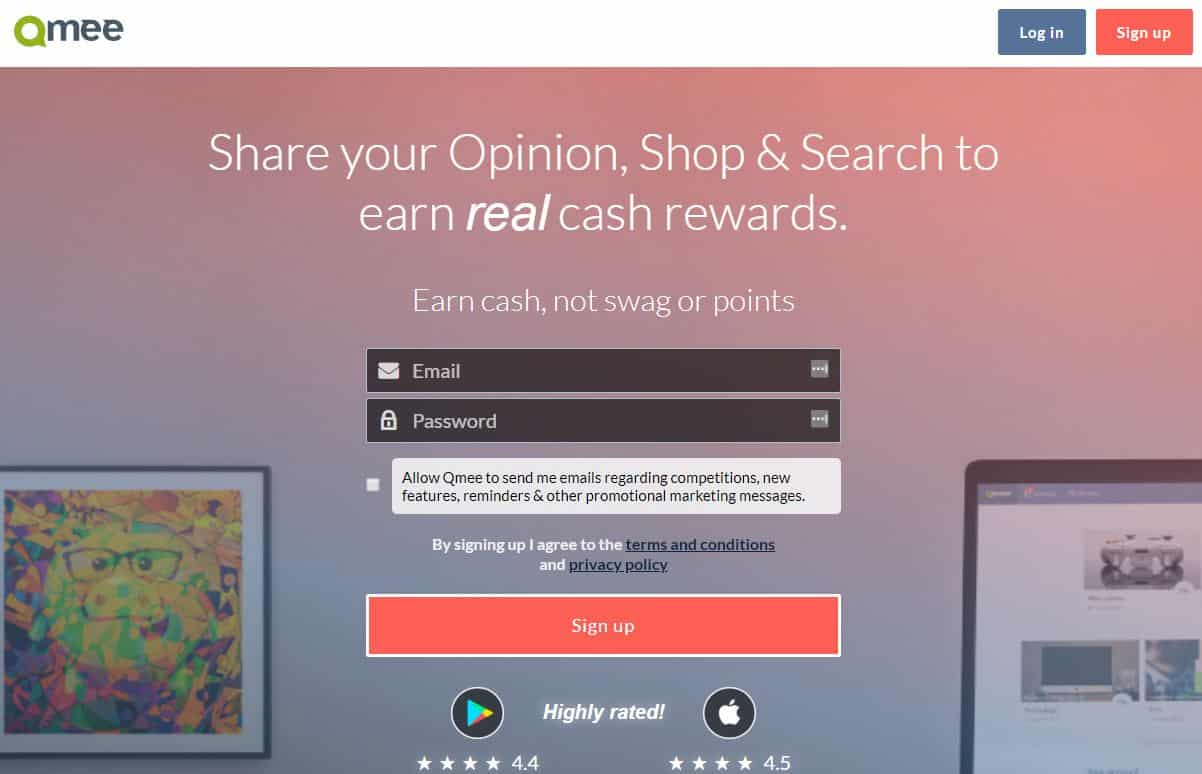 Launched in 2012, Qmee is a free app that partners with advertisers and rewards members when they take surveys, shop, and search online. You can download the Qmee browser app and make money while you search on Google, Yahoo, and Amazon.
If you see a search result that piques your interest, click on it to get the available reward. You'll get the same search results you'd see if you didn't use Qmee, including a few extras that pay to appear in Qmee's search results. In most cases, your reward will be a few cents each.
How rewards work: Rewards are shown by dollar amount. For example, you may see a $0.07 reward when you click on a search result.
Cash out minimum: None. You can redeem your earnings at any time.
Payment options: Once you earn rewards, you can donate them to charity or redeem them for gift cards or PayPal cash.
Daily earning limit: None. You can earn as much as you want.
Sign-up bonus: None.
5. Microsoft Rewards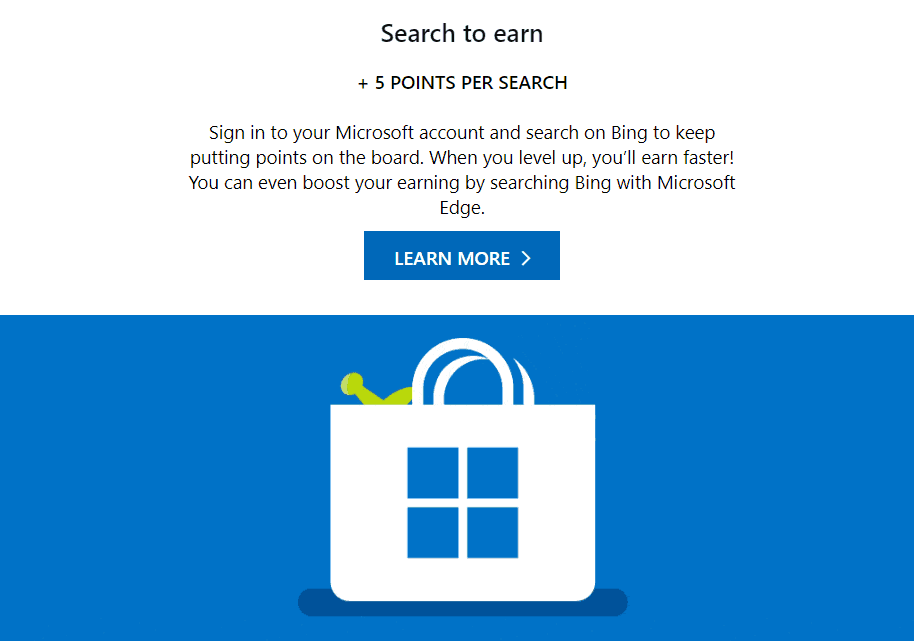 Microsoft Rewards, formerly known as Bing Rewards, was founded in 2010 to encourage people to use the Bing search engine. You'll earn credits when you search via Bing, spend money at Microsoft.com, play trivia, and take polls. To become a Level 1 member, you can sign up for a Microsoft account and stay signed in to start earning.
To earn even more rewards, use the Microsoft Edge Browser on your phone or computer to search with Bing. If you do, you'll become a Level 2 member and can claim up to 600 points a month. To get the points, click "redeem" when you see them on your screen.
How points work: Earn up to 5 points for every search.
Cash out minimum: The reward you choose (gift card, sweepstakes entry, or donation) will determine how much you need to cash out.
Payment options: You can use your points for gift cards, sweepstakes entries, and donations to nonprofits.
Daily earning limit: Level 1 members: 5 points per day, 150 points per month; Level 2 members: 20 points per day, 600 points per month.
Sign-up bonus: None
Other Ways to Earn Money Searching the Web
These jobs may require more time and dedication than just using a search engine, but they allow you to earn more money overall.
6. Download Nielsen Computer and Mobile Panel
Nielsen is a research company that collects market and consumer information. If you download the Nielsen Computer and Mobile Panel app, you'll earn rewards for your online searches. Nielsen will track your internet usage and share it with companies that use the information to create new products and services or improve their existing ones.
They'll capture things like which websites you visit and how long you stay on those sites. When you accumulate points through the app, you can redeem them for free gift cards to places like Amazon and Starbucks. You'll need to earn 800 points to cash out for a $5 gift card.
7. Become a Search Engine Evaluator
Search engines are always looking for ways to improve, which is why they hire Search Engine Evaluators. As a Search Engine Evaluator, you can earn $12 per hour or more to check search engine results for quality and relevancy. You'll provide the human touch search engines need to detect flaws that algorithms can't yet catch on their own.
Before you get hired, you'll likely have to pass a test or interview that shows you understand how search engines work. Check companies like Lionbridge, Appen Butler Hill, and Leapforce for Search Engine Evaluator opportunities.
Related: 28 Legit Online Jobs That Are Easy, Flexible, and Profitable
8. Search and Test Websites
User-friendly websites are more important now than ever before. If a website is difficult to navigate, users will leave quickly and may never return. That's why companies will pay you to search and test websites. You'll visit a site and offer valuable feedback so that it can be improved for ease of use.
UserTesting.com pays $10 to $15 for short, 20-minute site reviews. Before they hire you, you'll need to complete a sample test. Once you're on board, you'll receive real, paying opportunities. You can cash out your earnings via PayPal.
Related: 14 Places That Will Pay You to Test Websites
9. Use Websites to Research
Businesses pay websites like AskWonder.com to hire research assistants who can find answers to detailed questions.
You'll need to take a test, which will include a sample question for you to answer, to apply for a research assistant position. Once you get hired, you'll receive access to a database with guidelines, a list of resources, and tips on how you should approach different topics.
Pay depends on the complexity of the question, among other factors. According to Wonder, researchers can make $15 to $25 per hour depending on the types of jobs they choose and how quickly they work. Payments are processed every two weeks and sent via PayPal.
Related: One Expert's Advice on Why Weird Side Hustles Work
3 Ways to Maximize Your Earnings
Most of the websites that pay for your web searches reward you with just a few cents per search. At that rate, it can take a while to see any real earnings. Here are a few ways to increase your earning potential:
Sign up with multiple websites: The more websites you sign up for, the more you'll earn. You can start with one and eventually use three or four. Jot down the websites you choose so that you don't forget about one and try to rotate between all of them.
Set your default search engine to Bing: When you set Bing as your default search engine and sign up for Microsoft Rewards, you can earn up to 5 points for every search. That way you'll never miss out on easy rewards.
Try to maximize your daily searches: Any time you have a question or need to research something, be sure to use one of your chosen sites. It's easy to forget and use your go-to search engine, but then you miss out on some easy cash. That's why it helps to set your default search engine to one of these new sites and bookmark the others.
There Are Better Earning Options
Searching the web isn't the answer if you'd like to make a full-time or part-time income. However, it can be a great way to earn some spare change with little effort. This is particularly true if you spend a lot of your time doing research or surfing the web anyway.
It can take a while to accumulate enough points or rewards to redeem a gift card or cash. At the end of the day, there are better ways to make money online.