15 Best Places to Participate in Paid Research Studies
Advertiser Disclosure
Our readers always come first
The content on DollarSprout includes links to our advertising partners. When you read our content and click on one of our partners' links, and then decide to complete an offer — whether it's downloading an app, opening an account, or some other action — we may earn a commission from that advertiser, at no extra cost to you.
Our ultimate goal is to educate and inform, not lure you into signing up for certain offers. Compensation from our partners may impact what products we cover and where they appear on the site, but does not have any impact on the objectivity of our reviews or advice.
From testing products and services to sleep and diet studies, here's a list of vetted places you can participate in paid focus groups.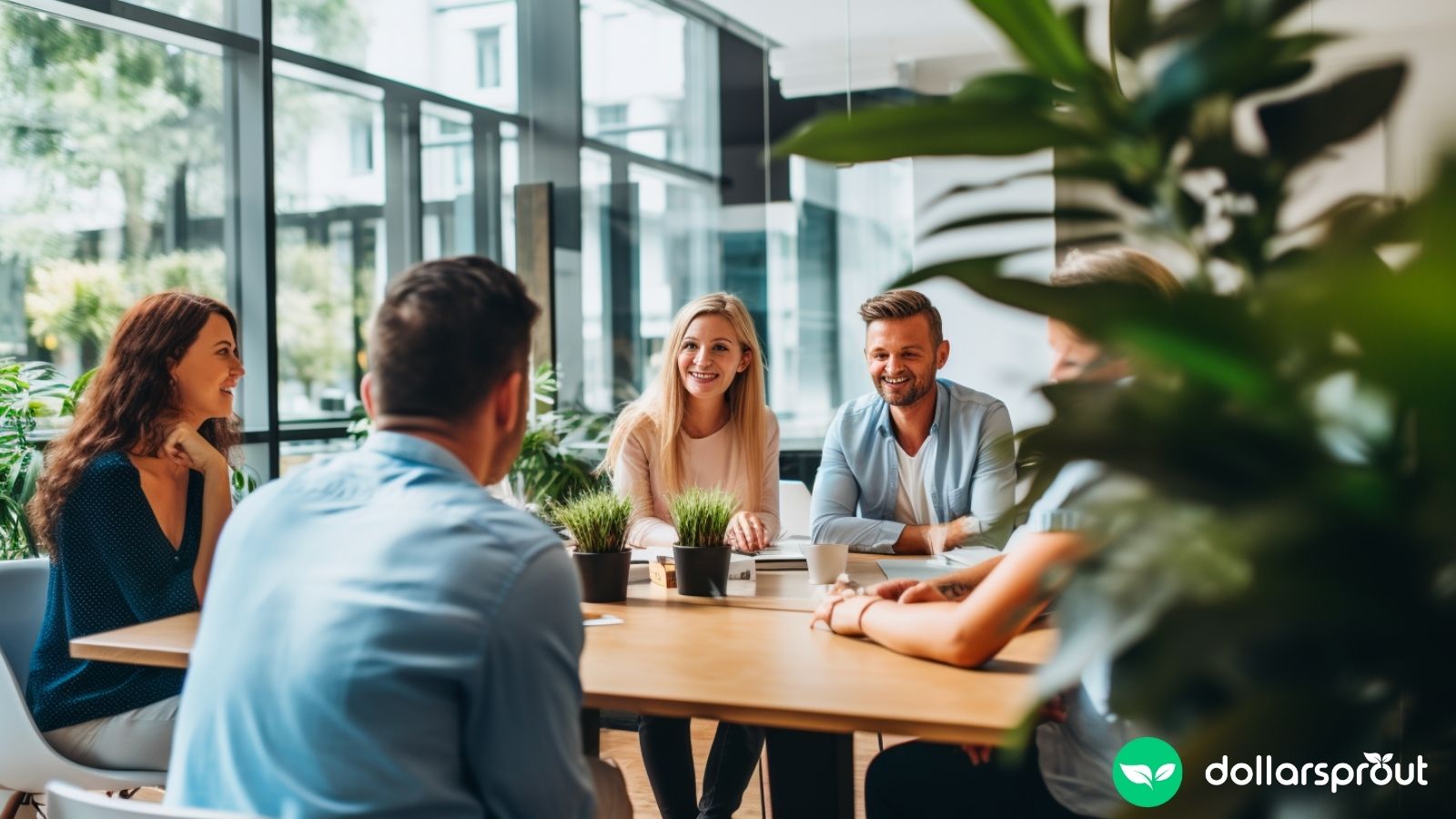 A few years ago, I got an invitation to attend a research study hosted by a local skincare company. They were launching a new line of products and wanted feedback from 20 to 25 year-old-women with dry skin.
Since I was a new college grad who needed extra cash, I decided to go. They asked me various questions regarding my current skincare regimen, the products I used, and how I felt about them. It only took an hour, and I got a $75 Visa gift card and a few product samples. Not a bad way to kill an hour.
If you like the idea of getting paid to share your opinions, you're in luck. There are plenty of places that host paid research studies. While the study I did was in-person, there are many online research studies you can do at home.
Websites That Offer Paid Research Studies
You can find online focus groups that'll pay you for your time and feedback through a variety of websites. Each site has its own requirements and payment structure, so it's a good idea to explore all the options available.
1. Survey Junkie
Survey Junkie is a survey site that's been around since 2005. It will pay you to take surveys and express your opinions to big brands who want to improve their products and services. After you answer several questions about yourself and create a profile, the site will match you to surveys that are relevant to you.
Any time you complete a survey, you'll earn virtual points, which you can redeem for PayPal cash or online gift cards. Most surveys take anywhere from 5 to 20 minutes, and you can expect to make between 100 to 200 points or $1 to $3 per survey. You won't have to buy any products or sign up for other websites.
2. American Consumer Opinion
American Consumer Opinion is a survey panel that partners with large companies who want customer opinions. To join, you'll enter basic information such as your age and where you live. Then, you'll take a general household survey where you'll share details about your lifestyle.
You'll likely receive survey invitations via email several times a year. The number of points you'll rack up will depend on the length of the surveys.
While short surveys are typically worth anywhere between 5 and 50 points, you can earn up to 5,000 points with longer ones. One point equals $0.01, and you can cash your points in for PayPal cash or donate them to charity.
Related: 17 Best Places to Take Paid Online Surveys for Money
3. Respondent
Respondent is unique because it organizes one-on-one paid research studies online and in person. You can sign up with your email address or via your Facebook or LinkedIn profile through the site.
Once you do, you'll fill out some basic personal information such as your name, birthday, and email address. They'll also ask for demographic details like your gender, ethnicity, and educational background.
After you've signed up, you'll browse all of the "projects" available and details like the pay and how long they take to complete. When you see a project that interests you, you can apply to it through a short questionnaire. You'll be emailed if the company chooses you for their project.
Most of the projects focus on small business or technology and pay anywhere from $50 to $85 via PayPal for 45 minutes to an hour of your time.
4. FocusGroup.com
FocusGroup.com began in 1988 and offers surveys as well as in-person and online focus groups via phone and webcam. After you create a profile, you'll be emailed surveys and focus group invitations.
The majority of the site's surveys and focus groups revolve around health and wellness, pet products, finances, and shopping habits.
You'll earn between $75 and $150 if you participate in focus groups and points for surveys, which you can apply toward a prepaid Visa debit card. You can cash out 100 points for $1.00.
5. Plaza Research
Plaza Research pays parents, kids, teens, students, doctors, and business professionals to share their opinions on new products and services. It hosts surveys and a variety of in-person focus groups throughout the country.
If you attend a focus group, you'll likely be asked to try a new product, watch a TV commercial, or discuss your thoughts about future products. To receive survey and focus group invitations, fill out an online form. The form will ask you questions about your education, electronic use, employment, household, pets, and more.
You'll get an email if you're a good fit for a survey or focus group. The amount you'll earn depends on its length and scope. Most participants will earn between $50 and $200, paid via check, for two hours of their time.
Related: How to Get Paid to Write Reviews
6. Mindswarms
You can create an account online or via the Mindswarms mobile app and get paid to answer questions via your smartphone or webcam.
After you apply to a survey that appeals to you, you'll answer a few targeted questions to make sure you're a good fit for it. If you are, you'll answer seven questions and earn about $50. The money will be sent to your PayPal account within 24 hours. You can also redeem your earnings for an Amazon gift card.
7. Fieldwork
Fieldwork has facilitated marketing research studies since 1980. The company hosts in-person focus groups in 11 cities across the U.S. If you don't live near any of these cities, you can still register for Fieldwork's national database and participate in online or phone interviews.
To register, fill out an online questionnaire and wait for Fieldwork to call or email you when an opportunity is available. Most in-person focus groups last between one and two hours and can be on random topics such as cereal and video games. Compensation is usually a $75 Visa gift card.
8. User Interviews
User Interviews organizes focus groups in-person, via phone, or video streaming about products, services, and websites. For a chance to participate, create a profile with your birthday, gender, household income, marital status, and education level.
If you find a project that interests you, complete a short screener survey to see if you're eligible. If you are, you can sign up for the focus group and earn an average of $50/hr. You'll get paid via check.
9. Brand Institute
Brand Institute is a branding agency that supports healthcare and pharmaceutical companies with their marketing initiatives. You can become a Brand Institute panel member after you fill out a short online registration form. If you qualify for a paid research study, you'll get an email notification and can participate right away.
Payment depends on the survey you take, and you're more likely to receive invites for higher-paying surveys if you have a medical background. You can earn between $2 and $30 via check or PayPal. Doctors, nurses, pharmacists, and others in healthcare report that they receive about four surveys a month.
10. Engage
Engage finds respondents for various market research and usability studies. It offers both in-person focus groups and online discussions for panel members. You can join the healthcare panel if you're a medical professional or consumer panel if you're an everyday consumer.
You'll have to provide information about your income, marital status, education level, and job. Once you do, you'll receive an email notification whenever you qualify for a study. Most studies cover topics like cars, electronics, food products, music, and medical conditions. They usually pay $50 to $250 via check or PayPal.
Universities that Facilitate Paid Focus Groups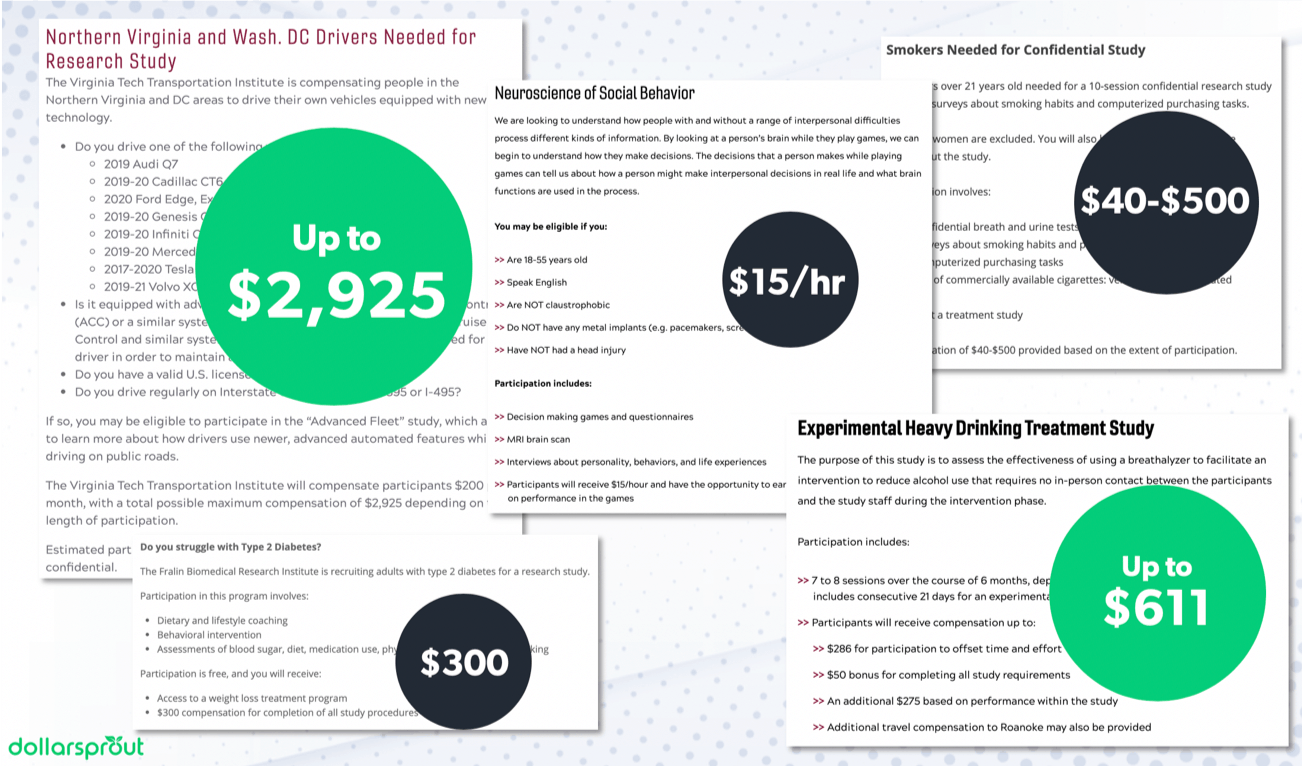 You can also find paid focus groups at colleges and universities. Many of them offer year-round opportunities and focus on psychology and human behavior. While most of these studies are performed online, a few require that you participate in person.
You don't have to be a student to participate, and payment is typically in the form of PayPal cash, gift cards, or a check. If you'd like to earn money via college-run focus groups, take a look at the schools near your home. Their websites will likely include details about these types of opportunities.
DollarSprout co-founder Jeff Proctor participated in a six-week research study on high-fat diets at Virginia Tech. During the study, he was compensated with meals and $500.
"It was a great experience but very involved," he said. "I had to check in every day to get weighed, choose my meals, and get several blood and urine samples taken."
How to Tell if a Focus Group Opportunity is Legit
Even though many focus group opportunities are legitimate, there are plenty of work-from-home scams out there. If you have to pay to participate or reveal confidential information such as your Social Security number or credit card details, that's a red flag. Stay away from any focus groups that force you to buy products or services or sign up for other websites.
If you find an opportunity that interests you, do some online research to make sure it's valid. Check the Better Business Bureau to see its rating and read any complaints. This way you can avoid a situation where you get excited about a focus group and then find out it's a scam.
A legitimate company will never charge you to attend a focus group or take a survey. In addition, they'll have a privacy policy that's prominently displayed on their website and will only email you from a business email account, rather than one from a free service like Gmail or Yahoo.