Can the Clink App Help You Save Money?
Advertiser Disclosure
Our readers always come first
The content on DollarSprout includes links to our advertising partners. When you read our content and click on one of our partners' links, and then decide to complete an offer — whether it's downloading an app, opening an account, or some other action — we may earn a commission from that advertiser, at no extra cost to you.
Our ultimate goal is to educate and inform, not lure you into signing up for certain offers. Compensation from our partners may impact what products we cover and where they appear on the site, but does not have any impact on the objectivity of our reviews or advice.

The Clink app is no longer available. If you're still looking for help managing your money, check out our list of the top budgeting apps on the market.
Saving money is hard.
To start, you need to have money available to save. For people living paycheck to paycheck, that's a big ask.
Once you do have some breathing room, you have to buckle down and commit to saving that extra money instead of spending it. One way to do that is to automate your savings.
Through the Clink app, you can automatically save your money and build a nest egg for the future.
Clink Review at a Glance
Pros
Easy to use
Simple fee structure
Automated saving and investing
Low-cost and reputable investment options
Cons
Fees can be high
Limited investment options
Doesn't reimburse overdraft fees
Best for: People who have trouble saving money on their own. Its automatic savings tools do the heavy lifting and move money from your checking account to your Clink account. Clink then invests your money according to your savings goals and risk profile, helping your savings grow.
What is Clink and How Does it Work?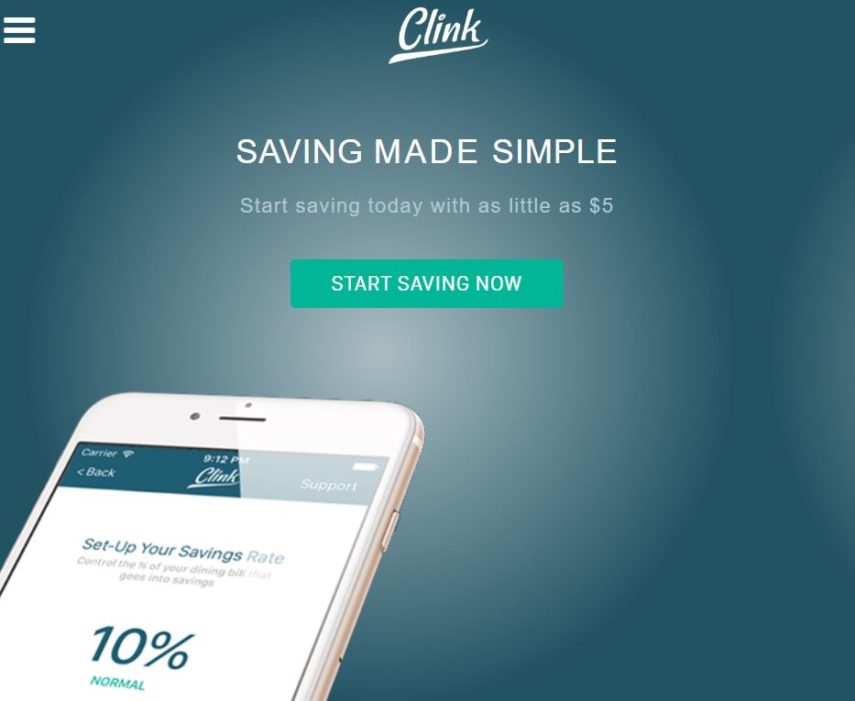 Clink is a tool that accomplishes two goals – saving and investing your money. It does this by automatically moving money from your checking account to your Clink account. Clink also invests your money for you. It uses a variety of low-fee Exchange Traded Funds (ETFs), so your savings grows over time.
Getting started
The first step is downloading the app. You can get Clink on both iOS or Android devices.
Once you've downloaded the app, create your account and link your bank accounts. There's no minimum deposit requirement.
Saving money
Clink offers a few ways for it to save you money. First, you can set up a recurring savings schedule. You can decide if you want to save a set amount each day, week, month, or whatever schedule works for you. Your scheduled deposit must be at least $1.
Clink will batch smaller transactions into one large weekly one. For example, you can set it so that you save $1 every weekday. At the end of each week, Clink will automatically take $5 from your checking account and deposit it into the Clink account.
The second option is setting up transaction-based rules. When you set up your Clink account, you'll have the option to link your credit and debit cards. If you do, you can create rules to let the app save every time you spend money.
For example, you can create a rule that says that you'll save 5% of the money that you spend when you shop for clothes. If you use a linked card at a clothing store and spend $100, Clink will make an additional $5 charge to your card and deposit the proceeds to your Clink account.
The benefit of this system is obvious. Even while you're spending, you'll save money. You just have to be careful about not justifying your overspending because you're saving money. Also, the money you save comes from your credit card. If you don't pay your card balance in full at the end of the month, you'll owe interest charges.
These interest charges can offset any money you're saving.
What Clink does with your money
Once your money has been deposited to the Clink account, Clink will help it grow.
When you set up your Clink account, you'll be asked how aggressive you want to be with your investments. Based on your answer, Clink will automatically deposit your money in a mix of up to six ETFs. ETFs, like mutual funds, let you own a small share of multiple stocks and bonds by buying shares in a single fund.
The ETFs that Clink invests its customers' money in include the following Vanguard funds:
These ETFs cover a large portion of the domestic and international stock and bond markets. That means that your money will be well-diversified across multiple companies.
The advantage of Clink's investment plan is that over time, your investments will increase in value. However, all investing is subject to risk. It's possible, especially in the short term, that your investments will lose value.
If you tell Clink that you want to be aggressive with your investments, the odds of losing money can be higher, but the potential returns will also increase. If you tell Clink to be less aggressive, there's a smaller chance you'll lose money, but your investments are also unlikely to increase in value as significantly.
There's no option to choose your own investments, so you'll have to rely on one of the sample portfolios that Clink offers to you.
Pricing
Clink's fee structure is easy to understand. For accounts with less than $5,000, there's a $1 monthly fee or a $12 annual fee.
Accounts with a balance of $5,000 or more are charged .25% of their balance each year. For an account with a $5,000 balance, this equates to a $12.50 annual fee.
This fee structure is on par with the fees charged by Clink's competitors like Acorns or Digit. However, given the simplicity of Clink's portfolios and the lack of more advanced robo-advisory services, this fee can seem high, especially for larger balances.
Clink FAQs
The Clink app is easy to use and set up, but you should still understand it before you sign up.
Can I open a Clink account for my child?
Yes, Clink offers custodian accounts, Uniform Gift to Minor Act (UGMA), and Uniform Transfers to Minors Act (UTMA) accounts. These accounts hold money on behalf of people who are under 18.
The first account you open for a child will cost $2 each month. Each additional account will cost $1 per month.
Is my Clink account insured?
The investments in your Clink account are held by Apex Clearing Corporation, a brokerage company that works with many other investment services. Apex Clearing Corporation is insured by the Securities Investor Protection Corporation (SIPC), so the money in your Clink account is protected.
It's important to note that this insurance doesn't apply if your investments lose value. It only applies if Clink loses your investments and is unable to return them to you if they close or lose its records.
How long do money transfers to and from Clink take?
Deposits and withdrawals from your Clink account can take 2 to 3 business days to process. If you need to withdraw money from your account, make sure to give yourself plenty of time.
Can Clink cause overdraft fees?
One downside of any service that automatically removes money from your checking account, including Clink, is that it may cause overdraft fees. If an automatic withdrawal that Clink initiates causes your checking account balance to fall below $0, you may have to pay an overdraft fee to your bank.
If your bank refuses to cover the overdraft, you may incur an additional $30 fee charged by Apex Clearing on behalf of Clink. This is a huge downside, and it pays to watch your balance if you're using Clink for regular transfers.
Clink Review Summary
As an automated saving service, Clink checks all the boxes. You can save on a set schedule or create spending rules to help you save when you shop.
Unfortunately, high fees and limited investment options make it difficult to stick with Clink for the long-term. Many people would be better served by opening an online savings account and setting up automatic transfers each month if their goal is to start building up their savings.