Ipsos iSay Review 2023: Pros, Cons & Realistic Earning Expectations
Advertiser Disclosure
Our readers always come first
The content on DollarSprout includes links to our advertising partners. When you read our content and click on one of our partners' links, and then decide to complete an offer — whether it's downloading an app, opening an account, or some other action — we may earn a commission from that advertiser, at no extra cost to you.
Our ultimate goal is to educate and inform, not lure you into signing up for certain offers. Compensation from our partners may impact what products we cover and where they appear on the site, but does not have any impact on the objectivity of our reviews or advice.
Ipsos iSay is a popular survey site that lets you share your opinions in exchange for points that can be redeemed for cash or gift cards. Here's what you should know before getting started.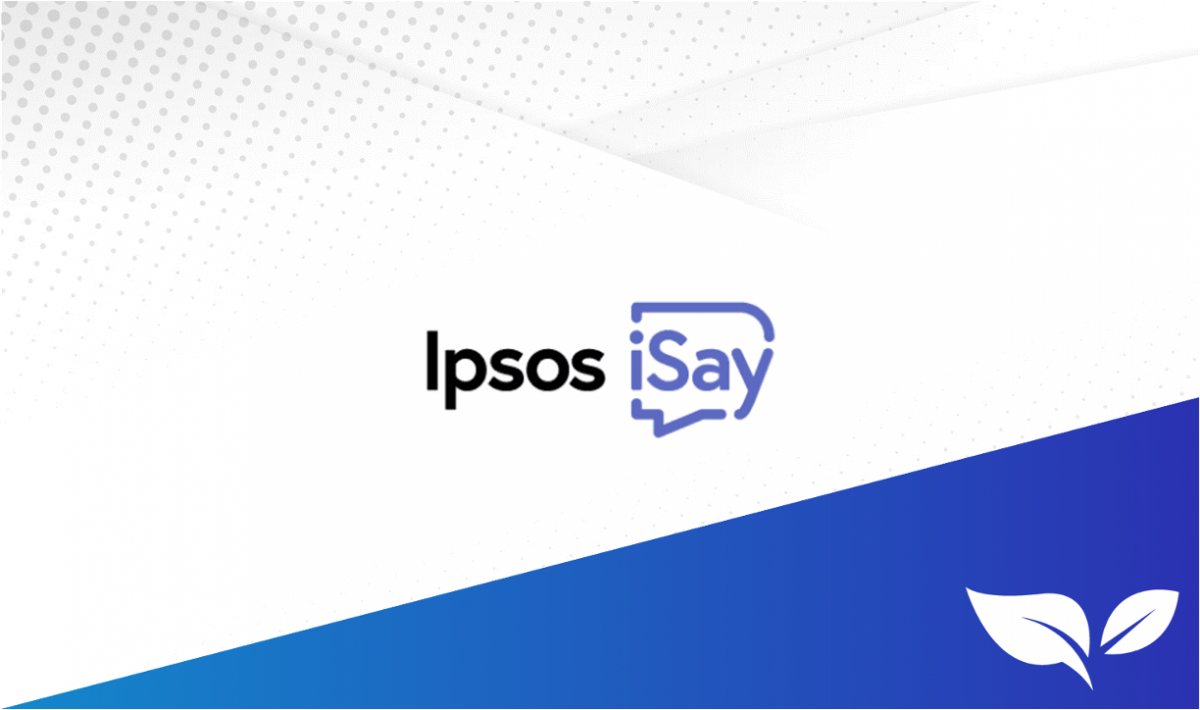 If you're looking for an easy way to earn extra money online, you've probably seen it written that paid online surveys are one such way to go.
You can get started in just a few minutes, and you don't need any sort of special skill or even prior experience. Simply put, you'll be sharing your opinion on popular brands, products, and services, and in exchange, you'll earn anywhere from a few cents to a few dollars [per survey] for your time.
In our Ipsos iSay review, we thoroughly tested the survey platform to help determine if the site makes sense for you.
From exploring the platform's ease of use and sifting through all of its features, to vetting privacy concerns and looking at earnings claims, here's everything to know about the survey site before signing up.
What Is Ipsos iSay?
Ipsos iSay is an online survey platform owned and operated by the market research giant Ipsos.
Founded in 1975 in Paris France, Ipsos partners with over 5,000 clients to conduct 70 million surveys each year, reaching participants in over 100 countries.
The idea behind iSay is simple: users complete surveys and engage in certain activities to help Ipsos better understand what consumers want. In return for your valued opinion, you get paid with points that you can redeem for free gift cards or cash.



$0.25 to $1.00 Earnings Per survey.

$0 Fees Free to join.

Founded in 1975, Ipsos is one of the world's largest market research companies, operating in 89 countries with over 19,000 employees. Their iSay panel generally pays member survey takers between $0.25 and $1.00 for each study they complete.

Show Hide more
Pros
A+ rating with BBB.
4.2/5.0 rating on Trustpilot.
Transparent earning expectations.
Low payout threshold (only $5).
International users welcome (check website for exact locations).
Earn points even if disqualified from a survey.
Cons
Few high-paying opportunities.
Mobile application is sometimes glitchy.
Occasional broken surveys.
Few gift card options.
Limited number of ways to earn points.
Like many survey sites, may be disqualified after starting a survey.
Is Ipsos iSay Legit?
Ipsos iSay is as legit as any other noteworthy survey platform on the web. The Ipsos group holds an A+ rating with the Better Business Bureau (BBB) and has zero unresolved complaints.
Additionally, they maintain a strong 4.2-star rating (out of 5.0) on Trustpilot.
The Ipsos iSay app comes in notably weaker at 2.9 stars on Google Play and 1.9 stars on the Apple App Store. This appears, in part, due to negative reviews revolving around a glitchy survey interface and the inability to use the app in landscape mode.
Ultimately, users should expect to earn points and receive payouts in the advertised manner.
How Ipsos iSay Works
Like most other survey sites, iSay requires that you create a member profile during the signup process.
It is normal for them to ask you to answer questions about seemingly personal demographic information.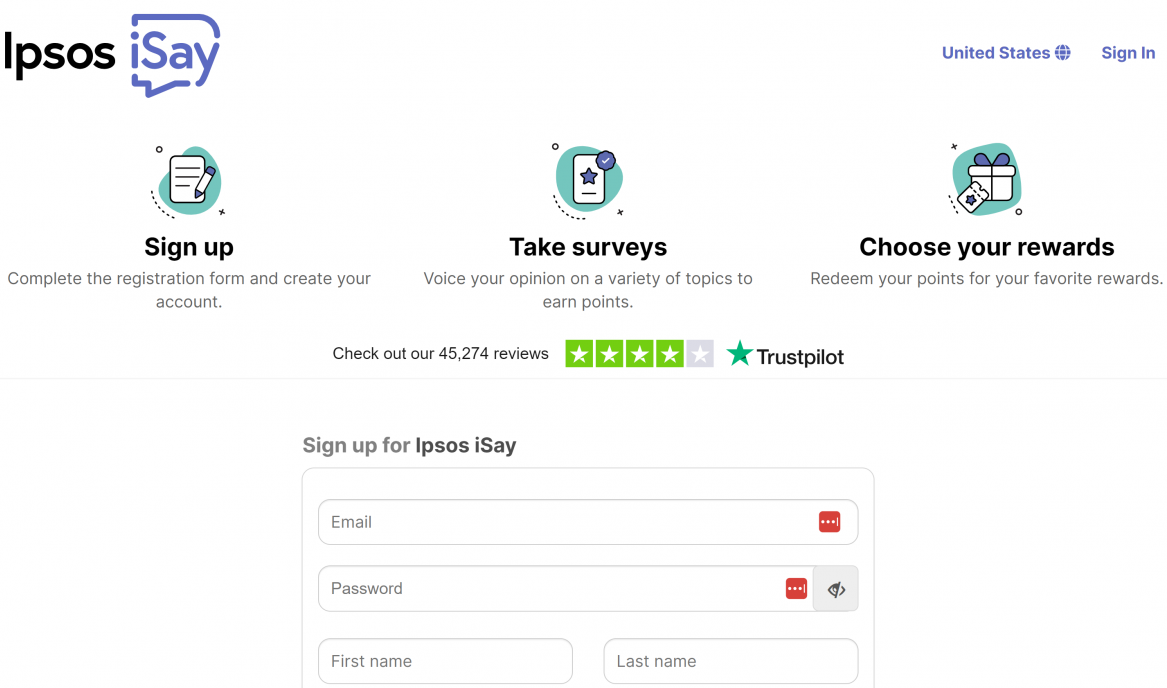 Age, gender, location, marital status, and number of dependent children are but a few of the many areas they may touch on in their Sensitive Personal Information Profiling Survey.
Additionally, you'll take Profiling Surveys in several other categories such as Travel, Technology, Personal Care, Home and Garden, and General Consumption Information.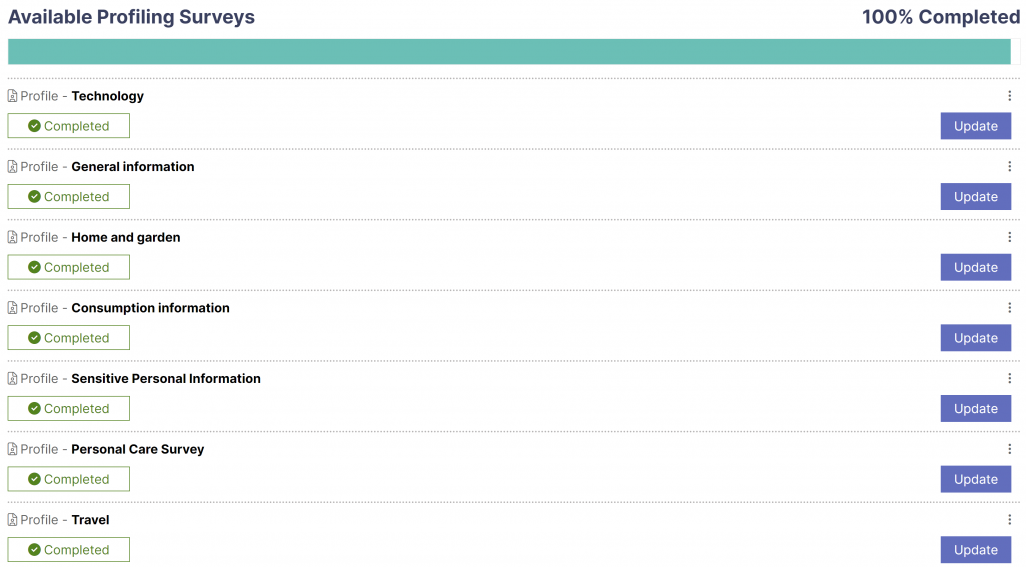 Your answers will be stored under My Profile and are used to match you to relevant studies during the survey pre-qualification process. They can be changed or deleted at any time.
Notably, Ipsos iSay has streamlined its platform in recent years. Previously available features such as Polls, Contests, and their Loyalty Program have been removed.
Unlike other platforms that offer an array of ways to accrue points, there are now just two ways to make money on Ipsos iSay: completing paid surveys and referring friends and family to the app.
Reviewer's Note:
If one does not have a semi-high tolerance for sharing personal information (albeit anonymously) with research companies, I do not recommend taking paid online surveys. The same is true of iSay. What I do appreciate about iSay is that they are very clear about how they use, and with whom they share, your information (which is not true of many other platforms).
Paid Surveys
After completing the signup process and completing the Profiling Surveys, one can immediately start taking "real" surveys to earn points.
Available surveys on your active member profile will share an estimated completion time and the number of points you can expect to earn (up to).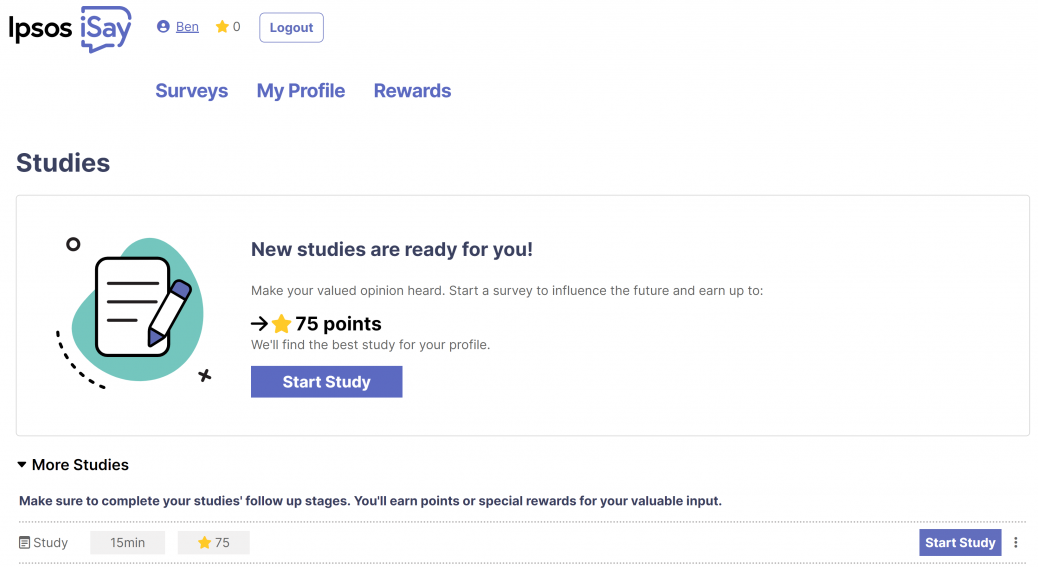 No surprise, the longer the estimated completion time, the more iSay points you're generally eligible to earn.
Surveys will often start with a number of qualifying questions to make sure you're a good fit for the survey.
Remember:
The Profiling Surveys completed at registration are used to pair users with surveys that may be relevant to them. Qualifying questions asked at the beginning of surveys help further whittle out irrelevant participants.
After screening in, users will then complete the survey in front of them. Surveys can be anywhere from one to dozens of questions in length, and take as little as 1 minute, to 30 minutes or more, to complete.

Questions are presented in a number of different formats including:
Multiple choice
Select all that apply
Matching
Drag-and-drop
Or even short answer fields.
Additionally, some surveys will ask if the participant is comfortable allowing access to their webcam (to gauge physical response to a prompt) or if they'd be willing to upload a photo of products [in use] in select circumstances.
These are optional and can be declined at every occurrence, but may be worth the hassle given their often higher-than-average earning potential.
Earned points are typically delivered instantly upon survey completion, but the website does state to allow up to a few days for the point crediting process to complete.
Reviewer's Note:
Having taken dozens of surveys on the platform, my personal experience is that I am screened out from 5 to 10% of surveys after answering the initial qualifying questions. I typically earn 5 points for my time.
Obviously, this is frustrating as a user, but I appreciate being disqualified from a study early in the survey process (which is definitely not the case with many competing survey platforms).
There are two other scenarios that I frequently encounter.
I complete a sizeable portion of a study and am awarded a proportion of the points advertised at the onset of the survey.
While there is nothing in their FAQ that specifically addresses this phenomenon, I speculate that it's possible for a user to screen out of a survey if it becomes apparent that future answers are of no or limited benefit to a client.
Rather than disqualify a participant altogether, it seems iSay prefers to award some proportion of the available points as a reward to the user. This is a definite pro of the platform.
I would estimate this partial awarding of points takes place in 30 to 40% of the surveys I attempt.
I complete all or most of the survey and am awarded the full advertised point amount.
There is a progress indicator at the top of each survey that shows you what % of the survey you have completed, but it moves in unclear increments and you can only approximate how many questions you have left. I estimate receiving the full advertised number of points in about 50% of the surveys I complete.
Earning Potential
Over a large sample size of surveys, it becomes readily apparent that a reasonable earning expectation for taking surveys with Ipsos iSay falls between $3 and $5 per hour.
Reviewer's Note:
I have consistently earned at or around $5 per hour taking surveys with iSay, but there are some important qualifiers you should know about that figure.
1. You will run into survey availability limits.
I am generally eligible for 5 to 10 surveys per day, sometimes more, almost never less.
Notably, I am married and have two young children. This means I'm likely part of a desirable target demographic for certain advertisers, and thus am eligible for a higher-than-average number of surveys. Your demographics will likely impact how many you are eligible for.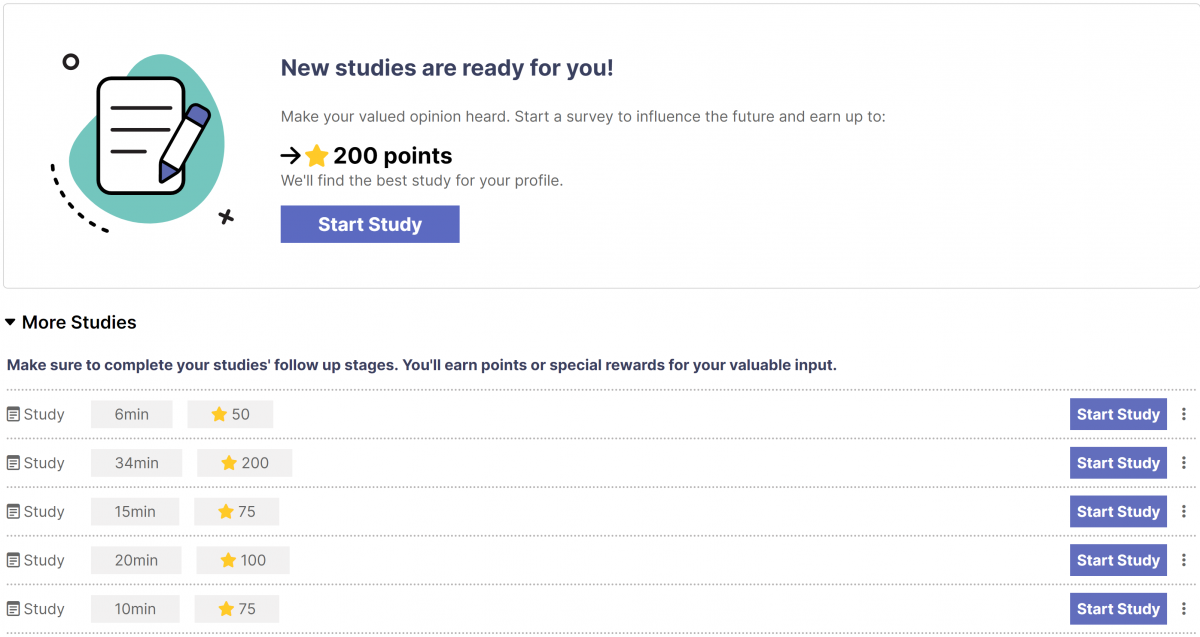 At an average value of 75 points, I can only take surveys for one to two hours before burning through my available surveys. Sometimes I check back a few hours later and new surveys appear, but that is not always the case. Essentially there's an unrealized cap on how much you can earn per day, and I would not expect this figure to exceed $10.
2. I do not frequently see surveys that exceed 200 points in value.
If you meet certain criteria, there may be higher-earning opportunities available to you. This is a break from other survey platforms where there can be survey opportunities as high as $50 (or more), but any site promising these consistently is not being truthful.
3. The highest earning potential is associated with consistency.
One should reasonably expect to only earn just a few dollars per day, but that can grow to a meaningful total over the course of the month. For example, you have a 30-minute metro ride twice a day to school, work, or wherever. You earn $4 on both legs and manage to participate twice during a five-day workweek. You have $32 at the end of the month to show for your efforts.
It's not life-changing money, but it may be enough to cover a streaming subscription or your cell phone bill.
Related: 190 Side Hustle Ideas for Making Extra Money in Your Spare Time
Referrals
In light of iSay removing previously held Contests, the Polls feature, and their Loyalty Program, the second and only other point-earning method available is the ability to Refer a Friend.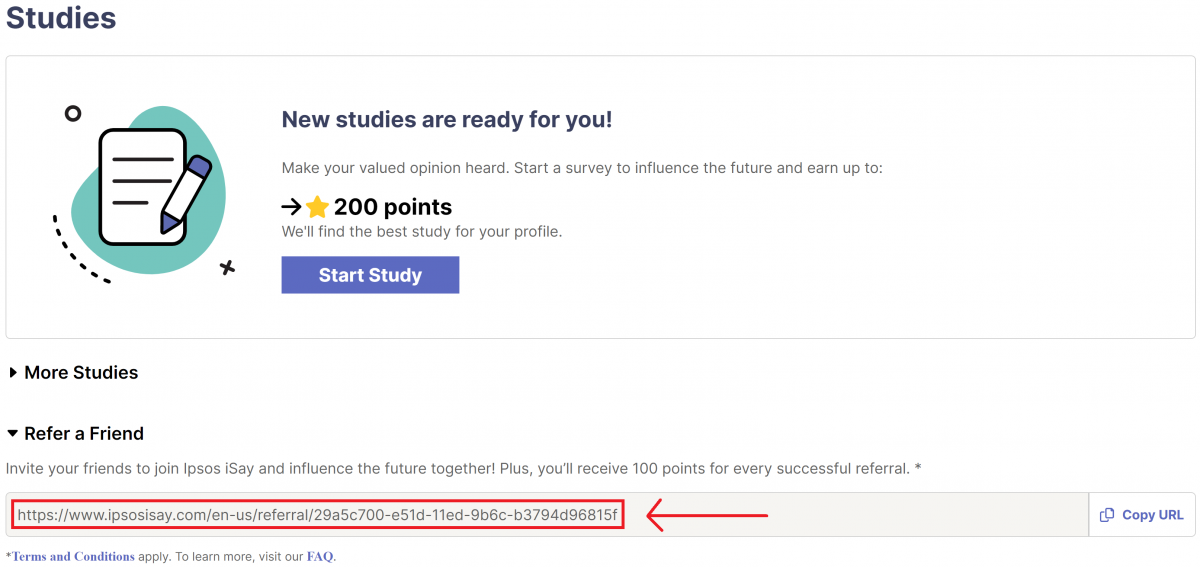 If a friend or family member signs up through your link and completes an incentivized survey — not the default Profiling Surveys that everyone completes at registration — you'll be awarded 100 points. (Each successful referral will earn you $1.)
There is a monthly cap of 10 referred users, so you won't get credit for referring more than that.
How to Sign Up
Creating an Ipsos iSay account is easy. Simply head to their website (affiliate link) and create an account.
If you're on a mobile device, the homepage has links to the respective app stores. I would go through their homepage instead of searching through the app stores because there are often knock-off apps that try to emulate the official iSay app.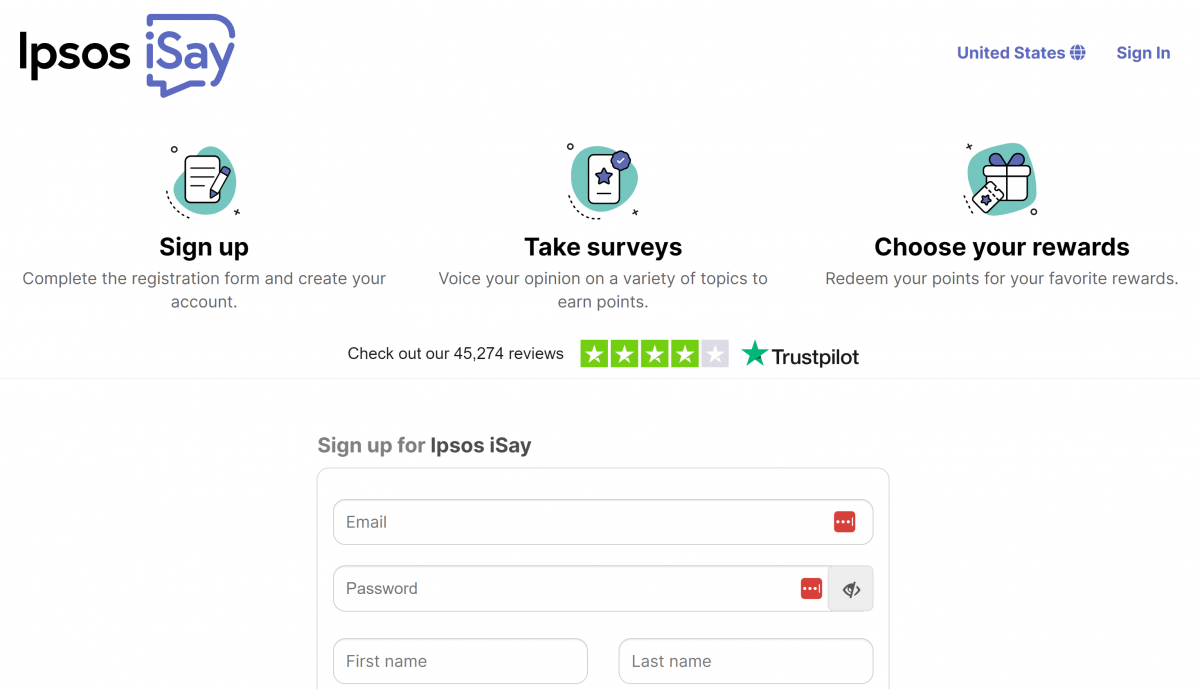 Ipsos iSay does not currently offer any sort of bonus code or referral bonus for the user.
Any person or website promoting one is a scam.
Our content is reader supported, so we will earn 100 points if you choose to try Ipsos iSay through our link. Your patronage is much appreciated.
How to Redeem Ipsos iSay Rewards
One of the nice things about iSay is that it's stupidly simple to use. There are just three tabs on the dashboard, and if you head to the Rewards tab, you easily see the three ways you can redeem your hard-earned points.
1. Redeem points for cash
My go-to redemption preference once I have enough points, I head to the Money Transfer section of the Rewards tab and elect for cash to PayPal.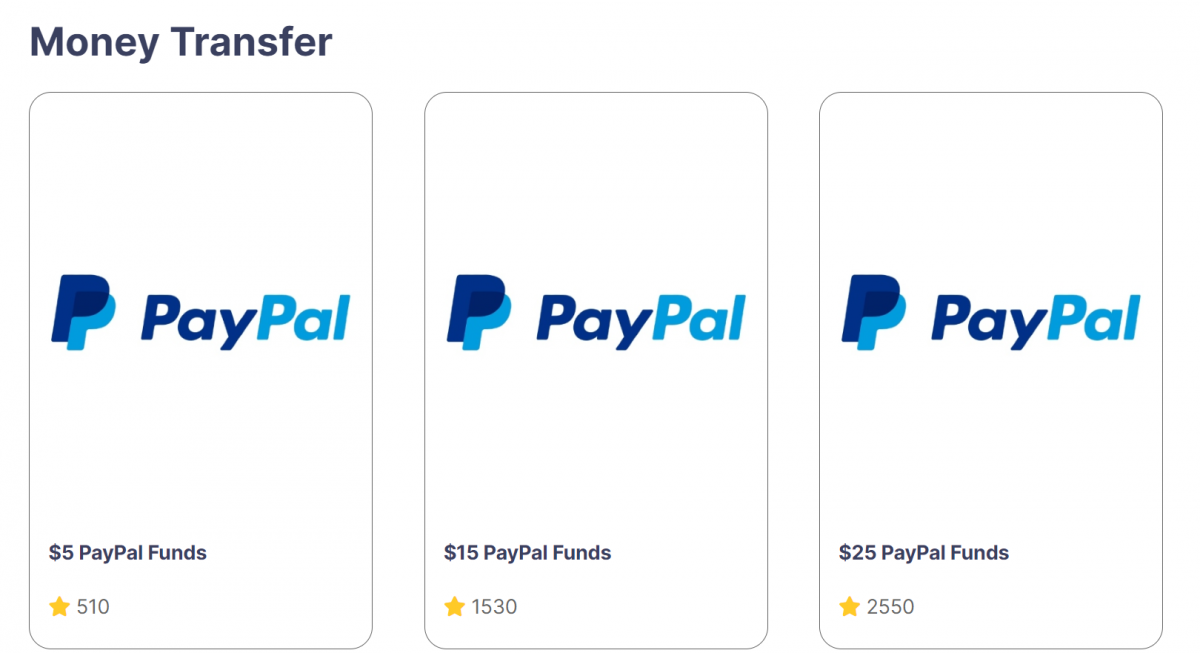 There are no incentives to save for a larger deposit amount so I cash out every time I meet the minimum threshold (currently 510 points for $5 in PayPal funds).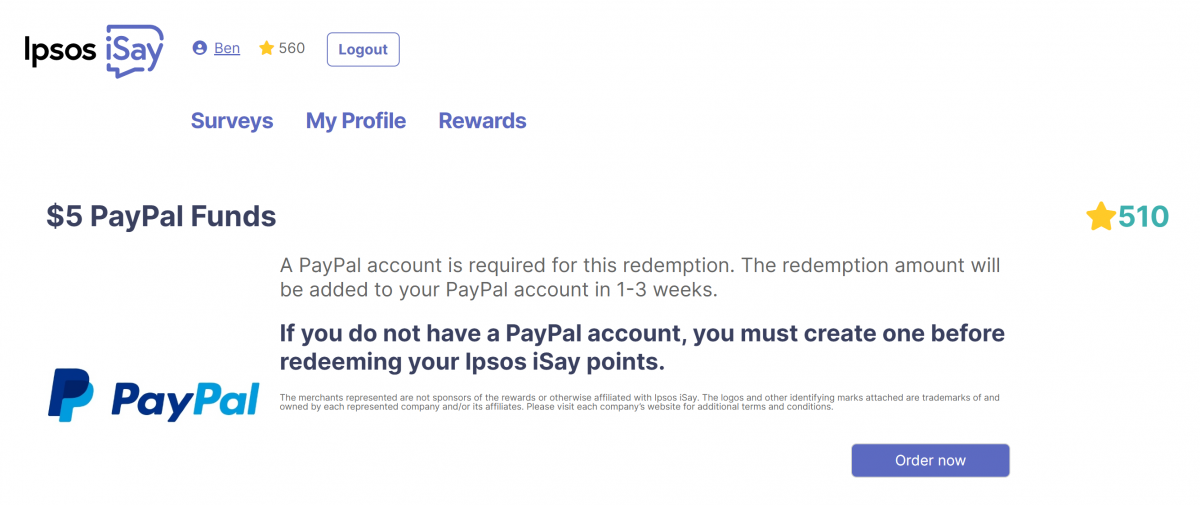 The one drawback about cashing out to PayPal is that there is a significant delay of 1 to 3 weeks between requesting a payout and funds hitting your account. This is significantly slower than other sites in this industry, but the funds do eventually come. If you desire faster payouts, the gift card option below may be a better option.
*There does appear to be a nominal 10-point transaction fee for PayPal payments. Gift card redemptions do not include this fee.
2. Redeem points for gift cards
iSay does offer cashouts to several popular merchants, but the number of options is somewhat limited. Currently, you can redeem your points for gift cards at the following places:
Amazon
Lowe's
Grubhub
DoorDash
Virtual Visa Prepaid Card
Target
Starbucks
ROBLOX
The digital gift cards are delivered instantly to your email address on file.
3. Donate points to charity
Lastly, iSay does provide a method for donating your earned points to the Ipsos Foundation — a 501(c)(3) non-profit organization that focuses on educational projects for disadvantaged youth across the globe.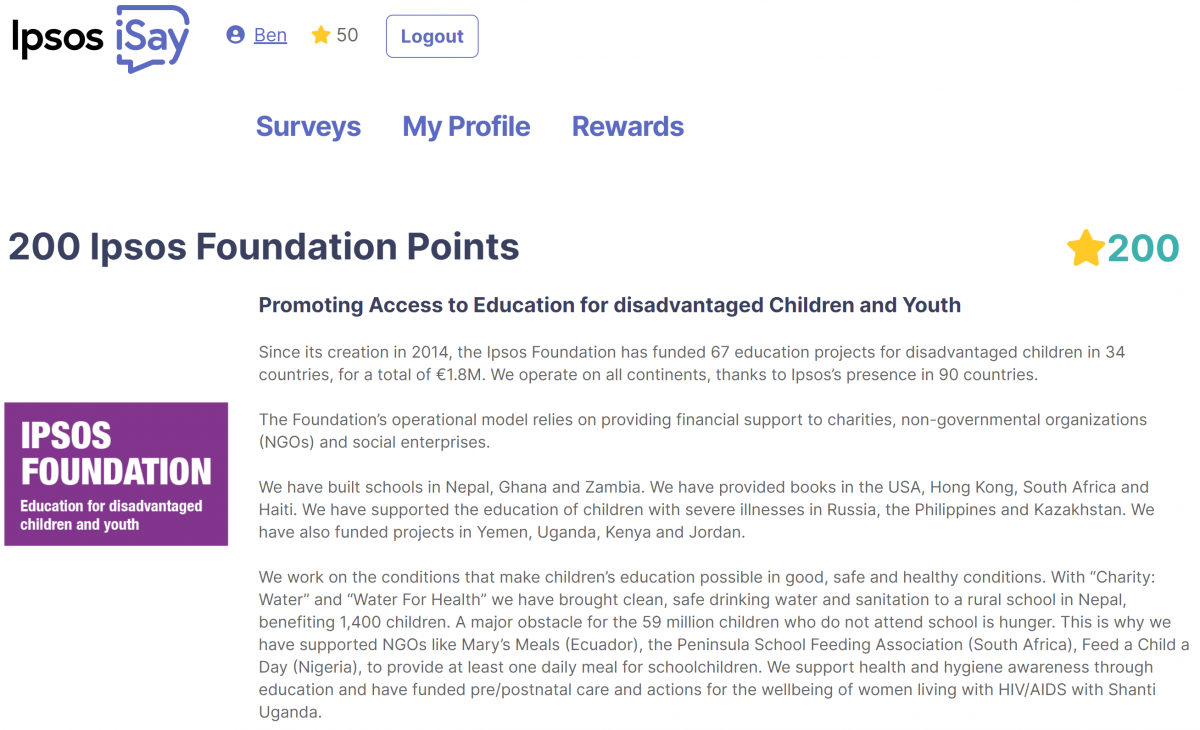 Since its creation in 2014, the Ipsos Foundation has funded 67 education projects for children in 34 countries, totaling more than €1.8M.
The minimum threshold to donate is just 200 points ($2 effective donation).
Ipsos iSay Alternatives
Ipsos iSay is one of many market-research-focused platforms on the web, each with pros and cons that may make them more worth your time. Other survey sites include:
Branded Surveys. Offers a user-friendly interface and a consistent flow of survey opportunities, which can lead to quicker earnings compared to iSay. They also have a wide range of redemption options. However, the average payout per survey is generally lower than iSay, which means that you might need to complete more surveys to reach the same earnings.
Survey Junkie. Known for having a vast selection of survey topics, providing a more engaging experience than iSay. That said, Survey Junkie tends to have stricter qualification criteria for surveys, which can lead to higher disqualification rates.
Swagbucks. Offers more earning opportunities beyond surveys, such as watching videos, playing games, or shopping online, providing a more diversified experience compared to iSay. On the flip side, the value of rewards earned per activity can be lower, and it might take longer to accumulate enough points to redeem for cash or gift cards.
| Platform | Payout Minimum | Several Ways to Earn Points | Loyalty Program | Sign Up Bonus | Payouts to Cash |
| --- | --- | --- | --- | --- | --- |
| Ipsos iSay | $5 | No | No | No | Yes |
| Branded Surveys | $10 | Yes | Yes | $1 | Yes |
| Survey Junkie | $5 | Yes | No | No | Yes |
| Swagbucks | $3 | Yes | No | $10 | Yes |
FAQs
Many of these answers can be found scattered throughout the Ipsos iSay review, but we've consolidated some frequently asked questions here in case you missed them.
Is Ipsos iSay Worth It?
Generally speaking, paid surveys are a not-so-fun way to earn extra money in your free time. But they are legitimate, and you can take home a few extra bucks each month for your efforts.
Very consistent Ipsos iSay survey takers can plausibly earn between $50 and $100 each month, but that means taking surveys almost daily for one hour on average.
There are certainly other ways to make money online whose earnings will far exceed that of taking paid surveys, but those opportunities may require physical labor or skills that you simply don't have.
Ultimately, Ipsos iSay is amongst the better market research platforms out there. Its simplicity makes it easy to use, and earnings are on par with other survey providers.
If paid surveys are a good fit for you, iSay should be amongst your earning repertoire.
Related: Honeygain Review: How I've Made $2,000 Selling My Unused Internet