7 Best Paper Planners to Organize Your Freelance Business
Advertiser Disclosure
Our readers always come first
The content on DollarSprout includes links to our advertising partners. When you read our content and click on one of our partners' links, and then decide to complete an offer — whether it's downloading an app, opening an account, or some other action — we may earn a commission from that advertiser, at no extra cost to you.
Our ultimate goal is to educate and inform, not lure you into signing up for certain offers. Compensation from our partners may impact what products we cover and where they appear on the site, but does not have any impact on the objectivity of our reviews or advice.
As a freelancer, you have a lot to keep track of between client projects, emails, and marketing yourself. A paper planner can help you stay organized, productive, and avoid the distractions the come with digital apps.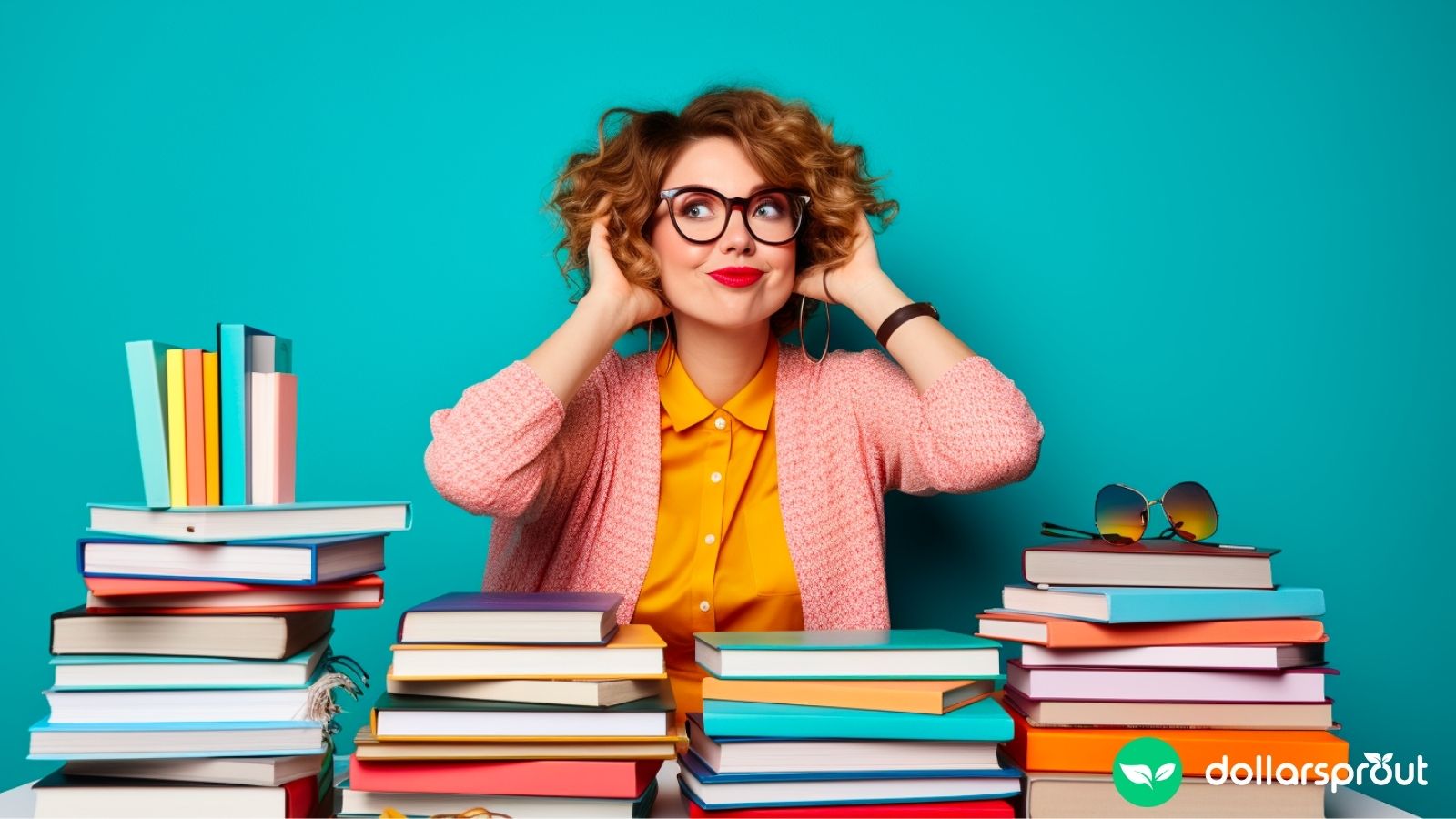 When I first started freelancing in 2015, I was still working my 9-to-5 job. Back then, five new clients was a big month.
As my client roster grew, I juggled projects, social media, marketing, networking, and bookkeeping, all while working full time. It was a lot to keep track of.
Now that I'm self-employed, my time is even more valuable, which is why my paper planner is the freelance tool I can't live without.
There are lots of great apps to track your goals and to-do lists, but many prefer the ease and simplicity of a pen and paper notebook, and for good reason. Studies show that people who write notes manually have better memory retention.[1] You may also be less distracted and more productive when you don't have to switch between apps throughout your day.
And as a freelancer, being more productive means making the same amount of money in less time.
Here are the best planners for freelancers that I recommend trying. I've included a breakdown of the key features and layouts of each planner, my experience using it, and what I think each planner works best for.
1. The Freelancer Playbook ($35)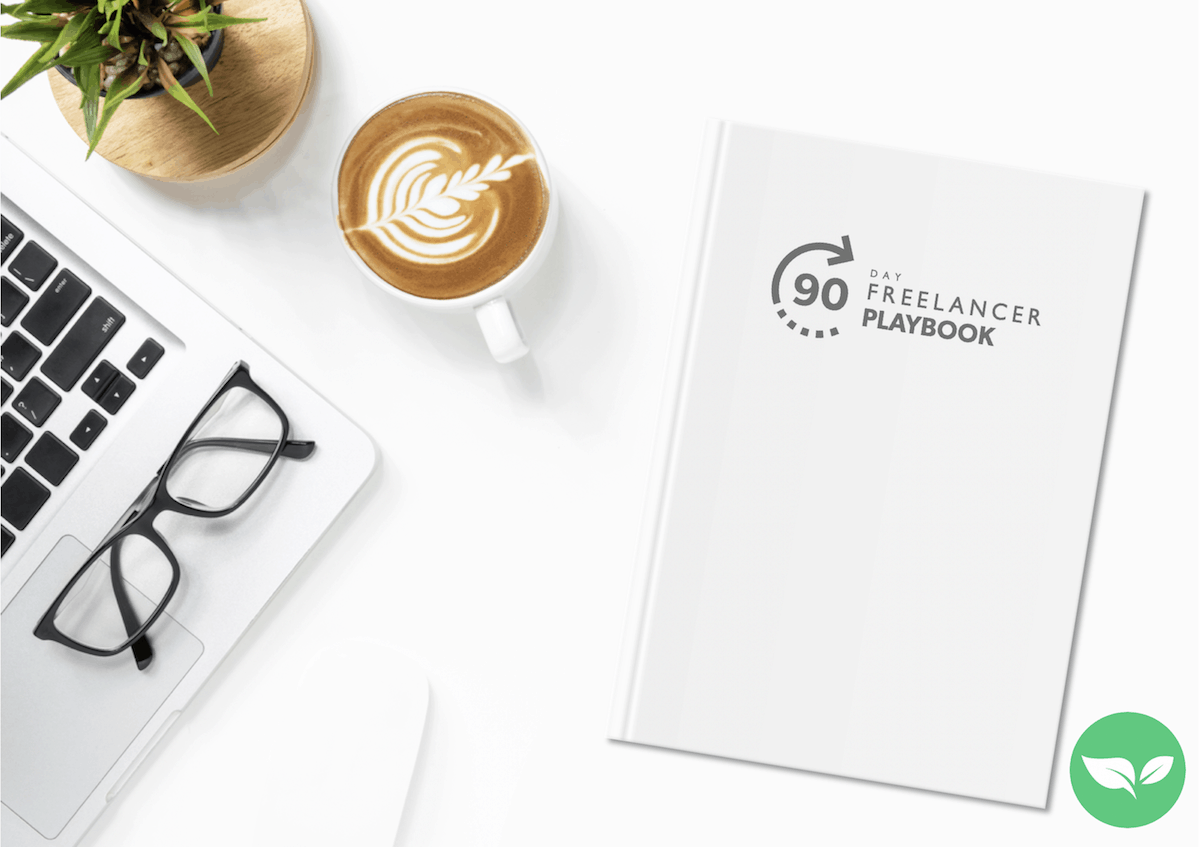 Best for: setting business-specific goals and tracking income
I prefer to keep my freelance work separate from the rest of my life. Who wants to open their planner to see their personal to-dos and immediately be reminded of a client to follow up with or an email you forgot to respond to? That's why I worked with the rest of the DollarSprout team to create a planner specifically for freelancers.
We created the Freelancer Playbook to help you focus on what matters most in your business so you can be more productive in less time. It's the most holistic freelancer planner that we know of.
The Freelancer Playbook includes:
Revenue Tracker: This is my favorite feature. At the end of the workday, I take five minutes to add up my hours (for my project management clients) and words (for freelance writing) and calculate my total earnings for the day. This helps keep me on track toward my monthly income goal.
The Big 4: These are the key areas to focus on in order to grow a sustainable freelance business. As you know, freelancing is a lot more than working and getting paid. You have to find clients, continue to hone your craft, and manage the back end of your business. The Freelancer Playbook helps you set tangible goals for each critical area to keep your business in balance.
Setting Aligned Goals Exercise: This is the most extensive goal-setting exercise I've seen in a planner. You'll start with high-level visioning, then create 90-day goals, and break your goal into smaller milestones to work toward each week.
Monthly/weekly calendars and reviews: Use the monthly and weekly layouts to view all your events, meetings, and deadlines in one place. Then at the end of each week and month, review your hours worked, average hourly rate, and progress toward your 90-day goals.
Daily pages: Each daily layout comes with a 6am to 7pm time log, to-do lists separated by priority, and an entire page for notes. It also includes a 30-second end-of-day review of items to complete before you clock out.
The Backburner: We all have those tasks that aren't critical right now but need to be done at some point. So you copy them from week to week. But for every item you check off, it seems like you add two more, and your to-do list never shrinks. The Backburner is the solution to that — a place to keep track of your running to-do list of lower-priority items and ideas.
This is the planner I wish I'd had when I first started freelancing, and probably the only one I'll ever use again.
The Freelancer Playbook is live on Kickstarter. Click here to reserve your copy.
2. The Passion Planner Daily ($30-$35)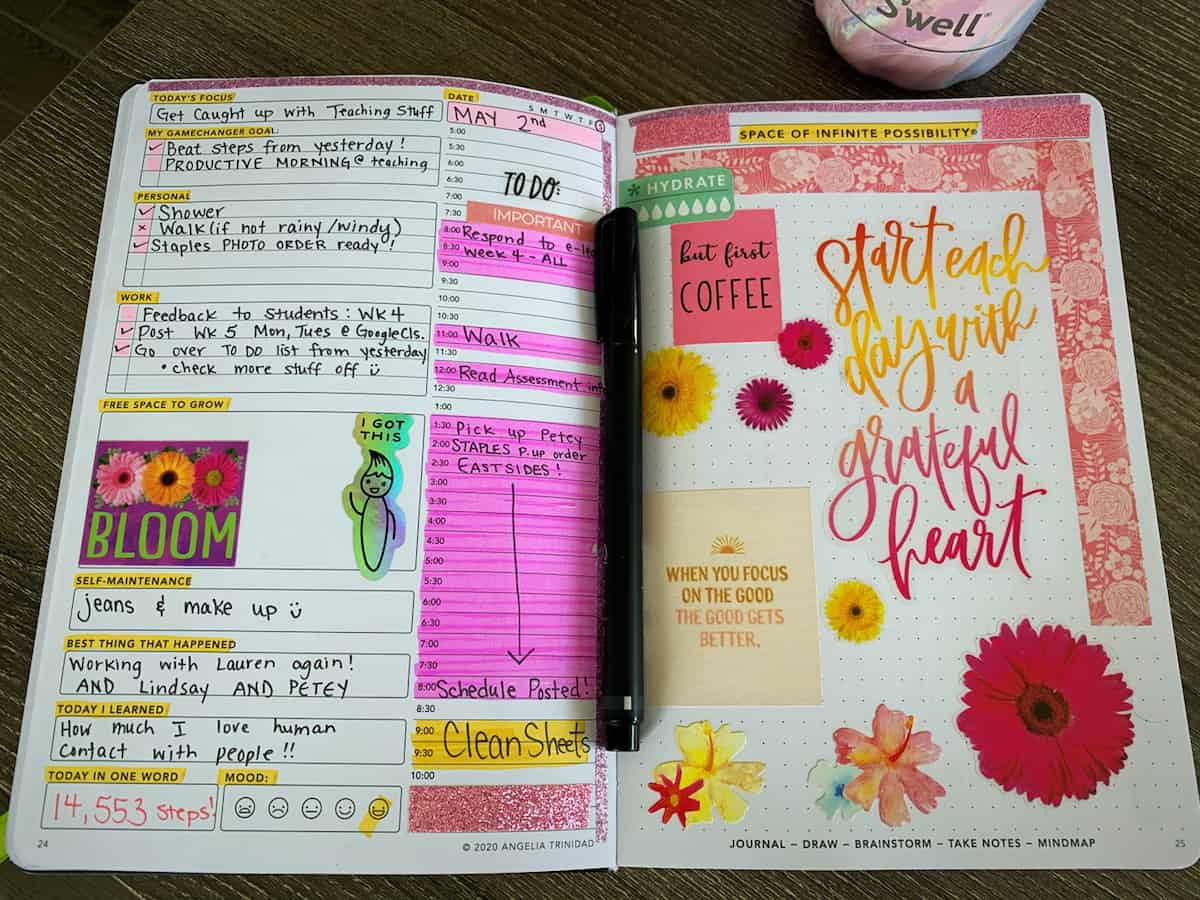 Best for: tracking personal and business goals/to-dos in one place
The Passion Planner isn't freelancer-specific, but many freelancers love it for the versatility and unique styles. This planner is undated with weekly or daily formats that come with four main sections:
Passion roadmap: This exercise helps you define your "gamechanger goal" — the goal that would have the biggest positive impact in your life right now — and break it down into actionable steps. As a big goal-setter (and full-time freelancer), I loved this exercise. It helped me narrow the focus in my business rather than taking any freelance projects I could find.
Yearly overview: The annual overview gives you a zoomed-out view of your year. Add any vacations, projects, or time off here so you can plan your schedule and workload in advance. This is especially helpful for full-time freelancers. If you have a trip planned in May, then you know you need to set aside some of your earnings January through April so that you can pay yourself while taking time away.
Daily layout: This is where the Passion Planner starts to lose me. For the undated version, you have to choose between weekly and daily schedule templates. They currently don't offer both in the same planner, which is a deal breaker for me. The daily layouts include space for three tasks each for your personal, work, and "gamechanger" goals. Each day comes with a time log from 5am to 11pm. This could be ideal for certain types of freelancers, or if you prefer to time block your days. These pages also include reflection questions, like the best thing that happened to you today, something you learned, and your mood.
Monthly self check-ins: The reflection questions in this section encourage you to focus on the positives of the month, like memorable moments and lessons learned. The questions are broad, but you can apply them to your business and reflect on challenges, accomplishments, and what you want to spend more time on in your business going forward.
As a planner minimalist, the Passion Planner is a bit overkill for me. I don't like mixing personal life with business, so I prefer a planner that's more straightforward for tracking my freelance goals and projects. But if you want a robust planner that allows you to do both, then the Passion Planner may be the tool for you.
Related: 5 Steps to Sell Your Services Online and Fill Your Freelance Schedule
3. The Content Creator's Planner ($29-$39)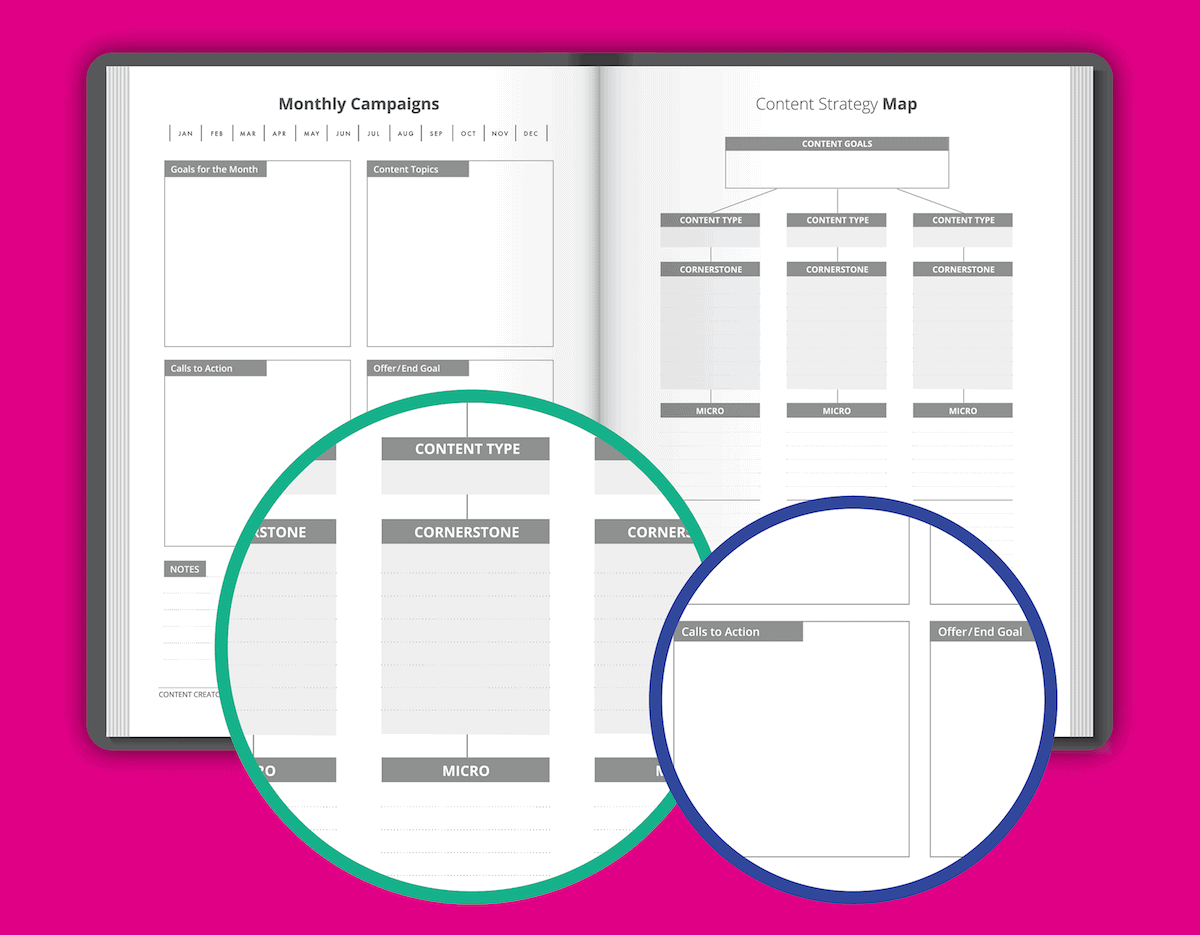 Best for: creating a content marketing plan to sell your product or service
The Content Creator's Planner is a newer addition for me. I bought it to help me create a content marketing plan for my financial coaching services. Even though I'm still in the early stages of implementation, it's already an incredible find. The Content Creator's Planner can help you create content strategies for your clients or sell more of your own product or service online. It's a also a great option for bloggers and social media managers.
Here's what's inside:
Monthly campaign: This is where you'll decide on your purpose-driven content for the month. You start with your business goals, like a revenue target or launching a new service. Then brainstorm content topics, calls to action, and choose the end goal for each piece of content.
Content strategy map: Once you have your content topics, this page helps you break them down by type (blog post, podcast, etc.), including cornerstone pieces and micro-content for social media.
Monthly and quarterly statistics: Track your numbers for sales, blog traffic, podcast downloads, and more.
Undated monthly and weekly calendars: View your publishing schedule for all your content mediums.
Content types checklists: This was such a unique value-add for me in this planner. The creators included a checklist of items to do before, during, and after publishing different types of content (YouTube videos, Instagram Lives, blog posts, etc.). This has been a true time and headache saver in my business.
The Content Creator's Planner comes in three different forms: print, digital (PDF), and Trello board. I ordered the printed version, which comes spiral-bound and is similar, both in price and end product, to what you would get if you bought the PDF and printed it at FedEx.
This planner comes with a free setup guide. But as someone who's not an expert at content marketing (and often feels overwhelmed by it), I purchased the $49 companion course, the Content Masterclass, for a little more guidance.
Related: 15 Ways to Maximize Your Productivity and Earnings as a Freelancer
4. The Freelancer Planner ($15)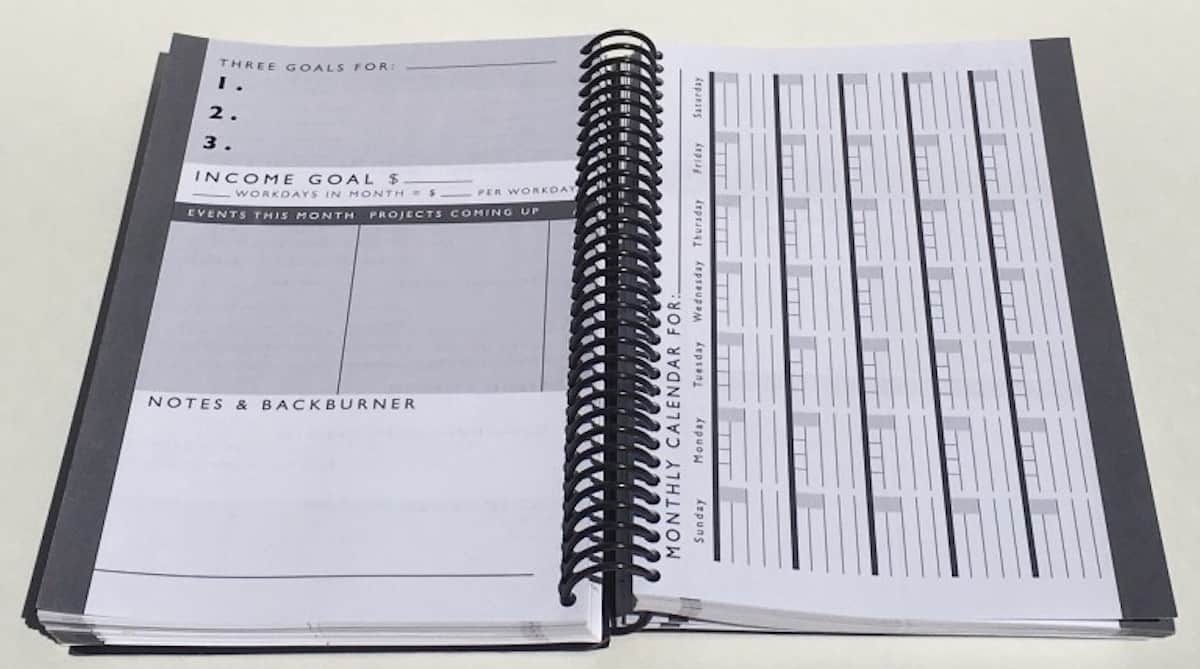 Best for: no-frills to-do list and revenue tracking
This planner combines elements of the Freelancer Playbook and the Content Creator's Planner. It's directly targeted for freelancers, but specifically for those with an online presence or who rely on content marketing to promote their business.
The Freelancer Planner comes with:
Monthly view: Track your project and income goals for the month, and view all your projects, meetings, and deadlines on the calendar page.
Weekly planning pages: This page includes a column for your weekly tasks and another to write down which goal this task aligns with. This helps keep your goals top of mind. It also has a space for your "staple tasks" like content creation, marketing and PR, and client work.
Weekly to-do list: A two-page spread with space for three priority tasks per day.
Monthly recap and post-mortem: This is the most useful part of this planner for me. Here, you can reflect on which goals you met in the last month, which ones you didn't, and what you'll do differently going forward. The metrics page leaves space to calculate your average hourly rate, which helps determine your most profitable projects and clients.
The Freelancer Planner is a minimal, no-frills freelance project planner for tracking your to-do list and revenue targets. However, unlike some of the other options on this list, this planner doesn't include much help or guidance for setting goals for your freelance business.
It looks like this planner is no longer available in printed form, but you can order the PDF for $15 and print it out yourself.
Related: How to Fire a Freelance Client without Ruining Your Reputation
5. The Day Designer Today & To Do Planner ($49-$59)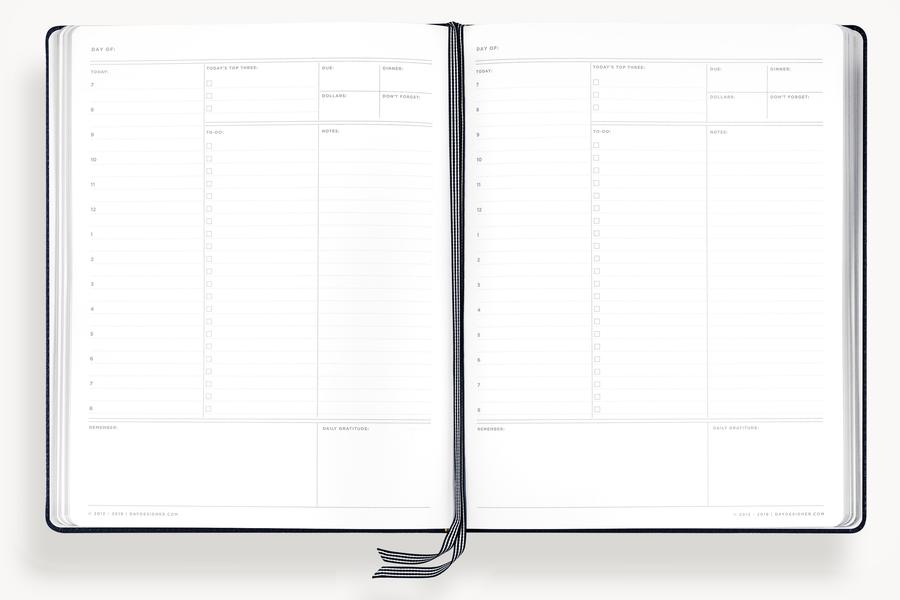 Best for: simple task tracking and planning daily to-dos
The Day Designer daily and weekly academic planners come in many colorful and floral designs, mainly targeted at women. But the more flexible and non-dated Day Designer Today & To Do planner offers a sleeker, more minimalist look in red or navy.
This planner comes with:
Daily planning pages: Similar to other planners, you have room for notes, to-dos, and and daily appointments with a timeline from 7am to 8pm. But a few unique features give this one the edge over other planners on the market. Other planners force you to choose three tasks per day, but the Today & To Do planner leaves room for many more, with a section to choose your most important three. It also includes a "Dollars" box, which could be used in several ways, but I used it to log my freelance income earned each day. There are also fewer reflection and check-in questions, which may be ideal depending on your personality and preference.
Weekly and monthly planning pages: Both include space for to-dos, notes, and the weekly pages have a space to list your top three priorities for the week.
Goal setting worksheets: When done well, the goal setting exercises are the magic of any good planner. My favorites in this one are the core values, where you identify your top five values, passions, and strengths, and the ideal week and month exercises.
The Today & To Do planner is a good fit if you prefer a simple, no-fluff option to track your weekly and daily to-do lists. Since it's not designed specifically for freelancers, it doesn't include a designated space to track your income, hours worked, or reflect on your business goals. But it can still be adapted as a freelance or side hustle planner.
Related: How to Make More Money as a Freelance Writer
6. Self Journal ($32)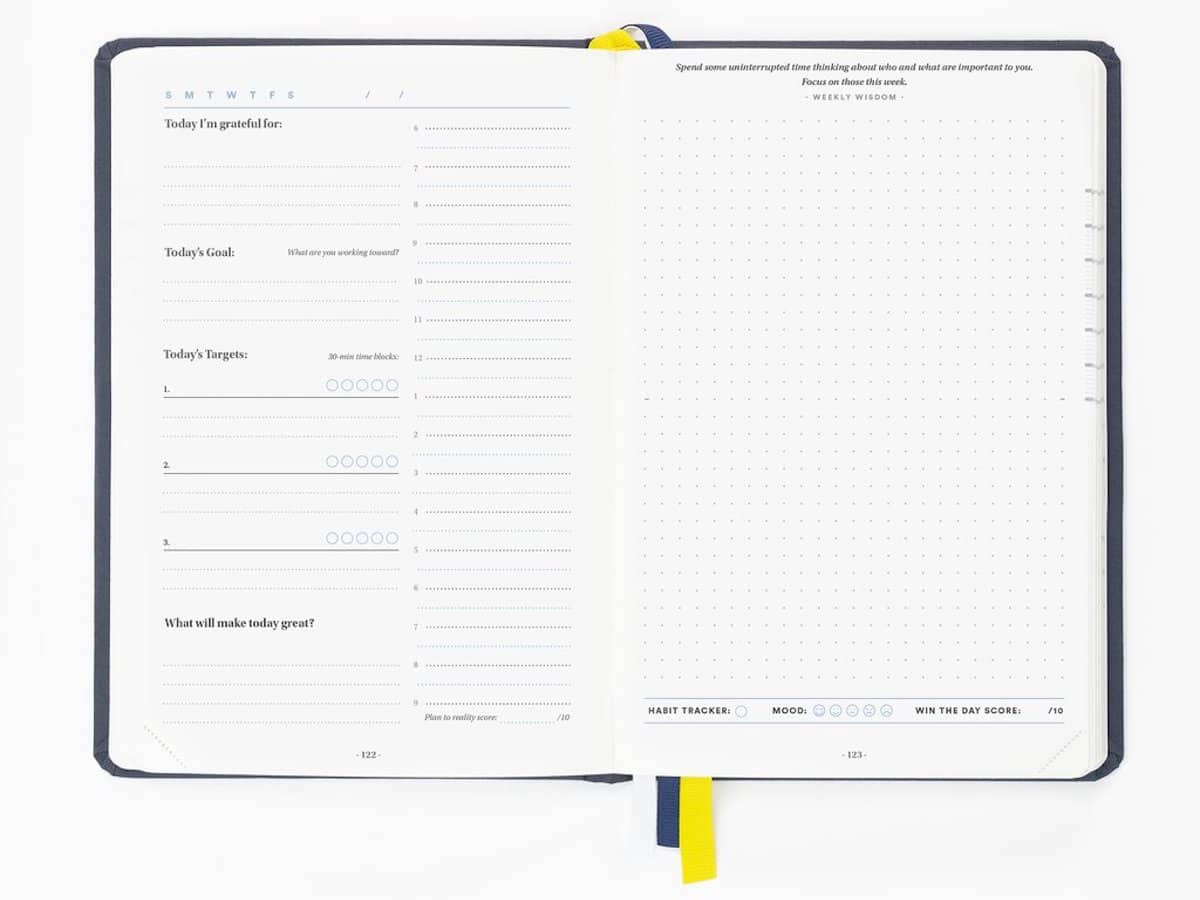 Best for: combining personal development with business tracking
The Self Journal comes with a lot of bells and whistles. That may be a good thing if you enjoy personal development and want a place to track your daily habits in addition to your business goals. Or it may be completely overwhelming.
Here's what you get with the Self Journal:
13-week bucket list and BestSelf Benchmark: Use the bucket list for places you want to visit, things to do, and people to meet in the next 13 weeks. While the Benchmark is meant to be a reflection of your health, relationships, finances, and other key areas of your life, these can be adapted for business-related goals. For example, instead of "Relationships," I used this section for "Clients." What are my current clients like, and what types of clients do I want to work with more in the future?
13-week goal setting and reflection: This holistic planner encourages you to set goals for your health, finances, work, relationships, personal growth, and mindfulness. Again, I adapted this planner to my freelancing business by using all of these pages for business goals. The milestone and critical driver sections help you break down each goal into actionable steps. At the end of the 13 weeks, you can look back on your progress and reflect on what worked, what didn't, and what you'll change going forward.
Weekly planning and review: Log your top three priorities, any deadlines for the week, and other tasks. This page comes in a list format rather than the typical calendar view. The reflection questions aren't business-specific but can easily be adapted to fit your freelance work. For example, I used the "What did your key relationships look like this week?" question to reflect on interactions with clients and ways I can continue to nurture those professional relationships.
Daily planning pages: The Self Journal's focus is mainly on personal improvement, so in addition to the typical gratitude, these pages include a mood tracker, win the day score, and "What will make today great?" prompt.
Habit tracker: Track habits in your business, like posting on Instagram three times per week, or add personal habits you want to implement, like going to the gym or taking your vitamins.
If you already feel strapped for time, then a planner as involved as the Self Journal can feel like a chore. But if you're looking to implement healthy habits alongside your business goals, then this may be the planner for you.
7. The Freelancer's Daily Log ($5+)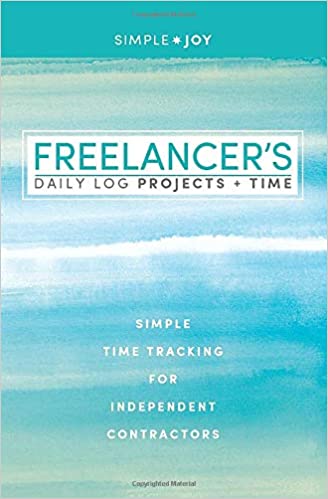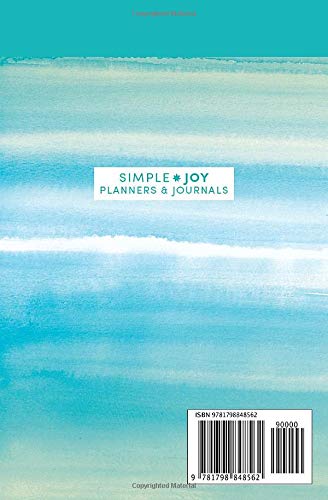 Best for: analog time tracking at home or on the go
As the name suggests, The Freelancer's Daily Log focuses on one thing: tracking your time. While there are plenty of online tools for time tracking, some freelancers prefer the old-fashioned method of pen and paper.
Each page includes space for four clients. While it's less of a freelance organizer and more of a tracker, the Freelancer's Daily Log can make a good companion to a more robust planner or for freelancers who switch between clients and projects multiple times a day and forget to punch a digital time clock.
How to Choose the Best Planner for Your Freelance Business
The right tools can be a game changer for your freelance business, and a planner is no different. But every planner comes with its own advantages and disadvantages. Choose one that fits your lifestyle, business goals, and preferences.
If you want a planner that combines work and personal goals, then there are plenty of options for that. If all you want from a planner is a place to track your hours because you hate using digital time clocks, then The Freelancer's Daily Log will probably be sufficient.
What matters most is that you enjoy using whichever planner you choose. The more you enjoy your planner, the more likely you are to put it to use.
| | | | | | | | |
| --- | --- | --- | --- | --- | --- | --- | --- |
| | The Freelancer Playbook (coming May 2021) | The Passion Planner | The Content Creator's Planner | The Freelancer's Planner | The Day Designer Today & To Do Planner | Self Journal | Freelancer's Daily Log |
| Best for | Setting business-specific goals and tracking income | Tracking personal and business goals/to-dos in one place | Creating a content marketing plan to sell your product or service | No-frills to-do list and revenue tracking | Simple task tracking and planning daily to-dos | Combining personal development with business tracking | Analog time tracking at home or on the go |
| Yearly layout | | x | | | x | | |
| Monthly layout | x | | x | x | x | | |
| Weekly layout | x | | x | x | x | x | |
| Daily layout | x | x | | x | x | x | |
| Size | 5.87″ x 8.25″ | 5.7″ x 8.3″ | 8.5″ x 11″ | 8.5″ x 10″ or 5.5″ x 8.5″ | 8.25″ x 10.25″ | 5.75″ x 8.5″ | 5.25″ x 8″ |
| Length | 93 days | 93 days | 3 months | 12 months | 90 days | 13 weeks | 150 pages (4 projects/page) |
| Dated or Undated | Undated | Both | Undated | Undated | Undated | Undated | Undated |
| Price | $35 | $20 | $39 | $15 (only available as a printable PDF) | $39 | $31.99 | $5+ |