5 Best Virtual Assistant Companies to Work For (High Pay)
Advertiser Disclosure
Our readers always come first
The content on DollarSprout includes links to our advertising partners. When you read our content and click on one of our partners' links, and then decide to complete an offer — whether it's downloading an app, opening an account, or some other action — we may earn a commission from that advertiser, at no extra cost to you.
Our ultimate goal is to educate and inform, not lure you into signing up for certain offers. Compensation from our partners may impact what products we cover and where they appear on the site, but does not have any impact on the objectivity of our reviews or advice.
After researching the hundreds of virtual assistant companies out there, we found that there are two that stand out above the rest: Belay Solutions and Virtual Assist USA. They pay the most and promote teamwork and collaboration with other VAs.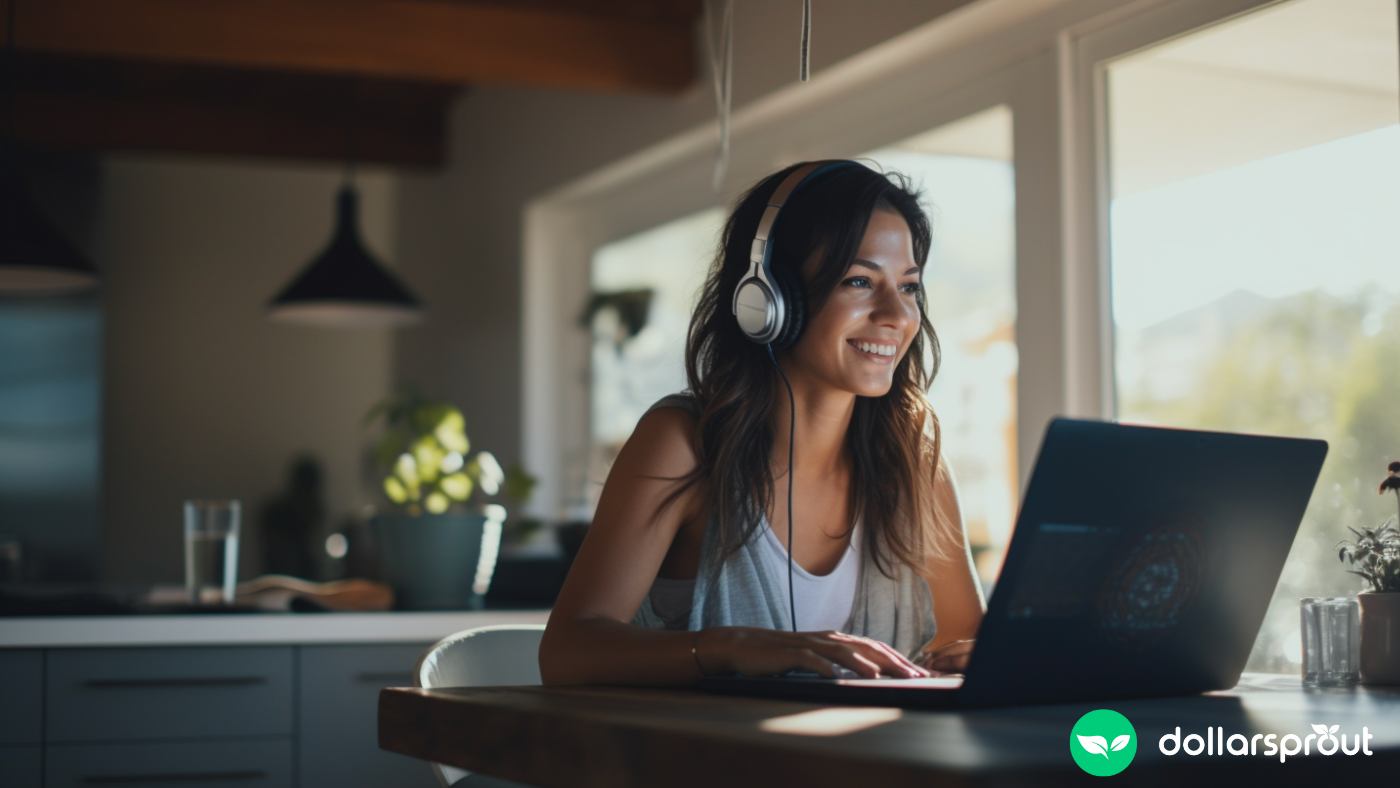 In our increasingly busy world, business owners and entrepreneurs have jam-packed schedules. This doesn't leave much time for tasks like answering phones, booking travel, or managing social media.
That's where you, as a virtual assistant (VA), come in. VAs can take care of these types of administrative and marketing tasks so business owners don't have to.
If you're looking for a work-from-home job, virtual assisting may be a good option. Although you'll probably earn more money working for yourself, a virtual assistant company can be a great way to break into the field or find steady work.
List of Virtual Assistant Companies That Pay Well
After researching the hundreds of virtual assistant companies out there, we found two that stand out above the rest: Belay Solutions and Virtual Assist USA. Not only do they pay the most, but these companies also promote teamwork and collaboration with other VAs.
| | | |
| --- | --- | --- |
| | Pay | Stand-out feature |
| Belay Solutions | $15 to $18 per hour | Facebook community for VAs to share ideas and encourage one another |
| Virtual Assist USA | $18 to $19 per hour plus 401(k) | Access to other VAs for support and guidance on various tasks |
In addition, they provide VAs with the opportunity to earn pay increases on an annual basis.
1. Belay Solutions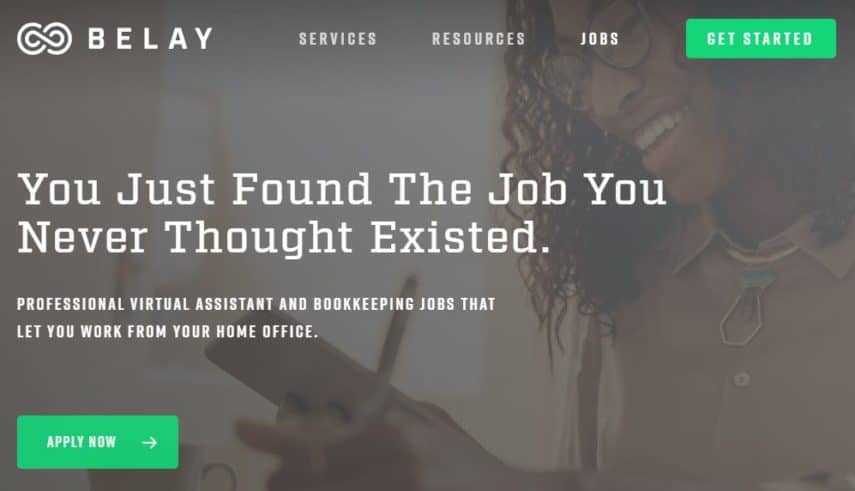 About: Founded by a husband-wife duo in 2010, Belay Solutions employs U.S-based virtual assistants and other specialists like bookkeepers and web developers. Formerly known as eaHelp, Belay serves church leaders, photographers, authors, attorneys, and consultants in addition to small businesses and executives.
Scope of work: While Belay Solutions offers bookkeeping and web maintenance, its primary service is virtual assistance. The company's VAs help with all types of requests such as project research, travel arrangements, and calendar management.
After Robin Snyder had children and decided to get back into the workforce, she applied for a VA position at Belay. "I spent five years working as a VA at Belay and can't recommend them enough. They have a great support team and a Facebook community for all VAs to share ideas and encourage one another," she said.
Snyder was placed with three clients during her time at Belay and all three of them eventually hired her as a freelancer.
Employment type: While Belay Solutions does hire full-time virtual employees in Atlanta, all virtual assistants are contractors. Snyder's contract was 25 hours per week but she explained that VAs can work more or less if they prefer.
Pay: VAs at Belay can earn between $15 and $18 per hour and receive payment via direct deposit on the 15th of every month. They can receive the opportunity to request a pay increase each year during their annual review.
How to apply: After you apply online and submit your resume, Belay will reach out and ask you a few questions to get a feel for what you're looking for. If you pass the initial screening, you'll have a video interview and will be required to pass a few skills tests.
As one of the top virtual assistant websites, Snyder notes it gets thousands of applications each month so it's important to make yourself stand out as much as possible.
2. Virtual Assist USA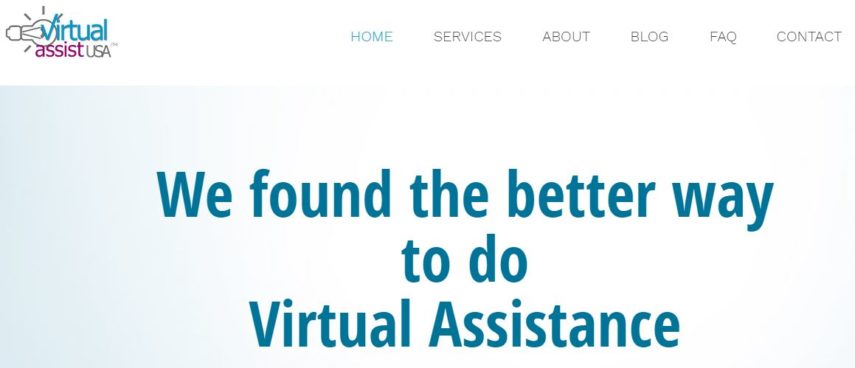 About: Virtual Assist USA has been around since 2008. The company serves entrepreneurs, small business owners, and Fortune 500 companies like Dow Chemical, Harvard Business Review, and Twitter.
Scope of work: While Virtual Assist USA offers a variety of VA services, some of the most popular ones VAs complete include travel booking, data entry, research, and web design. Clients are matched with VAs who meet their unique needs, and since the company fosters a teamwork mentality, if a VA is struggling with a task, another one can assist.
Type of employment: Although Virtual Assist USA only hires full-time employees, it does offer flexible start times. Employees can choose their own schedule as long as it falls between 6:00 a.m and 7:00 p.m. EST. Part-time positions are also available for VAs who prefer to work 15 to 20 hours per week.
Pay: VAs earn $18 to $19 per hour starting out and receive payment every two weeks via direct deposit. VAs have the opportunity to earn more through bi-annual and annual compensation reviews. Virtual Assist USA also offers a 401(k), paid holidays, and paid vacation days.
How to apply: Once you submit your resume through the career page, it'll go into Virtual Assist USA's database. If the company believes you'd be a good fit, it'll conduct two interviews: one over the phone and one via video. While the phone interview is usually about 15 to 30 minutes, the video interview is 45 minutes to an hour and involves a series of behavioral questions.
The goal of the video interview is to see how well you work in a fast-paced environment remotely while juggling multiple clients at the same time.
Related: 16 Best Online Business Ideas for Beginners
Other Virtual Assistant Companies That Pay Well
Not all virtual assistant jobs are created equal, especially when it comes to pay. You may come across several of them that ask for a lot of work in exchange for very low rates. Fortunately, there are some that compensate fairly.
3. Priority VA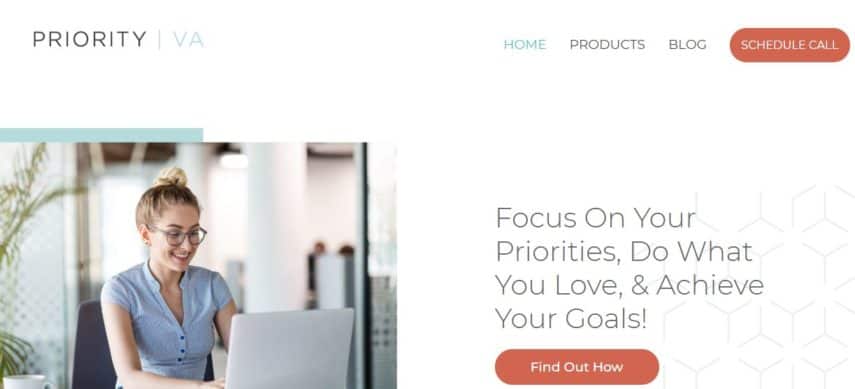 About: Priority VA made its debut in 2013 to match small business owners, CEOs, entrepreneurs, authors, speakers, and coaches to virtual executive assistants or EAs.
Scope of work: EAs perform a number of different tasks including booking travel and appointments, drafting content for blogs and social media, and managing calendars. They are also trained to proactively take repetitive activities off their clients' to-do lists to simplify their day and increase productivity.
Type of employment: EAs at Priority VA work as contractors.
Pay: Most EAs earn between $16 and $22 per hour. Contractors are paid on a monthly basis via direct deposit.
How to apply: You'll need to submit an online application and complete a series of follow-up questions and skills tests. You can also expect to participate in two video interviews.
Related: 17 Online Typing Jobs You Can Do From Home
4. Virtual Work Team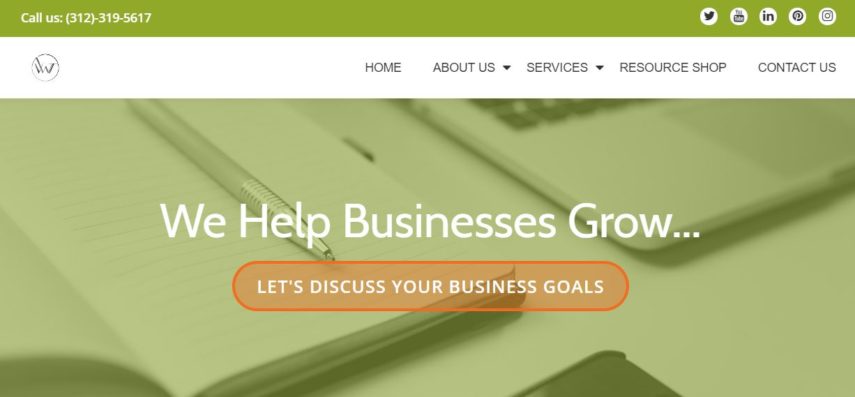 About: Founded in 2006, Virtual Work Team specializes in all types of VA services to support clients across the country and world. Its goal is to "help businesses grow" at an affordable price.
Scope of work: Virtual Work Team VAs schedule doctor's appointments, create slide show presentations and excel spreadsheets, moderate webinars, manage schedules, freelance write, and more. Each VA on the team has their own unique set of skills and is matched to clients who can benefit from them.
Type of employment: Since VAs work as contractors, they can choose how often they'd like to work. Most of the contractors the company hires already have some previous VA experience.
Pay: While pay is based on skills and tasks performed, new VAs can expect to earn between $10 and $35 per hour. VAs receive payment bi-weekly via company check, PayPal, or Payoneer.
How to apply: To work for Virtual Work Team, you can use its online contact form to submit your resume and a few references. If the company wants to move forward with your application, it'll contact you to set up an initial interview with a hiring manager. The next step is a round table interview with a few team members.
If you're hired, you'll need to complete a virtual onboarding process where you'll meet the team and participate in a formal orientation with your assigned client.
Related: 51 Sites to Find Your Next Freelance Gig
5. REVA Global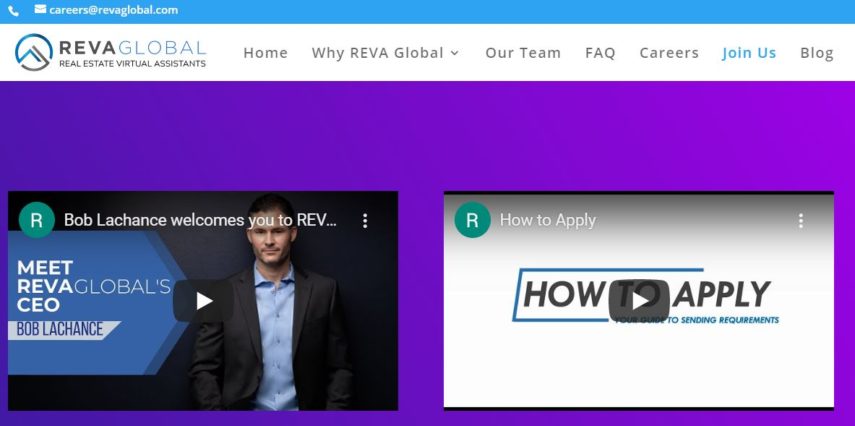 About: Connecticut-based REVA Global specializes in VA services for real estate professionals. It also offers marketing and medical virtual assistant services. Founded by a real estate investor, REVA Global's mission is to help those in the real estate industry save time and money by making the most out of every lead or opportunity they receive.
Mike Qiu, a house flipper in Seattle, hired REVA Global to assist with his business. "I feel very fortunate to have found them and my VA has been tremendous in allowing me to get work done," he said.
Scope of work: Virtual assistants at REVA Global perform tasks that help real estate professionals including researching and sorting through data to develop lead lists, creating and managing Facebook ads, writing content for a website, updating lead lists, and texting cold leads.
Employment type: Virtual assistants work as independent contractors.
Pay: REVA Global VAs earn between $10 and $15 per hour and receive payment every two weeks via direct deposit.
How to apply: To apply online, you'll need to attach your resume and take a DISC assessment to uncover your personality type and behavioral style. You'll also need to create a video that proves you own a reliable computer with memory space.
If the REVA Global team wishes to move forward with your application, you'll receive an invitation to participate in a few video interviews.
Related: How One Woman Makes $3,000 per Month as a Virtual Assistant
It's Possible to Earn a Full-Time Income Working for the Right Virtual Assistant Company
If you're looking for a way to make a full-time income from home, working for a virtual assistant company can provide that. If you're just getting started, working with a VA company can help you gain experience, connect with clients, and build your VA portfolio.
Over time, you may find you want to branch out on your own and start your own freelance virtual assistant business. Working as a freelance virtual assistant can give you greater flexibility, higher pay, and complete control over your schedule.