12 Transcription Jobs That'll Pay You to Type Audio to Text
Advertiser Disclosure
Our readers always come first
The content on DollarSprout includes links to our advertising partners. When you read our content and click on one of our partners' links, and then decide to complete an offer — whether it's downloading an app, opening an account, or some other action — we may earn a commission from that advertiser, at no extra cost to you.
Our ultimate goal is to educate and inform, not lure you into signing up for certain offers. Compensation from our partners may impact what products we cover and where they appear on the site, but does not have any impact on the objectivity of our reviews or advice.

Are you a fast typer? Can you handle listening to audio and transcribing as you go along? If so, then these transcription jobs might interest you.
To be a successful transcriptionist, it takes time, a quiet space and attention-to-detail. Overall, transcribing audio to text is an honest online job that allows you to work from home.
A few years ago now, I tried my hand at transcribing audio to text. At the time, it was a grueling procedure and I had to rewind the audio constantly. In fact, transcribing one six-minute audio clip easily turned into more than 30 minutes of my time and paid little in return.
But today, the tables have turned. Transcription tools have advanced noticeably, making it easier to complete transcription jobs quickly. User-friendly voice-to-text programs allow you to quickly transcribe the majority of an audio file in almost real time, without manually typing each word one-by-one.
With this in mind, know that transcription is easier than ever (though technology has yet to cut out the middle man, aka transcriptionist, and transcription jobs still abound).
So, let's talk about what it takes to land a transcription job, what the position entails, and where to find one that even the beginner transcriber can start.
Transcription Job Description
A transcriptionist is a typist who listens to recorded audio and types it into a text format for clients. A transcription job typically includes listening to audio recorded from a variety of sources and then typing it out. Some jobs need every single word, including "ums" and "uhs", written out while others just want the general idea. Audio examples include meetings, conferences, classes, monologues and more.
The transcription job description is simple, but each client may require different formatting or requests. For example, one client may need the audio typed exactly as spoken and another client may ask for bullet points.
When working directly with a client, you often get to set your own rates, rules for your transcription jobs (like turnaround times and task specifics), and have the flexibility of a work from home job. But if you're working with an agency that provides jobs, you'll need to follow their rules.
Who Can Work In Transcription?
Transcription jobs are a great job for college students, stay-at-home moms, and even high school students that have a knack for listening and typing quickly.
Transcribing audio files might be a great opportunity to make money online either full-time or as a side hustle.
Let's talk about how to find your own transcription jobs directly with clients seeking transcription services and also where you can gain experience by working with transcription job platforms (though they tend to value your time lower).
Related:  8 Best Jobs for Stay at Home Moms
How to Become a Transcriptionist
Jumping into the field is relatively simple. Most prospective transcriptionists start by taking an online transcription course that teaches them the skills necessary to perform common job duties.
Companies, such as Transcribe Anywhere, offer classes that teach students the basics of general, medical, or legal transcription, and just as importantly, how one can go about finding clients for work.
Remote Transcription Jobs
The best thing about transcription jobs is that they are typically remote – meaning you can work on these jobs from home. Remote transcription jobs allow you to transcribe on the side for extra income or potentially build a full-time career while on-the-go or at home.
There are three types of transcription jobs: generic or entry-level, medical and legal transcription jobs from home.
If you are new to transcribing and looking to get some experience under your belt, then entry-level jobs are going to be your best option. If you have experience and you're ready to become certified in the medical or legal transcription job field, then those options will allow you to scale your income.

Best Transcription Jobs for Beginners
Because entry-level transcription jobs are commonly sought after, I'll start with a list of places to find them.
Keep in mind that transcription is much like any other career. As a beginner, it could be difficult to find high-paying transcription jobs from home. As you grow your experience and your client base, your income will in turn increase.
You will notice in the list of transcription jobs below that most companies set a pay rate per "audio hour."
This is not the same as clocking in and out and getting paid per hour of your time spent. Instead, you are paid based on a set rate for one hour of audio transcribed. This means that you will definitely earn less per actual hour spent than the stated amounts, especially as a beginner.
Most companies assign transcription jobs based on short snippets of audio (2-10 minute clips) versus full dialects all at one time. So you will never be required to transcribe a full hour of audio in one sitting if hired to work for these companies.
1. Fiverr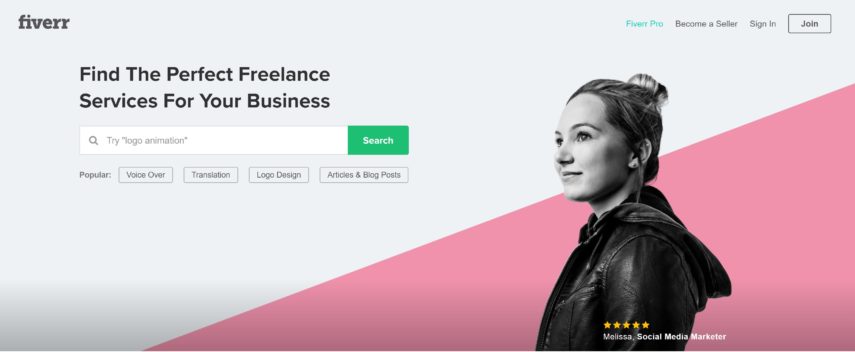 Pay:  $30 – $120+ per audio hour
Payment Method

:  PayPal, Fiverr Revenue Card or Direct Deposit

Payment Frequency

:  14 days after job completion

Experience Required

:  None
Fiverr is a job platform that allows you to list almost any type of professional service you can think of. Though many think Fiverr is only for beginners, it's also for seasoned transcriptionists as well.
Once you list your transcription services on Fiverr you can keep your account active throughout your career or you can remove it.
You choose your rate on Fiverr. Someone can reach out and haggle, but you have the right to decline. Research other popular transcriptionists and use them as a guide. Remember, competition and quality are key when choosing a rate for your services.
2. Scribie
Pay:  $5 to $25 per audio hour + bonus potential
Payment Method

: 

PayPal

Payment Frequency:  Anytime
Experience Required:  None
Warning, proceed with caution. Scribie is one of the lowest paying transcription jobs I've found. But they do have a few perks for beginners who are really looking to break into a transcription career.
When you first apply for and get accepted to Scribie, you will be on the bottom of the totem pole. This beginner position requires you to transcribe raw, short audio files and has stringent formatting rules to adhere to.
If you're able to complete a set number of transcription jobs to their liking (usually 10), you can then be promoted to a reviewer. Once again, if you review a set number of files correctly, you can be promoted to a self-reviewer, then to a proofreader, then to QC (quality control).
Each promotion is based purely on performance and comes with either a pay increase or a perk (for example, the task requires less time to complete).
Reaching each promotion level takes time and great attention to detail, but once you've achieved the two highest levels, your income potential is much higher and that will generally help you make money faster.
3. TranscribeMe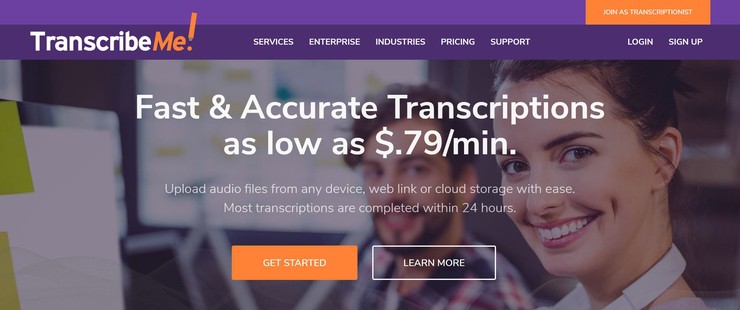 Pay:  $15+ per audio hour
Payment Method:  PayPal
Payment Frequency:  Weekly
Experience Required:  None
TranscribeMe is another transcription company that's easy for beginners, partially because of their low rate.
They have a steady amount of work available, and you can choose audio clips to transcribe on your schedule. Transcribe Me splits long audio files into 2-4 minute clips for easier processing.
Like Scribie, TranscribeMe mentions the opportunity for position advancement, but there are no specifics on pay increases.
4. GoTranscript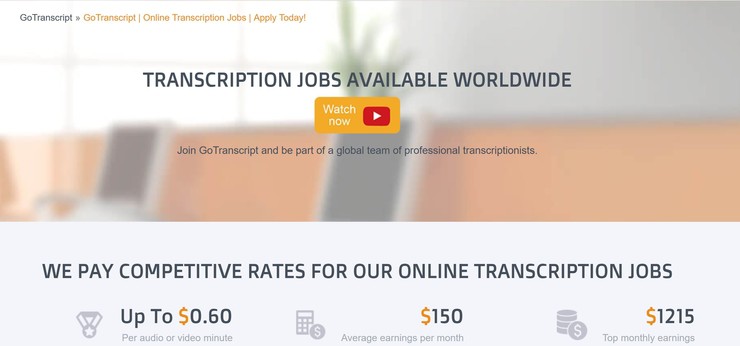 Pay:  Up to $36 per audio hour
Payment Method

:  PayPal or Payoneer

Payment Frequency

:  Every Friday

Experience Required

:  None
GoTranscript boasts a "steady stream of projects" with new submissions every day. Unfortunately, the payment rate breakdown isn't available, which makes the "up to $36 per audio hour" a little vague.
The current average earnings per month is $150 with a top-earning rate of $1,215 in one month. The average could be heavily weighted by a large number of transcribers doing this work on a very part-time basis.
5. Rev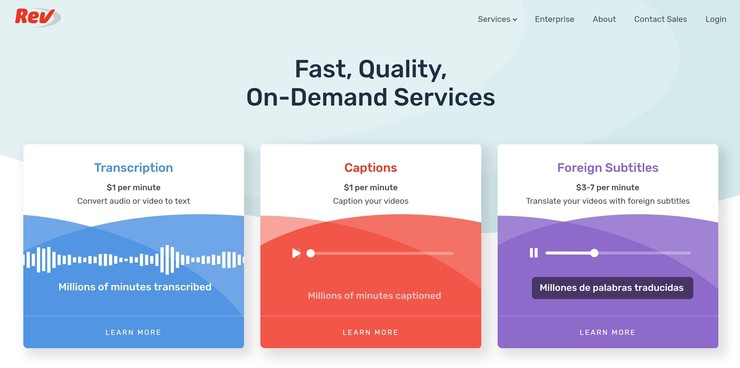 Pay:  $24 to $39 per audio hour
Payment Method

:  PayPal

Payment Frequency

:  Every Monday

Experience Required

:  None
Rev is one of the more advanced transcription jobs for beginners, and you might not get approved after your first time applying. Keep trying though.
Because Rev pays better rates, they require high-quality submissions. If you don't pass the entry exam the first time, try again. In the meantime, improve your transcription skills by working with a lower paying company like Scribe.
6. Transcribe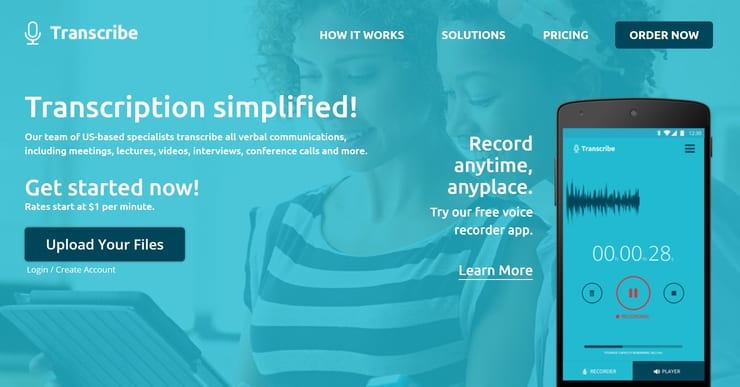 Pay:  Varies per task
Payment Method

:  PayPal

Payment Frequency

:  Every day

Experience Required

:  Transcription hardware and

software

experience required
Transcribe is more stringent in their requirements than most other general transcription companies. Previous experience with transcribing software is required while using a foot pedal to control audio play is highly recommended.
Only three attempts are allowed when taking Transcribe's entrance exam, so careful style guide study and attention to detail is required in order to pass.
Currently, Transcribe only hires US-based transcriptionists.
Related:  25 Online Jobs That Are Legitimate, Easy, and Flexible
Transcription Job Tips
When just getting started in transcription, your best option may be to sign up for each company listed above. Order the companies that hire you on a list from highest to lowest paying (based on your current position with the company) and check for transcription jobs in that same order each day.
Having a good standing with multiple transcription companies can help you keep your schedule full of jobs. Also, should you decide to apply to more advanced positions or search for clients directly, the experience will help immensely.
Medical Transcription Jobs From Home
If you've had previous transcription experience and you're ready to advance your career in the field, medical transcription jobs from home could be right for you.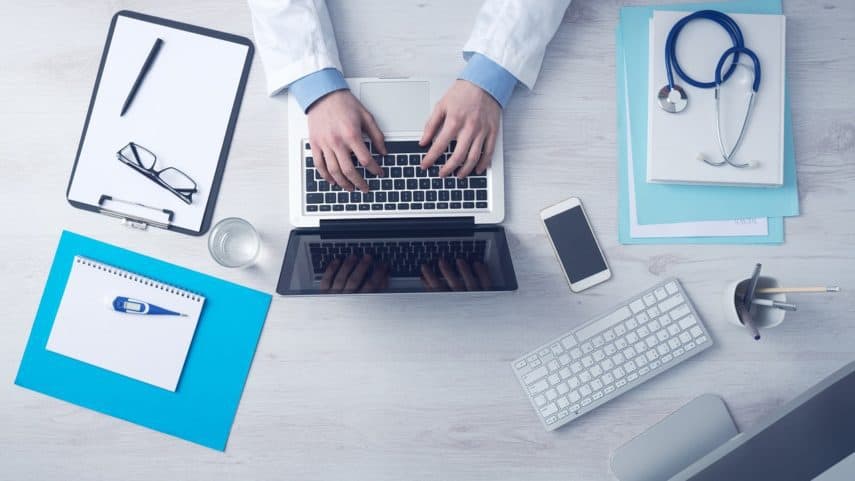 Working in medical transcription requires knowledge of terminology used in the medical field. Without experience in this area, transcribing files with medical terms could be difficult (if not impossible for the average typist).
According to the Bureau of Labor Statistics (BLS), certification is not always required to work in medical transcription jobs, but it's often preferred. Previous time spent in the medical profession is also highly preferred in this field because it helps with translating medical terminology spoken in the audio files.
BLS records median pay of medical transcriptionists at $35,250 per year (or $16.95 per hour). Rates vary based on client budget and previous experience.
3 places that list medical transcription jobs from home:
Indeed – salaries range from $45,000 to $80,000.
Glassdoor – hourly rates range from $8 to $19.
Zip Recruiter – salaries range from $45,000 to $55,000.
Legal Transcription Jobs From Home
Even more advanced than medical, legal transcription jobs from home require much more study and skills than most transcription jobs.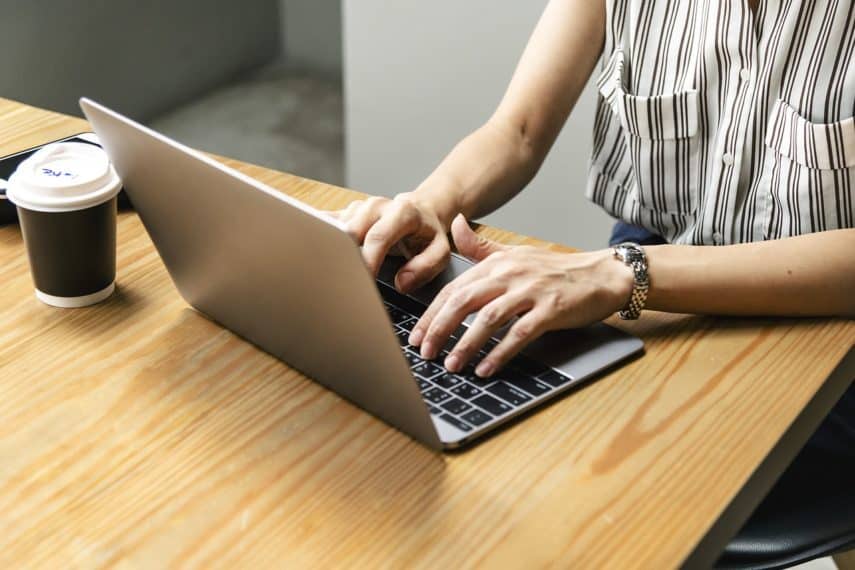 According to BLS, legal transcriptionists are required to have certification or a state license to work in this field.
Perhaps more commonly known as court reporters, legal transcriptionists type verbatim everything that takes place during live court proceedings. Legal transcription jobs from home are available to certified, professional transcriptionists who tune into court proceedings via live broadcasting.
BLS records median pay of legal transcriptionists at $55,120 per year (or $26.50 per hour).
3 places that list legal transcription jobs from home:
Indeed – salaries range from $40,000 to $55,000.
Glassdoor – rates not listed.
Zip Recruiter – rates not listed.
Online Transcription Jobs
Working in transcription is not easy, but with a lot of practice, your speed, job quality and pay rate will increase. Consider working for one of the entry-level transcription companies mentioned above for a few months to see if it's a skill set you can master.
I worked with Scribie for a few months transcribing short audio files long before I knew of these other options. Spend some time crafting your transcribing skills and you just might fall in love with the flexibility that it provides – allowing you to make money from home.