11 Best Places to Sell Your Phone for Cash (High Payouts)
Advertiser Disclosure
Our readers always come first
The content on DollarSprout includes links to our advertising partners. When you read our content and click on one of our partners' links, and then decide to complete an offer — whether it's downloading an app, opening an account, or some other action — we may earn a commission from that advertiser, at no extra cost to you.
Our ultimate goal is to educate and inform, not lure you into signing up for certain offers. Compensation from our partners may impact what products we cover and where they appear on the site, but does not have any impact on the objectivity of our reviews or advice.
If you have an old phone lying around collecting dust in your closet or attic, you're not alone. There are many ways to sell your old technology for cash. Here are the best places to sell your phone to earn the most.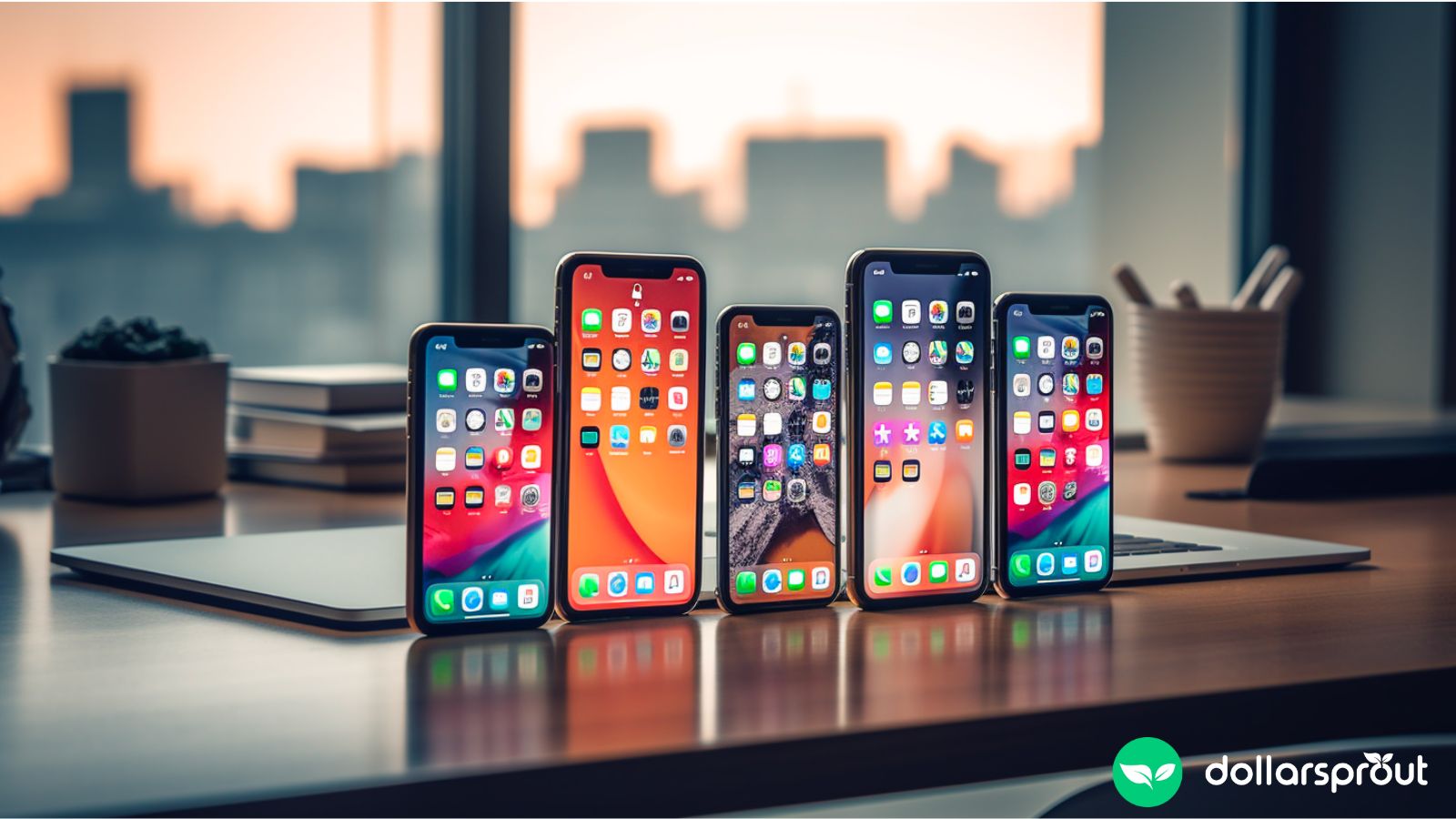 Everyone loves getting a new cell phone.
It's fun to set it up, see how fast it is, and try out the new features. But then you're stuck with your old phone.
Throwing it away seems like a waste, and you may not want to donate something you paid hundreds of dollars for. So the next logical step is to try to sell your old phone.
But then you have to make sure your data and personal information are completely wiped, and how do you know what's a good price?
Nowadays, there are many sites where you can sell your old phones. These places turn what was once a hassle into a seamless transaction.
11 Best Places To Sell Your Phone For Cash
Figuring out where to sell your old phone is difficult because there are so many different services. It's important to compare them to find out which one will offer the most for your cell phone.
1. Decluttr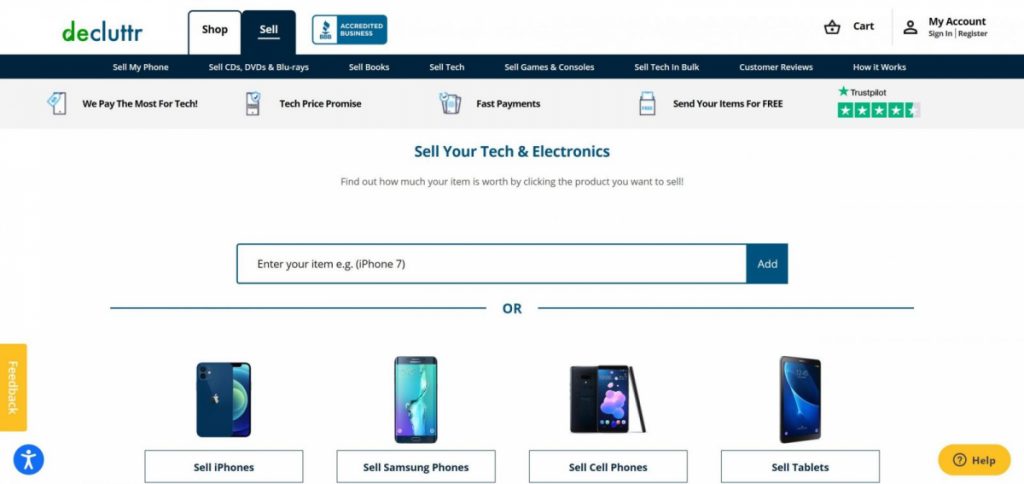 Decluttr is one of the easiest places to sell your phone online. You can go to the website or download the app. Just type in the item, find it in the search results, and click sell. It accepts brands including:
Apple
Samsung
Google
HTC
Sony
Motorola
OnePlus
Once you pick the brand, you'll have to find your phone's exact model. It's important to be sure exactly what it is because Decluttr will pay more for certain models. Once you've chosen the model, you need to decide what kind of condition it's in.
Be honest because Decluttr will always examine a device so it doesn't help you to pick a better condition. When you're done, hit the "Sell to Decluttr" button and see how much the offer price is.
Decluttr will provide a prepaid mailing label for you to print so you can ship your items for free.
Related: DollarSprout's Decluttr Review
2. Buyback Boss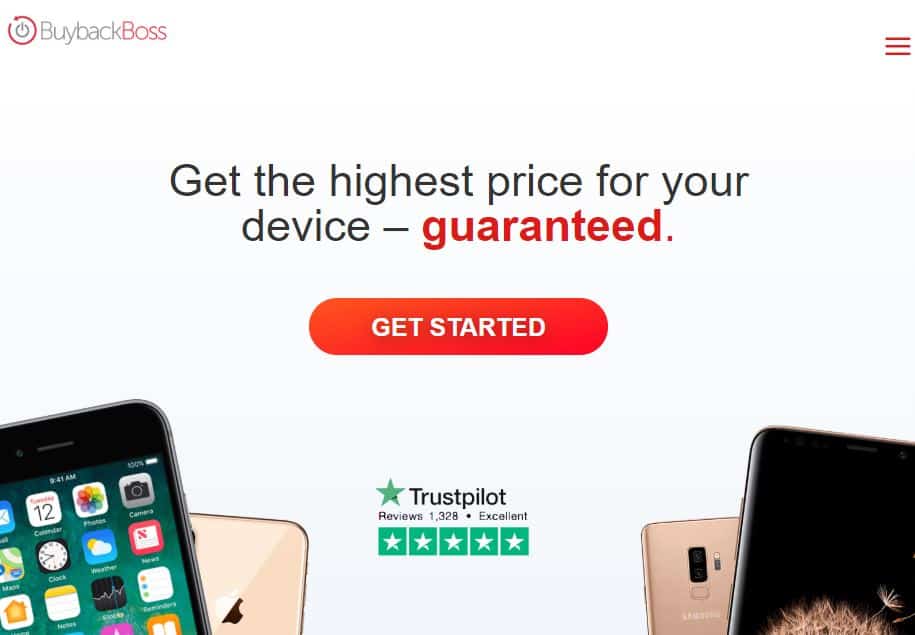 If you're looking to sell your iPhone, Android, Apple Watch, or tablet, Buyback Boss is a simple and free website you can use. You just input details about your phone such as the carrier, memory capability, and model, and it'll provide an instant quote. The quote comes with a 14-day price lock and a price-matching guarantee, so if you get a higher offer from another site, Buyback Boss promises to honor it.
Once you accept its quote, you'll use the prepaid shipping label to send your device. Upon receipt, Buyback Boss will inspect it and if it passes, you can choose to receive your payment via check, PayPal, or make a charitable donation to Lighthouse for Hope. If your phone doesn't pass the inspection, Buyback Boss will give you less money or send the device back to you.
Related: 15 Legit Ways to Make Money From Your Phone
3. Swappa

Swappa is an online marketplace where you can sell a phone to a personal buyer. Items should have intact screens, not have any missing buttons, and not have other signs of physical or cosmetic damage. You also can't sell any broken phones.
Swappa doesn't charge any seller listing fees. Payments are made via PayPal so buyers are protected and can demand refunds if they buy a phone which isn't as described. That's why being honest in the description and photos is so important.
Related: Swappa Review 2023
4. Facebook Marketplace
Facebook Marketplace is a free place to try to sell your phone. Go to Facebook.com or the app, log in to your account, select the Marketplace, and click "Sell Something." Then write a detailed description of your phone including the asking price, post some photos, and start selling.
It can be hard to price items to sell on Facebook because you never know how much your phone may sell for (or how much people are willing to pay). Price it higher than you like so there's room for the buyer to haggle, but also keep a minimum purchase price in mind. You don't want to sell your phone for less than you think it's worth.
You'll have to meet up with buyers in person, so be sure to pick a safe public place near you.
5. Gazelle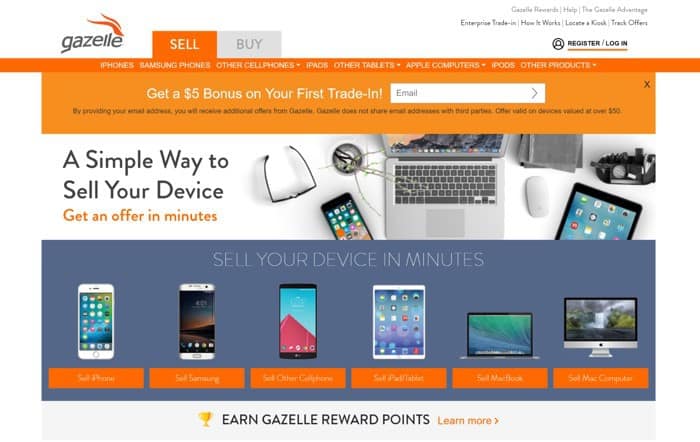 Gazelle is an online selling site where you can enter your phone's information and get a quote. You can ship the item for free with a prepaid mailing label and get paid via Amazon gift card, PayPal, or check.
Gazelle will ask you questions about your phone to determine its worth, like if it has trouble powering on, if there are any scratches or cracks, and if it's fully functional. Answer truthfully so the company doesn't change your payout amount when it receives the phone.
Right now, Gazelle offers a $5 bonus on your trade-in when you join its email list.
Related: DollarSprout's Gazelle Review
6. Craigslist

Craigslist is another popular place to sell devices because it's free to use, you can potentially get paid in cash today, and it takes a few minutes to post an item for sale. To get the most money, take time getting good pictures of the phone.
Buyers will trust you more if you provide an accurate and detailed description. If you don't take good photos of the phone or you hide any dents, cracks, or scratches in the description, the buyer may change their mind in person.
However, you may not get as much money as you want for your phone because it's difficult to verify the condition and worth of a mobile device. Price your phone fairly but try to get as much money as possible.
Like Facebook Marketplace, be aware of your surroundings when meeting up with a buyer to sell your phone using Craigslist.
Related: How to Sell on Craigslist: 6 Steps to Increase Your Earnings
7. eBay

eBay is the premier place to sell something online because of its robust marketplace. But selling on eBay can get a little complicated. First, know that eBay always takes the buyer's side. That's why you have to be honest. If your phone has a problem, mention it in the description or you can get in trouble with the site.
When selling your phone on eBay, you can put it up for auction or pick a Buy It Now price. You can also allow buyers to send you their best offers if you're in the mood to haggle. You can decide to offer free shipping or have the buyer pay for it. If you choose the former, make sure to factor in those costs when setting a price.
To get an idea of how much you should sell your phone for, search for the phone's model name and number on eBay. Click on the "sold" items on the left to see how much sold phones went for.
Taking professional-looking photos of the merchandise and writing relevant descriptions will help you find potential buyers in a short amount of time.
Online Trade-In Services
Trade-in services let you exchange your old phone for cash or a gift card. It can be an easier option than selling to a site or person directly.
8. Use the Amazon Trade-In program
Amazon's Trade-In program is one of the most popular trade-in services available. You send your old phone in exchange for an Amazon gift card, which you can use as credit to buy a new phone from the site.
You'll have to answer a few questions about your item before receiving a quote. You'll receive specific instructions on how to ship your item to the Amazon offices.
After two business days, you'll receive an email informing you whether your trade-in item is eligible. Once it's approved, Amazon will send you a gift card for the equivalent amount.
Amazon's Trade-In program is one of the most reliable trade-in services you can find. You might get more money out of your old phone through eBay or one of the other selling apps, but Amazon's efficient system and customer support provide more assurance that the trade-in process executes without a hitch.
Related: 25 Ways to Earn Free Amazon Gift Cards (Up to $100 or More)
9. Use Walmart's Trade-In Program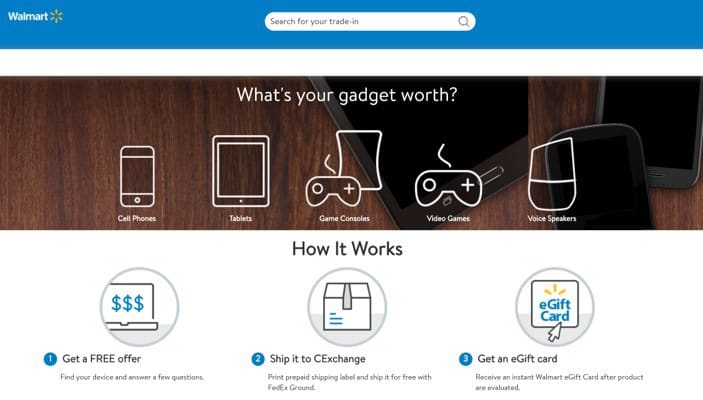 Walmart's trade-in program is similar to Amazon's. However, unlike Amazon's trade-in service, Walmart's program is handled by CExchange, a third-party company, instead of being done in-house.
Despite the third party, it's a pretty straightforward process. Just search for the model of your device through the site's trade-in program page under the relevant category. Once you find it, the site will tell you how much your item is worth.
After answering a few questions, you'll get a printed shipping label along with the option to send the item to CExchange. Once it's approved, you'll receive a Walmart gift card equivalent to the total amount indicated on the appraisal.
10. Trade your old cell phone to Best Buy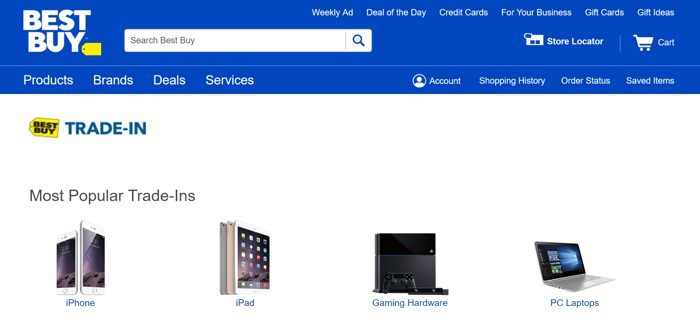 Best Buy's trade-in service is similar to the other options, but with one added convenience: the option to submit your old phone directly to a physical store.
It's still the same process online. Choose the item to submit, answer qualifying questions, receive a trade-in quote, and then ship the item to the Best Buy offices. You can also take the phone into a local Best Buy store. Whether you submit the phone in person or in the mail, you'll get paid with a Best Buy gift card which you can use for any product in the store or website.
Related: 14 Best Places to Sell Video Games
11. Use the Apple Trade-In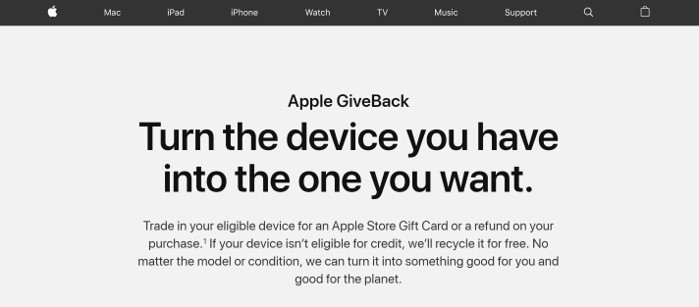 Apple's trade-in program only applies to Apple products. If you want to trade your old iPhone for a new Apple device, it makes sense to do it through the official store.
All you need to do is visit the trade-in page, answer a few questions, and the site will offer you a trade-in estimate for an Apple gift card or instant credit at the Apple Store. Better yet, it'll provide you with an opportunity to help save the planet by offering to send your old phone to a recycling partner.
Related: 19 "Odd" Jobs That Pay Surprisingly Well
How Much Can I Get If I Sell My Old Phone?
How much you get depends on the phone, how popular the model is, how new it is, and the condition it's in. For instance, if you're selling a recent iPhone model, you'll earn more than if you're getting rid of an old Moto.
Is your phone a premium model?
Premium phone models usually sell for more than other versions. But you can still get a good price for your used phone, even if it's not the latest iPhone.
Does it have all the original packaging?
You can usually get more money if your phone has its original packaging like the box and manual it came with. However, if you don't have it, don't worry. You can still sell your phone without the original packaging.
Are you selling your phone's accessories, too?
Selling accessories like a charger and phone case can help you increase your asking price. A case isn't necessary, but it's helpful to include the charger, especially if it's the original one. If you have multiple chargers, include those, too.
Related: How to Get Free Phones (or Free Phone Service)
What to Do Before You Sell Your Phone
Selling your cell phone is simple, but there are some key steps to follow. If you skip these, you could risk opening yourself up to huge privacy issues and other problems.
Unpair it from any other devices you own.
If your phone is linked to any Bluetooth devices, make sure to go in and unpair it. To unlink your phone, go to Settings > Wireless & Networks > Bluetooth settings. Unpair every paired Bluetooth device you find there. Settings may vary according to the phone model.
Back up your important data.
Go through the phone and see if there's any data you need to back up, like photos, files, and videos. Many mobile providers have their own cloud storage system or you can use Google Drive or Dropbox. Verify that your information is backed up before deleting it. It can be a huge disappointment to erase your phone and forget that your grandma's last voicemail was on it.
Reset your phone to factory settings.
This is one of the most important things to do when selling your phone. Resetting the phone to factory settings means deleting any shared or saved information like passwords, photos, and more. This is the only way to ensure your privacy will be safe when you sell your phone online.
Every phone has a different way to erase your settings, but you can generally find instructions online. Remember, once you reset your phone, you can't undo it. Backup and save any photos, messages, or videos to an external device or a cloud service before resetting your phone.
Related: 37 Ways to Make Money Fast When You Need It
Go Sell Your Phone Online
Once you've restored the phone's settings, assembled the accessories, and created a solid listing, you can try to sell it online. Because there are so many different avenues, you don't have to worry if your phone will be accepted somewhere. There's a good chance one or more of these will give you a cash offer for your phone today.
If you do all that you can and your cell phone still doesn't sell, you can always recycle it or donate to a program that helps domestic violence victims and survivors.