Gazelle Review: What You Need to Know Before Selling Your Phone
Advertiser Disclosure
Our readers always come first
The content on DollarSprout includes links to our advertising partners. When you read our content and click on one of our partners' links, and then decide to complete an offer — whether it's downloading an app, opening an account, or some other action — we may earn a commission from that advertiser, at no extra cost to you.
Our ultimate goal is to educate and inform, not lure you into signing up for certain offers. Compensation from our partners may impact what products we cover and where they appear on the site, but does not have any impact on the objectivity of our reviews or advice.

I never know what to do with my old phone.
Selling it seems like a hassle, but I don't want to donate it and not get anything in return. In the end, I tend to hold onto my old phones for months until I finally throw it away. It seems like a waste, right?
But now, thanks to services like Gazelle, people can sell their old phones and tablets without much effort. No longer do we have to spend time taking pictures, creating sales listings, talking to prospective buyers, and planning meet-ups. Gazelle streamlines and simplifies the process of selling your old technology.
Gazelle Review at a Glance
Like most companies, Gazelle comes with some strengths and weaknesses:
Pros
Sells certified devices
30-day return policy
Sells the latest models from quality brands
Cons
Quote for sellers can change drastically
Poor reviews on Trustpilot
Doesn't accept old phones
$15 restocking fee if you return a phone
What is Gazelle?
Gazelle is a site that buys and sells discounted and gently-used electronics including iPhones, Samsung Galaxy, and Google Pixel devices. Users can trade in their old technology for money or search for deals on new-to-them phones and tablets.
Is Gazelle Legit?
Gazelle is a real site that pays people for their old devices. Because they inspect each phone and tablet before it goes live on the site, and it runs the devices through a security check to ensure it hasn't been stolen, you can trust that the phone you buy will be legit.
However, some Gazelle sellers report a bait-and-switch strategy that they claim the site uses. They will describe their device, get a quote, and send it in. But Gazelle reserves the right to change the quote if the phone or tablet isn't as described.
Many sellers report that they describe the device correctly, but that Gazelle will claim it has more scratches or other imperfections.
How Does Gazelle Work?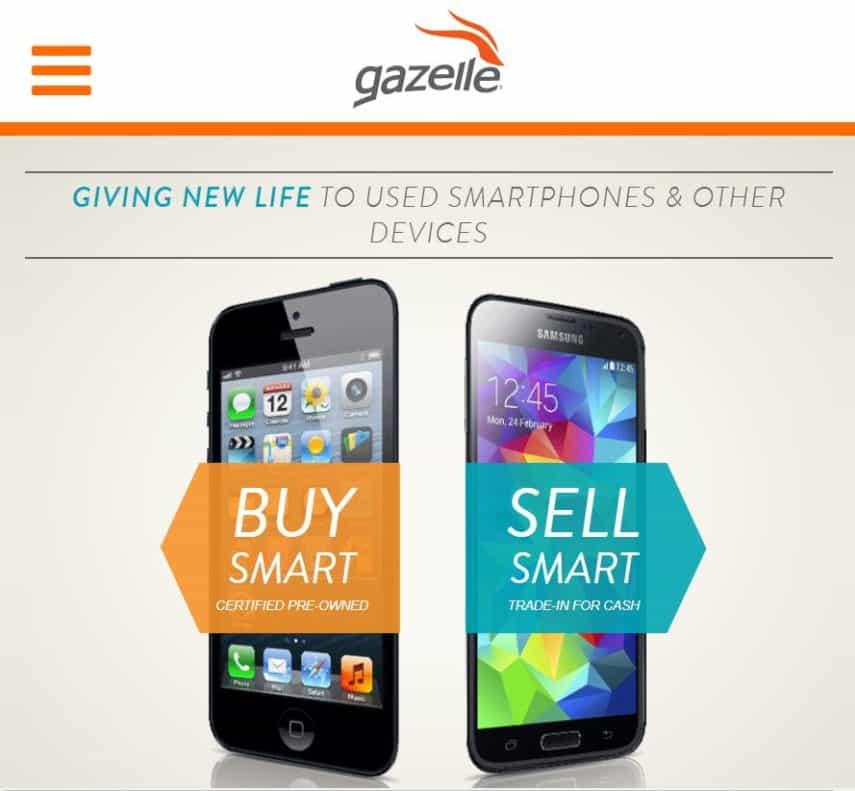 Gazelle breaks down the selling and buying process into a few easy steps.
Selling With Gazelle
To sell your phone with Gazelle, you'll provide its details to Gazelle, including brand, model, color, storage limits, and overall condition. Using that information, Gazelle will provide a price estimate along with a prepaid shipping label. If you accept the offer and send the phone to Gazelle, they'll check and verify that the device is as described.
If it all matches, you'll receive payment via Amazon gift card, PayPal, or by check.
However, if you send in your phone and they revise your quote, your options are to accept the new offer or have it mailed back to you. There is no fee for this option.
This can be a frustrating process because you're never sure if you'll get the real price at the outset. However, this is a risk with similar apps. Your best option is to be as honest and thorough as possible. It doesn't help you to lie or omit certain details about the device you're trading in.
If you don't want to take this risk, you can try selling your phone yourself through a site like eBay or in-person with Craigslist, Facebook Marketplace, or letgo.
Buying from Gazelle
Buying from Gazelle is a simple process. First, you'll click under the "Buy" button at the front page which shows you a listing of devices they have for sale. You can also search for a specific model and brand or choose to look at what options there are in your price range. After you put in your search criteria, you'll see the full listings of purchasing options, along with which carrier the phone is connected to.
Because Gazelle verifies all its phones, you can feel comfortable choosing a model. If you want to return a device, you can do so within 30 days. Gazelle will give you a prepaid shipping label, but they'll charge a $15 restocking fee.
Gazelle FAQs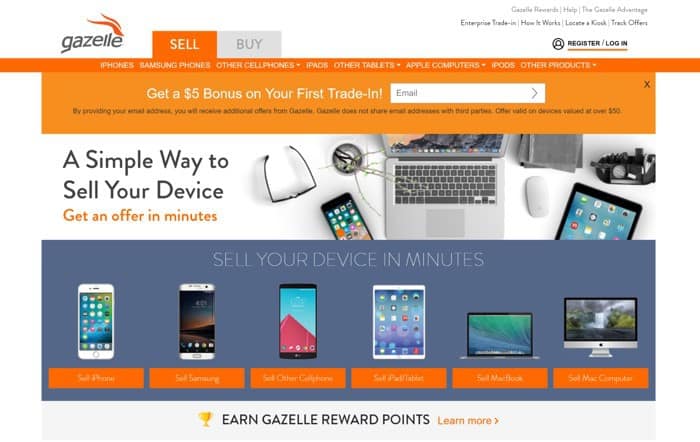 If you're interested in using Gazelle, you might have a few questions before you get started.
Does Gazelle buy electronics besides phones?
Gazelle buys tablets and smartphones from many brands, but those are the only two items they buy. You can't sell your laptop or Kindle to Gazelle.
Is my personal information safe?
Before sending your phone to Gazelle, you need to erase all personal information from it. The best way to do this is to reset your phone to factory settings. This will delete all your passwords, pictures, files, and any other personal or identifying information.
Once you reset your phone, you won't be able to undo so make sure you've backed up all your data.
What are my payment options?
If you're selling an item to Gazelle, you'll get paid via Amazon gift card, check, or PayPal. If you're buying a phone through Gazelle, you can use a debit or credit card.
How long does it take to get paid from Gazelle?
Once you send in your phone or iPad to Gazelle, they'll need three to five days to inspect the phone and decide on a final price. It can then take an additional two to 10 days for you to get paid.
If you choose to get paid via PayPal or Amazon gift card, it should be issued within two days. If you choose a check, it can take seven to 10 days to receive it.
Remember, the quote they give you is only good for 30 days so once you receive it, you'll need to send in your device as quickly as possible.
Alternatives to Gazelle
If you don't want to use Gazelle to sell your old phone, there are other options.
ecoATM
ecoATM is part of Gazelle and represents their physical locations. The ecoATMs are found in locations like malls and grocery stores. You can bring in your phone, deposit it, and get paid via cash.
This is the easiest way to get paid because you're likely to have an ecoATM near you. There's no worrying about shipping and packing the phone.
Decluttr
Decluttr is an app and website where you can sell your phone, iPad, and other electronics. You can download the app or enter the information on a website.
Like Gazelle, you'll get a quote for the device, print out a prepaid shipping label and then send it in. Decluttr can also change the price if the phone is in a worse condition than you described.
Best Buy Trade-In
If you have a cell phone or other electronic device, you can take it to Best Buy and trade it in for a Best Buy gift card.
Unlike Gazelle, you can sell it in-person to a Best Buy store if you don't want to mail your phone. You can only get paid with a Best Buy gift card so this isn't a good option if you need cash.
This is an easy option if you have a Best Buy near you, but don't want to worry about packing up a phone to ship.
Gazelle Review Summary
Buyers who shop for phones or iPads on Gazelle seem to have a more positive experience than those who sell their devices. That's because the site is very particular and has high standards for its phones and iPads. You may think your phone is perfect, but Gazelle may still find something wrong with it.
However, it's free to send in the device and have it inspected. If you end up getting a lower quote, you can have it sent back to you for free.