7 Easy Ways to Repurpose Blog Content for Maximum Impact
Advertiser Disclosure
Our readers always come first
The content on DollarSprout includes links to our advertising partners. When you read our content and click on one of our partners' links, and then decide to complete an offer — whether it's downloading an app, opening an account, or some other action — we may earn a commission from that advertiser, at no extra cost to you.
Our ultimate goal is to educate and inform, not lure you into signing up for certain offers. Compensation from our partners may impact what products we cover and where they appear on the site, but does not have any impact on the objectivity of our reviews or advice.
Learning how to repurpose content is a critical time management skill experienced bloggers use to get the most out of all their hard work. Here are 7 ways to recycle blog content and get the most out of every post you publish.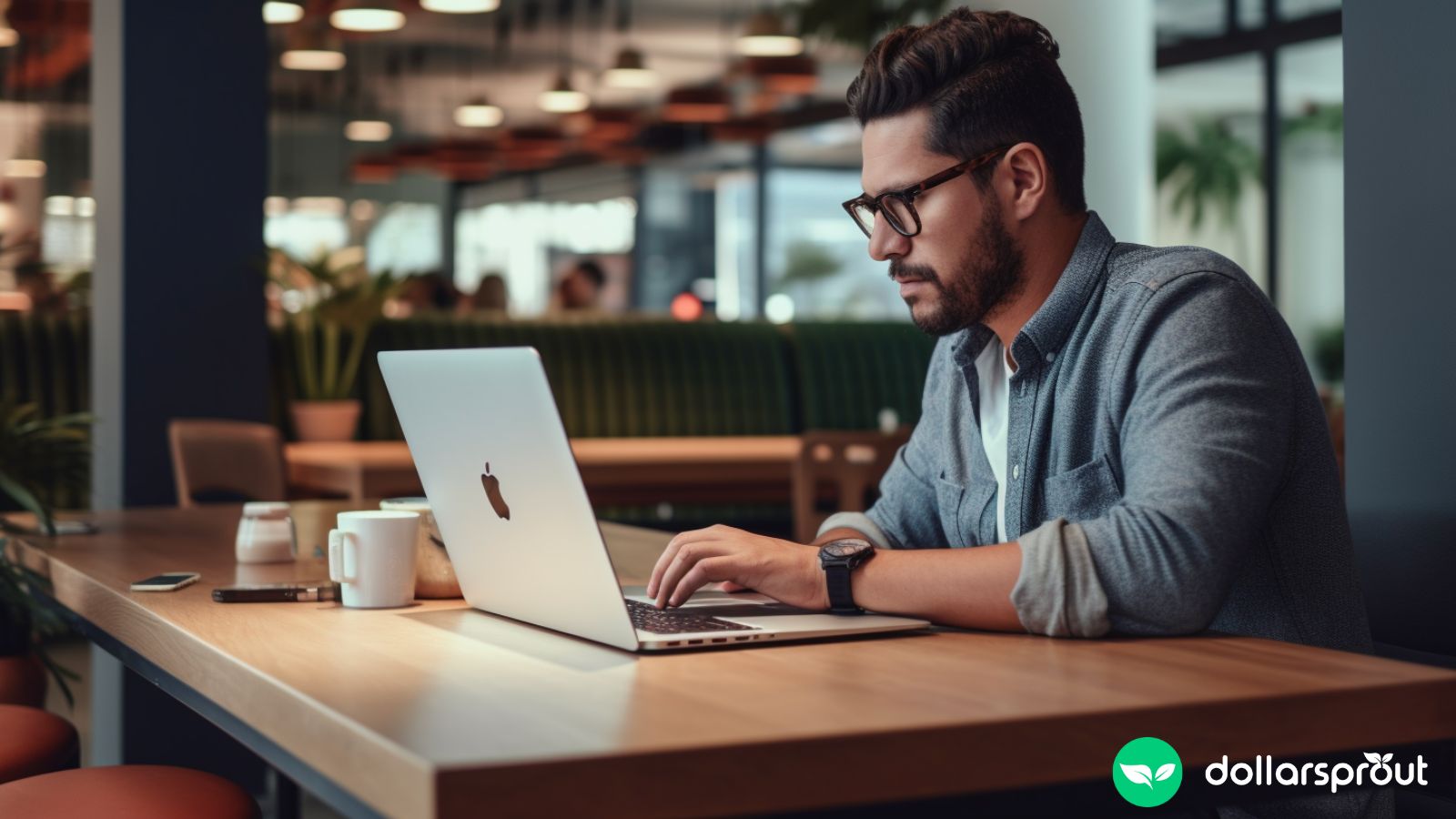 Editor's Note: This post was originally published on Breaking The One Percent by Elizabeth Harrin from Totally Organised Blogging as part of our "Ask the Expert" interview series.
In the summer of 2017, I burned out.
I was on a content creation treadmill. I had just finished a book manuscript and my publisher was asking me to plan the launch.
Plus, like many other bloggers, I had freelance writing clients. The never-ending requirement to write stuff for my own blogs. And the need to stay present on social media.
My children were 3 and 4. I had (and still have) a demanding 'real' job with a tiring commute. Something had to give.
Can you relate? As bloggers and small business owners, the sense of overwhelm can sometimes be extreme.
That's why I want to share with you the method I used to cut my workload and write less. Perhaps what worked for me will also help you get off the content treadmill and win you some time for revenue-impacting tasks.
So here's the secret: I cut back on writing and learned how to repurpose blog content so I could reuse it in a meaningful way.
What is Repurposing Content?
You might have heard about repurposing content before. It simply means using a piece of content you've already created in a different way so you get more mileage out of it.
For example, if you've done a Facebook live video, you can repurpose the content on to a different channel by also loading it to YouTube. You could strip the audio from the video and release that as a podcast. Lastly, you could publish a transcript of your video as a blog post.
You've got content in four places – Facebook, YouTube, your podcast distributor, and your blog. But it's all driven from the same original live video.
Simple enough, right?
Why Repurpose Blog Content?
Do people want to listen to you talk about one thing four times? Odds are, no. But trust me, they won't even notice. And the few that do, will gloss right over it.
One of the biggest reasons to repurpose content is to help you reach people on different channels.
Your YouTube audience might not listen to the podcast. Some of your Facebook audience might miss the live video, but read the blog post.
Your audience isn't all in the same place, and they all have different preferences for consuming your content. Repurposing what you already have makes it easier to reach different groups and give them what they want. It's also so much faster than creating new content for each channel.
There are SEO and social sharing benefits too, as you've now got extra content that you can link to and share. Embed your YouTube video in a blog post, share a snippet from the podcast on Twitter. Build your authority by talking on a single topic in several places.
You've worked hard to create something interesting for your readers, so make it work hard for you.
Repurposing gives you more mileage out of a subject and out of the content you are already creating.
My Repurposing Experiment
I wanted off the content treadmill, and I decided that meant I had to stop writing new articles.
During the last three months of 2017, I published 22 articles, compared to 32 in the same period the year before. I cut back on what I was putting out, and I made much better use of what I already had.
This is what I published on my blog:
Blog posts that were a copy/paste of email newsletters from earlier in the year.
Facebook live videos in blog posts. I loaded them to YouTube, embedded from YouTube and then added the transcript.
Side Note: You can embed Facebook videos directly into WordPress, but as the majority of my readers check my blog from their workplace, Facebook is often blocked by corporate firewalls. For me, it's better to use YouTube videos on my blog, but you could save a step and embed directly from Facebook.
Interviews with industry experts. I emailed them questions, they responded with the answers. These did require some editing, but nothing close to the amount of work required to write 1,000+ words from scratch.
An article I had written for a client and had permission to republish.
A guest post.
The highlights from a podcast I was interviewed for, with a link to the podcast. I basically used the notes I had prepared prior to the recording as the blog post.
A holiday article from the year before updated with a new publication date.
I did write some new content during that time: two sponsored articles and a book review, along with my annual round-up of industry trends.
I also published a couple of announcements relating to a product launch as it was Black Friday time. However, I don't mind spending time writing content that is directly linked to revenue.
7 Easy Ways to Repurpose Blog Content
If you want a break from creating content, here are 7 ways to repurpose content you may already have into blog articles.
1. Emails
If you write an email newsletter, turn that text into a blog post.
I aimed for a six-month gap between the email going out and being published as a blog post. Remove the 'hello,' your signature, and that's basically it.
One caveat is that, in my experience, emails are shorter than good blog posts. You might want to add an extra paragraph or two to take your text to at least 800 words.
2. Videos
Get a transcript of your Facebook live videos through Temi or Rev and use that as the body of a blog post. Embed the video, too.
Pro Tip: While you can publish the transcript as is, a little bit of editing to add subheadings and paragraph breaks will massively improve your final article. This takes time, but at least you don't have to come up with a new topic as you're editing existing content instead of starting from scratch.
3. Podcast interviews
Whether you have been on a podcast as a guest or hosted one, notes from the podcast can make a great blog article.
Check out the show notes from other podcast hosts. Even if you aren't the host, you can still use the 'show note' format to summarize what you talked about as the guest and publish that.
4. Republish a guest post
Many of us write guest posts for other sites in addition to content for our own blogs. Why not republish one of those great guest articles on your own site?
Before you yell "duplicate content penalty" at the screen, hear me out. Neil Patel advises that there is no automatic Google penalty for duplicate content. You can reprint articles on your site. However, there are some good practices to follow:
Get permission from the person who published the article first.
Don't scrape images that appeared alongside the original article (unless you created them and have permission to use them again). Create new images.
Use a canonical link to help Google identify the original source.
Read through the article again and see if there are any tweaks that would make it more relevant to your audience. For example, add some more internal links or affiliate links, break up long paragraphs, or switch up the headings.
5. Update holiday posts
Look at holiday content that you've created in the past and update it.
I updated my 'industry conferences you won't want to miss' article with information on events for the coming year. I didn't have to create the post from scratch. My VA did most of the work looking up the following year's dates and dropping them into the article.
Any holiday or content that relates to a time in the year can be updated. Add in a reference to this year's date to make it more relevant, but you shouldn't have to do a lot to make it relevant again.
Pro Tip:
Change the publication date of the article to the new publication date. This helps search engines see that it's fresh and relevant to current searches for that holiday topic. When you republish an article by changing the date, it's always worth giving it a refresh to check that the links still work and that you have
optimized for SEO
.
6. Make an infographic from a list post
I use Visme to create infographics, but there are plenty of tools out there that do the same thing.
List posts are perfect for repurposing blog content into infographics. Take the headings and summarize the content into a sentence or two on the infographic. You can pin the infographic or embed it back into your list post to refresh and update that content, or write a short intro to the infographic and publish it as a standalone piece.
If you already have an infographic on a topic, look at what you could do to expand the content into a full blog post.
Pro Tip: List posts also make great short videos. Take three or five points from your list and use something like Lumen5, Sparkpost, or Legend to make a short social video. You can embed that in your article, too.
7. Look for other assets
Bloggers create a lot of content. Look at what you've got and how you can reuse or summarize. For example:
I wrote a white paper for a client, summarized it, and then published the summary with a link to the original white paper. That was a short article, but it wasn't very much work and it was hugely relevant to my readers.
I used the appendix from one of my books as a standalone article, with a link for people to get the book.
I turned survey results from my audience into a couple of new articles. Doing a survey takes time, but it does give you lots of ideas about what readers want.
Perhaps you have a checklist or freebie that could be shortened or adapted to make a blog post. Webinar slide decks are another source that you might have. You can use images of the slides as instant graphics for the article, too.
Your industry, professional, or blogging connections are also possible sources of content. Email someone in your network and ask them a set of questions.
That gives you an almost instant interview article. You can also ask your connections to guest post for you. I did that when I went on maternity leave and I was able to use guest posts to fill up many of the slots while I was off.
The Effort of Repurposing
There are lots of ways to get more mileage out of topics you've already covered for your blog, but repurposing is not effort-free. Even where I literally took an article I had published elsewhere and copy/pasted it into WordPress, I still had to format it nicely, create featured images and pins, share on social, etc.
While repurposing is good, don't expect it to totally free up your life. You won't be engaging your brain so much coming up with new ideas for articles, but you do still have to put in some work.
The Results
So what impact did repurposing content for three months have on my site?
Here are the traffic results from Google Analytics. Blue represents my repurposing experiment compared to the same period the previous year in orange.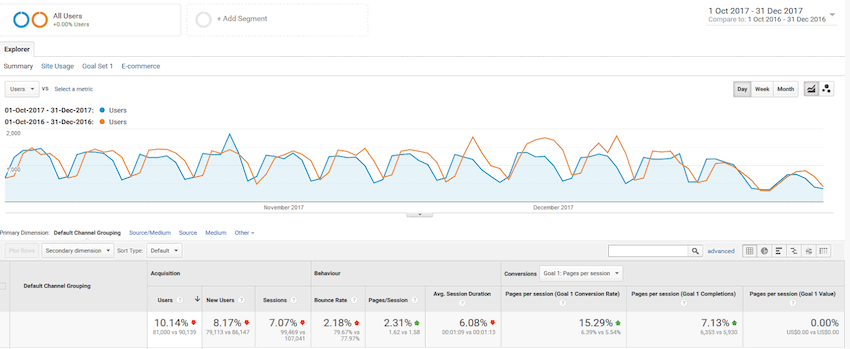 Note: my audience is mainly desktop users accessing my blog from work, so my traffic drops heavily on the weekends. I'm also hit heavily by periods when people are not at work, like Thanksgiving and the Christmas holidays.
Result: Traffic dropped.
Sessions were down by 7%. Users fell by 10%. There was an impact of publishing fewer articles and probably – if I'm honest – lower quality articles in that time. Nothing I published was an 'ultimate guide' or a massive cornerstone piece.
But let's look at this in context.
I had 2 sponsored posts with partners with large social media followings who would have promoted my articles second half of Nov 2016, so the comparison shows November as higher. Also, in 2017, I dropped to one post per week for most of the year after Thanksgiving and the year before I was publishing more.
You're seeing the impact of 32 blog posts published in 2016 compared to 22 posts in 2017.
However, I had three months with much lower stress, enabling me to focus on things that mattered beyond blogging, like my book launch and spending time with my family. I'll take that as a win.
But let's be realistic – no blogger likes to see traffic go down. So while my repurposing experiment was good as a short-term sanity saver, I didn't use 'repurpose first' as my only strategy going forward.
Related: 50 Smart Ways to Promote Your Blog (and Get Free Traffic)
My Approach to Repurposing Blog Content
During 2018 I continued to repurpose. Is it sustainable as a strategy? You can check out the stats in the graph below to draw your conclusions.

I did write new content, but I also continued to repurpose content, turning emails into newsletters, republishing guest posts and columns I had written (with permission), and using Facebook live videos.
At the end of each month, I'd set a reminder on my blog task list to quickly jot down which pieces of content would be perfect for repurposing. Once I got into the habit of doing so, it became easier to identify which content was ripe for reusing.
It's sanity-saving, no doubt. I found this workload manageable, plus I get to surface my old articles for new readers and get the search engine benefit of refreshing older content.
You might imagine that if repurposing blog content made my traffic take a dip, I would see similar dips over time when putting out reprints and the like on an ongoing basis.
That didn't happen.
The graph shows 2016 traffic in orange compared to the stats for 2018. Traffic increased in 2018, despite me continuing to republish old articles and repurpose blog content month after month.
It's not the most inspiring growth you'll ever see on a GA graph, but as long as we're trending up, I'm happy.
It's difficult to compare one year to another with any concrete analysis. For example, I had a VA working on Pinterest during some of 2017 that helped boost traffic. Plus my site has acquired backlinks and authority by virtue of being 2 years older.
So I can't categorically say that repurposing is the answer to increased traffic, or whether I would have gotten more traffic if I hadn't repurposed anything during 2018.
However, I think I can clearly say that repurposing from time to time is not a traffic killer.
The Experiment Concludes
I'm going to keep using old articles to make new content. I have a back catalog of over 1,000 articles, so there is plenty of content to choose from.
Repurposing stuff that was popular gives me more time to write the things I really want to write about. I'm spending less time coming up with ideas and more time on tasks that make money for your blog, like building new products and running a membership site. I wouldn't have the time to do that if I wasn't leaning on my bank of content.
Having said that, you don't need anywhere near 1,000 articles before you start to repurpose blog content. You need one. Take that one article, and make the most of it.