3 Best Affiliate Marketing Networks for Beginner Bloggers
Advertiser Disclosure
Our readers always come first
The content on DollarSprout includes links to our advertising partners. When you read our content and click on one of our partners' links, and then decide to complete an offer — whether it's downloading an app, opening an account, or some other action — we may earn a commission from that advertiser, at no extra cost to you.
Our ultimate goal is to educate and inform, not lure you into signing up for certain offers. Compensation from our partners may impact what products we cover and where they appear on the site, but does not have any impact on the objectivity of our reviews or advice.
Affiliate marketing is one of the most effective, beginner-friendly ways to monetize your content. Here are some of the top affiliate marketing networks we've used over our 8+ years of blogging.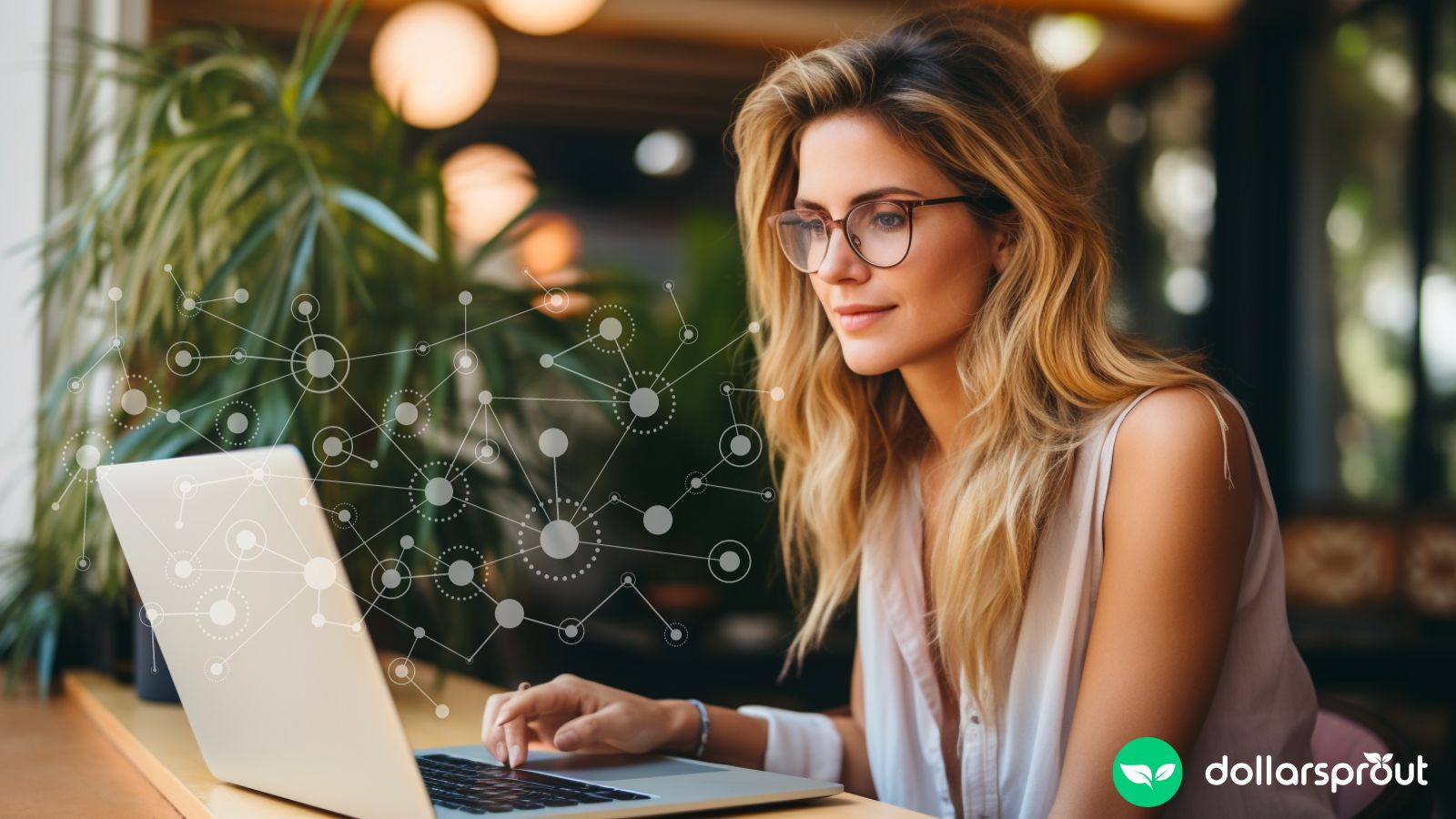 If you're just starting out, it may be useful to know that the easiest way to make money blogging is through a revenue model known as affiliate marketing.
Since the overhead cost of starting a blog is so low, virtually anyone can create a blog and immediately start applying to affiliate marketing networks (and then individual affiliate programs for companies on those networks).
And while money shouldn't be your primary goal when building up your blog or website, it is an important consideration.
The first month Ben and I started actively pursuing affiliate marketing with our blog, we brought in over $1,100. A welcome development for a blog that had brought in $29.00 in its previous 18 months of existence.
That small success motivated us to double down on our efforts on that front (and later inspired us to teach other bloggers how they can do the same thing).
So without further ado, let's talk about the best affiliate marketing networks and affiliate programs you can be apart of to make money with your blog.
What is affiliate marketing exactly?
Affiliate marketing, also known as Cost-Per-Action (CPA) advertising, is where a blogger receives a commission for facilitating an "action" on behalf of another company (or blogger).
Those "actions" are usually defined as making a purchase or entering their email on an opt-in page.
This process is usually initiated when a blogger places an affiliate link within one of their articles that subtly suggests (or directly suggests) that a reader should purchase a product from a third-party entity.
This is a little different than display Cost-Per-Click (CPC) advertising (like Google AdSense), where you make a few cents every time someone clicks on whatever ad Google decides to display on your site for that user.
So how is this better than cost-per-click advertising (CPC)?
Well, for one. The commissions are much higher.
Since you only get paid when your ads generate actual conversions, advertisers (the companies you are marketing for) are much more willing to pay publishers a higher commission.
Since they've made a sale or conversion that they would not have made had you not referred the reader, you get paid extra.
The one downside to affiliate marketing is that conversions are much harder to pull off than just getting someone to click on an ad. That's why having amazing content is so important; it's the backbone of any successful affiliate marketer.
With great content comes high-volume traffic and an engaged readership — the two key ingredients to generating serious affiliate revenue.
The great thing about making money through affiliate marketing is that your earnings potential is nearly unlimited.
The only limiting factor is how hard you are willing to work to grow your site.
How to get started with affiliate marketing

Before diving into the world of affiliate marketing, I think it's important to step back and make sure your blog has a solid foundation. That means:
1. You should already have a decent collection of high-quality content for your niche.
2. You need to have consistent traffic coming to your blog. I'd aim for at least 5,000 monthly visitors before you start spending time on affiliate marketing. You can start with less, but traffic needs to be your priority at this point, not money.
3. You should be active (to some degree) on social media.
If you can honestly say that you have these three things down, then I think it's the right time to start looking to join some affiliate marketing networks and start monetizing your blog.
What are affiliate marketing networks?
So instead of working with companies individually on affiliate marketing programs, many brands are on platforms called affiliate networks. These networks serve as a central point for hundreds — even thousands — of companies to run their affiliate programs on.
Bloggers register their site on these networks (for free) and apply to the programs of companies that they want to partner up with and promote on their blog.
There are several major affiliate marketing networks out there, and I think the best strategy is to join a decent handful of them.
No one platform is going to have every company on it that you want to work with, so it's best to cast your net wide. Also, some companies are on multiple networks, but they pay out different commissions on different networks.
You'll likely earn more by using links from the affiliate network that pays the highest for that company or brand.
Top affiliate marketing networks
CJ.com
If you are at all familiar with affiliate marketing networks, then you have most likely heard of CJ (formerly known as Commission Junction). Despite having fewer merchants than ShareASale, they have virtually every major brand out there.
Pros:
Variety. Since CJ has such big brands (brands that have entire marketing teams dedicated to creating ads), that means you're going to have a ton of options when it comes to banners and display creatives. Huge plus.
Good reporting. The reporting capabilities that CJ has are out-of-this-world good. If you like spending a lot of time crunching the numbers and optimizing your sales, you'll love CJ.
Better brands. Brands are held to a higher application standard. You'll be doing business with companies that have a reputation for paying out affiliates on time, every time.
Cons:
Steeper learning curve. I definitely wouldn't recommend them as your very first affiliate network. Once you get more comfortable though with how the whole affiliate game works, I say give them a shot.
Also, be sure to cross-check merchants to make sure they don't have a better deal for you on a different platform. I came across at least one instance of that happening. Swagbucks was paying out 21% higher commission on FlexOffers than they were on CJ.
Sign Up Now: CJ Publisher Application
FlexOffers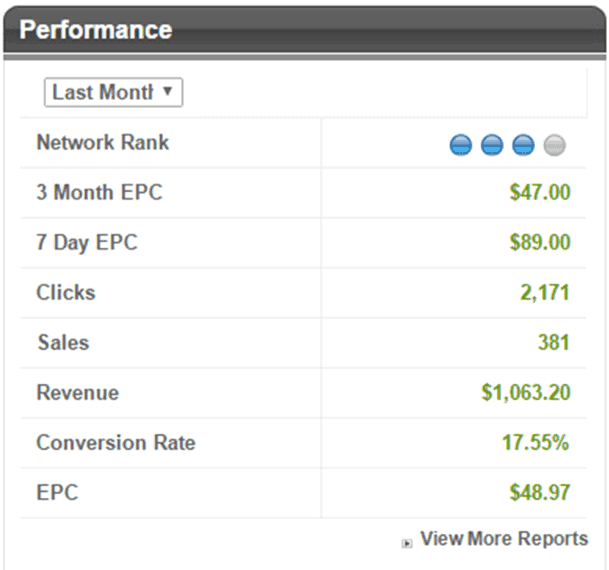 Maybe FlexOffers is one of my favorites because of the early success we had with them, but I'm okay with that.
Pros:
User-friendly. One thing I really like about FlexOffers is that they're very user-friendly, especially if you are new to affiliate marketing. They were the first network we joined, back when we had no clue what we were doing.
Good user interface. The user interface is clean and organized, and they are getting dozens of new companies on board every day to advertise with them. And like I said above, some of their payouts are higher than other networks (for the same advertiser). An all-around solid affiliate network.
Cons:
Customer service lacking. They can be slow to respond to inquiries.
Sign Up Now: FlexOffers Publisher Application
ShareASale.com
Like I said before, there is no one affiliate network that's going to serve all your needs.
Some merchants only have their products on one affiliate network, which means publishers (that's you) usually need to join multiple platforms to get the most out of their affiliate marketing efforts.
ShareASale is important to us because it's home to a number of companies that help business owners perform better on social media. Since those types of companies are related to our niche, it made sense for us to join the network.
Pros:
Timely payouts. ShareASale is a capable network that is home to about 4,000 merchants, 1,000 of which are exclusive to them. I have never had a problem with ShareASale (which is more than can be said for a number of companies we work with) and they've always paid out in a timely manner.
Low funds notifications. One of the things I like about ShareASale is that they will notify me if a publisher is low on funds — this is important to me because if I know a certain company is balking on their payments to affiliates, I can choose to cut ties with them or replace their ads with another, more reputable company. It doesn't happen often, but it has happened, so I really like ShareASale giving us a heads up.
Cons:
Poor tracking. Some of their advanced tracking features are a little outdated (their SubID tracking system has annoying limitations).
Poor user experience. My biggest gripe would be that the visual appearance of the platform is a little bit dated, and at times, somewhat hard to use. They could probably benefit from a website makeover.

Overall, still a useful site in our affiliate marketing repertoire. I recommend signing up with them.
Sign Up Now: ShareASale Affiliate Application
What to Do Once You've Been Accepted
Joining all of these networks can be overwhelming. I know because that's how I first felt! Just take it one step at a time.
Because FlexOffers is the easiest to navigate, I recommend starting with them. Once you're approved as a publisher with them, it's time to start browsing advertisers that you would like to promote.
Step 1. Apply to several different affiliate programs in your niche
Many advertisers take their sweet time in reviewing applications, and some will even reject you. That's okay.
Again, cast your net wide and see who accepts you. From there, you can work on figuring out how you want to promote them with your content.
FlexOffers makes it easy to browse through different categories: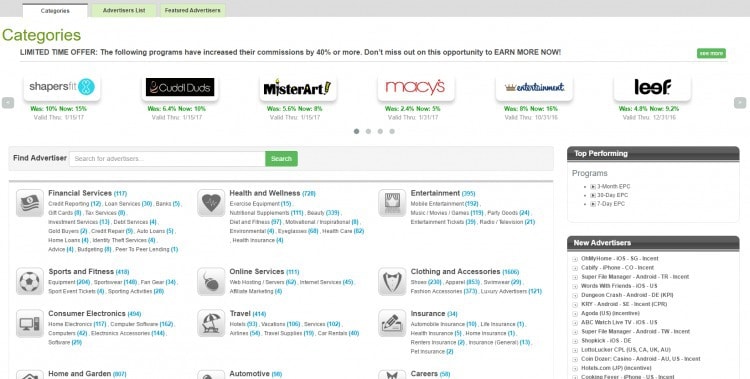 Step 2. Start with low-conversion-threshold affiliate programs
When you start out, it's easy to get tunnel vision on the highest commission offers. The problem with those, though, is that getting those conversions is very difficult (that's why you're paid more).
You're better off building momentum at the beginning by promoting something that's easy to convert. For me, I found programs in my niche that offered a couple of bucks just for an email signup. That's easier to promote and convert than a $100+ dollar item.
Once you start getting decent traffic, those small commissions really start to add up. I can pay my rent each month just off of revenue earned from sub $3 commissions. Don't ignore these.
So, are you ready to take the challenge and get started in affiliate marketing? I can tell you firsthand that it truly has the power to change your life. If you've been struggling to make money from your blog, I strongly encourage you to try out some different affiliate marketing strategies.
As long as you stay true to your values and focus on promoting companies that you believe in (and are relevant to your niche), you can do very well in this space.