5 Tips for the Perfect Blog Launch (Case Study)
Advertiser Disclosure
Our readers always come first
The content on DollarSprout includes links to our advertising partners. When you read our content and click on one of our partners' links, and then decide to complete an offer — whether it's downloading an app, opening an account, or some other action — we may earn a commission from that advertiser, at no extra cost to you.
Our ultimate goal is to educate and inform, not lure you into signing up for certain offers. Compensation from our partners may impact what products we cover and where they appear on the site, but does not have any impact on the objectivity of our reviews or advice.
Launching your new blog soon, or thinking about starting your first blog? In the first 10 days of launching our new site, we earned $243 from 3,548 visitors. Here's what we learned in the process of launching our blog.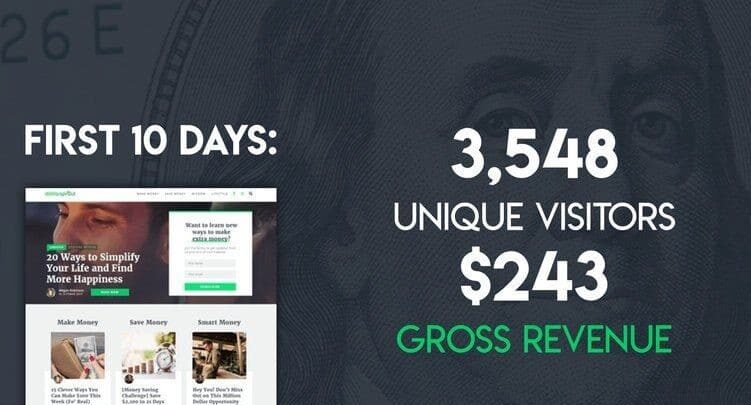 Earlier this month Ben and I had, what we'd deem to be, a successful blog launch for our completely new personal finance site DollarSprout.com.
It was a rebrand of our old blog, VTX Capital, but the new blog has all unique new content, new social media profiles, new everything.
We effectively started over. From scratch.
Here's how the first 10 days of the blog launch went:
Total unique visitors: 3,584
Gross affiliate revenue: $243
Facebook ad spend: ~$150 (which sent 1,050 visitors and ~400 page likes)
Number of blog posts: 13 (just enough to fill up our homepage theme)
From that experience, I want to share some things that may be able to help you learn how to launch a blog successfully (even if you've already started your blog).
5 Steps to the Perfect Launch Plan (Blog Launch Checklist)
These are the top lessons we learned from our most recent site launch, including what went well and what we'd change if we did it again.
1. Email outreach is worth the effort.
When it comes to blog marketing and getting your name out there, email outreach is key.
We made a pretty big effort to email other bloggers in our niche (personal finance) to let them know about our new project.
Two reasons why we did this:
I wanted some key players in our niche to be aware of our launch plan. I wanted them to hear from me (as a person) before they stumbled upon a DollarSprout article on social media for the first time. Establishing some humanity behind your brand from the get-go is something I think is important.
If you have good content and are not a jerk, some of these people have large audiences and are more than happy to share your stuff. I wanted that to happen.
Most new bloggers start their marketing efforts on social media with a direct-to-consumer (reader) approach, as shown below.
Traditional Blog Marketing Approach: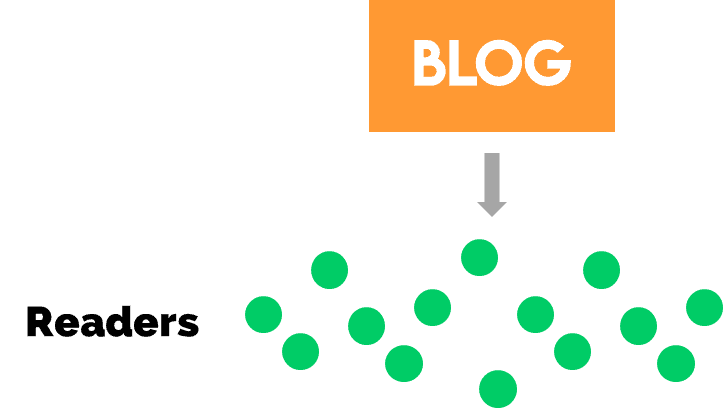 Our Blog Marketing Approach (in addition to the traditional route):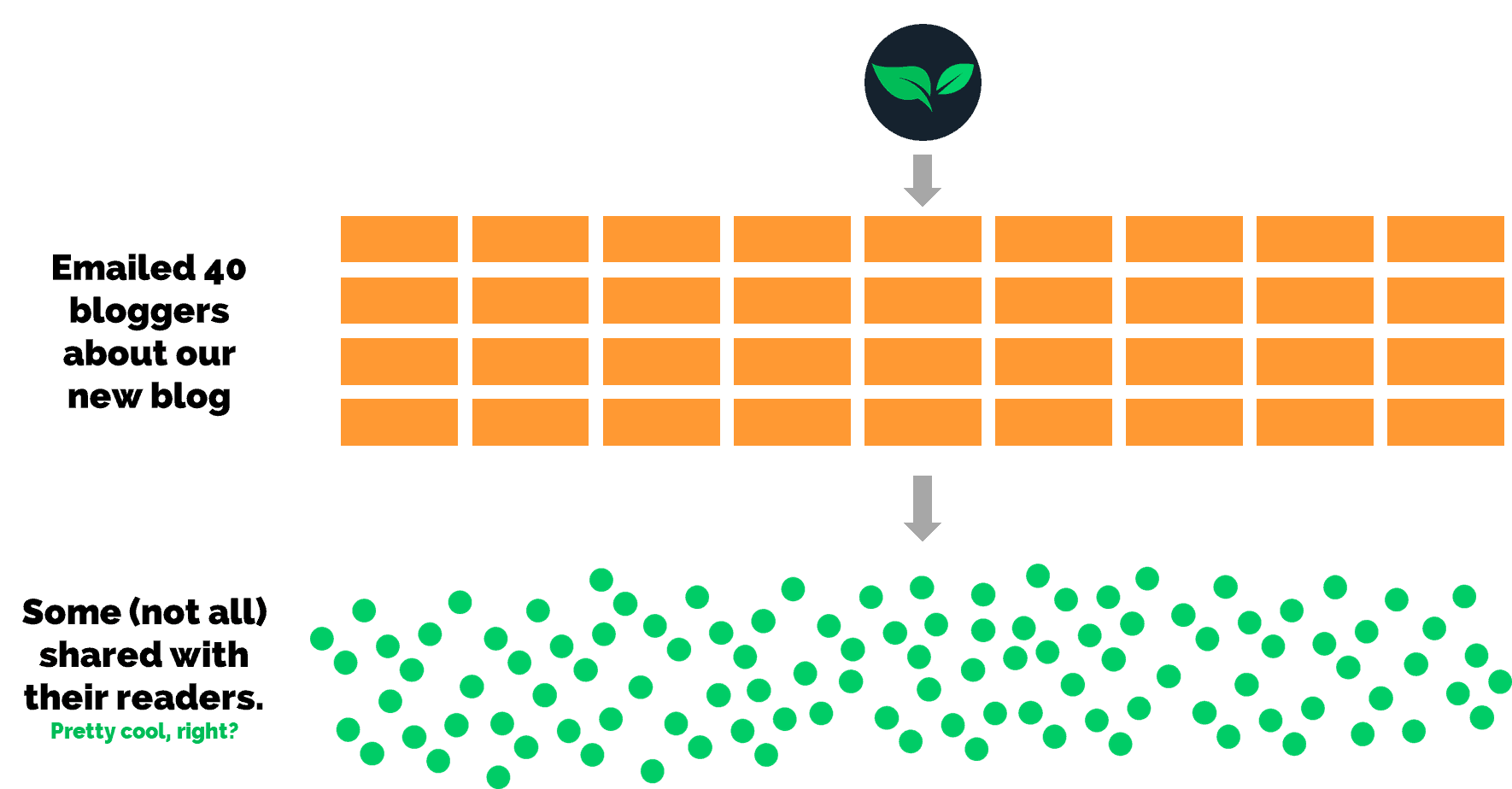 Out of the 40 emails I sent, 20 replied to me and/or shared the new site with their followers. Some people I never heard back from, which is completely normal.
Here's the thing, though.
Networking emails get a bad rap these days.
And I totally get why.
Most outreach emails are generic templates that are 100% self-serving and non-personalized, which is why most people, myself included, ignore them.
That's why I took the time to make every single email unique. I also made it a point to tell each blogger that I wasn't asking for any favors — I just wanted to let them know about our launch plan. My message to them had absolutely no strings attached.
And no two bloggers got the same exact email.
I'm not just talking about using a mail merge to add their first name in. I actually took the time to write something unique for each person.
Try it out. You might be surprised at the results.
2. Having popular blog content matters.
Of the 13 articles that DollarSprout launched with, it was no surprise to us that the best-performing article so far has been an article type that did well on VTX Capital (our old blog).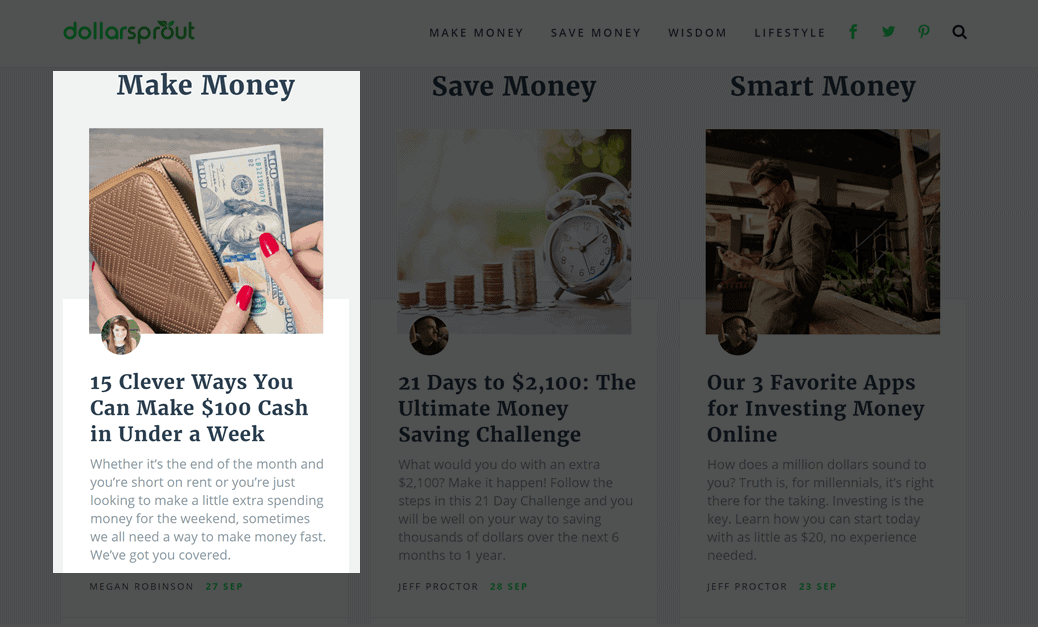 It was a simple article on how to make $100 in one week, something that no doubt has been written about plenty of times before on other blogs. But we know people like that kind of content, so we made sure to give the people more of what they want.
That's one tidbit on how to start a successful blog that took us a long time to understand. We used to write the content that we wanted to write instead of what others wanted to read.
Try to always be aware of what other successful bloggers are doing in your niche. If they seem to be pushing a certain type of content harder than others, there's probably a good reason why.
3. Pinterest is effective for beginners.
I know there are tons of Debbie Downers out there saying Pinterest, as a marketing strategy, is dead and that it's too crowded, but DollarSprout is proof that there's still plenty of room for even brand new blogs like ours to grow beyond just your average blog traffic.
At the time of me writing this, our Pinterest account has less than 100 followers.
Here is how our growth is looking after 10 days of pinning:

The root of our success is pin design and content that people like. That's it. (Well, we also use the best Pinterest scheduler on the market to share our content.)
Here's a look at our first few pins: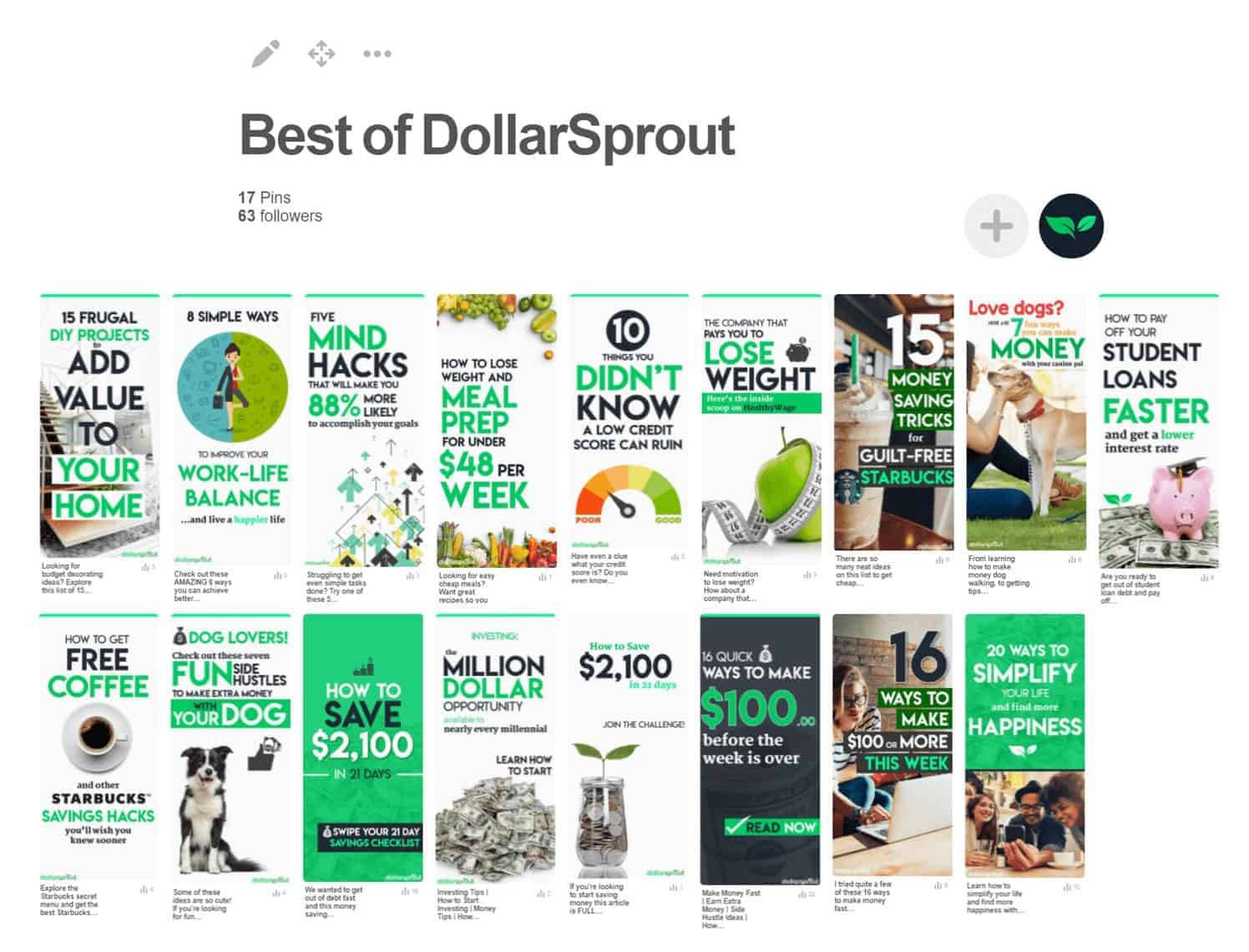 We learned Pinterest design through trial and error.
Designing pins is not intuitive — it is a skill that has to be learned.
If you want proof, just look at the first pin I ever made: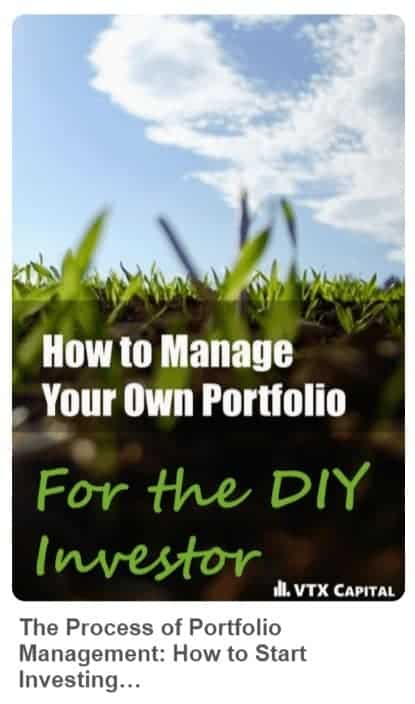 I hate to admit it, but at the time I thought this was a masterpiece. Yikes.
The reason I'm so pro-Pinterest is because it works. If you know what you're doing.
Designing eye-catching, clickable pins takes practice. Look at what other successful Pinterest marketers are doing, create a few on-brand pin templates for your blog, and keep tweaking your designs until you figure out what works.
4. Monetization starts with your blog launch announcement.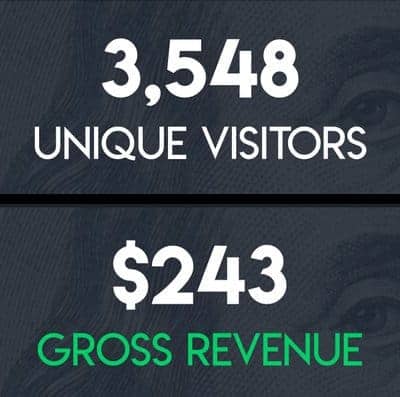 In its first 10 days of existence, DollarSprout has generated $243 in revenue from 3,548 unique visitors.
That comes out to a session RPM (Revenue Per 1,000 Sessions) of about $68.
For full disclosure, we have invested about $150 into Facebook ads as apart of our launch plan, which resulted in 1,050 unique visits and about 400 page likes. (So approximately 1/3rd of that $243 revenue can be attributed to paid Facebook traffic). The other 2/3rds of the $243 resulted from free Pinterest traffic.
We have no way to exactly match revenue with traffic sources, so these breakdowns are estimates, to a degree.
The site is monetized with affiliate links, meaning that we get commissions for every sale or lead we generate that comes from a referral link on our blog.
We have zero display ads.
You don't have to wait for years before you start making money from your blog.
With the right blog marketing strategy, you can make money blogging the very second you release your blog launch announcement. If you are strategic in approaching your blog as a business and are intentional in where you invest your effort and time, you really can make money shortly after your blog launch.
Realistically, though, it will take time to learn all the ins and outs. But you can't start learning until you actually start doing. There is only so much prep work you can do before you finally just have to pull the trigger and launch a blog successfully.
If you would like to start a blog of your own, I highly recommend any one of these resources:
5. Don't overthink the blogging process.
Ben and I were definitely guilty of wanting the site to be perfect when it launched.
We probably could have launched several weeks earlier (and thus started generating revenue sooner), but we let a few admittedly small things prevent us from going live.
Some things we got hung up spending extra time on:
Adding affiliate sub-IDs to every single post.
SEO optimizing every single post.
Customizing "related posts" for each article to optimize reader flow to conversion-based articles.
Creating two separate opt-in freebies to grow and convert readers as quickly as possible.
Technical issues. So many small glitches that very few people would have actually noticed.
All of these things could have probably been addressed after the site was live, but we chose to wait. I don't think it was bad to do it that way, but I think we need to be careful of the perfectionist mindset going forward.
Don't Wait for the "Perfect" Blog Launch Moment
The opportunity is out there.
The problem is that it takes an insane amount of work to grab hold of it, and most people aren't ready to make that commitment.
So they stay stuck.
If you aren't happy with your current income levels, know that blogging is a viable option to close the gap between your current income and what you want to earn. It's definitely not for everyone, but if you make the choice to be persistent and to learn how to launch a blog successfully, there are no limits to what you can accomplish with your blog.
$243 isn't a lot of money to some people, but for something that is 10 days old and already profitable, I know that Ben and I are on the right track.