6 Ways Tailwind Helped Us Build a Six-Figure Side Hustle
Advertiser Disclosure
Our readers always come first
The content on DollarSprout includes links to our advertising partners. When you read our content and click on one of our partners' links, and then decide to complete an offer — whether it's downloading an app, opening an account, or some other action — we may earn a commission from that advertiser, at no extra cost to you.
Our ultimate goal is to educate and inform, not lure you into signing up for certain offers. Compensation from our partners may impact what products we cover and where they appear on the site, but does not have any impact on the objectivity of our reviews or advice.
See the 6 ways Tailwind helped us go from $0 in revenue to a $100,000 business in just 1 year. Plus, get a sneak peek at our Pinterest marketing strategy we derived with the help of Tailwind Analytics.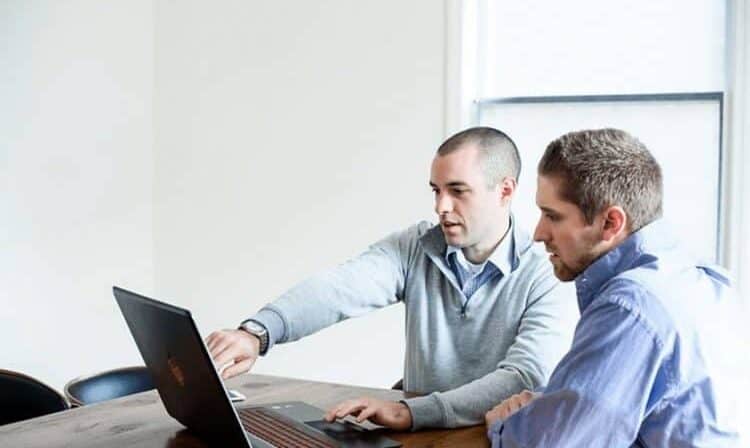 A few years back, I watched an episode of ABC's Shark Tank that forever changed the way I thought about our business. I cannot for the life of me remember the product the gentleman was pitching, but what I will never forget is just how small that entrepreneur must have felt when Mark Cuban humiliated him on national television.
It started out innocently enough. "What is your client acquisition cost," Mark asked.
*awkward silence*
"I don't know" came the cringe-worthy response after what seemed like a full sixty-second pause.
The look on his face said it all. He was screwed and he knew it.
That moment of uncertainty led to a series of follow-up questions prodding the interviewee to answer basic numbers-oriented questions about his business. He failed miserably. All 4 "I'm outs" came in quick succession.
It was in those five minutes of painful questioning that my obsession with data-driven decision-making was born. I finally grasped just how important the concept of understanding "the numbers" behind your business really was. It was a total game-changer for us and it couldn't have come at a better time. Just two months later, in August of 2016, our fledgling small business caught its first break. A break that forever changed our lives and shaped the direction our company was about to take.
How Tailwind Helped Us Build a $100,000 Side Hustle in 1 Year
Fate. Luck. Divine intervention. Whatever you want to call it, I'm thankful it happened. It being an article I wrote that ended up going mini-viral on Pinterest.
The article ended up landing us a little over 3,000 pageviews on that random August afternoon (and continued to bring us several hundred hits a day for months after that). Now while that number is pathetically small to a lot of bloggers, it changed everything for us.
The end result? A sudden, modest jump in monthly revenue from $29.00 to $1,162.
We became an overnight success story…sort of.
Prior to that day, we had never generated more than 100 hits on any given day. Even more embarrassing was the paltry $46.29 we had generated in the 18 months prior.
Let me say that again for emphasis. $46.29 in 18 months. Yikes.
Believe it or not, Jeff had actually quit his day job and was depending on our website income to pay his bills. Bills that began to seem insurmountable as mere pennies trickled in and his life savings dwindled before our eyes.
And while we never really did generate a ton of revenue from our first "break" it was decisions we made in the months that followed that was the real basis for our success. Those decisions all made in congruence with the data I got from Pinterest pin scheduler Tailwind.
Understanding the "Why"
The viral post I'm referring to was actually a fitness-oriented piece I penned for our original finance site VTX Capital (now DollarSprout). Ironically, the article wasn't even monetized at the time. The sudden influx of traffic, however, had visitors spending time on better-optimized articles that did generate income.
Unbeknownst to us, the reason "why" the article went viral was because it was the first time that we'd created a pin that appealed to a large audience, and it had the perfect combination of a somewhat-appealing headline and great pin design.
As you can see from the graph below, our relative success was short-lived. In the 2 months that followed, the pin became progressively less popular and with it, our income fell.
By early October, our traffic had regressed to near baseline levels and our revenue started to dwindle as well.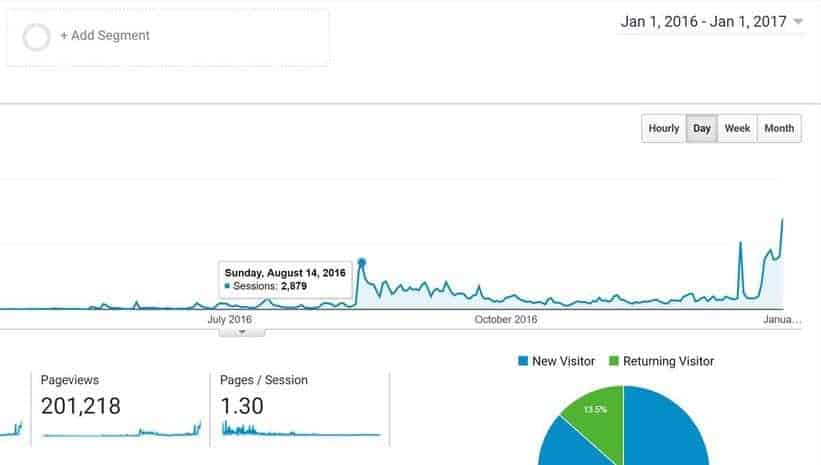 We knew we were on to something with Pinterest but weren't quite sure how to take advantage of it.
And that's when those embarrassing 5 minutes of Mark's beatdown popped back into my head. I needed to know more about why that particular pin took off. To achieve that, I needed more data.
Recreating the "How"
Pinterest Analytics, while helpful, definitely left something to be desired. Beyond generalities about how a precious few pins (and boards) were getting clicks and impressions, there wasn't a whole lot of data to help me make informed decisions about which content to promote. That's where Tailwind came in.
For just $9.99 a month (worth every single penny), I could instantly:
Schedule hundreds of pins per week in just minutes
Analyze how our personal boards were performing
Analyze how group boards we were on were performing
See how individual pins were performing on those respective boards
See how much traffic Pinterest was sending to my website
Observe what time of day pins were getting the most engagement
Drive even more traffic/boost pins through "Tribes" (groups of bloggers helping promote one another's content)
And just like that, I was in numbers heaven. I finally see why the pin went viral, which exact boards were responsible for helping to make it go viral, and understood the basis for how to do it all over again.
If you're looking to inject new life (and income) into your business, check out the 6 ways Tailwind helped grow our brand and turn our side hustle into a full-fledged business.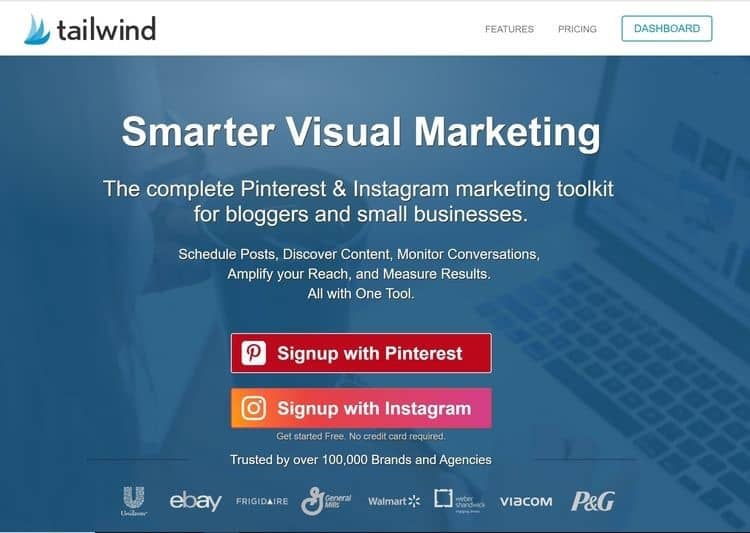 1. Using a Pinterest pin scheduler saved us (a lot) of time.
There's been a lot of debate about whether manually pinning or using a Pinterest pin scheduler will yield better results. On one side, by manually pinning, you have exact control over what gets pinned, where it gets pinned, and how often it gets pinned. On the extreme other side, you have people automating nearly every facet of the process with no regard to why or how often they are pinning the content that they are.
Neither side is hypothetically wrong, but as with many things in life, there are advantages and disadvantages to both.
By using Tailwind as a scheduling platform you are effectively manually pinning, but that's about where the similarities end. Their platform is fine-tuned to help speed up the process, allowing you to quickly schedule dozens of pins in just minutes.
As a partnership (and especially for solopreneurs) finding the time to manually pin hundreds of pins per week was off the table. From creating content, building our email list, designing a product, and marketing elsewhere, spending an hour each day on Pinterest meant taking time away from everything else.
Related: 7 Steps to Increase Your Pinterest Engagement 115,726% in 100 Days
2. It reduced our risk.
Since Tailwind is an approved Pinterest pin scheduler, they have legitimate access to data shared by Pinterest's API. This includes detailed analytics on billions of publicly posted pins, and that is a lot of powerful data.
Wonder what time is the best time to post a recipe pin to get the most engagement? They know that. Wonder when you should be posting travel guides so you can reach your target audience? They know that too.
Additionally, and perhaps more importantly, we didn't have to worry about our account getting suspended. Since third-party software technically violates Pinterest's TOS, you're taking a risk by using any other sort of Pinterest automation tools.
We preach about the importance of diversifying traffic sources, but just 1 year ago DollarSprout would have ceased to exist had we gotten suspended for any reason. Considering that at one point over 90% of our traffic was coming from Pinterest, it was something we couldn't risk.
3. It is legitimately affordable.
One of the most frequent questions we're asked in the DollarSprout Ultimate Blogging Group is "if you had X dollars to invest back into your business where would you spend it?" If X is between $100-$500 my answer instantly will include a paid subscription to Tailwind. The analytics alone will pay for themselves 100 times over if you even haphazardly incorporate the data into your overall pinning strategy.
Now as a small business owner, specifically a business generating almost zero income, I originally had to keep my expenses extremely low.
Fortunately, Tailwind offered an affordable plan for someone who desperately wanted help recreating that short-term Pinterest success. At $9.99/month, Tailwind App was the first investment we made back into our business, and boy did it ever pay off.
4. The platform is built on data.
With Tailwind's Smart Schedule, you choose the boards, Tailwind chooses optimized times, and then you choose how often certain pins go out. Their "Smart" technology allows you to hit your target audience at the exact time that the most eyeballs are likely to see it.
How?
As we alluded to before, Tailwind's partnership with Pinterest has allowed them to compile data on billions of pins. They know the exact days (and times) that each category sees a flurry of activity.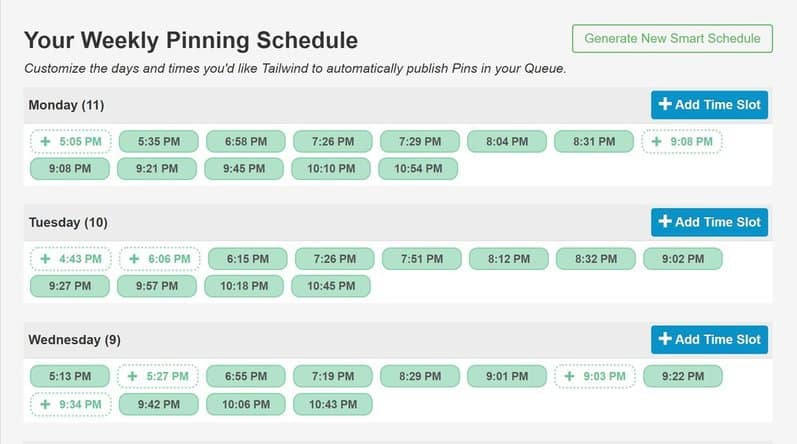 Wouldn't you want your content to go out at that exact time? That's why the Smart Schedule is awesome and why Tailwind App is the best Pinterest pin scheduler on the market.
For small business owners and content curators alike, who can't afford to spend over an hour or more each day selecting and pinning content, this is a lifesaver.
5. Analytics, Analytics, Analytics
Data matters. Data-driven marketing matters. If you're not using it, you're going to fall behind. Period. Using the numbers you see below, I'm able to craft a strategy for getting my pins out at the right time, in front of the right people.
I mean, as a marketer, how are you going to A/B test your pins — if you're even A/B testing your pins — if you don't have firm numbers as to which pin is performing better?
Similarly, how are you going to know which group boards are responsible for generating traffic and re-pins, and which boards are dragging your account down, without some sort of information database?
Without specific data (like the screenshots below) can you really tell me you know how your pins are performing?
This is why Tailwind is the best Pinterest pin scheduler out there: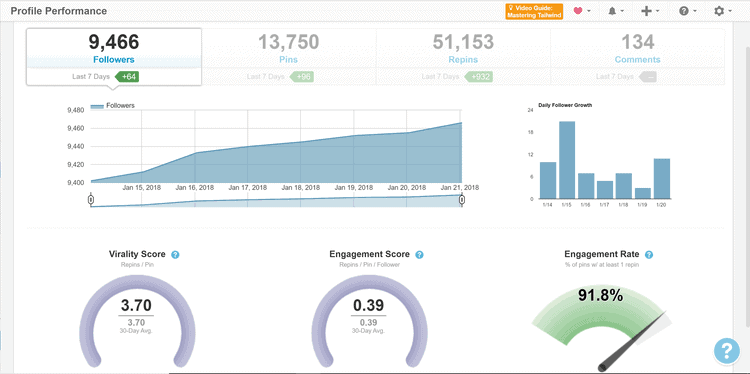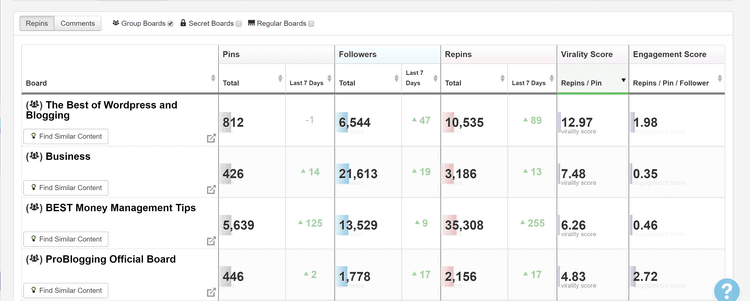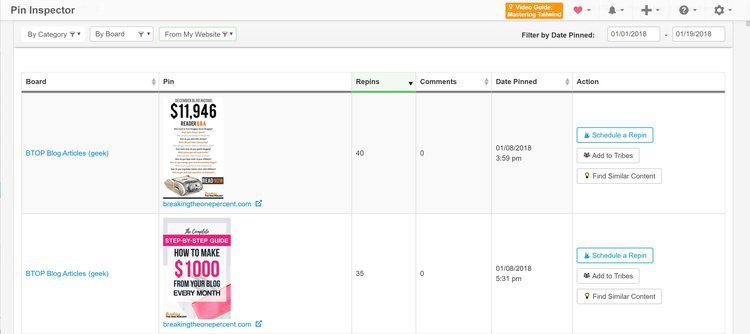 I could keep uploading screenshots all day, but I think you get the point.
6. We found our tribe.
Wouldn't it be nice to be part of a team of bloggers in your niche helping promote one another's content? That's exactly what Tailwind Tribes are.
But the real benefit of Tribes isn't really the small boost in traffic you'll get from sharing your pins to these communities — it's the positive engagement signals you're sending to Pinterest that your content is worth sharing.
Do you see what's happening here? Other bloggers in your niche are sharing your content to niche-specific boards of their own. It's super powerful. Take a minute and consider the example below:
Recipe Scenario:
You recently created a pin highlighting that chocolate chip cookie recipe you got around to trying last night (the one your grandma had scribbled down on a fading note-card).
You upload that pin to 5 targeted Tribe groups (subscribers get access to 5 Tribes and can contribute 40 free Tribe pins per month).
Those 5 shares get you 13 free re-shares and 6 more free re-pins on your newly uploaded pin.
Pinterest gets 19 social signals that people are engaging with your newly uploaded pin
Your cookie recipe gets several thousand impressions (and hopefully engagements) because Pinterest's algorithm detects popular, fresh content.
Those 19 signals create even more buzz around your pin, and that pin goes viral
You just generated $121.35 in ad revenue that day because that article just got 11,000 views.
Now don't get me wrong, that's definitely not going to happen each time you upload a pin to your Tribes, but the general principle is still in play. Networking can be extremely powerful and this is Tailwind's medium for doing just that.
Putting It All Together
It wouldn't be fair to you for us to endorse a particular Pinterest pin scheduler without at least giving you a first-hand look into how I am actually using the tool to generate traffic (and sales). In the spirit of being completely transparent, I definitely spend more time than the average Joe on Tailwind, but I wouldn't recommend that for everyone.
Why? Because sometimes information overload can be a bad thing. If you're not patient and don't see immediate (overnight) results, you'll be tempted to make changes to your overall Pinterest strategy without giving Pinterest time to adjust to your new pinning pattern.
If you go from pinning 3 times a day to instantly scheduling 50+ pins per day, or if you test a pin, don't see overnight results, and then immediately give up on the content, there's a good chance you could be shooting yourself in the foot.
As such I've put together a 50-minute video below discussing how I analyze the data I'm given by the Tailwind Pinterest scheduler and how it shapes my overall pinning strategy. Check it out and good luck!