How to Use Pinterest Group Boards to Drive Traffic in 3 Steps
Advertiser Disclosure
Our readers always come first
The content on DollarSprout includes links to our advertising partners. When you read our content and click on one of our partners' links, and then decide to complete an offer — whether it's downloading an app, opening an account, or some other action — we may earn a commission from that advertiser, at no extra cost to you.
Our ultimate goal is to educate and inform, not lure you into signing up for certain offers. Compensation from our partners may impact what products we cover and where they appear on the site, but does not have any impact on the objectivity of our reviews or advice.
Learn how to find Pinterest group boards (and how to join Pinterest group boards) in this simple step-by-step guide. Discover how to identify high-quality boards that get good engagement and whether or not a board is worth pinning to.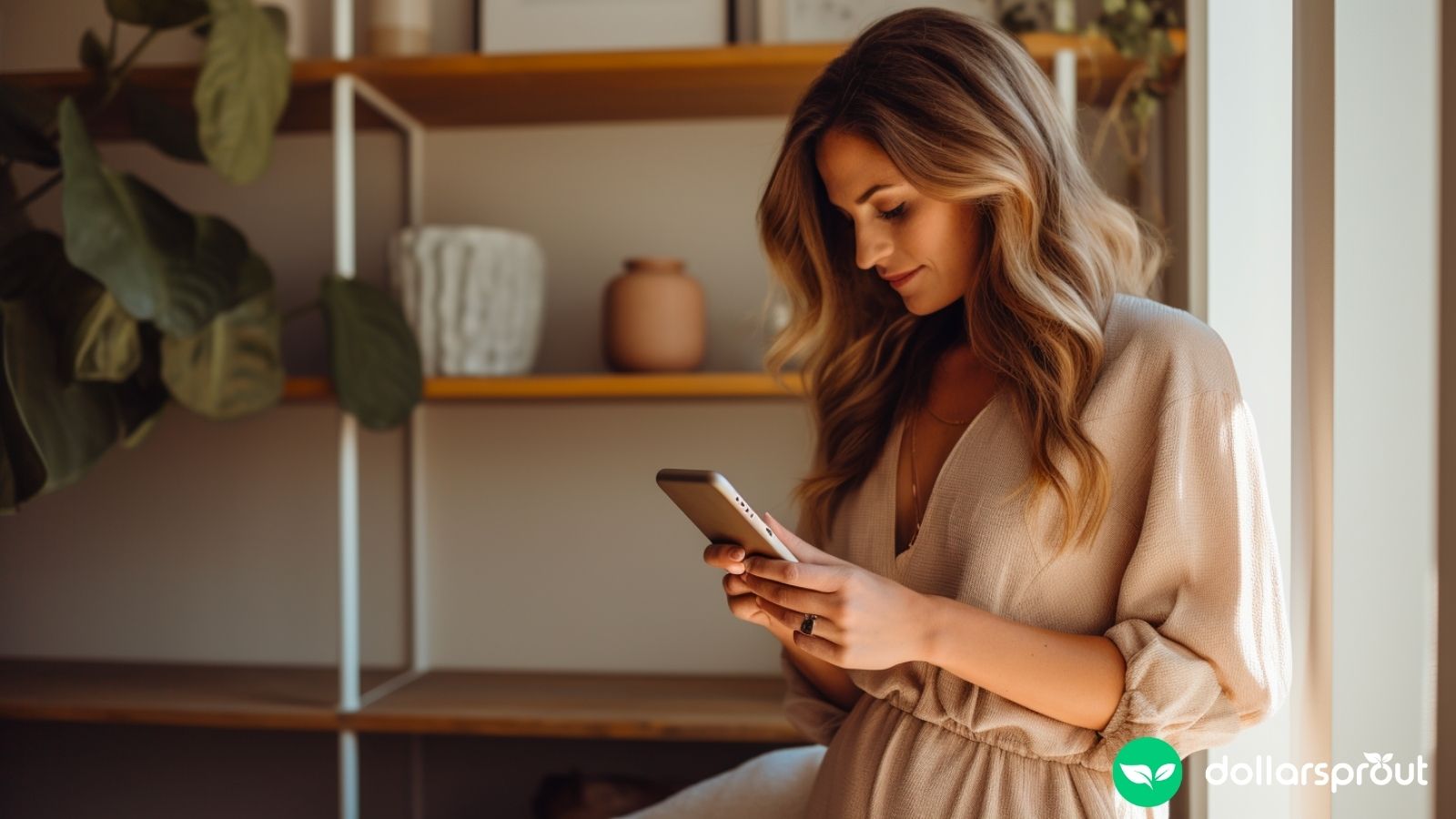 So you have a small business and you heard that joining Pinterest group boards is the way to go to get free traffic to your website.
The good news is, you're right. The bad news is, it's not quite that easy.
Joining group boards can be a daunting task. They can be:
Hard to find
Frequently closed to new contributors
Littered with spam
Getting on a single quality group board, however, can be a total game changer for you and your business. Just finding and joining one new board can mean thousands of additional readers, and potential clients, each and every month.
A quality Pinterest group board is money in your pocket.
You're going to strike out a good portion of the time when contacting group board owners, and that's okay. Our goal is to just get on one. Then the next one. Then another.
Here's how.
Step 1: Draft a List of Potential Boards in Your Niche
Unfortunately, there is no for sure way to know whether or not a board is high-quality before joining it. A good first place to start however is by looking at established bloggers in your niche.
Since DollarSprout is in the business and finance niche, I'll use a finance influencer as an example.
Take a look at Rosemarie Groner of The Busy Budgeter: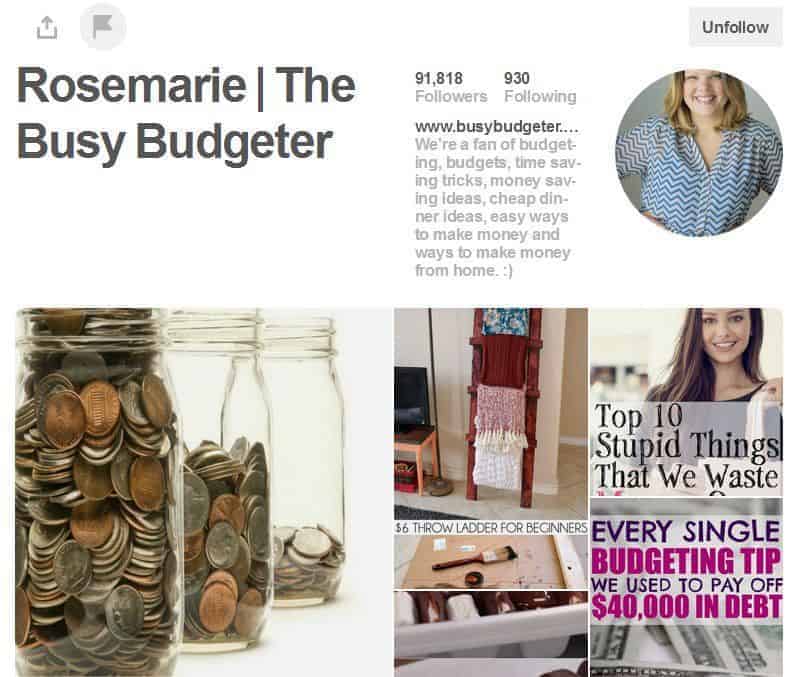 Rather than look at the Pinterest group boards that she's on, take a look at the ones she is actually pinning to.
Some bloggers may be on 50, even 100+, group boards. That doesn't mean they're pinning to all of them.
You can "spy" on which ones they're pinning to by switching from the 'Board' list on their main profile to the 'Pins' list as seen below: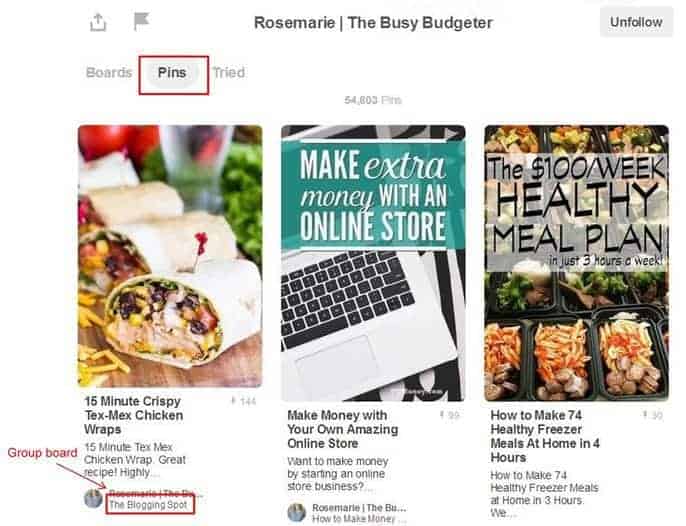 Try scrolling down the page for a minute or two and identify the group boards that the top influencers in your niche are posting to. Now check out another blogger and jot down the names of the group boards they're actively engaging with. Odds are that those boards are high-quality in nature.
You'll probably see some overlap between bloggers, which is to be expected. Many of the top bloggers are pinning to the same high-quality Pinterest group boards for this exact reason.
Since your strike-out rate is likely going to be high (when it comes to actually applying and getting accepted onto group boards) it's probably best to identify 50-100 boards in your niche (if your niche is big enough).
We'll talk more about how to actually apply for them in Step 3 below, but for now, just work on getting a sizeable list.
This may be tedious and time-consuming but it's a process that nearly all bloggers that came before you have accomplished.
You can expect this part to take several hours. Roll up those sleeves and get to work.
Indicators of 'high-quality' Pinterest group boards:
High re-pin rates (Tailwind supplies this information); varies by niche
High-quality content/visually appealing pins
Typically boards with a cap on the number of pins per day perform best

2-3 pins/day per contributor works well to help prevent spam

Typically boards with fewer contributors perform better

Personally, I try to avoid boards with more than 100 contributors as they 'move' too quickly and are often poorly moderated.

While not a quality indicator, it's desirable to pin to boards that have a larger following (i.e. 25k+ followers)

Do not post to a board merely because it has many followers. Quality trumps all. Pinterest will not show pins in the SmartFeed from a spam board with over 1,000,000 followers if the pins on the board are not getting engagement.
Related: 3 Effective Pinterest Marketing Strategies for Growing Your Audience
Step 2: Eliminate Likely Low-Quality Boards
Spotting a poor-performing board is usually much easier than spotting a good one.
Although there is no such thing as a blanket approach as to what constitutes a low-quality board, there are a few things you can look out for.
Low-quality boards often have:
Hundreds, and even thousands, of contributors (making it harder to moderate/protect from spam)
Content/pins that are completely off-topic
Pins that are misshapen/pins that don't really pass the "eye-ball" test (aesthetically poor-looking pins)
Sales-oriented/gimmicky content
No posting limits or are incredibly fast-moving (think 200+ new pins per day to that specific group board)
If you have or are currently pinning to boards like these, you should stop immediately. You're sending Pinterest, in the algorithmic world, what is called "repeated bad signals." If you're sending out a pin and it gets 0 engagement in front of a particular audience (impressions), Pinterest is going to assume that:
Your content is bad or misleading
The board that is being posted to is of low-quality or un-engaging
You don't want your pins associated with that.
How to retroactively find Pinterest group boards with Tailwind
More often than not, you won't really be able to get a clear idea of just how 'high-quality' certain Pinterest group boards are until you've actually been accepted to them.
This is why I recommend compiling a rather large list of boards and then aiming to get on as many as reasonably possible. If you get accepted to a Pinterest group board, the first thing I recommend doing is checking out Tailwind to see how "good" it actually is.
You can do this by looking under the Board Insights section on the left side of your screen and then selecting only "Group Boards":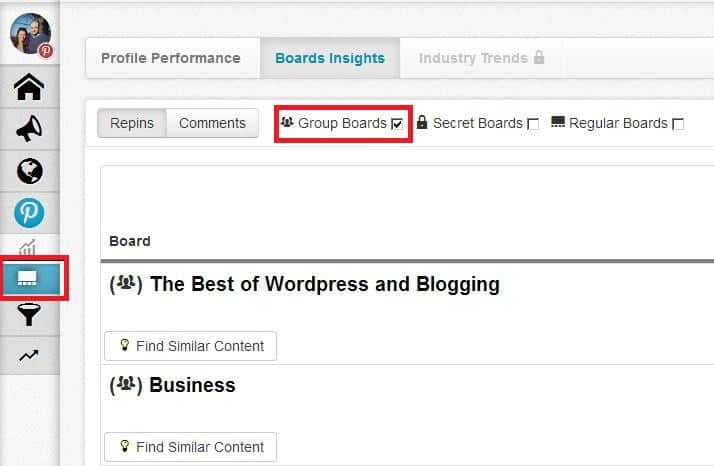 Then filter the list to "virality score" or "engagement score":

Important: Tailwind calculates these scores based on combined historical data of all the pins on the board (i.e. the virality score is calculated by lifetime repins/lifetime board pins).
These are not good indicators of the quality of a board at this moment.
Over time, board owners often add too many contributors, which may degrade the quality of the board and cause re-pin rates (virality score) to drop.
For a more accurate assessment of the quality of the board at present, divide the number of re-pins in the last 7 days by the number of pins in the last 7 days.
Related: How to Make Money as a Beginner Blogger
Example:
The lifetime re-pin rate for the unnamed board above is 16.10.
However, the re-pin rate over the last 7 days is only 4.0 (80 re-pins/20 new pins).
Unfortunately, Tailwind does not have a sortable list to do this sort of calculation for you, but you Excel nerds out there should be able to do this really quickly.
Do you want high-quality boards?
This is how you know if you're on them.
If you're posting to a board that has a present effective repin rate of less than 1, you should definitely question why you're still posting to that board. It's only hurting you.
Step 3: How to Apply to Pinterest Group Boards
By now, you've weeded out the bad seeds and you have a list of high-quality group boards that you're ready to apply to.
There's only one problem: Getting on them is actually a ton of work.
We've touched on this before, so I am going to steal an excerpt from one of Jeff's earlier articles on how to increase your Pinterest engagement:
Each group board admin is going to have a different way that they want you to apply to their board. Some want you to email them, some prefer a DM, some want comments, and some don't give you any directions at all (that's when you go full-on stalker-mode and go to their website and search for their contact info).
It's going to take you a long time. Most of the time, you will never hear back and you'll never get added to their boards. That's just the way it goes, and it's okay. You gotta cast your net wide and understand that rejection is just part of the game.
Here's the email template Ben and I used to contact group board owners:
---
Hi _________,
I was hoping to catch you and see if you would be open to adding me as a contributor to your ___________ (actually link to the board, they may have several and this makes it easier for them) group board.
I regularly write about __________, ___________, and __________ topics on my website that would be both interesting and valuable to your readers. I also like to regularly promote and highlight other members of the community so that everyone benefits from collaborating.
My Pinterest profile: ____________
My Pinterest email: __________
Thanks a bunch,
Jeff
---
Don't overcomplicate it. Just send a quick note and give them all the relevant info they need so they can scope out your profile and make a decision on whether or not to add you.
Also, make sure that you are following the board and the board owner before you contact them.
In the interest of full disclosure, Jeff and I have changed up our contact pitch considerably since we wrote that post a year ago. We also no longer advocate the mass apply approach mentioned in that article.
Our current pitch is considerably more personal and we aim to give the board owner something of value in return for being added.
While perhaps a bit controversial, Jeff and I advocate still reaching out to board owners even if a board states it is closed to new contributors.
Many of the highest-quality boards are older, more established boards with quality pinners on them. If you think you're up to the task of contributing high-quality content to a group board and have something to offer a group board owner, they'll be happy to at least entertain your request.
If they come down on you with their full wrath, make a mental note (or literal paper note) and move on.
Nothing ventured, nothing gained.
It's also worth reapplying to group boards you never heard back from.
Some good points that Jeff brought up in that earlier article:
Just because you were rejected the first time doesn't mean you should give up. There are a bunch of reasons why you should revisit your spreadsheet every few months:

The board owner might have missed your DM, email, etc.

Your profile might not have been good enough back then, but now it's much better.

They could have just forgotten to add you.
Don't use the exact same script, and be sure to again remain polite and courteous.
Focus On Quality Over Quantity
If you're struggling to understand Pinterest group boards or you're not getting the results you think you should be getting, try to stay focused on quality.
One last time: focus on quality.
Gone are the days that you can spam or litter a person's news feed with pins.
Pinterest's algorithm is too smart for that now. They're going to put highly-engaging pins in front of targeted eyeballs because it leads to a better user experience.
If you focus on creating high-quality pins and posting on high-quality boards, rest assured the results will come.
Related: 6 Ways Tailwind Helped Us Build a $100,000/yr Side Hustle