15 Best Mystery Shopper Jobs & Companies
Advertiser Disclosure
Our readers always come first
The content on DollarSprout includes links to our advertising partners. When you read our content and click on one of our partners' links, and then decide to complete an offer — whether it's downloading an app, opening an account, or some other action — we may earn a commission from that advertiser, at no extra cost to you.
Our ultimate goal is to educate and inform, not lure you into signing up for certain offers. Compensation from our partners may impact what products we cover and where they appear on the site, but does not have any impact on the objectivity of our reviews or advice.

How would you like to get paid to shop with the best mystery shopping companies?
That's exactly what thousands of people just like you and me are doing to earn hundreds, even thousands of dollars each month.
The companies paying these "mystery" shoppers need feedback for their business – so they're willing to pay mystery shoppers to collect it.
It's a win-win for everybody involved. The question is, how can you earn money as a mystery shopper?
What is a Mystery Shopper?
If you've never heard of a mystery shopper before, it's a person who is paid to act like a regular, everyday shopper, then provide feedback on their experience.
Reputable mystery shopping companies give secret shoppers a list of tasks to complete, such as asking specific questions about a product or receiving a service (for example, an oil change).
Following the completion of the tasks, the mystery shopper reports feedback on the cleanliness of the shop environment, the helpfulness of the employees, and other details about their experience.
Companies pay secret shoppers for providing this information. In most cases, they also reimburse shoppers for any expenses incurred.
How to Become a Secret Shopper (and Find Mystery Shopper Jobs Near Me)
Becoming a mystery shopper is simple. All you do is sign up with the best mystery shopping companies (we've done the hard work for you and listed them all below), choose your tasks or assignments, and start shopping.
We only recommend the highest quality mystery shopping services. No scams here.
You can sign up with as many mystery shopping services as you'd prefer. The more companies you sign up with, the more opportunities you have to make easy money.
More jobs equals more income, and who doesn't want that?
One secret shopper worked for 75 companies (at his peak) and made $14,000 in one year just from performing mystery shops on weekends, during his lunch break, and on the way home from work. The sky is the limit and the more shopping opportunities, the better.
Need money now and wondering where to find the best mystery shopper jobs "near me"? These 15 companies are for you:
15 Best Mystery Shopping Companies to Work For
Let's take a look at the top secret shopper companies you'll want to be a part of.
1. Secret Shopper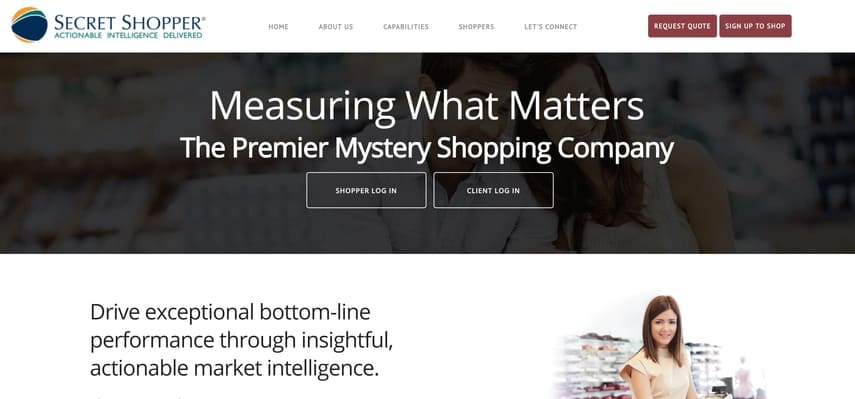 Secret Shopper is a well-established company that helps clients improve their businesses using mystery shoppers to gather data.
They've been around since 1993 and are very credible with many awards, including the MSPA Elite award for 2018. It's completely free to sign up, and you set your own hours.
How it works:
Read and agree to the "Secret Shopper® Shopper Ethics and Conduct, Terms and Conditions, and Policies and Procedures Agreement".
Complete the basic certification test
Fill out your personal information, such as your name, address, date of birth, etc.
Upon completion of your personal information, you'll receive your shopper ID and password. Use your ID and password to log in, then view and schedule available shops for you to complete.
That's it — you're a mystery shopper!
2. Market Force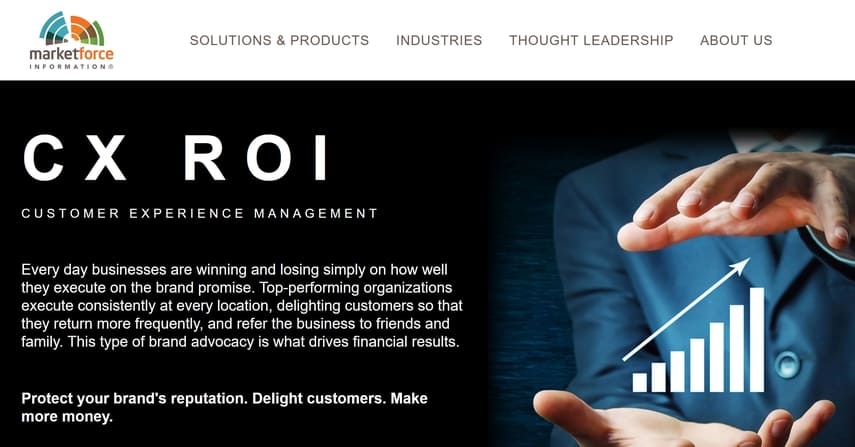 At Market Force, you'll complete mystery shops for banks, restaurants, and stores in order to help those businesses thrive.
By giving feedback on content such as cleanliness, product selection, and customer service, the businesses receive the information they need to succeed. Market Force has been awarded MSPA Shopper's Choice Award three years in a row, making it a great choice for mystery shoppers to work with.
How it works:
Create a Shopper Force Account (enter your name, email, ZIP Code, and choose a password)
Answer several personal history questions
Sign and date to the Terms of the Agreement
You're done! View your shopper portal to start accepting jobs.
3. GBW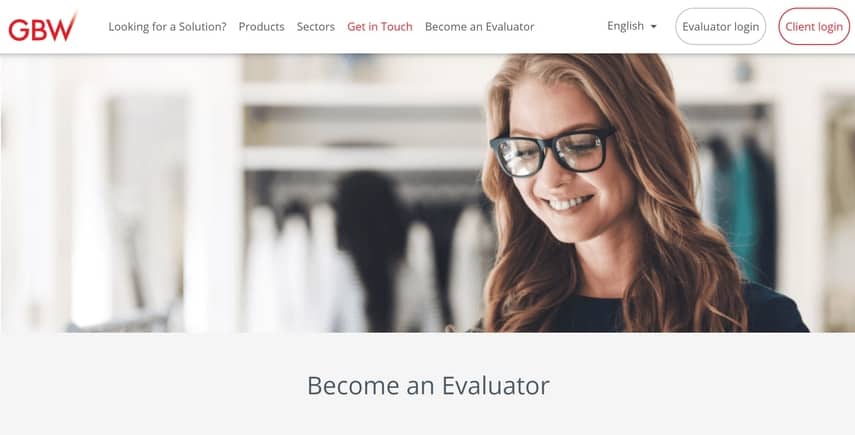 GBW is located in over 105 different countries and currently has 400,000+ secret shoppers. You can become one of the many who helps to improve customer service and get paid for your time. If you're interested in retail and have an eye for detail, GBW is for you.
How it works:
Click the big red button that says "Become a Shopper"
Select your country
Fill out personal information including your name, email address, DOB, and phone number
Complete a few demographic questions regarding your address, education, current job, etc.
Answer questions about your technology, legal history, where you found out about GPW, and why you want to be a mystery shopper
Add your references
Check your email for your login credentials. Happy shopping!
4. Pinnacle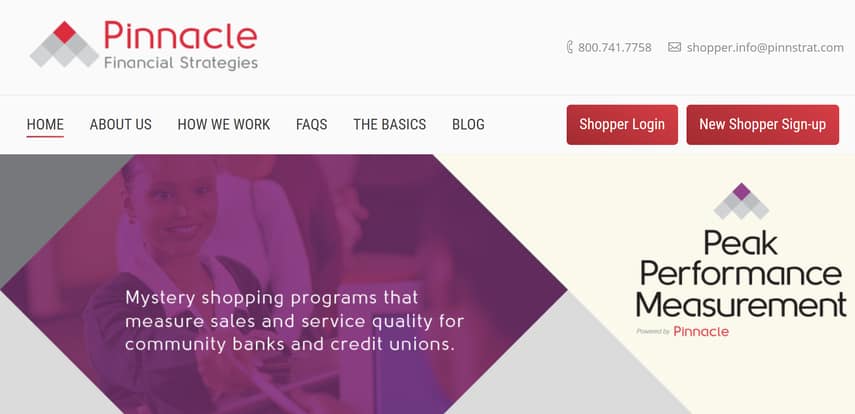 Pinnacle has been around for 20 years. They assist financial institutions by helping them improve their service and sales quality. Their secret shoppers work solely with credit unions and banks, making it a great choice for anybody interested in finance. It's completely free to become a mystery shopper with Pinnacle.
How it works:
Click the button that says New Shopper Sign Up
Enter your email address
Add your basic personal information, including bank account details (so you can get paid)
Answer demographic questions to help Pinnacle find the best jobs for you
Agree to the terms
You're in!
5. A Closer Look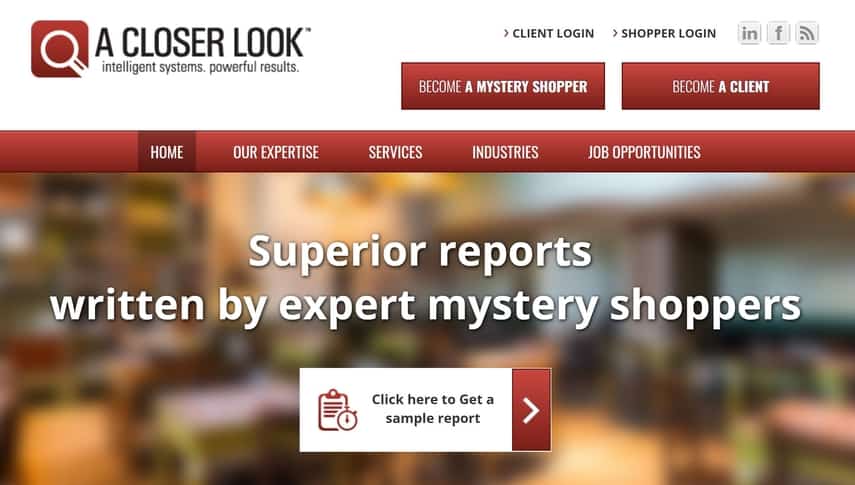 With the MSPA "Elite Company" award for 2018 and over 8 different industries to perform mystery shops for, A Closer Look is a quality option for every secret shopper.
They pride themselves in making sure your mystery shopping experience is tailored to your needs. If performing secret shops for hotels, restaurants, retail, health and wellness, and much more sounds up your alley, you'll love working for A Closer Look.
How it works:
Click the big red button that says Become a Mystery Shopper.
Provide a current email address.
Once your email has been approved, you'll receive a link to the application page (the link expires in 2 days, so complete the mystery shopper application ASAP).
Fill out your personal and demographic information, then answer the 10-question Shopper Qualification survey. The entire process should take about 20-30 minutes.
As a final part of the mystery shopper application, submit a narrative about your most recent dining experience. This is used to show your ability to reiterate your experience in a clear and concise manner.
That's it! Keep an eye out for your email with next steps.
6. Quest for Best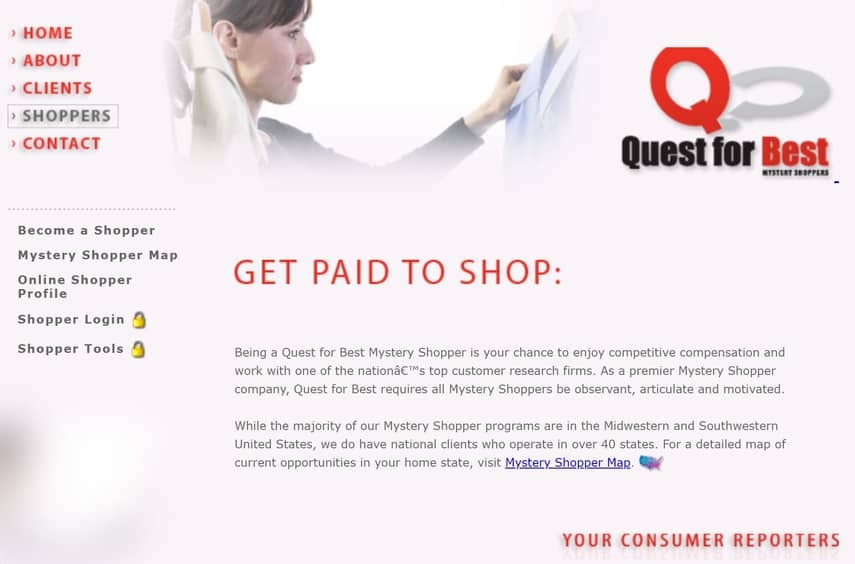 Quest for Best provides mystery shop opportunities in over 40 states in the US. If you are articulate and motivated when it comes to shopping, Quest for Best wants you on their team. It's completely free to sign up!
Here's how it works:
Click the Become a Shopper link
Fill out the Online Shopper Profile
If there is a job in your area, Quest for Best will give you the info for the shop. If not, they'll store your profile until a shop is available for you.
7. IntelliShop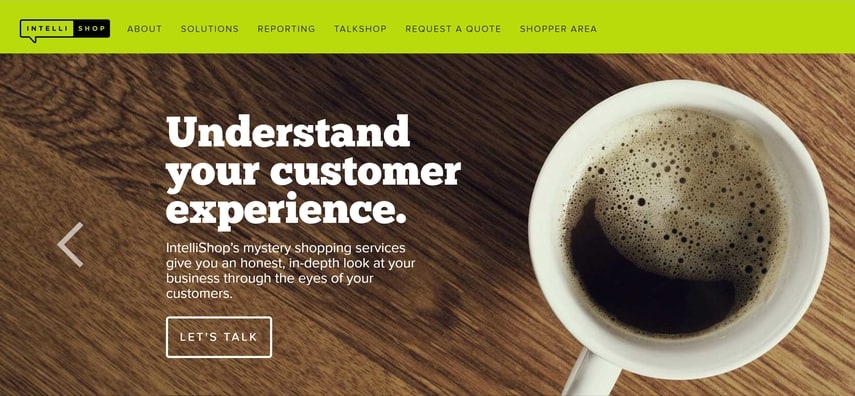 IntelliShop serves an extensive list of over 50 industries, so you're bound to receive mystery shops that interest you. It's free to sign up, of course. Sign up to see what IntelliShop has in store for you.
Here's how it works:
Click the button that says "Go" on the Shopper Sign Up page
Enter your email
Read the independent contractor agreement
Add your basic personal information, including your bank details (if you want to get paid)
Complete the demographic questionnaire
Enter your tax information
Agree to the terms and contract
Start making money!
8. Perception Strategies, Inc.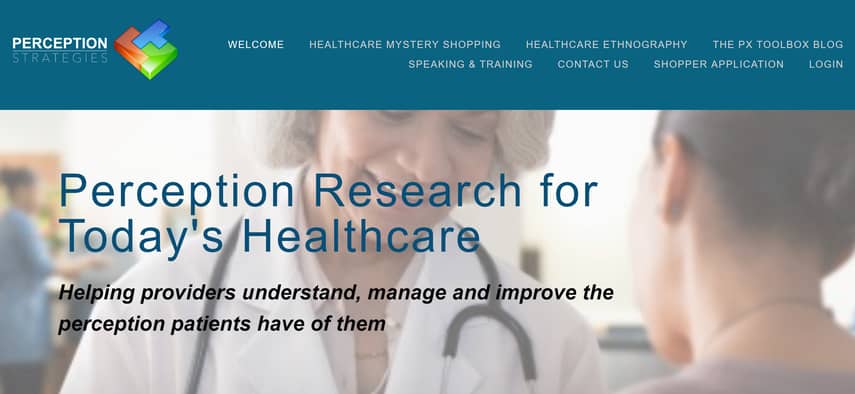 Perception Strategies, Inc. focuses on healthcare mystery shops. They've performed over 150,00 healthcare mystery shops since 1998.
This mystery shopping company focuses on giving healthcare providers the feedback they need to make their patients' experience the best possible. Interested in becoming a mystery shopper for Perception Strategies, Inc.?
Here's how it works:
Click "Shopper Application" in the top menu bar
Check out the list of immediate openings
If your location does not have an immediate opening, you'll be notified of any that come up once your application is on file.
Fill out all information in the application and submit.
9. Sinclair Customer Metrics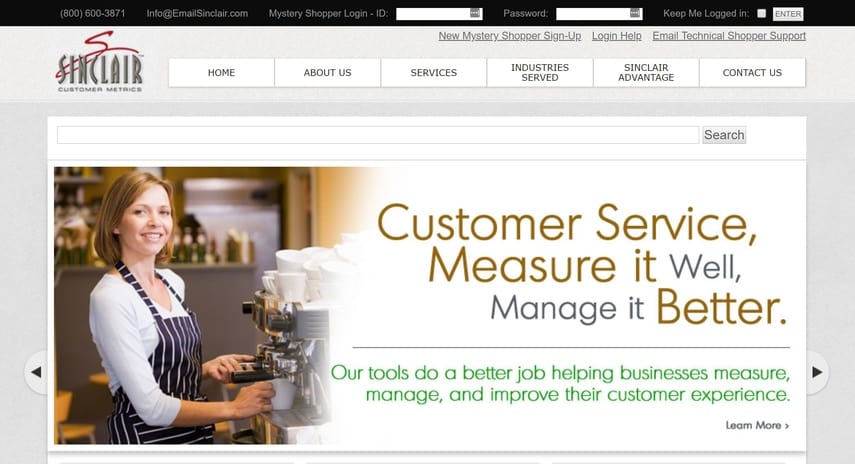 Since 1987, Sinclair has helped thousands of businesses improve their overall customer experience. They offer a wide variety of tasks, from video secret shops to telephone mystery shops.
Here's how it works:
To sign up with Sinclair, enter your name and email
Review the Information for Mystery Shoppers document
Read and agree to the Independent Contractor agreement
Fill out the Secure Online Application
Take the Sinclair New Shopper Challenge
Take the New Shopper Survey
Welcome aboard to mystery shopping with Sinclair!
10. Ipsos (formerly GfK)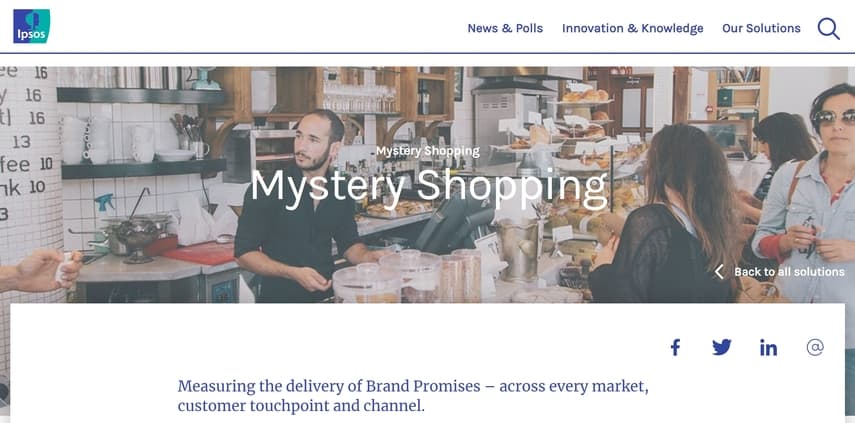 If you live outside the US and you're looking to mystery shop internationally, Ipsos mystery shopping is for you! Your secret shops will be either in person, by phone, through email, or using web chat. Ipsos secret shoppers perform mystery shops ranging from gas stations to banks to restaurants.
Supported countries include:
United States, Canada, Chile, Belgium, Czech Republic, Germany, France, Italy, Hungary, Netherlands, Slovakia, United Kingdom, India, Thailand, Oceania, Australia, and New Zealand.
Here's how it works:
Scroll down and click Want to be a Mystery Shopper?
Select your country
Add your basic personal information and demographic questions
Read the privacy information and agree to the terms
Read the independent contractor agreement and agree to the terms
Click "Sign Up" and you're in!
11. BestMark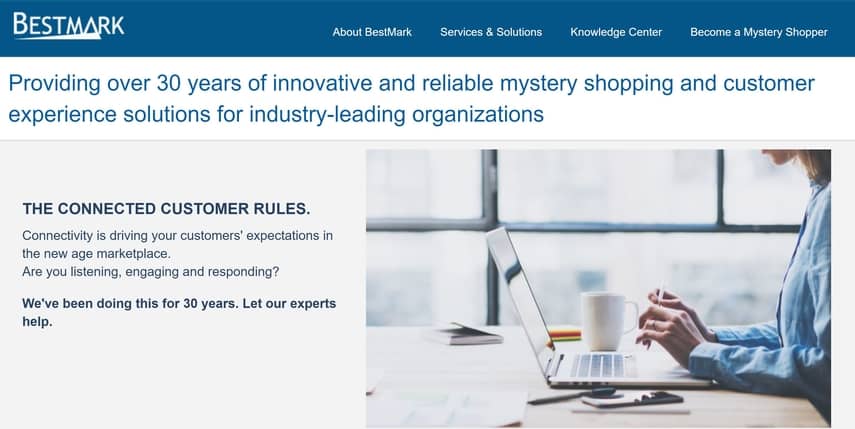 BestMark is one of the largest mystery shopper companies. They offer 10,000-plus mystery shop assignments each month covering a variety of industries from restaurants to hotels and resorts. The payment will differ based on the assignment that you choose.
Here's how it works:
Click the "Sign Up Now" button on the right-hand side of their become a shopper page
Add your basic personal information, demographic questions and create a password
You will receive an email within an hour with a link asking you to finish your application
Once your application has been submitted, they will screen it and send a welcoming email if it has been approved
Mystery Shopping Jobs by Phone
If in-person shopping isn't your thing, or if you don't have time to visit stores, then secret shopping by phone may be a better fit for you.
12. Call Center QA
Call Center QA works to help organizations improve the quality and helpfulness of their call centers. If you don't mind chatting on the phone, have excellent reading and writing skills, and an attention to detail, this job is for you! You can complete all your calls from home using your landline or mobile phone.
Here's how it works:
You must be a resident of the US
Fill out the application including basic information questions, education, a few personal questions to help determine what mystery shops you'd be good for, and how you heard about the company.
Click submit and you're done! You'll receive further information once you complete the application
13. ARC Consulting
With ARC, you are paid via PayPal per mystery phone call. How much work and pay you receive depends on how much work they have available at the time.
The application lists the following countries for hiring: United States, Australia, Barbados, Canada, Ireland, Malaysia, Virgin Islands, United Kingdom, and the United Arab Emirates.
Here's how it works:
Complete the online application
Enter your payment information for PayPal
Add your login details
Submit
14. Yardi-Matrix
Yardi-Matrix provides a job opportunity for those interested in taking surveys for the commercial real estate industry. If hired, your job is to call apartment communities and ask various questions.
In order to complete the tasks, you'll need high-speed internet access, a phone, and proper telephone etiquette. You must be willing to play the role of a "renter" when taking surveys for Yardi-Matrix.
How to apply:
Submit a current resume to the Yardi Matrix contact
Here's where to find more information on how to apply to Yardi Matrix
15. Intelicheck
Intelicheck is looking for motivated mystery shopper with excellent time-management skills. As an Intelicheck mystery shopper, you get to enjoy flexible hours working from the comfort of your own home.
At the moment, Intelicheck is not hiring. But if you fill out an application, they will keep it on file and notify you if further positions open.
How to Avoid Mystery Shopping Scams
Our list of mystery shopping companies only includes legitimate options, so you don't have to worry about that. However, not all companies are as high caliber, and some are complete scams. Here's what to watch out for.
Only Choose from a Trusted List Of Mystery Shopping Companies
When searching for reputable mystery shopping companies, make sure you sign up for companies recommended by trusted sources. We always do our homework and research options before recommending a company, so you're safe with us!
Never Wire Money
If you are asked by a mystery shopping company to deposit a check into your personal account, withdraw the amount of the check in cash, and wire it to a third party, don't do it. The check is fake, and it's a scam.
Although the check may look like it went through and the money has appeared in your account, it can take banks weeks to uncover a fake check.
Once the fake check is discovered, you will be responsible for paying back the bank for the amount you deposited and withdrew. Play it safe and never deposit a check from someone you don't trust if you're going to wire the money back.
Never Pay in Advance to Become a Mystery Shopper
All of the mystery shopping companies listed above are completely free to sign up, and that's for a reason.
If you ever come across a mystery shopping company that asks you to pay money to sign up, it's a scam. Avoid it like the plague. You should never have to pay money to sign up, period.
Find Your Ideal Mystery Shopping Niche
As you can see, the sky is the limit when it comes to mystery shopping. It's up to you if you want to stick to one company or try them all!
Once you perform several mystery shops, you'll realize which secret shops come naturally to you and are the most enjoyable to complete. You may find that some aren't worth your time, while others hardly feel like work.
When you become more comfortable in your mystery shopping niche, you'll be completing jobs right and left and raking in the dough. Good luck mystery shoppers!