Top 11 Skills Employers Look For on a Resume
Advertiser Disclosure
Our readers always come first
The content on DollarSprout includes links to our advertising partners. When you read our content and click on one of our partners' links, and then decide to complete an offer — whether it's downloading an app, opening an account, or some other action — we may earn a commission from that advertiser, at no extra cost to you.
Our ultimate goal is to educate and inform, not lure you into signing up for certain offers. Compensation from our partners may impact what products we cover and where they appear on the site, but does not have any impact on the objectivity of our reviews or advice.
The "hard skills"— the specifics of how to get the job done — are only part of what an employer wants to see. Soft skills are just as important. Here's a look into some skills employers look for and how to improve them.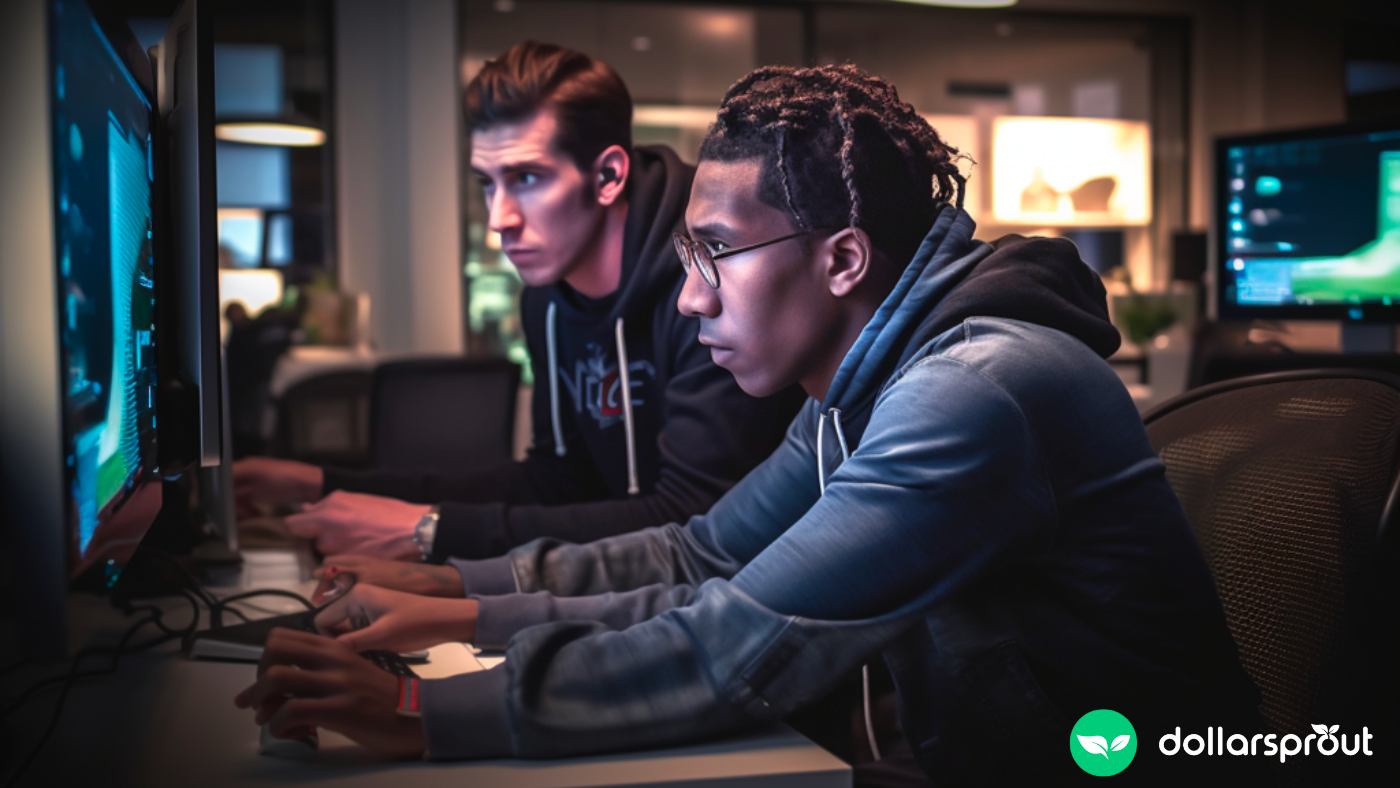 Picture it: You've been sifting through job ads for weeks, looking for the perfect fit. The next one you pull up is an exact match for your skillset.
But the "hard skills"— the specifics of how to get the job done—aren't the only skills employers look for. Soft skills are just as important.
"Soft skills highlight your interpersonal skills, problem-solving, conflict resolution, and adaptability," says Renee Frey, a recruiting expert, speaker, and author of "I Hate Mondays: A Guide to Landing a Job That Makes You Jump Out of Bed." According to Frey, "Employers seek soft skills because they want to know how you will behave in certain situations and if your personality will fit into their company culture."
That means you'll need more than a stellar resume to land your dream job. You'll also need to demonstrate the soft skills employers look for.
The Top 11 Skills Employers Look for in a New Hire
Employers know you might not have every soft skill on this list, says Yvonne Rivera, director of talent acquisition for Nonprofit HR. "Rock-star candidates who can bring every one of these skills to every situation are few and far between," she added.
But having the right soft skills for the job can be the deciding factor between you and another candidate. During job interviews, be prepared to give real-life examples of how you've displayed some of these traits in the workplace.
If you're returning to the workforce or you've never had a job before, you may have learned these skills in everyday life, at school, or in volunteer opportunities, and you can relay those experiences in an interview as well.
1. Independence
Independent employees don't need constant guidance from managers. They can take a project and run with it, checking in only when necessary. Many managers prefer independent workers because it frees up time for them to work on other tasks.
"Your boss needs to trust that the important project delegated to you will not only get done but done well," says Anna Huffman, human resources director for the National Federation of Independent Business.
While you should try handling problems on your own, it's just as important to know when to update your manager on your progress or get feedback on the next steps. Scheduling periodic check-ins can help. You can do them via daily emails, weekly meetings, or a monthly report.
2. Adaptability
Adaptable employees are flexible and can adjust to change with a positive mindset. Plenty of workers are practicing this skill amid the COVID-19 pandemic.
"There is no playbook for navigating a pandemic," says Dana Case, director of operations at MyCorporation.com. With little notice, employees had to shift to work-from-home schedules, communicate completely online, and handle the minutiae of their jobs all against the backdrop of pets, children, and other work-from-home distractions.
Some employees made the change seamlessly, while others got a crash course in developing this skill. In an interview, you might be asked how you would react in a situation that requires adaptability. Be prepared to explain the steps you would take or share a previous experience.
Related: How to Make Your Resume Stand Out from the Crowd
3. Coachability
On day one of a new job, employees should have about 70% of the skills necessary for that position, Frey says. "This will allow someone to be able to grow in the role."
That's why coachability is a key personality trait in any worker. Coachable employees can implement feedback and are willing to learn any skills they lack. "Pairing them up with a mentor is a great exercise to help them grow in the role," she adds.
To demonstrate your coachability in an interview, give an example of how you learned from a past mistake and grew both professionally and personally. You can discuss how you implemented feedback, were receptive to criticism, or other ways you made adjustments as a result.
4. Confidence
Confident employees know what they're good at, understand their value, and exude self-assurance. Confidence is a top skill employers look for because confident workers tend to be productive and motivate others.
"Despite all the knowledge you may have, you will not be taken as seriously as you should without confidence," Huffman says.
Confidence in your ability to do your job well is a trait built over time. Setting goals (and following through), learning new skills, and investing your energy in tasks you love are small but powerful confidence boosters.
Related: How to Ask for a Raise with Confidence (the Advice No One Ever Gave You)
5. Emotional intelligence
In recent years, employers have started prioritizing a worker's EQ (emotional quotient) over their IQ (intelligence quotient), Huffman says.
Employees with a high EQ exhibit self-awareness, independence, motivation, empathy, and social skills. Employers want to know you can think logically through challenges and respond in a crisis or everyday situations, Rivera says.
In preparing for your next job interview, be ready with stories that show your EQ. That could include how you collaborate with colleagues, implement feedback from managers, and help customers solve problems while keeping a level head.
6. Leadership
Hiring managers look for strong leadership qualities—such as confidence, passion, and initiative—even when the candidate isn't applying for a leadership or management role. An interview is a good place to share your experience as a leader and how you might use those skills in the new role.
Employers want to know they can hand you a project on day one or ask you to lead a small team. "Employees who raise their hands for projects or lead teams really help support their managers," Frey says. "Having leadership skills can allow you to take the stance and help others rise up as leaders on your team, too."
If you feel you need to strengthen your leadership skills, then consider taking a course or training. You can even ask your current supervisor for more responsibilities like training a new employee or leading a meeting or project.
Related: 10 Tips to Negotiate Your Salary for a New Job
7. Time management
On any given workday, you're probably juggling a list of competing priorities. Time management helps you get those things done on time.
"Candidates must describe how they manage their time well to accomplish all their responsibilities," Rivera says. "Strong organizational skills fall under this as well."
Here are some ways to improve your time management:
Schedule your week, blocking off time for critical tasks.
Set aside time throughout the day to check and respond to messages.
Track and limit the time spent on each task. Apps such as RescueTime and Toggl can help.
Give yourself periodic breaks for a quick mental refresh.
If you find you're still struggling with time management, ask your supervisor or coworker for some feedback. You might get advice on how to implement a different system, or your manager might decrease your workload (or extend your deadlines) until you demonstrate improvement.
8. Ingenuity
"Ingenuity" means using creativity to solve problems. Employees who display ingenuity are able to see a challenge, tackle it with a positive mindset, and create a solution.
"Creativity is more in demand than ever," Huffman says. "Employers want employees who can imagine what does not exist and find a way to achieve it."
Ingenuity might not come naturally to you, but it is something you can grow and develop. As you do your job, look for ways to streamline processes, solve problems, and contribute ideas at meetings. This is a good way to demonstrate your confidence and independence as well.
Related: 10 Things You Should Always Bring to a Job Interview
9. Responsiveness
Have you ever sent an email and never received a response? You may have felt ignored or even thought the recipient was disorganized.
Responsiveness, or simply following up promptly, is an important part of moving things along at work, and it's one of the top skills employers look for. Productivity experts recommend setting aside small chunks of time throughout the day to answer emails and prioritize tasks.
"It's another important skill as we work from home," Case says. "Check in with your team regularly. Do not fall off the grid or write back at hours where you are unapproachable."
A good rule of thumb: If it takes 10 minutes or less, answer the message immediately. Less urgent replies can wait up to 24 hours. If you can't provide a thoughtful answer now, then touch base and let them know when you can follow up.
10. Exceeding expectations
This is where you can stand out among your peers. You may be assigned new and exciting projects when you go beyond your duties, which will help you grow in your career.
"While often considered a cliche, candidates who describe how they not only complete work but do so in a spirit of high-quality customer service shows consideration and thoughtfulness," Rivera says.
"Going the extra mile" at work generally means showing initiative and helping out because you know it benefits the whole team. You might volunteer to lead projects, mentor a colleague, or stay late to meet a deadline. Be prepared to share these examples in an interview.
11. Big-picture thinking
Although you probably focus on concrete tasks and deliverables at work, it's also important to keep the big picture in mind. That means seeing beyond your duties and understanding how your work impacts other departments and the organization as a whole.
"Employers want to know that candidates can see and explain big-picture ideas, and that they can lead others to create those steps to help accomplish monumental objectives," Rivera says.
What are your company's goals, and what can you do to help the company achieve them? Take some time to reflect on your role in your company and how you can help it grow and succeed. Then use that information to guide your daily activities and decisions.
Related: 11 Good Work Habits for Becoming a Stand-Out Employee
Use Your Interview to Show You Have the Skills Employers Look for
An interview is your time to shine. As you prepare for it, think about times when you used the skills on this list. When did you come up with a creative solution to a problem, resolve a conflict at work, or show leadership in a difficult situation?
Though you might not have all of these skills yet, you can "fine-tune the skills you already have, then focus on developing skills in areas where you'd like to learn more," Case says.
There are plenty of books, podcasts, and courses to help you learn the basics or polish many of these skills. Time and experience on the job can help, along with the guidance of a great manager. Frey also recommends keeping a journal of how you handled a certain situation, and how your approach could improve.
Every job requires hard skills, but as Huffman reminds us, "success comes from adapting and learning to use both."