10 Things You Should Always Bring to a Job Interview
Advertiser Disclosure
Our readers always come first
The content on DollarSprout includes links to our advertising partners. When you read our content and click on one of our partners' links, and then decide to complete an offer — whether it's downloading an app, opening an account, or some other action — we may earn a commission from that advertiser, at no extra cost to you.
Our ultimate goal is to educate and inform, not lure you into signing up for certain offers. Compensation from our partners may impact what products we cover and where they appear on the site, but does not have any impact on the objectivity of our reviews or advice.
One of the best ways to prepare for a job interview is to bring the right things. Once you figure out what you're going to wear, it's time to think about what to bring to a job interview.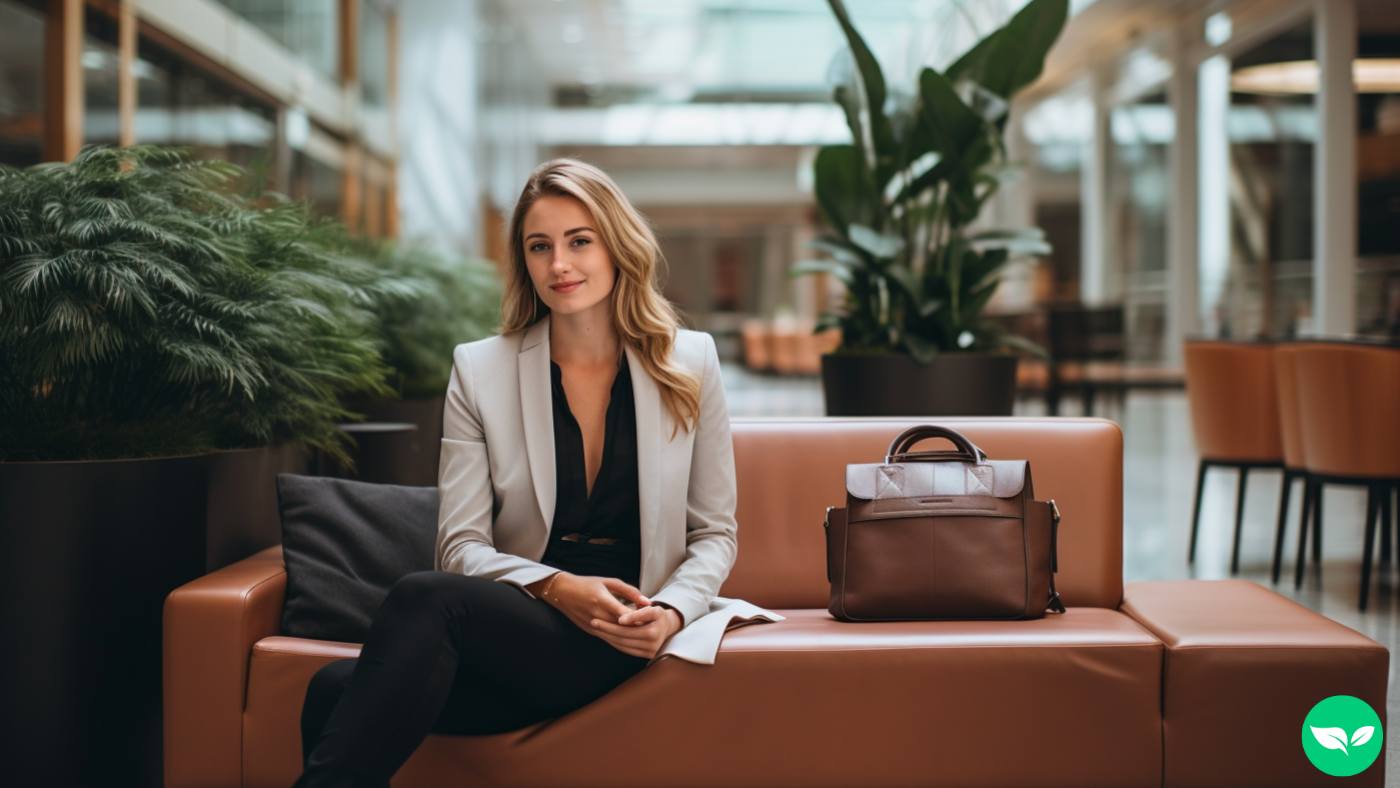 I've been lucky enough to land dozens of job interviews in my lifetime. Through my interview experience, I've learned that preparation is the key to success. By preparing for every interview I've had, I've secured internships, full-time jobs, and freelance gigs.
One of the best ways to prepare for a job interview is to bring the right things. Showing up prepared will impress the interviewer and make you stand out from other candidates.
10 Things to Bring to a Job Interview
Once you figure out what you're going to wear, it's time to think about what to bring to a job interview.
1. Resume
Some people leave their resume at home because they assume the interviewer already has a copy of it. Krystal Yates, HR consultant at EBR Consulting, LLC said candidates can avoid this mistake by always bringing multiple copies.
There may be more than one person in the interview who doesn't have a copy. Even if the person has a copy, they may have marked it up or filed it with human resources.
Related: Make Your Resume Stand Out With These 11 Extracurricular Activities
2. Portfolio
A portfolio with work samples can help you stand out during the interview.
For example, if you're interviewing for a graphic design position, include your three best design examples in your portfolio. If you're a writer, make copies of your best articles so that you can leave them with the interviewer.
3. Notepad and pen
Bringing a notepad and pen can help you look organized and show that you're serious about the position.
Jot down any questions you think of while the interviewer is talking or any information you want to remember. When it comes time to recall what was said or write your thank you note, you'll be glad you documented the interview.
4. A good attitude
A good attitude and enthusiastic energy are among the most important things you can bring to an interview.
"You want the interviewer to feel your eagerness and view you as a team player that they can picture in their organization," said Lauren Jackson, a 10-year recruiting professional.
Related: 11 Skills Employers Look for That Most People Never Think About
5. Directions and contact information
If you can't find the building and arrive late, you may have shot yourself in the foot. That's why it helps to bring directions on how to get to your interview as well as where to park.
You may also want to print out pictures of the building or write down nearby landmarks to help you find it easier. Write down your interviewer's name and phone number in case you do get lost and need assistance.
6. Questions for the interviewer
Questions for the interviewer aren't optional in today's competitive job market; they're necessary. Asking thoughtful questions shows that you've done your research and are genuinely interested in the position.
"Make sure your questions are related to the company and what you can do to help them," said Fletcher Wimbush, CEO of The Hire Talent. "Stay away from self-focused questions like 'Can I work from home on Fridays?' or 'What is the 401(k) plan like?'"
You should only ask those types of questions after you've received an offer.
7. Emergency items
You never know what you may need right before an interview, which is why it's wise to keep an emergency kit with items like deodorant, breath mints, tissues, hand sanitizer, and a Tide Pen.
This kit can keep your hygiene in check and save you in case you have to sneeze, it gets super hot, or you spill something on your suit.
8. A bag or briefcase
Once you've gathered everything you need to bring to your interview, find a briefcase or messenger bag to hold them in. This way you won't have to come to your interview looking overwhelmed with your hands full of stuff. If you don't have a briefcase or messenger bag, a clean backpack may be appropriate.
Related: Should You Take a Pay Cut for a New Job?
9. Identification
This may seem obvious, but many candidates forget their IDs in their cars or at home. Bring your driver's license, passport, or any other document that proves your identity.
Many companies, especially larger ones, won't let you enter the building without an ID. You should also bring information about the recruiter or hiring manager you've been in touch with in case you need to reference it.
10. References
Many companies request references after they've interviewed a candidate, but it's still wise to bring your references with you.
If you have your references on hand during the interview, the interviewer won't have to contact you later and ask for them. Bring a printed list with at least three professional references and their contact details. This may be included on your resume or on a separate document.
Related: How to Ask for a Raise: The Advice No One Ever Gave You
What Not to Bring to an Interview
For all the things you should bring to a job interview, there are a few you're better off leaving at home.
Your mom or friend
You may want your mom or friend to tag along to your interview to give you some moral support. Unfortunately, this isn't a good idea as going to an interview solo shows that you are a confident, polished candidate who is taking the interview seriously.
"You should always walk into an interview by yourself," Yates said. "Leave everyone else in the car or outside the building."
Your phone
It can be difficult to part with your phone, but you shouldn't have it on during an interview. Your phone should be turned off and out of sight as soon as you enter the room where the interview is taking place. Remember that a ringing phone during an interview is a surefire way to annoy the interviewer and miss out on a job offer.
Your laptop
Even if you want to save paper or show off an interactive interface, don't bring your laptop to an interview. Dana Case, hiring manager at MyCorporation, said many candidates show off their resume, cover letter, and samples on their laptops.
This can be a hassle and waste precious interview time. Case suggests you bring paper materials or email what you want to show to the interviewer instead.
Related: How to Write a Cover Letter That Lands You an Interview
Uncomfortable shoes
Your high heels may look great with your interview outfit, but if they're uncomfortable to walk in, save them for another occasion. The last thing you want is to slip and fall in front of your interviewer.
Wear closed-toe flats or low heels that you can easily walk around in. Practice walking in your shoes a few days before your interview to make sure they're comfortable.
Gum
If you're concerned about bad breath or want to relieve some pre-interview stress, you can chew some gum beforehand. Just make sure you get rid of it as soon as you enter the interview. You'll appear unprofessional and have trouble speaking clearly if you have gum in your mouth while the interview is being conducted. This also holds true for mints.
Treats for the interviewer
It may be tempting to bring a treat like a cookie, piece of chocolate, or cup of coffee for the interviewer. While this may seem like a nice gesture, Joe Wilson, Senior Career Advisor at MintResume, strongly discourages it. If you do this, your interviewer may misconstrue it as a bribe.
Related: How to Quit Your Job in the Most Professional Way Possible
Know What to Bring to a Job Interview and What to Leave Behind
The most qualified candidate isn't always the one that gets the job. Even if you're less qualified for a position than others, being prepared can set you apart. If you bring the right items and leave the wrong ones behind, the interviewer is more likely to view you as a desirable candidate.
They may even choose you over someone with more experience and better credentials. All you have to do is prove that you're a sharp, well-prepared candidate with potential.
"Some candidates come into an interview overconfident because they believe their previous job titles will blow the interviewer away," said Clay Burnett, executive recruiter at Clay Burnett Group.
Be prepared for your interview and act like you have to prove yourself to get the job, even if you know you're a shoo-in.