11 Good Work Habits for Becoming a Stand-Out Employee
Advertiser Disclosure
Our readers always come first
The content on DollarSprout includes links to our advertising partners. When you read our content and click on one of our partners' links, and then decide to complete an offer — whether it's downloading an app, opening an account, or some other action — we may earn a commission from that advertiser, at no extra cost to you.
Our ultimate goal is to educate and inform, not lure you into signing up for certain offers. Compensation from our partners may impact what products we cover and where they appear on the site, but does not have any impact on the objectivity of our reviews or advice.
Complacency is killer. Upward movement at your 9 to 5 is essential to furthering your career. Here's how to get your boss's attention.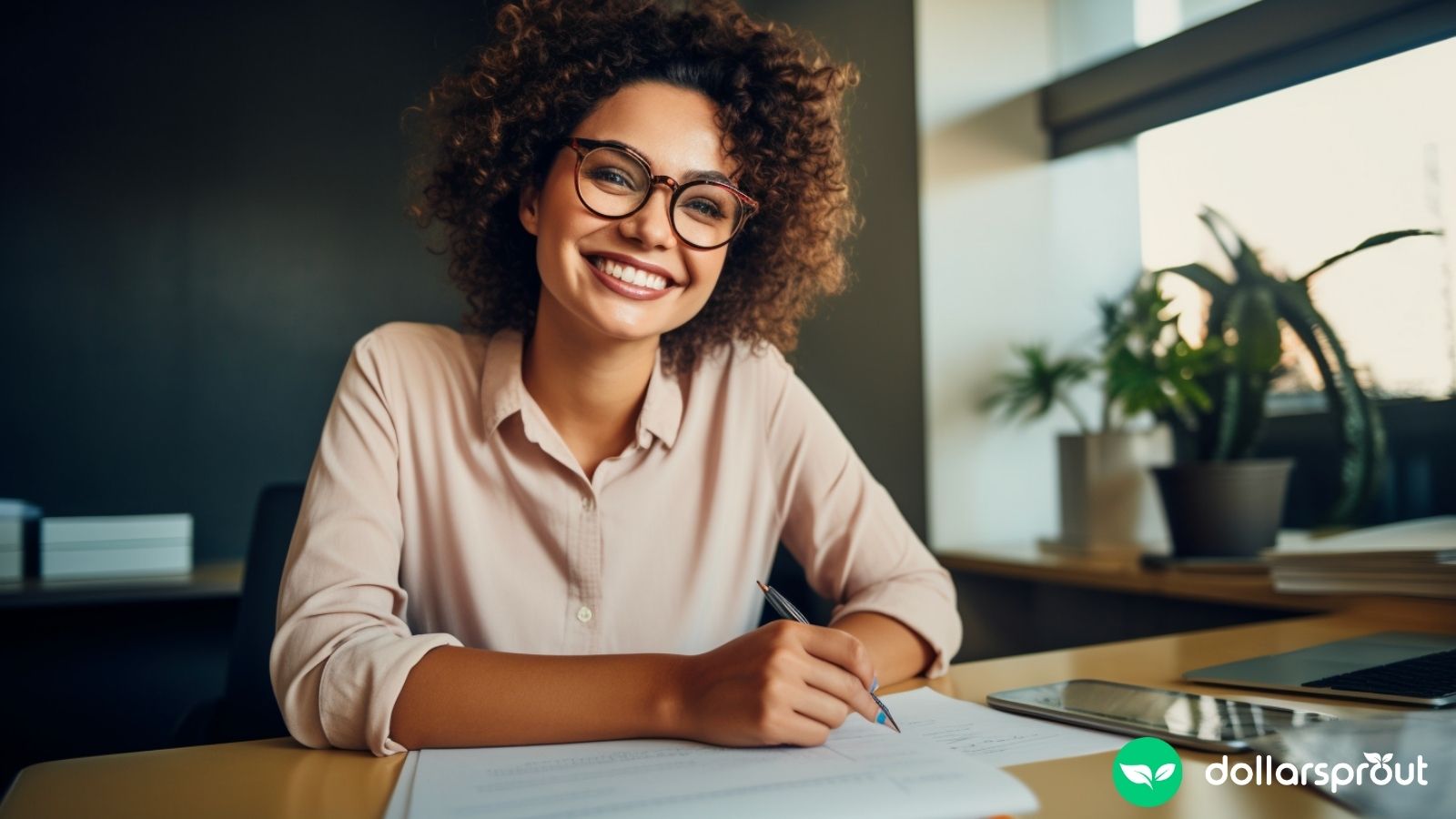 The first ten years of my career were a lesson in failure habits. I didn't realize what the procrastination, time wasting, and laziness were doing to my career until a decade passed and my peers zoomed by me while I stayed stuck in place.
Bad habits are enjoyable in the short-term, but having good work habits leads to success, and success is big-F Fun. Hitting six figures was Fun. Realizing I had the power to negotiate because I was a stand-out employee was Fun. Running my own business, finishing and publishing my book, and being my own boss are Fun.
Hitting snooze, watching that extra hour of TV, and thinking of an excuse of why you couldn't turn in your report today are not accomplishments that will make you, or your ten-year-old self, proud. They'll keep you spinning your wheels, wondering why you can't ahead.
Only good work habits, applied consistently over time, will get you where you dream of going.
Great Habits Won't Go Unnoticed
With so many habits to choose from, how do you know which ones are the most important? These successful entrepreneurs, executives, and career coaches discuss their favorites and how you can apply them to your work life.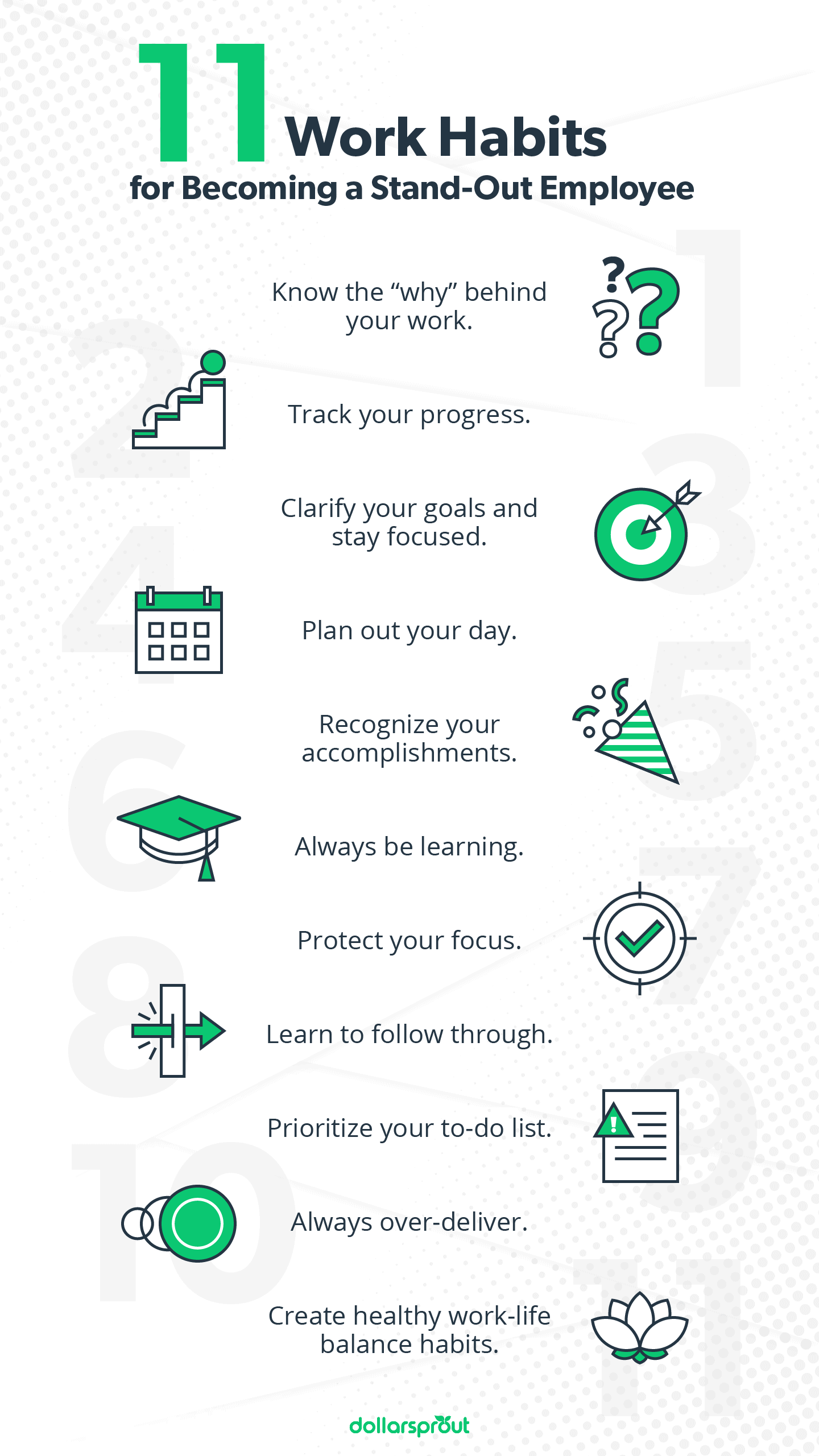 1. Know the "why" behind your work.
Career strategist Jasmine Escalera said she, like many people, used to cling to the idea that hard work equals success. However, applied like a blunt instrument, this belief led to overworking and burnout, damaging her quality of work.
"What I have recently learned is that your intention is really what leads to your success," she said. "Knowing what you are working toward and, more importantly, why is pivotal to gaining the success you want in work and life."
Get specific with yourself and write down your career goals, earning goals, and lifestyle goals so that you know exactly where you're headed and why. It will impact your work ethic, helping you focus and stay on track even on the days you don't feel like it.
2. Track your progress.
Business coach Amanda Abella echoed the need for a clear goal, but added that you need to track your progress towards your goals. If you don't know how to track your progress, your goal probably isn't clear enough. It needs metrics like numbers and dates.
"When I don't do this, I fall off the wagon, and when I do this, I feel really on it," she said.
Tracking your goals helps you not only stay focused, but it helps maintain motivation. "What happens when people don't do this is they have a tendency to think they're doing worse than they actually are, so then they lose momentum," Abella said.
To track your goals, she advises to keep it simple. A journal or spreadsheet will do. Measure the most important metrics, like dollars in the bank or sales calls made.
Related: 15 Ways to Maximize Your Productivity and Earnings
3. Clarify your goals with your manager and stay focused.
Sometimes we think saying yes to everything is the way to get ahead, but career success coach Michelle Gomez said sometimes that can only keep you stuck.
"When we say yes to everything in a chase for validation," she said, "we're only going to overcommit."
She advises picking three to five areas where you want to focus and grow in your job, and review them with your manager. If they ask you to take on a project that's outside of those skills, don't be afraid to push back.
"Otherwise you become the office workhorse," she said.
If you're not sure how to approach the conversation or what to say in these circumstances, she suggests the phrasing, "I feel like it would take away from my ability to give full capacity in my other tasks."
4. Plan out your day.
One key work habit is to spend time each night before your workday to plan out your tasks and schedule, suggests Andrea Woroch, co-founder at One Take Media Coaching.
"If you wait until the day of, it's easy to lose track and lose focus and not be as productive as possible," she said. "Not only do I write out all the tasks I have to get done the night before, but I also block off time in my calendar for each task, even small things like sending invoices to clients or even personal items that can take up time, like calling my health insurance company."
She advises to get the most important tasks done as early as possible in the day, so if there are any surprises, you've already handled the most essential goals. If you're not sure which ones are most important, you can speak with your supervisor or list them by deadline, working on the ones with the soonest deadline first.
5. Create moments to recognize your accomplishments.
Sometimes we get in the habit of focusing on all that we have to do without looking back to congratulate ourselves on what we've done.
"Have a 'Did do' list in addition to a 'To do' list," said Caroline Tien-Spalding, chief marketing officer at Aptology. "Not only does it give you a sense of what you've accomplished for that weekly report, it highlights any large deltas between what your priorities are and what ends up taking over."
By looking back on what you've accomplished, it will help you realize how much progress you've made. This will motivate you to accomplish more before your year-end review, providing you with tangible evidence of all the value you've provided that year.
Related: How to Stand Out at Work (in the Best Way Possible)
6. Always be learning.
Did you think your education stopped at your high school or college graduation? It hasn't. In fact, the most successful people are life-long students. With the world changing as rapidly as it does, a little studying should be part of your daily schedule. Your office should also be your school.
"The most important work habit that has helped me is to set aside time for learning," said Sarah Li Cain, finance writer and host of Beyond The Dollar. "Circumstances, rules, regulations, jobs, etc. will change, so it's important to find time to identify what piques your curiosity and can help you further your professional development."
If you do 15 minutes a day of reading, listening to a podcast, practicing a skill, or even taking a class, you'll have 65 more hours of education than you otherwise would, every year. You can take that education with you no matter where you go.
7. Protect your focus.
Every little ping, ding, and buzz costs you time, focus, and quality of work on your most important projects.
"Understanding how to stay focused is exactly what it takes to get things done and get ahead," said Nir Eyal, author of Indistractable.
He suggests "slaying the messaging monster" by consciously removing distractions. Turn off notifications on non-essential apps, schedule time to check email (and refrain from checking it beforehand), and block tempting websites with programs such as Freedom.
You can even use your phone's autoresponder, the one you usually use while driving, simply to focus.
8. Learn to follow through.
It can seem so easy in theory, but so many people have a hard time mastering the art of doing what they say they will.
"Whenever I've had to hire paid interns and freelancers (and even award scholarship funds), I've also seen firsthand how many just drop the ball. Emails unresponded to, projects left partially completed — literally leaving money on the line," said Lauren Keys, who managed to semi-retire in her 20s and create a travel blog called Trip of a Lifestyle. "Showing up, as simple as it sounds, really is a huge part of the equation."
Keep a journal with you at all times and write down any project, meeting, or task you commit to as well as anything you should follow up on. Then review the journal daily, checking off what's done.
By following through, you'll demonstrate you're reliable and someone clients, managers, and coworkers can trust.
Related: 11 Skills Employers Look for That Most People Never Think About
9. Prioritize your to-do list.
Not all tasks are created equal. You'll have to choose sometimes. But how do you know which ones to do first?
Robyn Ireland, career coach at Robyn's Couch, provided a list of questions to ask about each task:
Have I been given a clear deadline? If yes, when is it? If no, who do I need to follow up with to get clarity?
Who is waiting for a response from me right now?
Who will be impacted by me not doing this task during my workday?
How will completing this task quickly improve my career aspirations?
What on my list has a higher priority?
If no deadline has been assigned for a task, what deadline will I give myself?
Use your answers to these questions to prioritize your to-do list. If you're still struggling, talk with a coworker or manager to help you. You also want to make sure the time frame for your list is appropriate.
"I understand that not everyone likes the pressure of a deadline, that is why you need to be reasonable with yourself about getting things done," she said. "You never want to be the person who breaks trust with the boss or clients by over-promising and under-delivering."
Prioritizing tasks will help you feel less overwhelmed and it will help you focus and concentrate on the most important ones.
10. Always over-deliver.
Back when business strategist Rebecca Cafiero worked a corporate job, she knew her clients would get a survey. She told them that her goal was to give them stellar service, and she asked them to tell her if they ever felt they weren't getting it.
"You have to ask to understand what the expectations are," she said. "But also understand: an expectation is a bare minimum. You're not going to get a raise for getting there on time. Look for areas where you can excel past that."
According to Cafiero, the secret to providing amazing quality of work is not assuming you know what over-delivering means to your external customers, like clients, and internal customers, like your boss.
"You want to make sure you're over-delivering in areas that actually matter," she advised. "It's a little like love languages for business."
When you're asking for expectations, clarify with your boss what areas are most important. Also, go to people who have had your position and moved up. Ask what they felt were the five most impactful actions they took that led to their success.
11. Create healthy work-life balance habits.
You can only bring your best self to work if you take time to care for yourself. So an important work habit is actually taking care of yourself, even in your off time.
"Scheduling personal time to care for myself and husband is always prioritized," says Colleen Simo, a Director of Human Resources who also runs her own coaching practice. "I maintain a twice-daily 20-minute meditation practice and yoga a few times per week and if I didn't put this first it would slip away. Maintaining my meditation practice makes everything easier."
You may want to put a daily recurring 15- or 30-minute appointment with yourself on your calendar for mindfulness exercises to train your focus to take on the day.
Related: Is Working from Home Bad for Your Mental Health?
Good Work Habits Can Make or Break Your Career
This far into my career, my days are structured on the building blocks of good work habits. Learning them takes away some of the decision fatigue of deciding what to do every day. They make my schedule easier, my days less stressful, and my work more rewarding.
Leveling up with your work habits will feel like changing gears on a bike. You'll climb larger hills faster, and arrive less out of breath.