11 Best Places to Sell Furniture for Cash
Advertiser Disclosure
Our readers always come first
The content on DollarSprout includes links to our advertising partners. When you read our content and click on one of our partners' links, and then decide to complete an offer — whether it's downloading an app, opening an account, or some other action — we may earn a commission from that advertiser, at no extra cost to you.
Our ultimate goal is to educate and inform, not lure you into signing up for certain offers. Compensation from our partners may impact what products we cover and where they appear on the site, but does not have any impact on the objectivity of our reviews or advice.
In the not-too-distant past, the only places to sell used furniture were garage sales, consignment shops, or the local newspaper classifieds. With the proliferation of online marketplaces, now there are a variety of ways to unload your used goods.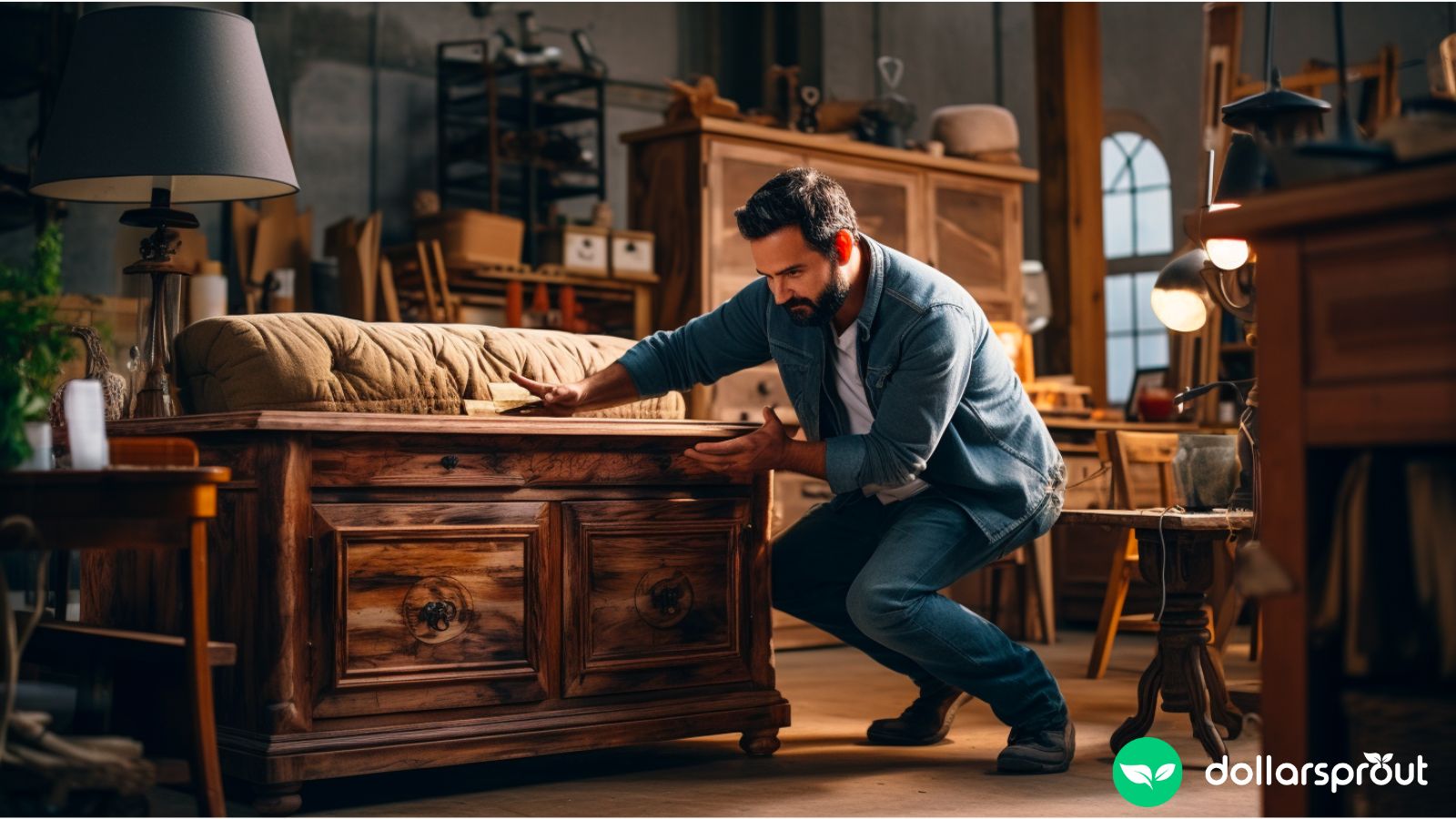 In the not-too-distant past, the only places to sell used furniture were garage sales, consignment shops, or the local newspaper classifieds.
With the proliferation of online marketplaces like Craigslist or Facebook Marketplace, there are now a variety of ways to unload your used goods.
Selling used furniture offers a unique and flexible way to make cash on the side while decluttering your home. Some people even turn this into a side hustle, finding underpriced furniture, sprucing it up, and reselling it for a higher price.
While going through the process of selling used furniture may seem like too much of a hassle, don't be too quick to give up. There's real money to be had, and choosing the right website or app can make the process easy.
Best Places to Sell Your Used Furniture Online
There are a number of options, both online and locally, that can help turn your used furniture into cash. If you're wondering how to sell furniture fast or looking to score some second-hand gems, consider using one of these online marketplaces.
1. Bonanza
Overview: Bonanza is an alternative to Amazon or eBay. Furniture is one of the many unique items you can sell on this platform. Because it's integrated with Google, your products will get to your customers faster.
How to Sell: Selling on Bonanza starts with creating an online storefront. Using Bonanza is simpler than setting up your own website.
Pay and Fees: There are no listing fees or set up costs for selling used furniture with Bonanza. However, you'll pay a commission rate based on the advertising option you select for your items. The higher the rates, the more buyer visits you'll receive from Google Shopping.
What Else You Should Know: You'll never pay more than the maximum commission rate you've selected at the time of your listing. Even if you opt out of the advertising program, sales that you drive to Bonanza through your direct referral link are free (as in, you pay no fees).
2. OfferUp
Overview: OfferUp is a simple way to sell furniture locally and can be downloaded instantly. One of the differentiating factors of this platform [from others] is that it encourages buyers to offer a counter price; hence the name OfferUp.
How to Sell: Using OfferUp to sell used furniture online is quick and easy. Simply take a photo with your phone and upload it to the app. Fill in a few details such as description and location, and you're ready to go. The in-app chat feature lets you communicate with potential buyers easily and securely.
Pay and Fees: There are no fees to use the app and no charge to create a new listing. However, certain transactions may incur service fees or shipping costs when an item sells. All applicable costs are disclosed up front when using OfferUp.
What Else You Should Know: You can sell more than used furniture through the app. From cars to appliances, just about anything sells on this online marketplace. Buyers will see the results closest to them, but they can use keywords to search as well, pulling additional options.
Related: 8 Best Sites to Sell Clothes Online
3. Chairish
Overview: Chairish is an upscale resale site. Think of it as a cross between boho and flea market chic. It's a great place to sell used vintage furniture as well as art and outdoor furniture.
How to Sell: The Chairish Pink Book exists to help you determine the value of your items. Add up to six photos of your item at different angles and Chairish removes the background for your listing cover.
Pay and Fees: Depending on the sale price, Chairish takes either a 20% commission on sales up to $2,500 or a 3-12% commission for bigger-ticket items. Sellers cover shipping for small items while buyers pay for big and bulky stuff that requires white-glove service. If the buyer and seller are local, free pickup can be arranged.
What Else You Should Know: Chairish is not the place to sell used furniture from Ikea. However, it's a great platform to sell more specific and design-oriented finds such as a mid-century coffee table in excellent condition.
4. 1stdibs
Overview: Another great option to sell used furniture that's unique or vintage is 1stdibs. It's a global marketplace that connects furniture dealers, antique shops, and galleries with collectors, designers, and curators.
How to Sell: Start selling used furniture on 1stdibs by completing a dealer application. Once you're approved, you can start listing your items on the site. You'll be assigned an account manager who will schedule and monitor the shipping process for your items.
Pay and Fees: To list your items on 1stdibs, you'll need to pay a monthly fee. Additional charges include up to a 15% commission on each sale plus a 3% transaction fee for credit card use.
What Else You Should Know: If you live in New York City, 1stdibs has a showroom displaying a number of designers who use the site to sell unique finds.
5. AptDeco
Overview: Looking to part with some used furniture in good condition? Try listing it on AptDeco. The site boasts free returns, flat rate delivery, and a money-back-guarantee policy.
How to Sell: Furniture is free to list on AptDeco, and the process only takes a few minutes. Once your listing is complete, AptDeco will work on improving the visuals and providing additional details within the first 24 hours.
Pay and Fees: AptDeco charges a fee between 19% and 29% to help you sell used furniture. The exact fee amount will be disclosed right before you list your item for sale. Payment is processed after your item has been delivered and deposits to your account within two to five business days.
What Else You Should Know: To list your items, you must live in New Jersey or New York City. Boston and Philadelphia will be launching soon.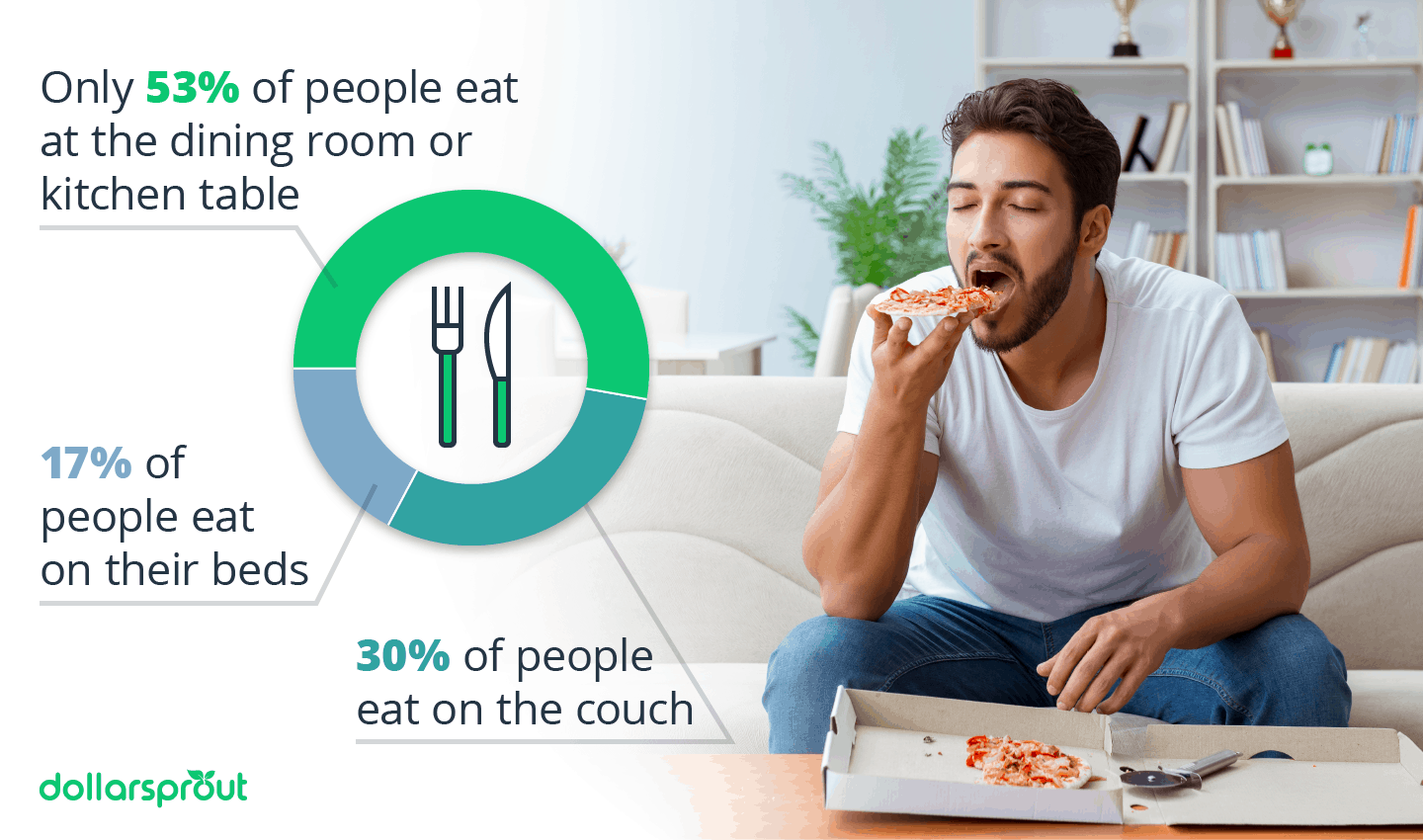 6. Etsy
Overview: When you think of Etsy, you may think of handmade jewelry or vintage clothing. However, Etsy offers a great option to sell used furniture as well. Vintage, handmade, and antique pieces are a perfect match for Etsy shoppers, and for an entrepreneur, a great way to make money fast.
How to Sell: To start selling on Etsy, you'll need to create a custom shop. Take photos of your items and upload them to your shop along with a description and price to begin the selling process. The standard shop option is free, and you can upgrade to the plus option for an extra $10/month at any time.
Pay and Fees: There's a $0.20 listing fee per item and a 5% transaction fee. Expect to pay an additional 3% + a $0.25 payment processing fee. You'll pay the commission only when you sell an item.
What Else You Should Know: Listings remain active for four months or until they sell. Use the Sell on Etsy app to manage orders, edit listings, and respond to buyers from anywhere.
Related: 13 Best Places to Sell Your Jewelry Online
7. Apartment Therapy Bazaar (Formerly Marketplace)
Overview: You can sell your used furniture items on the Apartment Therapy Bazaar from almost anywhere. It's a community-driven marketplace for vintage designer furnishings and accessories.
How to Sell: Simply create a storefront and start listing when you're ready to sell used furniture via the Bazaar.
Pay and Fees: Listing your items is free, so you don't need to worry about fees. The website also says that it's in the process of introducing on-site transactions.
What Else You Should Know: There's an iPhone app you can use to quickly upload photos and create listings. Once a product is listed, users can share it on select social media platforms.
8. Sotheby's Home (Formerly Viyet)
Overview: Sotheby's Home is an online marketplace for well-maintained, quality home furnishings. You can sell used antique, vintage, new, or gently used furniture, lighting, and accessories.
How to Sell: Your item must retail at $1,000 or more, be a designer brand, and be in good condition. Sotheby's Home team reviews each item before publishing it on its website and trying to match your furniture with potential buyers.
Pay and Fees: Sotheby's Home takes a commission from the net proceeds of the sale of your items. If you consign 20 or fewer items, the fee is 50%. For 21 or more items, it's 40%.
What Else You Should Know: The listing period is six months. Sotheby's Home will also send a social media and email blast with details about your used furniture listings.
Related: 6 Ways to Sell Electronics for Cash Before They End Up in a Landfill
9. Craigslist
Overview: Craigslist is the original local marketplace where you can sell anything from a dresser to a bicycle and everything in between. Because it's not furniture-specific, your item may get lost in the shuffle.
How to Sell: It's free and easy to list an item on Craigslist. Just complete the details about your piece and submit it. Adding photos can help you attract more potential buyers.
Pay and Fees: Using Craigslist to sell used furniture online is free. You must make arrangements with the buyer to pick up the items in person. Craigslist is a local marketplace, so there's no shipping option through the site. If you prefer to ship your items, you'll have to coordinate that with the buyer and take care of all shipping arrangements and costs yourself.
What Else You Should Know: Craigslist is one of the most popular online platforms for selling just about anything. As such, potential buyers will already be searching for the types of items you're looking to sell. Since Craigslist is a search engine, make sure you write good descriptions and use good keywords.
Related: 17 Best Places to Sell Textbooks for the Most Money
10. Facebook Marketplace
Overview: Facebook Marketplace is another great option to sell used furniture online. Potential buyers are shown items close to their location when browsing the platform.
How to Sell: It takes about 60 seconds to create a listing on the Facebook Marketplace, including details and photos for each listing. As an added bonus, posting your listing to local Facebook garage sales sites will boost your reach.
Pay and Fees: There are no fees for using Facebook Marketplace. All transactions are handled in person when you arrange for the item to be picked up.
What Else You Should Know: Facebook Marketplace is one of the best apps to sell used furniture locally while reaching your potential buyers online.
11. eBay
Overview: When selling items through eBay, you have a couple of different options.
How to Sell: You can either sell used furniture on eBay at an auction or for a fixed price. Listing items on eBay is a fairly straightforward process. Be sure to add photos to make your listing stand out.
Pay and Fees: Expect to pay a 13% commission fee on the final selling price of your furniture. You can choose local pickup for items that are too bulky and expensive to ship.
What Else You Should Know: To find relevant results, buyers can click on visual examples to make the process easier. You can sell both new and used furniture on eBay.
Related: Where Can I Sell My Phone? The Best Places to Earn the Most
How to Get the Most When You Sell Used Furniture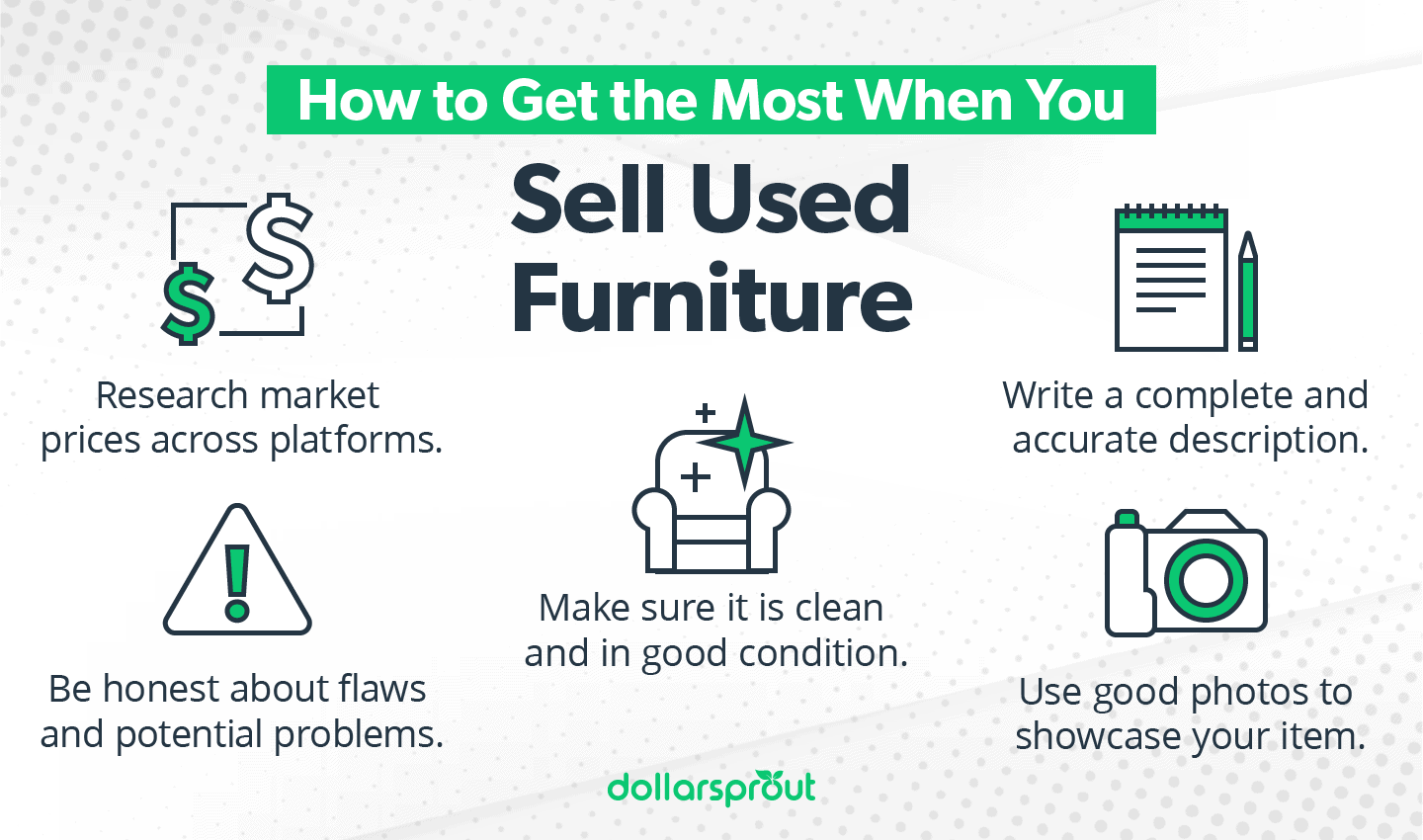 Looking to get the most money for the furniture you sell online? While some of the pricing for each piece is dictated by the market's going rate, there are a few things you can do to up your profit. Here are some suggestions to help you sell your items at top dollar if you need money now.
Differentiate your used furniture
When preparing to sell your used furniture online, keep the potential buyer in mind. Make sure the furniture is clean and in good condition. If you're selling a couch or other soft furniture, vacuum between the cushions and clean out any hair, crumbs, coins, etc.
Use good photos
Capturing good photos to showcase your item is half the battle when it comes time to selling used furniture online. Since prospective buyers can't see the item in person and touch it for themselves, pictures are crucial.
Make sure the photos are clear and there's good lighting. Take close-ups of important details or any potential problem areas. Include photos from all different angles: front, back, and sides. By being transparent and upfront, you have a better chance of attracting interest and getting your item sold.
Write a complete (and accurate) description
Try to be as factual and accurate as possible when writing out the description. Include important details that may be relevant such as a scratch, a special feature, or material details. Also, note if your piece was in a smoking home or a place with pets.
Since many of the websites where you can sell furniture are also search engines, use good keywords to describe each item thoroughly.
Be honest
To be successful when it comes time to sell used furniture online, you need to be honest. Don't fudge the truth or try to gloss over any potential problems when listing your item. Sooner or later, the buyer will find out and this could jeopardize your transaction.
It could also result in bad reviews, which will harm your reputation if you plan to sell more used furniture in the future.
Research market prices
Do some high-level research for each piece of used furniture you plan to sell online. Compare prices of similar items across multiple platforms.
Sell Your Used Furniture Wisely
There's really not one perfect platform for selling your used furniture and other goods online. For maximum success, it's a good idea to list your furniture piece(s) on multiple online marketplaces.
This will ensure that your items reach a larger audience of potential buyers. Do your research and focus your efforts on the platforms that offer the best fit for what you're selling.