23 Best Places to Sell Crafts Online
Advertiser Disclosure
Our readers always come first
The content on DollarSprout includes links to our advertising partners. When you read our content and click on one of our partners' links, and then decide to complete an offer — whether it's downloading an app, opening an account, or some other action — we may earn a commission from that advertiser, at no extra cost to you.
Our ultimate goal is to educate and inform, not lure you into signing up for certain offers. Compensation from our partners may impact what products we cover and where they appear on the site, but does not have any impact on the objectivity of our reviews or advice.
Making crafts is often an expensive hobby. But if you're really talented or interested, you might be able to turn your hobby into a side hustle, and maybe even a full-time business. Here's how to sell your crafts online.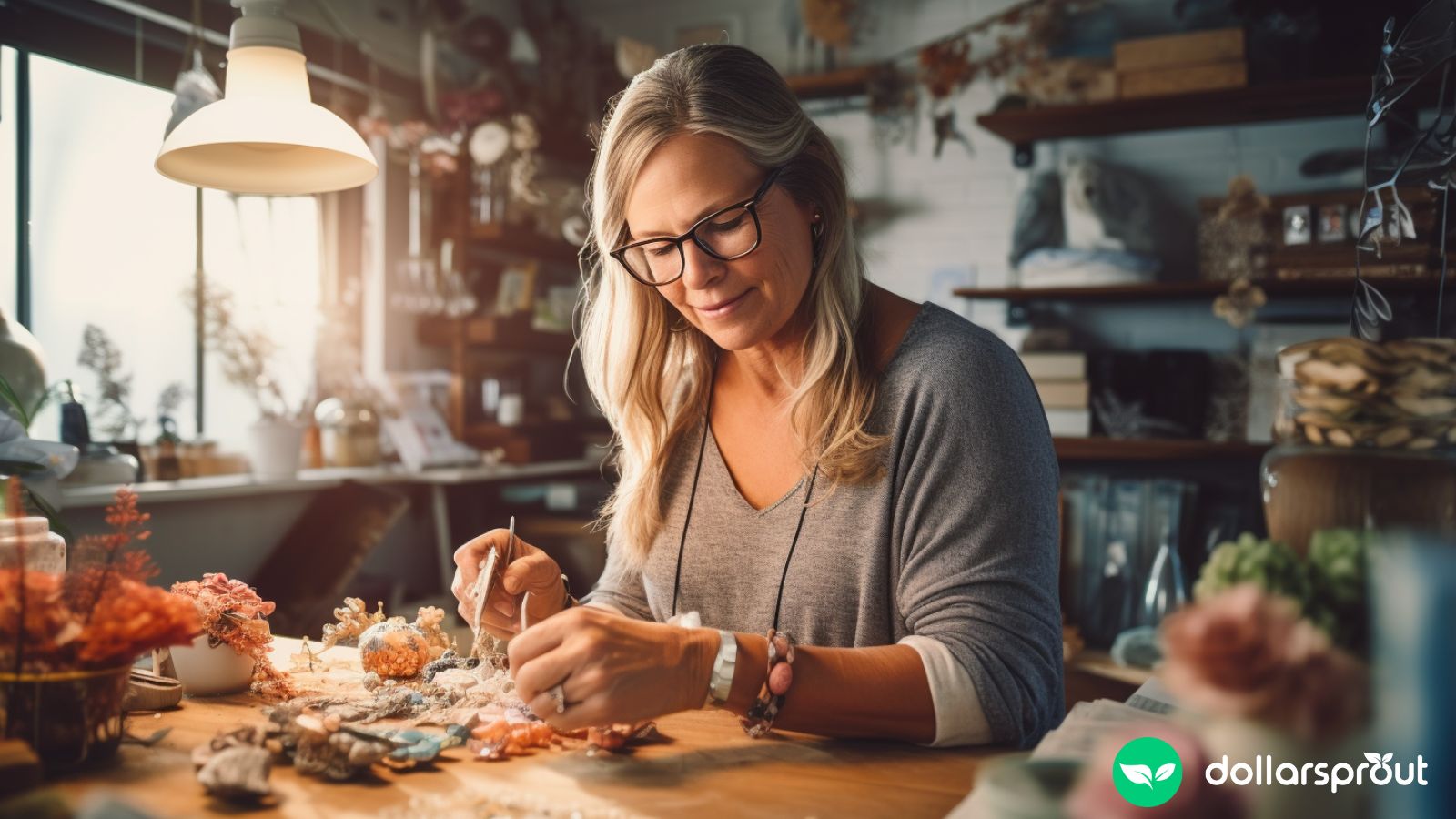 Making crafts is often an expensive hobby.
But if you're really talented or interested, you might be able to turn your hobby into a side hustle, and maybe even a full-time business.
Just ask Alicia Shaffer, who makes $80,000 per month selling handmade clothes on Etsy. Alicia is probably an outlier, but since the craft business is estimated to be worth $44 billion, there's room for you even if you only make a few crafts at home in your spare time.[1]
If you're going to sell crafts online, you need to create a plan to ensure that you'll be making money instead of spending more than you earn. Part of that plan involves where and how to sell your crafts, because this has a big effect on your costs and how many people will see your items.
Best Sites for Selling Your Handmade Crafts
Selling your crafts online is one of the easiest ways to get started. Most successful crafters choose several online selling sites to boost their chances of reaching customers. Remember, don't choose more than you can manage on a day-to-day basis.
1. Etsy
Etsy is the most popular online craft marketplace. In 2018, over two million sellers sold their wares to more than 39 million buyers.[2], [3]
Sellers create a "shop" that groups all of their items in one place. Etsy allows people to sell vintage and even digital items including printables, but you'll also find a lot of physical, handmade goods.
One of the downsides of selling handmade items on Etsy is that you have to pay a $0.20 listing fee for each item, regardless of if it sells or not. You'll pay an extra 5% transaction fee if it sells. Other fees include advertisements and, using Etsy's payment processing system.
Related: E-Printable Side Hustle Course: How to Create and Sell Your First Etsy Printables
2. Shopify

Shopify isn't a marketplace where people shop for handmade items like Etsy. Rather, it's a set of e-commerce tools that let you create your own shop. You can customize how it looks and pick a custom domain name, so it looks more professional.
Shopify charges a steep fee of $29 to $299 per month depending on how many features your account comes with, but you can sign up for a 14-day free trial to see if you like it. This is only a good choice for high-volume craft sellers.
3. Your Own Blog
You can also sell things directly from your blog or WordPress site. This can be a little tricky because you'll have to figure out a payment processing system, which is what many people use Shopify for. WooCommerce is a popular, less expensive option, but it does have a steep learning curve for beginners.
Starting a WordPress blog isn't difficult, but you need to be tech-savvy to do so. That's why many people choose an easier option such as Etsy. Selling crafts online through your own website may be cheaper in the long run and can also make you look more professional.
4. Handmade at Amazon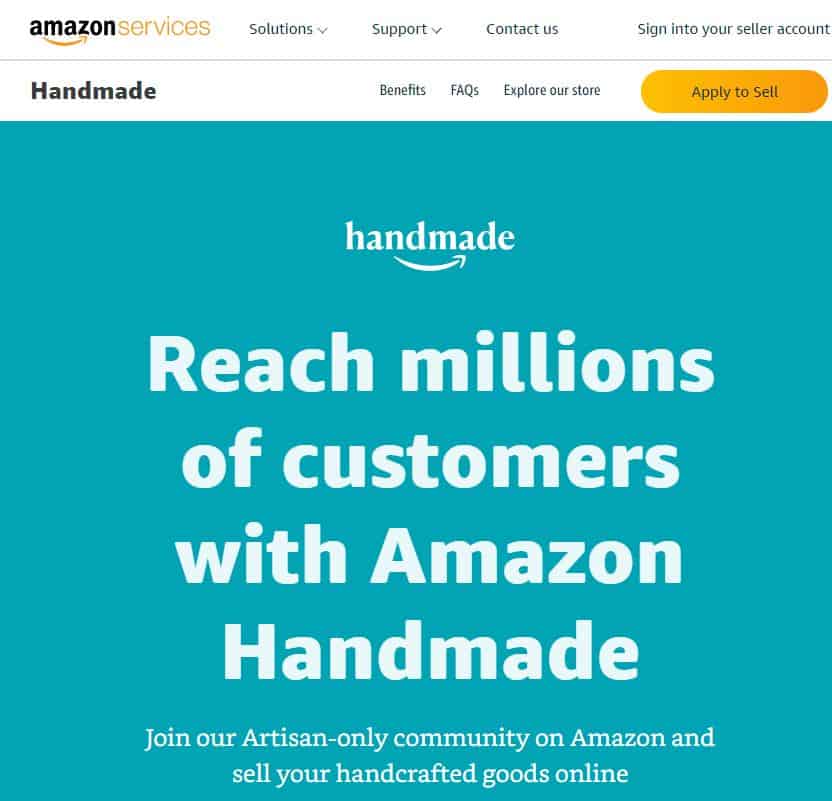 You can sell your handmade crafts on Amazon as well, but the process to get started is a little more rigorous. You need to fill out an application that's individually reviewed to make sure you personally are the one making your items from scratch.
There's also a more limited number of categories compared to other craft websites, but you'll still find all the common ones such as jewelry, clothing, and personal care products.
Handmade at Amazon charges a high 15% referral fee (minimum $1) per transaction. You can take advantage of Amazon's FBA program, which allows you to eliminate the hassle of shipping items.
5. Artfire
Artfire offers you a place to sell your crafts under seven master categories: Jewelry, Wedding, Clothing & Accessories, Childrens, Home & Living, Craft Supplies & Tools, and Entertainment. Artfire includes your items in Google search results, so if you're an SEO whiz you could drive traffic and earn more selling crafts online.
Artfire is another marketplace that may be better for established sellers because of its fee structure. The lowest fee is $4.95 a month with a $0.23 listing fee per item, and a 12.75% commission when you make a sale.
If you sell more items, it may make more sense to pay a $40 monthly fee, which allows you to avoid listing fees and only pay a 4.75% commission. Either way, it's an expensive site to use.
Related: 13 Best Places to Sell Your Jewelry Online
6. eBay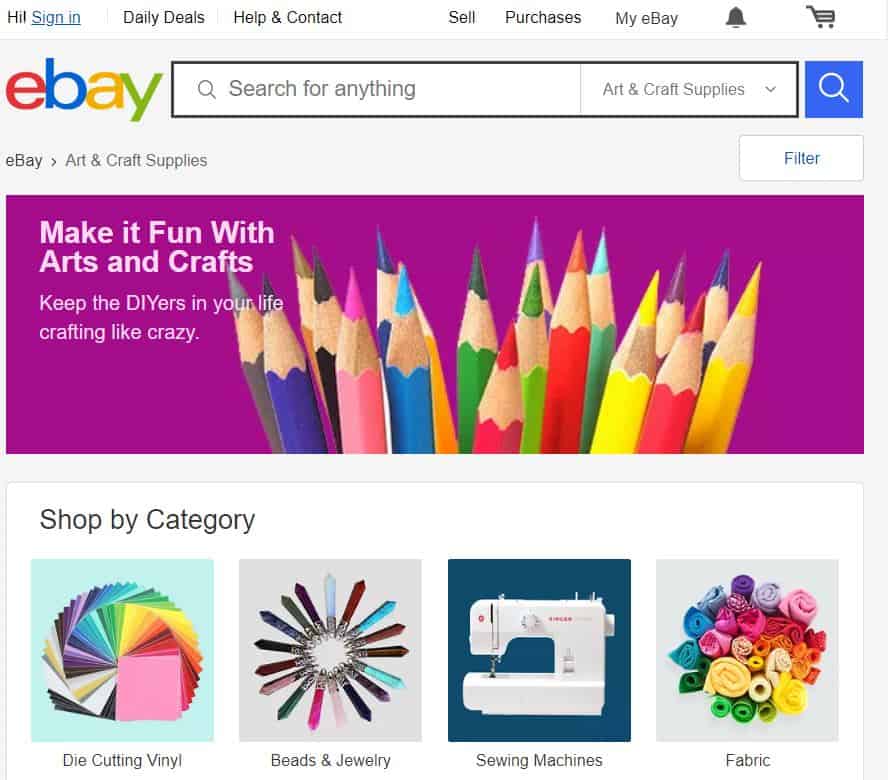 eBay attracts a large number of buyers and sellers, but it's not exclusively focused on crafts. It's a popular place to sell anything, especially if you need money now. Still, you might be able to take advantage of this platform if you're selling a type of craft people are looking for.
eBay has a decent fee structure. There's no listing fee, and you only pay a commission if your item sells. There may be extra fees if you have more than 50 listings per month, but this is still a good option for low-volume sellers.
7. BigCommerce
BigCommerce is another shop-creation platform for online businesses, similar to Shopify. BigCommerce allows you to create your own shop that you can integrate into your website, instead of having your shop hosted on another marketplace like Etsy or Artfire. You can also use BigCommerce to integrate your store directly with Amazon and eBay.
BigCommerce offers a 15-day free trial, but it gets expensive after that. The company charges between $29.95 and $249.95 per month, and it doesn't include payment processing. You'll need to hook up your own third-party payment system, although BigCommerce does offer a discount with Paypal on credit card transactions.
8. Bonanza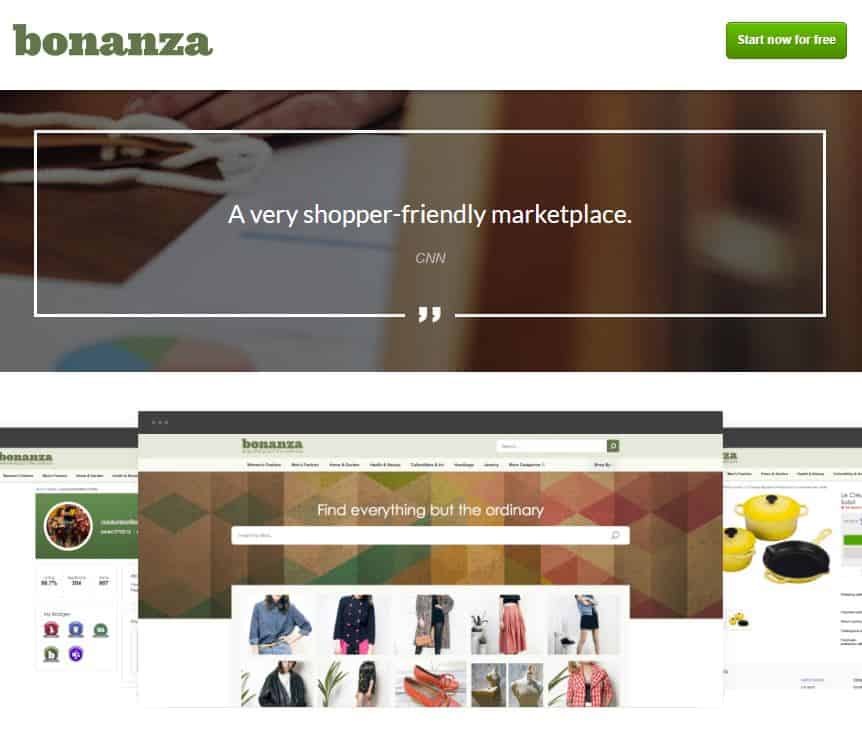 Bonanza is an alternative to eBay. You can find all sorts of items on here, although handmade crafts seem to be more prevalent than on eBay. Bonanza even has an import feature so if you already have listings on Amazon, eBay, Etsy, or Shopify, you can import them directly into Bonanza so you can list the same item easily on multiple sites.
Bonanza's fees are also relatively reasonable. There's no listing fee, and if your item sells, you'll pay a 3.5% commission (minimum $0.50) for items under $500, and a 4.5% commission for items over $500.
9. Folksy
Folksy is the UK's version of Etsy, and it doesn't allow non-UK crafters to set up a shop on the platform. The site claims to attract over 250,000 buyers every month, so if you live in the region, it could be a very lucrative platform for you.
You can sell your wares through a Basic account with a listing fee of £0.15 + VAT and a sales commission of 6% + VAT. If you plan on making a lot of sales and want to upgrade, you can also choose a Folksy Plus account for £5 per month, which lets you avoid the listing fees for each item.
10. AbsoluteArts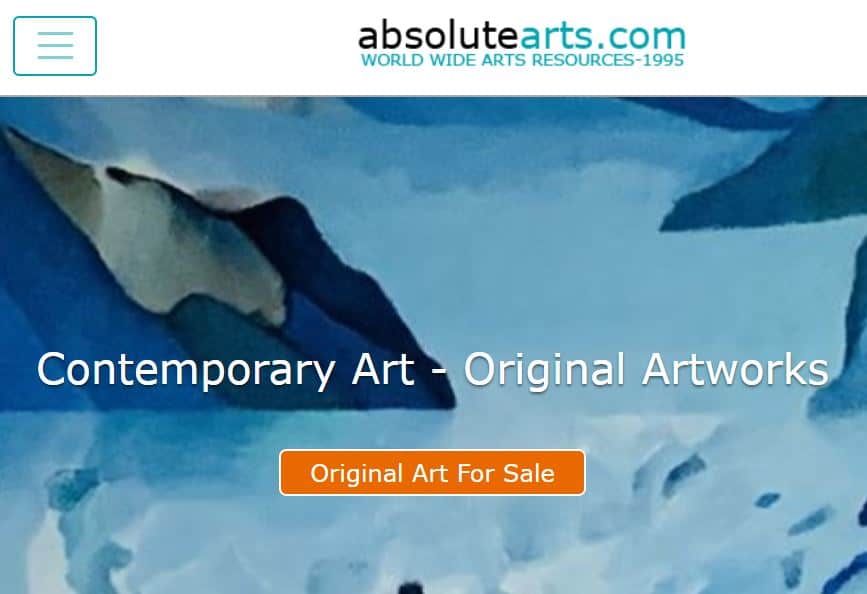 AbsoluteArts is a marketplace for people who specialize in making artistic pieces, such as paintings or sculptures. You can use AbsoluteArts as a portfolio to showcase your artwork or sell your art directly on the website.
Unfortunately, the site isn't very well-designed, and it's difficult to get information at times, but it does have an active community of artists.
AbsoluteArts offers three different levels: Free, Midlevel ($55/year), and Premiere ($100/year). If your artwork sells, you'll pay a commission between 20% to 35% depending on your membership level, plus a 5% handling and processing fee.
11. iCraft
iCraft is a craft site based in Toronto, but you can open a store even if you don't live in Canada. You can find all sorts of crafts on iCraft, including jewelry, handknit items, decorations, and more.
iCraft has one of the best fee policies. You pay a one-time $25 registration fee to get started and an ongoing subscription fee ranging from $10 to $15 per month depending on how many months in advance you pay.
After that, there are no listing fees, commission fees, or processing fees. All the money you make after you pay the registration and subscription fees is yours to keep.
Related: 150+ Best Side Hustle Ideas to Make Extra Money on the Side
12. eCRATER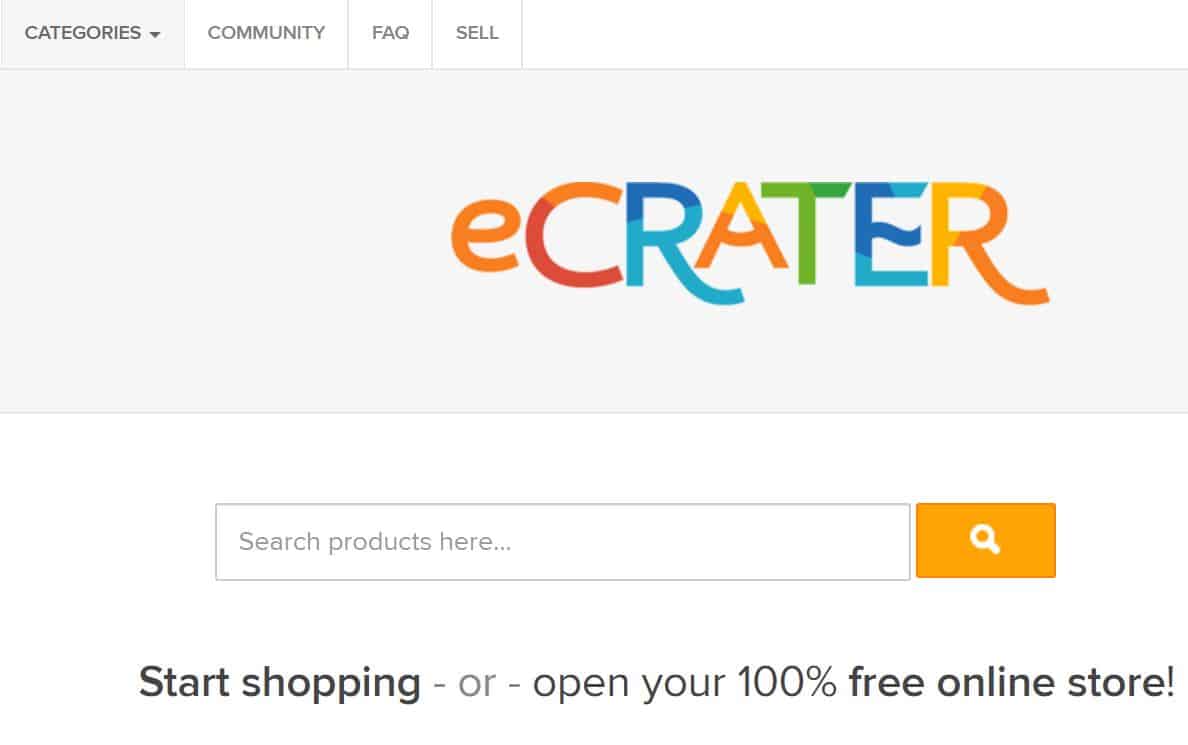 eCRATER is a general online marketplace where anyone can open a store, similar to eBay. But it's not an auction site. Anyone can sell anything they want from their storefront at a set price, with no room for negotiating.
eCRATER does have a "crafts" category, but the subcategories within this are limited to 17 options, most of which are actually craft supplies and not handmade items themselves.
Setting up a storefront on eCRAFTER is free, and there are no listing fees. If you make a sale through the eCRATER marketplace, they will charge a 2.9% fee.
13. Handmade Artists' Shop
The Handmade Artists' Shop is a small crafts marketplace and doesn't have the same saturation as Etsy or other sites (currently, there are only 17 scarves for sale.) The site also seems to have more art and jewelry for sale than other types of crafts, but that doesn't mean you should discount this website.
The Handmade Artists' Shop has a lot of potential due to its low fee structure. You need to pay either a monthly fee of $5, or an annual fee of $50. There aren't any listing or commission fees after this, so it's another cost-effective way for selling crafts online.
14. Zibbet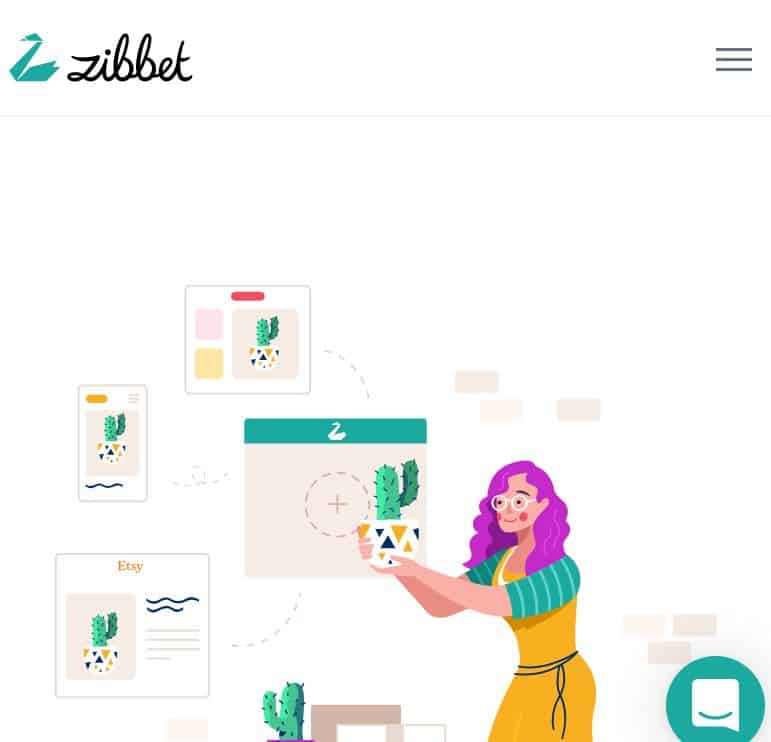 Zibbet lets you sync your business across four craft-selling websites: Etsy, the Zibbet marketplace, the A.C. Moore marketplace, and on Stitch websites.
If you make a sale on one website, your inventory will be automatically updated on the other ones so you can avoid selling more than what you have in stock.
You can also edit all of your listings at once with Zibbet. Zibbet offers a 14-day free trial and costs $5 to $6 per month for each platform you sell on, depending on whether you buy a monthly or annual plan.
15. Hyena Cart
Sellers on Hyena Cart are focused on earth-friendly and family-friendly items, although there aren't as many items for sale as on other websites.
Hyena Cart is specially designed for sellers who make popular items that sell out quickly or who have limited handmade crafts to sell. Hyena Cart charges a $10 setup fee, although it often runs promotions where you can get started for as little as $0.01.
After that, you'll pay a $5 monthly fee. There are no listing fees or commissions, although you'll have to pay the standard PayPal processing fee if you allow PayPal payments.
16. Facebook Marketplace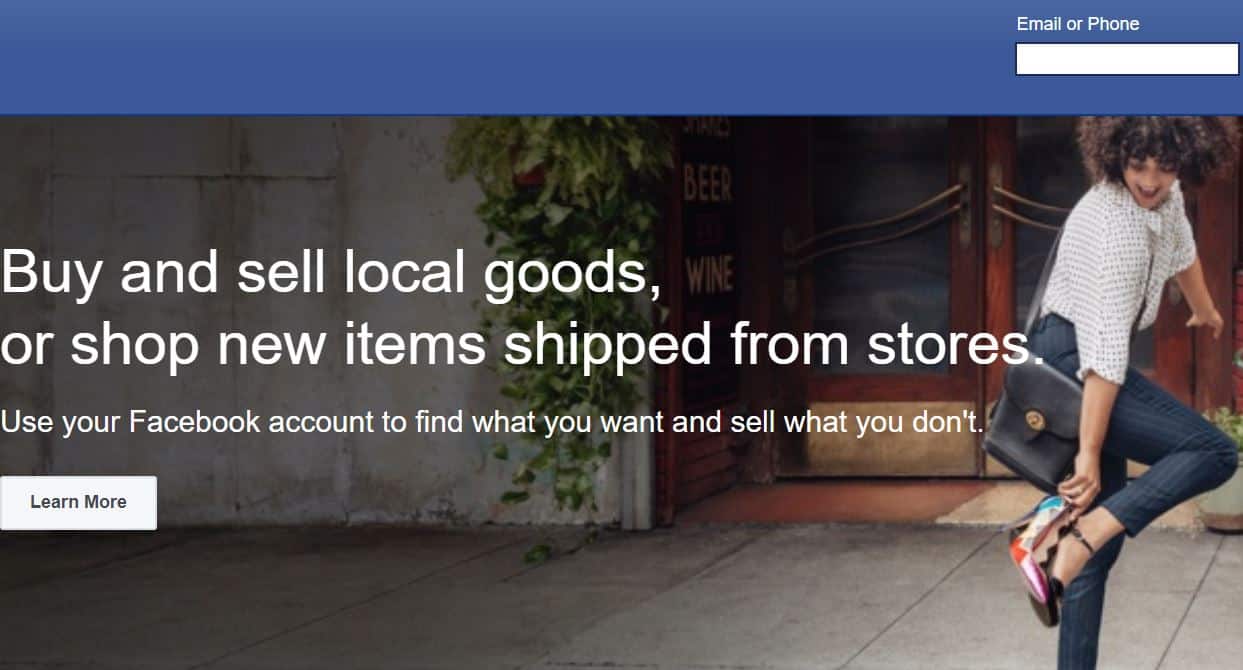 Facebook has a large number of users that you can reach through the Facebook Marketplace. The downside is that people on Facebook aren't necessarily looking to shop for crafts, but you may be able to make some sales to people looking to buy locally.
There are no fees for using the Facebook Marketplace, so you don't have anything to lose except the extra time it takes to list items for sale. Be warned that potential buyers can see your Facebook profile, so it may be a good idea to set it to "private."
17. Social Media
Aside from Facebook, other social media sites are also promising if you want to sell crafts online. Some, like Instagram or Pinterest, even let you make purchases on the platform, and this can be especially lucrative if you're good at taking Instagram-worthy pictures and have a good following. Pinterest may be a good option to drive traffic to your stores on other websites, such as Etsy or Shopify.
Related: 28 Best Selling Apps to Sell Stuff Online (and Locally)
More Sites for Selling Your Designs and Patterns
Selling patterns and designs can produce passive income because you don't have to keep creating individual items. You create the design or pattern once and can get paid many times with no additional work.
18. Teespring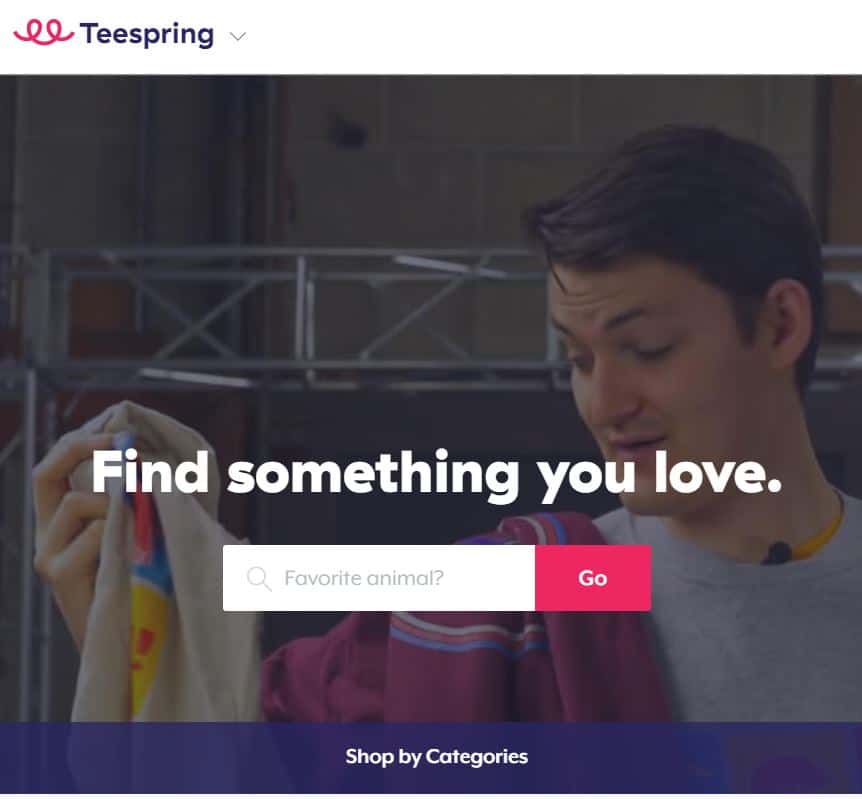 If you have good ideas for T-shirts, Teespring might be a good way for you to make fast money. Teespring specializes in custom T-shirts, but you can also create designs for other items like mugs, socks, and home decor.
Teespring items each cost a set price for creation and order fulfillment, with different pricing tiers depending on your monthly sales volume. For example, for people who sell less than 100 T-shirts per month, a unisex T-shirt costs $10.57 to produce and ship.
You choose the price of the T-shirt, and anything above the set price tag is yours to keep. If you price a unisex T-shirt at $15, for example, you'd keep $4.43 ($15 minus $10.57) from the sale.
19. Society6
If you like creating clever designs, you can pair with Society6 to put your art on products such as pillows, wall art, throws, comforters, and smartphone cases. You keep the rights to your work, and every time someone makes a purchase, Society6 will fulfill the order so all you have to worry about is getting a paycheck every month.
You will pay extra for the convenience. As an artist on Society6, you'll only get 10% of each order. Still, this is a passive source of income, and you don't have to deal with returns, shipping or talking to customers.
20. Zazzle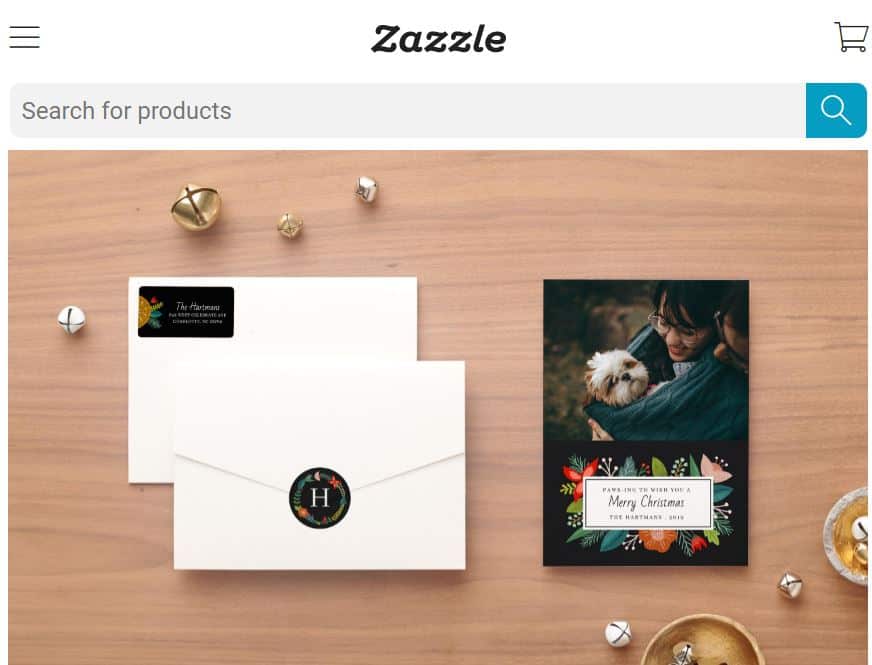 If you're looking for a wide range of items to place your designs on, Zazzle is a good option. Zazzle offers hundreds of items that you can sell your custom artwork on, including skateboards, baby pacifiers, duvet covers, puzzles, and more.
Zazzle offers a unique fee structure because you name your own royalty price. For example, you can choose whether you make a profit of between 5% and 99% of the sales price, although Zazzle recommends a royalty price of 10% to 15%.
The higher your cut, the higher the sales price will be, which may drive away buyers. If you have an especially popular item, you can increase the royalty price so that you earn more.
21. CafePress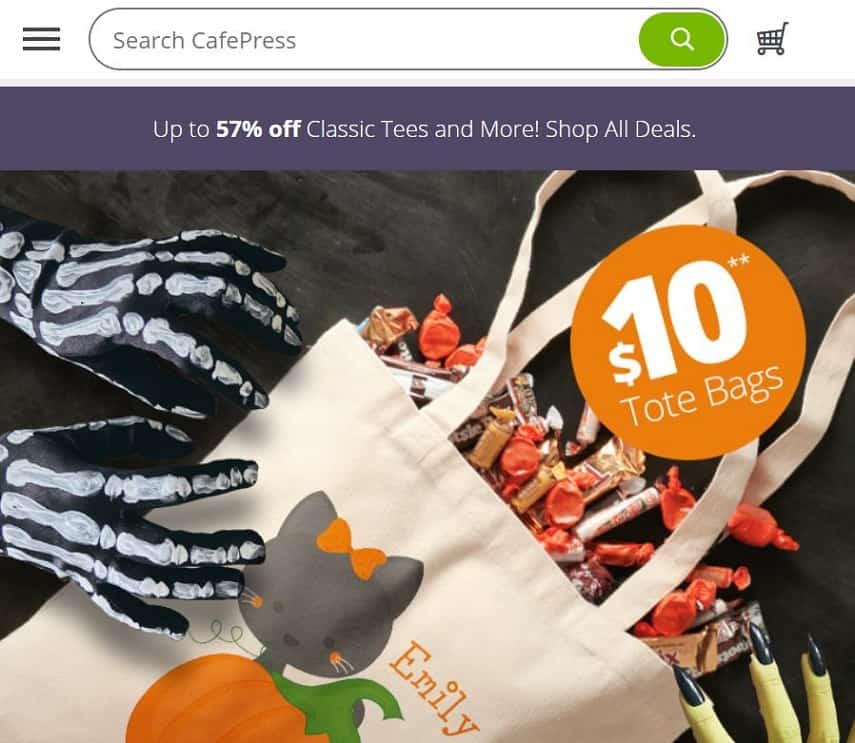 CafePress lets you sell your own designs on a wide range of items, such as mugs, cell phone covers, and water bottles. CafePress is one of the more well-known sites where people go to get unique items with cool artwork, so you may find a larger audience on this website.
CafePress offers two options for selling your own designs. You can sell your designs through the CafePress Marketplace and make a profit between 5% to 10% of each sale, or you can create your own shop where you can name your own price for each product. Each item has its own base price, so by setting up your own price you can essentially choose how much profit you receive.
22. Spoonflower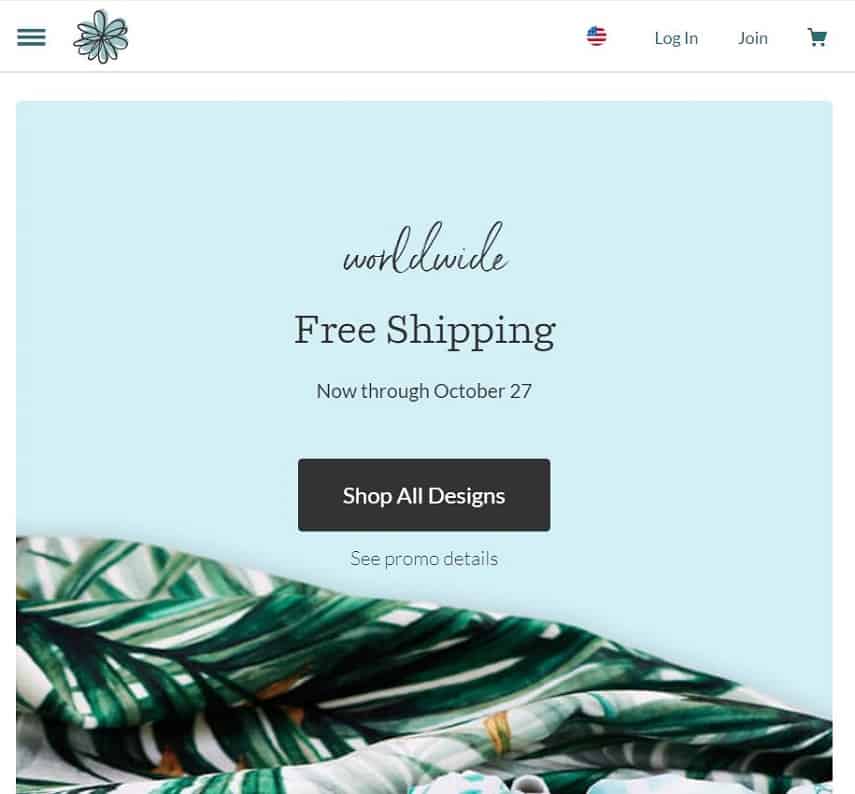 If you're good at creating repetitive designs, then Spoonflower might be a good option for you. This website specializes in allowing you to sell patterns that can be printed on things like fabric and wallpaper to allow others to create their own custom crafts using your designs.
Spoonflower offers you a 10% to 15% commission for sales of your patterns. You can even opt-in to its "free design distribution services," which allow your pattern to appear on other websites like Amazon or eBay so that you can reach even more potential buyers.
23. Redbubble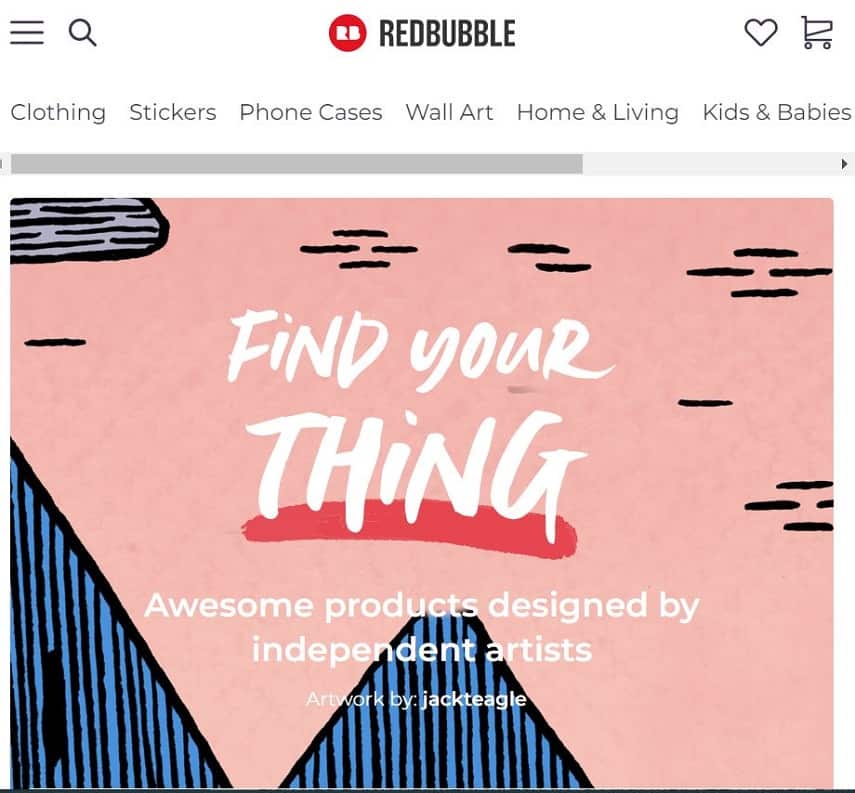 Redbubble is an Australian company, but you can still use the platform if you live in the U.S. Anyone, regardless of where they live, can use Redbubble.
It works like other design-selling websites, offering you the ability to upload your designs so that people can order them on tote bags, T-shirts, stickers, and more. Although you can sell any designs, Redbubble is particularly popular for selling pop culture fan art.
Redbubble sets your default commission rate to 20%, although you can change this at any time. Redbubble also has a $20 payment threshold, so you may need to wait a little while for payment if you're selling low-cost items like stickers.
Related: 50 Legitimate Ways to Make Money Online Now
How to Sell Crafts Online the Right Way
It can be a lot of fun to turn your hobby into a business, but you need to treat it like a business to make a profit and turn it into a viable side hustle.
Take high-quality pictures of your items.
People can't physically see and handle your items to judge their quality before they buy them, so good photos are key. Without multiple high-quality photos, people are less likely to buy from you.
"Good photos can make or break your product, but I do not think you need professional-level photos to adequately advertise your product," said Jessica Underwood, who sells an average of $500 per month with her crochet pattern business Stitching Together.
"Good lighting and staging are the most important, and truth be told, I am still taking pictures with my iPhone and not a fancy camera."
Keep track of your time.
Crafting can keep you happily occupied for hours. But when you're a business person, time is money, and the longer you take to make something, the less return you'll see.
For example, if it takes you 20 hours to knit a sweater and you sell it for $50, that works out to an hourly wage of $2.50 per hour, and that's before taxes and expenses are factored in.
"I constantly have to evaluate what I am spending time on and if it benefits my customers and has a return on investment for the business," Underwood said. "Trello is my favorite management tool besides my giant desk calendar."
Ask for customer reviews.
Social proof is a powerful motivator for people to trust and buy from you. There's no better way to prove to potential buyers that you sell good products than a five-star shop rating.
You can come up with creative ways to ask for reviews, such as including a hand-stamped tag attached to each of your items asking people to leave a review or including a handwritten thank-you note with every purchase.
Share your goods on social media.
The old slogan of "if you build it, they will come" doesn't work for e-commerce. Instead, you need to become a marketing whiz and share your products on social media to help buyers find them.
"Pinterest is the biggest driver of traffic to my free patterns, however I haven't had much luck driving traffic from Pinterest directly to any of my shops," said Underwood, who sells printable PDFs of the free patterns on her website. "When I have a viral pin to a free pattern though, my sales on all three platforms – Etsy, Ravelry, and Shopify – jump!"
Related: 36 Best Places to Sell Your Shoes Online for Cash
There Are All Kinds of Crafty Things to Make and Sell from Home
The world of selling crafts online is as diverse as you can imagine. You can sell sewing patterns, custom sportswear, printable planners, religious items, ready-made crafting kits, and more.
"Making money online sounds like a breeze – slap a couple of patterns up on a website and you are good to go, right? It isn't easy," Underwood said. "It requires time, dedication, and so much learning and creativity. There is work involved that you won't love, such as social media for me. But you are your own boss, and you can make something beautiful from this dream."