16 Best Alternatives to Amazon for Shopping Online
Advertiser Disclosure
Our readers always come first
The content on DollarSprout includes links to our advertising partners. When you read our content and click on one of our partners' links, and then decide to complete an offer — whether it's downloading an app, opening an account, or some other action — we may earn a commission from that advertiser, at no extra cost to you.
Our ultimate goal is to educate and inform, not lure you into signing up for certain offers. Compensation from our partners may impact what products we cover and where they appear on the site, but does not have any impact on the objectivity of our reviews or advice.
Not everyone is a fan of the behemoth that is Amazon. If you're looking alternatives to Amazon for ethical or political reasons, or you simply want to try to find a cheaper deal elsewhere, here are a dozen other places to consider.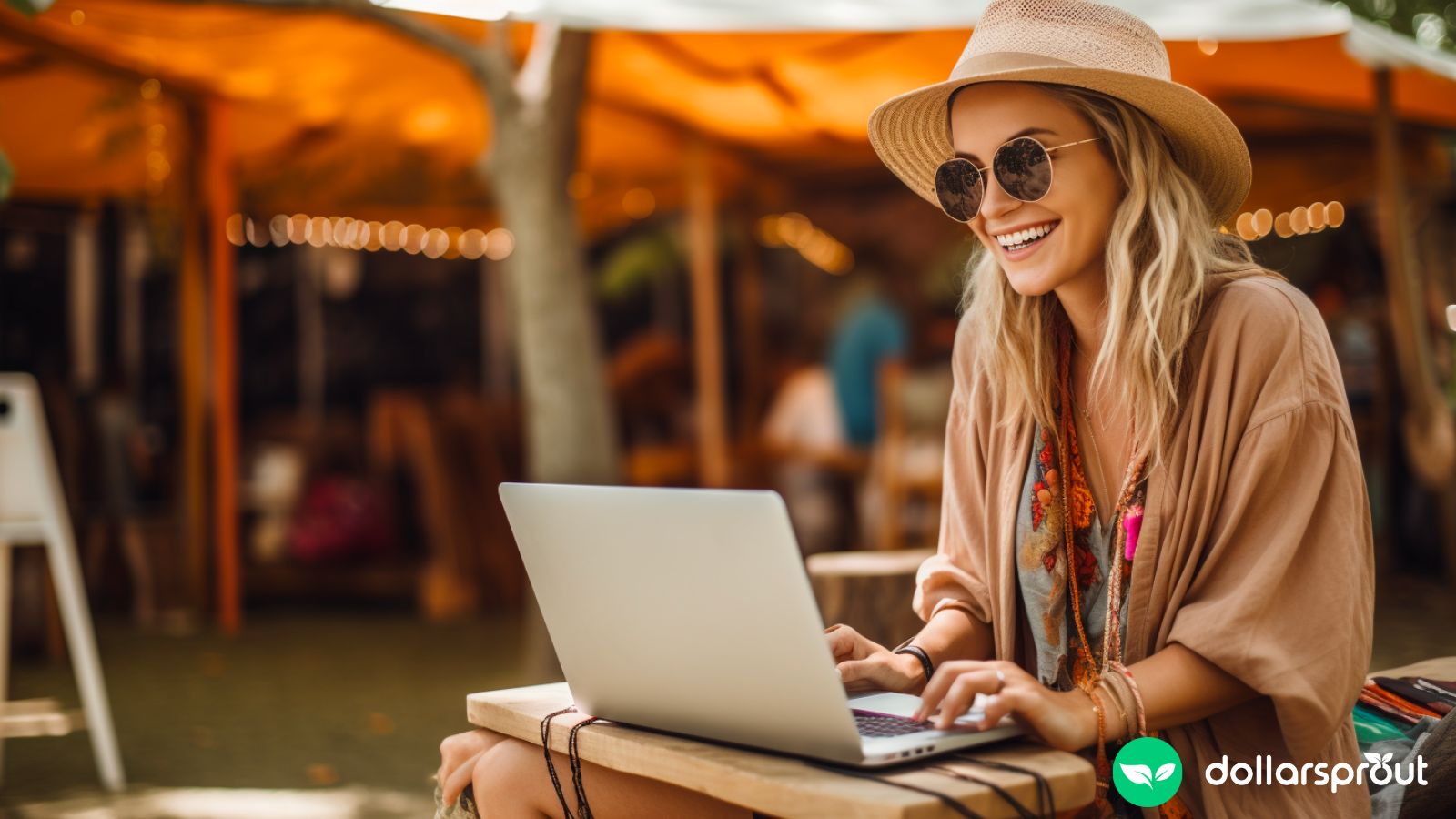 Most consumers agree that shopping on Amazon is quick and convenient.
It caters to your desire to save time, avoid crowded stores, and you can scroll through thousands of items with a few clicks or swipes. In many ways, Amazon has revolutionized the retail industry in this era of convenience.
Amazon was always my go-to option when I didn't have time to run to a traditional store. I bought most household goods and several gifts from its site thinking I was saving time and money. And with high competition in the e-commerce world, I assumed Amazon's prices were competitive, if not the cheapest.
My blind loyalty ended when I found that Walmart.com sold the exact same printer ink I bought on Amazon for almost $20 less.
As it turns out, many shoppers have had similar experiences. Prices for home goods on Amazon are 34% higher than the same products at Walmart, according to an article by Business Insider[1].
Even if you can afford to spend more to shop at Amazon, why should you? Luckily, there are alternatives to Amazon that can save shoppers even more time and money.
The Best Websites Like Amazon to Do Your Shopping
Amazon's overwhelming selection of products doesn't guarantee it'll have what you're looking for at the best price. This is when shopping at sites like Amazon can help. You might find more specialized items with better prices, offers, and deals.
1. Target
Target.com is an Amazon alternative that carries a similar range of goods. The site offers competitive prices and gives an extra 5% off to Target REDCard holders.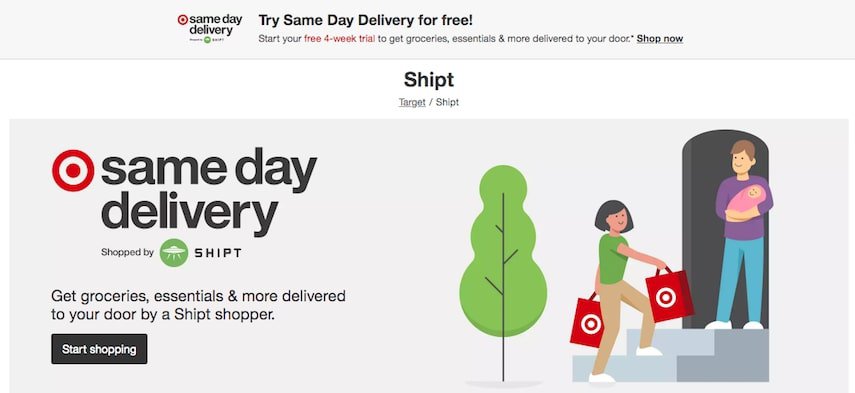 Target has several of the same time-saving delivery options shoppers find at Amazon, including:
Same-day delivery with Shipt
In-store pickup for online orders
Drive-through delivery to your car
Free next-day shipping on daily essentials of $35 or more
Free 2-day shipping when you use your REDcard or spend at least $35
Target's subscription option rivals Amazon's Subscribe and Save program. Subscribing to deliveries with Target awards you with free shipping and 5% off every order.
2. Overstock
One of the best websites like Amazon is Overstock.com. The site doesn't sell food or beverages, but the selection of trendy furniture, home decor, electronics, and office supplies doesn't disappoint.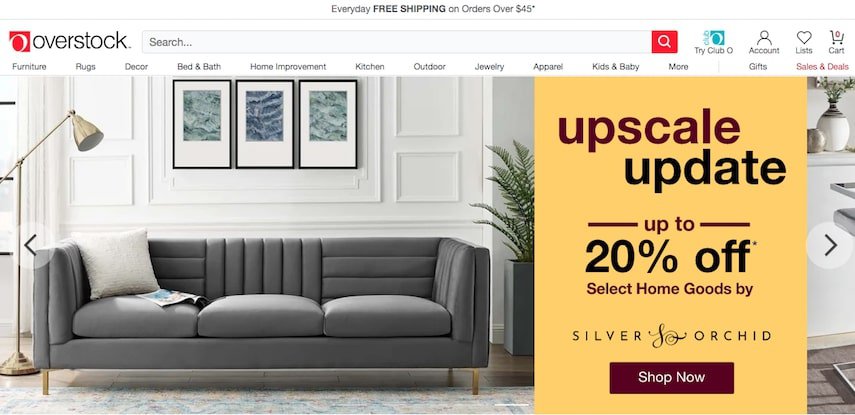 Purchase totals over $45 ship for free and are only $4.95 if the order doesn't meet that minimum amount.
Another perk of buying on Overstock is the return policy. Your refund amount will include the full cost of the item plus any shipping charges paid if you start the return process within 30 days of your order.
Overstock's membership is an excellent alternative to Amazon Prime. Called Club O, it costs a mere $19.95 per year.
Benefits include:
Free shipping on every purchase
5% back in rewards
Competitor price matching guarantee
Up to $40 in rewards for reviewing a purchased product
Up to 45% savings in the Club O Extra Rewards Store
3. AliExpress.com
AliExpress is a massive shopping site that sells products at much lower prices than you'd find on Amazon. This company cuts out the middleman with its factory-direct store model.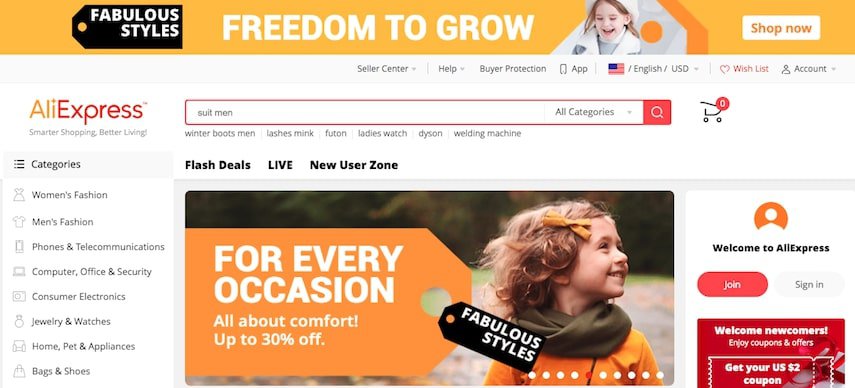 The site has thousands of items that range from high-end merchandise to discount and bulk deals. On AliExpress, you get bargains on clothing, computers and electronics, pet products, beauty items, automobiles, and home improvement.
4. Newegg.com
If you're shopping for electronics and tech products, Newegg.com is one of the best alternatives to Amazon you'll find. The excellent customer service, daily deals, and fast shipping are major draws of this leading e-commerce site.
Newegg matches Amazon's excellent shipping with items arriving in as few as one business day. Some larger items, such as televisions or appliances, come with a White Glove Delivery option. This superior service will deliver your purchase to your room of choice, unpack the item, and take care of excess packaging remnants.
For even more savings, the Newegg Outlet sells open box, clearance, and refurbished electronics at discounted prices.
5. Barnes and Noble
Next to Amazon, Barnes and Noble is the go-to retailer for books of all kinds. It has a well-established online presence and over 600 bookstores throughout the U.S.
Barnes and Noble also offers excellent prices on gifts, games and collectibles, art supplies, and decorative goods. Looking for other bookseller sites? Books-A-Million, Powell Books, and other indie bookstores have an online presence as well.
6. BuyDig
BuyDig's site claims it's the "Internet's Digital Superstore." Comparable to Amazon, this site is known for selling the best computer, sports and fitness, office supplies, TV, kitchen, and houseware brands.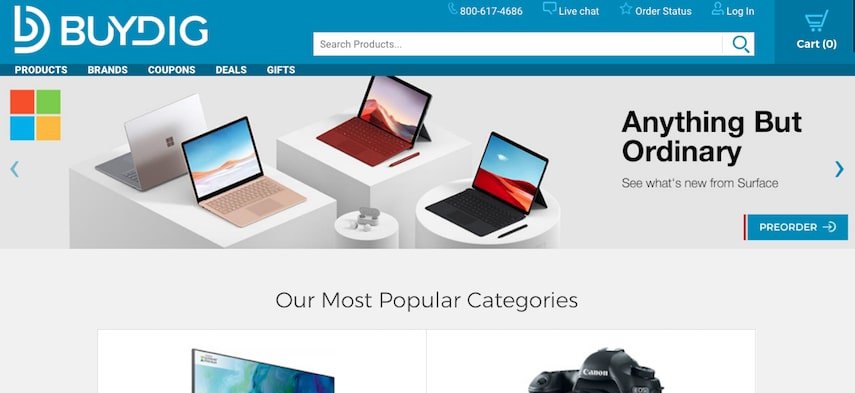 Free ground shipping is always available, though it frequently features free upgrades for faster shipping.
Like Amazon, BuyDig has a straightforward return policy and can issue a full refund if you change your mind about a purchase.
7. eBid
Online auction site eBid has some of the best prices on new and used goods in all product categories. As of 2019, the site has over 2.7 million items for sale.
eBid has 28,000 categories to choose from and sells items like:
Football jerseys
Antique lamps
Vintage jewelry
Bicycle parts
iPhones
Designer cologne
Nursery bedding
Related: 13 Best Places to Sell Your Jewelry Online
8. Online Marketplaces
When shopping online, sometimes the best value is found directly from sellers in your area wanting to get rid of their things.
Local Facebook Groups have been known to offer steep discounts on everything from laundry soap and clothing to electronics, camping equipment, and furniture. Facebook Marketplace has also gained popularity as a site to find low-priced items.
Another well-known online marketplace is letgo. Letgo allows shoppers to find local goods in their own neighborhood through the app and website.
Alternatives to Amazon for Selling Your Stuff
Selling your stuff online can help if you need cash or want to free up space in your home. Amazon's Trade-In program is an option, but it only pays in Amazon gift cards and processing could take up to 10 days or more.
There is a multitude of alternative websites that offer similar or better buy-back options as Amazon.
9. Decluttr
Decluttr fast-tracks the process of selling unwanted items. There's no hassle of taking photos to list an item for sale or waiting to find a buyer.
It can buy CDs, DVDs, games, books, cell phones, tech gadgets, and LEGO® products directly from you.
The app has a free valuation tool that gives price estimates instantly. If you accept the offer, you pack and ship your items to Decluttr using the free shipping label provided.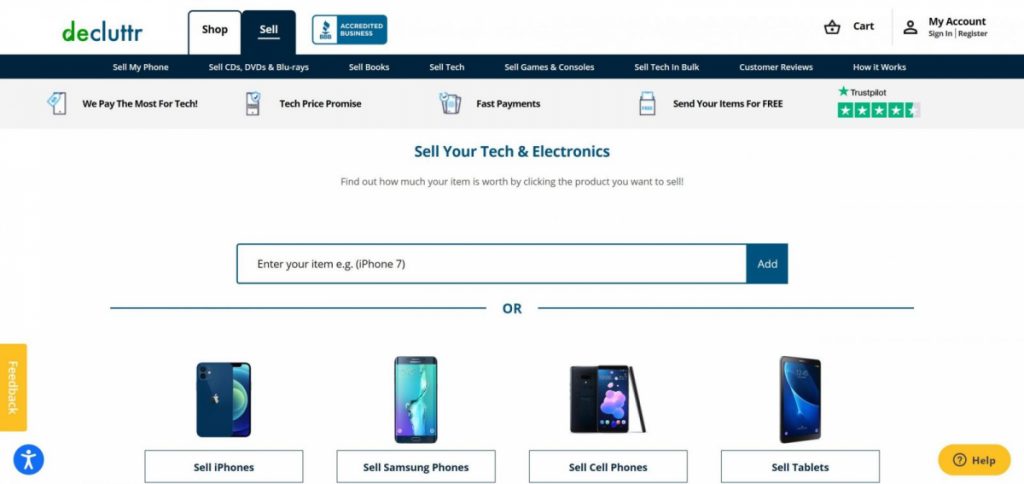 Decluttr sends money for your items by PayPal, check, or direct deposit to your bank. Or you can opt to donate your earnings to a charity of your choice.
Related: How Much Could You Make Selling Your Electronics with Decluttr?
10. Buyback Boss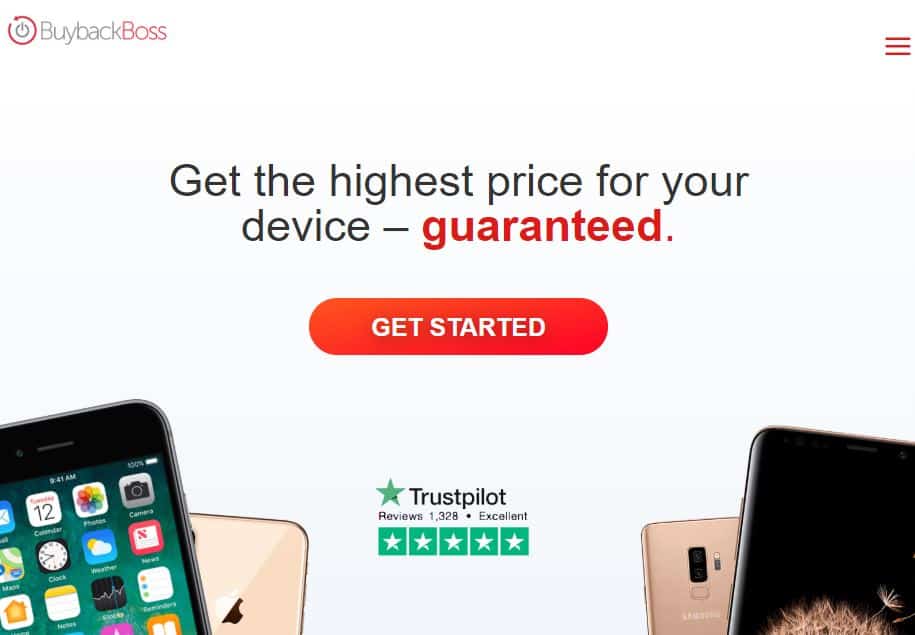 Buyback Boss is an easy, streamlined way to get money for your used smartphone, tablet, or other electronics. All you need to do is answer a few questions about the device's specifications and you'll get an instant quote. If you get a higher offer from another site, BuyBackBoss has a price-matching guarantee which means you can still get that price but through its site instead of its competitor's.
If you accept its offer, it sends you, via email, a pre-paid shipping label you can use to ship the device. You can choose your payment in the form of a physical check, PayPal deposit, or a charitable donation.
11. BookScouter
Do you have old textbooks collecting dust around the house? BookScouter can help trade them in for cash.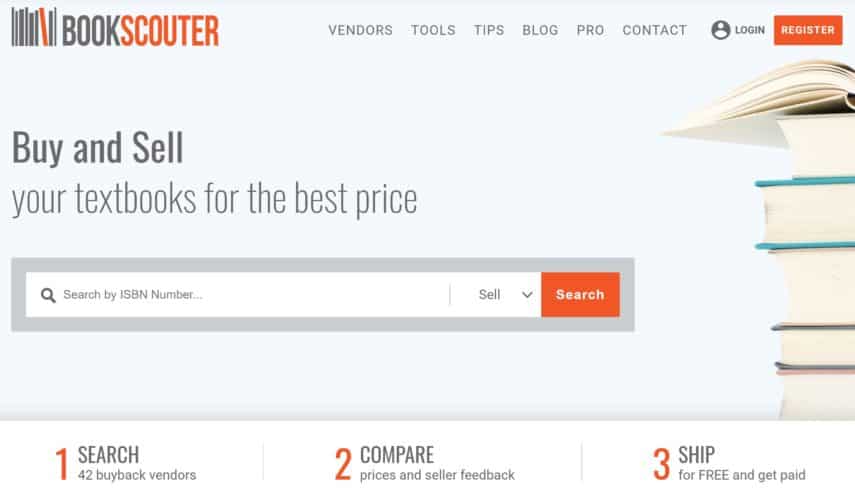 The site saves time by comparing offers from multiple vendors with one click and is known as one of the best places to sell textbooks.
The highest price isn't always listed first so make sure to review all options before selling back your textbooks.
Related: BookScouter Review: How to Flip Your Used Books for Cash
12. Gazelle
Gazelle is a top pick to sell your electronics. The company reports paying over $200 million to people selling their used laptops, tablets, smartphones, and electronic devices.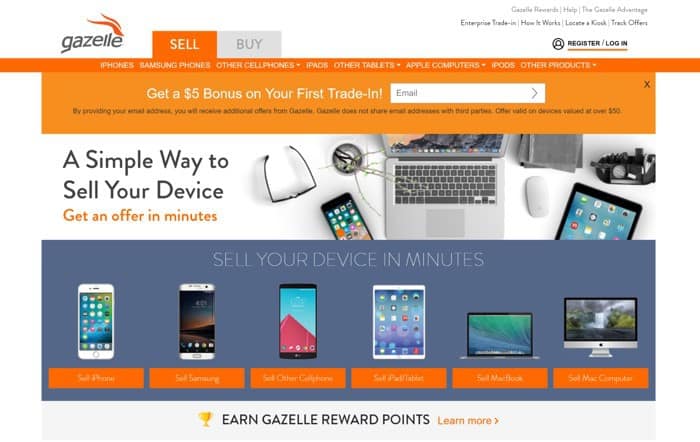 Within minutes, Gazelle will provide an offer for your item.
Gazelle pays you by check, PayPal, or Amazon gift card. Pick your preferred payment method to get money in your hand.
Related: Gazelle Review: What You Need to Know Before Selling Your Phone
13. Shopify
Consider Shopify to make even more money selling your things. This online platform is easy to use and has a low startup cost.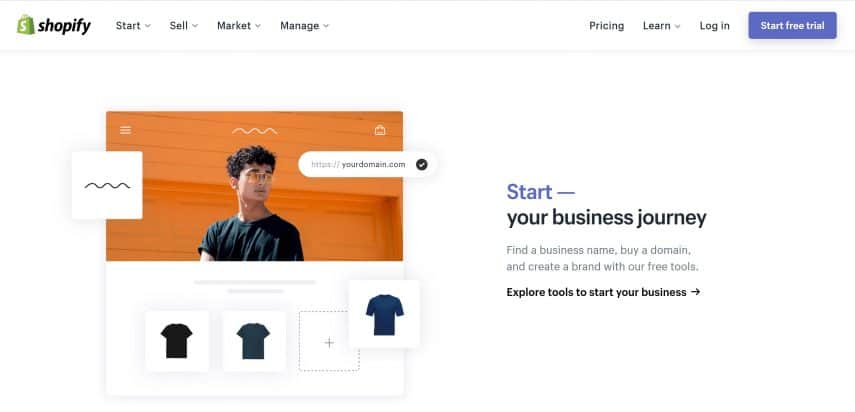 With Shopify, you can:
Create your own online store
Promote and sell products
Make money on your site, with mobile, social media, and in-person sales
If you're on the fence, Shopify has a free 14-day trial with no credit card required.
14. Letgo
Letgo is the perfect way to sell large items or things that are hard to ship. The site and app focus on your local market, where arranging pickup or delivery is an option.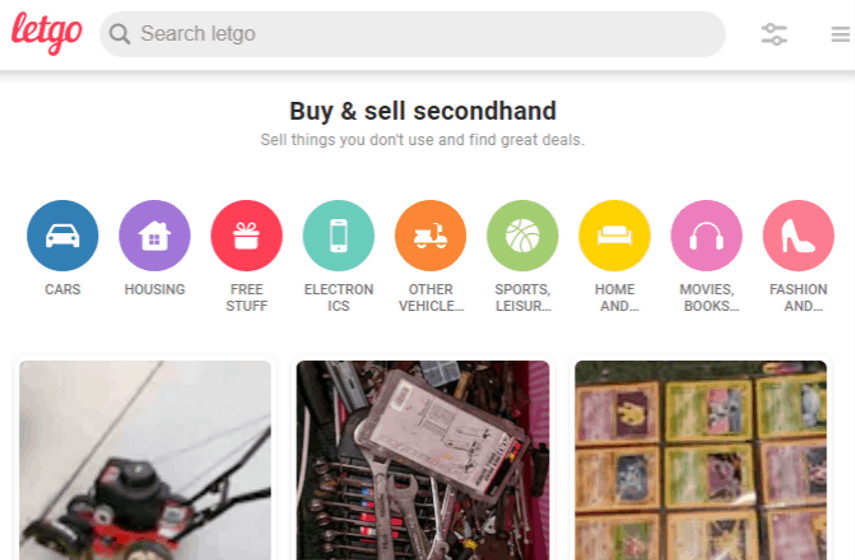 Snap a photo and add a few details to your listing to attract buyers. Shoppers can search your items online or with the app, making letgo an excellent Amazon alternative.
15. OfferUp
Another local app, OfferUp, allows sellers to post almost anything for sale. Listing items from iPads and automobiles, to craft supplies and prom dresses takes fewer than 30 seconds.
OfferUp enables buyers in your area to ask questions or submit an offer through the app. The buyer will pay in person, so there's no need to set up a system to accept payments online.
16. Etsy
Etsy is a fan-favorite destination to sell handmade designs, vintage items, craft supplies, and more. Like Amazon, it's a very well-known site with a loyal base of buyers and sellers.
There's no upfront investment to worry about, which makes Etsy a fantastic option to list items for sale.
To begin, create a free account and add items to your Etsy store. You control your earnings by setting your own prices. Payment options include direct deposit and PayPal.
How to Save Money on Sites like Amazon
The high brand recognition and vast selection of products make Amazon a convenient one-stop shop. Plus, paid online survey sites often pay you in free Amazon gift cards, making shopping there even more tempting.
It's important to remember that Amazon isn't the only option. Shopping might be more efficient and less expensive at one of the Amazon alternatives listed above. And, if you're a seller, make sure to compare the selling and listing fees to get the most profit for your used items.