20 Best Blogging Courses to Grow Traffic & Increase Income
Advertiser Disclosure
Our readers always come first
The content on DollarSprout includes links to our advertising partners. When you read our content and click on one of our partners' links, and then decide to complete an offer — whether it's downloading an app, opening an account, or some other action — we may earn a commission from that advertiser, at no extra cost to you.
Our ultimate goal is to educate and inform, not lure you into signing up for certain offers. Compensation from our partners may impact what products we cover and where they appear on the site, but does not have any impact on the objectivity of our reviews or advice.
From writing captivating content to building an email list to monetizing your blog, wherever you are in your blogging journey, there's a course that can help you succeed.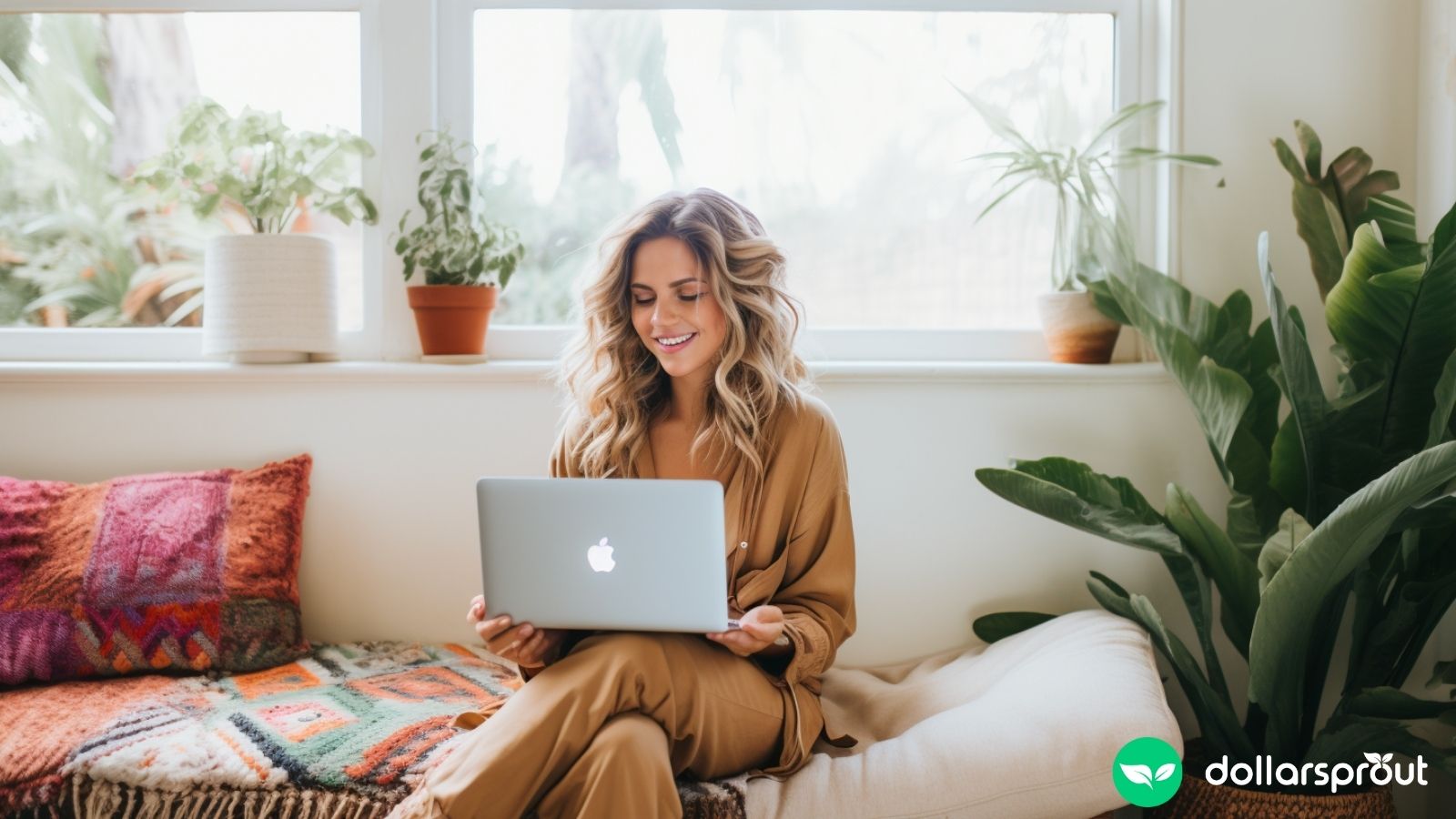 My first blog was a complete and utter failure. I had no idea what I was doing, which turned into wasted time and money.
Truthfully, I didn't know that there were reputable blogging courses for beginners like me. If I had invested money into a course, rather than making the many mistakes I did early on, I could've become a successful blogger much sooner.
Learn from my mistakes. If your goal is to make money from your blog but you don't know where to start, consider investing in a low-cost blogging course and follow the path of other successful bloggers.
Regardless of where you are in your blogging journey, there's a course that can help you succeed.
Best Foundational Blogging Courses
Starting your own blog can be challenging and intimidating as a new blogger. There are several pieces of the puzzle, and you want to start off on the right foot.
The following blogging courses will help you do just that. These are the types of courses that have an all-in-one blueprint to follow, from setting up your blog to making money.
1. Launch Your Blog Biz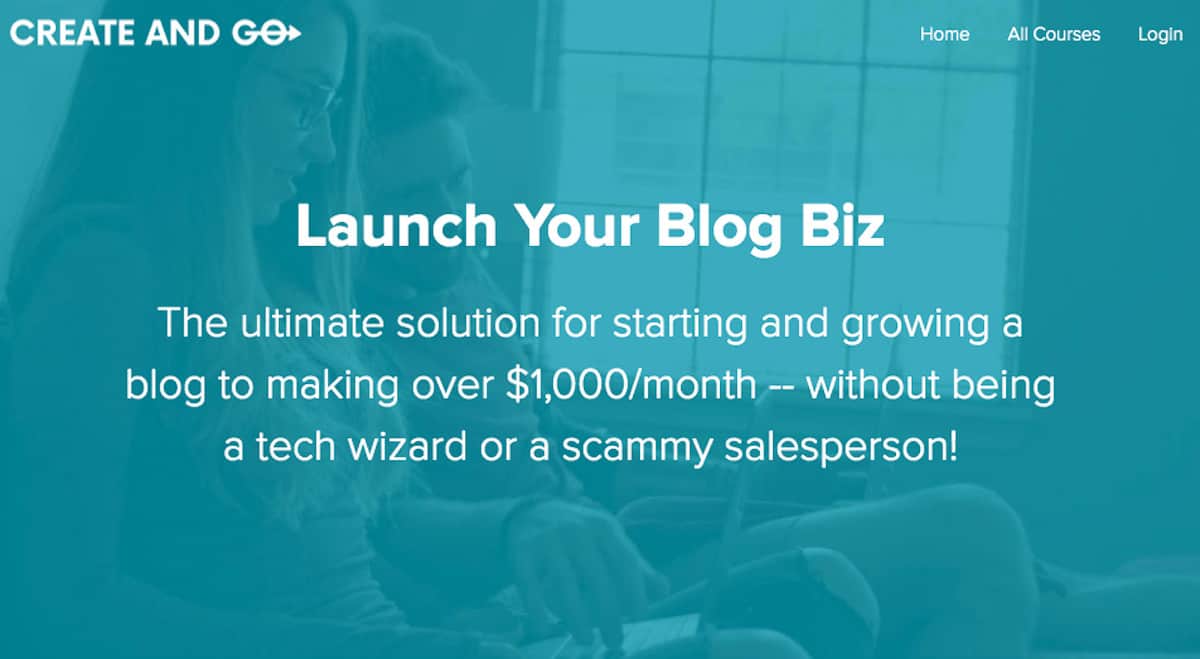 Level: Beginner
Price: $297
This course was created by Alex and Lauren, a couple who experienced an epic fail when they launched their first blog and massive success with their second. Based on their experience, they created Launch Your Blog Biz, teaching you how to master WordPress, web design, create quality content, drive and convert traffic, and build an email list.
Additions that come with this blogging course include a guide to affiliate marketing strategies, access to a private community support group, email funnel templates, and lifetime access to the course plus any future updates.
2. Blog by Number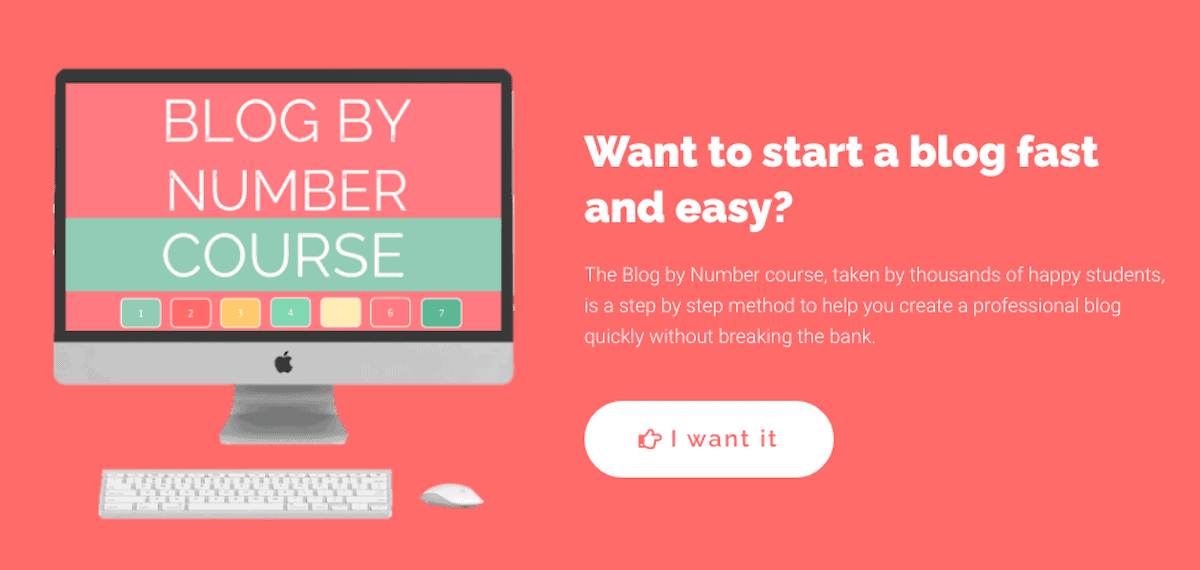 Level: Beginner
Price: One-time payment of $97 OR two payments of $49
Blog by Number is created by a mom for moms. Suzi, the course creator, worked as an engineer before leaving her corporate career to stay home with her children and run her blogging business full time. This blogging for beginners course shows students step by step how to start a blog, design it, drive traffic to it, and monetize it.
Bonuses that come with this course include guides on how to sell printables from a blog, how to sell services on a blog, and over 8,000 blog post ideas.
3. Built to Blog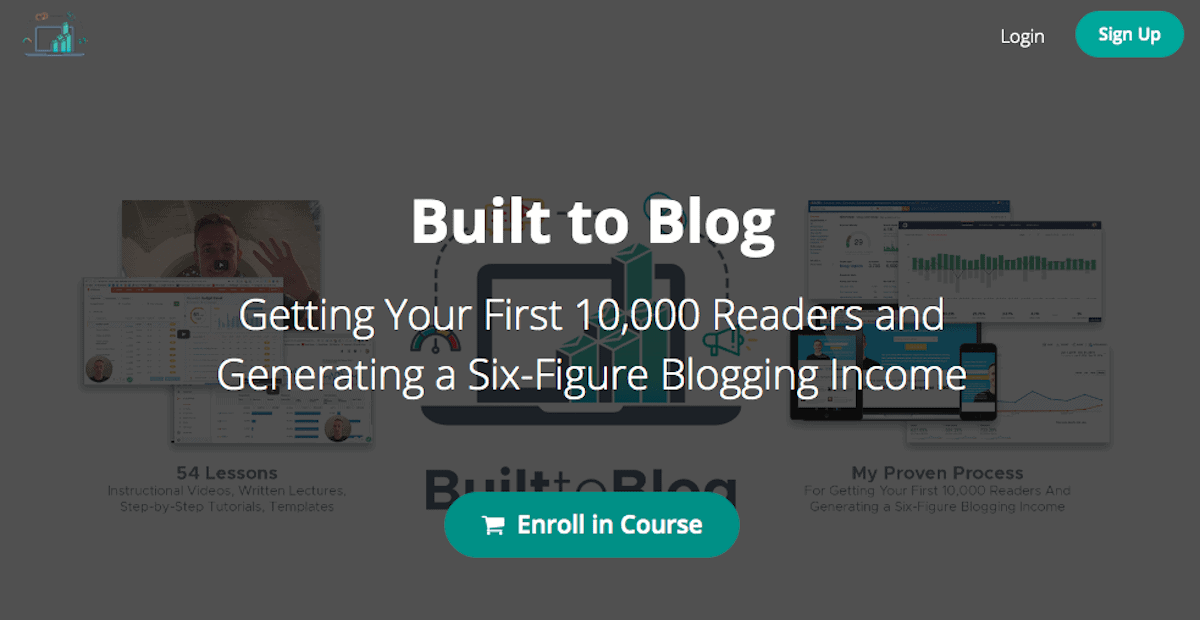 Level: Beginner
Price: One-time payment of $297 OR two payments of $175
Entrepreneur Ryan Robinson has built multiple successful businesses, including his own 6-figure blog at RyRob.com. In his course, Built to Blog, Ryan provides insight into his personal playbook through hours of instructional video, audio, and written content.
This professional blogging course teaches users how to set up and optimize a blog, develop a consistent writing practice, create attractive content, build an email list, and monetize a blog.
4. Blogging MasterClass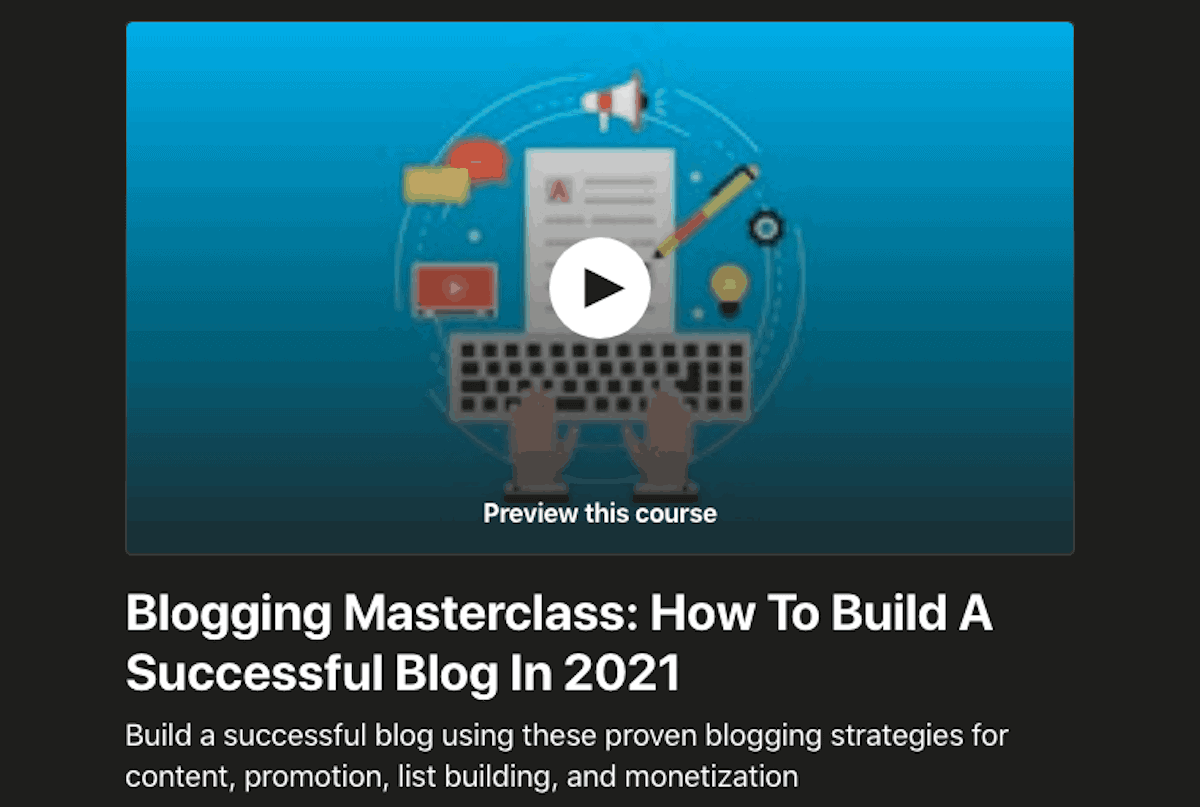 Level: Beginner
Price: $139.99
This blog writing course is available on Udemy and is programmed to help new bloggers build a successful blog, optimize their blog, grow email lists, and much more. No prior knowledge is necessary as this course shows how to begin from scratch.
Blogging MasterClass has been awarded #1 Best Selling Blogging Course on Udemy and has taught nearly 23,000 participants. The instructor for the course, Brad Merrill, has over a decade of experience in building blogs. He shares lessons he's learned through trial and error so you can avoid making the same mistakes.
5. Understanding WordPress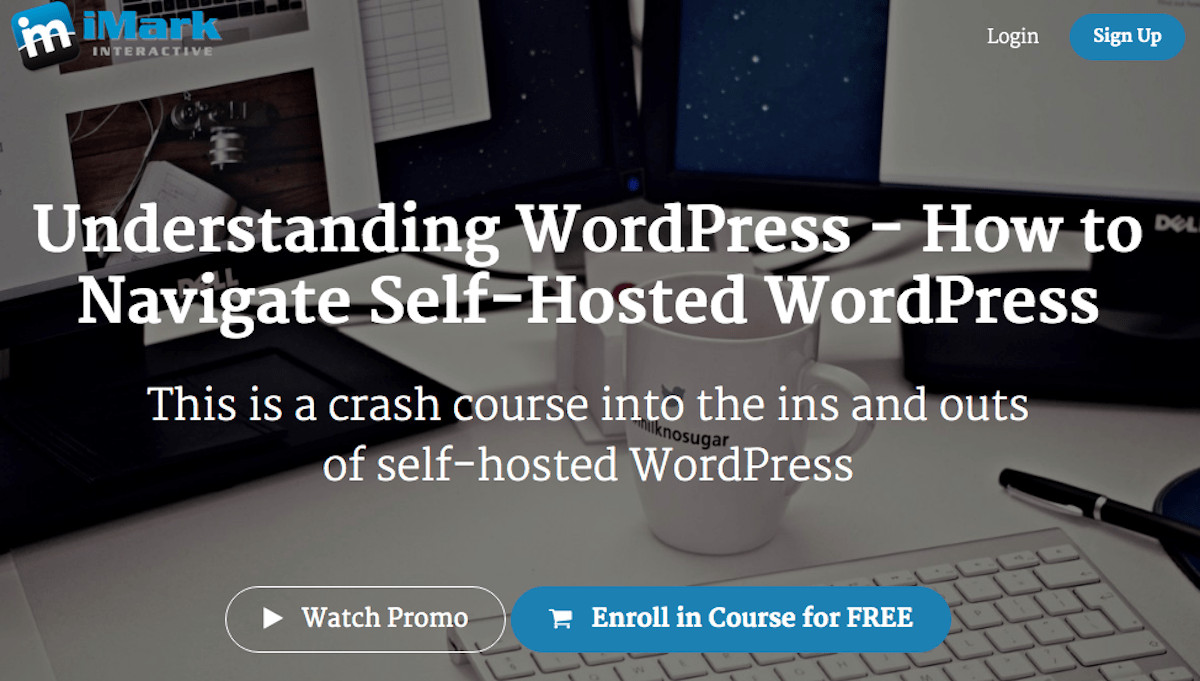 Level: Beginner
Price: Free
This free blogging course is developed by experienced blogger and web developer Grayson Bell. He teaches a crash course in how to set up a blog using WordPress, which is the most popular website platform, used by large brands and small blogs alike.
Understanding WordPress provides an overview of WordPress's features to help you navigate your new site. The course also comes with access to a private Facebook group where you can receive support from other bloggers as well as Grayson's team.
Best Blogging Courses for Writing Content
Setting up a blog is exciting. However, if you don't understand how to write quality content, your blog efforts may fall on deaf ears. Learn how to write content that interests your readers and ranks in Google searches with these best blogging courses for writing.
6. Hit Publish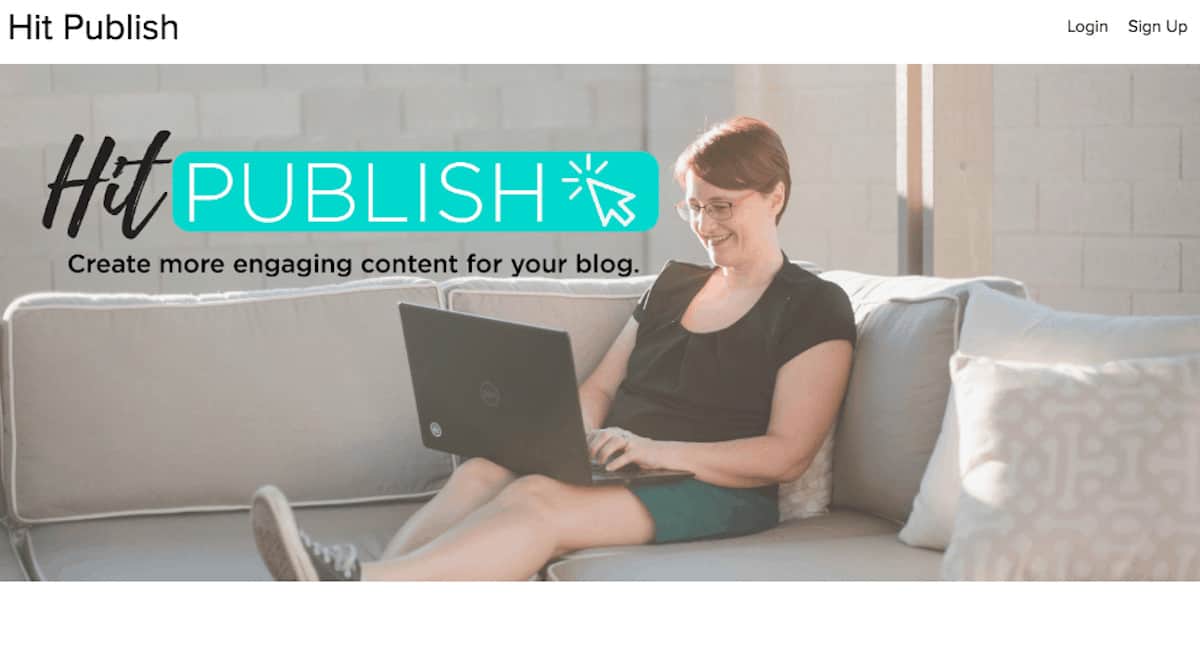 Level: All
Price: Standard $199 OR Upgraded $299 OR Premium $1,999
In the five modules included in Hit Publish, you'll learn how to choose an audience, transform an idea into an outline, perform keyword research, write compelling articles, and watch live edits from Ashley, the creator of the course.
Each tier of pricing offers more support in the course experience, from access to a private Facebook group to personalized editing and feedback to, in the Premium package, one-on-one coaching with Ashley twice a month for six months.
7. Content Marketing Course: Get Certified in Content Marketing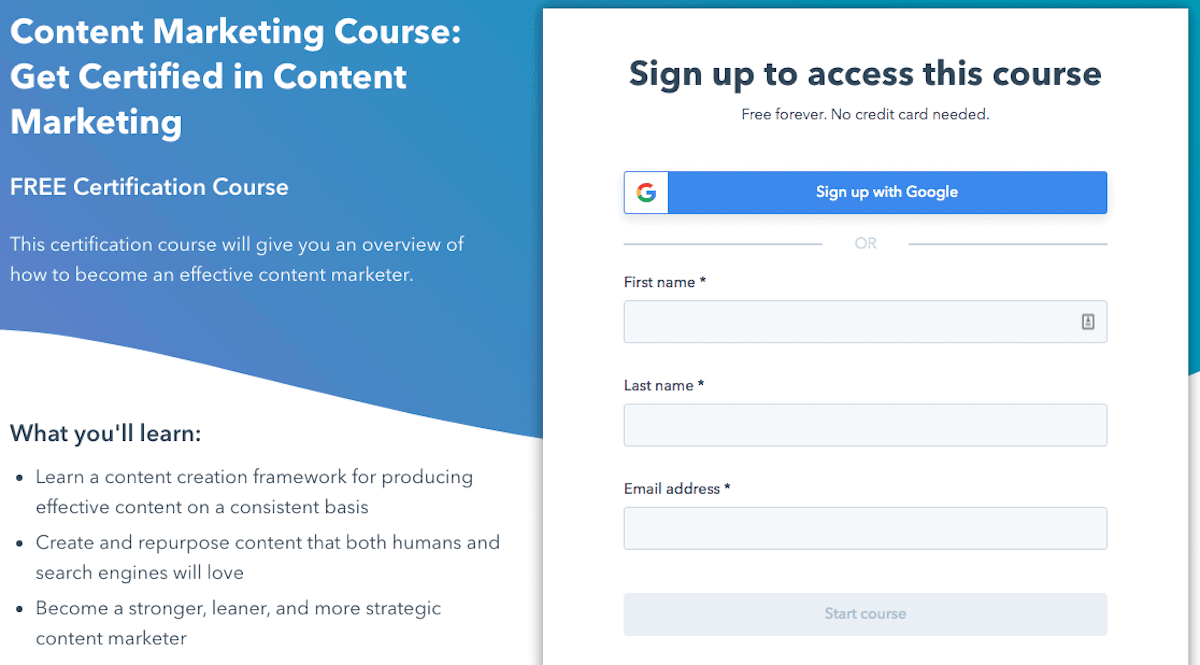 Level: Beginner
Price: Free
In HubSpot Academy's 6-hour free online course, students can expect to learn the framework of content marketing. Specifically, you'll learn how to create content that is effective, optimized for search engines, and strategically aligned with their business goals.
Throughout the 12 lessons, this blogging team has put together tips on how you can improve your content marketing through the power of storytelling, planning their content strategy, measuring and analyzing content, and much more.
Related: How We Made $347,675 Blogging in Two Months
8. Skillshare: Copywriting for Beginners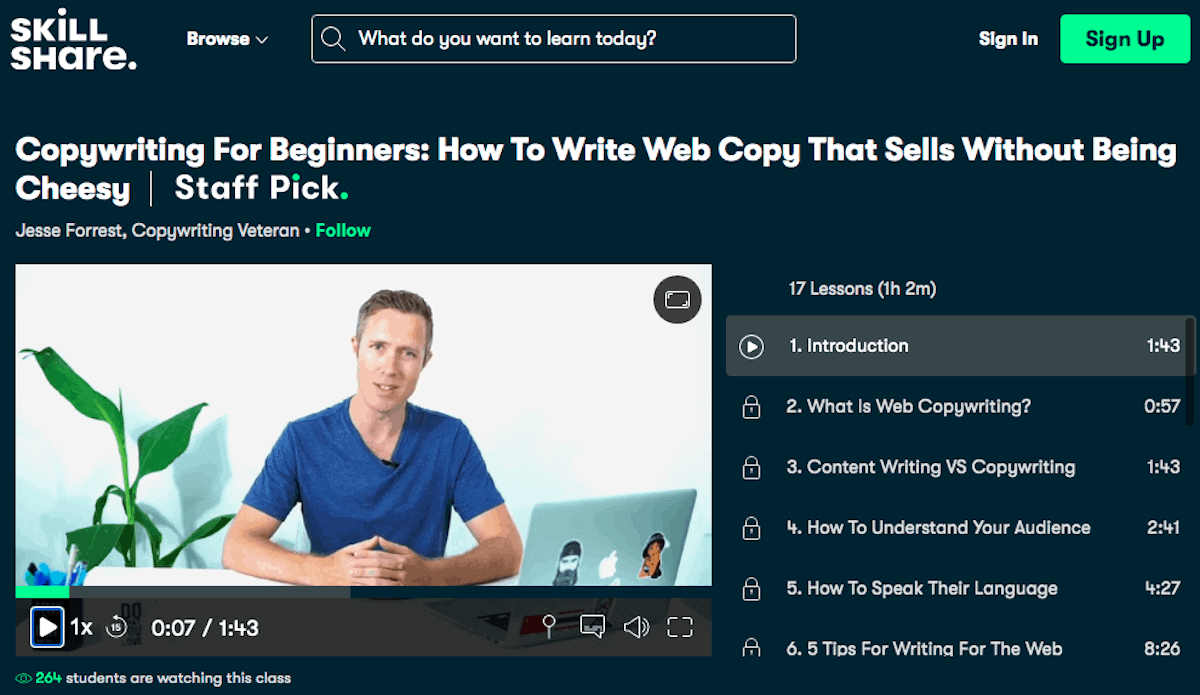 Level: Beginner
Price: Free
Jesse Forrest, veteran web copywriter, designed a blogging for business course that teaches you how to stand out by cutting through all the noise online. In Copywriting for Beginners, you learn how to effectively sell products and services as a beginner from their blogs.
9. Creating Blog Content Your Readers Actually Want to Read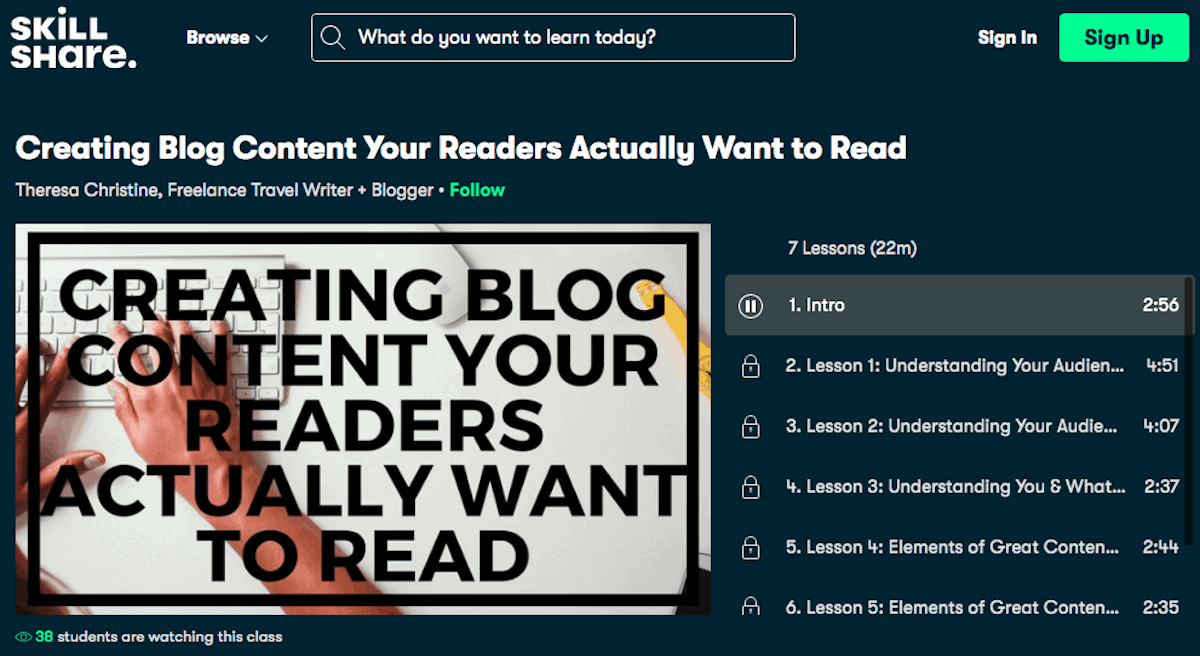 Level: Beginner
Price: Free
This online blogging course teaches students how to write compelling content that excites readers, rather than bores them. Topics include how to understand your reader (and why you need to), identifying what you have to offer your audience, and creating content that, as the course title says, people actually want to read.
Theresa, the course creator, is a top-rated teacher on Skillshare. She's also a freelance journalist and blogger with over seven years of experience writing online content.
10. Date Your List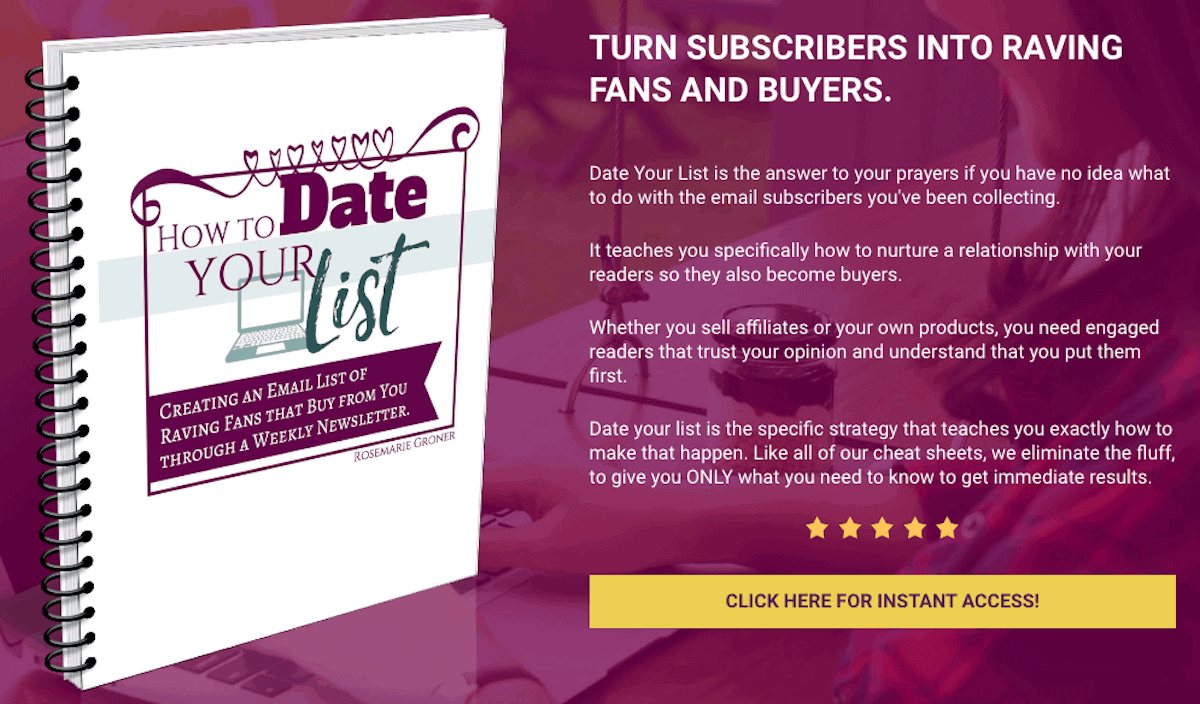 Level: All levels
Price: $64
Date Your List teaches you how to nurture and grow your email list so that your readers become buyers. You'll learn how to create your customer avatar, the types of emails you should be sending to your list, and what to write in them.
The creator of this eBook/workbook, Rosemarie, started blogging in 2014. Knowing she wanted to go full time in her blogging business, she decided to focus on what matters most (building trust with your readers and subscribers) and ignore everything else. In doing so, she was able to take her blog to six figures within 18 months while only working 10 hours per week. Date Your List includes the strategies she used to make it happen.
11. Email Marketing Course: Get Certified in Email Marketing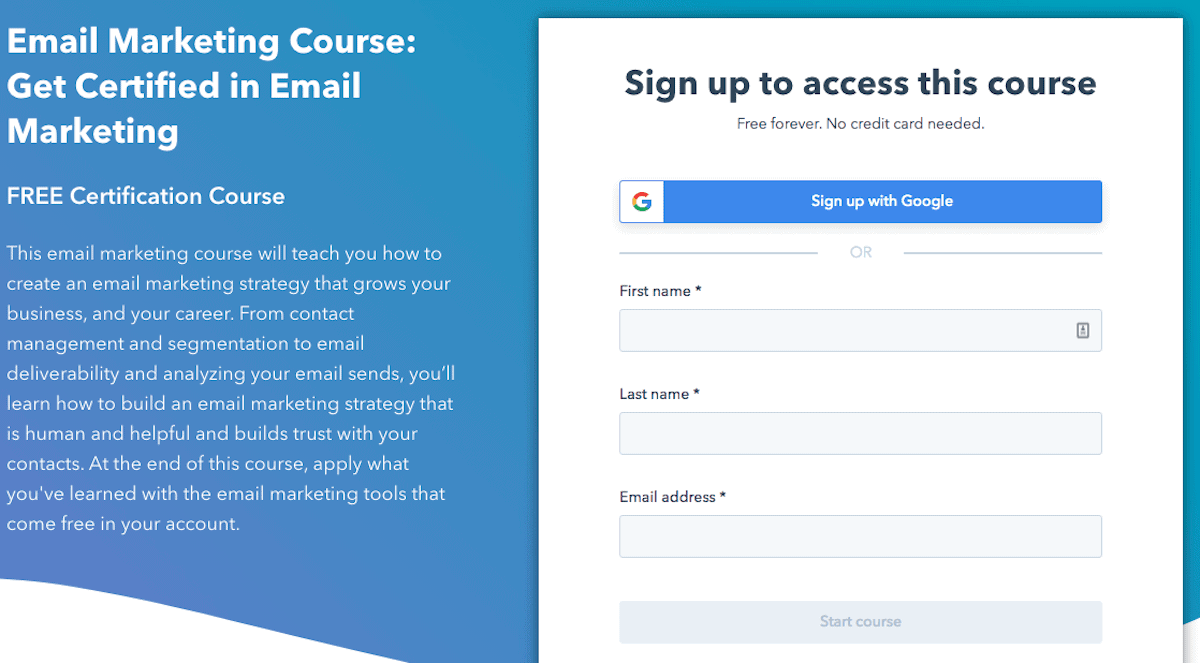 Level: All levels
Price: Free
Hubspot Academy's Email Marketing Course teaches more on the technical side of list building. You'll learn how to create an email marketing strategy, segment your list, use HubSpot's email marketing tool, and analyze your results.
Instructor Courtney Sembler created the course to flow over nine lessons, digging deep into the specifics of digital marketing. The course also comes with a certification, which you can add to your resume if you decide to pick up email marketing clients to supplement your blogging income.
Best Blogging Courses for Building Traffic
One of the most common challenges bloggers face is getting free traffic to their blogs. In a sea of websites for everything under the sun, it can be a challenge to stick out and get noticed. Below are some of the best blogging courses for building traffic and growing your readership.
12. Pinterest Traffic Avalanche
Level: Beginner
Price: $197
This blogging course is dedicated to helping you generate traffic through Pinterest, a visual search engine. Pinterest Traffic Avalanche shows you how to set up an optimized Pinterest profile, automate traffic with pin scheduling, design custom pins, use collaboration tools for faster growth, track analytics, and use Pinterest for email collection.
Additional bonuses include worksheets and checklists, secret bonus lessons, continued updates, lifetime access, and a private support group.
13. Blog Traffic Blueprint
Level: Beginner
Price: $497
Blog Traffic Blueprint is a blogging-for-beginners course that covers the strategies that work for driving traffic to a new website. This course was developed knowing that new blogs will not rank on Google or have high domain authority to start.
Inside, you'll find detailed traffic strategies, examples of each, guidance for choosing the right one, and resources for mastering whatever strategy you choose. The course creator, Jon, focuses on just five traffic-building methods to avoid overwhelming students. Not all of them will work for you, but once you find one that does he recommends going all in.
14. Stupid Simple SEO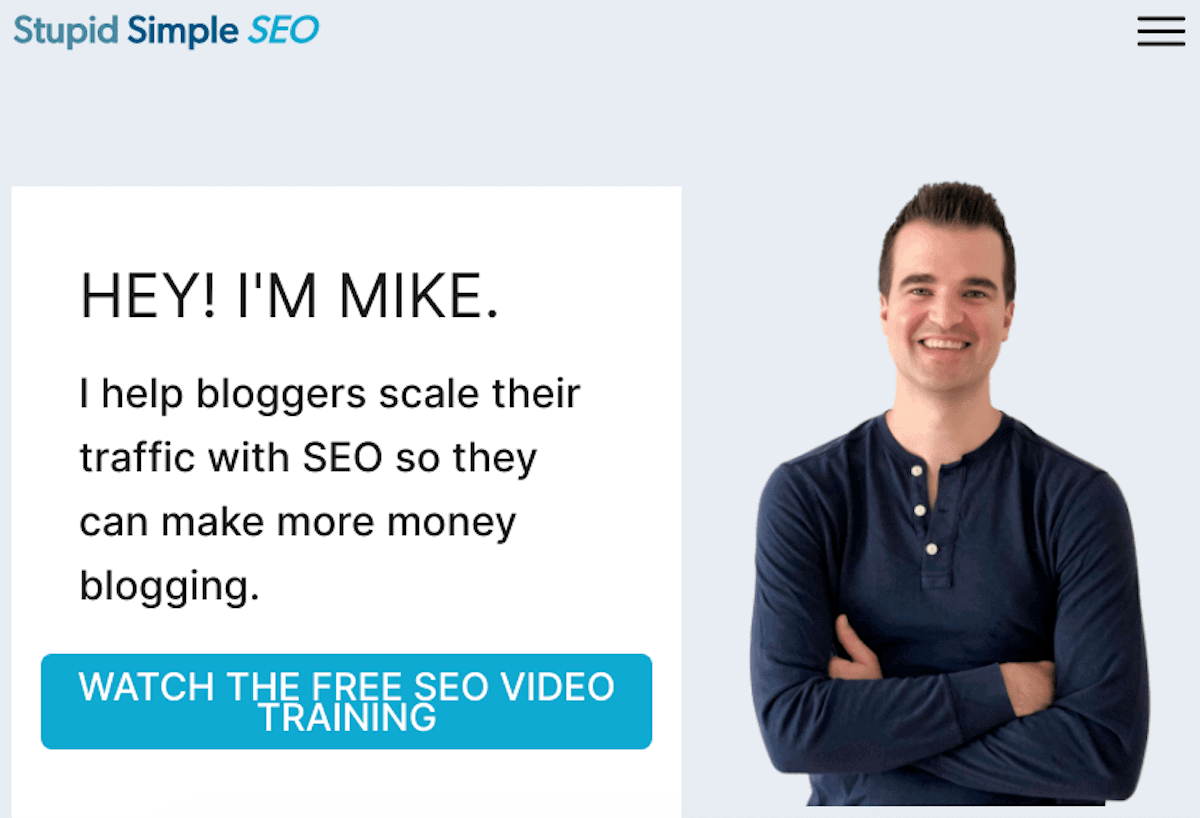 Level: Intermediate
Price: 4 payments of $147 OR 1 payment of $497 (savings of $91)
Stupid Simple SEO, offered by Mike Futia, helps you level up your organic traffic from search engines like Google and Bing. This blogging for business course has helped over 1,800 students make more money by improving their blog SEO.
Throughout the course, you'll have access to four phases of an SEO framework: building an SEO formula, designing, creating, and promoting your content.
Bonuses include sponsored post tips, choosing a profitable niche, where to get SEO tools on a budget, content creation help, private Facebook community, and live monthly Q&A calls.
Stupid Simple SEO also offers a free video training on how to use SEO to scale your blog traffic.
15. Facebook Ads for Bloggers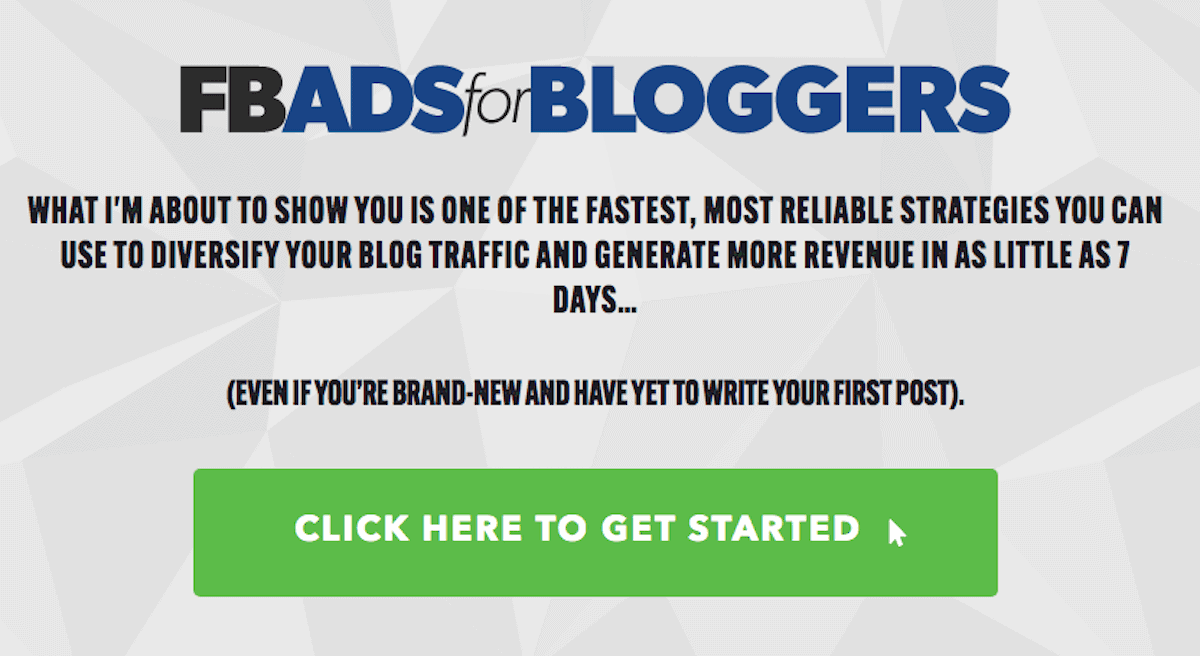 Level: All
Price: $397
The FB Ads for Bloggers course includes 12 modules. This professional blogging course was created by Bobby Hoyt and Mike Yanda, who have successfully managed Facebook ad campaigns for their own businesses and dozens of bloggers and small business owners.
Throughout the course, you'll learn everything there is to know about managing successful Facebook ads, including the psychology of Facebook ads, how to navigate ads manager, targeting the right audience, writing effective copy, and optimizing your pages for sales.
16. What is Social?
Level: All levels
Price: Free
What is Social? is more geared toward those who work in social media marketing for larger companies, but the content still applies for bloggers and small business owners. You'll learn about social trends, the business of marketing on social media, and how to deal with the changes happening among social media platforms.
This course is the first in a 6-part series. You can take it for free on Coursera, but paid users will receive access to bonus content, including studies from IBM on profitable social media marketing strategies.
17. Blog That Converts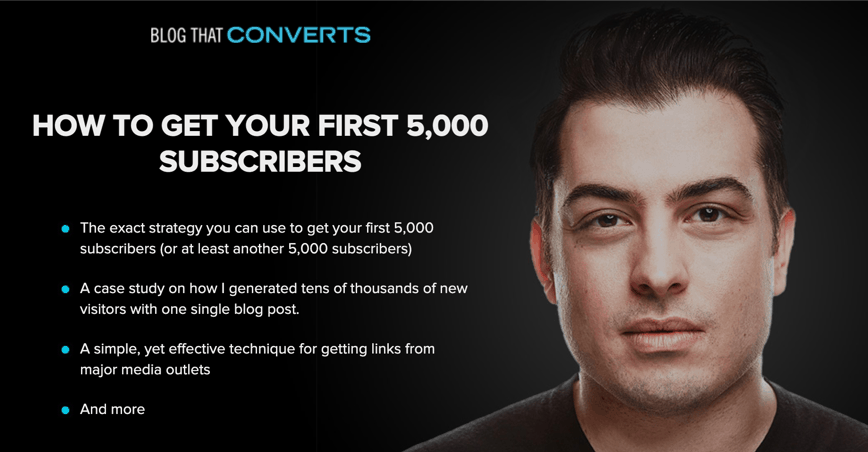 Level: All
Price: Free
Blog That Converts is a free eBook that teaches you how to get your first (or next) 5,000 subscribers. While not a course, it does include a well of information on how to create opt-ins that convert readers to subscribers as well as effective techniques for getting links from major media outlets.
You'll also receive access to a case study on how one blogger generated thousands of views with a single blog post.
Best Blogging Courses for Making Money
While many bloggers like sharing their experiences and expertise on their blog, ultimately making money is the end goal. The truth is less than half of lower-income bloggers actually make money from their blogs.[1] The following online blogging courses will teach you how to build a sustainable income through your blog.
18. Six-Figure Blogger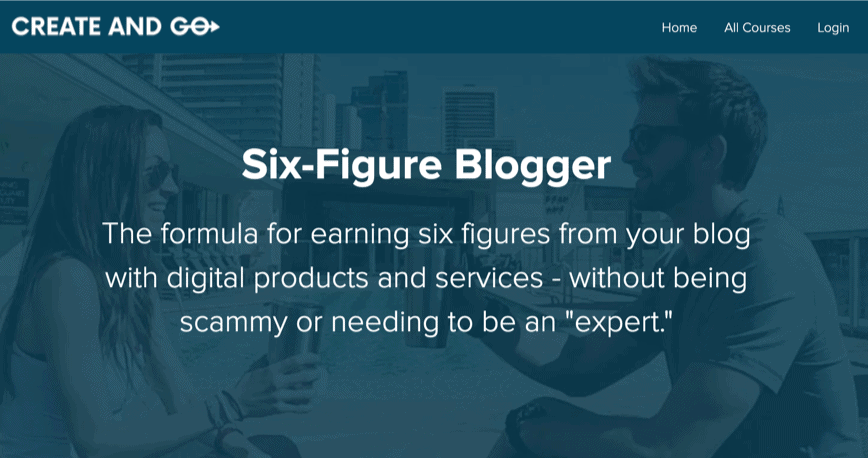 Level: All
Price: $297
Another course from Alex and Lauren at Create and Go, Six-Figure Blogger provides the step-by-step framework they used to go from brand new bloggers to making over $100,000 per year. Today, they make over six figures each month.
The course includes modules on how to build a solid foundation for your blog, sell other people's products through affiliate marketing, validate and create your own product, and make sales automatically using email funnels.
Additional bonuses include sale email templates, financial spreadsheets, private community support, and lifetime access to the course plus future updates.
19. Making Sense of Affiliate Marketing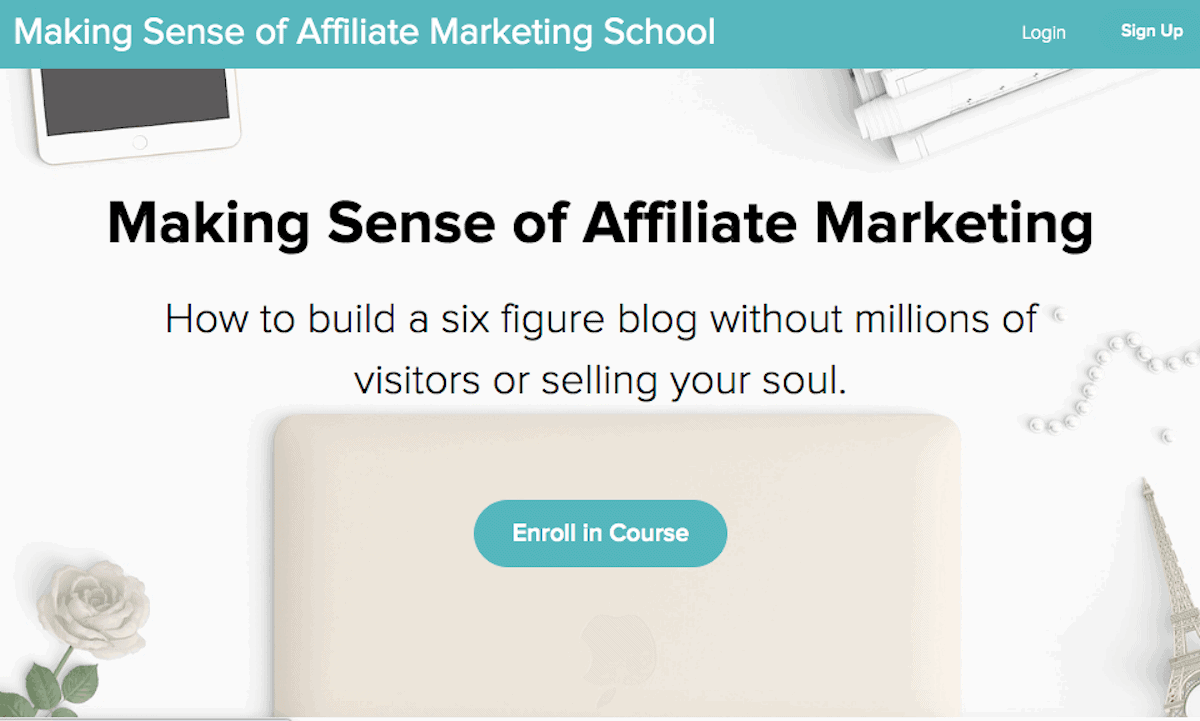 Level: Intermediate, Advanced
Price: $197 OR two payments of $105
Making Sense of Affiliate Marketing is a step-by-step course showing you how to make more money with affiliate marketing. The course instructor, Michelle, breaks down each component of affiliate marketing, including how to find affiliate programs, write content that converts, and track your sales in order to optimize your content.
The course comes with ten bonuses: a free private Facebook group, Pinterest marketing strategies, and what to do when a blog post goes viral, among others.
20. Persuasion Nation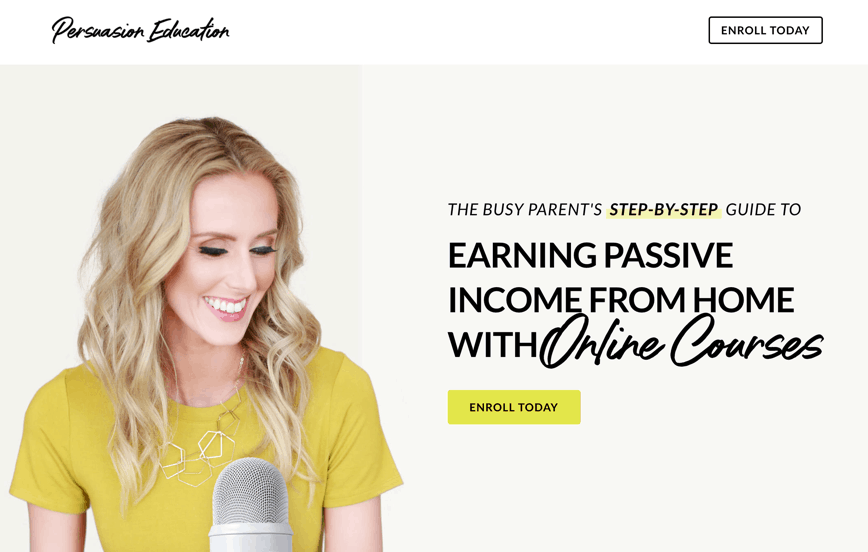 Level: All
Price: $687 per month for four months OR $2,497 one-time payment (a savings of $251)
Mary Fernandez, creator of Persuasion Nation, started her first blog in 2011 and sold five figures in courses and educational products within her first year of business. In Persuasion Nation, she teaches bloggers how to turn their passion and knowledge into an online course business.
In this six-module program, you'll learn how to uncover your course topic, create your own flagship program, create a website that reflects your brand, and build automated sales funnels to create passive income in your business. It's one of the higher-ticket programs on the market, but a great resource if you know an online courses business is the direction you want to take.
How to Choose the Best Blogging Course for You
All the blogging courses on this list are excellent resources, but they're probably not all a good fit for you. When choosing which blogging courses to purchase, first and foremost consider your goals for your blog.
Most importantly (if your goal is to make money with your blog), how do you want to make money? If you enjoy writing, analyzing data, and optimizing content for conversions, then you'll probably enjoy affiliate marketing. If you have a skill or idea for something you want to teach, then digital products are a good option.
Another goal to consider is your timeline. How quickly do you need or want to make money from your blog? This will influence your monetization and traffic strategies. For example, you can make money with affiliate marketing and drive traffic with Pinterest faster than creating your own products and bringing in new visitors with SEO.
Once you know your goal, ask yourself this question: What's the single most important thing I can focus on next?
If you already have some affiliate posts written and you're just not getting traffic to your website, then purchasing a course on how to increase your traffic quickly makes sense. Likewise, if you're starting from scratch and looking to build a course-based business, then an all-inclusive option like Six-Figure Blogger or Persuasion Education provides a solid foundation for your goal.
Don't get caught up in overwhelm or distracted by all the options. Choose one course that aligns with the business you want to build, go all in on that course, and implement everything you learn before moving on. If you do this, you'll be on your way to a profitable blog in no time.